An installation exploring the moral ambiguities of harvesting fish and the crossover between natural world and urban society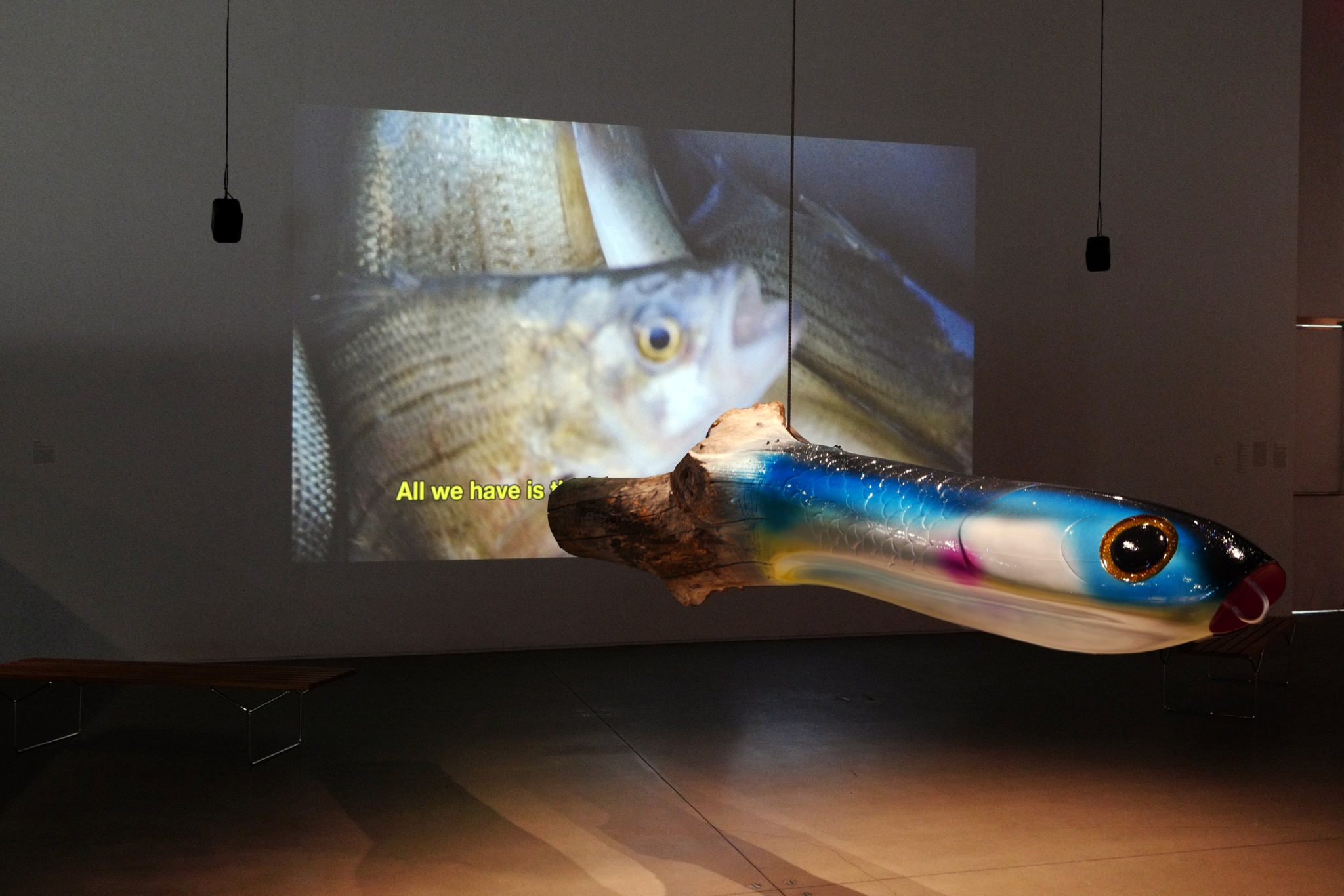 About this commission
A Kind of Pain consists of single-channel video projection accompanied by sculpture. The installation explores the spiritual and ethical ambiguities of harvesting fish for food, while celebrating the animals as humankind's evolutionary ancestors and investigating the crossover between the natural world and urban society. The installation's sculptural component explores the relationship between desire and perspective with a fishing lure that hangs from the ceiling, suspended at eye level. A Kind of Pain challenges our perspectives on our ecosystem, examining what and who constitutes prey.
Moko Fukuyama lives and works in Brooklyn. She has a quasi-documentary approach to filmmaking, using real-life stories and adapting them to more fantastical cinematic and sculptural scenarios.
Location and dates
This event takes place in Level 2 Gallery.
Acknowledgments
Special thanks to Aaron Suggs; Andy Barrett; Larry Orra; Lesley Ann Ferguson, Michael Mount; Chuck Bettis; Art Domantay, Yaddo; Robert Rising a.k.a. Black Lumberjack (NYCitySlab); Rich a.k.a. Big Rich, Tracy, and Josh Price (Ohio Fish Rescue); Greg Wittstock a.k.a. The Pond Guy & The Aquascape team; Dave Hale (Something Fishy); Brennan O'Connor; Amanda O'Connor; Noah Sparkes; Haoyan of America; Miho Nishimura; Koichi Kaizuka; Toshiya Fukuyama; Naoko Fukuyama; Kiyotaka Naito; Mitsunori Isa (Isa Koi Farm); Futoshi Mano (Dainichi Koi Farm); Kouzou Namekata (Nakamichi Suisan Co, Ltd); Shinichiro and Shinsuke Kobayashi (Ship TAISEIMARU); Mr. Nampu (Ship ITOMARU); Kenji Fukuyama; Hisako Komiya; Alec Strasser; Alexandra Limpert; Philip Suggs; Matthew Thomas; Roberto Flores; Orwayne Pryce; Eduardo Errera; Nana Hiramatsu; Azumi Hasegawa; Virginia Overton; Allison Freeman Weisberg (Recess); Gee Wesley (Recess); Jessica Lynne; Jasper Patch; Keiko Horie (Cape Town Resort); and Snack Chiaki.