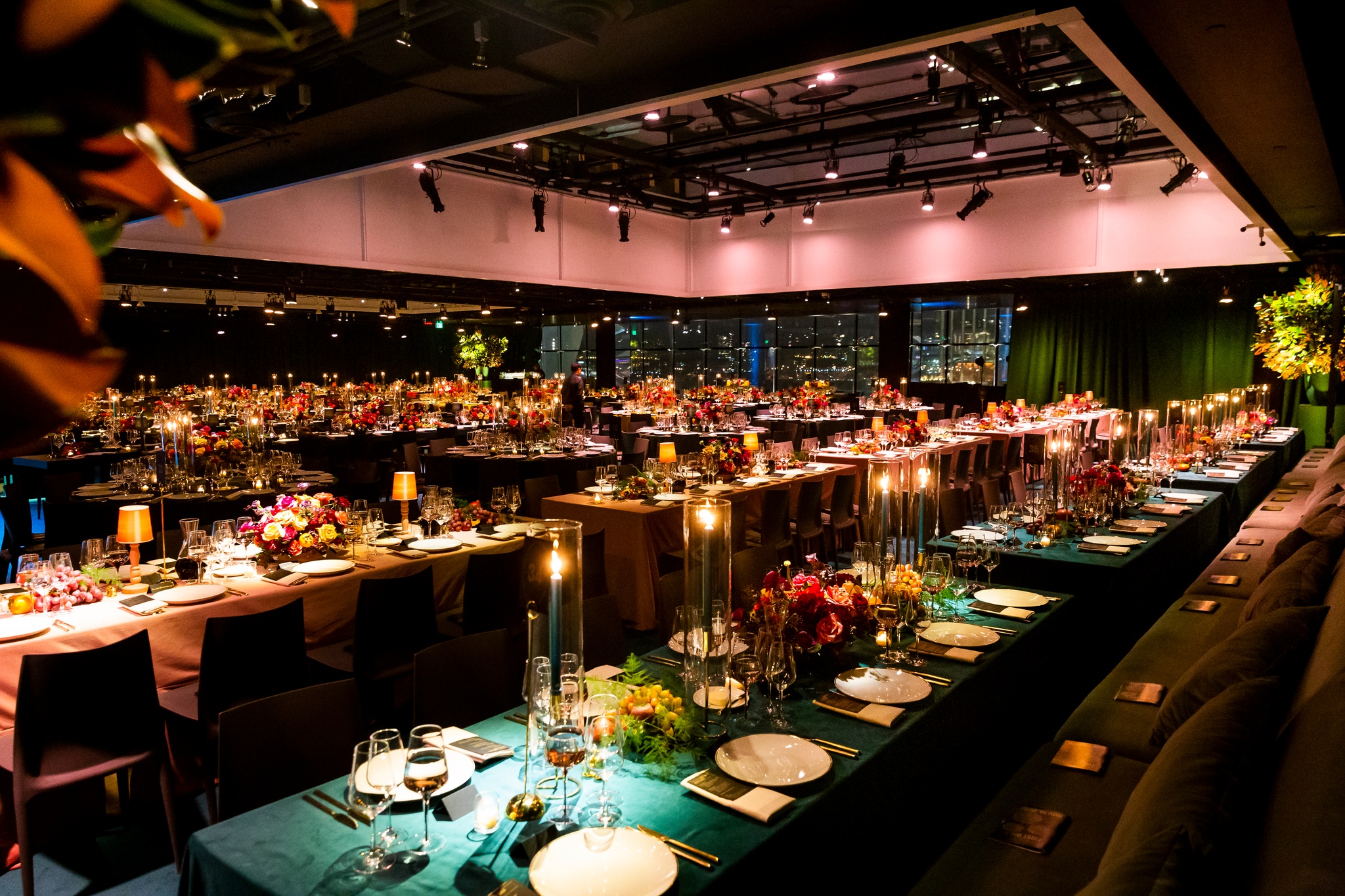 Elevate your event
The Shed is one of New York's signature flexible spaces with the ability to make any event extraordinary. Unburdened by fixed seats, narrow corridors, or the constraint of a single entrance, The Shed welcomes events of all kinds, ranging from live performances and virtual engagements to fashion shows, symposiums, and film premieres.
While maintaining full compliance with CDC, the NYC Department of Health, New York State, and national occupational health and safety guidance, The Shed's events team is ready to help you realize your next event!
The Shed is a new cultural institution of and for the 21st century. We produce and welcome innovative art and ideas, across all forms of creativity, to build a shared understanding of our rapidly changing world and a more equitable society. We seek opportunities to collaborate with cultural peers and community organizations, work with like-minded partners, and provide unique spaces for private events both virtually and in-person.
Learn more about The Shed's mission.
For more details about rentals at The Shed, download our brochure.
Have more questions? Please submit an inquiry by clicking the button above or by emailing rentals@theshed.org.
TOUR THE MCCOURT
Explore The Shed's largest space with this 360-degree virtual tour of The McCourt, formed when the building's movable outer shell is deployed over the adjoining plaza.
More about The McCourt
Dimensions: 139 x 130'
Ceiling Height: 110'
Area: 18,000 SF
Tour the Level 4 Gallery
The Shed's column-free, museum-quality galleries on the second and fourth levels provide large, open spaces for events. The galleries can also provide for additional opportunities for engagement during events.
More about the Level 4 Gallery
Dimensions: 140 x 84'
Ceiling Height: 19'
Area: 11,760 SF
Tour the Griffin Theater
The Shed's Griffin Theater is an inviting space that can be transformed into two smaller spaces to create more intimate event settings. The Griffin Theater's flexible design can accommodate events of all types, including those that require a private and even soundproof environment.
More about The Griffin Theater
Dimensions: 140 x 84'
Ceiling Height: 22'
Area: 11,760 SF
Tour the Tisch Skylights
The Shed's top-floor event space opens to views of the city through two expansive skylights and north- and south-facing windows. The space can be partitioned with a wall, and the windows and skylights are fitted with blackout options for daytime audiovisual needs. This space can transform for meeting and office environments, dinners, press events, conferences, and personal receptions.
More about The Tisch Skylights
Dimensions: 99 x 99'
Ceiling Height: 10'
Area: 9,503 SF
FAQ
What are your Covid-19 policies?
The well-being of our guests is our top priority, so we're taking extra precautions to create a safe environment for all who enter our building. When entertaining at The Shed, you can expect to:
Wear a mask (If you do not have a mask, one will be provided to you.)
Have your temperature checked (If you fail two tests with a temperature of 100.4 or higher, we kindly ask that you come back another time.)
Maintain distance
Clean your hands

How We're Keeping You Safe
Limiting capacity to 25% per New York State guidelines with a maximum capacity of 50 persons indoors
Providing hand sanitizer and complimentary masks to those who enter the building
Disinfecting regularly
Monitoring air quality (Breathe easy! We're a brand new building with the latest HVAC systems.)
Working with New York City and State contact tracers

Warning
An inherent risk of exposure to Covid-19 exists in any public space where people are present. We therefore cannot guarantee that you will not be exposed to Covid-19 during your visit to The Shed. Those visiting The Shed do so at their own risk of exposure and possible infection.
Are there restrictions on caterers and vendors?
Union Square Events is the exclusive caterer for The Shed. To learn more about Union Square Events and their offerings, please make an inquiry here or email theshed@unionsquareevents.com.
We welcome other vendors of your choosing, as long as they receive The Shed's approval. For more information, please email rentals@theshed.org.
Are you a unionized venue?
Yes. The Shed is a unionized venue represented by IATSE Local 1 stagehands. Stagehand labor is billed separately from our usage and staffing fees and costs must be borne by the licensee. The stagehands complete all production work for the building (which can include any assembly, installation, and power needs within the building) and are paid at a separate hourly rate according to our collective bargaining agreement. Our production team walks through each event individually to determine the unique production needs and then creates the labor call and invoice accordingly.
Are there membership requirements?
Yes, as we are a nonprofit cultural institution, membership is the first step to entertaining at The Shed. Individuals are asked to join at our $5,000+ Maker 3 level for access to The Tisch Skylights or The Griffin Theater. Corporate entities are asked to join our Corporate Membership program. Membership fees for Corporations start at $5K and vary depending on the level of benefits best suited to your organization. To learn more, please contact
corporate.support@theshed.org
.
How do I get to The Shed?
The Shed is located at 545 West 30th Street between 10th and 11th Avenues. Our 30th Street lobby entrance is temporarily closed. Enter our building via the Hudson Yards Public Square, which you can access from 11th Avenue and Hudson Boulevard, just one block north of 30th Street.
Transportation options include:
7 train to 34 St–Hudson Yards
A, C, E, 1, 2, and 3 trains to 34 St–Penn Station
M11, M12, and M34 buses
Rideshare apps: Enter your destination as 11th Avenue and Hudson Boulevard, New York, 10001. Walk east along the north side of the building to the entrance on the east façade.

Click here to see the map to our current entrance.
Is The Shed ADA compliant?
Yes. The Shed is ADA compliant with wheelchair access to all our building entrances and two elevators that stop on every floor.
Do you have a loading dock?
Yes. The Shed occupies two bays in a shared loading dock with 10 Hudson Yards. The loading dock is open 24 / 7 for deliveries and pick-ups.
All deliveries and pick-ups for events in The McCourt must take place between the hours of 10 pm and 10 am via Hudson Boulevard. This is the only space that does not have open access to the freight elevator.
Do you have a freight elevator?
Yes. The Shed has a freight elevator that moves from the loading dock to all our fixed building spaces.
Do you have onsite parking?
No. The Shed does not have onsite parking but our team can recommend a number of nearby parking garages and valet services to help you coordinate your event. Please email
rentals@theshed.org
for more information.
Do you have permitting requirements?
Yes. TPAs (temporary permits of assembly) are required for gatherings of 74 persons or more. Our team is equipped with the expertise to guide you through the process and recommend vendors; however, all associated vendor coordination and payment of fees (including onsite FDNY fees) are within the responsibility of the licensee.
Is there an amplified sound curfew?
Yes. Amplified music is permitted with a curfew of 2 am indoors and is limited by space and acoustical considerations. Outdoor amplified music must end at 10 pm. Events taking place in The McCourt are required to close all shades for sound levels above 42 dB when measured three feet from the source.
The Shed has two pantries; one is located on the 1st floor and the other is located on the 8th floor. These spaces can serve as auxiliary prep spaces for catering but they are not large enough to accommodate full kitchen service. Our team, in coordination with Union Square Events, can support you as you build and design your floor plan to ensure enough room is discreetly allocated to food service.