New work by emerging NYC artists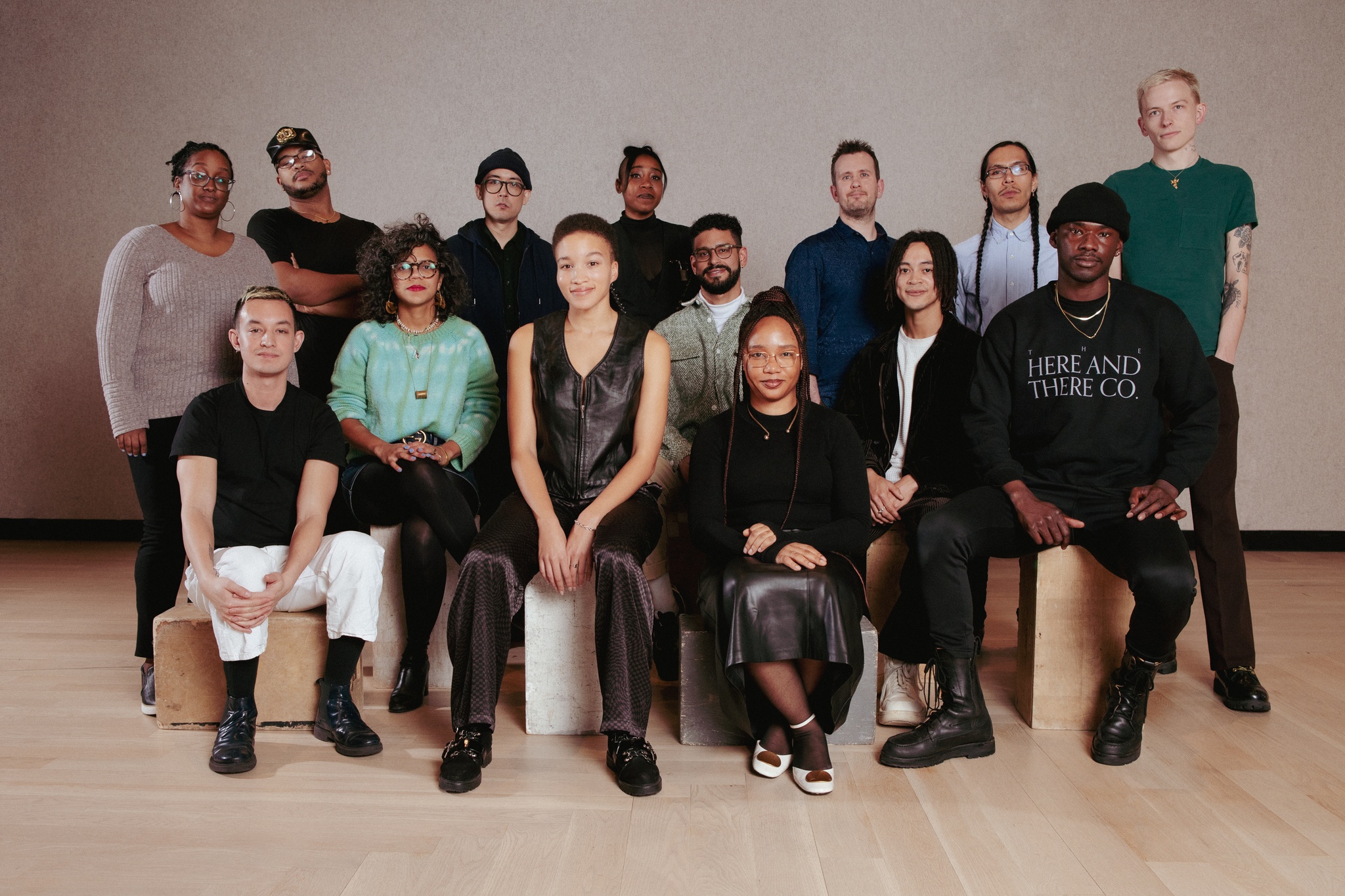 About Open Call
Launched as part of The Shed's inaugural year program, Open Call is a large-scale commissioning program for early-career NYC-based artists. For its third edition, 18 proposals out of more than 1,200 total submissions by artists and collectives were chosen by interdisciplinary leaders and professionals in their fields, including other artists and members of The Shed's staff, to present work in an exhibition in October 2023 and a performance series in summer 2024. Selected artists receive a commissioning fee of up to $15,000 depending on the scope of their projects, robust production support, and resources to further nurture their practices and expand their audiences.
The artists presenting in 2023 and 2024 create work in disciplines from drag performance and sculpture to filmmaking and poetry, each proposing care- and community-based responses to the urgent issues of our time. On view November 4 to January 21, an exhibition will present 10 artworks by artists who bring personal stories intersecting with global history to the Level 2 Gallery. Artists presenting in the exhibition include Minne Atairu, Jake Brush, Cathy Linh Che & Christopher Radcliff, Armando Guadalupe Cortés, Lizania Cruz, Bryan Fernandez, Luis A. Gutierrez, Jeffrey Meris, Calli Roche, and Sandy Williams IV. In summer 2024, in The Shed's Griffin Theater, the remaining eight commissions will feature immersive, multidisciplinary performances. Artists presenting performances include Kyle Dacuyan, The Dragon Sisters, Kayla Hamilton, Nile Harris, NIC Kay, Asia Stewart, Yaa Samar! Dance Theatre, and Garrett Zuercher.
Admission is free to all Open Call events.
Read about the artists who will present in 2023 and 2024, and learn more about past Open Call commissions below.
About the Commissions
Visual Artists (presenting fall 2023)
Minne Atairu: To the Hand
A sculptural installation that uses artificial intelligence to imagine an Afrofuturism inspired by the oral tradition and material culture of Benin
Jake Brush: Petpourri
A video installation that creates an absurdist reboot of Long Island pet store owner Marc Morrone's public access television show
Cathy Linh Che & Christopher Radcliff: Appocalips
A three-channel video installation based on the real-life experiences of Cathy Linh Che's parents, Vietnam War refugees, who in 1976, while stateless in a refugee camp in the Philippines, were hired to play extras in Francis Ford Coppola's Apocalypse Now
Armando Guadalupe Cortés: Palenque
A structure in the form of a palenque, a round cockfighting ring. The skeletal and ghostly architectural support for a seating arena for violent sport creates a space in which spectacle is both expected and denied.
Lizania Cruz: Evidence 071: Frederick Douglass and The Commission of Inquiry
A multimedia installation, based on Cruz's research in the Dominican Republic, that explores the role of US imperialism and asks audiences to consider their relation to ongoing processes of colonization
Bryan Fernandez: Who I am, Quiénes Somos
A series of mixed-media assemblages exploring the Dominican diaspora across the Northeast United States and the Dominican Republic that examines how identity and material culture find ways to reimagine belonging within immigrant communities
Luis A. Gutierrez: Las Nueve Demandas (The Nine Demands)
A series of monumental paintings that draw from historical archives, specifically those related to the December 1928 Masacre de las bananeras, a mass killing of banana plantation workers executed by the Colombian Army in response to a strike after the United Fruit Company failed to meet the workers' demands for fair wages and humane labor conditions in November of the same year
Calli Roche: Death to Dermis: Ecdysis
A metaphorical shucking of the body, searching for the core. Each work uses various pattern-making and sculpture techniques to peel layers of the self in an effort to dissect the various psychic and physiological components that constitute the self.
Jeffrey Meris: Catch a Stick of Fire III (Dark Man X)
A horticultural sculpture supporting orchids that was conceived during Meris's Self-Care Saturdays, a personal ritual that provided psychological sanctuary over the past year's dual crises of continued violence against Black individuals and the global pandemic
Sandy Williams IV: 40 ACRES: Weeksville
A multilayered public performance that took place in the sky above the remaining fragments of Weeksville, Brooklyn, a historical African American neighborhood founded by freed, formerly enslaved people in the 19th century



Performing Artists (presenting summer 2024)
Kyle Dacuyan: Dad Rock
An episodic monologue with movement, video, and music contemplating the relationships between information, media, surveillance, and remote violence
The Dragon Sisters: New Information
An equal parts concert, immersive theater, and dance party including original music, live instrumentation, dance performance, and visual art
Kayla Hamilton: How to Bend Down/How to Pick it Up
An immersive, multidisciplinary installation and performance exploring the growth, use, and medicalization of cotton as a historical thread between Blackness and disability
Nile Harris: Minor b
A choreographed performance for four bodies
NIC Kay: Must have character
A duet between a mascot and a drag performer exploring impulse and desire
Asia Stewart: Fabric Softener
An interdisciplinary performance that combines song, movement, and painting to meditate on intergenerational trauma and the perverse inheritance(s) passed down by Black m/others
Yaa Samar! Dance Theatre: Gathering: New York City
An interactive site-based work—part staged work, part improvisational score—that asks why and how we gather, and when we choose to act alone or as a group, utilizing technology, storytelling, sound design, and play to examine what brings people together in celebration, conflict, protest, and sport
Garrett Zuercher: Inside/Look
A narrative piece created entirely within the Deaf community that provides an authentic, firsthand glimpse into the lives and work of Deaf artists, opening a rare window onto the incredibly diverse prism of Deaf identity and the unique challenges Deaf folks face
About the selection process
A group of 67 interdisciplinary reviewers and panelists—from the visual arts and music to theater, dance, and performance—came together to review proposals in March and June 2022.
Artists (By Year Selected)
2022 (presenting in 2023 and 2024)
Minne Atairu
Jake Brush
Cathy Linh Che & Christopher Radcliff
Armando Guadalupe Cortés
Lizania Cruz
Kyle Dacuyan
The Dragon Sisters
Bryan Fernandez
Luis A. Gutierrez
Kayla Hamilton
Nile Harris
NIC Kay
Jeffrey Meris
Calli Roche
Asia Stewart
Sandy Williams IV
Yaa Samar! Dance Theatre
Garrett Zuercher
Learn more about past commissions
Program Credits
The third edition of Open Call is organized by Tamara McCaw, Chief Civic Program Officer, and Darren Biggart, Director of Civic Programs, with Eduardo Andres Alfonso, Associate Curator at Large, and Deja Belardo, Assistant Curator, Visual Arts and Civic Programs. The exhibition is produced by MK Meador, Exhibition Producer, and Freddy Villalobos, Project Manager.
The program was conceived by The Shed's Artistic Director Alex Poots; Tamara McCaw; Emma Enderby, former Chief Curator; and Senior Program Advisor Hans Ulrich Obrist.
Special thanks to former program team colleagues who facilitated the third edition's call for proposals and selection process: Solana Chehtman, Sarah Khalid Dhobhany, Alessandra Gómez, and Andria Hickey.
Thank you to our partners

Support for Open Call is generously provided by





Additional support for Open Call is provided by Warner Bros. Discovery 150, The Wescustogo Foundation, and Jody and John Arnhold | Arnhold Foundation.
The creation of new work at The Shed is generously supported by the Lizzie and Jonathan Tisch Commissioning Fund and the Shed Commissioners. Major support for live productions at The Shed is provided by the Charina Endowment Fund, with additional support from the New York State Council on the Arts with the support of the Office of the Governor and the New York State Legislature.
The Shed is connected by