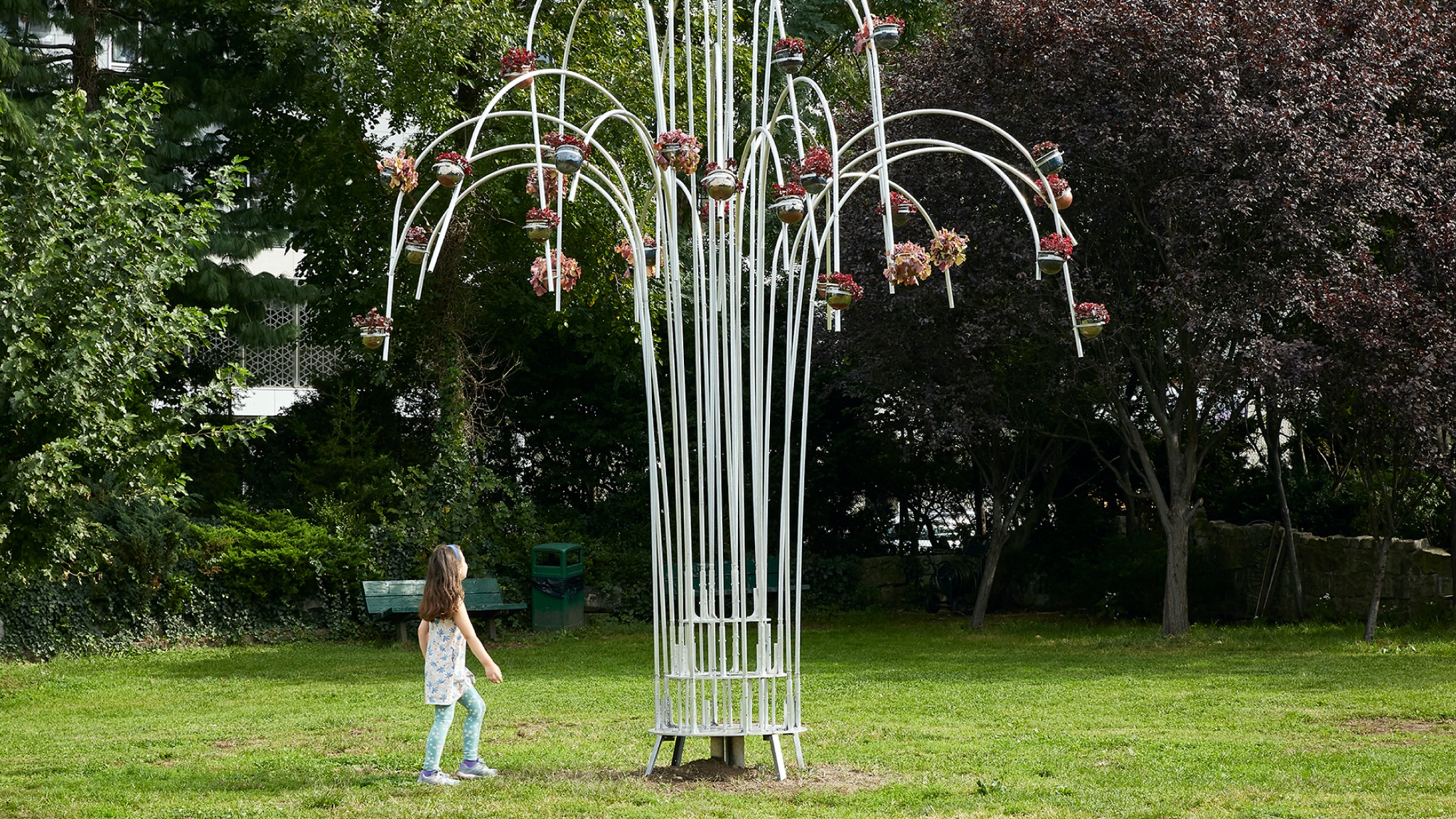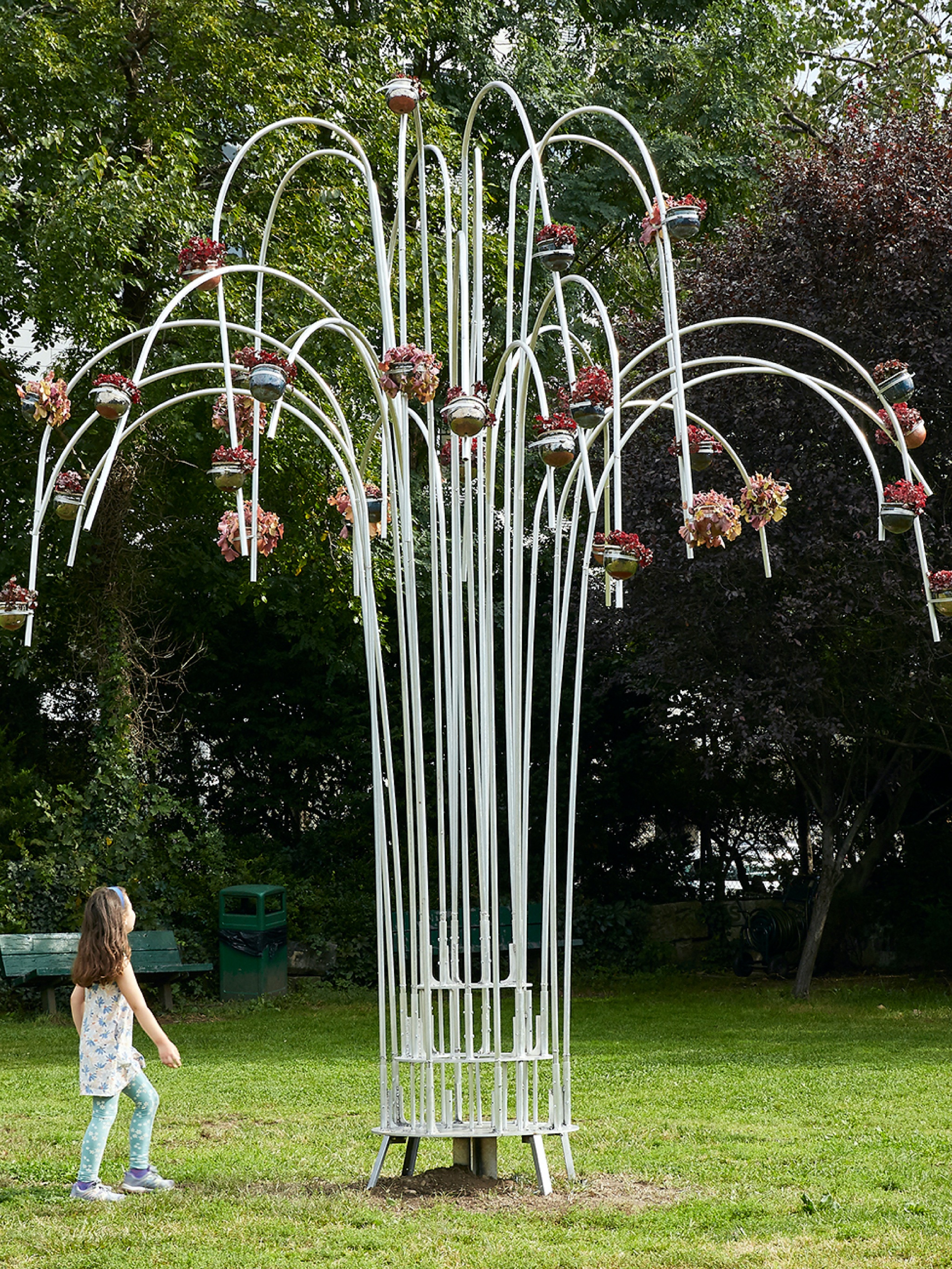 Jeffrey Meris
OPEN CALL 2023 GROUP EXHIBITION
A sculptural installation drawing on the artist's personal ritual of psychological sanctuary
About this commission
Jeffrey Meris's sculptural installation Catch a Stick of Fire III (Dark Man X) continues a series the artist began during the Covid-19 shutdown. In search of sanctuary from the pandemic and anti-Black violence, Meris began a weekly gardening tradition that he calls Self-Care Saturday. His series "Catch a Stick of Fire" emerged from this time dedicated to contemplating care, healing, and futurity. Catch a Stick of Fire III (Dark Man X), commissioned for Open Call, references several images and cultural moments that the artist uses to counter anti-Blackness, xenophobia, and queerphobia—from fireworks, prevalent during the protests in summer 2020, to a tender video clip of DMX caring for orchids, for Meris revealing an affectionate and graceful side to the rapper and a softer representation not often afforded to Black men in popular culture. In Meris's installation, a suspended sculpture counters the dual crises of ongoing anti-Black violence and the pandemic, signifying hope, healing, and transformation.
Artist
Jeffrey Meris (b. 1991, Haiti) is a multidisciplinary artist whose practice engages with the relationship between materiality and larger cultural and social phenomenon. Working across sculpture, installation, performance, and drawing, Meris's work considers ecology, embodiment, and various lived experiences, while healing deeply personal and historical wounds. Meris earned an AA in arts and crafts from the University of the Bahamas in 2012, a BFA in sculpture from the Tyler School of Art in 2015, and an MFA in visual arts from Columbia University in 2019. Meris has exhibited at the Amon Carter Museum, Texas (2023); the Aldrich Museum, Connecticut (2023); Lehmann Maupin, New York (2022); James Cohan Gallery, New York (2021); White Columns, New York (2021); the Luggage Store Gallery, San Francisco (2020); Halle 14, Leipzig, Germany (2017); and the National Art Gallery of the Bahamas, the D'Aguilar Art Foundation, and Mestre Projects, all in Nassau, Bahamas (2012, 2017, 2021). Meris is a Skowhegan School of Painting and Sculpture alum (2019); a NXTHVN Studio Fellow, New Haven (2020); and a Sharpe-Walentas Studio Program artist in residence, Brooklyn (2021). Always Jeffrey never "Jeff."
part of an exhibition
Open Call 2023 Group Exhibition
Read more about "Open Call 2023 Group Exhibition"
All details for "Open Call 2023 Group Exhibition"
Thank you to our partners

The Sponsor of Open Call is

Support for Open Call is generously provided by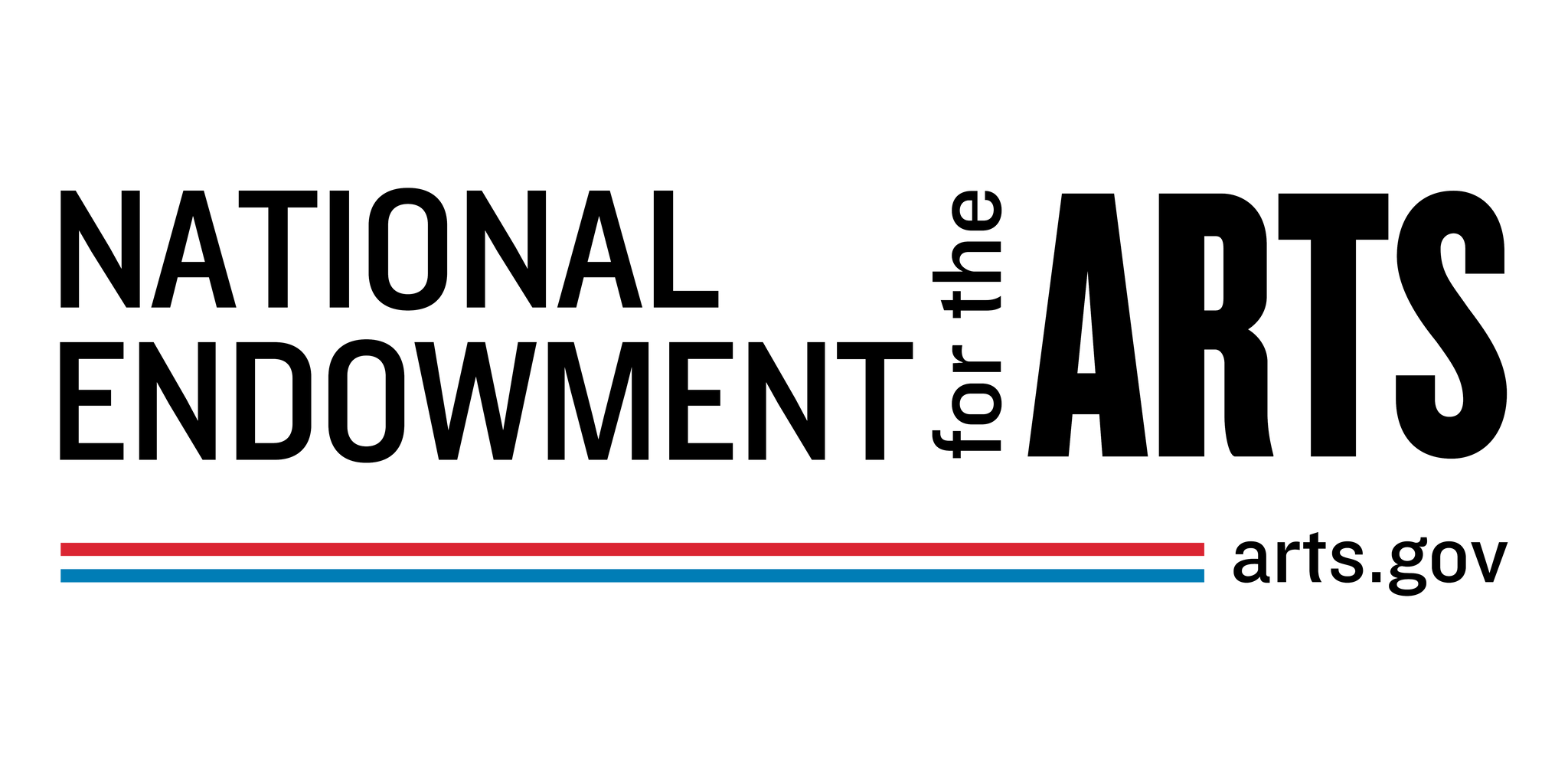 Additional support for Open Call is provided by Warner Bros. Discovery 150, The Wescustogo Foundation, and Jody and John Arnhold | Arnhold Foundation.
The creation of new work at The Shed is generously supported by the Lizzie and Jonathan Tisch Commissioning Fund and the Shed Commissioners.