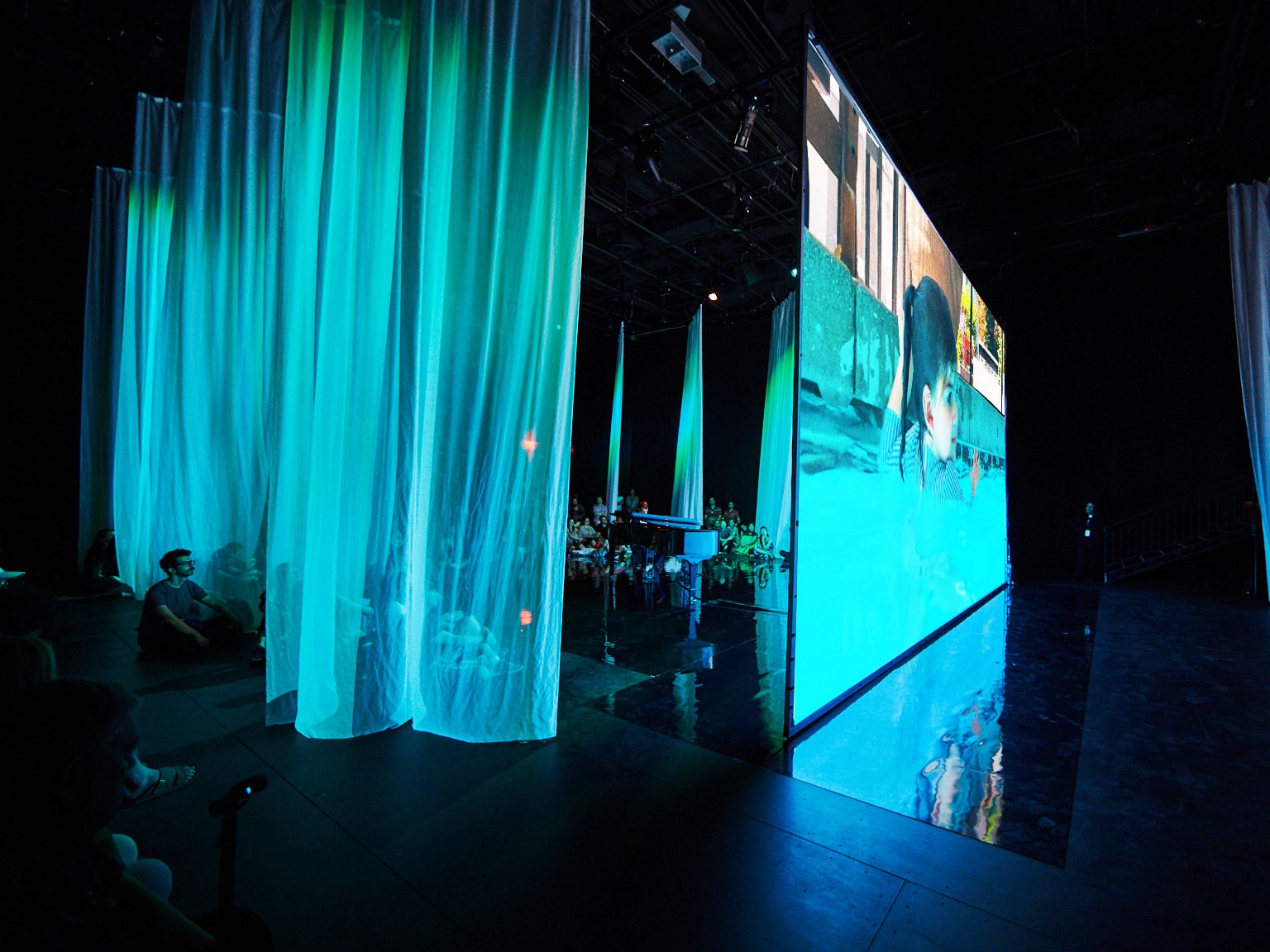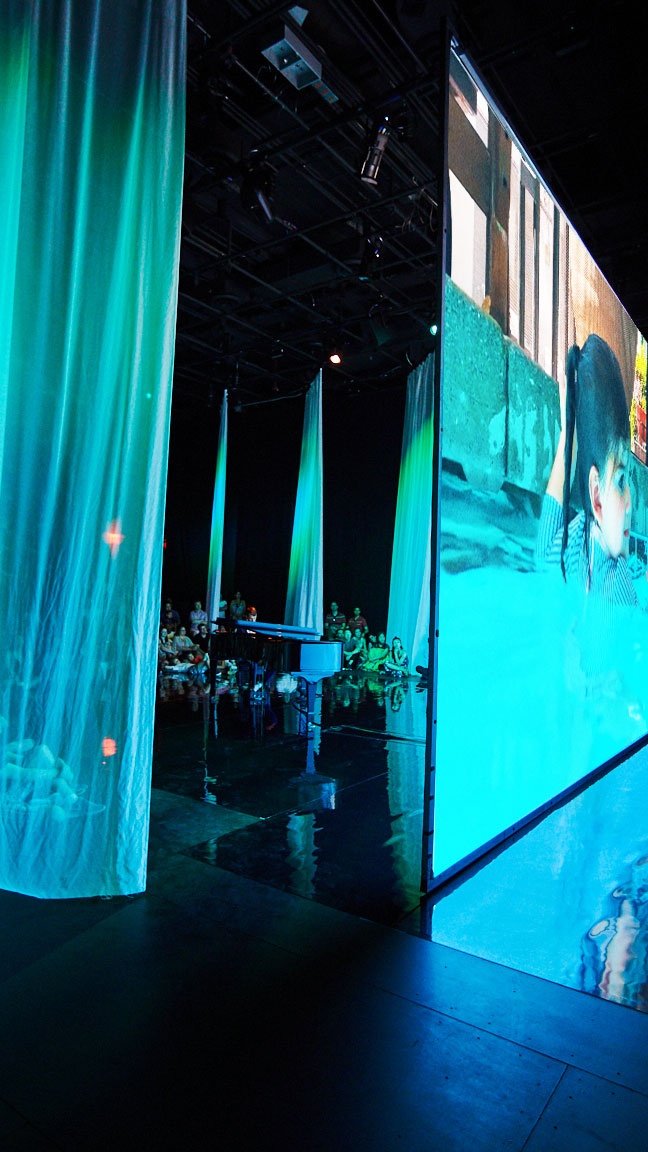 Open Call: Richard Sears, Clara Cullen, Ethan Braun, and Yael Ginosar
An immersive performance featuring video, piano, and electronic musical score
Tickets
FREE
Tickets to Open Call are free, but reservations are required. Seats are available on a first come, first served basis. We recommend arriving early. There is a two-ticket limit per household.
Join the standby line
A standby line will form in the lobby one hour prior to the performance time for any sold out productions. While standby is not guaranteed, we will do our best to get everyone into the performance.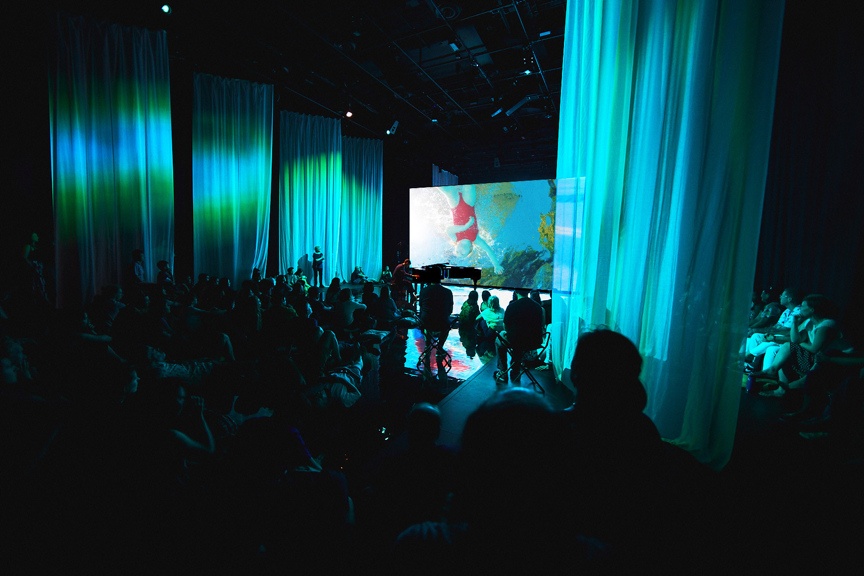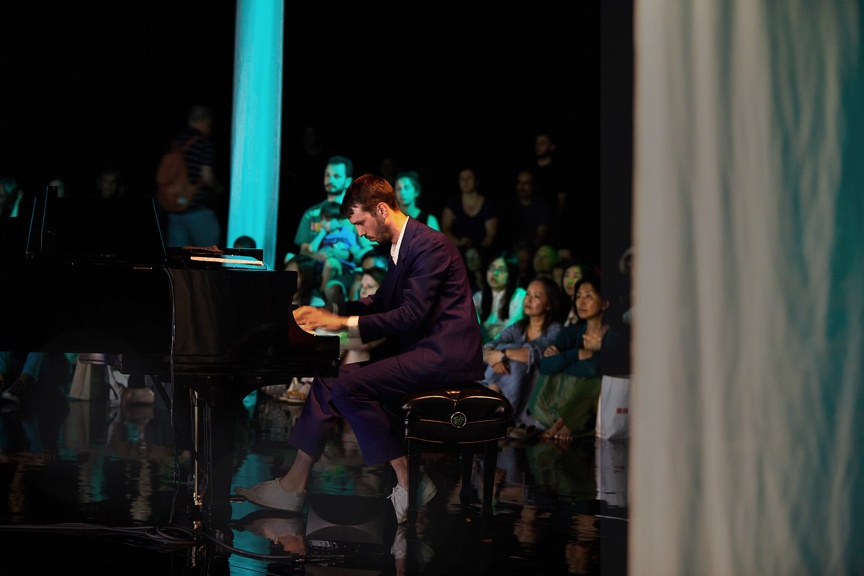 About this commission
Should I Lose You is a staged piece for video, piano, and electronic musical score. The film, by Clara Cullen, documents the seeming playful innocence of a children's swimming lesson. Bathed in Hollywood sunlight, the forty-five minute feature uses organic camera work with poetic observational shots to bring the audience into the intimate space of the children throughout the lesson.
The score, by Ethan Braun, deconstructs the piano as an instrument and the concerto as a genre, by shaping new music from already written music. It oscillates between sentimentality and abstraction amidst a slew of samples of pianos and other music from Nina Simone to Rachmaninov.
Pianist Richard Sears winds through the score's labyrinth of disparate materials, pushing against and subsuming them through improvisation. Yael Ginosar stages the work in a hall of convex and diffuse mirrors. The audience is free to wander in the space, sensing their own presence emerge and submerge through sheer screens and reflections.
The viewer bears witness to the children, the soloist, and themselves at a crossroads of trust and fear. Should I Lose You illuminates a dissonance of human development: an instinctual resistance to progress. Thus, a scene of innocence becomes a visceral account of the necessity of growth in the face of the unknown.
Based in Lefferts Gardens, Brooklyn, jazz pianist Richard Sears collaborates with videographer Clara Cullen, composer and sound designer Ethan Braun, and architect and visual artist Yael Ginosar.
Location and dates
This event takes place in The Griffin Theater.
June 20 at 5 pm
June 21 at 5 pm
June 22 at 5 pm
This piece is open from 5 to 7:30 pm, with live performances by Richard Sears at 5:15 and 6:30 pm. Audience members are welcome to come in and out of the theater at any time.
Richard Sears, Performer and Composer
Yael Ginosar, Designer
Ethan Braun, Composer and Sound Designer
Clara Cullen, Filmmaker
Ryan A. Ross, Stage Manager
Stephen Sury, Lead Carpenter
Maytte Martinez, Head Electrician
Seth Huling, Head Audio
Details
Running time: 2 hours 30 minutes

Doors open 30 minutes in advance
Please arrive a minimum of 15 minutes before the performance starts or your seats will be released to the standby line
Acknowledgments
Special thanks to Jonathan Averbuch, Nadav Ginosar, Paige Schlosser , Manuel Barenboim, Louis Lim, Shahzad Ismaily, Brendon Randall Meyers, Martin Nevin, John Kamitsuka, Bailey Moon, Lena Friedrich, Oren Bloedow, Sam Gendel, Sam Jones, Jonathan Braun and Lynn Gordon , Alma Farago , Anouk Crystal, Maude Sussman , Max Farago, Roberta and David Sears, John Kao, the Farago family, Crystal Theodoli-Braschi family, the Sussman Buhai family, Paul Zografakis, Lykke Li , Manuel Barenboim, Teresa Anchorena, Carlos Cullen, Mateo Paiva, Luna Paiva, Gil Brief, Gerri Andrews, Yara Lee Van Der Meijs, Shades by Design, Synchromy, Harlequin Floors, Gabriela Hearst, Peter Miles, and Gerri Andrews.