Philly Bop Dance Class: Audrey and June Donaldson
How to attend
Attendance is free with a free ticket to the exhibition Tiona Nekkia McClodden: The Trace of an Implied Presence. Attendance is first come, first served. This event will take place in the Level 2 Gallery.
Please note: Visitors must wear a properly fitting mask covering their nose and mouth at all times while in The Shed, except when dining/drinking at Cedric's in the lobby. Please email info@theshed.org or call (646) 455-3494 if you have questions.
About this event
In conjunction with the exhibition
Tiona Nekkia McClodden: The Trace of an Implied Presence
, Audrey and June Donaldson, two well-known dancers within the East Coast bop and social dance community, present the Philly Bop, a Black social dance and the official dance of Philadelphia. This class is open to all levels of dancers.
Artists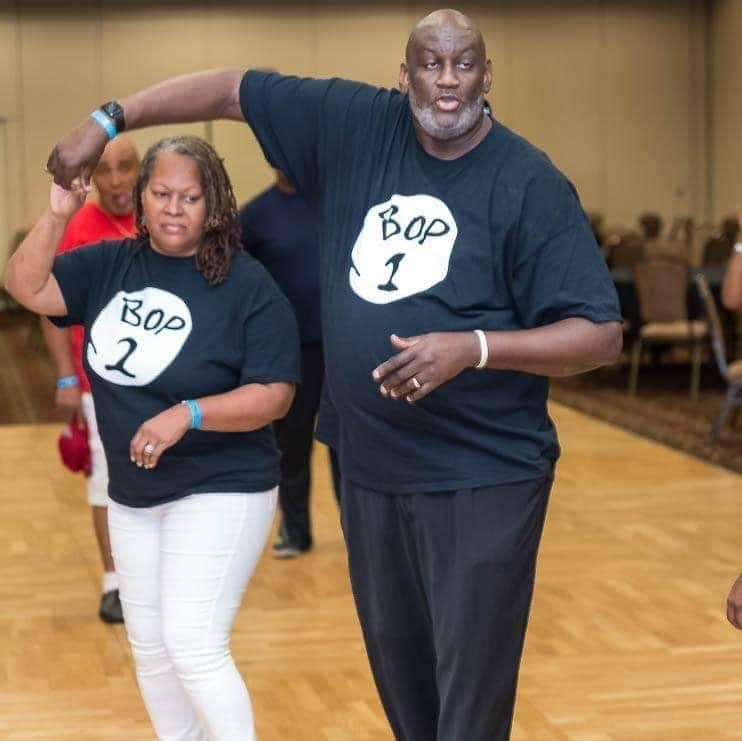 Audrey and June Donaldson
Audrey and June Donaldson
Audrey Donaldson, EdD/CI, is an educator with over 20 years of teaching experience. June Donaldson began his teaching career in 2003 as a Philly Bop and cha-cha instructor. Since then, they have added smooth-style ballrooming, Chicago Stepping for beginners, Philly Strand, and line dancing to the list of dance styles they offer as instructors.
The Philly Bop is at the center of Audrey and June's instructional journey. The two "Bopologists" promote the Philly Bop as the official dance of Philadelphia through local dance classes and by traveling to dance conferences and events in other states. Audrey and June have also shared the Philly Bop worldwide via YouTube, through their book, How to Dance: Philly Bop – A 6-Count Dance, and on the website DancingInPhilly.com.
Both Audrey and June face the challenges of teaching with an understanding that dance is a process that requires a range of instructional techniques to address a variety of learning styles. They approach learning, creativity, and teaching with dance foundation at the forefront. Most of all, they dance for the love of it!
Together they share the joy of dance as they provide public and private dance instruction and choreographic services.
Location and dates
This event takes place in Level 2 Gallery.
Saturday, August 27
4 pm
Thank you to our partner

Nike and The Shed partner to expand human potential through sport and art.