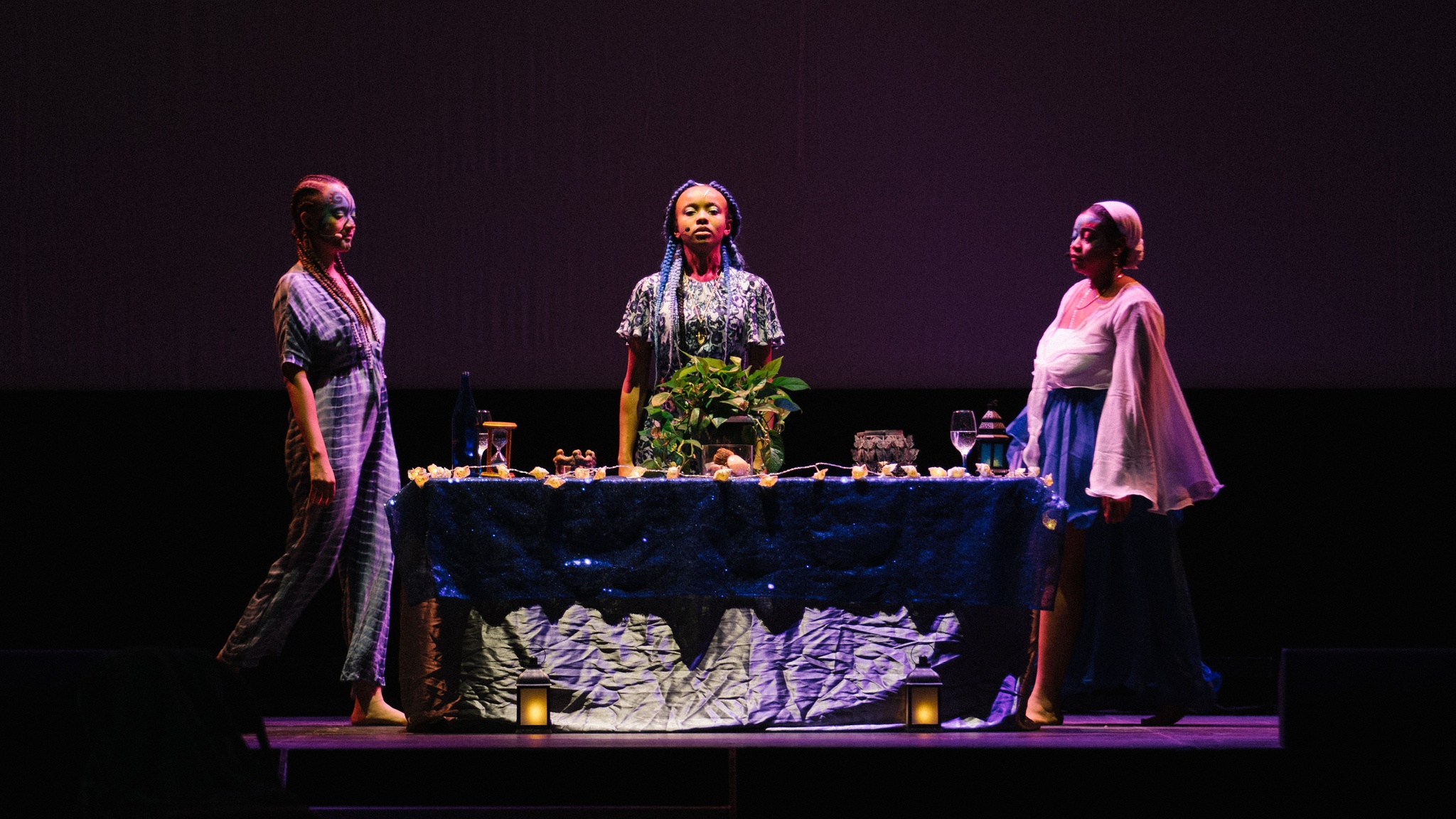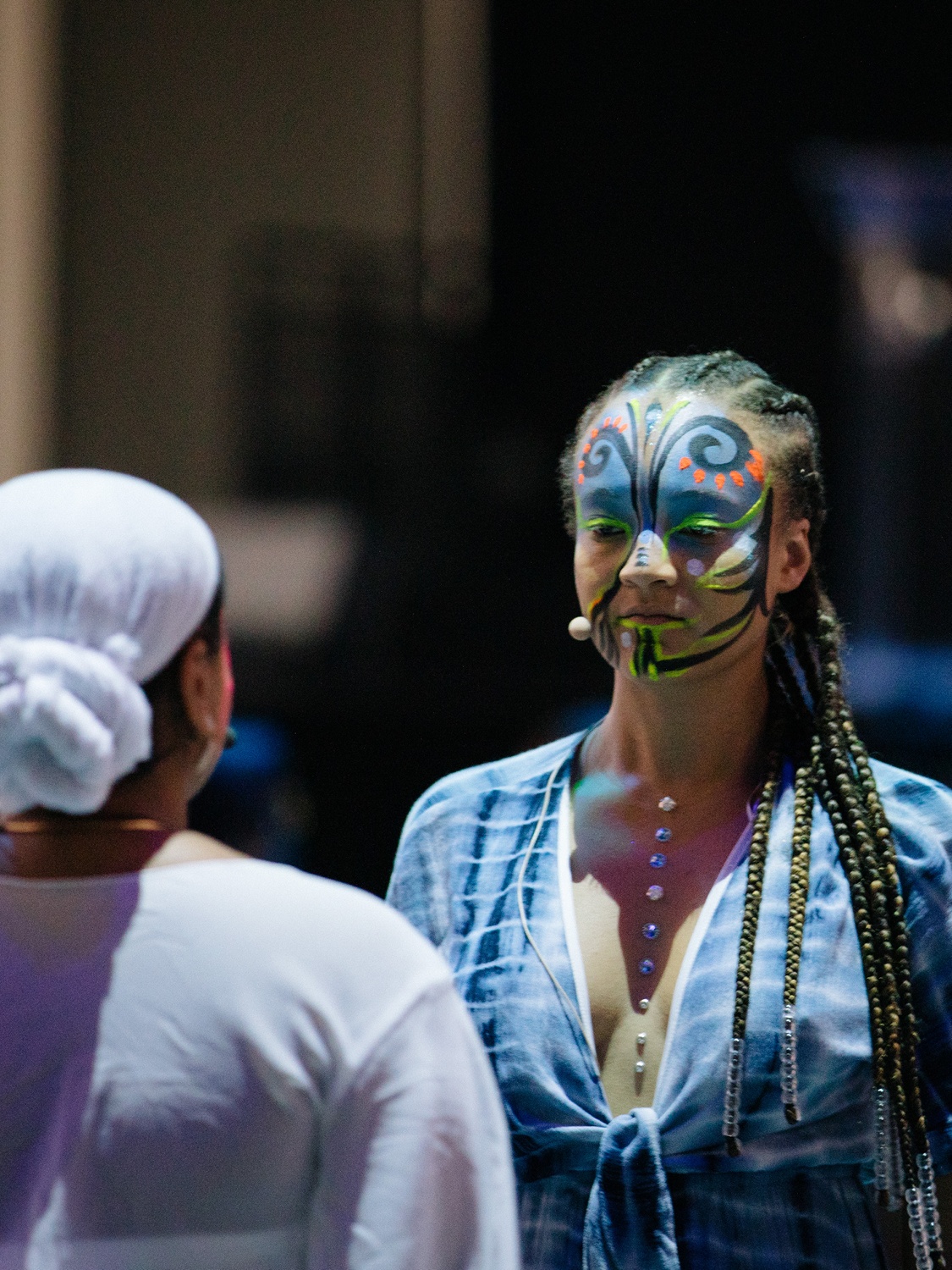 Narrative theater, Afro-diasporic folklore, poetry, and communal healing centering Black queer survivors
About this commission
Emily Waters's performance Look Back At It—named after the artist's call to "look at your derrière while you twerk and dance, in an embodied practice of joy and sensual liberation for all genders"—combines Afro-diasporic folklore, memoir, the stories of Black queer survivors, and rituals of grief and celebration to not only imagine what survival looks like but what it would mean for Black folks to thrive. Performed in collaboration with three artist-healers, the show weaves together autobiography, poetic theater, interactive healing moments, and magical realism constructed through face and body paint. Inviting reflection and collaboration, it honors Black survivors and ancestors and asks its audiences to look back at the stories, songs, and strategies that have contributed to their survival.
Creative Team and Cast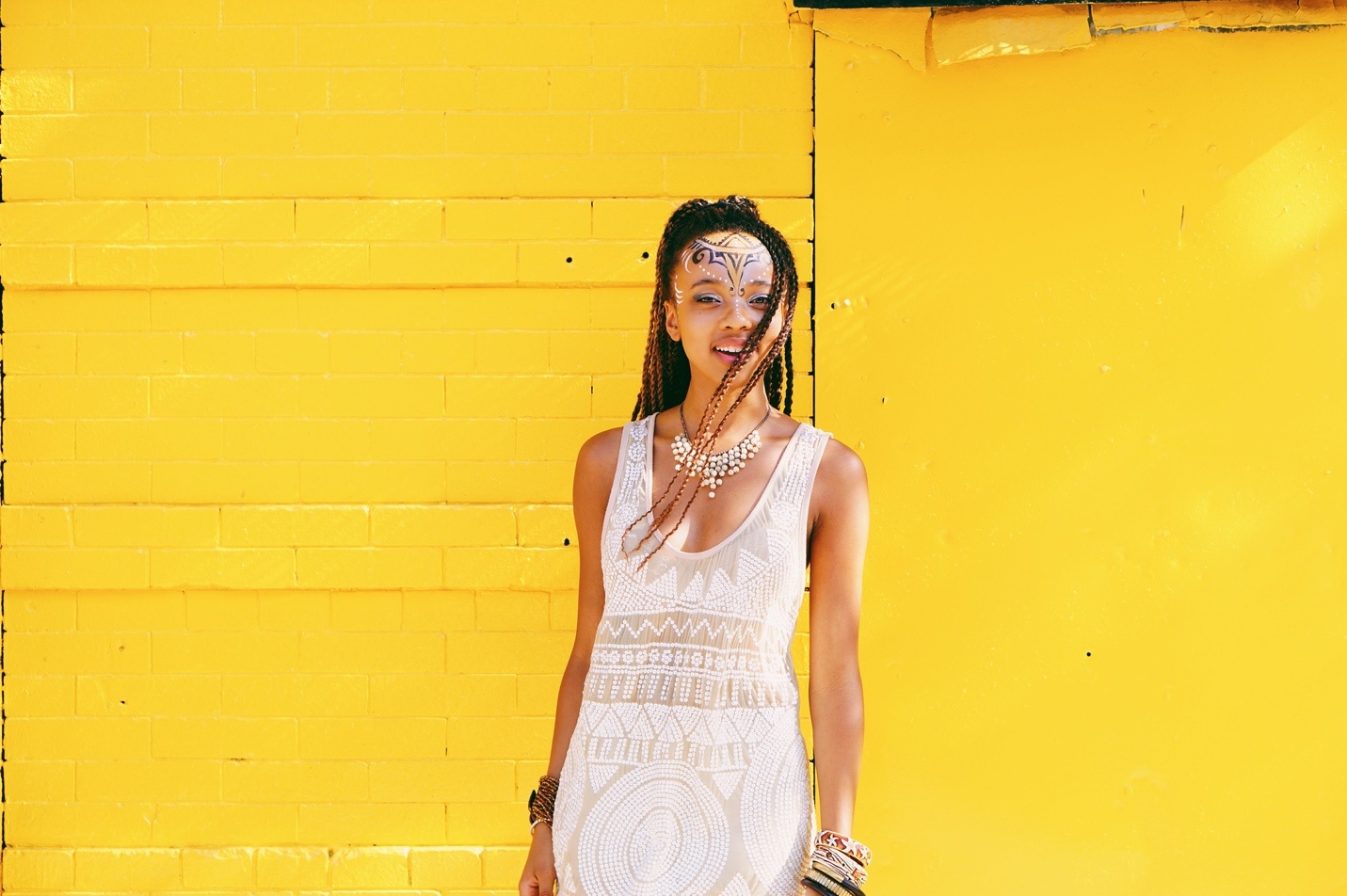 Emily Waters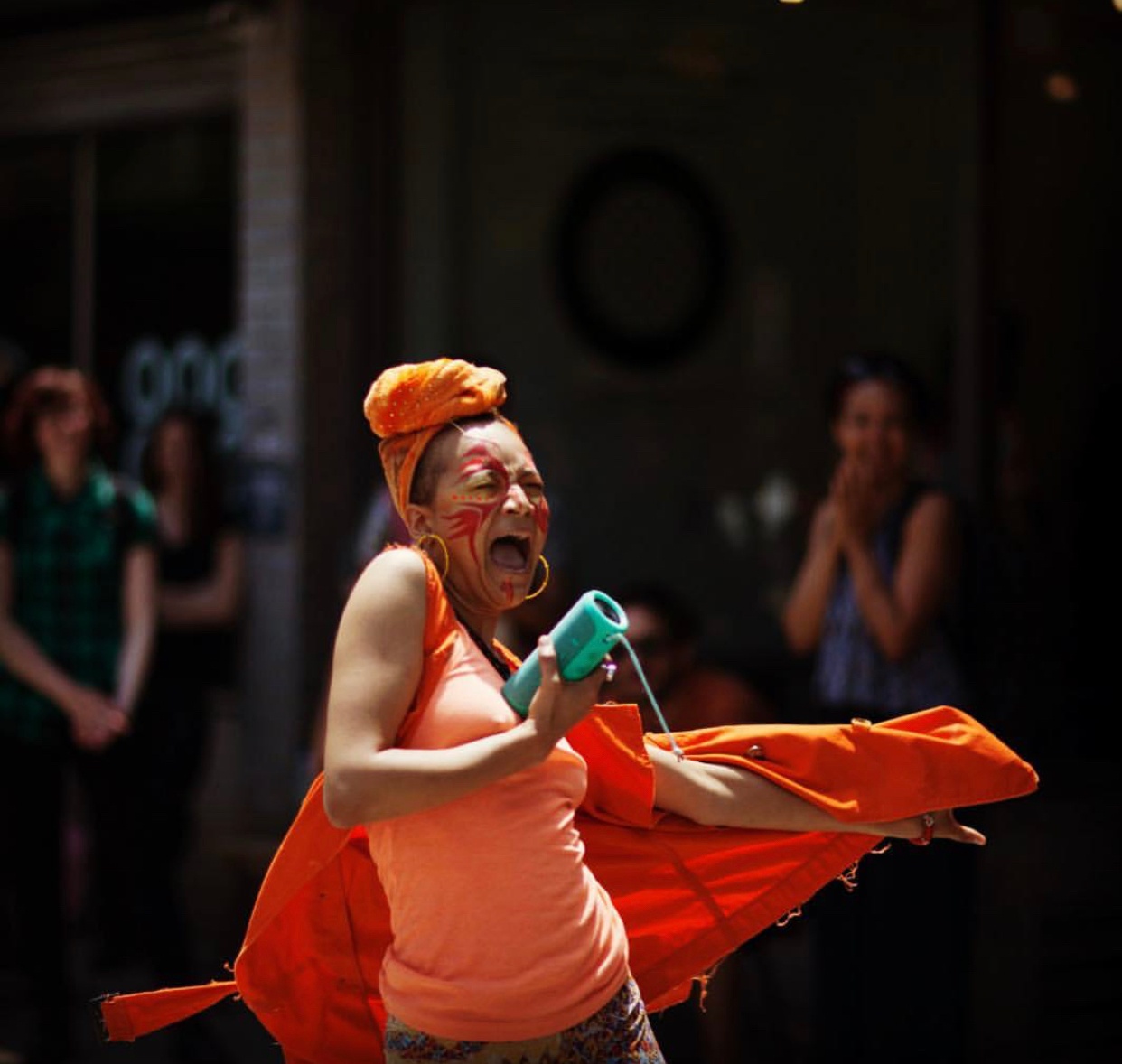 Mercy Viola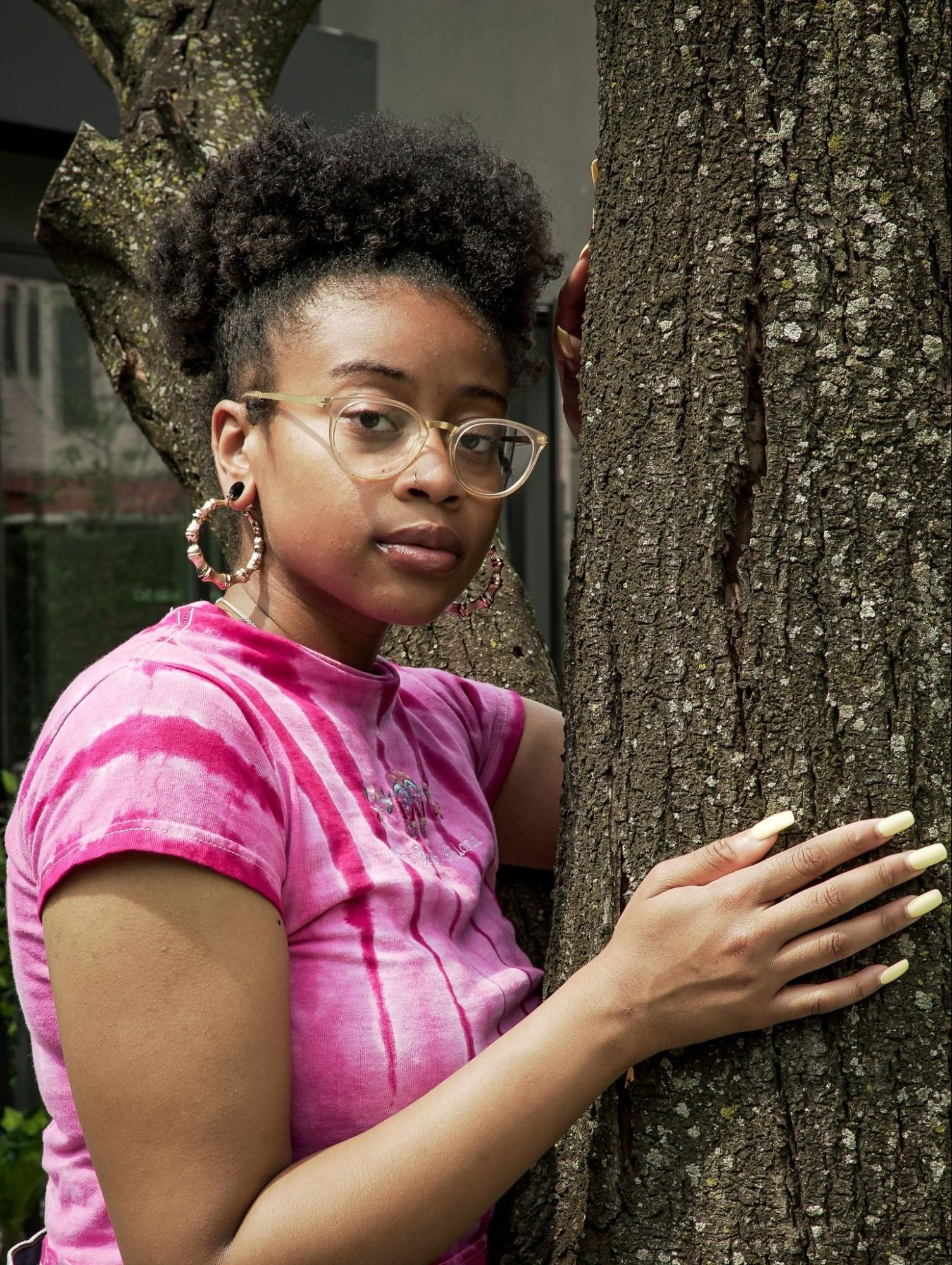 Tj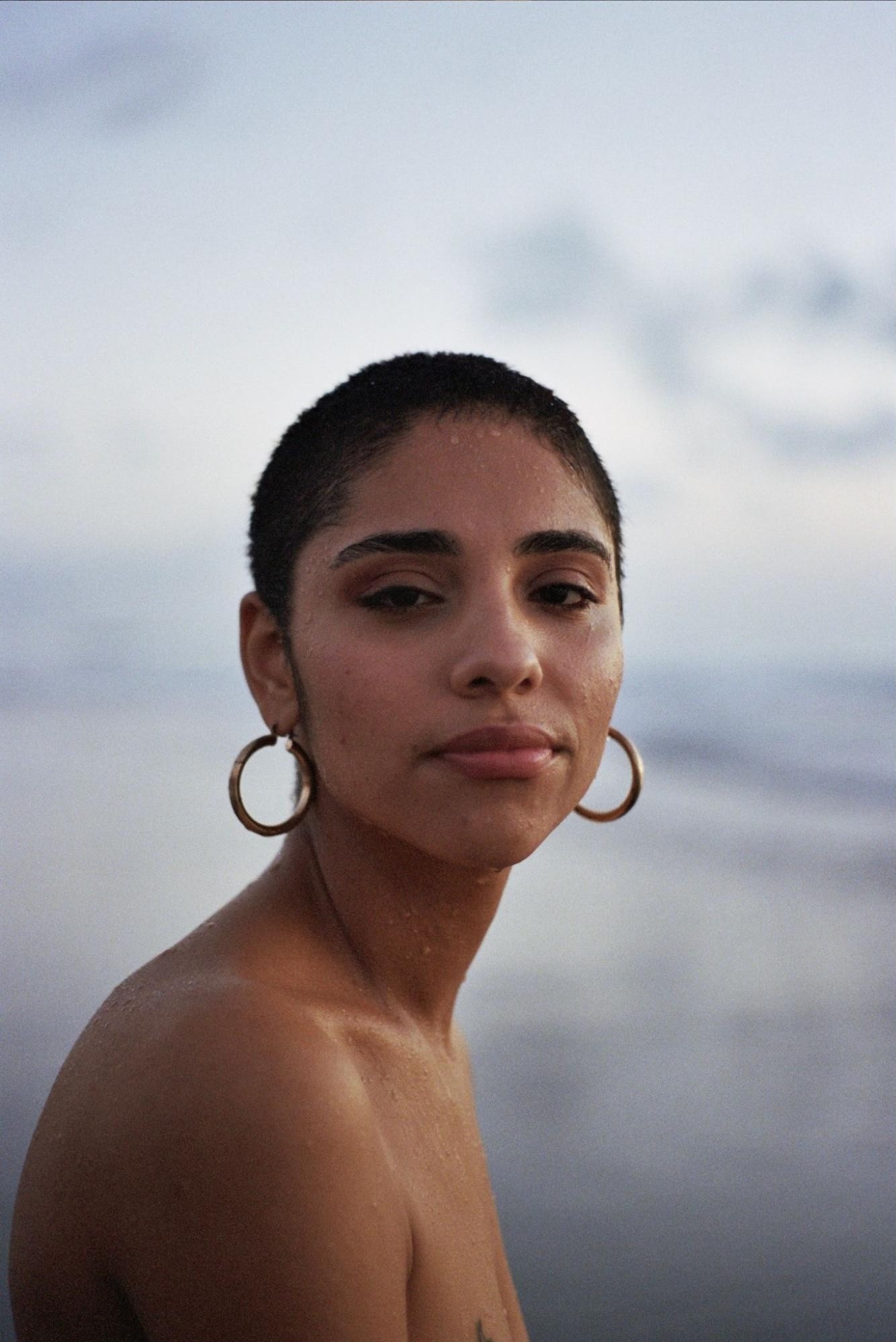 Shenny de Los Angeles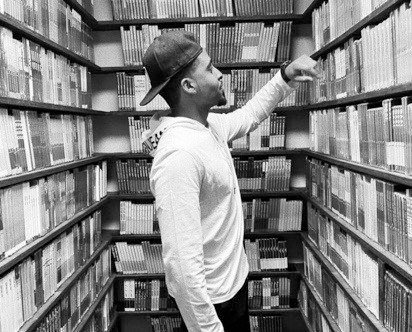 Luis G. Santos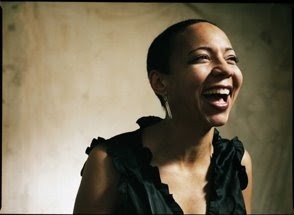 Dimitrea Tokunbo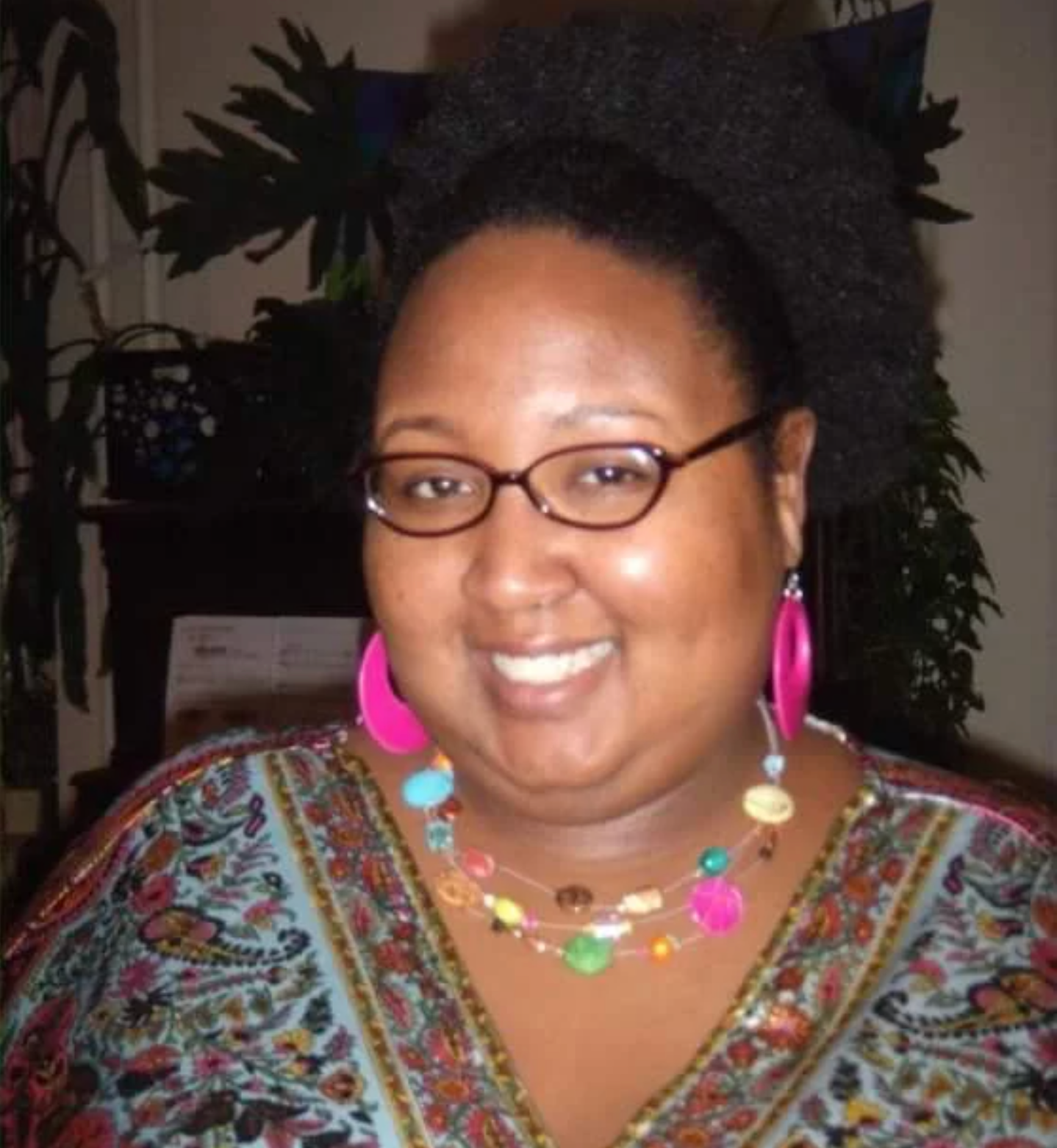 Ratasha Elise
Emily Waters
Creator, Performer
Emily Waters is a Brooklyn-based interdisciplinary artist grounded in a Black theater tradition that explores the roles of witness and testimony in collective and intergenerational healing. Waters helped to roll out the first ever #MeToo curriculum with Girls for Gender Equity, focusing on joy and storytelling through theater. Emily was an Emerge Fellow 2019 with Hemispheric Institute where they presented their work in progress at Abrons Arts Center. Waters is also the recipient of the Peace and Social Change Fellowship with Columbia University where she supervised research on the healing capacity of theater for survivors of sexual assault. In December 2019, Waters was awarded the Mount Tremper Arts Residency. They have presented their original work at Jack Theater, the Apollo, the High Line, Novo Foundation Grantmakers of Color Conference, and Judson Church. Waters is currently a Performance Project Fellow and was a selected writer in Billie Holiday Theater's annual 50in50 and Black Revolutionary Theater Workshop's Revolution Now! program.
Mercy Viola
Cast member: The Lake/Co-Divisor
Mercy Viola is a Black and Native nonbinary femme raised in Brooklyn, New York. They are passionate about land sovereignty, honoring playfulness, and healing intergenerational trauma. Viola incorporates these values as a visual artist, performance artist, and educator. Viola continues teaching and creating art to actualize integrity, accountability, and sustainability, particularly in movement and action spaces. @Lunar4Viola
Tj
Film Editor, Cast member: The Creek/Co-Divisor
Tj is a mover, aspiring filmmaker/journalist, a lover, and a Brooklyn native who doesn't stop fighting, ever. They hope to create art that exposes the harsh realities of American society as well as changing the narratives that white cis hetero washed media has spun in American society. Their art is fueled by the need for healing and learning spaces within the Black queer community; as well as unpacking the same for themself. They can't wait to change the world.
Shenny de Los Angeles
Director, Producer
Shenny de Los Angeles is a Dominican American interdisciplinary performance artist. Her work focuses on healing generational trauma, inviting every hurt to free itself into joy. Currently, her short film the ritual to beauty is screening at Hot Docs Film Festival. This past fall, she was commissioned by the Latinx Playwright Circle to write a short play entitled, Las Mujeres de Hierro/The women made of Iron. Now as a 2020 – 21 Suite/Space Artist of Mabou Mines Theatre, de Los Angeles is in the early stages of exploring a woman show she's written entitled What Happens to Brown Girls Who Never Learn How to Love Themselves Brown?
Luis G. Santos
Cinematographer
Growing up in NYC as a child of Dominican immigrants, Luis G. Santos quickly had to develop an effective way to balance the variety of cultures around him and weave them together in a manner that respects the heritage and traditions of everyone involved. This upbringing shaped his perspective on life and is the reason why he's so heavily invested in creating thoughtful, genuine, and socially enriching feature films and commercials aimed at the Black and Latinx cultures he occupies. Santos is currently developing various narrative projects. Among them are two feature films and one limited series. Please use this contact information to request further information and/or copies of the screenplays. @LSGJR
Dimitrea Tokunbo
Face and Body Painter
Dimitrea Tokunbo is an artist, writer, and healer. Educated at Moore College of Art, she works in a variety of media and formats, from fine art to intuitive face painting to book illustration. She is the illustrator of three picture books (Amadi's Snowman from Tilbury House, and Has Anyone Lost a Glove and Sidewalk Chalk from Boyds Mills Press) and two picture books (Sounds of Kwanzaa from Scholastic Press and Together, published by Cartwheel Books). She is deeply embedded in her Brooklyn community and truly values her time working with organizations such as Harriet's Apothecary, Center for Anti-Violence Education, and Brooklyn's Children's Museum.
Healing, Transformation, Black Love & Liberation make my heart sing… Songs of praise to the Spirit World from which we came, and the Ancestors on whose shoulders we stand.
The past 12 years of Ratasha Elise's life have been an exploration of redefining love, discovering what it means to be fully human, and learning/teaching what it means to embody liberation. She also embodies 17 years of training and experience as a teaching artist, experiential workshop facilitator, and cultural educator. She has spent the past eight years focused on healing justice facilitation and racial justice consulting, having trained and practiced in Oakland, CA, the Washington, D.C., metro area, and the rural outskirts of the Raleigh/Durham, NC, Triangle region. Areas of study and experience include personal and systemic transformation methods, music medicine, generative conflict resolution, trauma healing, Black psychology, African and African American history, West African ancestral spiritual practices, and generative somatics. chocolatesoul.org
Credits
Itohan Edoloyi, Lighting Design Coordinator
DJ Potts, Audio Design Coordinator
Erica Schnitzer, Stage Coordinator
Stefan Carrillo, Head Carpenter – McCourt
Stuart Burgess, Head Electrician – McCourt
Jim Van Bergen, Head Audio – McCourt
Adam Farquharson, Production Video
Sean Meehan, Assistant Video
Maytté Martinez, Lighting Programmer
Mike Diaz, Assistant Carpenter
Harry Platt, Monitor Engineer
Emily Waters would like to thank the entire creative team for their love, support, and commitment to this journey; Billie, Dimitrea Tokunbo, George Emilio Sanchez, Mercy Viola, Ratasha Elise, TJ, Seiami Kim Amoda and Shenny de los Angeles.
Big thank you to The Shed production team, Mount Tremper Arts, Black Revolutionary Theater Company, and Triskelion Arts. Emily extends infinite love to their Mama and Ms. D for their support throughout this process and beyond.
This piece is dedicated to Emily's Grandma Vi.
Location and dates
This event takes place in The McCourt.
Thursday, June 10, 8 pm
Accessibility
The Shed's spaces are all wheelchair accessible. This event takes place in The McCourt.
Assistive listening is available on your smartphone over The Shed's free Wi-Fi network via the free Listen Everywhere app. Devices will be available for you to borrow at the ticketing desk if you do not want to use your own smartphone.
Download the Listen Everywhere app before you arrive.
This performance will include ASL interpretation with Deaf interpreters coordinated and supported by a hearing interpreter (provided by Roxanna Aguilo and Brandon Kazen-Maddox).
To request live audio description, please email info@theshed.org or call (646) 455-3494 at least 10 days prior to the performance date.
To learn more about what to expect during your visit and the performance, please read these descriptions.
If you have any questions or other requests, please email info@theshed.org or call (646) 455-3494.
What to Expect
Thank you for planning a visit to The Shed. We're looking forward to welcoming you for Open Call. Currently, the entrance to our building is through The McCourt door on the east side of our building adjacent to the Hudson Yards Public Square. The McCourt is a large performance space created when The Shed's shell, or movable roof, rolls out to cover the plaza on the east side of the building. You can access this entrance from 11th Avenue and Hudson Boulevard, just one block north of 30th Street, or from the 34 St–Hudson Yards subway station between 10th and 11th Avenues.
As you arrive at The Shed, you will enter The McCourt through a wide, unobstructed entrance at the southeast corner of the building. It is close to the area where the High Line meets Hudson Yards at 30th Street. Most performances will take place in The McCourt. You will pass through this space to enter the rest of the building and access the Level 2 Gallery and The Tisch Skylights for the exhibition and other performances.
The shell of The McCourt is covered in a shiny, pillowy material, and its floor is level with the ground of the plaza. The Shed's building, including The McCourt, is wheelchair accessible. You will scan your own ticket on your smartphone, with help if needed from a friendly visitor experience staff member standing nearby wearing a black t-shirt and ID badge on a purple lanyard.
Once you're inside The McCourt you're protected from the sun and weather but the space still feels open. The McCourt has 110-foot-high ceilings and feels airy with large wall panels lifted so the space remains open to the outdoors. You can feel the breeze and hear the activity on the plaza and on the streets in the distance, and light from the plaza and the Shops at Hudson Yards filters into the space after sunset.
The flooring in The McCourt is made of hard paving stones. They are in two shades of gray, and the lighter stones stretch across the east and west sides of The McCourt to form a large artwork by Lawrence Weiner that reads "In front of itself" in large letters. (This phrase is also the title of the work.) The letters on the east side of the space are partly covered by the Open Call stage so you can only partially read the phrase.
Seating in The McCourt is general admission, so you can choose from any available spot. The seats have armrests and thick cushions, and some are folding chairs that flip up as you stand up from them. If you would like help in finding a seat, a staff member at the entrance can guide you.
For any additional access needs or requests, please email info@theshed.org or call (646) 455-3494.
Emily Waters's performance lasts approximately 60 minutes and opens with a soft greeting to the audience. The performance incorporates poetry, film, and movement, and performers will process through the center of the audience to the four-foot-high stage as the piece begins. The performance includes prerecorded sound, live music and singing, and audience members are invited to bring small percussion instruments like tambourines and maracas to participate at specified moments. The energy of the performance ebbs and flows throughout its duration but there are no particularly jarring sound or light elements. At the end of the performance, audience members will be invited to participate in a guided movement exercise, which includes seated and meditative/imaginary versions depending on one's comfort level. For any additional access needs or requests, please email
info@theshed.org
or call (646) 455-3494.
Open Call
Read more about "Open Call "
All details for "Open Call "
Thank you to our partners

The Lead Sponsor of Open Call is

Support for Open Call is generously provided by






Additional support for Open Call is provided by Jody and John Arnhold | Arnhold Foundation.
The creation of new work at The Shed is generously supported by the Lizzie and Jonathan Tisch Commissioning Fund and the Shed Commissioners. Major support for live productions at The Shed is provided by the Charina Endowment Fund.