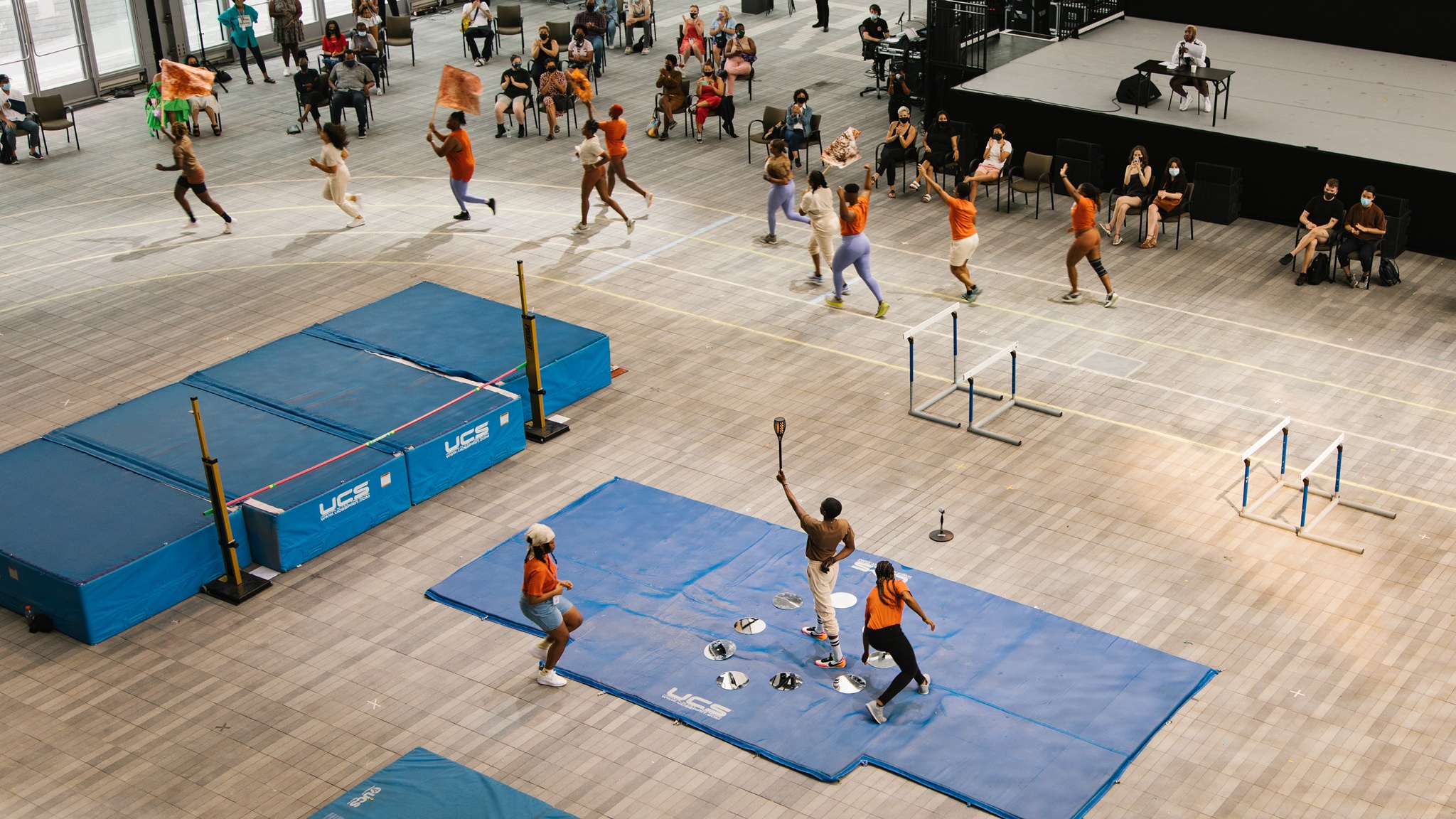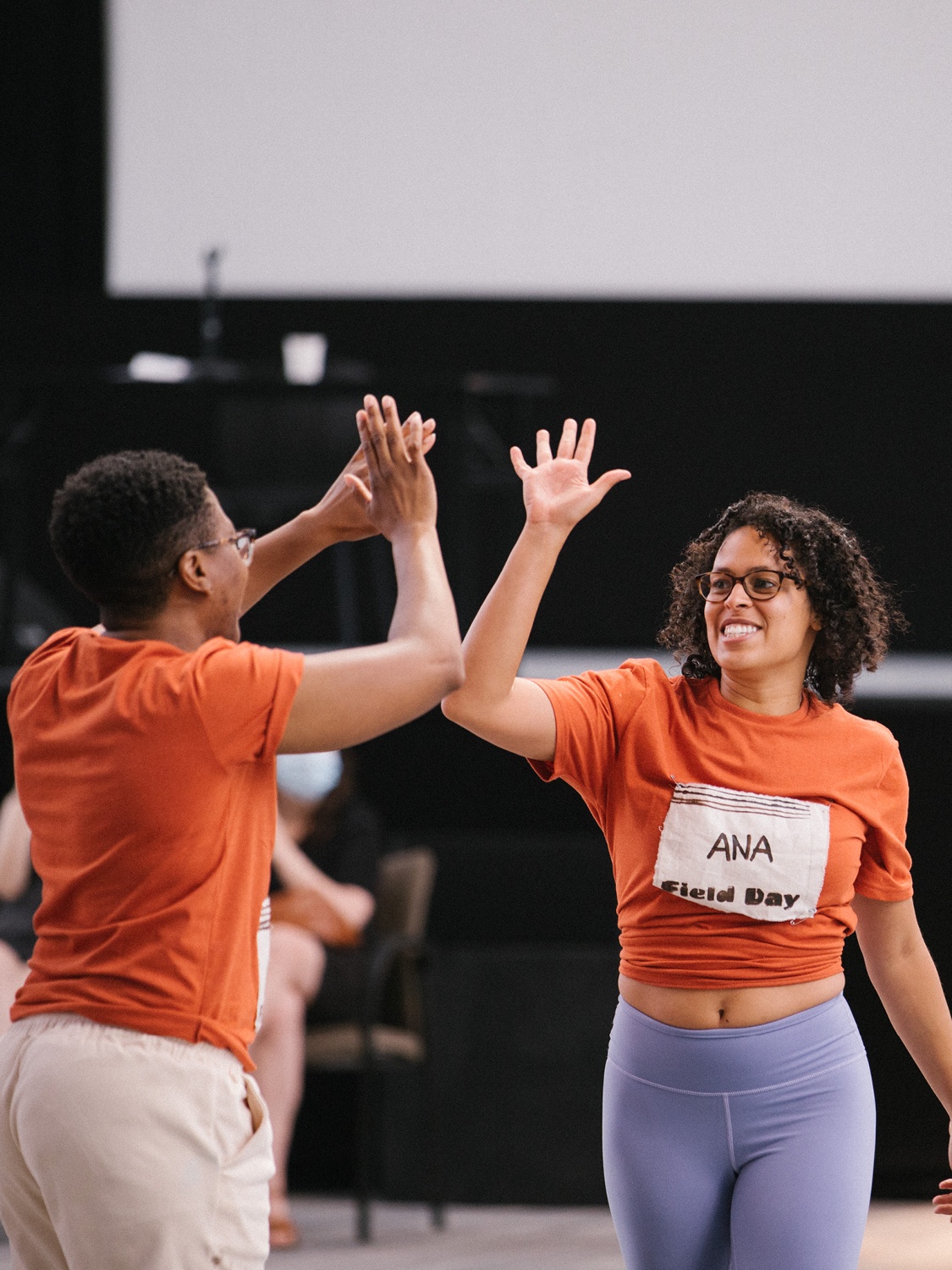 Open Call: Ana María Agüero Jahannes
A reimagining of track and field that centers athleticism, aesthetic liberation, and collective joy for Black queer and trans people
About this commission
Field Day is Ana María Agüero Jahannes's reimagining of track and field as a realm for Black queer and trans people to experience athleticism, aesthetic liberation, and collective joy on their own terms. A former state champion high jumper, Jahannes understands that athletics can offer participants opportunities to feel the body's power, to engage the mind past perceived limitations, and to be in a community organized to propel them forward. Yet, Jahannes has also seen sports be the site of violence, especially for Black queer and trans people who are heavily commented on, asked to conform to humiliating ideals, silenced, and even banned. They also watch their top athletes—from Caster Semenya to CeCé Telfer—go through public scrutiny and castigation, continuing an endless cycle of dehumanization. Field Day tackles this fraught dynamic head on. Set around a lined, oval track, this performance holds, serves, and celebrates Black queer and trans people who participate in a range of individual and team events, from hurdles to high jump. Some events maintain traditional aspects of the sport, while others stretch and reimagine them through the integration of more expressive, Black liberation dance styles.
Creative Team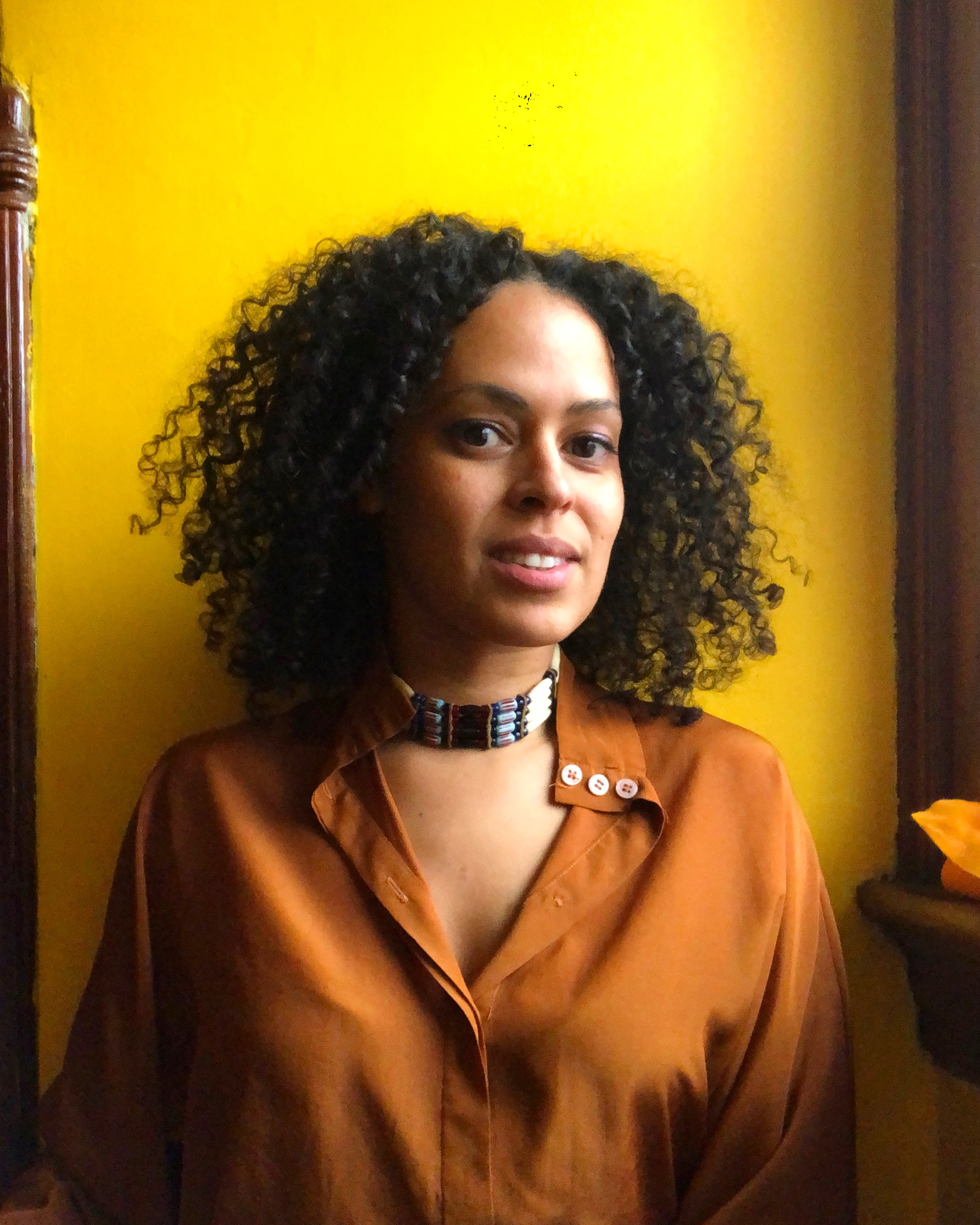 Ana María Agüero Jahannes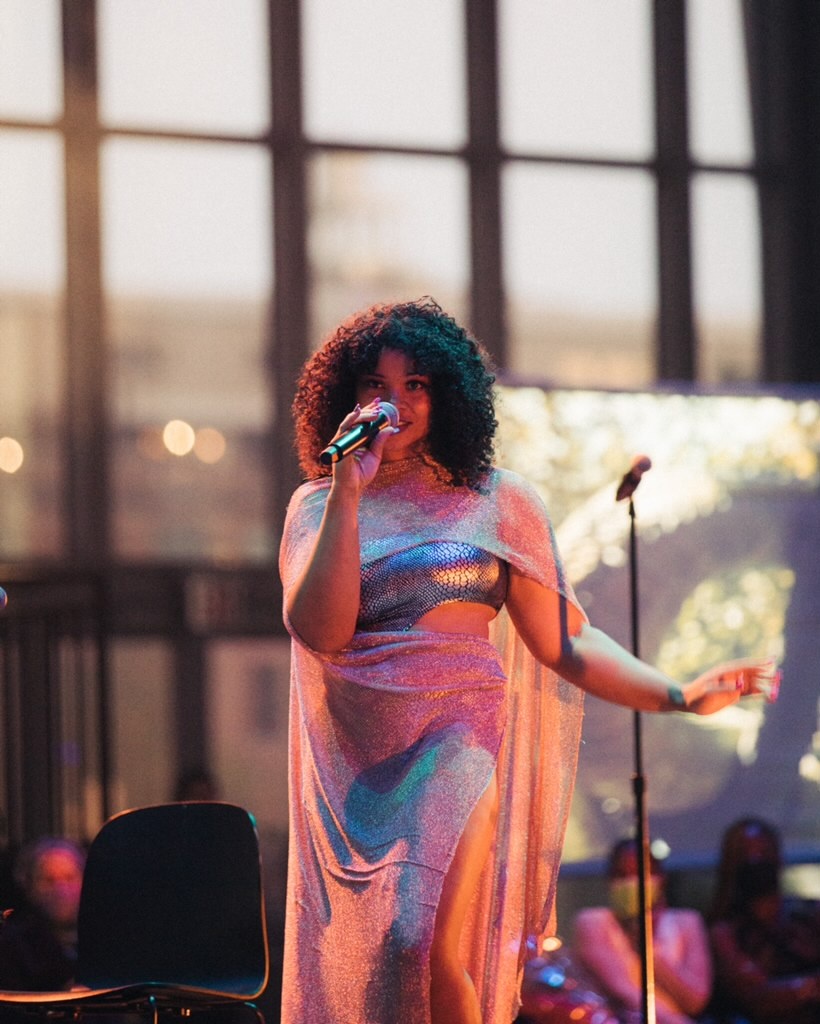 India Sky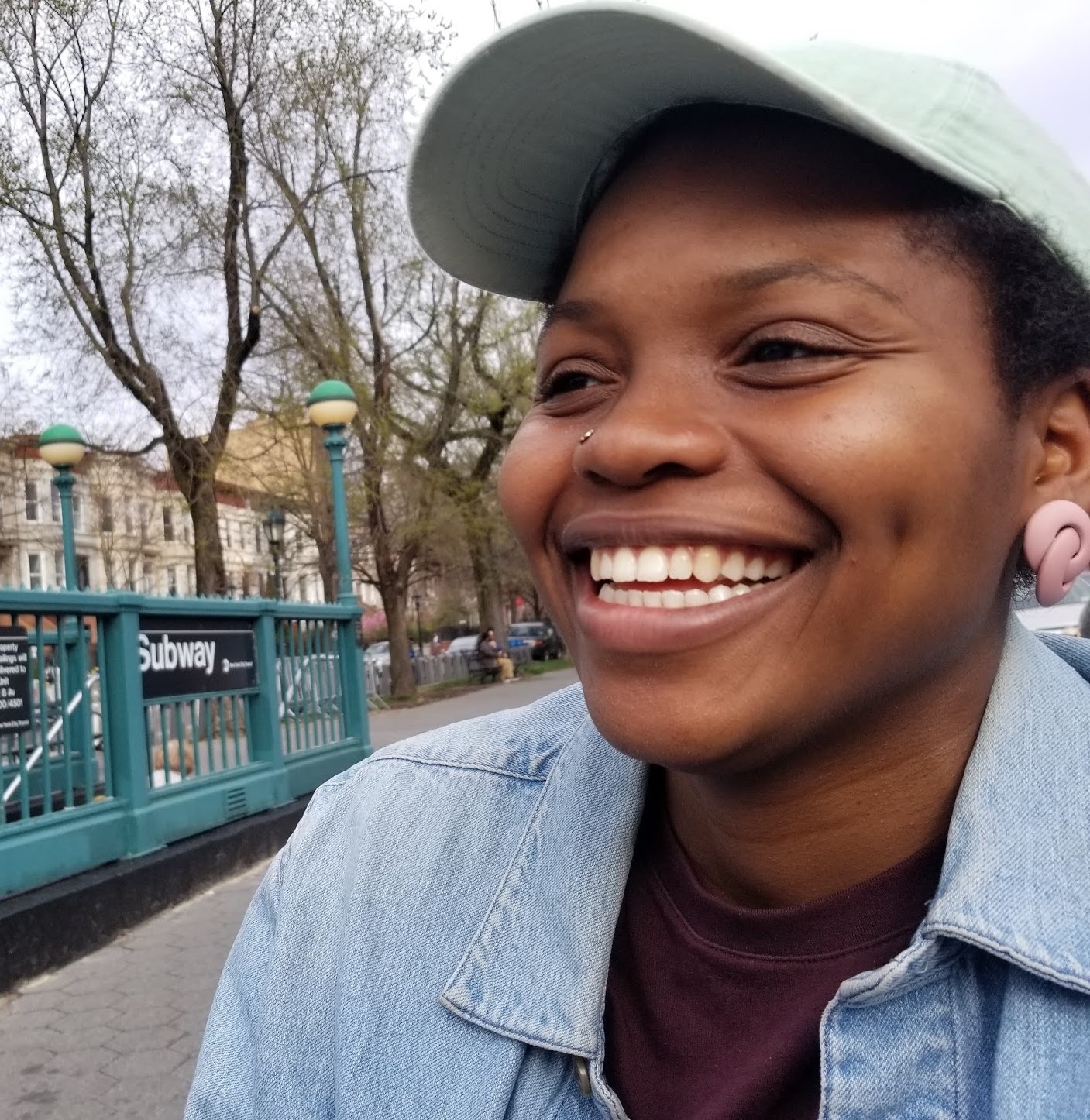 Kadie Henderson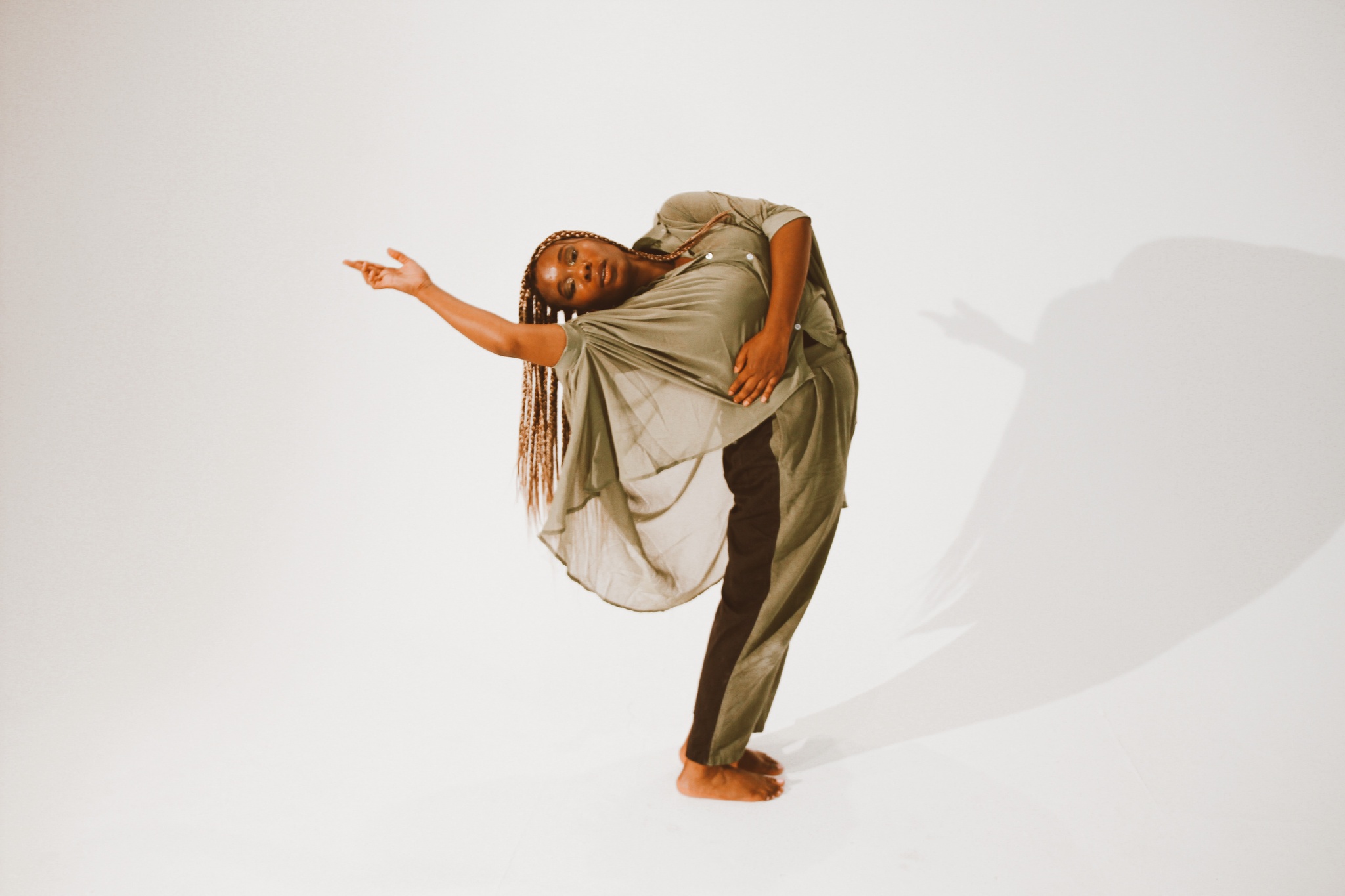 Star Mitchell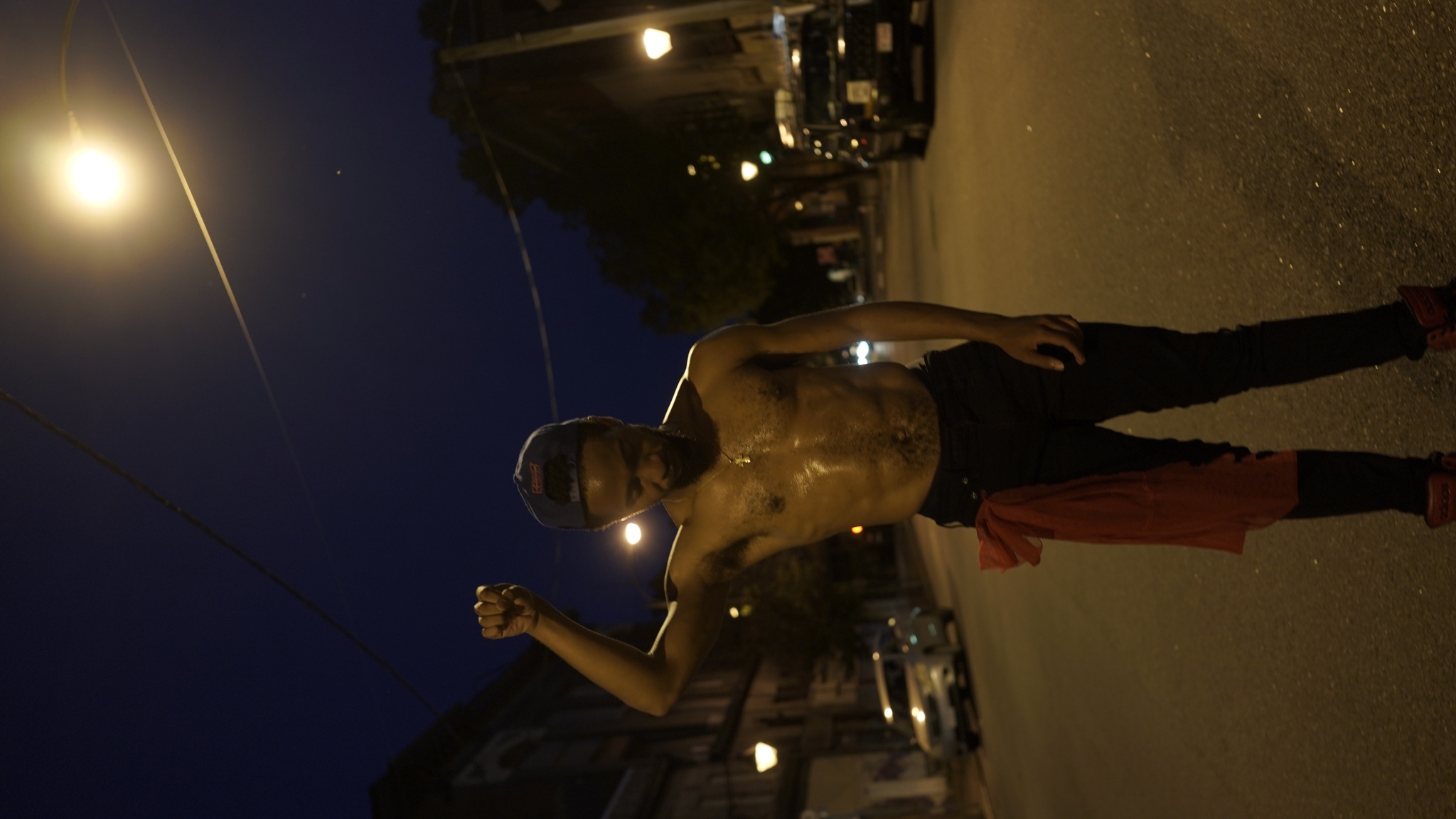 Johnnie Cruise Mercer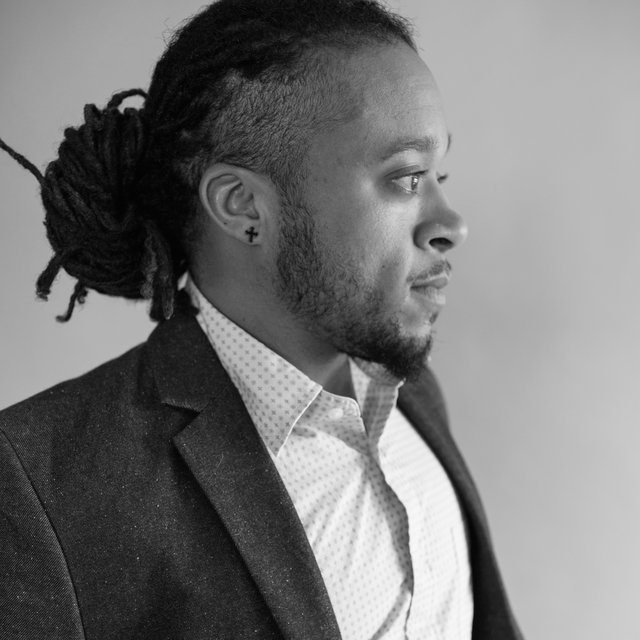 Kingston Farady
Ana María Agüero Jahannes
Ana María Agüero Jahannes is a space-maker, handicrafter, and acrobatic dancer based in Brooklyn and New Orleans who illuminates the potentiality of Black imagination and intelligence. She examines how people worldwide fashion their environments and how that reflects the way they see themselves. From architecture and carpentry to textiles and shoemaking, she works across disciplines to create sites of social and cultural interaction. Recently she choreographed a durational piece where she constructed an outdoor shelter from found materials that premiered at the Festival of Infinite Imagination (co-produced by Jahannes and India Davis). In 2015, she co-founded Body Waves, an Oakland-based acrobatic dance collective of Black queer women (named one of the "Top Crews Putting On for Oakland" by Interrupt Magazine). Her work has been featured in exhibitions at the Yerba Buena Center for the Arts, MoCADA, and Waraq Centro Cultural de Huaraz.
India Sky's interdisciplinary art practice of dance, acrobatics, music, writing, and storytelling investigates the invisible forces of power, ancestry, and spirit that shape her experience and engages radical Black queer imagination as a source for transformation, communion, homecoming, liberation, and survival. She is the founding artistic director of Topsy-Turvy Queer Circus, an all-queer-of-color performance company based in Oakland, California, which combines physical feats, Afro-diasporic dance forms, theater, and moving image in its productions. India received an MA in artist film and moving image from Goldsmiths University of London in 2020.
Kadie Henderson
Choreographer
Hailin and Hollin, Kadiedre (Kadie Henderson) is a Black, lesbian, and queer Houston native. She is most precious about the care she brings to herself and others. Through deep listening to the world and stars, Henderson extends care through her performance and facilitation skills. She aids in and advocates for folks getting what they need. Henderson has worked with many New York-based artists including Jasmine Hearn, Wi-Moto Nyoka, and Nia Witherspoon as a vocal improviser, dancer, and creative collaborator. She worked extensively in the nonprofit sector, fostering community through event planning and facilitation, leading workshops to build intern comradery and facilitating conversations with students to end intimate partner violence. She has also taught students and senior citizens at schools in all five boroughs of New York City working as a community actionist and teaching artist.
In 2019, she created We Makin It, a podcast where she spoke to New York-based artists about the work they made, how they made it, and maintained adequate water levels in the process. Through these conversations she explored larger conversations like partnership, queer identity, and financial stability. Through all of these jobs, triumphs, and tragedies, Henderson is reminded of Jamie Foxx in the hit TV sitcom The Jamie Foxx Show. She too, like Jamie, moved to New York to "Blow Up!" And she has. And she hasn't. She's slowly learning the value of self-care and self-healing and how they both aid her in producing art and conversation that is honest and transformative.
Star Mitchell
Choreographer
Star Mitchell is a Celestial force, descended from the sun and the moon's love. A Brooklyn-based artist, Mitchell uses the elements to connect to their ancestors and dismantle ancestral curses that dare to hold them back. Mitchell is interested in using movement as a further expression of our inner being. "Moving through pain while re-discovering love," Mitchell has performed and choreographed in collaboration with Field Day, the Healing The Black Body Fellowship, and Mayhem Dance Company while pursuing her BFA in dance. Michell is currently honoring themself (sankofa) by creating work that serves the community. As a choreographer and performance educator (arts and literacy programs in Brooklyn, Manhattan, and Staten Island), Mitchell teaches movement as a form of interpersonal communication, reworking narratives pertaining to Black bodies, and discovering new forms of liberation for Black and Brown communities. This notion is deeply important to their future creations. Black mental health and Black ancestry is now at the forefront of Mictchell's creative vision, pushing opportunities for freedom, peace, and balance.
Johnnie Cruise Mercer
Choreographer
Johnnie Cruise Mercer is a queer-Black think-maker, freelance performer, educator, and social entrepreneur based in New York City. A native of Richmond, Virginia, Mercer holds a BFA in dance and choreography from Virginia Commonwealth University. As the company director of Johnnie Cruise Mercer/TheREDprojectNYC, his processes/work have been shared and/or hosted by 92Y Harkness Dance Center, Gibney: Agnes Varis Performing Arts Center, Dixon Place, Danspace Project Inc., The Fusebox Festival, Mana Contemporary, the NADA Conference, Abrons Arts Center, and most recently at the Clarice Performing Arts Center's The BlackLight Summit. He is currently a 2020 – 21 Artist-in-Residence at Brooklyn Arts Exchange and New Dance Alliance (through their Black Artists Space to Create Residency curated by Angie Pittman). Follow him (and his company) on instagram to find out more about his current projects and works @jcruisem/@jcm_redprojectnyc.
Performance and Production Credits
Arwa Sharif
Bri Denson
Dominique Mesine
Fredlyne Pierre Paul
Kirya Traber
Oskar Sinclair
Queerly Femmetastic
Shayla Machado
Steph McCleod
Tayl McQueen
TeShima Brennen
Kenzi James, MC
Amina Iro, Production and Marketing Coordinator
Bea Sullivan, Production Coordinator
Raquel Thompson, Thought Partner and Spouse
Itohan Edoloyi, Lighting Design Coordinator
DJ Potts, Audio Design Coordinator
Erica Schnitzer, Stage Coordinator
Stefan Carrillo, Head Carpenter – McCourt
Stuart Burgess, Head Electrician – McCourt
Jim Van Bergen, Head Audio – McCourt
Adam Farquharson, Production Video

Track and field equipment provided by
Accessibility
The Shed's spaces are all wheelchair accessible. This event takes place in The McCourt.
Assistive listening is available on your smartphone over The Shed's free Wi-Fi network via the free Listen Everywhere app. Devices will be available for you to borrow at the ticketing desk if you do not want to use your own smartphone.
Download the Listen Everywhere app before you arrive.
This performance will include ASL interpretation with Deaf interpreters coordinated and supported by a hearing interpreter (provided by Leela Chaitoo and Brandon Kazen-Madox). To request live audio description for either date, please email info@theshed.org or call (646) 455-3494 at least 10 days in advance of the performance.
To learn more about what to expect during your visit and the performance, please read these descriptions.
If you have any questions or other requests, please email info@theshed.org or call (646) 455-3494.
What to Expect
Thank you for planning a visit to The Shed. We're looking forward to welcoming you for Open Call. Currently, the entrance to our building is through The McCourt door on the east side of our building adjacent to the Hudson Yards Public Square. The McCourt is a large performance space created when The Shed's shell, or movable roof, rolls out to cover the plaza on the east side of the building. You can access this entrance from 11th Avenue and Hudson Boulevard, just one block north of 30th Street, or from the 34 St–Hudson Yards subway station between 10th and 11th Avenues.
As you arrive at The Shed, you will enter The McCourt through a set of doors at the southeast corner of the building. It is close to the area where the High Line meets Hudson Yards at 30th Street. Most performances will take place in The McCourt. You will pass through this space to enter the rest of the building and access the Level 2 Gallery and The Tisch Skylights for the exhibition and other performances.
The shell of The McCourt is covered in a shiny, pillowy material, and its floor is level with the ground of the plaza. The Shed's building, including The McCourt, is wheelchair accessible. You will scan your own ticket on your smartphone, with help if needed from a friendly visitor experience staff member standing nearby wearing a black t-shirt and ID badge on a purple lanyard.
Once you're inside The McCourt, the space feels airy with 110-foot-high ceilings. Most of the walls are glass and let sunlight into the space. Light from the plaza and the Shops at Hudson Yards filters into the space after sunset.
The flooring in The McCourt is made of hard paving stones. They are in two shades of gray, and the lighter stones stretch across the east and west sides of The McCourt to form a large artwork by Lawrence Weiner that reads "In front of itself" in large letters. (This phrase is also the title of the work.) The letters on the east side of the space are partly covered by the Open Call stage so you can only partially read the phrase.
Seating in The McCourt is general admission, so you can choose from any available spot. The seats have armrests and thick cushions, and some are folding chairs that flip up as you stand up from them. If you would like help in finding a seat, a staff member at the entrance can guide you.
For any additional access needs or requests, please email info@theshed.org or call (646) 455-3494.
For Ana María Agüero Jahannes's performance, running approximately 90 minutes, you will be seated around a lined, oval track surrounding an open area where participants will be engaged in track and field events. These actions include traditional track and field events, which feature running, jumping, and throwing, as well as stylized events incorporating House, vogue, line dance, and acrobatic dance. The performance will take place during the day with natural sunlight filtering into The McCourt, with some other lighting effects but no strobes. There will be an MC who speaks between events. The energy level of the accompanying music will vary from event to event with some higher energy moments of House and vogue music, but there will be no jarring sound effects.
Open Call
Read more about "Open Call "
All details for "Open Call "
Thank you to our partners

The Lead Sponsor of Open Call is

Support for Open Call is generously provided by






Additional support for Open Call is provided by Jody and John Arnhold | Arnhold Foundation.
The creation of new work at The Shed is generously supported by the Lizzie and Jonathan Tisch Commissioning Fund and the Shed Commissioners. Major support for live productions at The Shed is provided by the Charina Endowment Fund.