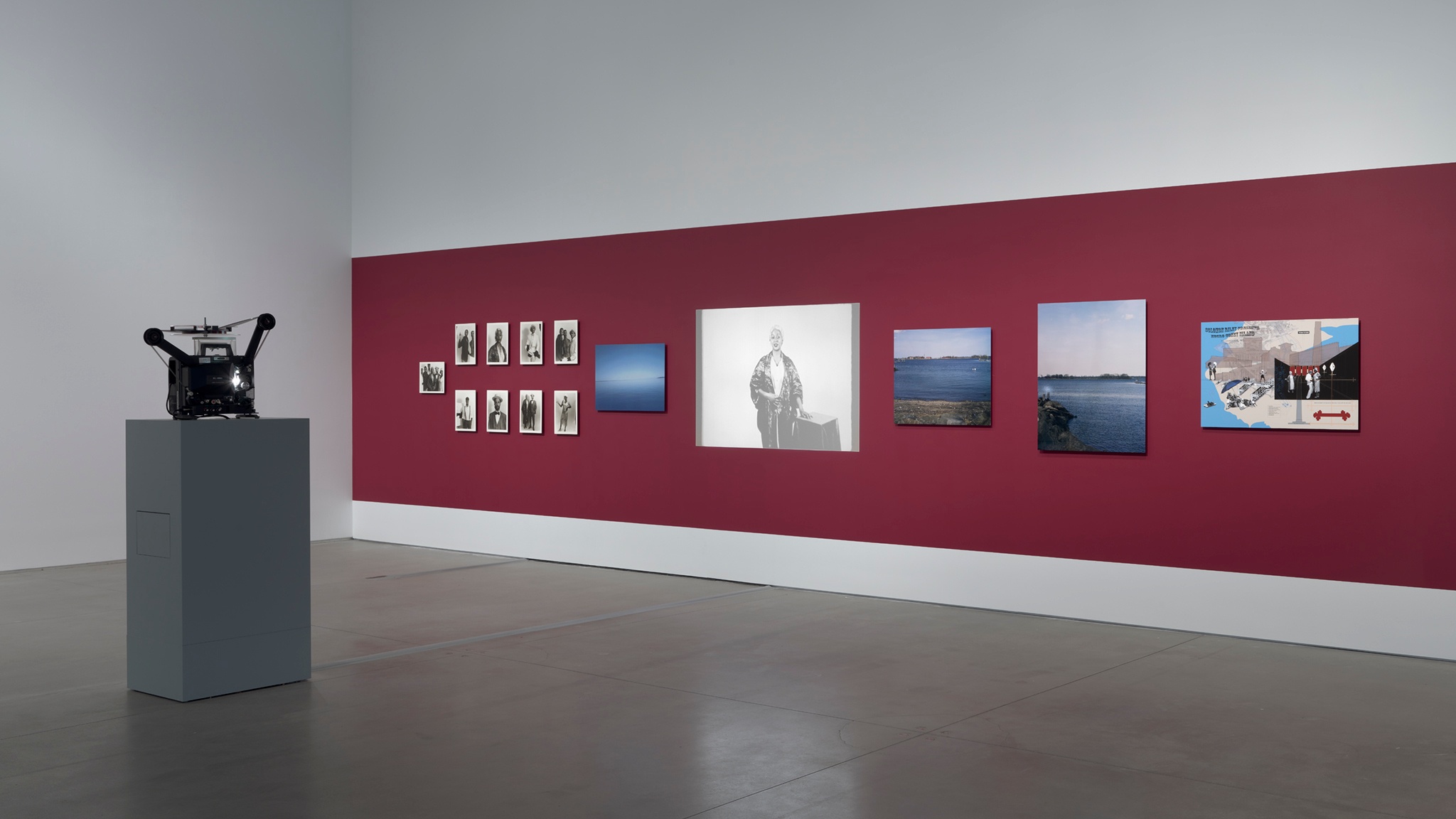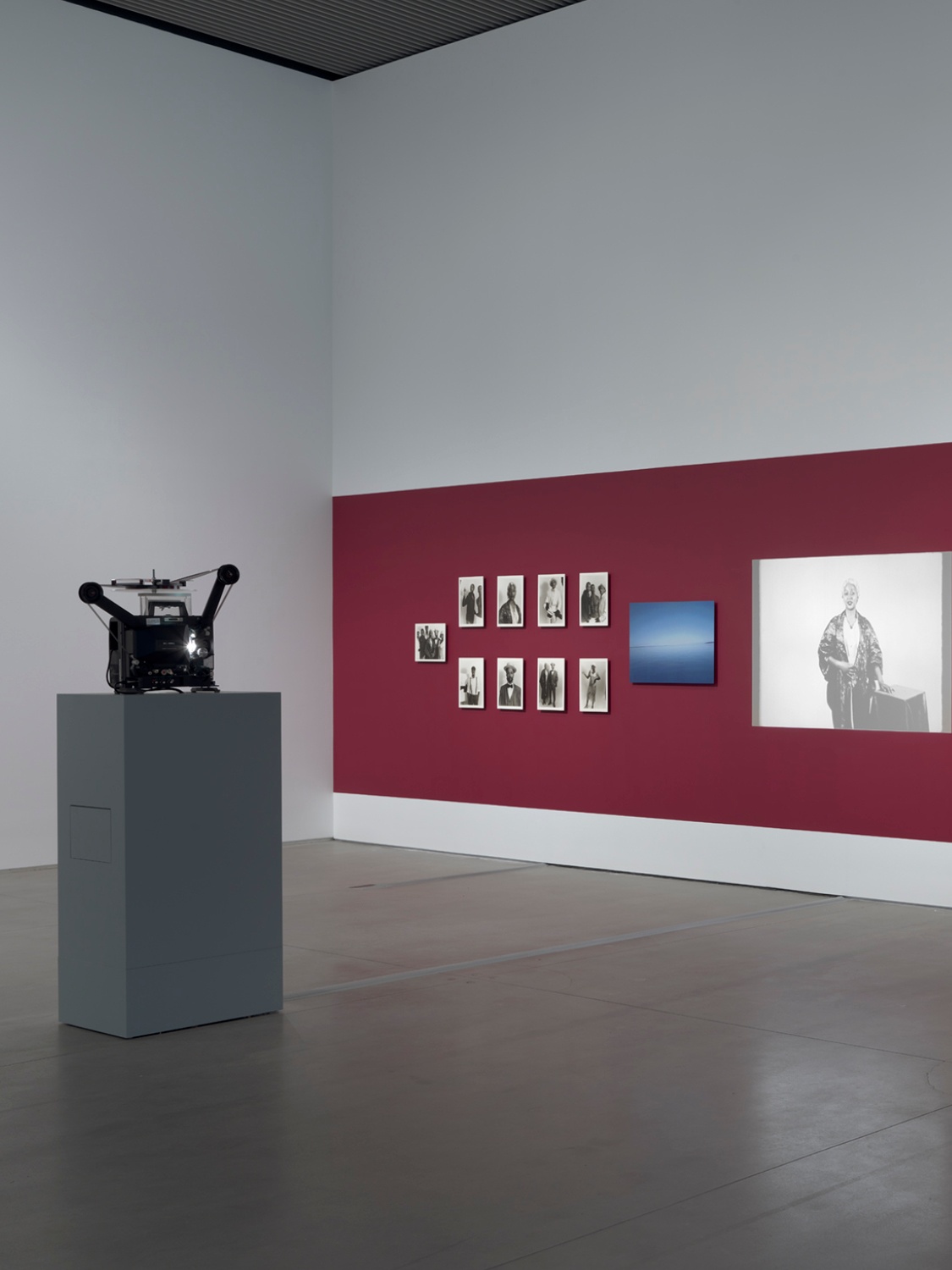 Abandoned architectural plans for a "Negro Coney Island" reimagined in photos, film, and architecture
About this commission
Today, New York City's Hart Island is primarily known as a potter's field for the burial of unclaimed bodies. With renewed public awareness around its use as a burial ground for those who have died from Covid-19, Hart Island has taken on an additional layer of historical significance given the more severe impact of this pandemic on communities of color, as well as its role as a final resting place for those who have died from HIV/AIDS. Throughout its storied history, the island has also housed an asylum, jail, and sanatorium—and was once the planned location for an amusement park meant to serve the Black population of 1920s Harlem.
Ayanna Dozier's installation Cities of the Dead traces the imagined (re)construction of Solomon Riley's park, dubbed "Negro Coney Island," across an arrangement of photos, speculative monologues from its creator and key Black cultural producers from the Harlem Renaissance, and an architectural rendering of Riley's abandoned plans co-designed by architect Nina Cooke John. Cities of the Dead establishes and intervenes in the past by fulfilling the opening of Negro Coney Island, which though completed was torn down by the city after it condemned the island to prevent its opening to the public in 1924. Through this temporal intervention, Cities of the Dead reconsiders the role that architecture, presence, and ruins play in remembrance of a people and how Black communities' histories are forcibly erased. For Dozier, Hart Island is a site for reflecting on the absence in Black life of architectural spaces for mourning, as well as the way in which gross economic and social inequities frame Black death and plague it in its afterlife.
Creative Team
Ayanna Dozier
Ayanna Dozier (PhD) is a writer, lecturer, curator, filmmaker, and performance artist. Her experimental short film Softer (2020) was part of the official selection showcase in several 2020 fall film festivals, including Open City Documentary Festival and the Aesthetica Short Film Festival where it was the recipient of Best Experimental. Her doctoral dissertation, "Mnemonic Aberrations" (2020), traces the history of Black feminist experimental short film in the United States and the United Kingdom from 1968 to the present. Her work has been exhibited at Westbeth Gallery, Evening Hours, MONO NO AWARE, and Anthology Film Archives. She is the author of Janet Jackson's The Velvet Rope (2020). Her most recent publication, Rebellious Inventions: Abstraction in the Black Diaspora (2020), accompanies her co-curated exhibition, Abstraction in the Black Diaspora, organized with Tariku Shiferaw at False Flag Gallery in New York. She was a 2018 – 19 Helena Rubinstein Fellow in Critical Studies at the Whitney Independent Studies Program. She resides in Brooklyn.
Born in Kingston, Jamaica, Nina Cooke John has always been inspired by the creativity she witnessed in her homeland: the art of people transforming everyday limitations into innovative solutions. She imbues this spirit of innovation into every design project. She is the founding principal of Studio Cooke John Architecture and Design, a multidisciplinary design studio that values placemaking as a way to transform relationships between people and the built environment. Working at the scale of the human body, individually or collectively, in the home or on the street, responding to how we use space in our everyday lives, whether in the family unit or as a community. Studio Cooke John was recently selected to design the Flatiron Public Plaza Installation for 2020. The public art installation was on view through January 1, 2021. Cooke John's work has also been featured in Architectural Record, Madame Architect, on NBC's Open House New York, in Dwell magazine's "13 Extraordinary Women in Design and Architecture You Need to Know" and the Center for Architecture's 2018 exhibition Close to the Edge: The Birth of Hip-Hop Architecture. She earned her bachelor of architecture degree from Cornell University and a masters in architecture from Columbia University. She now teaches at Parsons School of Design and Columbia University.
Production Credits
Written, Directed, Produced, and Edited by Ayanna Dozier
Co-Produced by The Shed and MONO NO AWARE
Solomon Riley ……………Ricky Goldman
Elizabeth Riley…………… Selamawit Worku
Harold Curtis Brown ………… Rayly Aquino
Jimmie Daniels ……………… Moses Jeune
Florence Mills …………… Crackhead Barney
James Van Der Zee …………… Terrance Livingston Jr.
Director …………… Ayanna Dozier
Ayanna Dozier, Art Director
Steve Cossman, Production Support
Ayanna Dozier, Costumes/Hair and Makeup
Ayanna Dozier, Sound Design/Editing
"Choo-choo (I Gotta Hurry Home):" Written by Duke Ellington, Dave Ringle, and Bob Schafer; Performed by Duke Ellington's Washingtonians (Duke Ellington, Billy Murray, Rosario Bourdon, Ed Smalle, William H. Reitz, and Francis J. Lapitino); © Public Domain
"Counting the Blues:" Written Gertrude Rainey; Performed by Ma Rainey and Her Georgia Band; © Public Domain
"Stormy Sea Blues:" Written by Thomas Dorsey; Performed by Ma Rainey and Her Georgia Band; © Public Domain
Special thank you to the following:
Steve Cossman, Lucas Kane, and the team at MONO NO AWARE; Adeze Wilford, Amanda Singer, and the Open Call committee for The Shed; Ja'Tovia Gary, Michael Zumbrun, Nina Cooke John, Alanna Thain, and the COÉRIC Grant committee; the Cast, Solomon and Elizabeth Riley for vision that was 100 years ahead of what could be possible, and Melinda Hunt for your tireless labor in bringing awareness to Hart Island.
Open Call
Read more about "Open Call "
All details for "Open Call "
Thank you to our partners

The Lead Sponsor of Open Call is

Support for Open Call is generously provided by






Additional support for Open Call is provided by Jody and John Arnhold | Arnhold Foundation.
The creation of new work at The Shed is generously supported by the Lizzie and Jonathan Tisch Commissioning Fund and the Shed Commissioners. Major support for live productions at The Shed is provided by the Charina Endowment Fund.