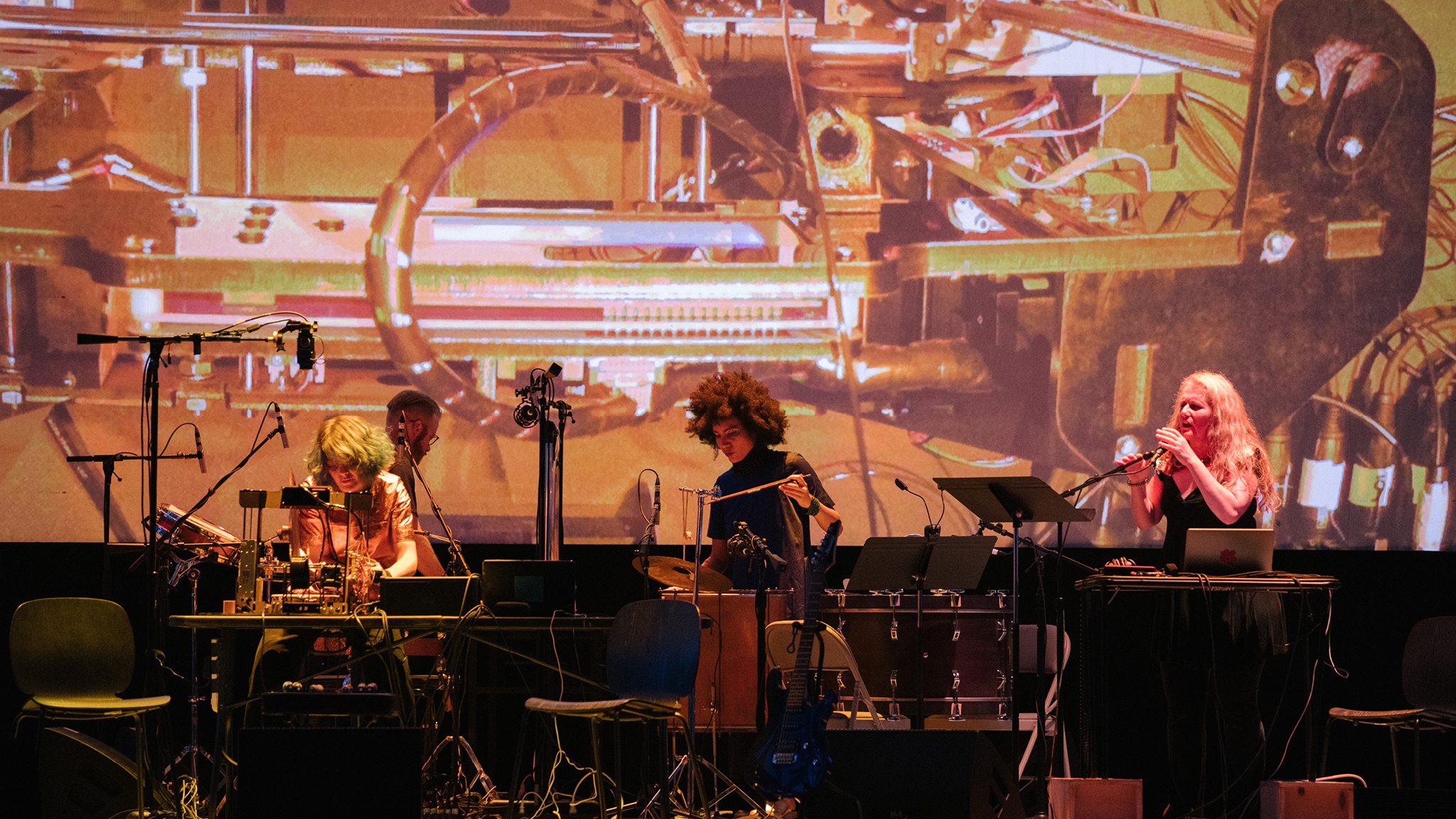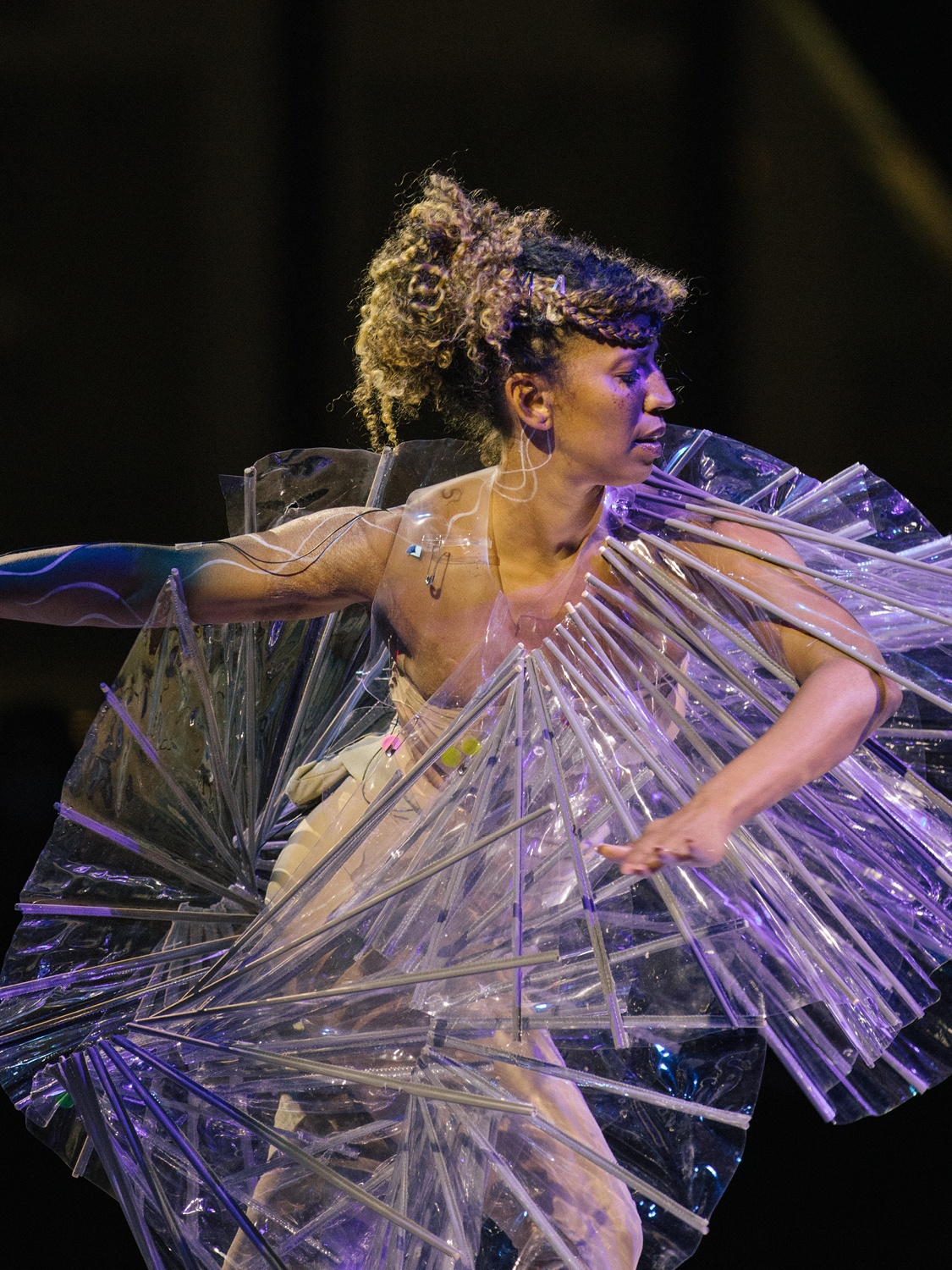 A meditation through amplified vibrations on interconnectedness, our capacity for mutual transformation, and the urgent need to listen to each other and the world
About this commission
Vibrant Strata is an experimental music performance exploring the nature of our world as a constant flux of vibrant energy. Merche Blasco amplifies the vibrations of animate and inanimate life to reveal the swirl of forces that bind us inextricably to each other and to our environment.
Act 1 opens our senses to the electromagnetic waves coursing through The Shed itself. The audience experiences an eight-channel electronic backdrop composed with the electromagnetic sounds that Blasco recorded throughout the building. Against that sonic backdrop, performers Anaïs Maviel and Jean Carla Rodea sing and sonify the live electromagnetic energy in the space with two antenna-rackets. The quartet is completed by Popebama (Dennis Sullivan and Erin Rogers) performing on electronic toothbrushes and electric guitars.
Act 2 presents musical collaborators Shelley Hirsch and Dafna Naphtali on voice, Dennis Sullivan and Anaïs Maviel on percussion, and a 3-D printer named Anette. The human performers listen and react to Anette's electromagnetic voice, amplified through the custom-built antenna/thimbles that Blasco wears on her fingers. The resulting human-machine dialogue constitutes a call for an ecology of nonhierarchical relationships amongst people and other organic and inorganic materialities.
Vibrant Strata culminates with Act 3, a collaboration with interdisciplinary artist Miriam Parker, wearing a piece by fashion designers threeASFOUR. Parker traverses The Shed's McCourt space with two custom wearable instruments: the first connects her to the building though processed acoustic feedback, and the second, designed as a ring, generates a sonic landscape as she moves and interacts with different materials. The audible ripples her actions incite in the space invite reflection on ourselves as connected points on a universal vibrant continuum, each of us wielding immense power to influence all that surrounds us, all of us sharing the urgent responsibility to listen.
Creative Team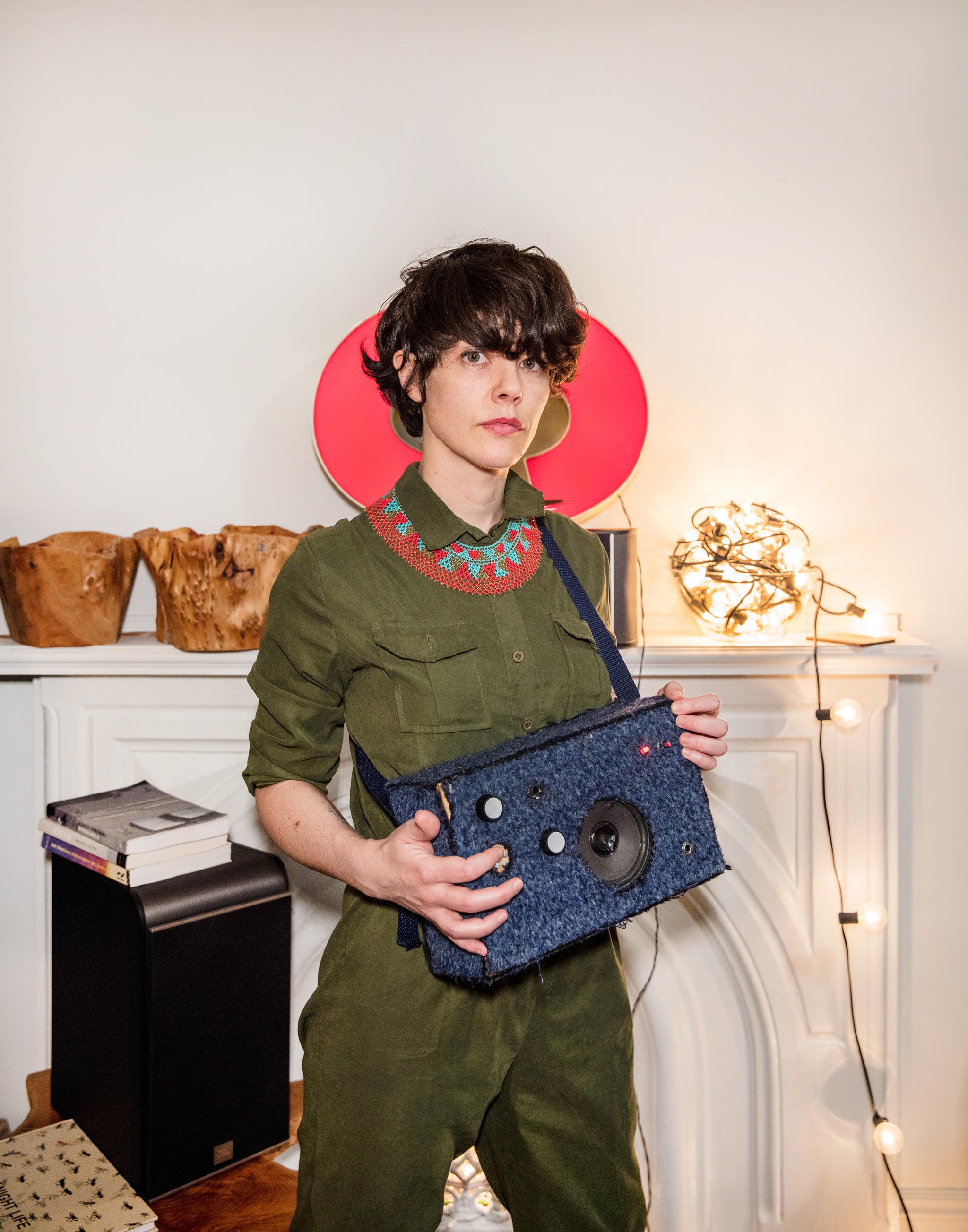 Merche Blasco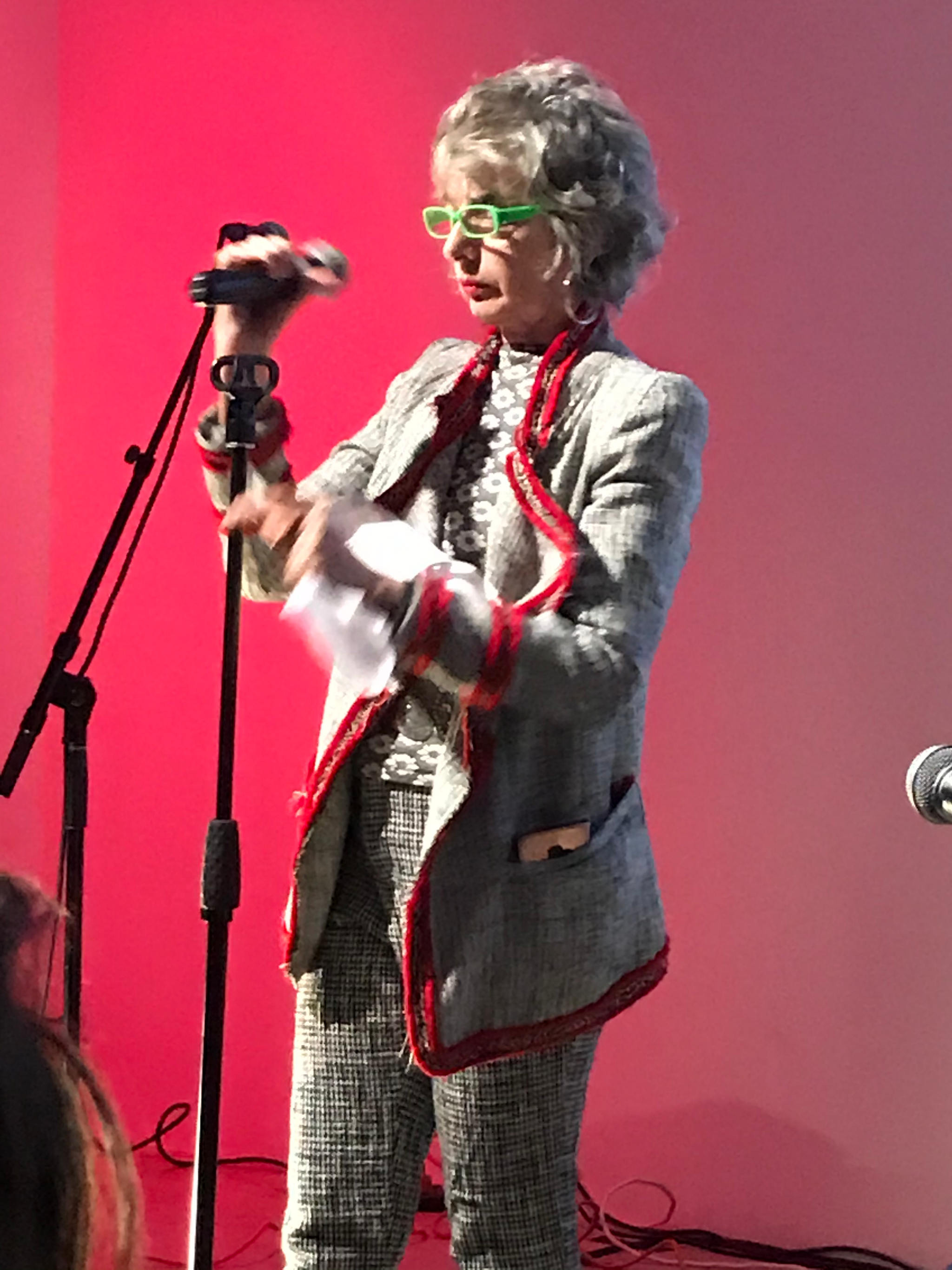 Shelley Hirsch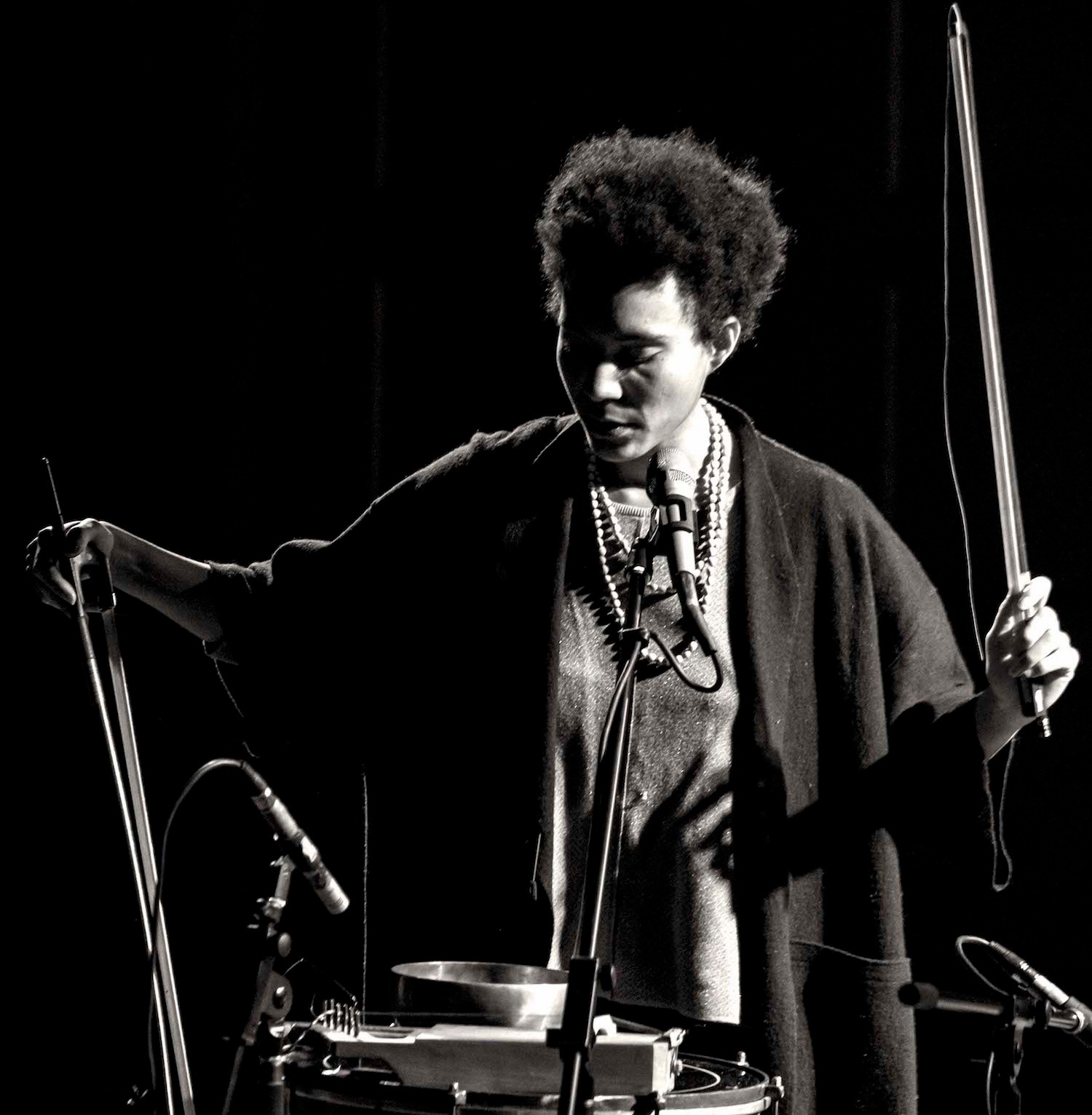 Anaïs Maviel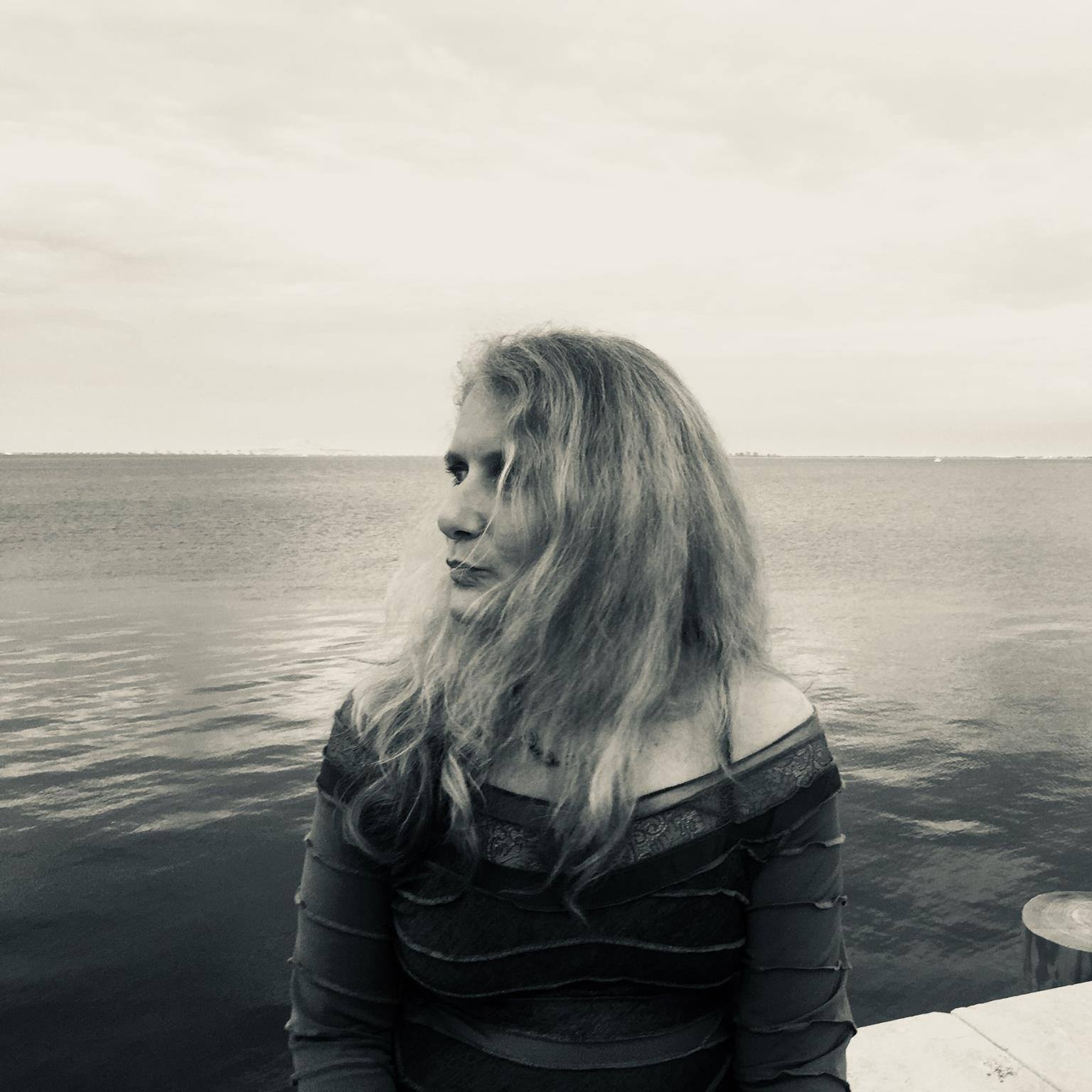 Dafna Naphtali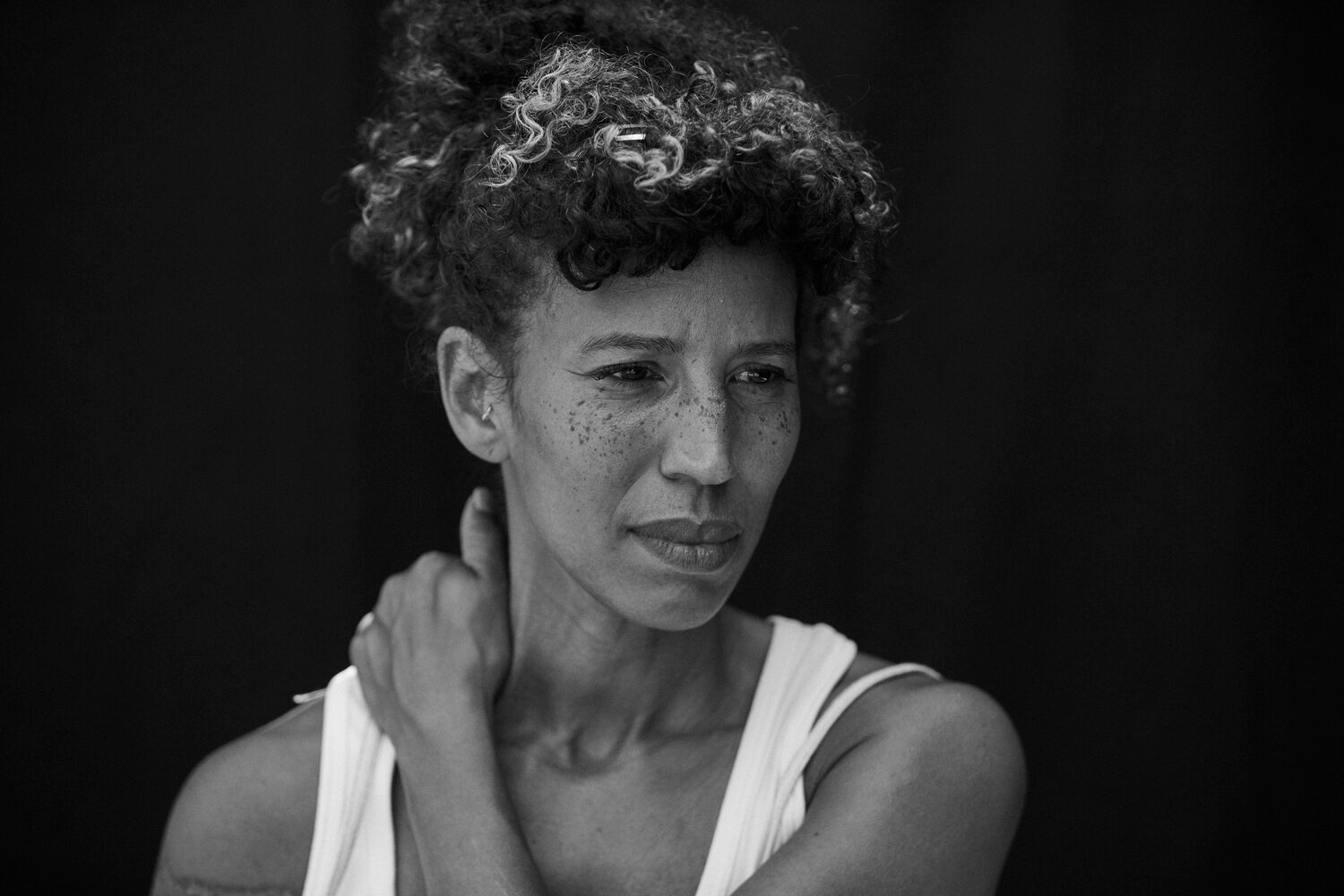 Miriam Parker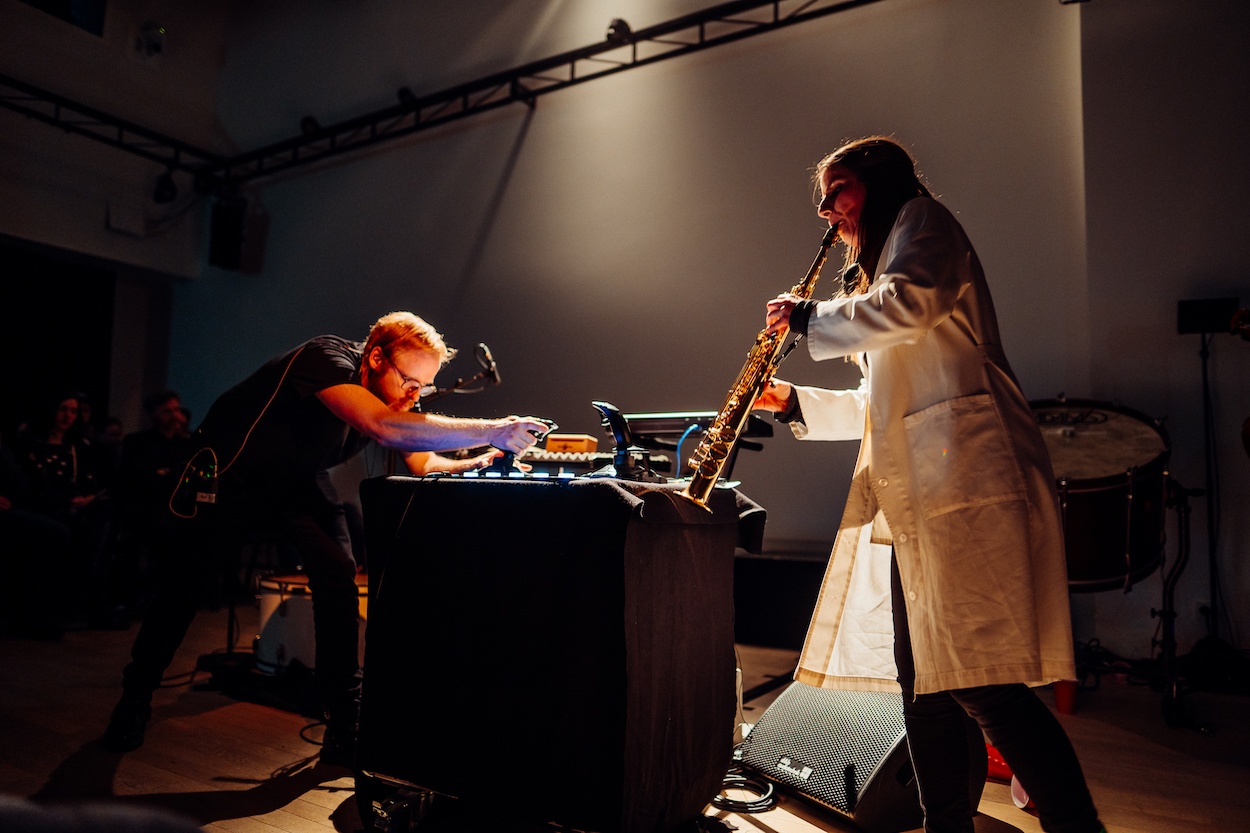 Popebama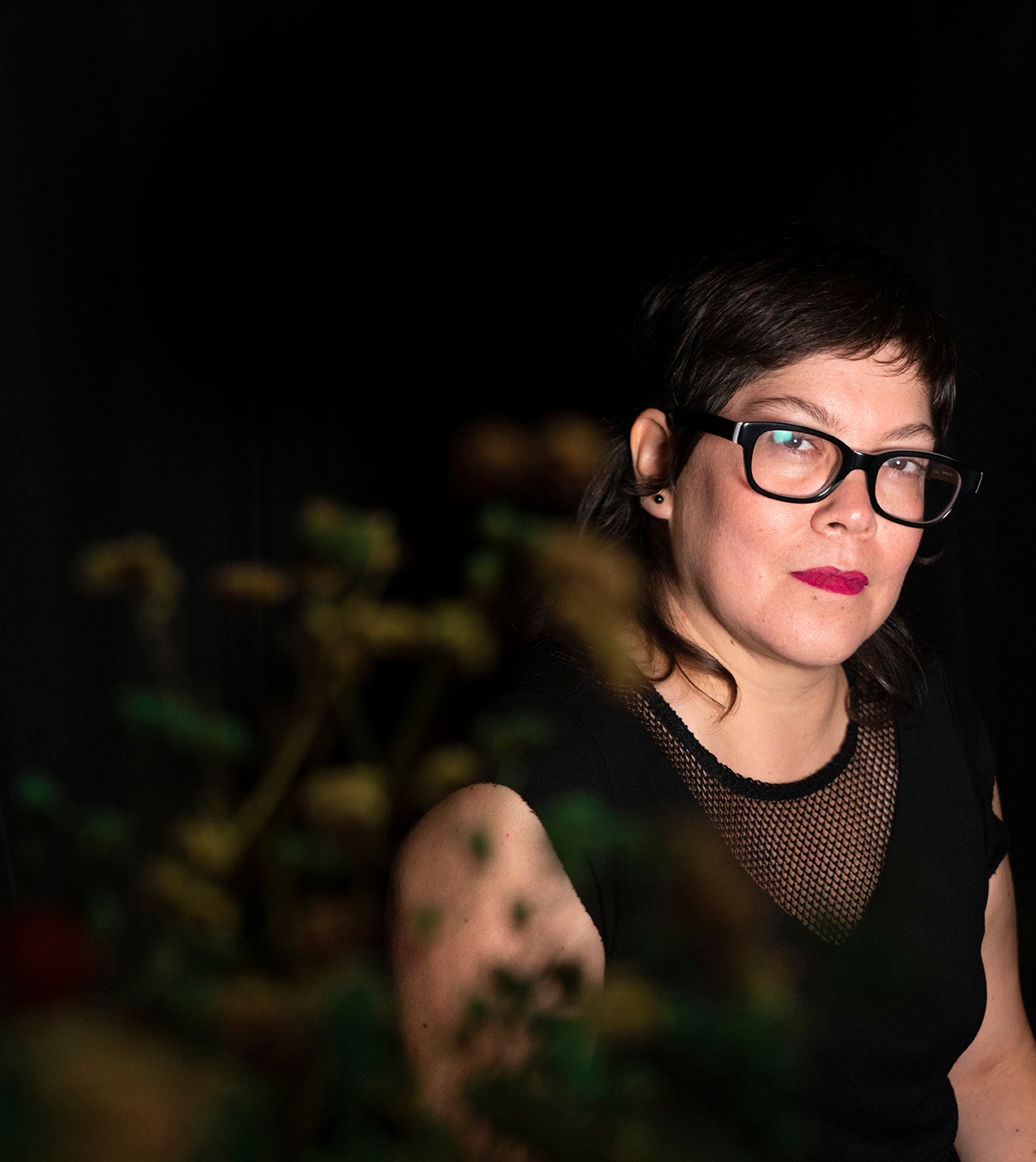 Jean Carla Rodea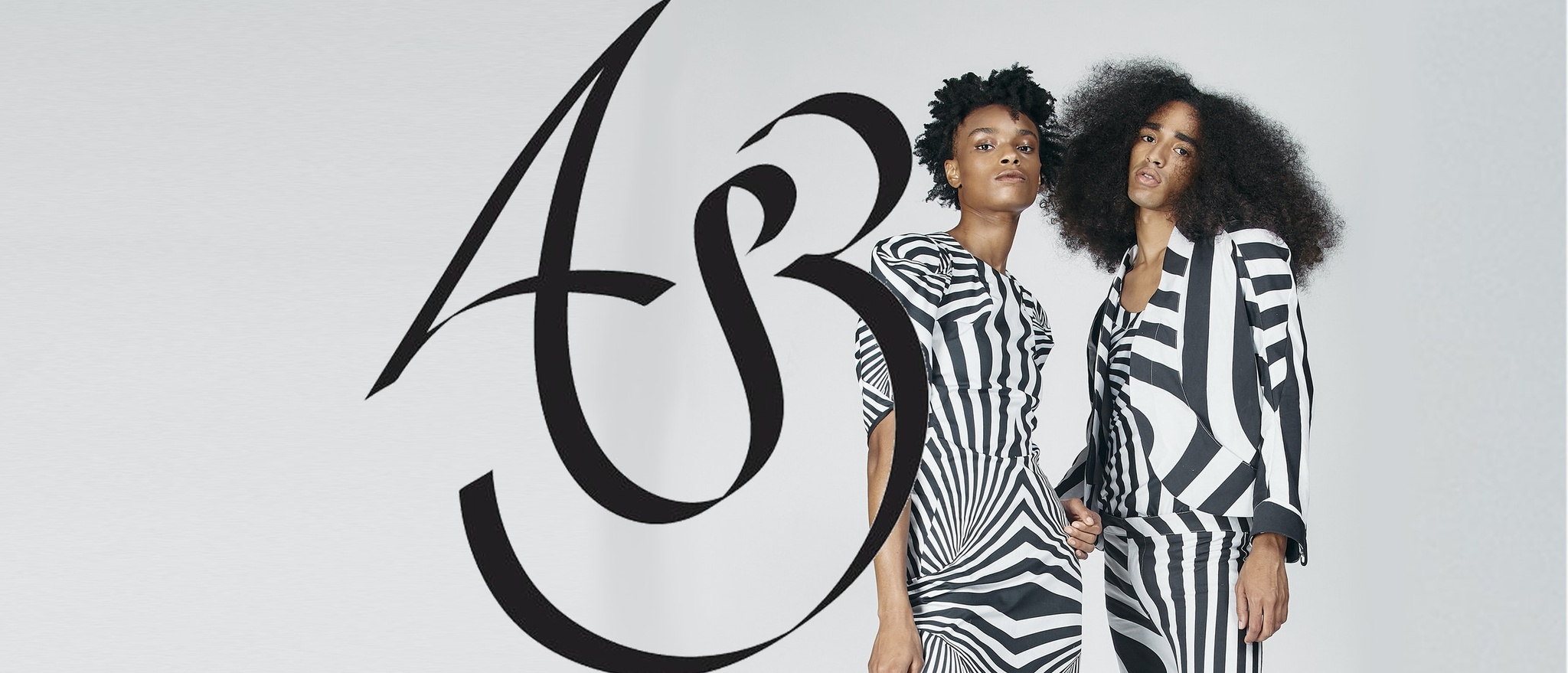 threeASFOUR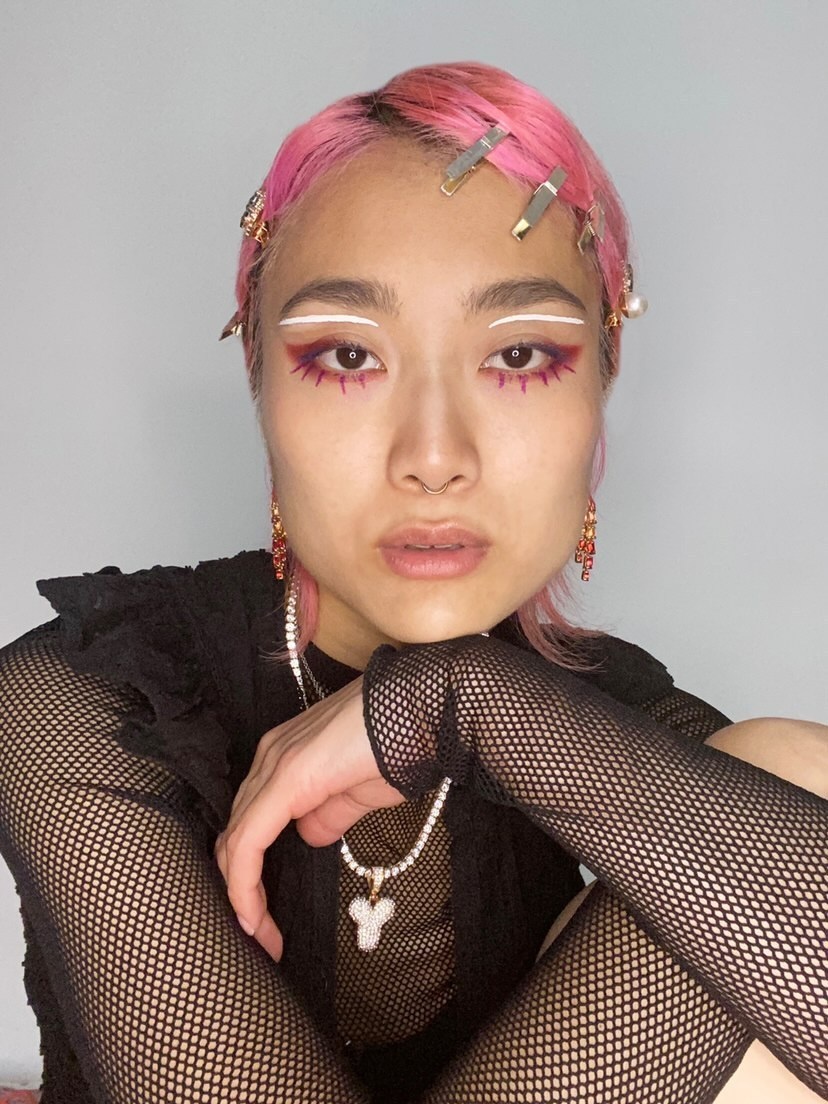 Yuri Tachi
Merche Blasco is a multimedia artist and composer based in New York. She designs and builds imprecise technological assemblages that catalyze embodied forms of live electroacoustic composition and new modes of listening. Through her constructed devices, Blasco attempts to establish a more horizontal relationship with other entities, distancing herself from parameters of precision, power, and control. As an alternative form of performance, she engineers collaborative spaces with instruments that are given their own agency, in compositions where her body and the live exploration of organic materials are central elements. Blasco has presented her work at the Whitney Museum of American Art, Sonar Festival in Barcelona, La Biennale di Venezia, New York City Electroacoustic Music Festival (NYCEMF), the Queens Museum of Art, and the Museum of Contemporary Art in Santiago de Chile among others. She is a recipient of Fulbright and NYFA fellowships. Her work has been featured in the New York Times, the Wall Street Journal, and the Wire magazine.
Shelley Hirsch was born and raised in East New York Brooklyn. Her multimedia performances, compositions, improvisations, electronic music pieces, sound installations, collaborations and radio plays have been presented at concert halls, museums, theaters, galleries, clubs, radio worldwide. In 2018, her decades of work was acquired for the archive at The Fales Library, The Downtown Collection at NYU. Other honors include the John Simon Memorial Guggenheim Fellowship in Music Composition 2017 and the Foundation for Contemporary Arts Grants for Artists 2017. She received a NYSCA music composition commission in 2021. Hirsch can be heard on over 70 recordings, including several on the Tzadik and FMP Labels. The New York Times called her "a woman of a thousand voices… She offered an enthralling demonstration of the way songs, vocal styles and language might have evolved out of more primal musical impulses." She leads the workshop Explore Your 1000 Voices in NYC, nationally, and internationally.
Anaïs Maviel
Voice, Percussion
Anaïs Maviel's work as a vocalist, percussionist, and composer focuses on the function of music as essential to settling common grounds, addressing relation, and creating a utopian future. Maviel is dedicated to substantial creations from solo to large ensembles, music direction of cross-disciplinary works, and to expanding the power of music as a healing and transformative act. Maviel performs and teaches extensively in New York, throughout the Americas and Europe. Solo albums include hOULe and in the garden received international acclaim. Maviel is the recipient of the 2019 Van Lier Fellowship, 2020 ACF | Create, and 2021 – 2022 Jerome Fellowship.
Dafna Naphtali
Voice, Electronics
Dafna Naphtali is a singer/electronic musician/sound artist and improviser/composer of experimental, interactive electro-acoustic music. She writes custom computer programs for live sound processing of voice and other instruments, projects for multichannel audio, musical robots, and audio-augmented reality soundwalks. Drawing on an eclectic musical background she also interprets Cage, Stockhausen and other composers, and collaborates with musicians/video artists internationally. Releases include: Fusebox duo with saxophonist Ras Moshe Burnett (Gold Bolus, May 2021), Microcosmopolitan with Chuck Bettis duo Chatter Blip (Contour Editions), We Q, with saxophonist Edith Lettner (Clang), Landmine for Kathleen Supové, on Ear to Ivory (Starkland), Pulsing Dot with pianist Gordon Beeferman (Clang), Index of Refraction with Barcelona percussionist Luis Tabuenca (Acheulian Handaxe). Naphtali's audio-augmented-reality soundwalks Walkie Talkie Dreams (w/U-GRUVE AR) are in NYC and Hamburg. Her latest multichannel sound installation/sculpture, Audio Chandelier: Polyélaios, created with metalsmith Ayala Naphtali, and is on view on Governors Island (May – August 8, 2021).
Miriam Parker
Movement, Wearable Instruments, and Co-creator of Act 3
Miriam Parker (b. New York) is an interdisciplinary artist who uses movement, paint, video art and installation, collaborating with other artists equally concerned with social justice, experimental performance, and interdisciplinary creation. She has previously collaborated with Jo Wood-Brown, Christina Smiros, and Merche Blasco among others. Parker is a CBA Toulmin Co-fellow '21. She has performed in the Metropolitan Museum of Art, NY; PS1 MoMA, NY; Fridman Gallery, NY; at the Every Women Biennial, NY; Survey Dover Plains, NY; at Vision Festival through consecutive years; the Satellite Art Fair, in Miami, FL; Whitebox ArtCenter, NY; among others. She has had residences at École Normale Supérieure, Paris; FiveMyles Gallery, NY; and Center for Ballet and the Arts, NY.
Popebama
Electric Guitar, Percussion
Popebama is a New York-based experimental duo that focuses on exciting performances of unconventional works. Described as "Noisily Virtuosic" (ClevelandClassical.com), Erin Rogers and Dennis Sullivan specialize in text, electronics, high-energy instrumental writing, and freshly-squeezed sounds, creating work both individually and collaboratively. Popebama has performed at NYmusikk Bergen (Norway), Edmonton Fringe Festival (Canada), Splendor (Amsterdam), Le Poisson Rouge (NYC), Diabolical Records (Salt Lake City), ReSound Festival (Cleveland), the Stone (NYC), and KM28 (Berlin) with guest appearances at Splice Festival, UMass Amherst, the Walden School, NASA Biennial, Hochschule für Musik Freiburg, and the Ball State Festival of New Music. Popebama's evening-length work Fight Songs was featured at the Hamburg Elbphilharmonie and performed alongside Decoder Ensemble as part of Unterdeck. Popebama's debut album Nation Building (2020) is available from Gold Bolus Recordings.
Jean Carla Rodea
Voice, Antenna
Jean Carla Rodea (b. Mexico City) is a Brooklyn-based vocalist, composer, interdisciplinary artist, and educator. She is dedicated to performing a vast variety of music, from solo to large ensembles. She has performed and recorded with William Parker, Darius Jones's vocal quartet Elizabeth-Caroline Unit, Gerald Cleaver's Uncle June, and Anthony Braxton's Syntactical Ghost Trance Music Choir. In addition to this, she leads her own projects, Looking for Marina and Azares. Rodea has worked with Amirtha Kidambi, Miriam Parker, Patricia Nicholson, Merche Blasco, Rachel Bersen, Cecilia Lopez, Anastasia Clarke, Taylor Ho-Bynum, Joe Morris, Stephen Haynes, Matt Mottel, and others. She has performed extensively and shown work at Roulette Intermedium, Carnegie Hall, BRIC, Knockdown Center, Judson Church, Danspace, Center for Performance Research, Panoply Lab, Parallel, Rio ll Gallery, the Clemente, BRAC, WAAM, El Museo de Los Sures, Casul, and the Graduate Center to mention a few.
threeASFOUR
Costume Designer for Miriam Parker
threeASFOUR is a trio of transnational artists based in New York City who use fashion as their primary medium. Founded in 2005 by Gabriel Asfour (b. Lebanon), Angela Donhauser (b. U.S.S.R) and Adi Gil (b. Israel), the collective has built a legacy of fusing cutting-edge technology with traditional craftsmanship to create clothing at the intersection of fashion and art. Drawing their core aesthetic from the universal languages of sacred geometry, threeASFOUR is devoted to the creative exploration of themes of consciousness and cultural coexistence.
Yuri Tachi (@yuritachi) is a multimedia artist based in NYC and Tokyo. Tachi specializes in collaborative custom stage looks for performers, directing and developing their creative visions with fashion and makeup. She also works in photo and video and recently launched her namesake clothing brand, Yuri Tachi (@shopyuritachi).
Credits
Itohan Edoloyi, Lighting Design Coordinator
DJ Potts, Audio Design Coordinator
Erica Schnitzer, Stage Coordinator
Stefan Carrillo, Head Carpenter – McCourt
Stuart Burgess, Head Electrician – McCourt
Jim Van Bergen, Head Audio – McCourt
Adam Farquharson, Production Video
Sean Meehan, Assistant Video
Maytté Martinez, Lighting Programmer
Mike Diaz, Assistant Carpenter
Josh Liebert, A1
Seth Huling, Head Audio/Monitor Engineer
Accessibility
The Shed's spaces are all wheelchair accessible. This event takes place in The McCourt.
Assistive listening is available on your smartphone over The Shed's free Wi-Fi network via the free Listen Everywhere app. Devices will be available for you to borrow at the ticketing desk if you do not want to use your own smartphone.
Download the Listen Everywhere app before you arrive.
To request live audio description or ASL interpretation with Deaf interpreters coordinated and supported by a hearing interpreter, please email info@theshed.org or call (646) 455-3494 at least 10 days in advance of the performance.
To learn more about what to expect during your visit and the performance, please read these descriptions.
If you have any questions or other requests, please email info@theshed.org or call (646) 455-3494.
What to Expect
Thank you for planning a visit to The Shed. We're looking forward to welcoming you for Open Call. Currently, the entrance to our building is through The McCourt door on the east side of our building adjacent to the Hudson Yards Public Square. The McCourt is a large performance space created when The Shed's shell, or movable roof, rolls out to cover the plaza on the east side of the building. You can access this entrance from 11th Avenue and Hudson Boulevard, just one block north of 30th Street, or from the 34 St–Hudson Yards subway station between 10th and 11th Avenues.
As you arrive at The Shed, you will enter The McCourt through a set of doors at the southeast corner of the building. It is close to the area where the High Line meets Hudson Yards at 30th Street. Most performances will take place in The McCourt. You will pass through this space to enter the rest of the building and access the Level 2 Gallery and The Tisch Skylights for the exhibition and other performances.
The shell of The McCourt is covered in a shiny, pillowy material, and its floor is level with the ground of the plaza. The Shed's building, including The McCourt, is wheelchair accessible. You will scan your own ticket on your smartphone, with help if needed from a friendly visitor experience staff member standing nearby wearing a black t-shirt and ID badge on a purple lanyard.
Once you're inside The McCourt, the space feels airy with 110-foot-high ceilings. Most of the walls are glass and let sunlight into the space. Light from the plaza and the Shops at Hudson Yards filters into the space after sunset.
The flooring in The McCourt is made of hard paving stones. They are in two shades of gray, and the lighter stones stretch across the east and west sides of The McCourt to form a large artwork by Lawrence Weiner that reads "In front of itself" in large letters. (This phrase is also the title of the work.) The letters on the east side of the space are partly covered by the Open Call stage so you can only partially read the phrase.
Seating in The McCourt is general admission, so you can choose from any available spot. The seats have armrests and thick cushions, and some are folding chairs that flip up as you stand up from them. If you would like help in finding a seat, a staff member at the entrance can guide you.
For any additional access needs or requests, please email info@theshed.org or call (646) 455-3494.
Merche Blasco's performance is divided into three acts and runs approximately 60 minutes and seats will be arranged in a proscenium configuration, with pods of two seats distanced by six feet, in front of a four-foot stage. The McCourt will be lit in blue light, with strip lights flickering at moments but with no strobe effects. Music during the performances will not exceed a typical concert volume, but does include sounds that are at times high-pitched. In the first act, two performers will move around the space with handheld antennas/electronic instruments, amongst the audience at moments. Two performers will then take fixed positions to sing, while two others will be seated on stage playing electric guitars. In the second act, performers will be positioned on the stage. In the final act, one dancer will move around the space off of the stage, interacting with sculptural elements placed on The McCourt's floor.
Open Call
Read more about "Open Call "
All details for "Open Call "
Thank you to our partners

The Lead Sponsor of Open Call is

Support for Open Call is generously provided by






Additional support for Open Call is provided by Jody and John Arnhold | Arnhold Foundation.
The creation of new work at The Shed is generously supported by the Lizzie and Jonathan Tisch Commissioning Fund and the Shed Commissioners. Major support for live productions at The Shed is provided by the Charina Endowment Fund.