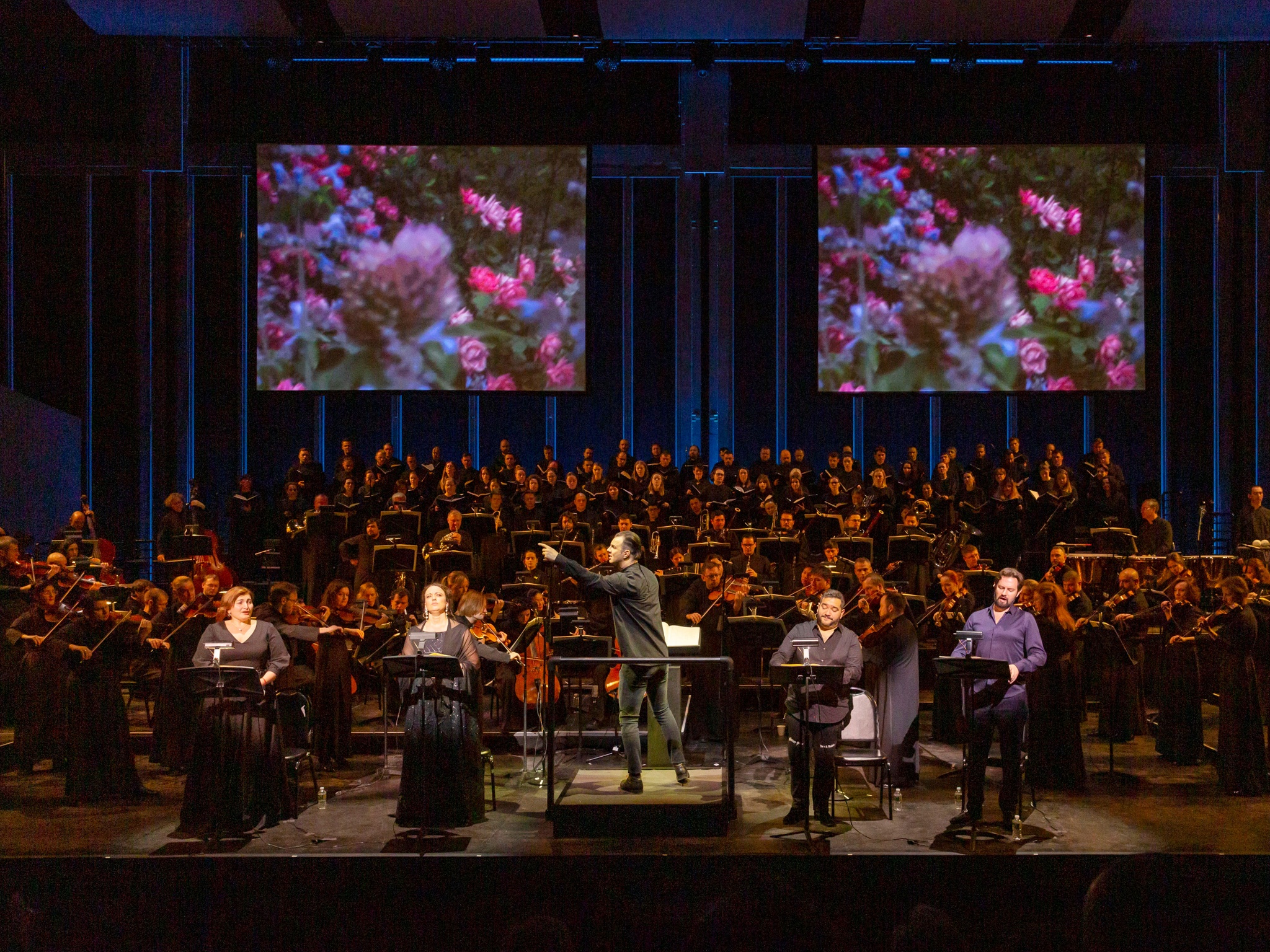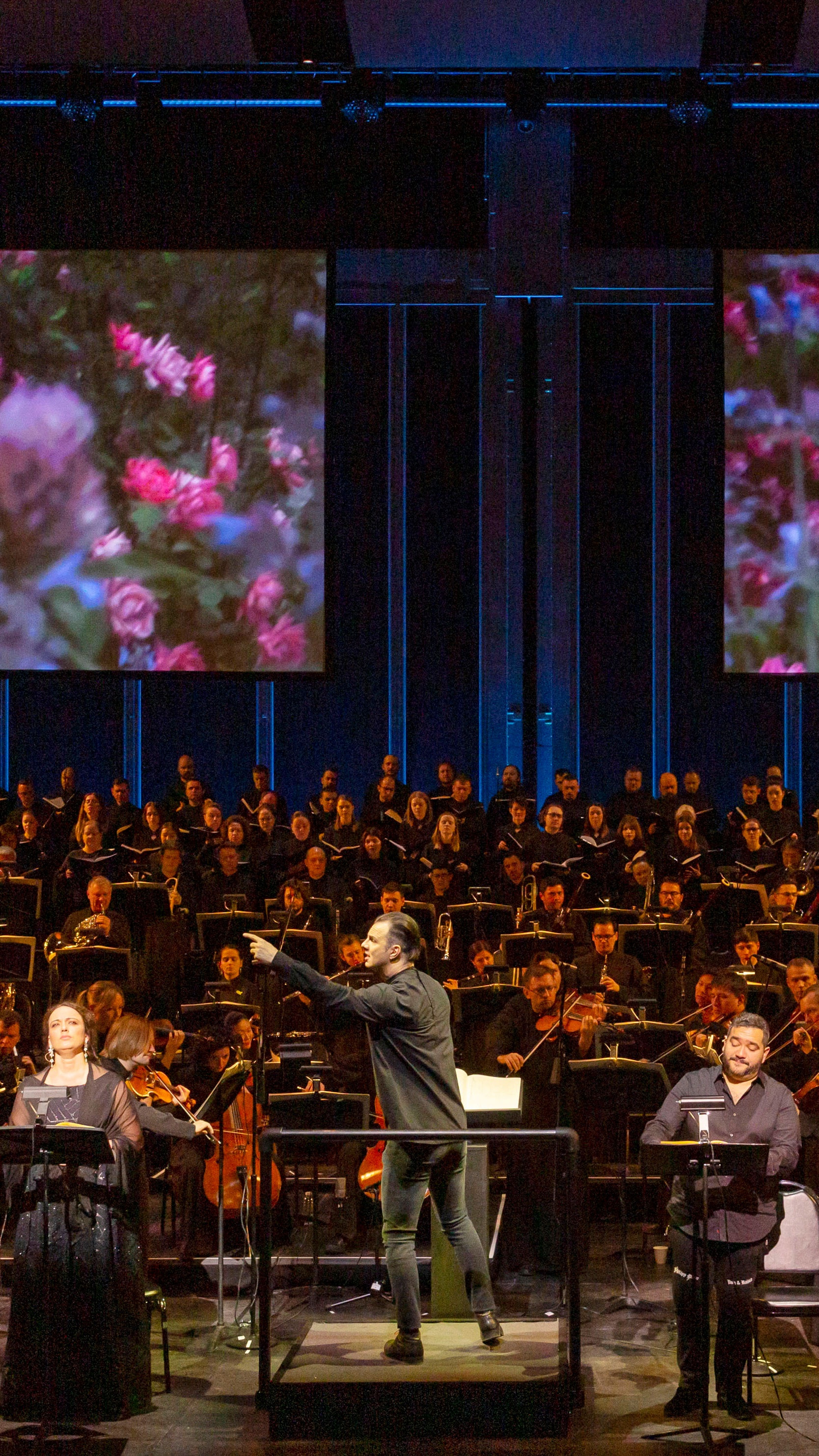 Requiem Concert Performances
A new interpretation of Verdi's Requiem by conductor Teodor Currentzis with musicAeterna, accompanied by Jonas Mekas's cinematic artwork
About this commission
Experience Verdi's Messa da Requiem, one of classical music's most virtuosic and transcendent works, in concert and in film. Electrifying conductor Teodor Currentzis and the 100-member orchestra and 80-member chorus musicAeterna from Russia will take the stage in The Shed's McCourt to perform Requiem. Following rapturous reviews at this summer's Salzburg Festival, the performances mark Currentzis and musicAeterna's North American debut.
A new cinematic artwork set to Verdi's score by late, beloved filmmaker Jonas Mekas, and co-commissioned by The Shed and Festspielhaus Baden-Baden, will accompany the performances of Requiem. From November 1 – 10, the film screened separately in the Level 4 Gallery.
In The Works
Requiem at The Shed: Alex Poots, Artistic Director and CEO, and Hans Ulrich Obrist, Senior Program Advisor, on the History of the Commission
The story of Requiem begins in Italy in 1874. That year, the composer Giuseppe Verdi premiered his Messa da Requiem, a setting of the Catholic funeral Mass that enraptured audiences at the Church of San Marco in Milan with his gifts for symphonic and choral writing and dramatic use of melody and rhythm. Verdi dedicated his score—written for four soloists, double choir, and orchestra—to his friend Alessandro Manzoni, the famed Italian poet, novelist, and hero of the 19th-century Risorgimento movement for Italian unification who had died the year before. Verdi's masterpiece remains today a virtuosic and transcendent musical homage to the dead, ready for reimagining in the North American debut of the prodigious conductor Teodor Currentzis and his musicAeterna orchestra and chorus. Their performances of the Requiem at The Shed will be in counterpoint with a specially commissioned cinematic artwork by the late, beloved filmmaker Jonas Mekas that meditates on the most urgent story of our times—the threat posed to the natural world.
The Requiem has been transcribed and performed in different ways over the last 145 years, from piano solos to fully staged operas, including performances by prisoners in the Terezín concentration camp in 1943 and 1944. Over several years, Currentzis and musicAeterna have been developing a deep engagement with Verdi's Requiem that continues this tradition of reimagining Verdi's masterpiece. The Requiem, selected by Currentzis at our invitation for these performances at The Shed, allows the conductor and these musicians to share their transformative abilities to awaken this music nearly a century and a half after its first performance. Over the course of selecting this work from his repertoire, Currentzis was drawn by the rich history of reimaginings of the Requiem. In particular, he shared with us his enthusiasm for a cinematic interpretation by Derek Jarman (1989) of composer Benjamin Britten's War Requiem, which combines the text of the funeral Mass with wartime poems by Wilfred Owens.
Currentzis's interest sparked a creative opening for this Shed commission, and the opportunity to invite Mekas to contribute his own interpretation of Verdi's score. Mekas, whom the New York Times has called "the godfather of avant-garde cinema," not only brought his vision as a filmmaker, poet, critic and philosopher, but so too his lifelong love of music to his interpretation of the Requiem. His cinematic artwork, edited by his longtime collaborator Elle Burchill, is an interplay of moving images shot by the artist and text from passages sung in Requiem, originally taken from the Roman Catholic missal, a book of liturgical instructions for performing Mass, that plays in counterpoint to the live performance of the score as an ecstatic eulogy for the natural world. Mekas, who immigrated to New York City in 1949 from post-war Germany and Lithuania, and who passed away in January at the age of 96, was forever inspired by this city.
We are excited to share with you the inspirational work of Currentzis and musicAeterna, with one of Mekas's last artworks, and we hope that at the end of 2019 this Requiem will provide a time for collective reflection and meditation across artistic disciplines and historical eras.
Creative Team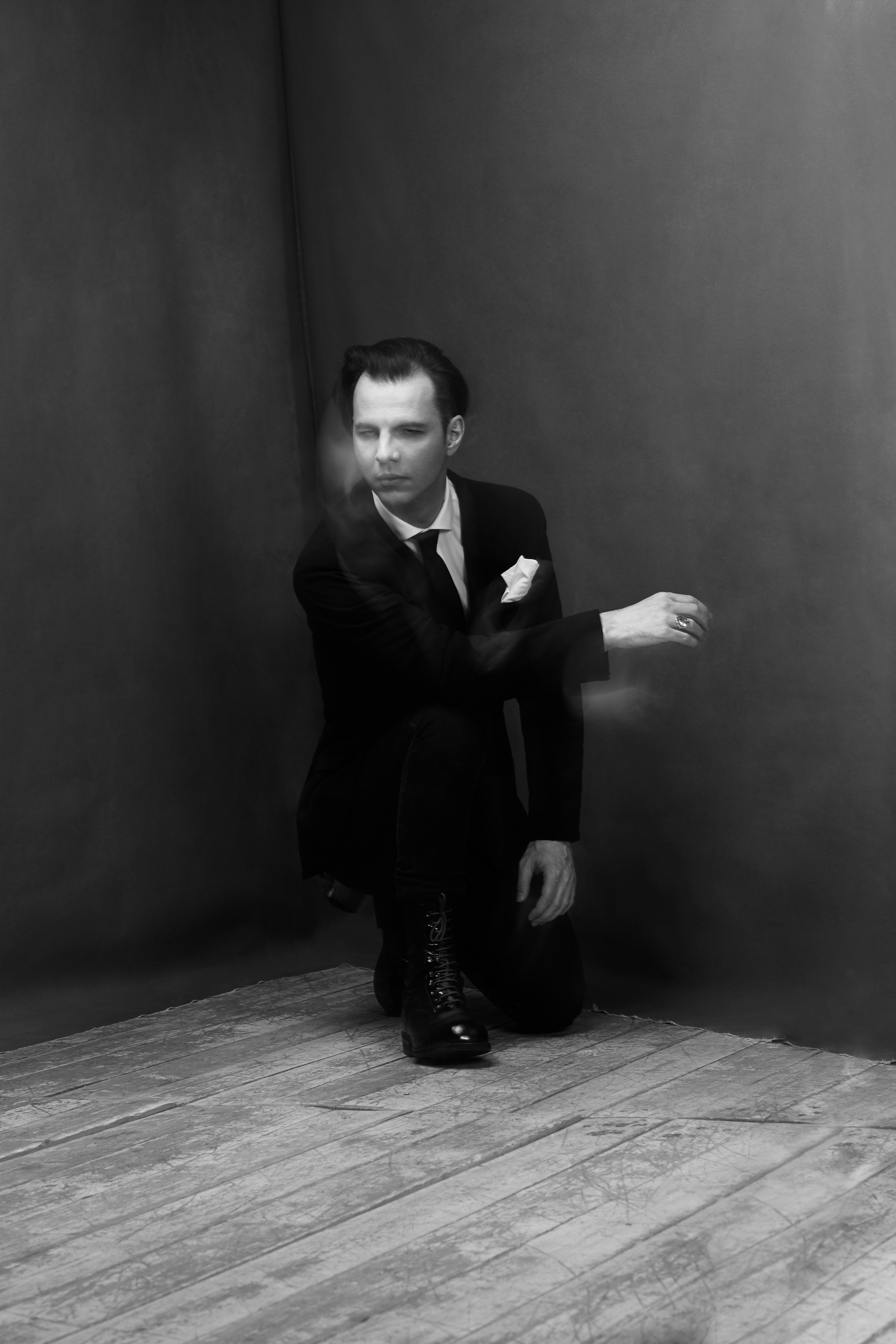 Teodor Currentzis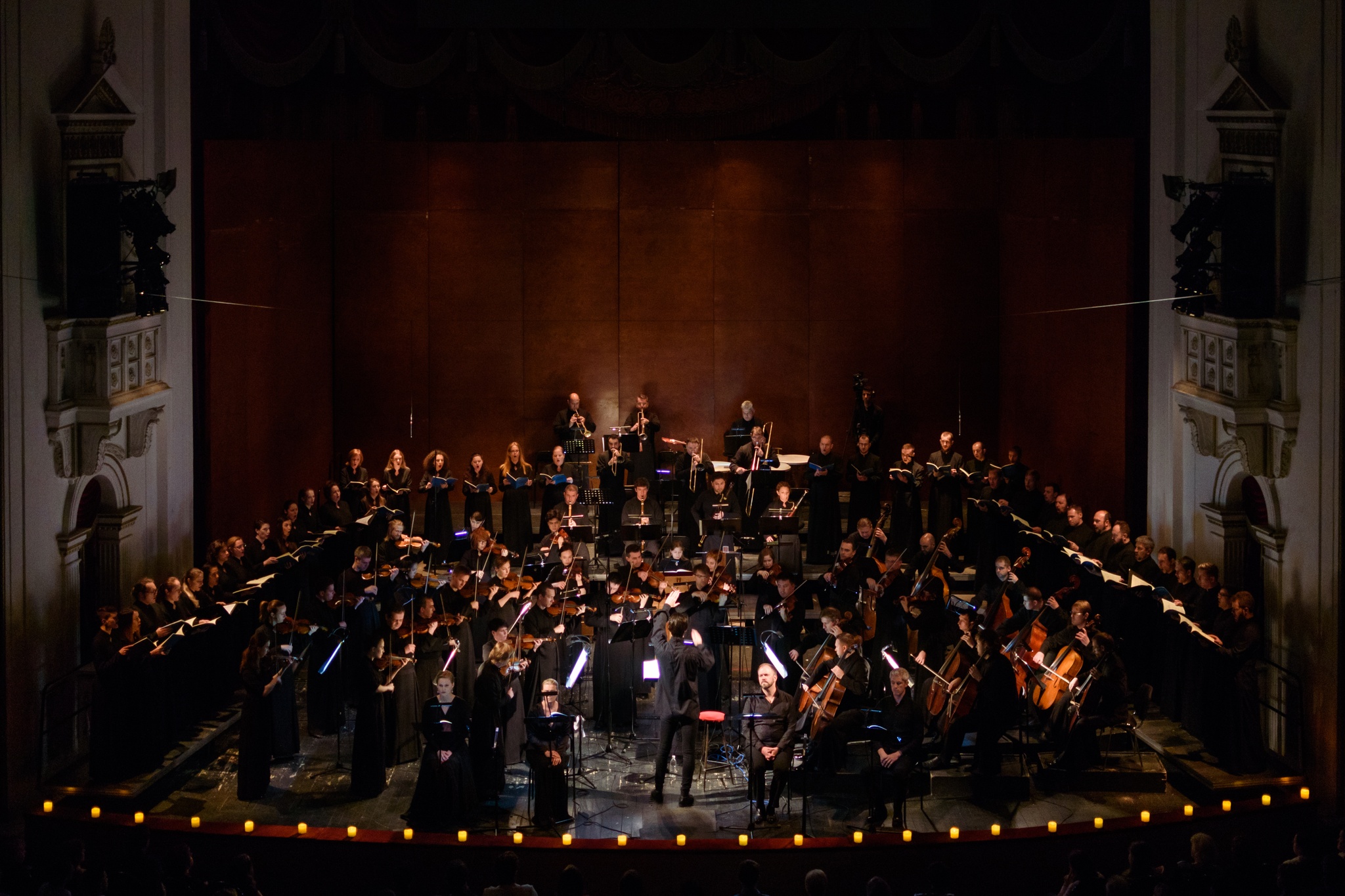 musicAeterna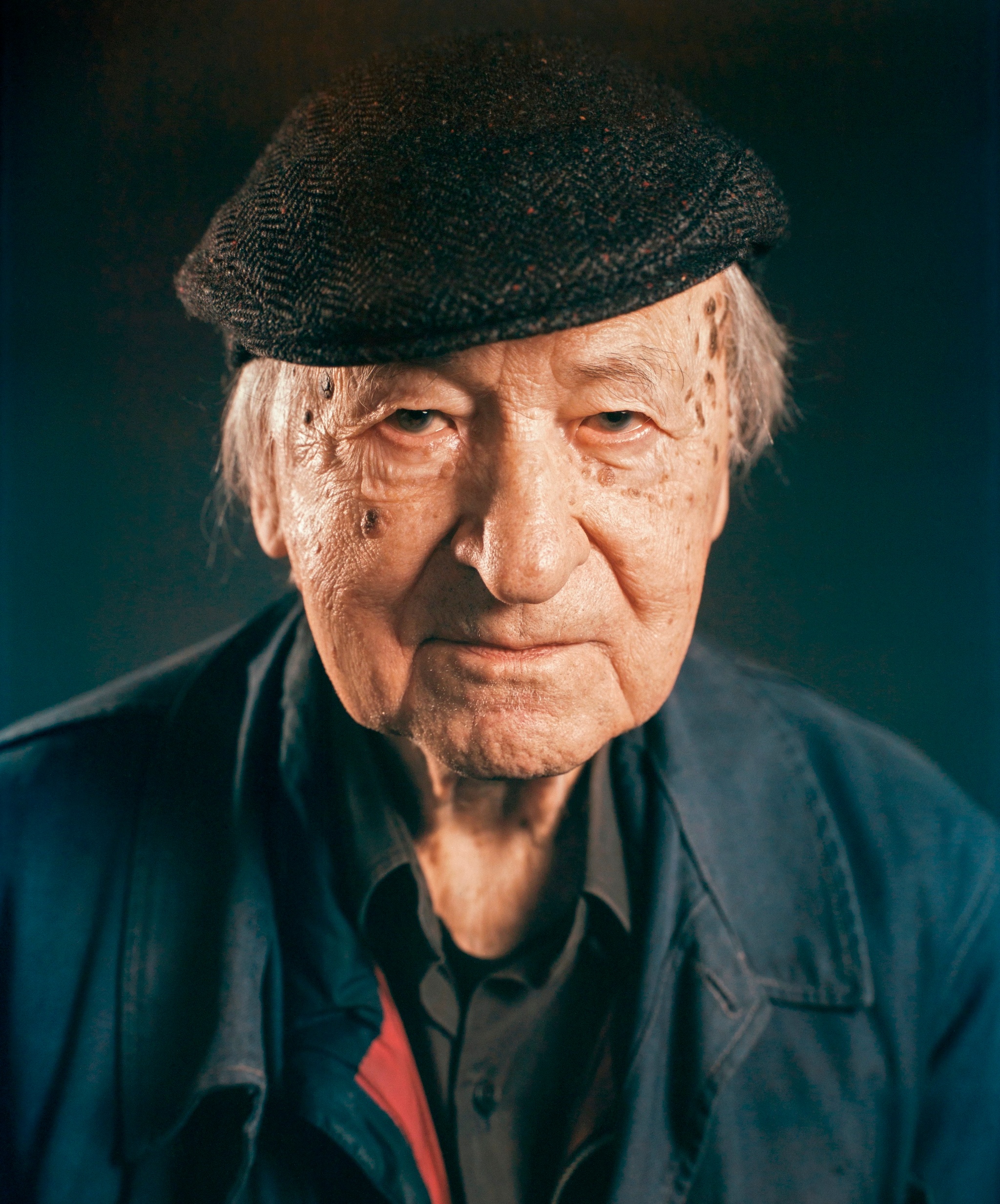 Jonas Mekas
Teodor Currentzis is the founder and artistic director of the musicAeterna ensemble and chamber choir. The ensemble was resident at Perm Opera and Ballet Theatre from 2011 until 2019. In July 2019, Currentzis stepped down as artistic director of Perm Opera in order to lead musicAeterna as an independent, privately financed ensemble.
With musicAeterna, Currentzis regularly tours Europe with performances at the Berlin Philharmonic, Philharmonie de Paris, Festspielhaus Baden-Baden, La Scala Milan, and the Madrid Auditorio. musicAeterna has a long standing relationship with the Salzburg Festspiele; performances in Salzburg include a new production of La Clemenza di Tito directed by Peter Sellars in 2017, which traveled to Dutch Opera where Currentzis made his debut in 2018, a full cycle of Beethoven's symphonies cycle in 2018, and Idomeneo in 2019, directed by Peter Sellars in collaboration with the Freiburg Baroque and the musicAeterna choir. Currentzis and musicAeterna made their BBC Proms debut in 2018 and made their Japanese debut in February 2019 with concerts in Tokyo and Osaka.
In 2018 – 19, Currentzis was appointed the chief conductor of the SWR Symphony Orchestra Stuttgart. In his first year with SWR, he conducted Mahler Symphonies No. 3 and 4, Tchaikovsky's Symphony No. 5, and Shostakovich's Symphony No. 7 in performances in Stuttgart and on tour visiting the Vienna Konzerthaus, Hamburg Elbphilharmonie, and Cologne Philharmonie amongst others. He finished his first season with SWR with a final performance of Shostakovich's No. 7 at the Salzburg Festival. In November 2019, Currentzis will make his debut with the Berlin Philharmonic with Verdi's Requiem and the musicAeterna choir.
Past highlights of Currentzis's career include Resident Artist at the Vienna Konzerthaus beginning 2016 – 17 and including concerts with Vienna Symphony Orchestra, Camerata Salzburg, and musicAeterna; performing Brahms's Requiem with musicAeterna choir and the Mahler Chamber Orchestra as part of the Diaghilev Festival, Perm, and on tour in Europe; a tour with Mahler Chamber Orchestra of Berio's Coro; La Clemenza di Tito and Mozart's Requiem at Salzburg Festival and Verdi's Macbeth at Zurich Opera with Barrie Kosky (2016); Wagner's Das Rheingold with musicAeterna orchestra (2015, RUHRtriennale in Bochum); Tchaikovsky's Iolanthe and Stravinsky's Persephone, which premiered in Madrid in 2012, at Aix Festival (2015); Purcell's The Indian Queen in Madrid (2012); Shostakovich's Lady Macbeth of the Mtsensk District in Zurich (2012); and Weinberg's The Passenger with the Vienna Symphony Orchestra in Bregenz (2010).
As the former artistic director of Perm Opera, Currentzis has commissioned several important new works, including Phillipe Hersants's Tristia (2016), Dmitrii Kourliandski's opera Nosferatu (2014), Alexei Syumak's opera Cantos (2016), and a violin concerto by Sergey Nevsky (2015).
Currentzis and musicAeterna are exclusive Sony artists and have released the Mozart's Da Ponte trilogy, Stravinsky's Les Noces, Tchaikovsky's Violin Concerto (with Patricia Kopatchinskaja), Tchaikovsky's Symphony No. 6, and Mahler's Symphony No. 6. Previous recordings include Shostakovich's Symphony No. 14, Mozart's Requiem, and Purcell's Dido and Aeneas, all on the Alpha label, and Shostakovich's Piano Concertos with Alexander Melnikov and the Mahler Chamber Orchestra on the Harmonia Mundi label.
In 2017, ECHO Klassik awarded the DVD/Blu-ray production of Purcell's The Indian Queen, directed by Peter Sellers, with Currentzis and musicAeterna, following on a previous ECHO Klassik award in 2016 for Symphonic Recording (20th/21st-Century Music) for their recording of Stravinsky's Le Sacre du Printemps, both released on Sony Classical. In 2015, Currentzis and his brother Vangelino Currentzis recorded and composed the soundtrack of the European Games opening ceremony in Baku and were nominated for an Emmy Award in the category of Outstanding Music Direction and Composition. Currentzis was awarded the Order of Friendship of the Russian Federation in 2008, and was the recipient of the Toepfer Foundation's prestigious Kairos Award in 2016. The same year, Opernwelt named Currentzis Best Conductor of the Year for his Macbeth at Zurich Opera.
Currentzis has been awarded seven Golden Masks, Russia's prestigious theater award, most recently in 2017 for Best Opera Conductor for La Traviata, a Perm Opera production directed by Robert Wilson. Previous awards include the Best Opera Conductor award (The Indian Queen, 2015, Cosi Fan Tutte, Perm, 2013, and Wozzeck, Bolshoi, 2011), one for a "brilliant performance of Prokofiev's score" (Cinderella, 2007), and for "outstanding results in the area of authentic performance" (The Marriage of Figaro, 2008).
In 2006, combining his knowledge and passion for early music with contemporary composers and new music, Currentzis started the Territoria Modern Art Festival in Moscow. Since 2012, Currentzis has also curated the Diaghilev Festival, held in his birth town in Russia. Born in Greece, Russia has been Currentzis's home since the beginning of the 1990s, when he began studying conducting at the state conservatory of St. Petersburg under the tutelage of Professor Ilya Musin, whose pupils included renowned conductors Odyseuss Dimitriadis, Valery Gergiev, and Semyon Bychkov.
musicAeterna was founded in 2004 in Novosibirsk, Russia, by Teodor Currentzis and was the resident orchestra and chorus at Perm Opera from 2011 to 2019. musicAeterna's mission to present Baroque and classical works using authentic performance practices, while adding new accents to the realm of contemporary music, preserves the heritage of classical music and advances classical music by keeping it relevant and alive with new work. The repertoire of the chorus embraces different styles and historical periods, and includes works by European and Russian baroque composers, masterpieces of Russian choral music of the 18th to 20th centuries, the operatic repertoire, and contemporary commissions. musicAeterna is signed exclusively with Sony Classical, and their recordings of works by Mozart, Tchaikovsky, Rameau, and Stravinsky have received much positive critical reception.
Jonas Mekas was born in 1922 in the farming village of Semeniškiai, Lithuania, and is recognized internationally as an artist, poet, curator, critic, and one of the leading filmmakers of independent and avant-garde cinema. His artwork and films have won widespread recognition and have been shown extensively at festivals, galleries, and museums around the world. In 1954, he co-founded Film Culture magazine, and in 1958 he began his legendary "Movie Journal" column in the Village Voice. Mekas also cofounded the Film-Makers' Cooperative, the Film-Makers' Cinematheque, and Anthology Film Archives, which remains one of the world's most important institutions dedicated to preserving and screening independent / avant-garde film. Mekas passed away in January 2019 at the age of 96.
Soloists
Russian soprano Zarina Abaeva comes from Vladikavkaz in North Ossetia where she initially studied with Nelly Khestanova before completing her training with Rusanna Lisitsian at the Moscow Gnessin Institute in 2011. Abaeva has had great success as a Tchaikovsky performer, in particular, including in the roles of Iolanta and Tatiana in Eugene Onegin, Maria in Mazeppa, and Agnès Sorel in The Maid of Orléans. Her repertoire also includes Micaëla in Bizet's Carmen, Antonia in Offenbach's Les Contes d'Hoffmann, Blanche in Poulenc's Dialogues des Carmélites, and the title roles in Puccini's Suor Angelica and Madama Butterfly, as well as in Verdi's Aida. In the autumn of 2017, she appeared as Mimì in Puccini's La Bohème at the Festspielhaus Baden-Baden. For the performance of Antonia in Offenbach's Les Contes d'Hoffmann, she was nominated for the Golden Mask Award in 2016. She is also a prize winner at the Nadezhda Obukhova All Russian Competition for Young Singers (2010, Lipetsk) and Minsk International Christmas Singing Competition (2016).
Tenor René Barbera became the first-ever sole recipient of all three awards of the Operalia Competition in 2011, and won the Metropolitan Opera National Council Audition in 2008. Barbera has earned critical praise and audience acclaim for his effortless singing, "oldfashioned warmth" (Opera News), and expressive musicality. This season, Barbera will make a number of house debuts, with the Deutsche Oper Berlin as Edgardo (Lucia di Lammermoor), Teatro alla Scala Milan as Ernesto (Don Pasquale), Teatro Verdi Trieste as Lindoro (L'Italiana in Algeri), the Palau de les Arts Reina Sofia as Tito (La Clemenza di Tito), and the Bayerische Staatsoper Munich as Don Ramiro (La Cenerentola). Among his recent engagements are Count Almaviva (Il Barbiere di Siviglia) in Paris, Los Angeles, Bologna, and Amsterdam; Giannetto (La Gazza Ladra) in Pesaro; Don Ramiro (La Cenerentola) and Lopas (Les Troyens) in San Francisco; Tonio (La Fille du Régiment) at Greensboro Opera; Lindoro (L'Italiana in Algeri) at the Metropolitan Opera; and Messa da Requiem with La Scala in Pavia, Hamburg, and Paris, among others.
Clémentine Margaine, Mezzo-soprano
Considered one of the leading mezzos of her generation, French native Clémentine Margaine has gained international acclaim for her portrayal as the title role in Carmen, which she has sung in at least 15 productions since 2014. Her past engagements include debut performances as Fides (Le Prophete) at the Deutsche Oper Berlin; Amneris (Aida) with Opera Australia; Léonor (La Favorite) at the Gran Teatre del Liceu in Barcelona; and Carmen at the Théâtre du Capitole in Toulouse. Others include Concepcion (L'Heure Espagnole) at the Paris Opera; Carmen at the Deutsche Oper Berlin; Marguerite in a concert performance of La Damnation de Faust in Bucharest; Zayda in Donizetti's Don Sebastien; and Gertrude in Hamlet. Highlights as a soloist include the mezzo-soloist in Elijah in Berlin, Mozart's Requiem in Lisbon, Verdi's Requiem in Budapest, and Chausson's Poème de l'amour et de la mer with the Chicago Symphony Orchestra in Chicago and on tour with Riccardo Muti.
A conductor and sonorous bass, Evgeny Stavinsky's most recent performances include Zaccaria (Nabucco) in Ravenna, Ferrara, Nice, and Toulon; Ivan Khovansky (Chovanščina) in Budapest; Messa da Requiem with RTE Symphony Orchestra in Dublin; Beethoven's Ninth Symphony with Riccardo Muti in Athens and Ravenna; Bartolo (Le nozze di Figaro) at Wiener Konzerthaus and Lucerne Festival with Teodor Currentzis; and Mozart's Requiem at Baden-Baden Festival. Among his next engagements are a series of concerts with Teodor Currentzis (Messa da Requiem in Baden-Baden and Mozart's Requiem for South Netherlands Philharmonic and Dutch Radio Choir); Conte di Walter (Luisa Miller) at Glyndebourne Festival; and Raimondo (Lucia di Lammermoor) at Bayerische Staatsoper in Munich (2021). Stavinsky graduated from the Moscow Academy of Choral Art and won in the Riccardo Zandonai International Competition in 2003 and 2009. Since 2005, Stavinsky has served as the conductor of the City Symphony Orchestra of Dubna.
musicAeterna
Flute
Laura Pou
Agnes Mayr
Marta Santamaria
Oboe
Maxim Khodyrev
Ivan Sherstnev
Clarinet
Sergey Eletsky
Georgy Mansurov
Bassoon
Talgat Sarsembaev
Igor Ahss
Evgeny Tretyakov
Olzhas Ashirmatov
French Horn
Leonid Voznesensky
Alexey Sakovich
Andrey Ryazhenov
Alexey Melnikov
Trumpet
Zhasulan Abdykalykov
Pavel Kurdakov
Nikita Istomin
Baldvin Oddsson
Trombone
Gerard Costes
Andrey Saltanov
Vladimir Kishchenko
Tuba / Cimbasso
Ivan Svatkovsky
Timpani
Dimitris Desilas
Bass Drum
Alexey Amosov
First Violin
Afanasy Chupin
Vladislav Pesin
Andrey Sigeda
Dmitry Chepiga
Vadim Teyfikov
Dmitry Borodin
Alexander Kotelnikov
Maria Stratonovich
Julia Smirnova
Ruta Lipinaityte
Mikhail Andrushchenko
Ivan Subbotkin
Ksenia Gamaris
Elizaveta Yarovaya
Julia Igonina
Michelle Ross
Evgenia Pavlova
Elena Rais
Second Violin
Artem Savchenko
Ilya Gaisin
Ekaterina Romanova
Anastasia Shapoval
Elena Ivanova
Anastasia Strelnikova
Armen Pogossyan
Robert Brem
Elena Kharitonova
Alina Boyarkina
Kristina Lukmanova
Galina Gilfanova
Liana Erkvanidze
Tabigat Amrenov
Katya Kaminsky
Kristina Lebedeva
Viola
Nail Bakiev
Grigory Chekmarev
Andrey Serdyukovsky
Lev Serov
Irina Sopova
Evgenia Zubova
Ezra Woo
Hasmik Karapetyan
Tomas Savickas
Natalya Golub
Oleg Zubovich
Dmitry Parkhomenko
Vladimir Tkachenko
Orhan Celebi
Cello
Alexey Zhilin
Konstantin Manaev
Miriam Prandi
Alexander Prozorov
Evgeny Rumyantsev
Olga Kalinova
Sergey Slovachevsky
Kaori Yamagami
Yuri Polyakov
Denis Dmitriev
Roman Efimov
Igor Galkin
Double Bass
Hayk Khachatryan
Andrey Shinkevich
Carlos Navarro
Alexey Vlasov
Maria Krykov
Angela Contreras
Antal Racz
Dmitry Rais
Dilyaver Menametov
Trumpet (banda)
Derrick Stauffer
Matthew Muckey
Steve Madancy
Robby Garrison
Soprano
Elena Anisimova
Irina Bagina
Ganna Baryshnikova
Victoria Vaksman
Anastasiia Gorina
Katsiaryna Dandukova
Tatiana Ikatova
Svetlana Kishchenko
Aleksandra Kozhedub
Anastasiia Kursanina
Despoina Panagiotou
Elena Podkasik
Iuliia Saifulmuliukova
Valeriia Safonova
Eleni Lydia Stamellou
Iuliia Suchkova
Ekaterina Turnaeva
Anastasiia Fomichenko
Alfiya Khamidullina
Elena Iurchenko
Alto
Anna Bogdanova
Anna Gladkova
Nadezda Goncharuk
Anastasiia Guliaeva
Anastasiia Erofeeva
Mariia Zaikina
Arina Mirsaetova
Alina Mukhamedzhanova
Olga Nadezhdina
Mariia Oparina
Ivan Petrov
Asiya Rakhmatullina
Viktoriia Rudakova
Olga Strelnikova
Elena Tokareva
Elena Shestakova
Anastasiia Shumanova
Tenor
Yaroslav Anisimov
Anton Bagrov
Nikolay Basov
Dmitriy Veselovskiy
Artem Volkov
Aleksandr Gainutdinov
Sergey Godin
Ivan Gorin
Vitalii Kalachev
Sergey Kostarev
Albert Kucherbaev
Sergei Margin
Evgenii Nikitin
Ivan Nuzhin
Denis Obukhov
Konstantin Pogrebovskii
Sergey Silakov
Serafim Sinitcyn
Aleksandr Somov
Nikolai Fedorov
Bass
Denis Bagrov
Evgeny Goncharov
Aleksandr Egorov
Stepan Egorov
Vitaly Zhdanov
Evgenii Ikatov
Dmitrii Kamaletdinov
Anton Mosolov
Andrey Poltorukhin
Grigorii Piankov
Petr Safroshkin
Aleksei Svetov
Timofei Suchkov
Aleksei Fitisenko
Almaz Khaibrakhmanov
Pavel Kharalgin
Aleksei Tseloukhov
Vladimir Chalbaev
Viktor Shapovalov
Location and dates
This event takes place in The McCourt.
November 19 at 7 pm
November 21 and 23 at 7:30 pm
November 24 at 3 pm
Details
Running time: 90 minutes

There is no late seating; please arrive early.

To help us honor the ceremonial nature of the performance, please silence phones and put them away.
Photography and video recording are not permitted.
Alex Poots, Artistic Director and CEO
Hans Ulrich Obrist, Senior Program Advisor
Nadine Goellner, Producer
Marc Warren, Director of Production
Sarah Pier, Production Supervisor
Daisy Peele, Associate Producer
Maggie MacTiernan, Director of Artist Services
Joe Dimartino, Technical Director
Neal Wilkinson, Production Management
Concert Production Credits
Aaron Copp, Lighting Design
Mark Grey, Sound Design
Mikiko Suzuki MacAdams, Scenic Design
Betsy Ayer, Production Stage Manager
Austin Switser, Video Design / Programmer
Stuart Burgess, Head Electrician
Stefan Carrillo, Head Carpenter
Colin Roche, Head Rigger
Jim Van Bergen, Head Audio
Acoustic Scenery by Wenger Corporation and Exploring Inc.
Staging Supplied by All Access Staging
Additional lighting by 4Wall
Additional audio equipment by Sound Associates
Additional video equipment by Panavid
Additional music equipment by Best Instrument Rentals, Boulevard Carroll Entertainment Group, and Los Angeles Percussion Rentals
Pianos by Steinway & Sons
Acknowledgments
Sebastian Mekas and The Shed would like to thank Marina Abramović for her collaboration and friendship.
Thank You to our partners

Support for Requiem is provided in part by