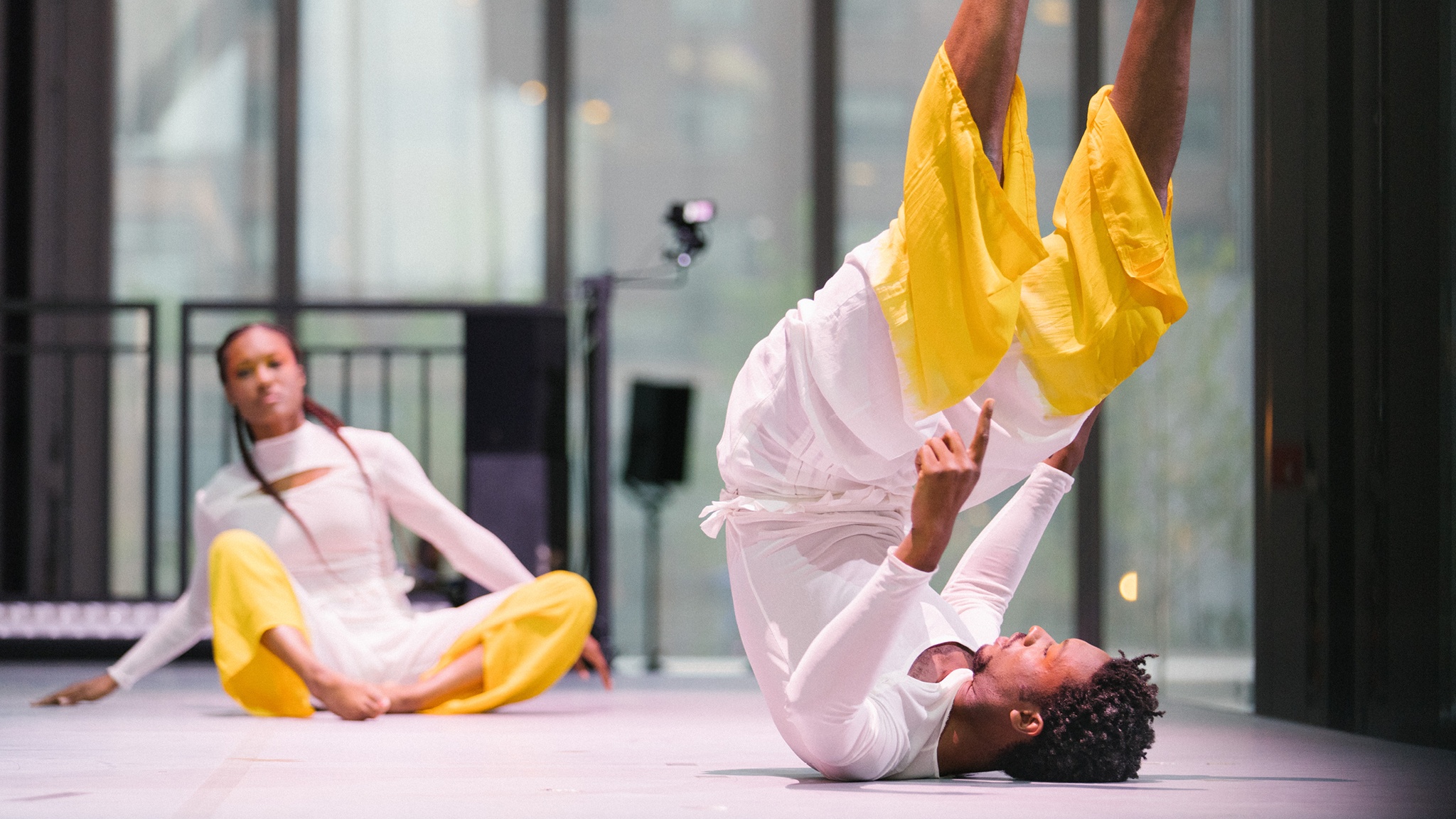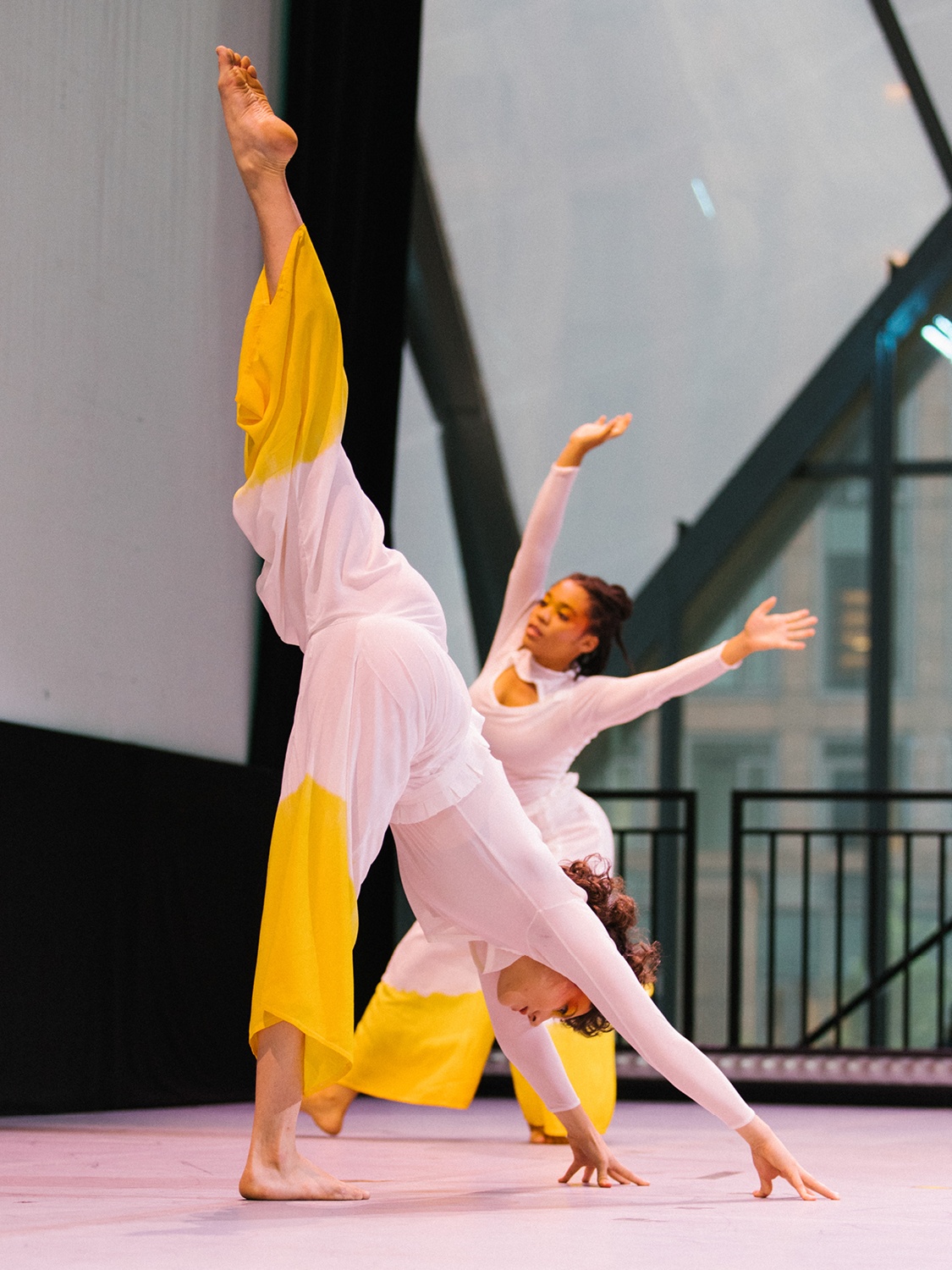 A dance honoring the spirit of humanity and sacredness of gathering
About this commission
Rise is inspired by the shout traditions of the Black church and the transcendence of club music, and aims to hold the joy that dancing brings to our lives. This dance celebrates life in our flesh, makes space for the spirit, and honors the power of witnessing by reflecting on our time of isolation.
Welcome and acknowledgments
Hello, all, and welcome to the world premiere of Rise! As we gather today, we do so acknowledging the history contained within our bodies and the land which we are standing on. Many of us are here on this land because of ancestral violence and settler colonialism. Originally called Munsee Lenape, Manhattan is the unceded land of the Lenape people. Our future depends on our care for the land and honoring those who cared for it before us. I would like to also acknowledge the legacy of slavery in the Americas. Our history continues to echo through our bodies as we recognize our privilege, fight injustice, and work to create more equitable communities and institutions. In this month of pride, I would also like to acknowledge the LGBTQIA community. As we celebrate, let's also remember the sacrifices of previous generations who fought for queer visibility, safety, and acceptance knowing there is more work to do.
Rise is inspired by the shout traditions of the Black church and the transcendence of club music and aims to hold the joy that dancing brings to our lives. Returning to live dance-making after over a year of isolation was a humbling experience. This pandemic has been a time of loss, uncertainty, and self-reflection. It has altered the landscape of the performing arts and our connections to each other. The process of getting back into the studio has been an undulation of motivation and a call from the spirit. Four months ago, I did not know how it would be possible. Now, here we are! I am grateful to my mentors, family, and friends who encouraged me to continue in the darkest of days. I am thankful also to KMC's donors and supporters who helped to keep the company afloat during a year of uncertainty and loss.
Rise would not be possible without the collaborators and staff of Kyle Marshall Choreography. Thank you to performers Damani Alfreida, Miriam Gabriel, and Ariana Speight for your hard work, instinct, and trust in joining me in this endeavor. Thank you always, Cal Fish, for your waves of music and direct spirit. Thank you, Russell Peguero, for your fabulous clothes. My heartfelt appreciation goes to the KMC staff. Nora, Marc, Mykel, and Amelia all stepped in at different times during this pandemic to help keep the company going. Thank you also to Edo for your love, feedback, and make up. My appreciation goes out to Maggie MacTiernan, Solana Chehtman, Claudia Norman, and the rest of The Shed's staff for their consistent communication during the three-year journey to get to this stage.
I am so happy to share Rise with you all, in KMC's first live presentation since February 2020. Gathering to witness is a privilege, missed during the isolation of the Covid-19 pandemic. We rise from this challenging time to celebrate life in our flesh. Dancing together is a gift. Enjoy and thank you for attending!
—Kyle Marshall
Creative Team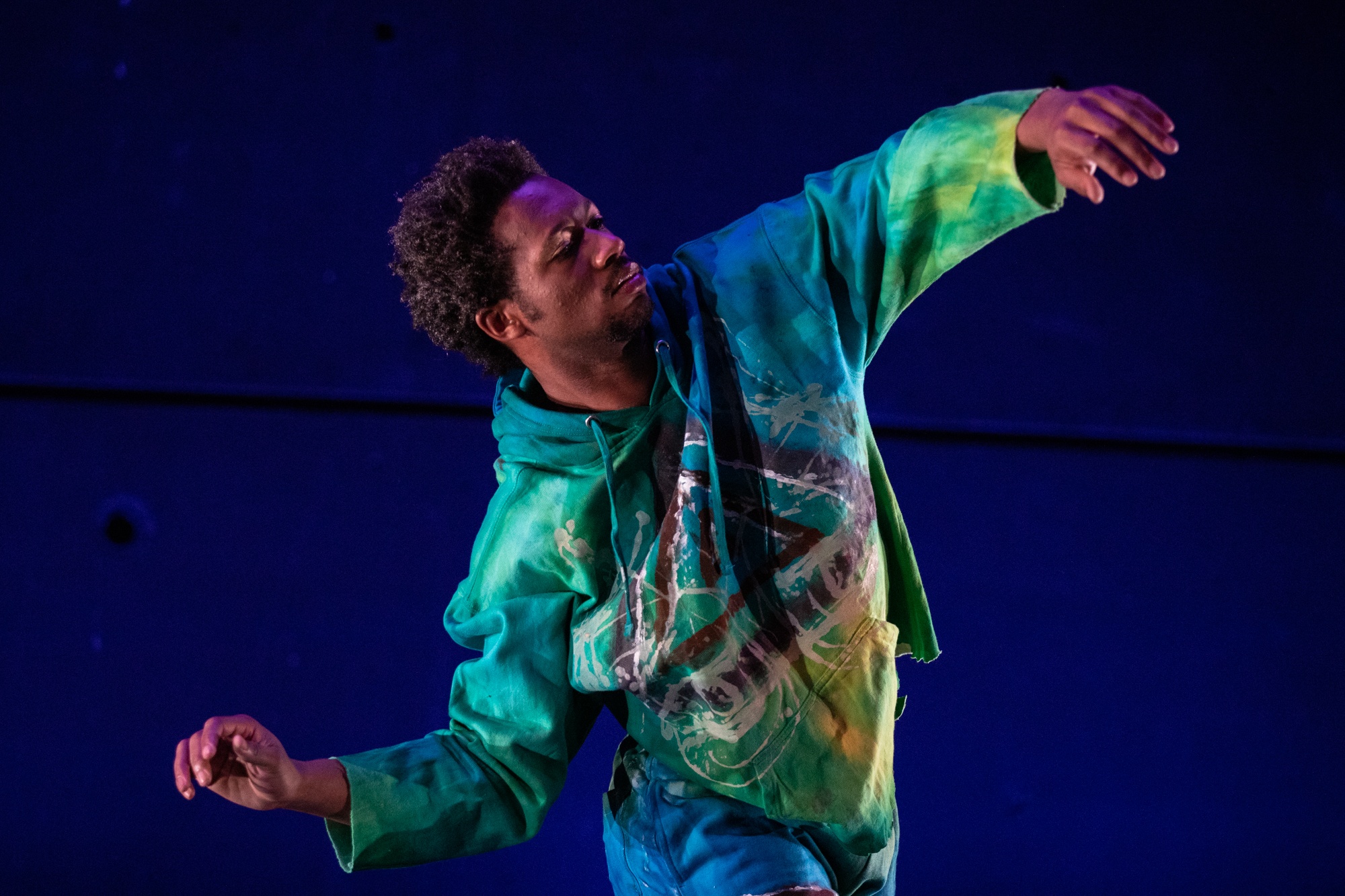 Kyle Marshall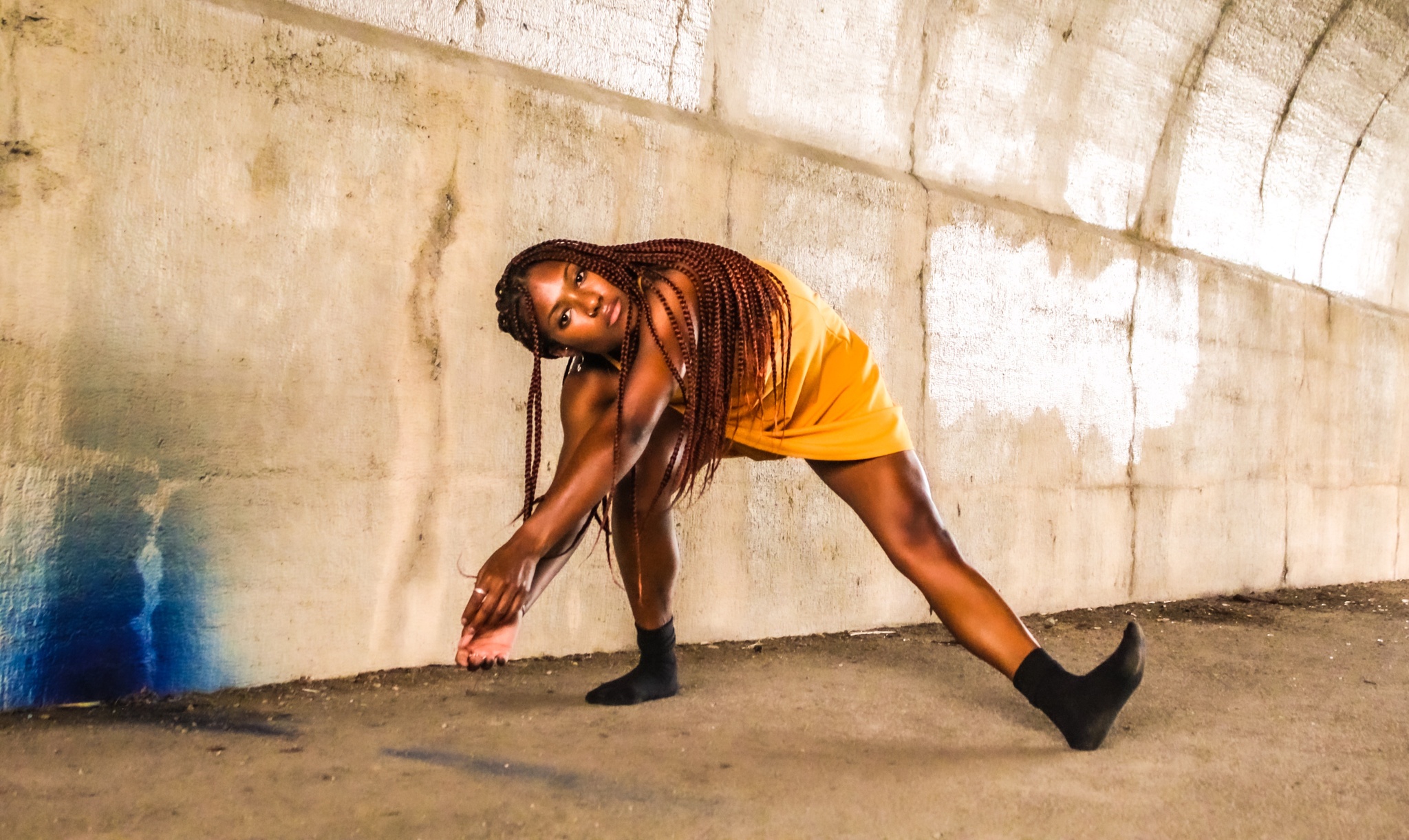 Damani Alfreida
Miriam Gabriel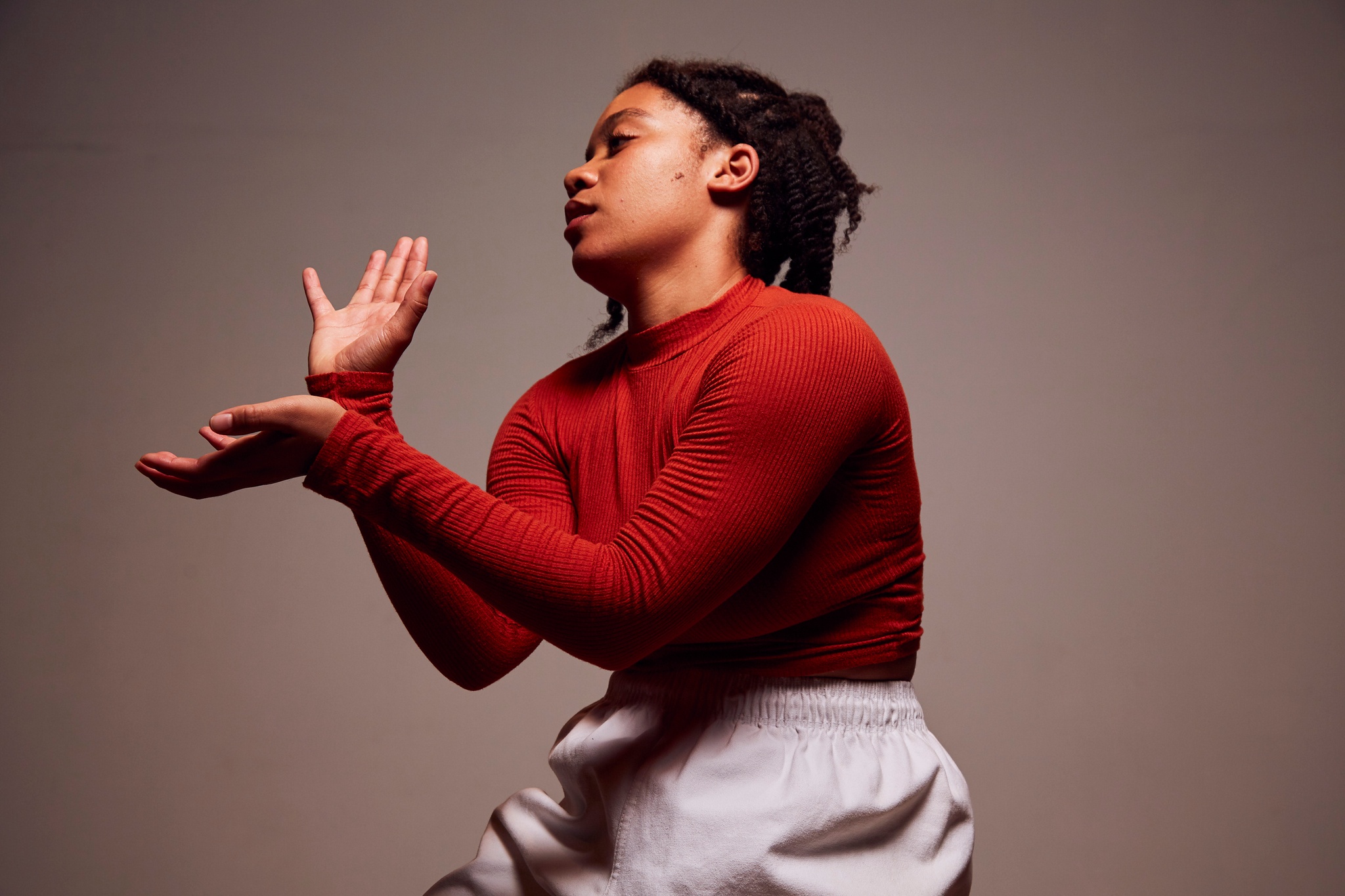 Ariana Speight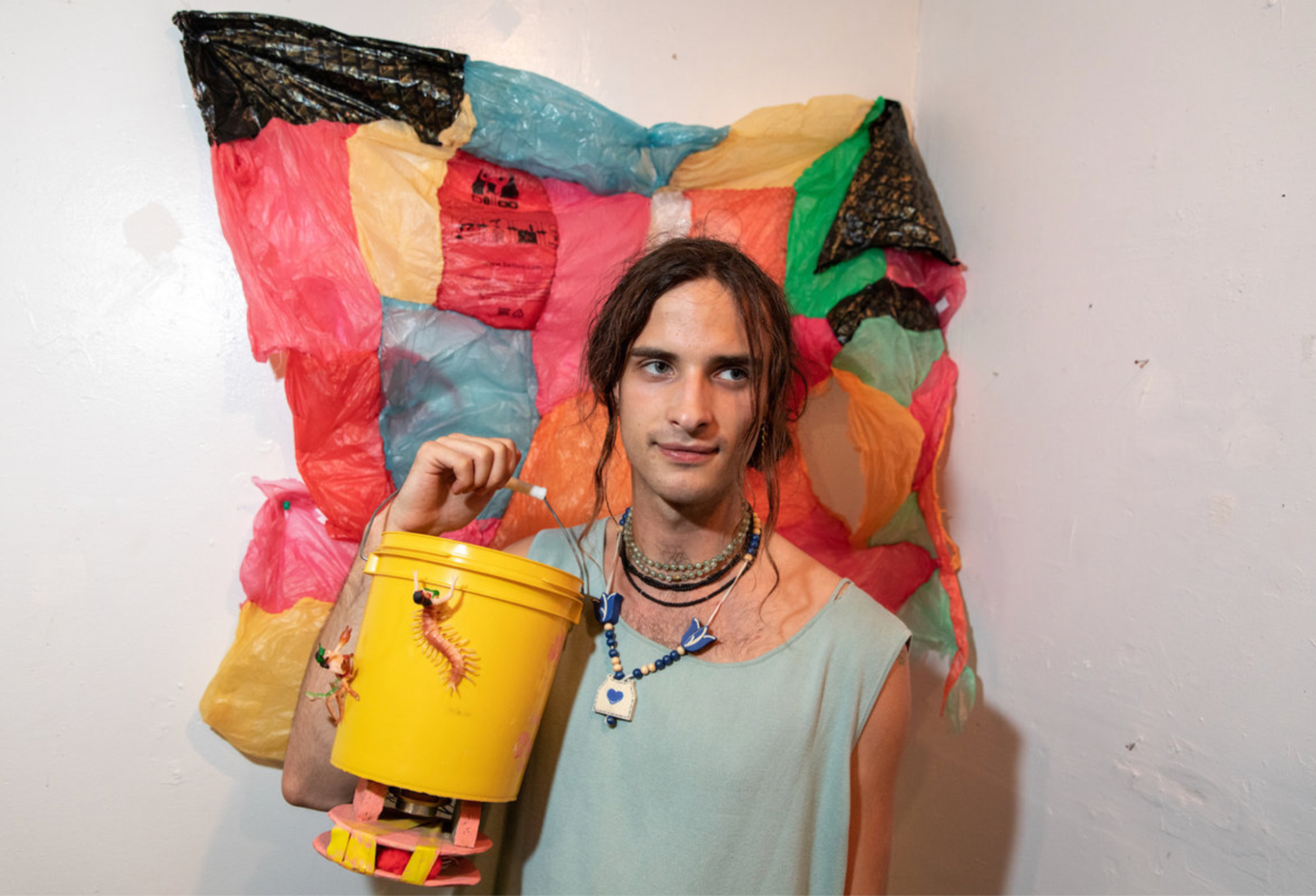 Cal Fish
Kyle Marshall
Choreographer, Performer
Kyle Marshall is a choreographer, performer, and teaching artist. He recently received the 2020 Dance Magazine Harkness Promise Award and a NY "Bessie" Award nomination for the production Colored. His dance company, Kyle Marshall Choreography (KMC), sees the dancing body as a container of history, an igniter of social reform, and a site of celebration. Since its inception in 2014, KMC has performed at venues including BAM Next Wave Festival, Jacob's Pillow Inside/Out, Joe's Pub at the Public, Actors Fund Arts Center, NJPAC, NYC SummerStage, and Roulette. He has also received commissions from Dance on the Lawn, Montclair's Dance Festival, and Harlem Stage. Marshall has been in residence at the 92nd St. Y, CPR, and Jamaica Performing Arts Center and currently is a resident performance artist at MANA Contemporary. As a teacher, Marshall conducts dance master classes and creative workshops at schools including American Dance Festival, Montclair State University, Ailey/Fordham, County Prep High School, and Bloomfield College. Marshall is a member of the Trisha Brown Dance Company. He also danced with doug elkins choreography etc. and Tiffany Mills Company. Marshall graduated from Rutgers University with a BFA in dance and resides in Jersey City.
Damani Alfreida is a passionate performing artist from Paterson, New Jersey. She holds her BFA in dance from Mason Gross School of the Arts at Rutgers University. Damani has studied under artists such as Blaire Ritchie, Brittany Engel-Adams, Randy James, Kim Gibilisco, Taryn Vander-Hoop, and Ori Flomin. She has also performed in works such as Trio A by Yvonne Rainer, Bill T. Jones's Freedom Of Information, and other work by Christian Von Howard. Other works include Concerto Six Twenty Two by Lar Lubovitch, as well as March Under an Empty Reign by Donna Uchizono, both performed at the Joyce Theater in NYC. After graduating, Alfreida made her Broadway debut in Hadestown in addition to starting a nonprofit catering to arts education and recreation in Paterson and beyond. Alfreida is most grateful for her Lord and Savior, the support of her family, and her uniqueness as a Black woman.
Miriam (mimi) Gabriel is a performer and creator. She co-creates video work with Zora Schiltz-Rouse and Sophia de Baun under Mizo Productions. She has made dance work with Carlo Antonio Villanueva. She is currently involved in dance projects with Kyle Marshall Choreography, Maya Lee-Parritz, and Stephanie Acosta. Past projects include working with the Stephen Petronio Company, Merce Cunningham Trust, and performing for GREYZONE, Zultari Gomez, Lisa Fagan, Sarah Lifson and Kayla Farrish. She is in Carlos Cardona's and Sophia De Baun's feature film Scenes from a Breakup and Dan Rosen's short film Squeezed.
A graduate of Mason Gross School of the Arts at Rutgers University with a BFA in dance and a minor in Africana studies, Ariana Speight (she/her/hers) is a contemporary artist invested in researching the curiosities of life through various mediums. Originally from Los Angeles, she had the opportunity to dance abroad at the Jerusalem Academy of Music and Dance where she studied Gaga technique and repertory from Batsheva company members and Vertigo Dance Company. In addition to working with artists like Kyle Abraham, David Dorfman, and Yin Yue during the course of her professional training, she has performed with a number of artists, most recently in a dance film by Jordan Demetrius Lloyd that premiered through the platform Issue Project Room. She is also certified as a Registered Yoga Teacher (RYT) under Om Factory School of Yoga/Yoga Alliance where she continues to nurture her teaching practice.
Cal Fish
Sound Collaborator
Cal Fish is a multidisciplinary artist from Sea Cliff, New York, currently based in Brooklyn. They graduated from Bard College with a joint degree in studio art and music. Since graduation they have shared interactive works and multisensory performances at galleries, DIY venues, festivals, community art spaces, and public parks, including CANADA Gallery, Governors Island, Flux Factory, and Peace Park. Sound as a medium for communication and user-friendly kinesthetic technologies has remained at the center of Fish's work. They have toured extensively with various music and art projects in the US and have also performed in Europe and Canada. Fish currently hosts a radio show called Anthroapology, organizes interdisciplinary art events, makes clothes out of their studio at the Living Gallery, and works in collaboration with many amazingly inspiring artists and organizers.
Edo Tastic is a makeup artist living in New York City. His work has been published in Solstice Magazine, Malvie, IMirage Magazine, McGlory Magazine, and others. His film makeup work includes the upcoming series Lower East Side Asides, produced by Steve Becker, and Invasion, directed and produced by Dennis Thomas. His makeup work includes numerous web series and assisted Ezel Mustafa in the Amazon series Big Dogs. He began his career in awe of makeup artists like David Frank Ray and Donyale McRae. As an assistant to stylist Andre Austin, he learned to have a vision that never clashes and dedication to his beloved craft which continues to inspire his work today.
Russell A. Peguero
Clothing
As a young Dominican immigrant coming to the states at nine years old into the hard cold winter of the NYC Washington Heights neighborhood, life's rough touch was the conductor to many of the survival skills the now 31-year-old Russell A. Peguero learned coming to America. After he learned to draw paper dolls for his sister as a kid, his family noticed his ability to design. They pushed and supported his newfound skill using Oscar De La Renta as the example of the one to be, eventually leading to graduating with his first fashion design and merchandising degree in 2009 and recently another degree in fashion production management from the Fashion Institute of Technology in NYC. As he likes to say, if anyone wants to be in the business of fashion, it requires a certain presence in the room. After meeting several nightlife socialites, he started working with self-released and up-and-coming artists in the metropolitan area to create their stage looks. There was always a party/event/place to make a statement. This was the main reason and inspiration for his first official collection titled "The Scene – Vol. 1" under his fashion label LLESSUR, launched this last September. He continues to collaborate with other artists on custom pieces that speak to a nonbinary and socially conscious consumer and plans to release his next collection by the end of 2021.
Credits
Rise (world premiere)
Choreography by Kyle Marshall
Performed by Damani Alfreida, Miriam Gabriel, Kyle Marshall, and Ariana Speight
Sound Design and performance by Cal Fish
Makeup by Edo Tastic
Clothing by Russell Peguero
Rise was commissioned by The Shed with residency support at MANA Contemporary, Nimbus Arts Center, and a grant from the New Jersey Arts and Culture Recovery Fund of the Princeton Area Community Foundation.
Itohan Edoloyi, Lighting Design Coordinator
DJ Potts, Audio Design Coordinator
Erica Schnitzer, Stage Coordinator
Stefan Carrillo, Head Carpenter – McCourt
Stuart Burgess, Head Electrician – McCourt
Jim Van Bergen, Head Audio – McCourt
Adam Farquharson, Production Video
Maytté Martinez, Lighting Programmer
Mike Diaz, Assistant Carpenter
Josh Liebert, A1
Seth Huling, Head Audio/Monitor Engineer
The Story of this commission
Kyle Marshall originally joined the Shed family of artists with the first iteration of Open Call, selected by our reviewers and panelists in 2018. When The Shed closed temporarily to help stop the spread of COVID-19, Marshall's scheduled performance was postponed. He will now present his work as part of the second iteration of Open Call artists in 2021.
Accessibility
The Shed's spaces are all wheelchair accessible. This event takes place in The McCourt.
Assistive listening is available on your smartphone over The Shed's free Wi-Fi network via the free Listen Everywhere app. Devices will be available for you to borrow at the ticketing desk if you do not want to use your own smartphone.
Download the Listen Everywhere app before you arrive.
The June 25 performance will include ASL interpretation with Deaf interpreters coordinated and supported by a hearing interpreter (provided by Gregor Lopes and Brandon Kazen-Maddox). To request ASL interpretation for June 26 or live audio description for either date, please email info@theshed.org or call (646) 455-3494 at least 10 days in advance of the performance.
To learn more about what to expect during your visit and the performance, please read these descriptions.
If you have any questions or other requests, please email info@theshed.org or call (646) 455-3494.
What to Expect
Thank you for planning a visit to The Shed. We're looking forward to welcoming you for Open Call. Currently, the entrance to our building is through The McCourt door on the east side of our building adjacent to the Hudson Yards Public Square. The McCourt is a large performance space created when The Shed's shell, or movable roof, rolls out to cover the plaza on the east side of the building. You can access this entrance from 11th Avenue and Hudson Boulevard, just one block north of 30th Street, or from the 34 St–Hudson Yards subway station between 10th and 11th Avenues.
As you arrive at The Shed, you will enter The McCourt through a set of doors at the southeast corner of the building. It is close to the area where the High Line meets Hudson Yards at 30th Street. Most performances will take place in The McCourt. You will pass through this space to enter the rest of the building and access the Level 2 Gallery and The Tisch Skylights for the exhibition and other performances.
The shell of The McCourt is covered in a shiny, pillowy material, and its floor is level with the ground of the plaza. The Shed's building, including The McCourt, is wheelchair accessible. You will scan your own ticket on your smartphone, with help if needed from a friendly visitor experience staff member standing nearby wearing a black t-shirt and ID badge on a purple lanyard.
Once you're inside The McCourt, the space feels airy with 110-foot-high ceilings. Most of the walls are glass and let sunlight into the space. Light from the plaza and the Shops at Hudson Yards filters into the space after sunset.
The flooring in The McCourt is made of hard paving stones. They are in two shades of gray, and the lighter stones stretch across the east and west sides of The McCourt to form a large artwork by Lawrence Weiner that reads "In front of itself" in large letters. (This phrase is also the title of the work.) The letters on the east side of the space are partly covered by the Open Call stage so you can only partially read the phrase.
Seating in The McCourt is general admission, so you can choose from any available spot. The seats have armrests and thick cushions, and some are folding chairs that flip up as you stand up from them. If you would like help in finding a seat, a staff member at the entrance can guide you.
For any additional access needs or requests, please email info@theshed.org or call (646) 455-3494.
Kyle Marshall's performance will last for approximately 30 minutes, with the audience arranged in two-seat pods distanced from each other in a typical proscenium theater layout facing a four-foot-high stage. Dancers will move from the floor to the stage during the performance. At the beginning, soft sounds will be playing as you enter The McCourt, and both the sound and lighting effects will intensify toward the middle of the piece before softening again for its conclusion.
Open Call
Read more about "Open Call "
All details for "Open Call "
Thank you to our partners

The Lead Sponsor of Open Call is

Support for Open Call is generously provided by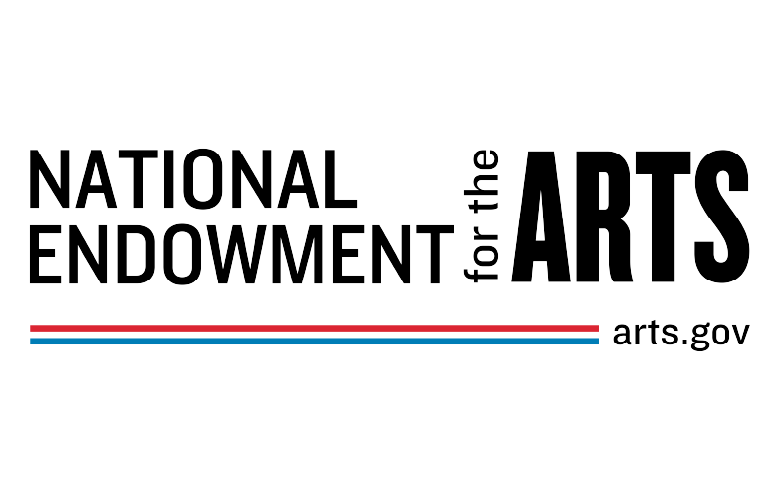 Additional support for Open Call is provided by Jody and John Arnhold | Arnhold Foundation.
The creation of new work at The Shed is generously supported by the Lizzie and Jonathan Tisch Commissioning Fund and the Shed Commissioners. Major support for live productions at The Shed is provided by the Charina Endowment Fund.