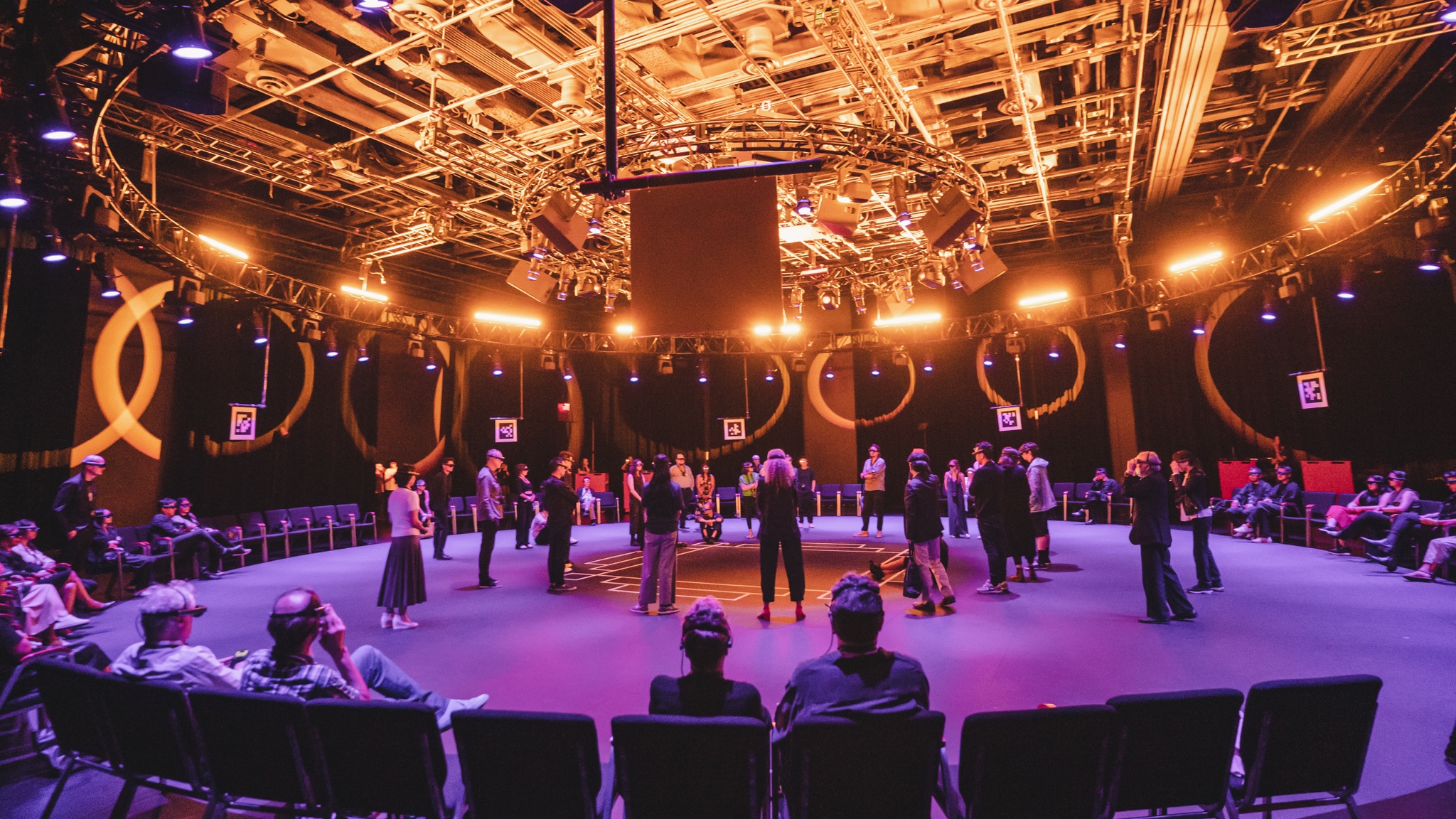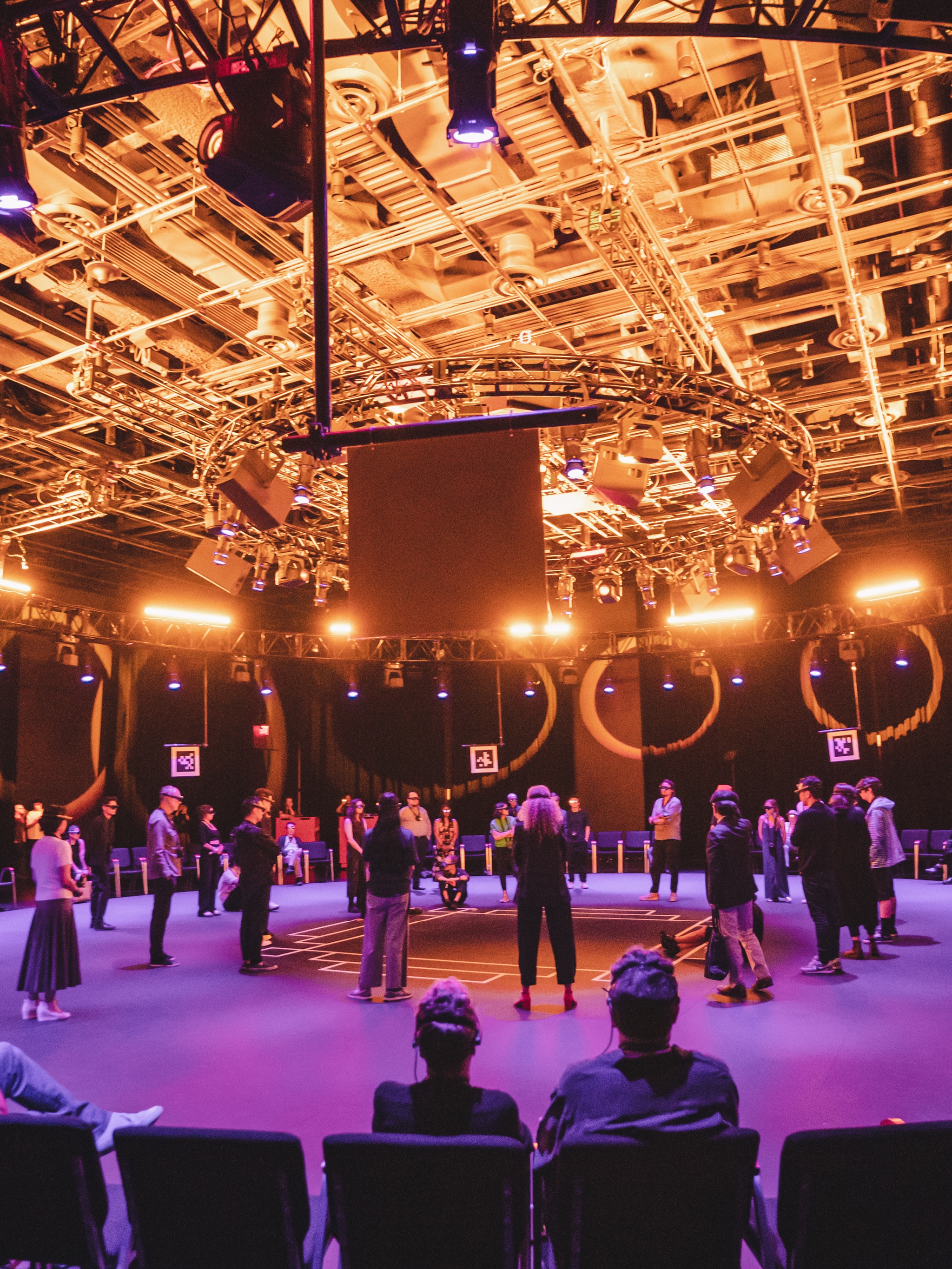 KAGAMI by Ryuichi Sakamoto and Tin Drum
A groundbreaking mixed reality concert event created by legendary composer and artist Ryuichi Sakamoto in collaboration with Tin Drum
KAGAMI is presented by Tin Drum in partnership with The Shed and Manchester International Festival
About this program
Created by legendary composer, producer, artist, and environmental activist Ryuichi Sakamoto (Yellow Magic Orchestra, The Last Emperor, The Revenant) and Tin Drum, KAGAMI represents a new kind of concert, fusing dimensional moving photography with the real world to create a never-before-experienced mixed reality presentation. Audiences will wear optically transparent devices to view the virtual Sakamoto performing on piano alongside dimensional art aligned with the music.
KAGAMI, which translates to "mirror" in Japanese, features Sakamoto playing 10 original compositions including well-known works "Energy Flow" and "Merry Christmas Mr. Lawrence," along with rarely played pieces, such as "The Seed and the Sower." Presented in surround sound, the experience will be both collective and individual, inviting observers to connect to the work—and each other—throughout. While audiences may view the show in a seated format, they will also be free to wander and explore during the hour-long event.
There is, in reality, a virtual me.
This virtual me will not age, and will continue to play the piano for years, decades, centuries.
Will there be humans then?
Will the squids that will conquer the earth after humanity listen to me?
What will pianos be to them?
What about music?
Will there be empathy there?
Empathy that spans hundreds of thousands of years.
Ah, but the batteries won't last that long.
—Ryuichi Sakamoto, 2023
Creative Team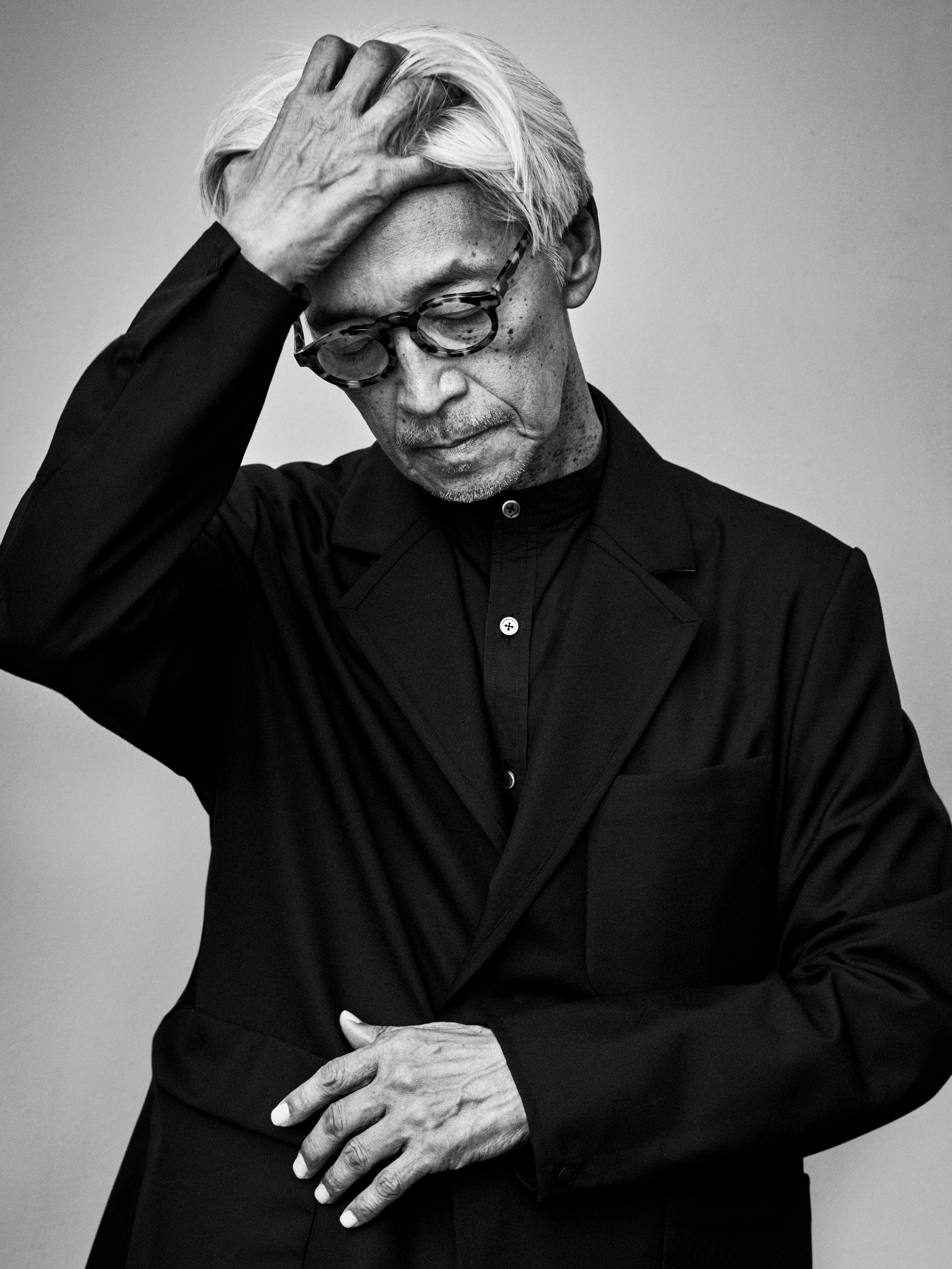 Ryuichi Sakamoto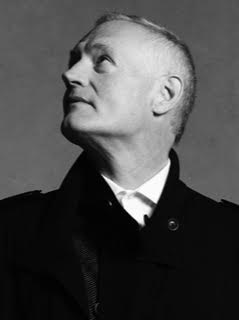 Todd Eckert
Ryuichi Sakamoto was a composer, producer, artist, and environmental activist born in Tokyo, making his debut in 1978 with the album Thousand Knives. Sakamoto's diverse résumé includes pioneering electronic works in the legendary techno group Yellow Magic Orchestra, producing globally inspired pop albums and numerous classical compositions, two operas, and nearly 45 original film scores for directors, including Bernardo Bertolucci, Pedro Almodóvar, Brian De Palma, and Alejandro González Iñárritu. His film soundtracks have won prestigious awards, including an Academy Award, two Golden Globes, and many more. Sakamoto's activism was widespread to include various environmental conservation efforts and promoting denuclearization and world peace. After 3/11 in Japan, he became a strong voice of support for the victims of the earthquake, tsunami, and nuclear meltdown in Fukushima.
Sakamoto made considerable contributions to the art world with both solo and collaborative installations and multi-piece exhibitions presented in galleries and museums worldwide. Most recently, M WOODS (Beijing) presented the largest and most comprehensive collection spanning 30 years devoted to Sakamoto's artworks in various media, centering around eight large-scale sound installations.
In 2017, the documentary Ryuichi Sakamoto: CODA (Stephen Nomura Schible) was released, coinciding with the release of his renowned 14th solo album, async. Additionally, Sakamoto presented unique performances at the Park Avenue Armory (NYC), later released worldwide as the film Ryuichi Sakamoto: async Live at the Park Avenue Armory.
Premiering at the Holland Festival 2021, Sakamoto and longtime collaborator Shiro Takatani presented a new theater piece, TIME. TIME continues to tour the world, bringing the artist duo's last collaboration to longtime and new fans alike.
On January 17, 2023, his 71st birthday, Sakamoto released 12, his 15th solo album. The new album is a collection of 12 songs selected from musical sketches Sakamoto recorded like a sound diary during his two-and-a-half-year battle with cancer.
Ryuichi Sakamoto passed away in March 2023 at the age of 71.
Todd Eckert was first published as a music journalist at 14 and became an editor of the US national OnlyMusic Magazine at 17. He produced the award-winning feature film Control about Ian Curtis, the lead singer in Joy Division. In 2012, he joined the mixed reality technology group Magic Leap and served as director of content development before leaving to found Tin Drum in 2016. Eckert directed Marina Abramovic in The Life, which premiered in 2019 as the world's first mixed reality, large-scale public performance.
Tin Drum is the world's premier studio producing content for mixed reality devices. Founded in 2016 by Todd Eckert, this collective of artists, engineers, designers, and technologists blends uniquely dimensional form with the real world to create experiences impossible through other media. The results are without modern precedent and are changing the definition of engagement in recorded performance. Tin Drum creates content in collaboration with world-renowned artists, creators, and performers. In partnership with Christie's, Tin Drum was the first to sell a mixed reality production at auction.
Set List
Before Long
Aoneko no Torso
Andata
Energy Flow
MUJI2020
The Seed and The Sower
Merry Christmas Mr. Lawrence
Aqua
The Last Emperor
BB
Credits
KAGAMI Production Credits
Ryuichi Sakamoto, Composer and Performer
Todd Eckert, Director and Producer
Mary Hickson, Creative Producer & Production Manager
Tomaso Cariboni, Technical Producer
Aurelien Simon, Executive Producer
Yoyo Munk, Scientist and Mesh Surgeon
Matt Hermans, Lead 3-D Designer
Laurentiu Fenes, Lead Developer and Ship's Captain
Martin Smith, Technical Lead
Ben Winstone, Server Developer
Quincy Campbell, Unity Developer
Koki Ibukuro, Tech Artist
Sophie Langohr, 3-D Artist
Alysha Naples, UX Director, Visual Design
Flave De Oliveira, Head of QA and UX
Seth Reiser, Lighting Designer
Angus Goodearl, Lighting Assistant
Kazuyuki 'zAK' Matsumura, Audio Designer
Ayumi Hanano, Audio System Designer
Satoshi Hama, Playback Engineer
Reese Donohue, Audio Prototyping
"Bach for Airports" mastered by Taylor Deupree
Miguel Quismodo, Juan Carlos Bragado & Gloria Saa Garcia for MQ Architects, Architecture and Spatial Design
Yoka KAGAMI Scent:
Developed with Ryuichi Sakamoto
Composed, Directed and Produced by Shinichiro Ogata, Designer/Founder of SIMPLICITY
Inez Westerhausen & Yuiko Yoshida, Coordination
Josh Faust, Technical consultant
William O'Donnell, IT Specialist
Roderick Carter, IT Specialist
Angela O'Donnell, IT Specialist
Pete Short, Producer
Simone Einfalt, Producer ZUBR
Chris Muybridge, Developer ZUBR
George Fuentes, Artistry
David 'Scooter' Naney, Prototyper
Julia Hendrickson, Video Editor
Sara Melvin, Video Editor
Peadar Gill, Video Editor
Dagon James, Photo Editing
Mori Arany, Photo retouching
INDUCTION:
Stephen Schible, Director and Editor of CODA
VISITING NY, 1987
From All Star Video by Nam June Paik
Photo: Yukihiro Yoshihara
RECORDING SESSION, 1987
Studio Miraval, France
Photo: Yuka Fujii
© Yuka Fujii
ALBUM "OUT OF NOISE," 2008
Photo: Kazunali Tajima
© Kab Inc
RECORDING SESSION, 1986
Using Fairlight CMI
Photo: Hideki Namai
Courtesy of Nippon Columbia Co., Ltd
ACADEMY AWARD, 1988
Best Original Score for The Last Emperor
© Kyodo/Kyodo News Images
Norika Sora, KAB America
Alex Fellman, KAB America
Maria Takeuchi, KAB America
Anastasia James, Director of Operations Pittsburgh
Eliza Ryan, Curatorial Advisor
Rebecca Roche, Social Media Manager
Ian Alden Russel, Operations Assistant Pittsburgh
Sam Riehl, Cultural Counsel
Joanna Urtsan, Cultural Counsel
James Singer, Tin Drum Counsel, Partner, Fox Rothschild
Terrence Kerwin, Counsel, Fox Rothschild
Louisa Michaels, Finance Manager
Tom Gentry, Systems Engineer, Gunpowder
Tom Taylor, Systems Engineer, Gunpowder
Hisashi Itoh, Production Coordination, Tin Drum
Yuki Tsuji, Production Coordination, Tin Drum
David Viecelli, KAGAMI booking agent, The Billions Corporation
Volumetric & Motion Capture Production Team
Daito Manabe, Director
Hajime Kotani (Crescent), Studio Head
Studio Engineers:
Tadayuki Suzuki (Crescent)
Takayuki Ochiai (Crescent)
Fumiaki Kudo (Crescent)
Yoshitaka Homma (Crescent)
Rinta Ito (Crescent)
Kenju Amauchi (Crescent)
Takao Inoue (Rhizomatiks), Producer
Managers:
Naoki Ishizuka (Rhizomatiks)
Shintaro Kamijo (Rhizomatiks)
Muryo Homma (Rhizomatiks)
Dance Motion Capture Production
Daito Manabe, Director
MIKIKO (ELEVENPLAY), Choreographer
SARA (ELEVENPLAY), Dancer
Keisuke Kikuch, Motion Capture Engineer
Yoko Shiraiwa (ELEVENPLAY), Manager
Prototyping & Development Team
Daito Manabe, Director
Takao Inoue (Rhizomatiks), Producer
Naoki Ishizuka (Rhizomatiks), Manager
Software Engineers:
Yuya Hanai (Rhizomatiks)
Tatsuya Ishii (Rhizomatiks)
Satoshi Horii (Rhizomatiks)
You Tanaka (Rhizomatiks)
Yuta Okuyama
Visual Artists:
Toshihiko Sakata (+Ring)
Kenta Katsuno (+Ring)
Takeshi Ozaki (+Ring)
Tsukasa Iwaki (+Ring)
Hiroki Miura (+Ring)
Go Takahashi (+Ring)
Toru Ehara
Mitobe Satoshi
Junichi Ebe
Iwaikawa Yuji (Cai)
Kyoko Koyama, MIDI Data Adjustment Specialist
Test Shoot Participants:
Tatsuki Hayashi, Pianist
Gen Terai (KAJIMOTO), Pianist Manager
Kenichi Togawa (Burri), Prototyping Studio Designer
MIKIKO (ELEVENPLAY), Motion Capture Choreographer
Motion Capture Dancers:
KOHMEN (ELEVENPLAY)
SAYA (ELEVENPLAY)
KAORI (ELEVENPLAY)
NANAKO (ELEVENPLAY)
emmy (ELEVENPLAY)
SARA (ELEVENPLAY)
KAi MiWA (ELEVENPLAY)
Keisuke Kikuch, Motion Capture Engineer
Yoko Shiraiwa (ELEVENPLAY), Motion Capture Manager
Alex Poots, Artistic Director
Madani Younis, Chief Executive Producer
Laura Aswad, Producer
Frank Butler, Director of Production
Sarah Pier, Production Manager
Josh Galitzer, Head Carpenter
Tom Ambrosino, Assistant Carpenter
Dave Hurley, Head Audio
Maytté Martinez, Head Electrician
Michael Fudge, Assistant Electrician
Max Lagonia, LX Programmer
Kathrine Mitchell, LX Programmer
Lucas Blanchard-Glueckert, Electrician
Sasha Casucci, Electrician
Ryan McLendon, Head Video
Ted Wondsel, Head Rigger
Additional Drapes provided by Rose Brand
Additional Lighting Equipment provided by PRG
Location and dates
This event takes place in The Griffin Theater.
June 7 – July 9
The June 7, 8, and 9 concerts are previews; the production opens on June 10.
Concert Schedule for Visits June 13 to July 2
Tuesdays, Wednesdays, Thursdays at 12:30, 2, 3:30, 5, 6:30, and 8 pm
Fridays and Saturdays at 12, 1:30, 3, 4:30, 6, 7:30, and 9 pm
Sundays at 12, 1:30, 3, 4:30, 6, and 7:30 pm
Concert Schedule for Visits July 3 to 9
Monday, Wednesday, Thursday, July 3, 5, & 6 at 3:30, 5, 6:30, and 8 pm
Friday, July 7 at 3, 4:30, 6, 7:30, and 9 pm
Saturday, July 8 at 12, 1:30, 3, 4:30, 6, and 7:30 pm
Sunday, July 9 at 12, 1:30, 3, and 4:30 pm
Please note: There are no shows on Tuesday, July 4.
The Shed's Griffin Theater is located at 545 West 30th Street, between 10th and 11th Avenues. View The Shed on a map.
For information about accessibility and arriving at The Shed, visit our Accessibility page.
Details
Running time: 1 hour
Doors open 30 minutes before the concert begins.
There is no late seating and no re-entry.

The mixed reality headsets used in KAGAMI will not fit comfortably over prescription eyewear. Guests requiring vision correction should wear contact lenses if able to do so. A limited number of corrective lenses will be available but these do not guarantee perfect vision correction.
Headsets are not approved by the manufacturer for use by children under the age of 14, and children under that age will not be permitted.

As part of the experience, there is a scent specially created for this production.
Accessibility
Seating
The Shed's Griffin Theater is wheelchair accessible, with designated locations for visitors remaining in their wheelchairs.
Purchasing Tickets
The Shed's online ticketing system includes the option to submit accommodation requests beyond the access points detailed here.
Contact Us
For questions or other requests, visit the Accessibility page, email accessibility@theshed.org, or call (646) 455-3494.
Thank you to our partners
The creation of new work at The Shed is generously supported by the Lizzie and Jonathan Tisch Commissioning Fund and the Shed Commissioners.
The Shed is connected by