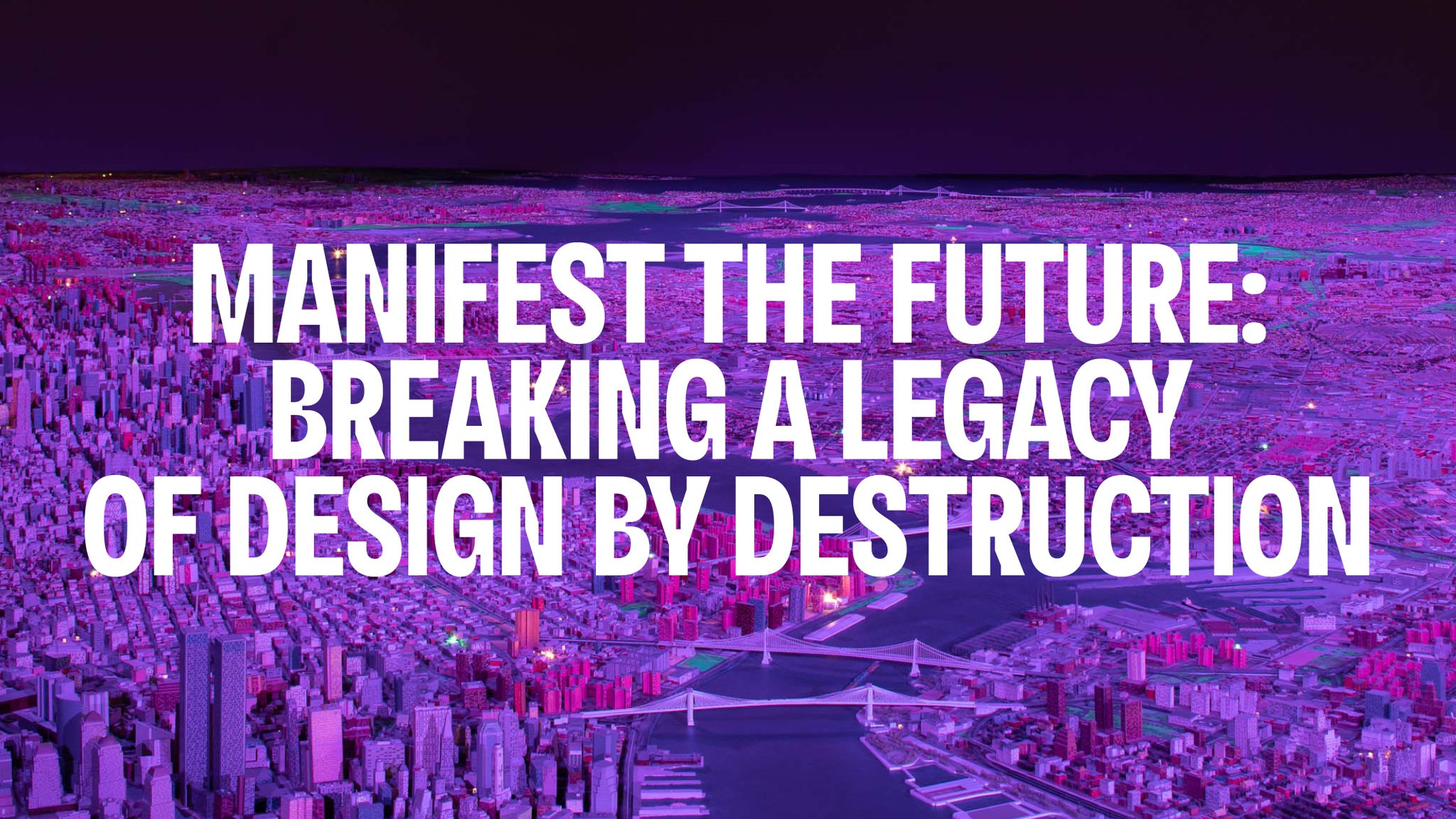 by Armando Sullivan, BlackSpace
This essay was published to accompany the production of Straight Line Crazy.


Straight Line Crazy tells the story of Robert Moses's reign over New York and his legacy of design by destruction. Moses weaponized urban planning to turn communities of color into throughways for white drivers. Ironically, the play opens with Moses fancying himself a man of the people; he goes to the home of one of Long Island's wealthy landowners and proclaims his vision of expressways linking their swathes of open space to the masses. His work drove white flight and segregated the city, foregoing public transit for automobile infrastructure. Moses placed no value in New York as a living body supporting the livelihood of diverse communities—he simply saw routes to be used to connect growing white suburbs with natural resources.
In the production, Moses's lack of humility leads to his downfall as puppeteer of New York's infrastructure. It prevents his understanding of the richness of the communities he was destroying. It leads him to devalue and disregard the growing opposition to his power, as well as advice from his trusted colleagues. He sees himself representing the masses, but only allows himself to imagine white faces comprising those masses. The people and experiences that he chooses to ignore eventually halt his dissection of the city. He so centers his own experience that he fails to comprehend that his outlook has brought on his own demise.
Moses's devastating impact on communities of color aligns with the city's history of development. Much like the Europeans who pillaged the land from the people who first made it their home in order to create the gridded experiment that became New York City, Moses placed all value in geographic opportunity with no regard for cultural heritage. Like the siege of Seneca Village, a thriving Black neighborhood on the land that is now Central Park, Moses used principles of urban planning to erase Blackness and communities of color, replacing them with roadways. His perspective perpetuated the idea that the destruction of one community to serve another was key to making New York the greatest city in the world.
BlackSpace came about as a communal space for Black urbanists to interrogate planning practices in their respective workplaces, and grew into a nonprofit and ideology about the future of urban planning and design. We center Black power and Black joy in community building. We aim to strengthen our understanding of the past—not erase it—to build better neighborhoods for people, not buildings. The BlackSpace Manifesto represents an interdisciplinary and co-creative approach to urban planning with principles like centering lived experience; planning with, designing with; and moving at the speed of trust. In the face of not only physical gentrification but cultural erasure as well, these principles hold us accountable in our work to design futures where Black and marginalized people matter and thrive.
Moses attempted to sterilize cultures that were not his own. He built in order to give white people in New Jersey, Westchester, and Long Island access to New York's parks without having to interact with New York's people—and without having to face their role in the experiences of those people. Reckoning with Robert Moses's past to build a better future for New Yorkers means identifying systems of urban planning that perpetuate his outlook today. It means interrogating the policies that allowed him to so freely inflict his will on a city he did not exclusively represent. It means acknowledging, affirming, and amplifying Black and marginalized spaces that make New York a world-renowned city. Until these harmful practices are identified and abolished and we imagine and design our collective futures with the city's people, urban planning in New York will perpetuate the city's demise over its evolution.
Contributor Bio
Armando Sullivan is an equity-centered transit planner and geographer focused on empowering communities through mobility, spatial analysis, and intentional design. He is from Montgomery County, Maryland, and earned his masters in urban planning from Harvard University. He recently moved from Harlem, New York, to Hyde Park, Chicago.
Straight Line Crazy
Read more about "Straight Line Crazy"
All details for "Straight Line Crazy"
OCT 18 – DEC 18, 2022
Ralph Fiennes is Robert Moses in a new play by David Hare