Between Artists: Cathy Linh Che, Christopher Radcliff, & Sandy Williams IV
Posted Nov 13, 2023
The time-based medium of film allows us to tell first-person stories in ways we might not otherwise be able to share them. Though Open Call artists Cathy Linh Che, Christopher Radcliff, and Sandy Williams IV give voice to true stories in their Open Call projects, they avoid settling into conventions of documentary filmmaking. Instead, they offer poetic responses to histories that reverberate through our globalized societies.
Che and Radcliff's three-channel video installation Appocalips tells the story of Che's parents, who fled the Vietnam War, appeared as extras in Francis Ford Coppola's Apocalypse Now while in a refugee camp in the Philippines, and ultimately resettled in the United States. Williams's 40 ACRES: Weeksville memorializes the living community around the Weeksville Heritage Center in today's Crown Heights, Brooklyn, which was the site of one of the first free Black communities in the United States. The three met online with The Shed's editorial director, Phillip Griffith, as they were completing their films. Ahead of the Open Call 2023 Group Exhibition opening, they discussed ephemerality and temporality in filmmaking, poetry and performance, and the truth in history.
Phillip Griffith (The Shed): Where have your respective processes taken you in making these films, now that we're approaching the opening of the exhibition?
Cathy Linh Che: Our project is based on my parents' lives. They were hired as extras in Coppola's film while they were in a refugee camp in the Philippines immediately after their escape from Vietnam. In November 2022, we filmed in Vietnam and the Philippines, and in January 2023, we filmed my parents in Long Beach, California, and Los Angeles. We let ourselves be led by where my parents had lived and where they met in Vietnam. We went to the refugee camp and to the location where they filmed Apocalypse Now. You see the present-day locations in our film, as we follow their personal history and journey.
After we finished filming, I transcribed their interviews and translated them from Vietnamese into English. At the end of January 2023, Chris and I captioned everything.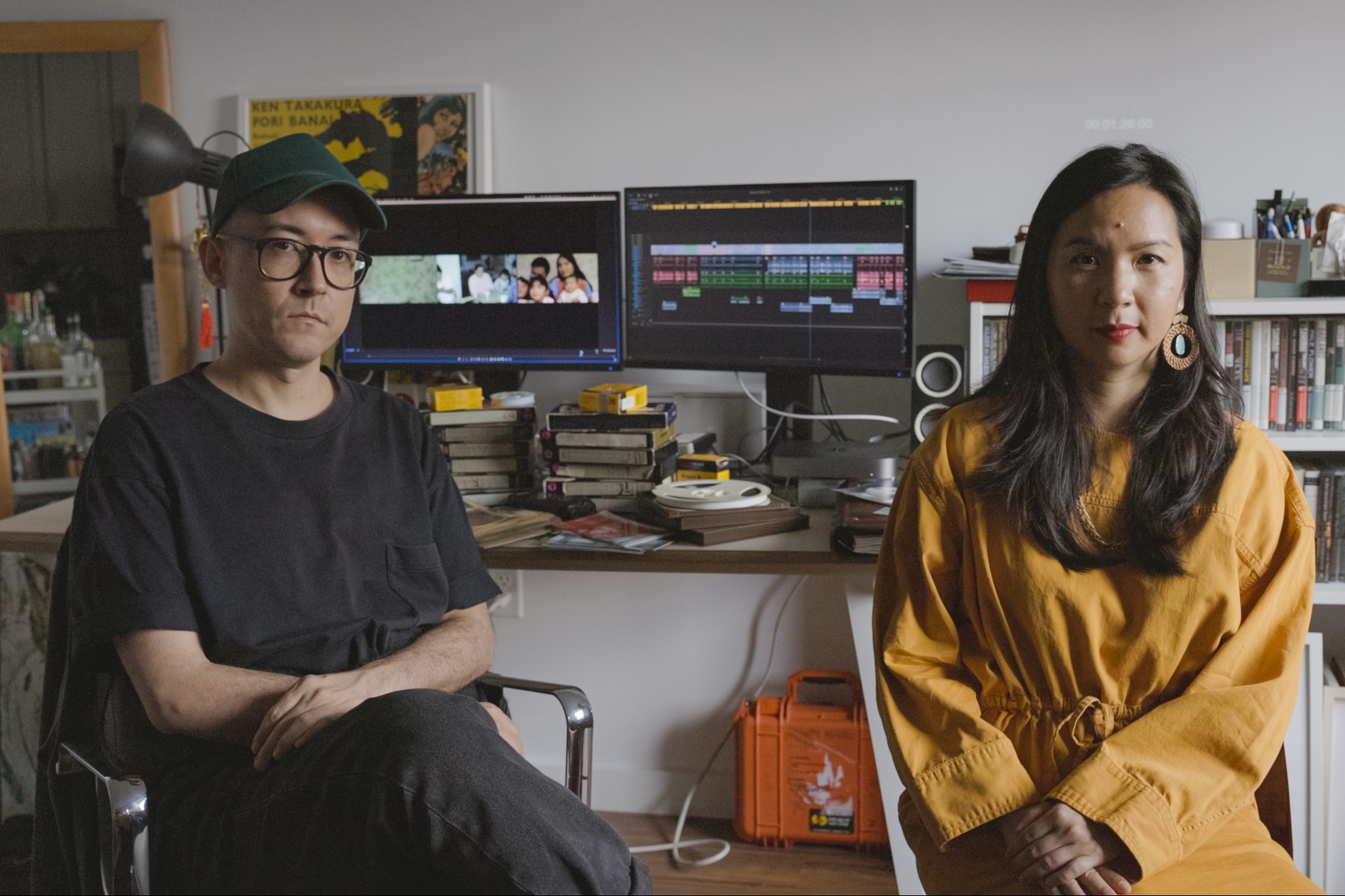 Christopher Radcliff: After filming we had hours upon hours of interview footage as well as footage that we shot both on digital film with the DSLR and on Super 8, which you'll see in the film. It was a lot of film processing and captioning.
Since, it's been a several-months-long editorial period for me as I've been editing all the footage with the interviews, using the interviews as a guide and then trying to figure out how to pair them with the footage that we shot, as well as some footage that comes from Cathy's parents, like archives of home videos that they shot in the '70s and '80s, as well as the film Apocalypse Now, where you can actually glimpse them in the background. It's been a matter of trying to puzzle it all together into the three-channel form that you'll see.
It's taken a long time to figure out what's guiding our storytelling and how we wanted people to experience the story of Cathy's parents. But we're done editing, and we're just doing all the final touches. Right now, the sound mix and the color correction. We're in the home stretch.
Sandy Williams IV: Similarly I've been working all year, intensively all summer, to make this project happen. I spent January to April researching, fundraising, and assembling a film team. From April to June I worked intensively with Weeksville Heritage Center to plan the skywriting and coordinate the events, filming, and activities that would happen on the ground.
This is the second summer in a row that I have done a skywriting event like this, and I have been saying there is no way my body will allow me to do a third one next summer. It's kind of like trying to plan an eclipse: Planning a public event is already a lot of work, and making a film requires so much teamwork and planning, so then add to this Venn diagram the need for perfect weather conditions to see an ephemeral 20-minute event that you only get one chance to witness and record… I definitely developed new gray hairs this summer.
So it took months to plan all of that, there were numerous schedule changes the week of as sky conditions changed, we had all the cameras pointing in one direction, and in the end, the skywriter started the drawing early and in a different part of the sky. [laughs] But alas, we got what we needed, and I hope people around Crown Heights were able to see it.
I spent the rest of the summer pulling the film together. My collaborator and the editor of the film Leila Weefur lives in Oakland, so I was there for a week working through footage with them and recording the voiceover. The music was done in Detroit by friends Michael Demps and Wesley Taylor IV. So, I also spent a week in Detroit working with them, and showing them our rough cuts. At this point we are picture locked, we've got our color edits, the graphic design is finished, and we're just pulling all of our pieces together and getting our captions in.
On a broader scale, this work lives within an archival project that I've been working on for a couple years now called The 40 ACRES Archive, which is ongoing. I'm concerned that I don't know when that larger project will ever be finished because it's about restoring devastated archives. There will always be something missing, so it becomes somewhat existential and never-ending.
Che: I understand that. I'm on year nine of my Apocalypse Now project, and the film installation is just a portion of it. I'm working on a poetry manuscript, a nonfiction manuscript, and a short documentary that we haven't started yet, but is also based on this footage. Like you said, Sandy, the project is never-ending! There's a lot more around each piece that I really want to talk about and write about or dream about. So yes, I feel you.
We took important risks to make these films … from different angles we accomplished similar goals.
The Shed: What choices have you each made around genre, negotiating documentary forms with other genres you're interested in?
Williams: I've been thinking about this question a lot while making this film. The skywriting was a live performance, the video is the documentation of that skywriting and a portrait of the neighborhood and history that is Weeksville. I see this as one work that steps between mediums. Similarly, I didn't want this work to simply mimic the architecture of a PBS documentary, so we worked really hard to make it poetic and allow the film to float between genres and intentions. We wanted this film to tell multiple stories in a short format.
Radcliff: I thought that was an interesting part of your film in watching it, that it serves as documentation of this ephemeral event that you staged, a way to capture the skywriting's impermanence. It's so interesting to have this real but ephemeral component to the film work.
My feeling about the documentary form of our piece is that it's also in between mediums in some ways. When we started working on it we knew we wanted to do something multiscreen and more experimental in nature than some of the past documentary work that I've done.
Sandy, you said you didn't want it to feel like a television documentary, and for me I didn't want it to feel like a film with so much of a story or narrative. I wanted it to feel like visual art, you know what I mean? So at first, I was very resistant to my pull towards a more narrative documentary form. I tried to push it away a little bit when I was ideating and first putting the pieces together, but I found during the process that I'm not able to do that all the time. I am inevitably going to bring aspects of that craft into this project, even though we're working in a visual art context. And maybe that's part of what makes it interesting and unique to my and Cathy's collaboration.
When I watch our film now, I'm so used to the multichannel format and the associative imagery that I'm just seeing the narrative structure that is undergirding everything and that is very similar to how I would do a more straightforward documentary. So even if I didn't really know what form it would take, I'm pleased with the way that it ended up checking both those boxes.
Che: That's a good feeling! To be pleased…
Radcliff: It doesn't happen all the time.
Che: I identify primarily as a poet, and this is my first time having something in a visual art gallery. My original proposal included four poems. The poems were documentary in nature, based on an idea that poetry can be a form of witness, with the poem itself as the trace or evidence of an event. Documentary poetics guided my thinking. However, in poetry, I mediate more powerfully between my parents and the audience. I'm translating their words into English. In my persona poems, I put words in their mouths. The words are ultimately mine; my poems are not direct translations of their words. I've been writing a series of poems called Zombie Apocalypse Now, poems in my parents' voices. While I am my parents, I'm also not them.
This film installation was an opportunity for me to step out of the way and let my parents tell their stories using their own words. As an author, I'm not fully able to do that in my poetry or my nonfiction.
In poems, you can move between the past, the future, and the present rapidly within a single line, and in cinema, we can do something analogous, because across the three channels, time collapses 2023, when we interviewed my parents, into 1976, when my father first filmed his life on Super 8, into 1979, when Apocalypse Now was released.
There's an arc, there's a trajectory, a sense of time that comes into this that Chris provides that I am constitutionally unable to bring to the project. When I said I didn't know what the shape should be, Chris said, "Well, there's a beginning, middle, and end…" I'm like, What is that? [laughs]
Williams: I loved that collapse of time and geography in your film. There is the moment where the archival footage that your dad shot speeds up, but in that moment it also freezes and slows down, or even rewinds. I think that moment emphasized, for me, the many layers of time that you've woven into the piece. It's a contemporary reflection on your family's history, contextualized within these fictional Hollywood and nonfictional archival frameworks, and a balance between these very personal but also relatable diasporic displacement narratives… but I don't know, it was that moment of collapse that really struck and brought all of those moments together for me.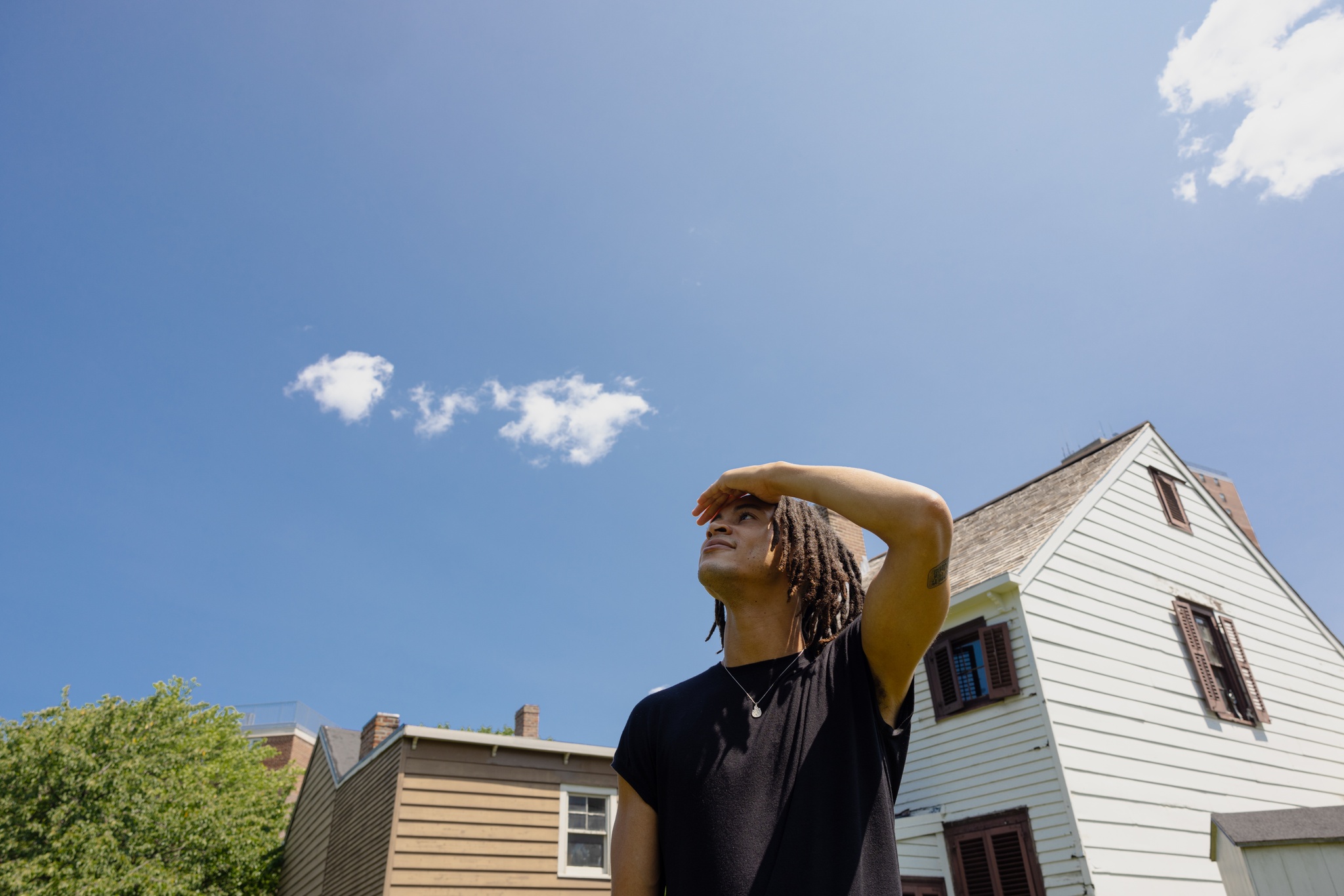 Che: Thank you. I agree with what you said, that your piece exists not just between things, but multiply in things. It's both between and all encompassing. I was struck by the ways that you thought about the sky as a space of imagination and dreaming and how so much of the interviews with Weeksville residents centered community and joy. When I think about American history and Black land ownership and "40 acres," there are some connections to the ways that power and white supremacy demanded that America use Vietnam as a way to control Asia through war. These are spaces that are rife with trauma. Your interviews highlight Weeksville as an amazing place. Your work celebrates the joyful community there. I really, really admire that.
Williams: Thank you! You said this was one of your first forays into the visual realm, and I felt the same way spending the summer trying to be a poet… and that is to say, I feel like we took important risks to make these films, and I love the pairing of our works together, because I feel like from different angles we accomplished similar goals.
Radcliff: Sandy, can I ask you about the skywriting? I'm actually really curious about the way you've utilized it.
There's something so epic about it. It's a magisterial, yet abstract way of elevating this history in a way that magnifies the space. How did you first come up with the idea to do that? So much about what we did in this film is trying to figure out how best to honor Cathy's parents' story, or how to give voice to it or visualize it in some way. That has been our challenge and our riddle. There's just something so elegant about this concept that you came up with.
This project is about adding to the depository of what is possible within people's imaginations.
Williams: It took me years to place this idea. In grad school I wrote a performance score thinking about the history of "40 acres," or reparations in general, and the way that those memories exist diasporically. The score was: hire a skywriter, trace a 40-acre plot in the sky, film it from multiple angles, and let it dissipate. I pinned that on a piece of paper to my studio wall in 2018, and published it as a poem, not really thinking that it would actually happen. It was just a way to imagine how a memory or history becomes part of the atmosphere. Even when those histories are erased or obscured, they exist in this other space that is invisible or immaterial.
Fast-forward to 2020, I was invited to do a project at a park in Richmond. We did a communal cleaning of a mini Statue of Liberty that exists there, and in researching the park's history, I discovered it had been a Freedmen community in 1865. The park is remembered as the site of the largest Confederate hospital during the Civil War, there is a museum at the park that holds that history, but there was nothing about the Freedmen community that lived there, or the 1866 forced eviction of these thousands of Black refugees to make space for the current park.
Reconstruction was such an important moment in US history, the beginnings of our contemporary conversations around social welfare, mass incarceration, displacement to gentrification; and yet, there was nothing to memorialize this particular history where it happened. This is when I returned to the idea of doing a skywriting event above this space, as a way of making that specific location visible within this larger diasporic history. We also got approval to place a permanent land marker in the park to acknowledge this Freedmen history, and this was the start of The 40 ACRES Archive as well.
A long story, but it all started as a poem.
Che: So beautiful. I love the poem. I love that it's a score. I run a literary nonprofit for Asian American writers, and we host a Retreat. For a project at the Retreat, we created collaborations based on Yoko Ono's Grapefruit, which is a book of poems that are instructions, or scores, that engage with the imagination. It's amazing to see imagination materialize in your piece. What's so powerful about your project is that the promise of 40 acres is considered against the broken promise of the land that we have been inhabiting. The reminder of that space in between promise and brokenness is really powerful.
I think there's something really resonant about our two projects: the way that you're talking about history, the ways that our people have been sidelined to create a narrative of what is considered important enough to be memorialized in America. The film Apocalypse Now created imagery that still forms much of the American imagination around the Vietnam War. This project is about adding to the depository of what is possible within people's imaginations.
Williams: Yes! Watching y'all's film, that really resonated for me too. We're surrounded by these buried stories that people should really understand more clearly, but instead we learn fairytales and mythologies that masquerade as history. That's been a major point in my work, too, demythologizing some of these national narratives and including fuller stories, especially in this current moment when governments are at war with the truth.
I was thinking today too about how these works collapse notions of borders and understand that people are contributing to these spaces through time and from all over the world. If we acknowledge that we're living on top of Indigenous (pre-American) history, and acknowledge that we continue to benefit from the work of disenfranchised communities that build and maintain these spaces, often without ever being considered American, I think it really begs the question of what it means to be American. To be national. To enforce porous borders.
I'm excited to have our works in conversation in this exhibition, simply for the ways they think through our positions as amalgamations living and contributing to this world.
Radcliff: Likewise, it's so exciting to have the works in conversation and I think it allows for a more expansive reading of what connects them in this way. This idea of borders is really interesting to consider, their porousness, how they function, and their effect on the psychogeography we each inhabit. In your piece, you have this literal border written in the sky and dissipating before our eyes, and in ours so much of it deals with the national or geographic borders that Cathy's parents traversed. I can even extend this to the borders of the film frame we use, how they confine the imagery but also sometimes collapse or give way to a larger interconnected canvas.
Contributor Bios
Cathy Linh Che is a Vietnamese American writer and multimedia artist from Los Angeles. She is the author of the poetry book Split (Alice James Books, 2014), winner of the Kundiman Poetry Prize, the Norma Farber First Book Award from the Poetry Society of America, and the Best Poetry Book Award from the Association of Asian American Studies. She is also the co-author, with Kyle Lucia Wu, of the children's book An Asian American A to Z: A Children's Guide to Asian American History (Haymarket Books, 2023). Her work has been published in the New Republic, The Nation, and Best American Poetry, and she has received awards from MacDowell, Bread Loaf, and Tin House. She works as the executive director at Kundiman, a national nonprofit organization nurturing writers and readers of Asian American literature.
Christopher Radcliff is a New York–based Chinese American filmmaker whose first feature film The Strange Ones was released theatrically in 2018. It was named by John Waters as one of the top ten films of the year in Artforum magazine. His short films, including The Strange Ones, Jonathan's Chest, and Lost Episode, have screened worldwide including at the Sundance, SXSW, Rotterdam, and Clermont-Ferrand film festivals, and online via the Criterion Collection, Short of the Week, Vimeo Staff Picks, and Le Cinéma Club. He received his MFA from Columbia University's Graduate Film Program and currently teaches in the undergraduate Film/Video Department at Pratt Institute.
Sandy Williams IV is an assistant professor of art at the University of Richmond, a recipient of the Virginia Museum of Fine Arts Artist Fellowship, and the New York Community Trust Van Lier Fellowship. Williams has had solo shows at 1708 Gallery (VA), the Visual Arts Centre of Clarington (Ontario), Reynolds Gallery (VA), and Second Street Gallery (VA). Selected group exhibitions and performances include Socrates Sculpture Park (NYC), The Museum of Contemporary Art in Virginia Beach, The Arlington Museum of Contemporary Art, The Harnett Museum, Institute of Contemporary Art at VCU, Martos Gallery (NYC), M+B Gallery (LA), de boer Gallery (LA), Springsteen (Baltimore), NADA House (NYC). Williams has been an artist in residence at Mass MOCA, the Atlantic Center for the Arts (FL), SOMA (CDMX), ACRE (IL), and the University of Cumbria (United Kingdom). Permanent collections: the Virginia Museum of Fine Art, Pamela and William A. Royall's private collection, The Harnett Museum, the Westhampton College at the University of Richmond, The Roanoke College Olin Hall Collection.
Related Program
Open Call 2023 Group Exhibition
Read more about "Open Call 2023 Group Exhibition"
All details for "Open Call 2023 Group Exhibition"