Cecily Strong on Preparing for THE SEARCH
Posted Dec 15, 2021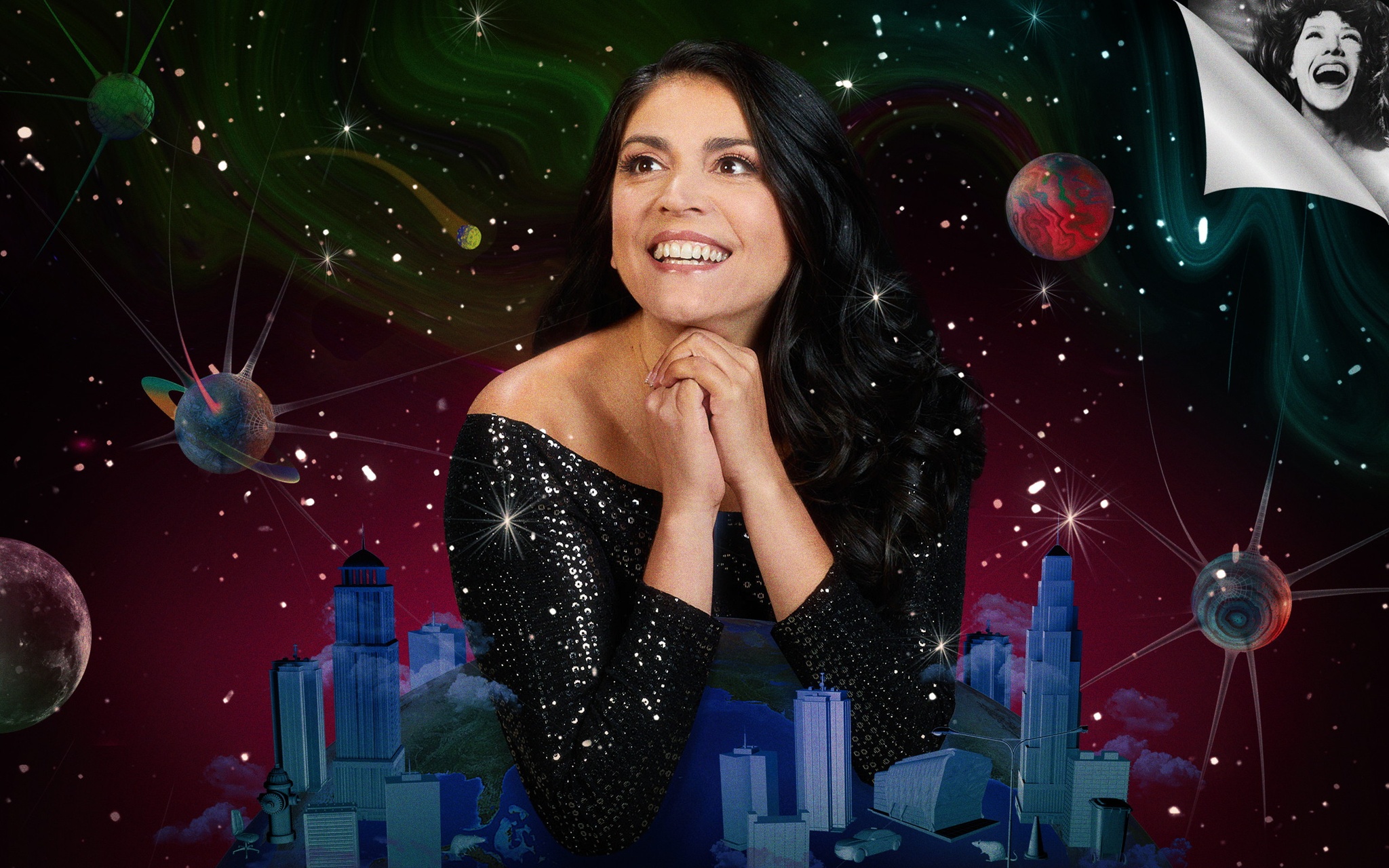 In The Shed's production of Jane Wagner's iconic The Search for Signs of Intelligent Life in the Universe, directed by Leigh Silverman, Cecily Strong brings multiple characters to life, including Trudy, the play's guiding conscience, in a role originated by Lily Tomlin in 1985. On a mid-November night off from her work on this season of Saturday Night Live, her 10th with the television show, Strong took a break to answer questions about the search for joy and humanity in the play and what it's like to be a performer alone on stage in front of an audience.
The Shed:
How did you come to perform in this play?
Cecily Strong:
Right off the bat, I thought the invitation was a mistake. I couldn't believe Jane and Lily were involved, and it was actually this show I was being offered. The first time I saw the play, I was in high school. I took it out of my library, wondering, "What is this one-woman show with this crazy name?" Then, I had to watch it on VHS. In college, I wanted to go back to it but have never had the chance.
The Shed:
What about it speaks to you today on the cusp of 2022?
Strong:
It was Leigh's idea to do this show at this moment. It's a timeless play, and Trudy is a kind of time traveler. The idea of searching for life feels important to the upside-down time we've been living through, where maybe there is no meaning to be found, or maybe we shouldn't be so focused on asking what it is. And, that way, we get to enjoy the things in between.
The way the play speaks about theater is exciting, too. That's how the aliens come to see humanity in this show: we like to sit together in the dark and laugh and cry at some things. And we finally get to do that again. We haven't experienced that part of our humanity in a while.
"She likes humanity. She roots for humanity."
The Shed:
Do you have a favorite persona of all the characters you take on in the play?
Strong:
It's whomever I'm digging into the most at the moment. So, it rotates. Right now, I would say Brandy and Tina, and Paul. It's almost too obvious to say Trudy…
The Shed:
Is there something you've learned from Trudy?
Strong:
There's always something good in playing someone who has completely let go of her life's narrative, who has the attitude: If I'm crazy, then I don't have to worry about anything else. I can just have fun. Even though life is very often not joyful, here's somebody who finds joy and is interested in it. She wants to stay involved, even if she's on the outside. And she likes humanity. She roots for humanity. She's taken on this job to help explain humanity to aliens.
The Shed:
How are you preparing to shift from performing in the ensemble on SNL to walking out alone on stage in a one-woman show?
Strong:
It's terrifying and intimidating. I'm putting all of my trust into Jane's script and Leigh, who is the best director. You just caught me in the middle of recording lines and trying to learn them. Leigh has directed a couple one-person shows, so we're figuring out our best process together. And I feel supported by the amazing designers and having James Alsop work with me on choreography because it's a movement-heavy show, as well. I could go into all the things that intimidate me, but I feel very supported. That's the easy answer.
"Okay, I've earned the right to do this show now."
The Shed:
Does your relationship to the audience change when you're alone on stage?
Strong:
I've always really enjoyed the relationship I have with an audience. I took my first acting class when I was three. I did my first community theater at eight. I did Grapes of Wrath. It was very dramatic. Even though I haven't been alone on stage in a one-woman show before, I never think, "Okay, I can turn off." In blackjack, you assume the dealer has a 10, right? In the same way, you assume the whole audience is always watching you whenever you're on stage.
The Shed:
Your recent sketch as Goober the Clown on SNL's "Weekend Update" delved into your own experience with abortion. It was an incredible mix of the personal, political, and comedic to see on television. What does comedy allow you to do as a storyteller, or as a person in the world?
Strong:
Essays are written about this question, so I don't know how to give a truncated answer about what comedy does for the world. All of the arts are here for lots of different reasons, but all to help people. In the end, it's all about catharsis of some kind, right? It's a way to help us get through things together. I don't think comedy is so far from drama in that sense.
But, I did text Leigh after that sketch. I felt brave to myself at that moment, and I think anyone thinking about this play and Lily's first performance in it would say the same thing. So, I thought, "Okay, I've earned the right to do this show now."
The Shed:
Who has influenced you most as a performer?
Strong:
Everybody that I've gotten to perform with. This is a cheesy answer, but it really is true. I enjoy anybody who's at the top of their game, which obviously includes Lily in this show. And I do love a Broadway grande dame. It was great working with Kristin Chenoweth on [our musical comedy television show] Schmigadoon! and seeing how she could make a meal and moment of every line. I love to see everybody's greatest thing and learn from that.
The Shed:
In the vein of a grande dame, there's your impression of Judge Jeanine on SNL. Is there a secret to perfecting an impression?
Strong:
No, each performance is different. Obviously, sketch comedy is going to be very different from this show, because it's just two minutes of somebody. I can tell a hard joke and wear a wig and that'll make up for 80 percent of the impression. For Jeanine, I took the approach that I got to do something big and physical and wanted to make sure we were doing something bigger every time she came back to "Weekend Update."
That kind of sketch performance is like theater in that any time you're on stage there's an immediacy, a reason you're there. There's never a scene written for a play that doesn't matter. It's like: Prove that you should be here right now. Show us. I enjoy doing that, especially on "Update" or in a performance where I'm by myself.
"I love to see everybody's greatest thing and learn from that."
The Shed:
If you weren't a performer, what other path would you have chosen in life?
Strong:
When I was little, my dad used to tell me I should become a lawyer. But that's just because I argued a lot. I've been performing for so long I probably would be doing it whether I was getting paid to or not. Part of me thinks I'd love to work at a nonprofit, but I'd still need to perform to shake my willies out.
The Shed:
How would you describe New York to an alien observer?
Strong:
I've always loved New York because you'll see every kind of person here. It's good for kids to grow up and see a bunch of people that don't look like them. It makes us more well-rounded people. And here you see all of them at their fastest and sometimes angriest on the street. New York…it's where you can see every kind of person on earth yelling at someone.
The Search for Signs of Intelligent Life in the Universe
Read more about "The Search for Signs of Intelligent Life in the Universe "
All details for "The Search for Signs of Intelligent Life in the Universe "
DEC 21, 2021 – FEB 6, 2022
The iconic exploration of society, art, and human connectivity, revisited for our times