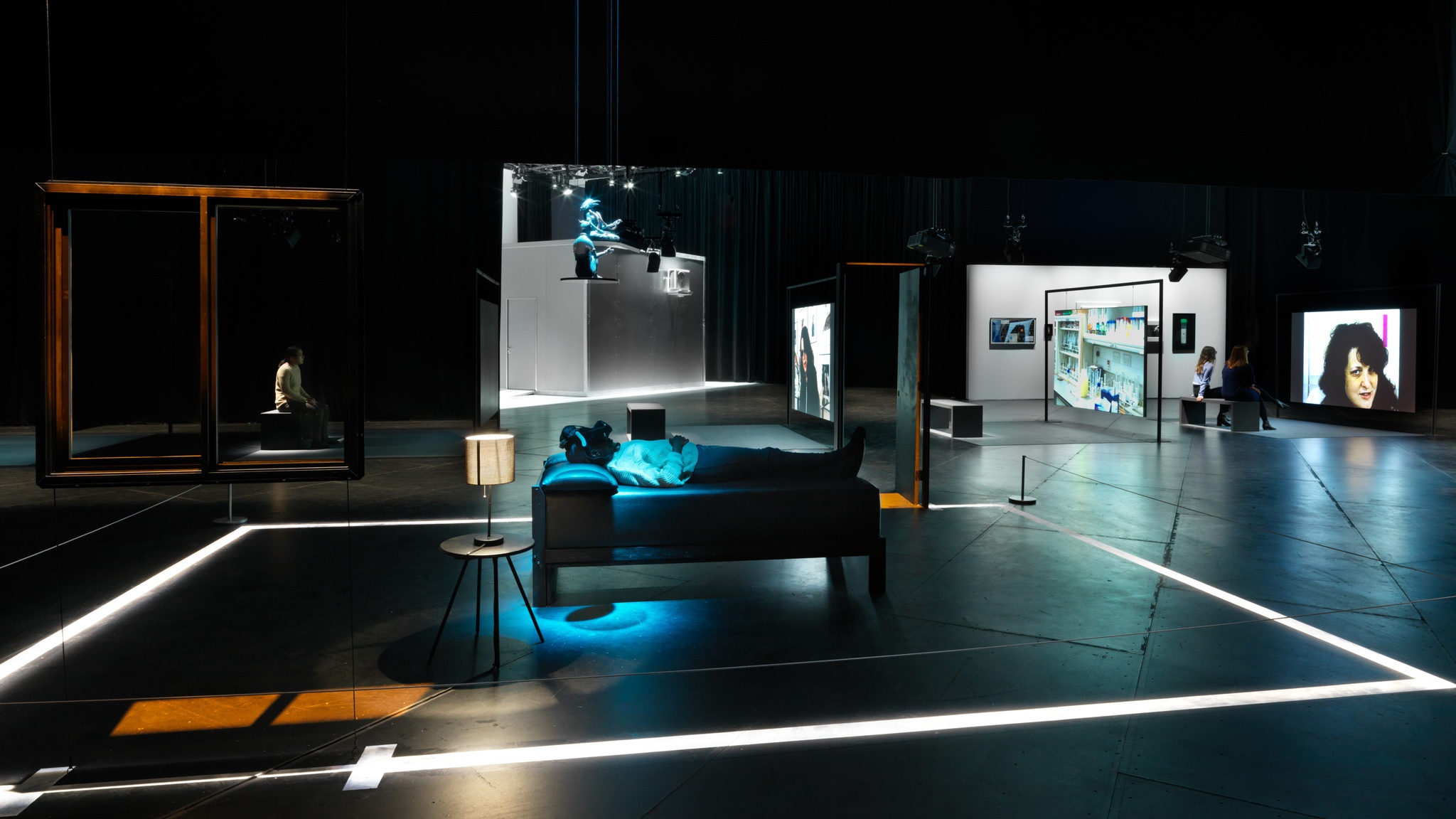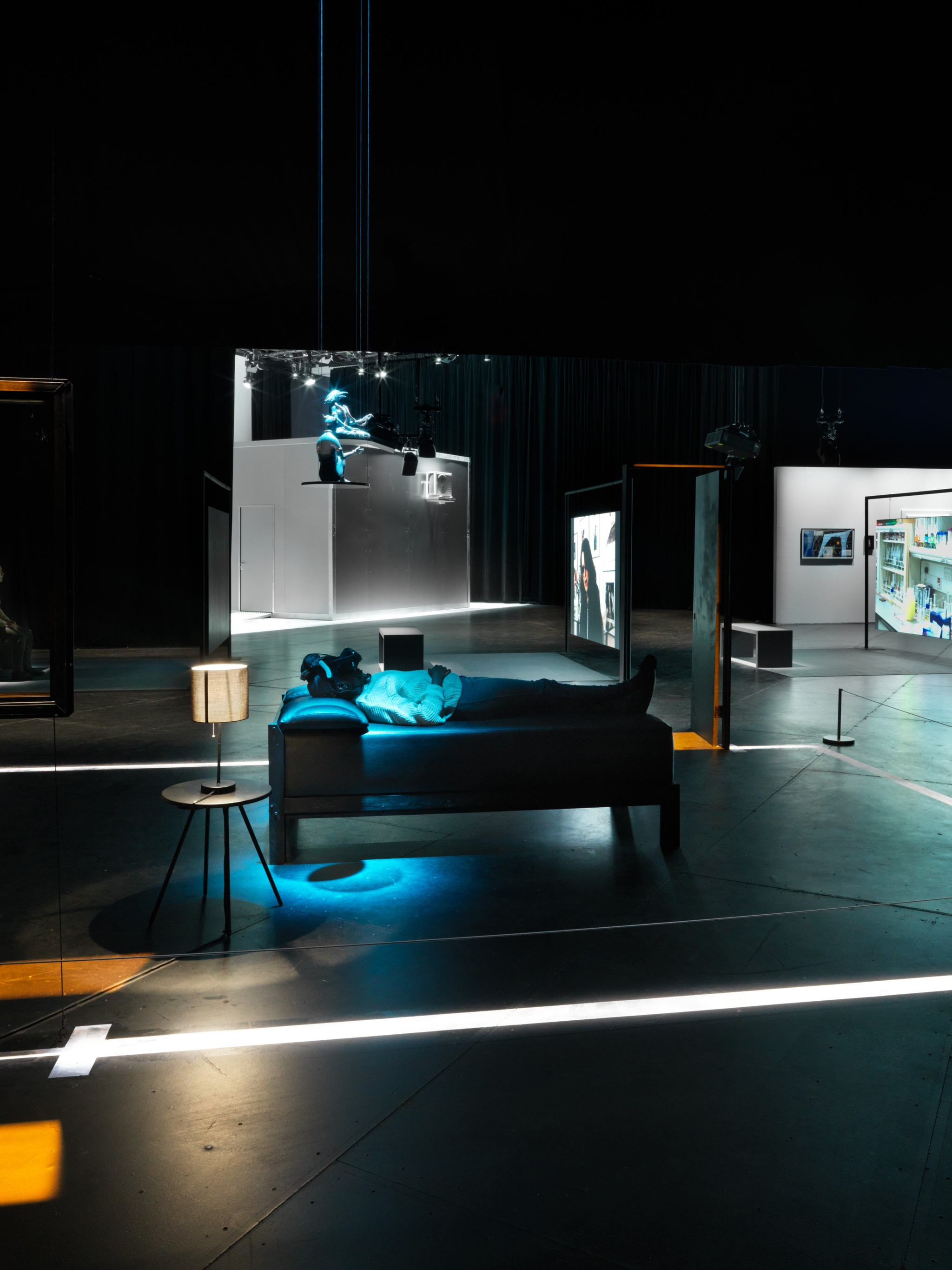 Manual Override
NOV 13, 2019 – JAN 12, 2020
Contemporary artists engage and critique emerging technology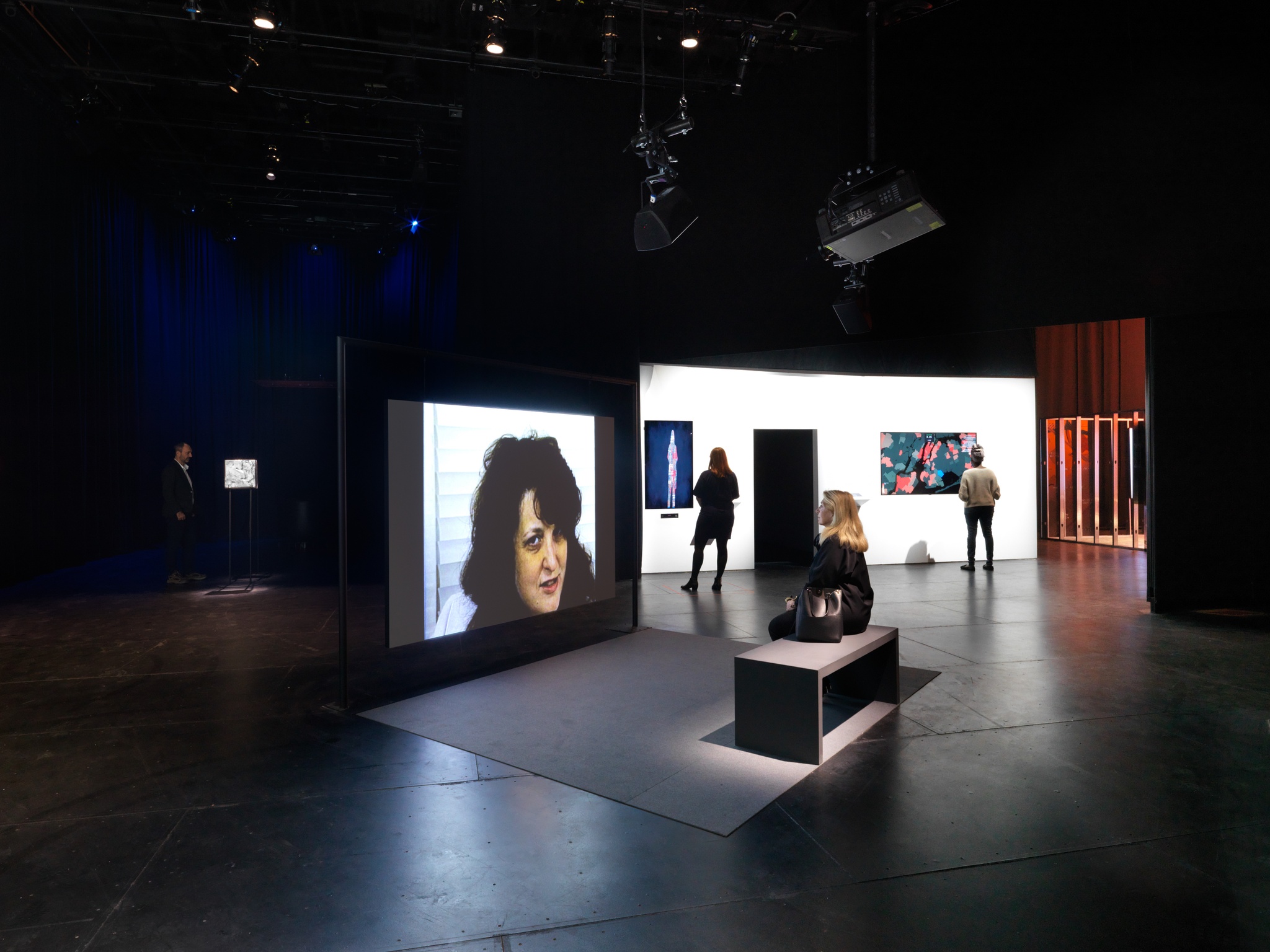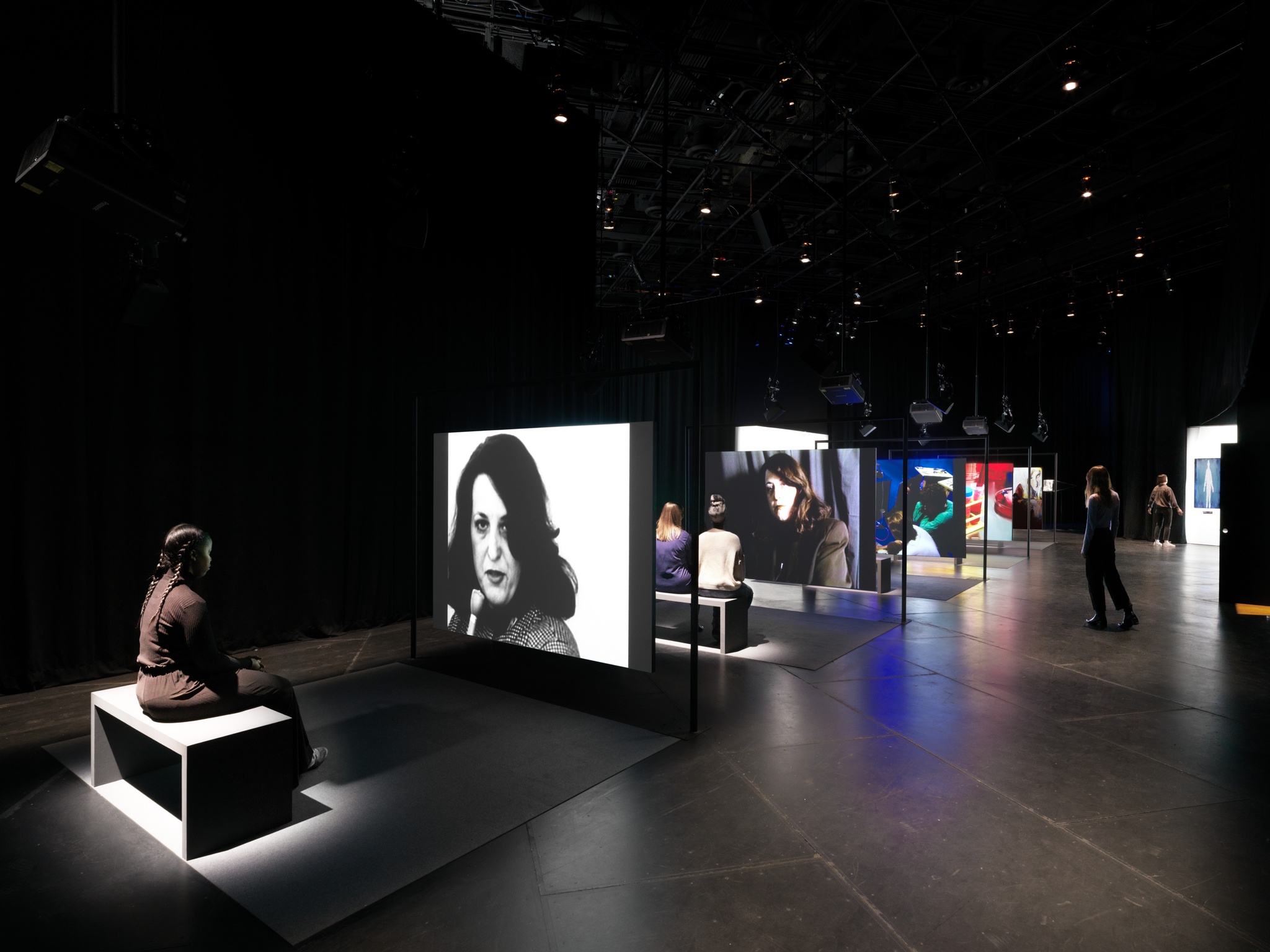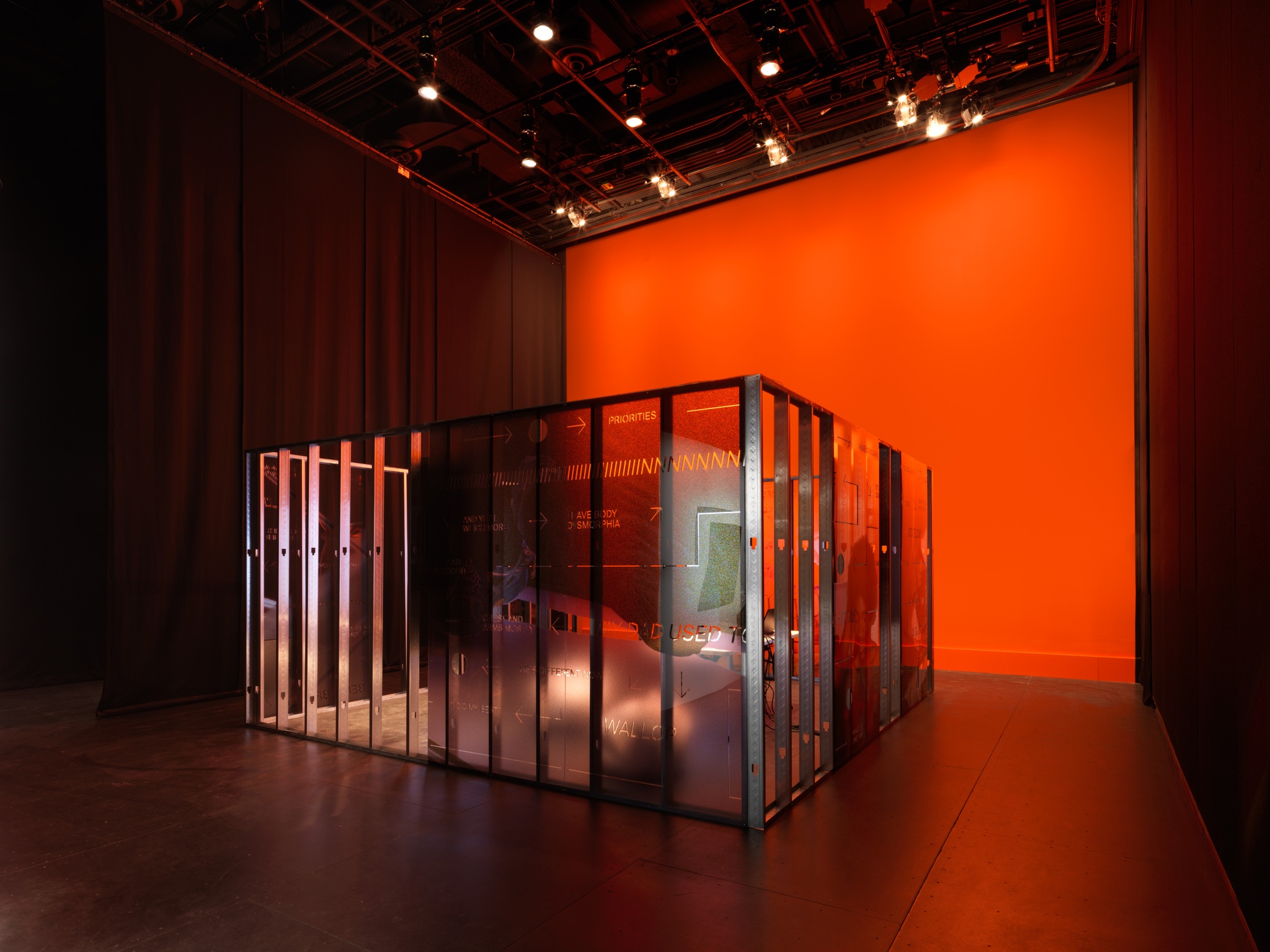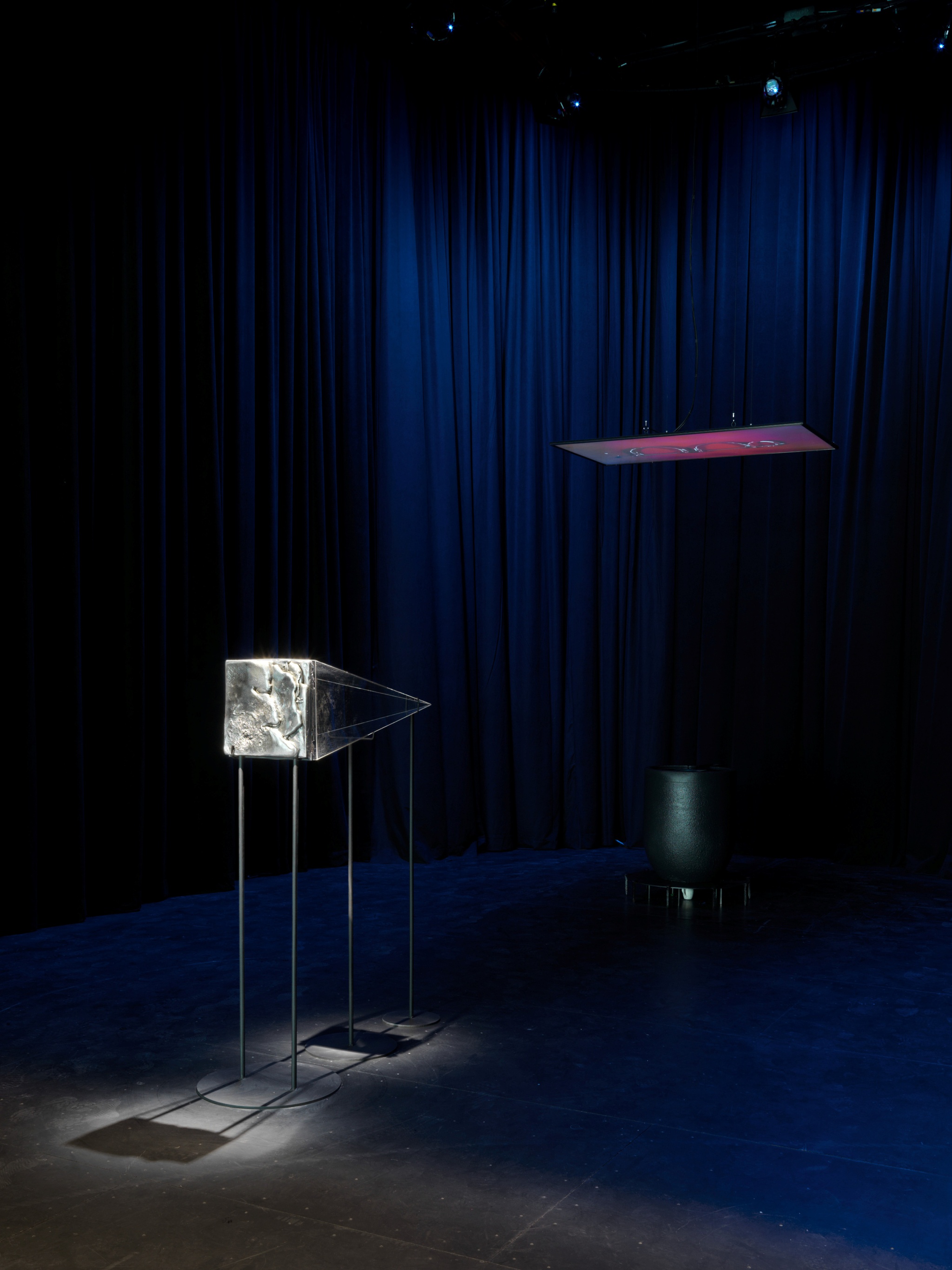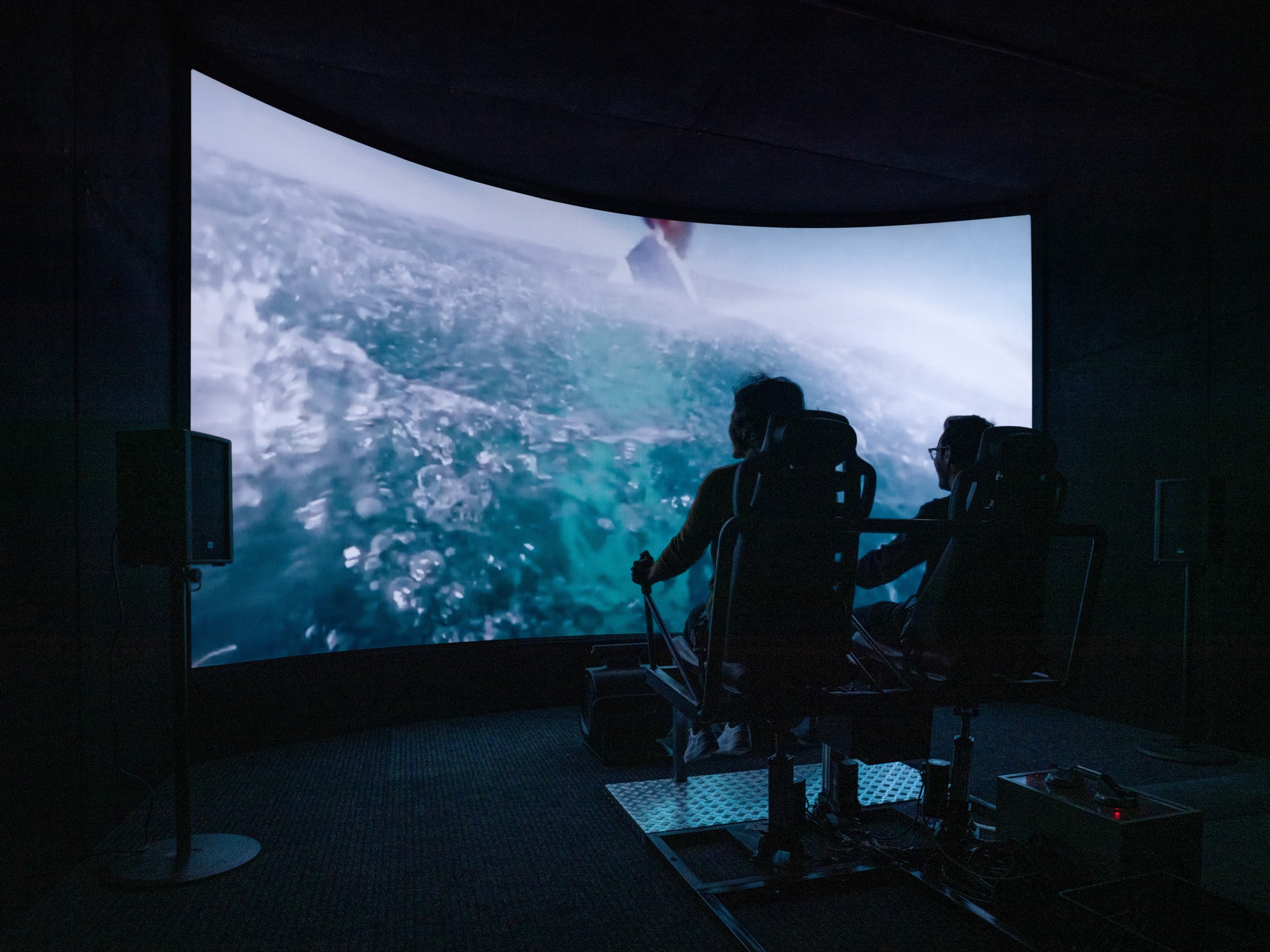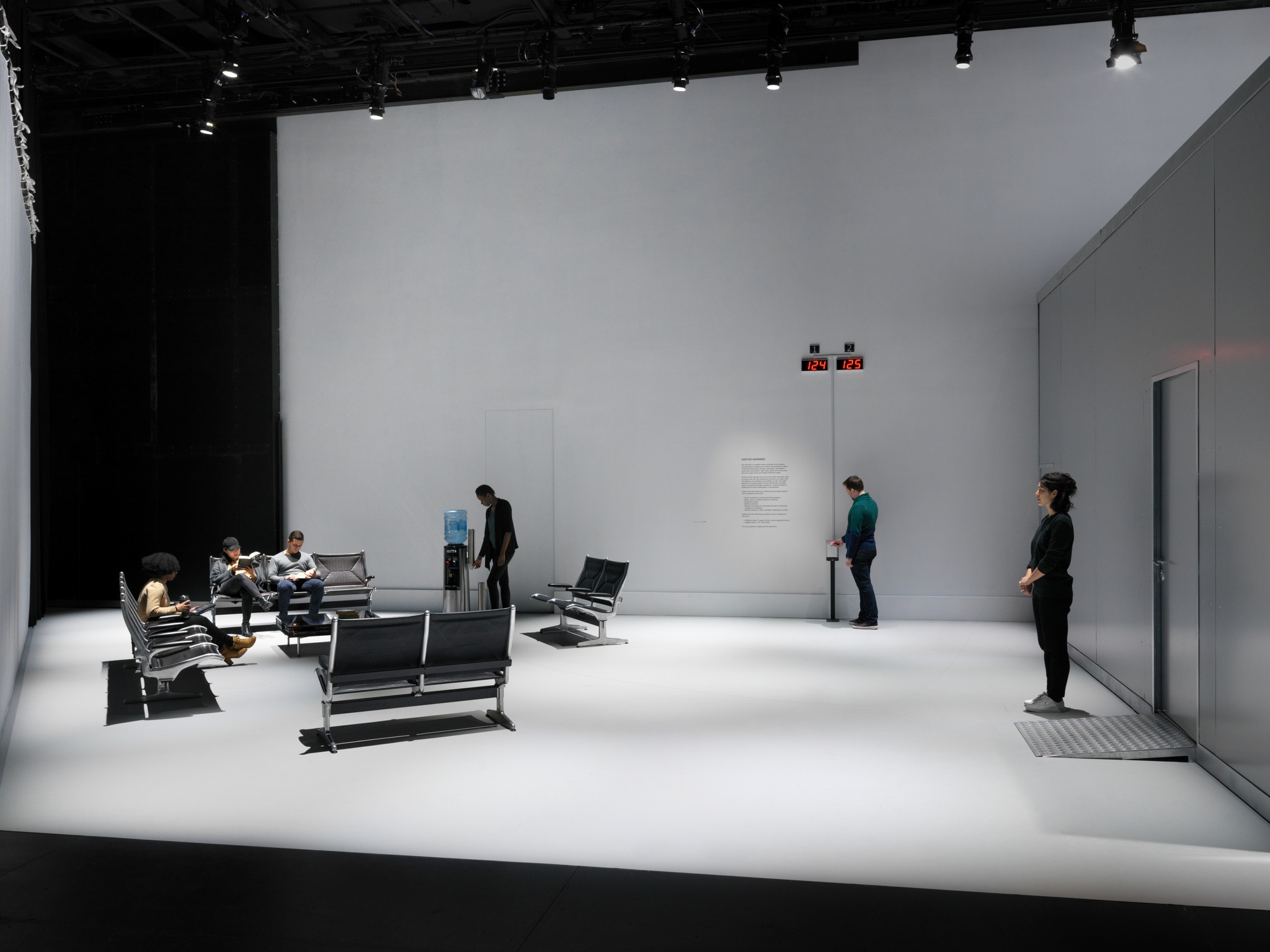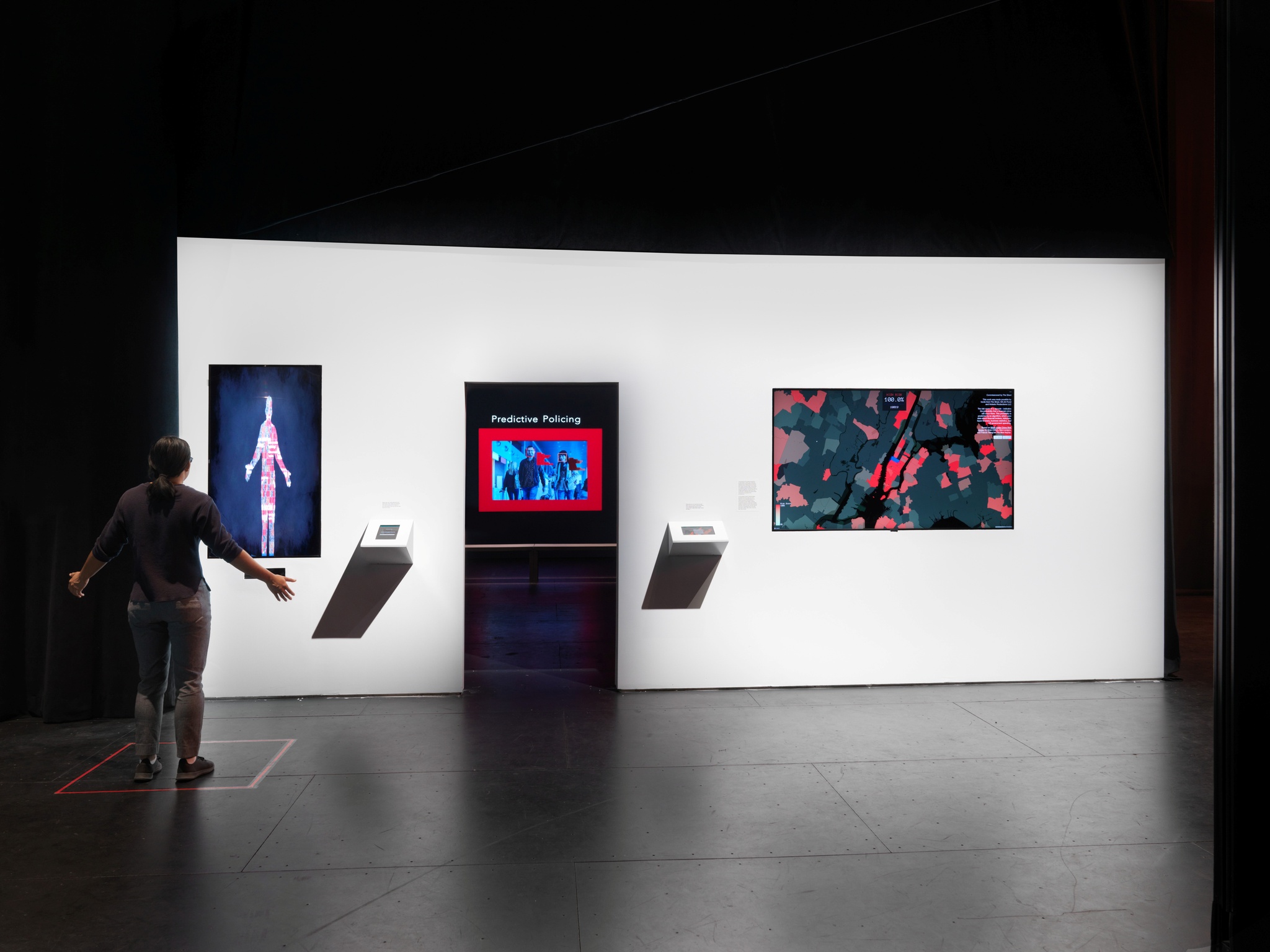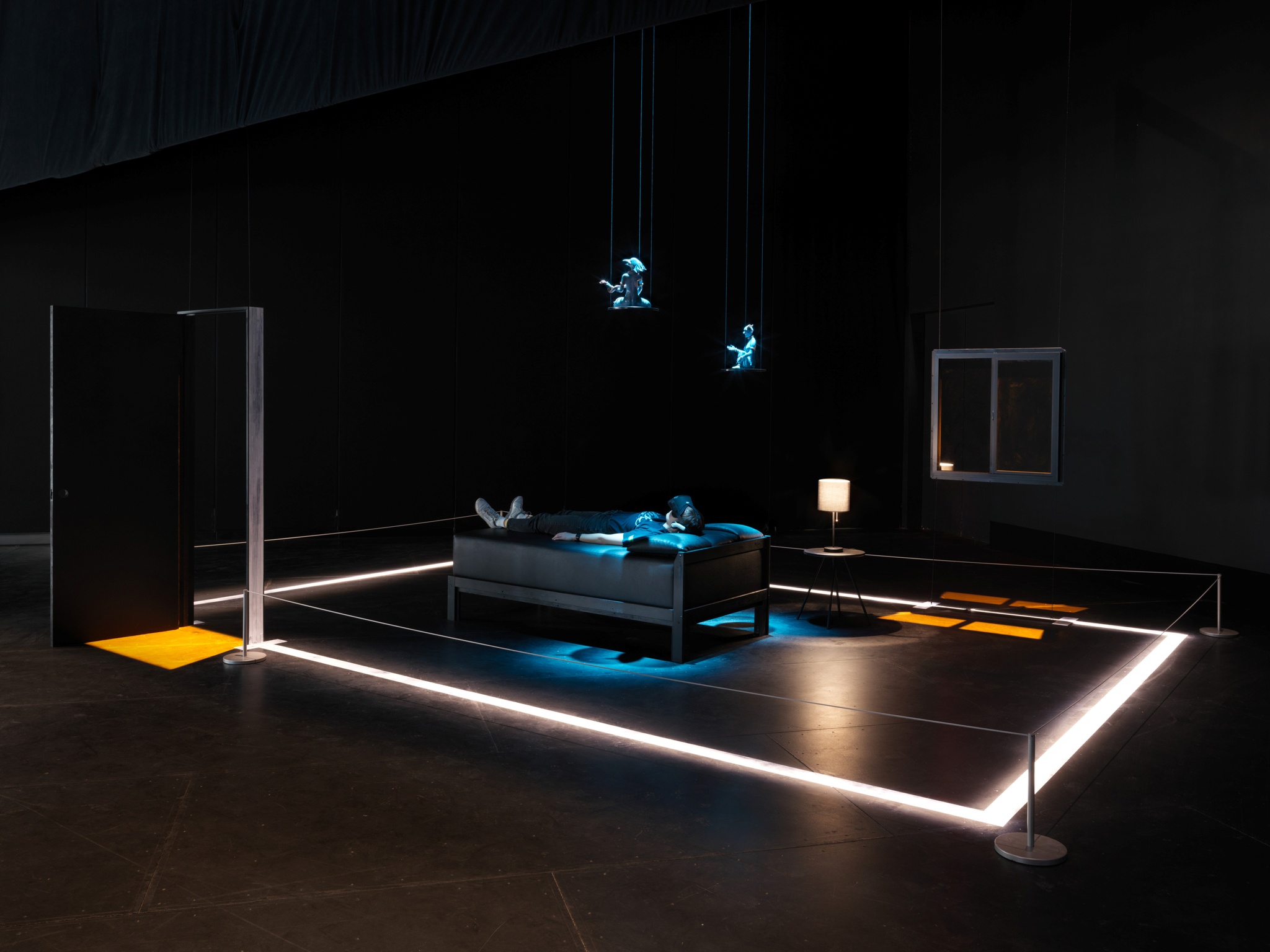 About this commission
Manual Override features five artists—Morehshin Allahyari, Simon Fujiwara, Lynn Hershman Leeson, Sondra Perry, Martine Syms—who critique the social, cultural, and ethical issues embedded in emerging technological systems and infrastructures ranging from mass surveillance to predictive policing. Central to the exhibition is the idea of a manual override, or human interference in an automated system, a gesture in response to an error in programming, or poor judgment in design. How do you pause a system you can't see, touch, or access? As these systems become increasingly oppressive and beyond our understanding, and management, what options do we have? Each artist posits new forms of "overriding" to subvert the values of invasive technological systems. They do so through building networks of artistic collaboration across scientific and technological fields, including genetic engineering, simulation design, machine learning, and experimental computation.
For decades, pioneering artist and filmmaker Hershman Leeson has been working with scientists, geneticists, and engineers to explore the impact of technological progress on our understanding of the self. Hershman Leeson premieres the final episode in her seminal video series, The Electronic Diaries (1984-2019), and the new Shed commission, Shadow Stalker (2019). A new generation of artists—Allahyari, Perry, Fujiwara, and Syms—have developed research practices that echo Hershman Leeson's hybrid collaborative model, which serves as the conceptual foundation for Manual Override.
Details about the works in the exhibition can be found below.
Manual Override is organized by Nora N. Khan, Guest Curator, with Alessandra Gómez, Curatorial Assistant.
Tickets include admission to Agnes Denes: Absolutes and Intermediates.
Artists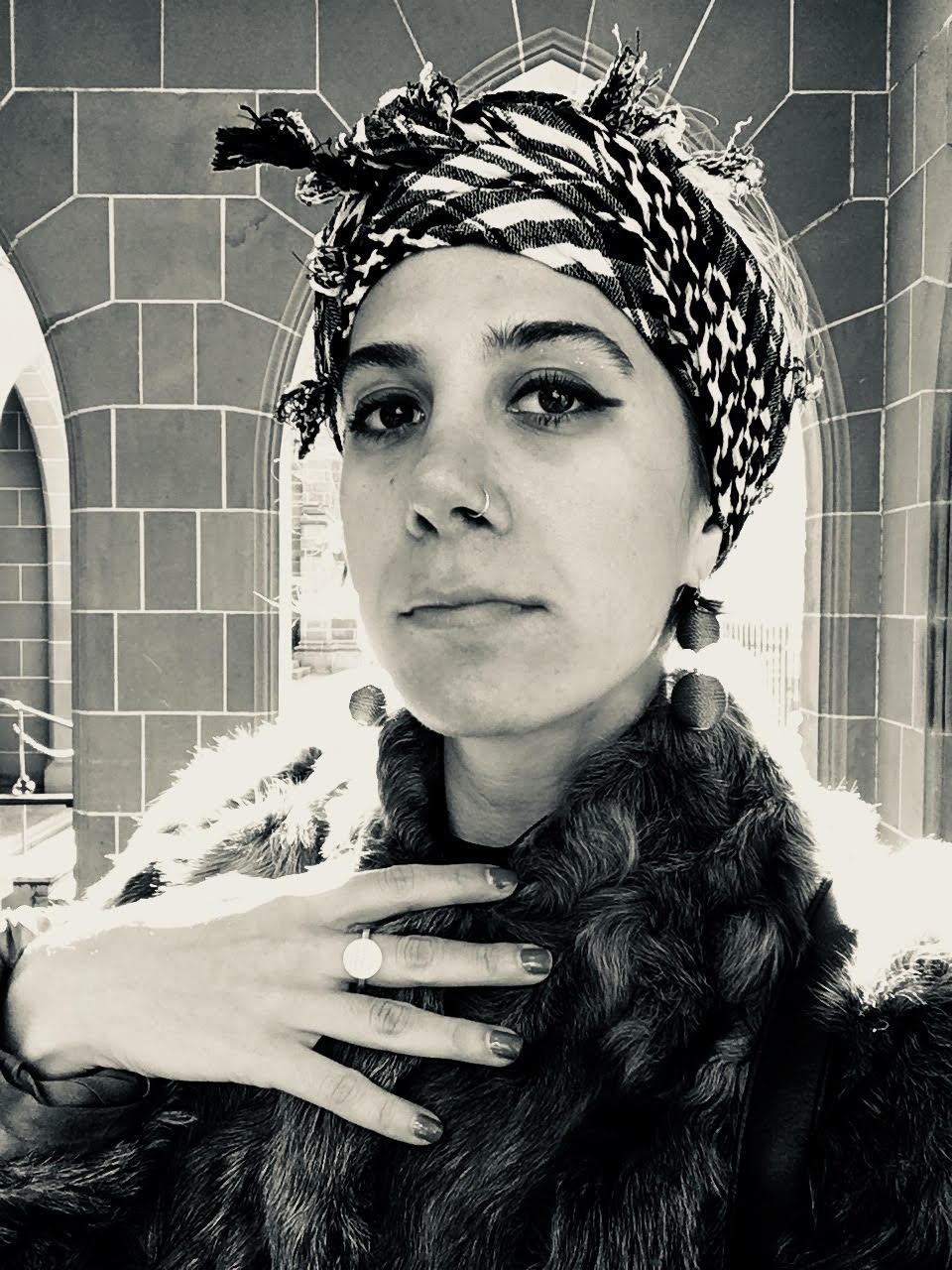 Morehshin Allahyari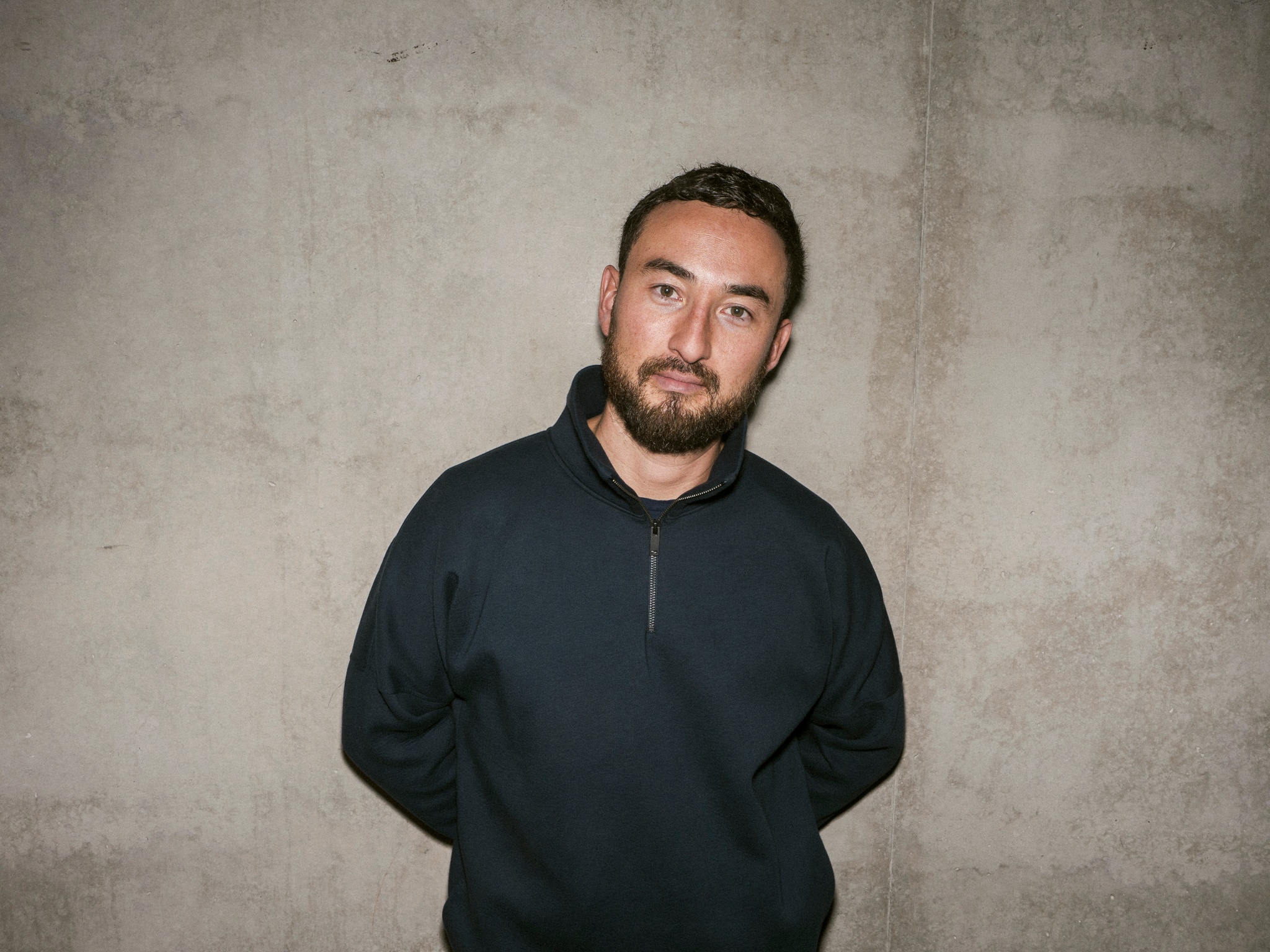 Simon Fujiwara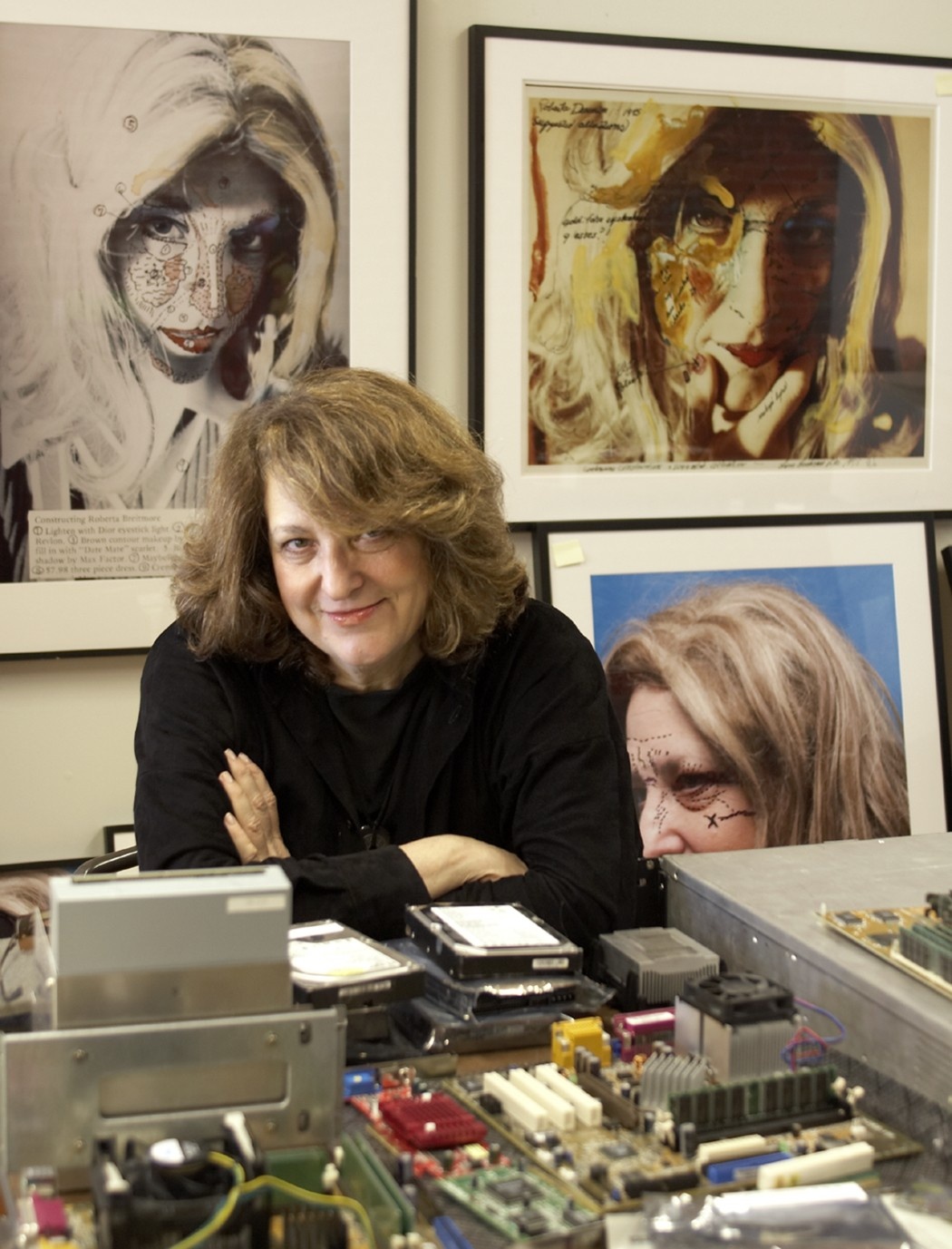 Lynn Hershman Leeson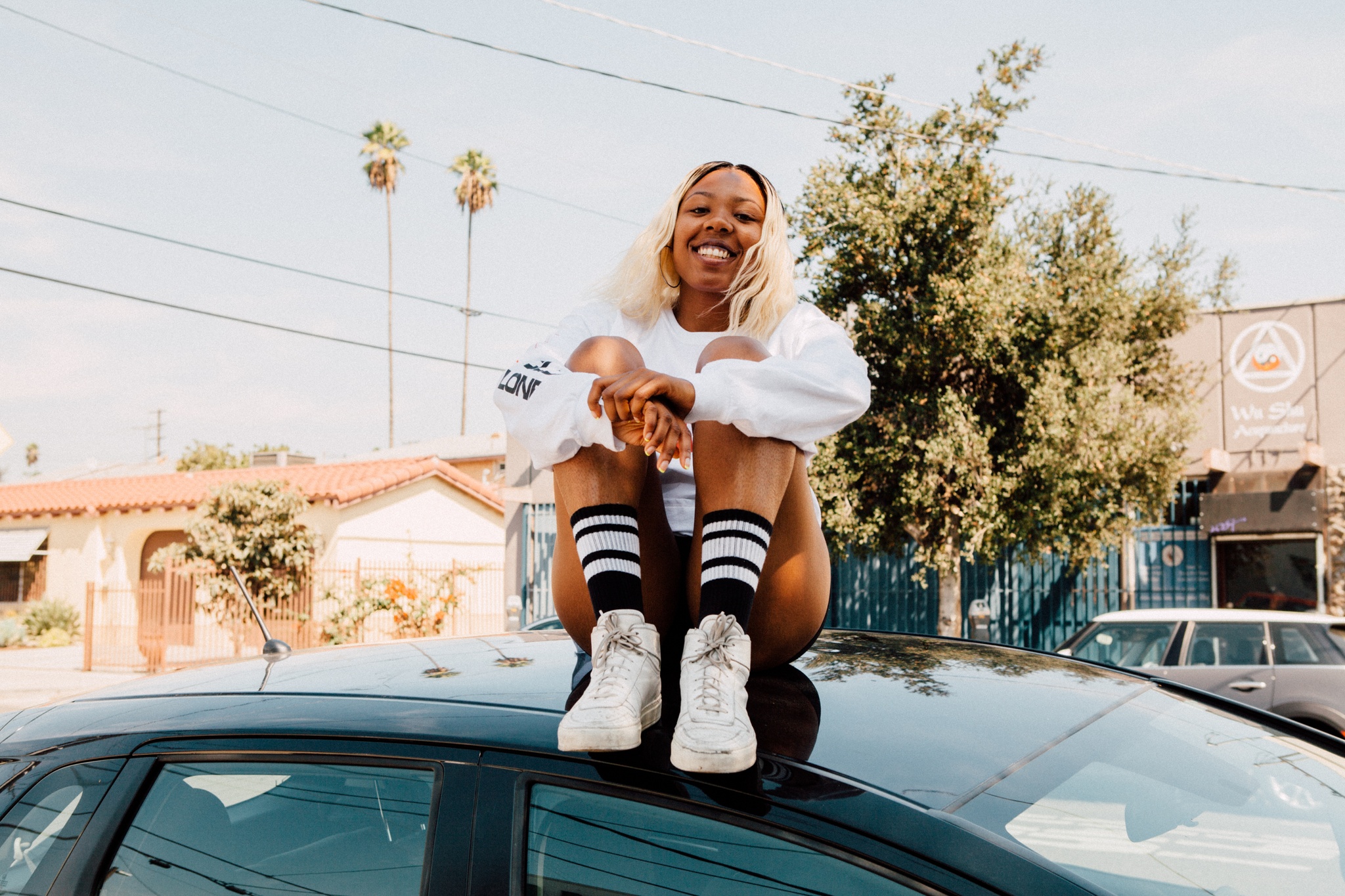 Martine Syms
Morehshin Allahyari
Artist
Morehshin Allahyari is a media artist and activist who uses computer modeling, 3D scanning, and digital fabrication techniques to explore the intersection of art and activism. Inspired by concepts of collective archiving and cultural contradiction, Allahyari's 3D-printed sculptures and videos challenge social and gender norms. She wants her work to respond to, resist, and criticize the current political and cultural situation that is experienced on a daily basis. Recent accolades include a commission by the Whitney Museum of American Art (2018), residency at Pioneer Works in Brooklyn (2018), a research residency at Eyebeam Art + Technology Center (2016 – 17), and a sculpture award from the Institute of Digital Art (2016). Foreign Policy magazine named her a Leading Global Thinker of 2016. Her work has been part of numerous exhibitions, festivals, and workshops at venues throughout the world, including the New Museum, the Whitney Museum of American Art, Centre Pompidou, Venice Biennale di Archittectura, and Museum für Angewandte Kunst among many others.
Simon Fujiwara is a British-Japanese artist living and working in Berlin. His work takes multiple forms including theme park-style rides, wax figures, robotic cameras, "make-up" paintings, and short films that address the complexity and contradictions of identity in a post-internet, hyper-capitalist world. Fujiwara often investigates themes of popular interest, such as tourist attractions, famous icons, historic narratives, and mass media imagery, and has collaborated with the advertising and entertainment industries to produce his work in a process he describes as "hyper-engagement" with dominant forms of cultural production. His work can be seen as a complex response to the human effects of image fetish, technology, and social media on his generation.
Lynn Hershman Leeson
Artist
Over the last four decades, artist and filmmaker Lynn Hershman Leeson has been internationally acclaimed for her art and films. One of the most influential media artists, Hershman Leeson is widely recognized for her innovative work investigating issues that are now recognized as key to the workings of society: the relationship between humans and technology, identity, surveillance, and the use of media as a tool of empowerment against censorship and political repression. Over the last forty years she has made pioneering contributions to the fields of photography, video, film, performance, installation, and interactive as well as net-based media art.
Sondra Perry makes videos and performances that foreground the tools of digital production as a way to critically reflect on new technologies of representation and to remobilize their potential.
Martine Syms uses video and performance to examine representations of blackness. Her artwork has been exhibited and screened extensively, including presentations at the Museum of Modern Art, Hammer Museum, ICA London, New Museum, Museum of Contemporary Art Los Angeles, and The Studio Museum in Harlem, among other institutions. She has lectured at Yale University, SXSW, California Institute of the Arts, University of Chicago, Johns Hopkins University, and MoMA PS1, among other venues. Syms's recently presented exhibitions include Projects 106: Martine Syms, Museum of Modern Art; Borrowed Lady, Simon Fraser University Galleries, Vancouver; Fact and Trouble, ICA London; COM PORT MENT, Karma International, Los Angeles; and Vertical Elevated Oblique, Bridget Donahue Gallery, New York. From 2007 – 11 she was the co-director of the Chicago artist-run project space Golden Age, and she currently runs Dominica Publishing, an imprint dedicated to exploring blackness in visual culture. She is the author of Implications and Distinctions: Format, Content, and Context in Contemporary Race Film (2011). Her first US solo museum exhibition, Projects 106: Martine Syms, premiered at the Museum of Modern Art in New York in May of 2017. She is a faculty member in the School of Art at the California Institute of the Arts.
Guest Curator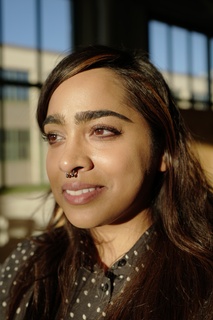 Nora N. Khan is a writer. She writes criticism on emerging issues within digital visual culture, experimental art and music practices, and the philosophy of emerging technology. She is a professor at RISD, Digital and Media, where she teaches graduate courses in critical theory and artistic research, critical writing, and the history of digital media. She is a longtime editor at Rhizome, and is currently editor of Prototype, Google's Artist and Machine Intelligence Group's book forthcoming in 2019.
Khan's writing practice extends to a range of collaborations, which includes shows, performances, exhibition essays, scripts, and sometimes, librettos. Last year, she collaborated with Sondra Perry, Caitlin Cherry, and American Artist to create A Wild Ass Beyond: ApocalypseRN at Performance Space, New York. She has contributed essays and fiction to exhibitions held at Serpentine Galleries, Chisenhale Gallery, and the Venice Biennale, as well as to books published by Koenig Press, Sternberg Press, and Mousse.
Her writing has been supported by many awards over the last decade, including, most recently, a Critical Writing Grant given through the Visual Arts Foundation and the Crossed Purposes Foundation (2018), an Eyebeam Research Residency (2017), and a Thoma Foundation 2016 Arts Writing Award in Digital Art for an emerging arts writer. She publishes criticism in forums like 4Columns, Art in America, Flash Art, Mousse, California Sunday, Spike Art, The Village Voice, and Rhizome. Last year, she wrote a small book with Steven Warwick, Fear Indexing the X-Files, published by Primary Information.
(Photo: Rigoberto Lara.)
About Manual Override
In classic action films about new technologies, when a machine, a robot, or an intelligent program goes off the rails towards nefarious, dystopian ends, the option to manual override presents itself. The hero, protector of humanity, overrides the mad system by pulling a big lever, or pushing a big red button that reads STOP. The clear motion interrupts the system: for repair, reevaluation, or retirement altogether. Its lights go off and it goes offline; the day is saved.
There is no clear override for the dominant technological systems of our time: no lever, no button, no pause. These systems—here understood as the vast computational infrastructures driving software, tools, media platforms, AI, and machine learning—often work far beyond the average person's reach. They are immaterial, distant. And their effects compound, from the level of the individual out to society, from now out into the future. They process and interpret our extracted data with little human intervention.
One's location, physiognomy, and history of purchases become unchangeable statements of possible future action. Individuals—usually the poor and the marginalized—are predicted by machines to be deviants, threats. Bad algorithms determine whether one is hired or not. Prison sentences are passed based on flawed data. Whole communities are denied loans by databases. Bodies are surveilled on unthinkable scales.
How might we, collectively, pause systems that we cannot see, touch, or access? How can we intervene in technologies whose scale, speed, and logic are so far beyond the human?
Even as we might understand that people make machines and design systems, an orchestrated social engineering seduces us and makes us forget our power. Their interfaces present as cheerfully neutral, as objective, as scientific fact. A priest-like class keeps the whole intelligent apparatus running and teaching itself, powered by machine learning systems that are proprietary and black-boxed.
To override, to intervene, and to interrupt, the five artists of Manual Override engage with programming both literally and as a metaphor. They use the potent strategies inherent in code—which can be rewritten, edited, reworked—and play with the inherent flexibility of their chosen technology to o er potent reformulations. They envision the possibility of new systems, and new applications of widespread tools. They slow down the uninterrupted tapping, swiping, clicking—pause our consumption—and frame, for us, the stakes of such relentless acceleration. What are we being trained to not see? Whose ideologies do we embed in software? How do machines see us, and to what end? In the age of AI and the internet, how might we reframe Cedric Price's famous 1966 provocation: "Technology is the answer, but what was the question?"
They also understand that technological systems are designed through an interplay of vast organizational networks of knowledge. To investigate, the assembled artists create their own networks of hybrid knowledge, sustaining practices of collaboration across disciplines, the very method of working historically built into the scientific, engineering, and design research process. They embed criticality and a comfort with doubt and risk into their research-based work.
In doing so, they posit our more exploitative relationships with technology as not new, but as a continuation of historical forms of social programming. These present logics of extraction—of data, of personal expression, of cognitive material—are old. Long before the spread of mass computing, social science and positivist philosophy deployed rougher analog methods of modeling and simulating people across class and identity demographics to predict their worth, their possibility, and future action. Throughout the 20th century, the imperative to understand human behavior, driven by statistical thinking, was translated into systematized management and training of individuals as resources, towards industrial, militarized, and political ends. The technologies represented here are natural outcomes of such orchestrated projects to type and organize human beings, condition them slowly in how to see and think. In identifying these continuances and overlaps, these five artists move to advance more collective visions.
We might do well to abandon extreme positions—whether of techno-positivist hype, exuberance, and utopian rhetoric, or Luddite refusal of technology as a tool of the state's oppressive tactics. We might pause to observe, to see technology not as runaway, as inscrutable, as a threat, or as a savior, but instead as our mirror, easily read.
If we understand ourselves as fundamentally coded—socially through cultural programming, and genetically through our DNA legacies—how might we be better positioned to rework the conditions we are embedded in? In fully understanding how this relationship is designed, the prospect of interruption becomes clear. We can also predict how we are brutally seen, modeled, and simulated over time. We can rework our own genetic, social, and technological code. Through collective, networked actions, an override becomes possible. It will just look different from the imagined single-note heroics of before.
—Nora N. Khan, Guest Curator
Image: Morehshin Allahyari, She Who Sees The Unknown: Kabous, The Left Witness and The Right Witness, 2019. 3D rendering. Courtesy the artist.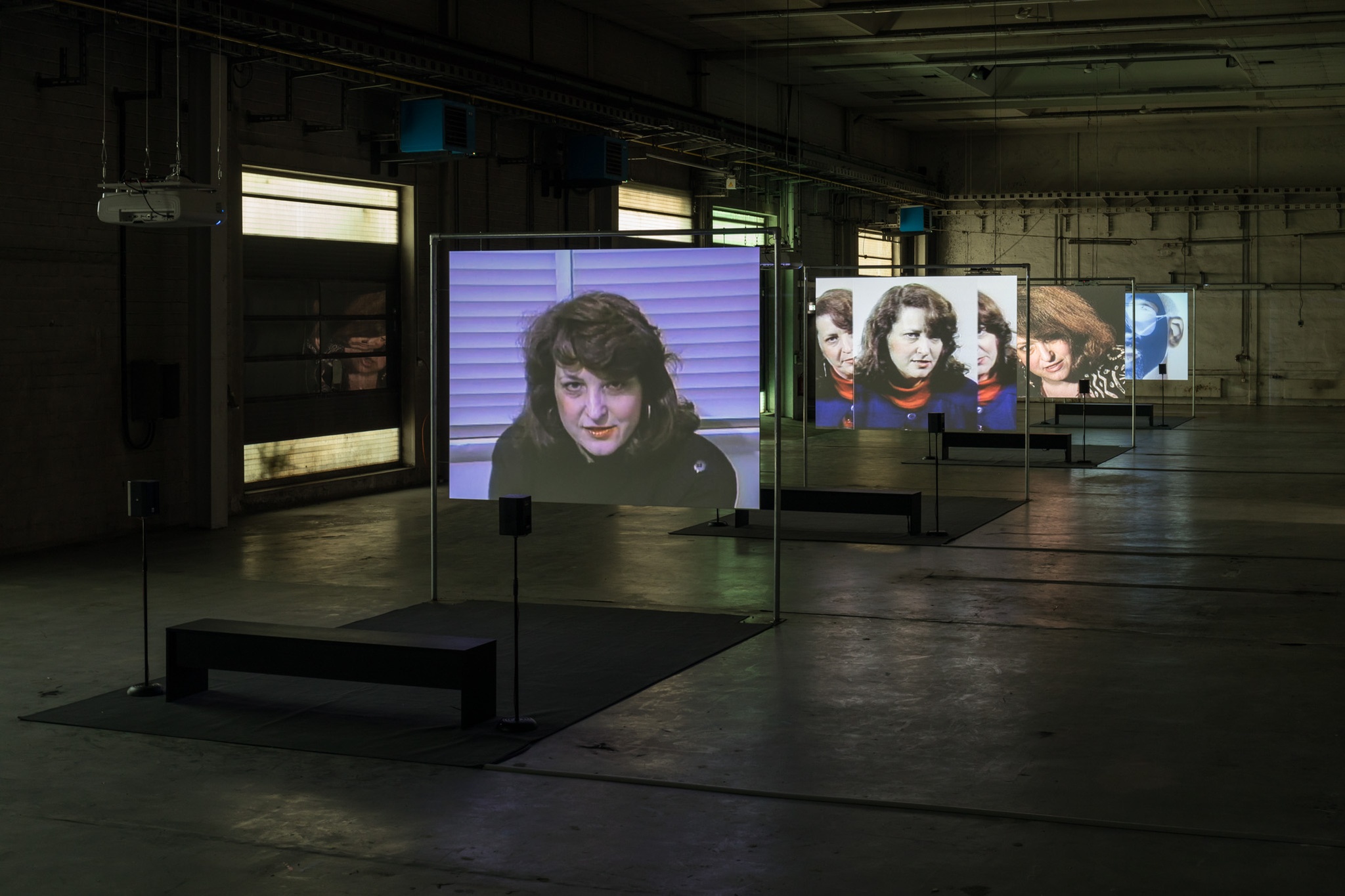 Lynn Hershman Leeson, The Electronic Diaries, 1984 – 2019
In 1984, after teaching herself how to use a video camera, Lynn Hershman Leeson sat down in front of it and began to talk. She modeled what we take as commonplace in today's online culture: confessional expression for an unknown audience. Over 20 years, Hershman Leeson filmed herself as she developed a profound relationship with her own mediation through the camera's gaze. At turns frank and sly, honest and performative, she slowly takes a deep, inward turn to examine her foundational memories of violence and psychological harm—unbearable, unspoken truths she saw often buried and carried by women. In linking these traumas to their systemic causes and historical reproduction, and then speaking them aloud, Hershman Leeson forges an artistic path to survival.
In 2018, Hershman Leeson took up the final chapter of the Diaries, presented here for the first time. She concludes 17 years of research—begun in 1993—investigating biogenetics, tissue regeneration, genetic manipulation, and the 3D printing of organs. Working with geneticists and scientists, Hershman Leeson focuses on two processes: gene editing and DNA digital storage, in which scientists encode and store massive amounts of data in a gene strand. In storing her archives in DNA, and creating her own custom antibody, the artist attempts to answer questions central to the Diaries: can advanced technology help strategically elevate lost cultural histories? Can bodies-and societies-move past traumatic legacies to heal themselves?
Image: Installation view: First Person Plural, The Electronic Diaries of Lynn Hershman, 1984 – 96, KW Institute for Contemporary Arts Berlin, 2018. Four-channel video installation. Photo: Frank Sperling. Courtesy the artist and Bridget Donahue Gallery, New York City.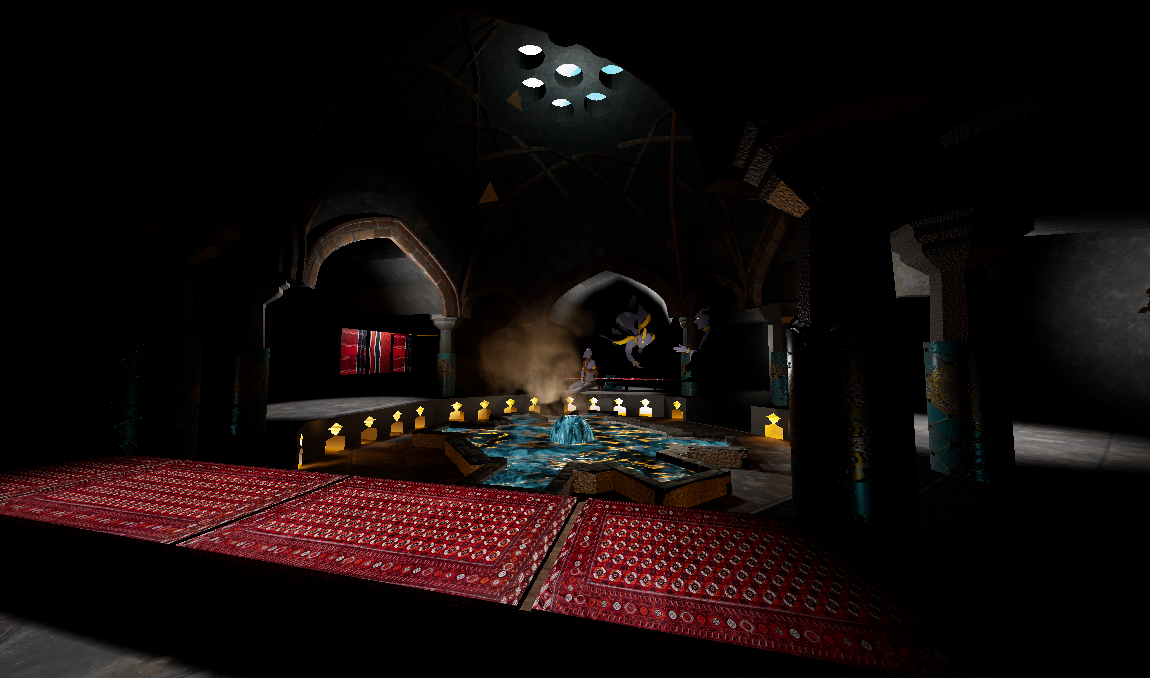 Morehshin Allahyari, She Who Sees the Unknown: Kabous, The Left Witness and The Right Witness, 2019
In pre-Islamic and Islamic mythology, the jinn, "made from a smokeless flame of fire," is an intelligent spirit between angel and demon. Allahyari invites us into a loose recreation of her childhood bedroom in Tehran, Iran, to lie down between two sculptures, the left and right "witnesses" of Kabous. This infamous jinn descends on a person at night causing sleep paralysis. After putting on a VR headset, the viewer is moved through a hamam, or traditional Persian bathhouse. The hamam is both an important intimate social space for women to gather together alone, and is known as a chosen visiting place for jinn. In the hashti (entrance), we encounter Kabous as the jinn descends. Both a cultural trope and a neurochemical phenomenon, Kabous makes memory both material and embodied, as its intrusive nighttime hallucination allows for a "virtual point of view," or a feeling of viewing oneself from outside. Neuroscientists speculate that jinn may be one of many culturally specific expressions of the brain, hallucinations articulating psychic fear and pain, and common among refugees, PTSD survivors, and exiled immigrants. In Allahyari's elegiac script, which we hear as we experience the khazineh, or main bathhouse, Kabous is a generative figure and a metaphor. Four generations of women, including Allahyari's grandmother, mother, and an unborn "monstrous" daughter, deliver litanies: on the ethics of motherhood at the cusp of the Iran-Iraq war, on the pressure of sanctions, and on exile and longing. The jinn hovers, lasting throughout these seismic shifts and slower catastrophes unfolding over decades.
Written, created, and directed by Morehshin Allahyari; VR development by Pariah Interactive; Diary voiceover by Mitra Kassai; Sound design by Prince Harvey; Singing by Delina Zand Karimi and Fereshteh Khalediyan; Hamam research assistance by Negin Tabatabaei; Modeling assistance by Halime Maloof; Special thanks to Shaina Vang, Arezoo Allahyari, Eva Khoury, Sally Glass, Emily Martinez, and Lillyan Ling for further assistance.
Image: Morehshin Allahyari, She Who Sees the Unknown: Kabous, The Left Witness and The Right Witness, 2019. VR video. Courtesy the artist.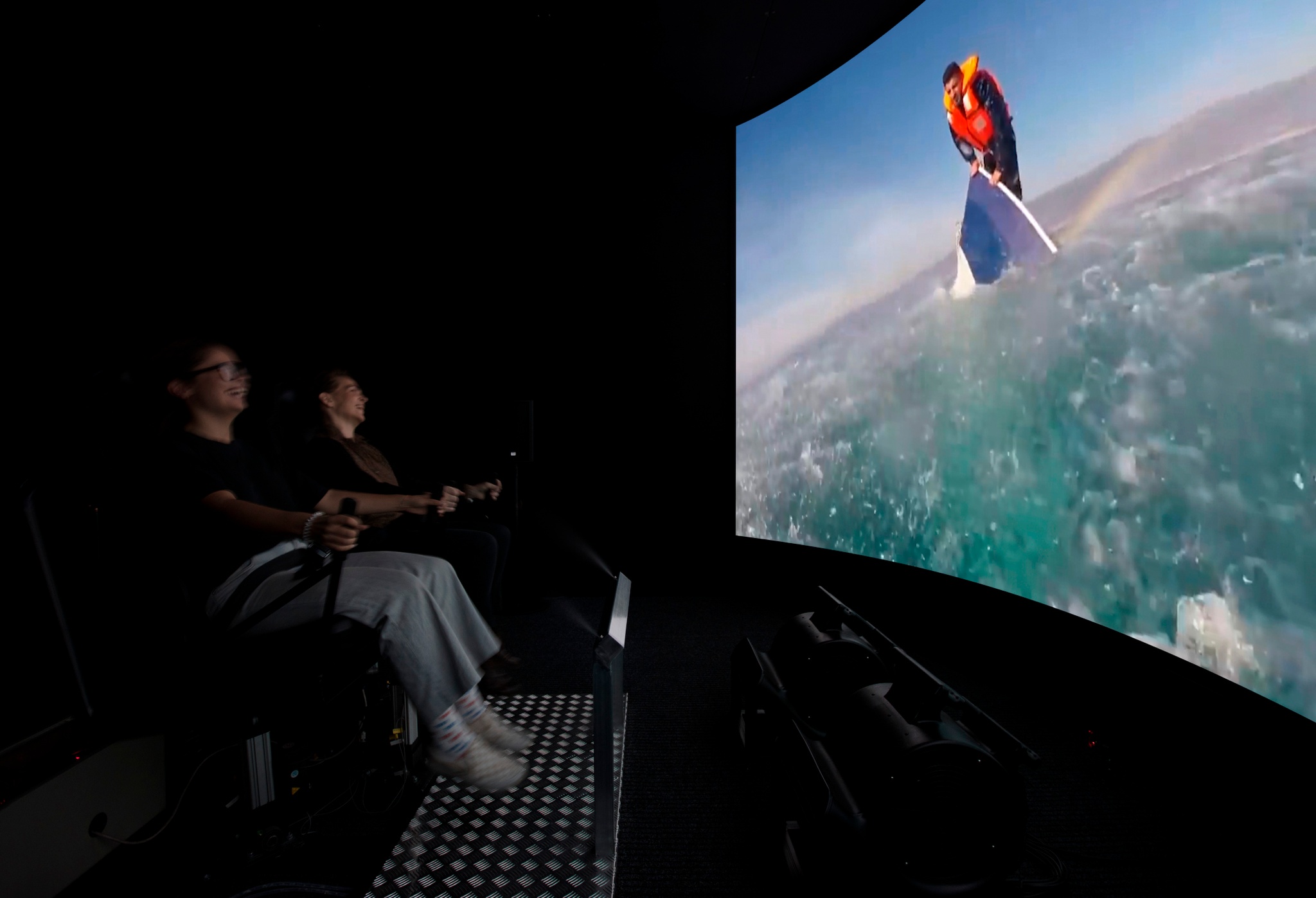 Simon Fujiwara, Empathy I, 2018
Empathy I is an immersive 5D experience in which two people, belted into the motion platform seating of a flight simulator, take a ride through the hyperreal, after waiting their turn in a waiting room designed by the artist.
Fujiwara worked closely with a team of theme park ride simulation designers and engineers to program the simulator's seating that lifts and dips, slides towards and away from a film projected onto a curved screen. As the found amateur camera footage shifts between physical scales and cultural contexts, the cuts, breaks, and gestures of the film become embodied and viscerally felt, to create what Fujiwara terms a "sculptural experience that happens inside your body." In heightening the relationship between the viewer and this constructed reality of an accelerating flow of images, Fujiwara questions the supposedly relational and empathy-producing effects of digital connection. Instead, the artist frames our relationship to technology and its hype as sadomasochistic.
Before the ride, visitors select a number from a custom-made ticketing machine to wait their turn when called on by an attendant. Opening up a ring­ bound copy of Fifty Shades of Grey, visitors can refamiliarize themselves with the novel's contractual terms: accepting a condition of domination in exchange for fleeting, concentrated pleasures.
Image: Installation view: Simon Fujiwara, Empathy I, Esther Schipper Gallery, Berlin, 2018. 5D simulator installation (with video, sound, motion, water, and wind). © Andrea Rossetti. Courtesy the artist and Esther Schipper Gallery, Berlin.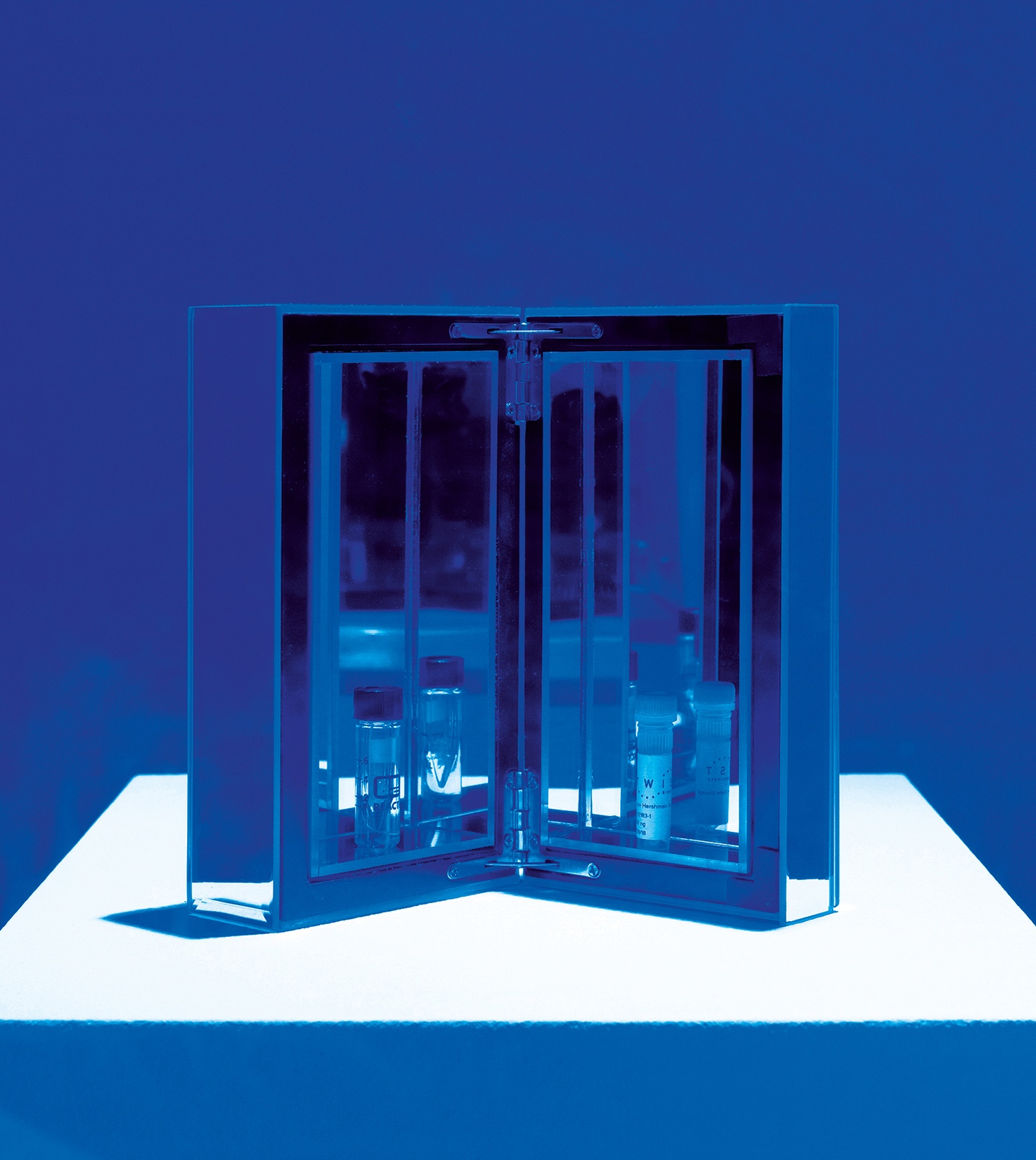 Lynn Hershman Leeson, Room #8 from the "Infinity Engine" series, 2018
In Room #8, a window reveals two vials behind a locked lab door. One vial contains Hershman Leeson's artistic oeuvre recorded inside of DNA—as binary data packets of films, pictures, and portions of the final Electronic Diaries (1984 – 2019)—created in collaboration with Twist Biology. The DNA represents Hershman Leeson's desire to control elements of the biological computing process, to determine her memory, artifacts, legacy, and reception, for a speculative infinity.
The second is filled with the powdered crystal of the LYNNHERSHMAN Antibody, which Hershman Leeson worked on creating for 18 months with pharmaceutical giant Novartis. The chemical structure and symbols of its amino acids correspond to the letters LYNNHERSHMAN; her name is the foundation for the antibody's molecular code. Cutting-edge therapeutic treatments use antibodies to strengthen human immune systems. Curious to discover the LYNNHERSHMAN Antibody's properties, Hershman Leeson's scientific collaborators conducted four months of experiments, determining it to be an active, strong, and unusually responsive antibody with a highly bonding nature, an elegant metaphor for Hershman Leeson's own artistic process.
In tracking developments in genomic programming, synthetic biology, the inherent eugenic dangers of scientific research, transgenics, and gene patenting, Hershman Leeson asks what histories we will choose to preserve, which we will erase, and what moral decisions we are outsourcing.
Image: Lynn Hershman Leeson DNA and Antibody inside Room #8 from the "Infinity Engine" series, 2018. Photo: Franz Wamhof. Courtesy the artist; Novartis Pharma AG; Twist Biology; Bridget Donahue Gallery, New York City; and Anglim Gilbert Gallery, San Francisco.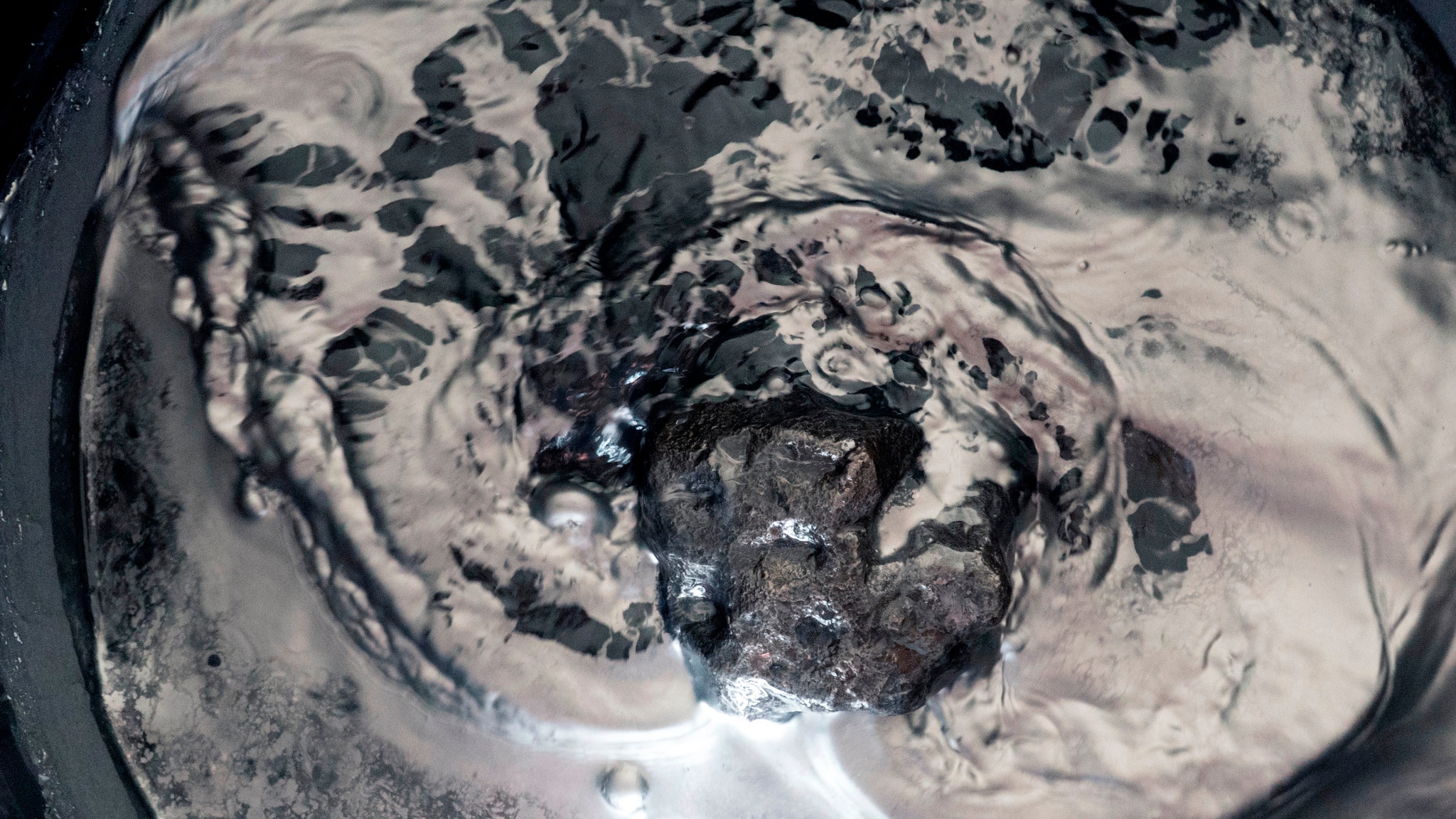 Sondra Perry, you out here look n like you don't belong to nobody: heavy metal and reflective, 2019
Sondra Perry's new commission for The Shed is a film installation, contained in an intimate space reminiscent of a cathedral's nave and intended for quiet reflection. The film is a new entry in her continuing meditations on the history of metal and its relationship to geological time, slavery, industrialized labor, and the architectural foundations of institutions. How do spaces experience and manifest the present and afterlife of structural violence and trauma? How might viewers experience, visualize, and articulate these often unseen dynamics? Perry's film documents her journey to source an iron meteorite, 11-gauge sheet metal from The Shed's building, and18th-century shackles, found through an unsettling online collecting subculture. She worked with metallurgists to melt down these items in a foundry, along with her old web­cams and computer "metallic trash." The process traces the genesis of iron and other elements created in supernovae explosions to a new transmutation. Perry also deploys a metallic scent, reminiscent of the smelting process. It infuses the exhibition space.
Image: Sondra Perry, you out here look n like you don't belong to nobody: heavy metal and reflective, 2019. Color video with sound. Courtesy the artist.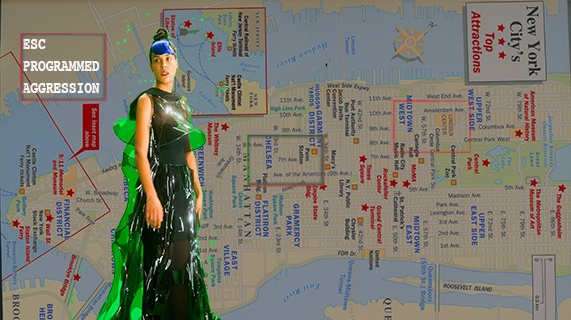 Lynn Hershman Leeson, Shadow Stalker, 2019
In Shadow Stalker, Hershman Leeson's new commission for The Shed, the artist tackles predictive algorithms, weaponized by corporations and governments to predict, score, and rank one's future employability and loan­ worthiness. In the film, one hears a polemic about predictive policing-the most known, chilling use of such algorithms. Increasingly the norm in major cities like Los Angeles, Detroit, and New York, the program allows police officers to "enhance" their abilities to "predict crime" (specific types of crime, from drug arrests to burglary) in predetermined red square zones on city maps, created through analysis of past crime data. The occurrence of past crime becomes a predictor of a zone of future crime. Officers outsource their decisions to enter these zones to an algorithm originally used to predict earthquakes. Legal scholars and activists are clear on the disturbing threat of such policing, especially as the original "dirty data" that establishes red square zones is based in a history of racialized, oppressive policing that punishes the poor, black citizens, immigrants, and non-binary peoples in American cities.
Drawing on a network of critical thinkers on surveillance and machine learning, Hershman Leeson abstracts the red square zone into a specter that haunts the work. Where one falls on the map in relation to this red square becomes a proxy for who one is-location, a proxy for identity. Through the artist's collaboration with programmers Mark Hellar and Rachel Rose Ulgado, visitors are first invited to enter their email address into an iPad to get an acute sense of their data shadow, or the data that is collected and stored in the course of daily life. And in a second interaction, visitors may enter their US zip code to see the logic of prediction in action; Francis Tseng has reworked a predictive policing algorithm to examine the risk percentage of predicted white collar financial crimes by each zip code.
The workings of this predictive algorithm are described in a white paper, Predicting Financial Crime: Augmenting the Predictive Policing Arsenal, authored by Francis Tseng, Sam Lavigne, and Brian Clifton. Through a predictive algorithm, one can assess the risk of large-scale financial crimes by zip code, to help police "efficiently direct their limited resources for the greatest return on investment." In this updated model for Shadow Stalker developed by Francis Tseng, the risk of financial crime is predicted based on zip codes, according to five data sources: the locations of broker dealers, business employment statistics, active liquor licenses, lobbyists, and U.S. government direct spending payments. Visitors can gain, with 90.1 percent accuracy, an augmented sense of the high-risk areas for white collar crime on the map they move through.
Image: Lynn Hershman Leeson, Shadow Stalker, 2019. HD color video with sound, 10 min. Courtesy the artist; Bridget Donahue Gallery, New York City; and Anglim Gilbert Gallery, San Francisco.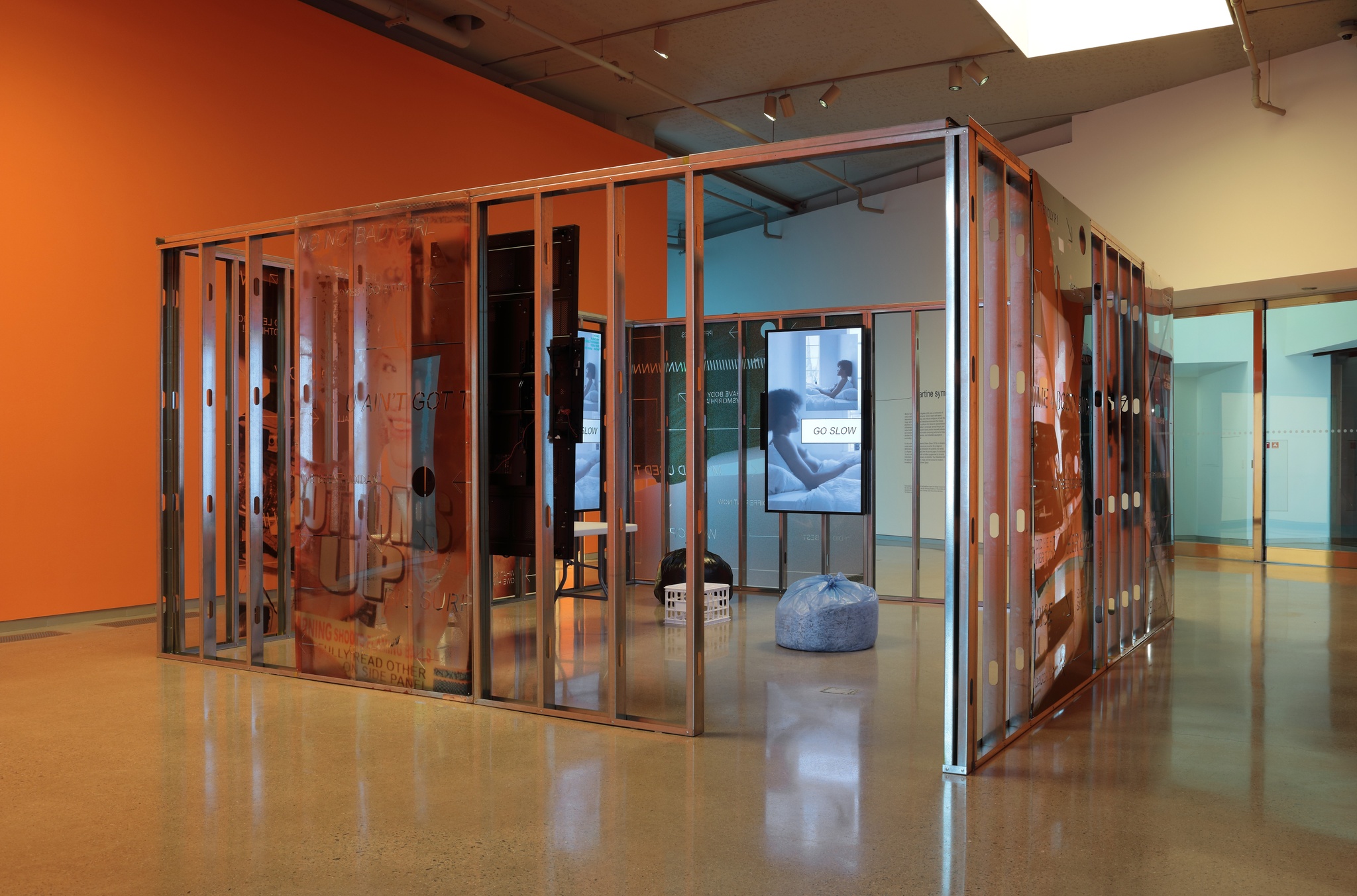 Martine Syms, Shame Space, 2019
Martine Syms's piece Shame Space centers around an interactive video installation, in which visitors can interact with the protagonist Mythiccbeing (my thick being) via an SMS chatbot programmed by the artist. The chatbot interactions control the appearance of animation, image, and text across four monitors, creating a live edit of the narrative of Shame Space.
Activated via the phone number displayed, the text chat follows different paths, drawing from over 200 hours of programmed personal responses. Driving it is the artist's query: "What would it mean to make technology 'thicc'?" The avatar's tone shifts between the intimacy of a group DM and critical musings, pulling the visitor into a wry dialogue around themes of neoliberal pressure, stress, desire, performance, position, systemic aggressions, visibility politics, and the demands of artistic success.
The texts help prompt the responsive video screens, in which we see fragments of a "shadow self" of Syms, portrayed by a male actor wearing a shirt that reads, "To Hell With My Suffering." The surrounding architectural structure embeds acrylic panels printed with photographs. It reveals select elements of a personalized threat model—an echo of the modeling through which corporations scan and detect system vulnerabilities to protect themselves.
Over time, Mythiccbeing emerges as an augmented, proliferating set of performative selves. It prompts us to investigate Al as a continual mirror of our fluctuating collective psyche, a more likely future than a hostile machine takeover.
Image: Installation view: Martine Syms, Shame Space, Institute for Contemporary Art at Virginia Commonwealth University, Richmond, Virginia, February 16 – May 12, 2019. © Martine Syms. Photo: Michael Simon. Courtesy the artist and Bridget Donahue Gallery, New York City.
Digital Publication
As part of Manual Override, The Shed launches its first digital publication featuring critical essays that reflect upon the themes of the exhibition and modes of artistic collaboration, exchange, and critique across scientific and technological fields.
All of the essays are free and downloadable.
Digital Publication Contributors
Rahel Aima is a writer, editor, and critic from Dubai currently based in Brooklyn. She is working on a book of essays about Enya and a collection of solar fiction.
Jessica Lynne is a writer and art critic. She is a founding editor of ARTS.BLACK, an online journal of art criticism from Black perspectives.
Mike Pepi writes about art, culture, and technology.
Alex Poots, Artistic Director and CEO
Hans Ulrich Obrist, Senior Program Advisor
Emma Enderby, Senior Curator
Nora N. Khan, Guest Curator
Jesse Hamerman, Director of Exhibitions
Marc Warren, Director of Production
Chris Roberts, Exhibitions Producer
Pope Jackson, Production Supervisor
Alessandra Gómez, Curatorial Assistant
Elizabeth Berridge, Exhibitions Assistant
Exhibition design by Giacomo Castagnola with Cristobal García and Lucía Sanromán for Germen Estudio
Lighting design by Jeanette Yew
Sound design by Seth Huling
Carl Whipple, Deputy Installer
Location and dates
This event takes place in The Griffin Theater.
Tuesday, Wednesday, Sunday 11 am – 6 pm
Thursday – Saturday 11 am – 8 pm
Details
The following works in Manual Override have limited capacity: Simon Fujiwara's Empathy I, Lynn Hershman Leeson's Shadow Stalker, and Morehshin Allahyari's VR film in She Who Sees the Unknown: Kabous, The Left and The Right Witness. An exhibition ticket does not necessarily guarantee access to all components of these works and waiting time may be required.