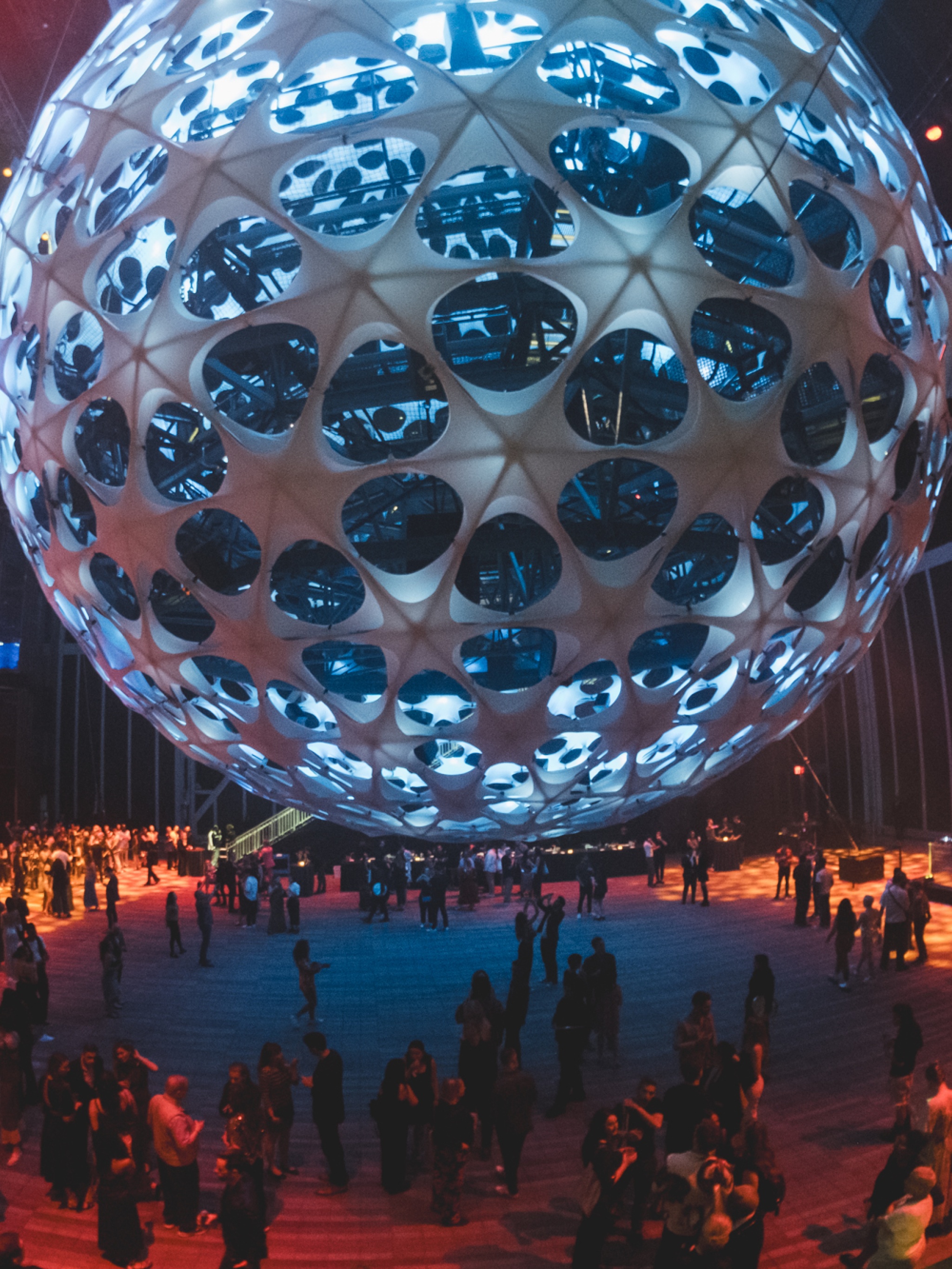 An immersive summer celebration benefiting The Shed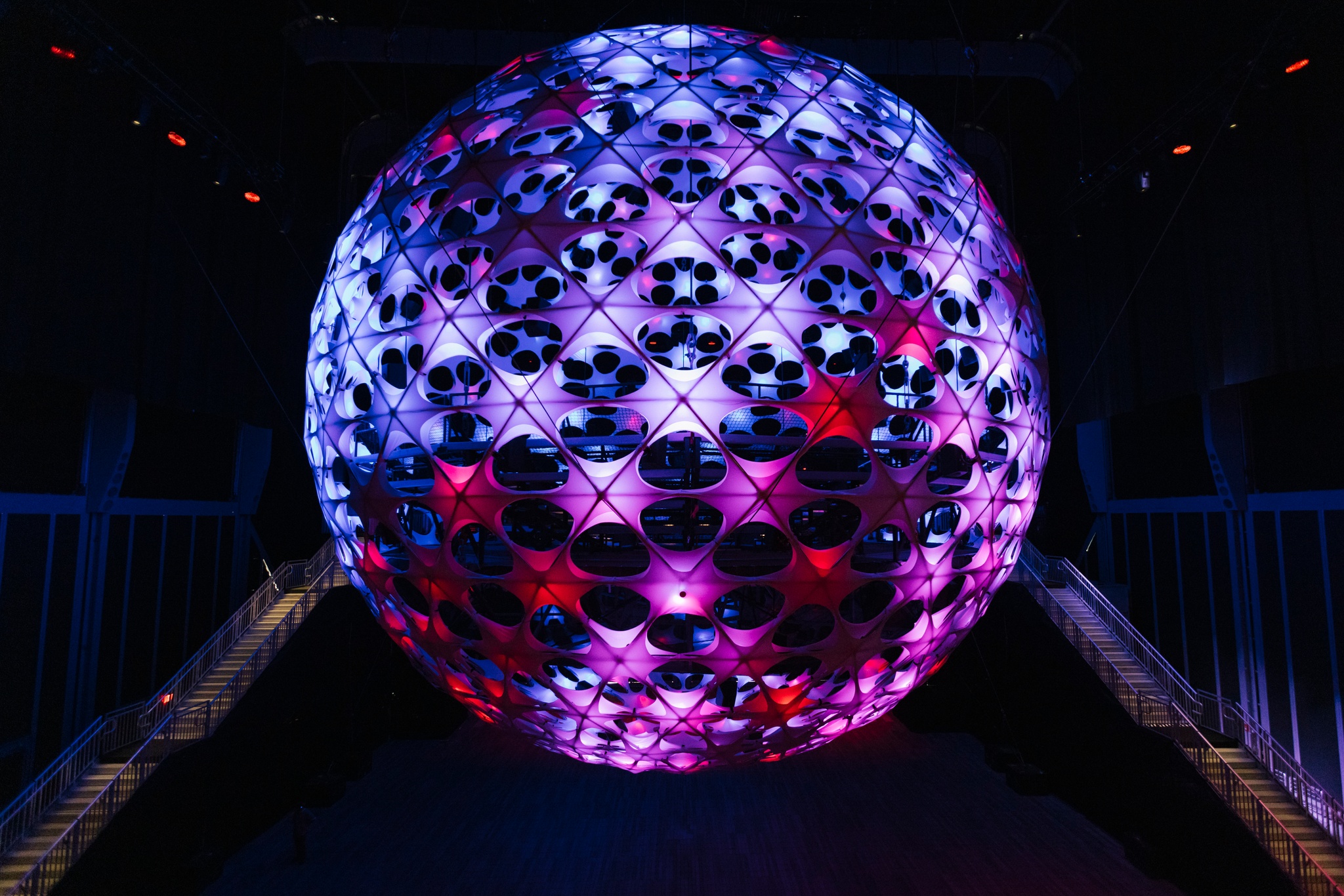 About the Party
7 pm Doors open, VIP Silver Access to Sonic Sphere
8 pm Music for Heart & Breath Ensemble
9:30 pm DJ Skype Williams
10:30 pm DJ Run P.
Dress Code: Cosmic Cocktail Encouraged
(Flat-soled shoes are required to enter Sonic Sphere.)
Join us for our inaugural Mirror Ball, a party with boundary-pushing performances only possible in The Shed's soaring McCourt space. Guests will be transported into a multidimensional sound environment for a shared musical experience surpassing everyday perception.
In celebration of the recently opened Sonic Sphere, a multisensory concert hall suspended in air that offers 3-D sound and light explorations of music, the evening includes an open bar, live performances, and DJs. The sphere is based on an idea originally conceived by composer and electronic music innovator Karlheinz Stockhausen, and performing at Mirror Ball will be artists who continue the tradition of electronic music innovation today.
The lineup includes a one-night-only performance by Richard Reed Parry's (Arcade Fire) Music for Heart and Breath Ensemble featuring Stuart Bogie, Yuka C Honda (Cibo Matto), Greg Fox, and Parker Shper, as well as DJs Run P. and Skype Williams.
Driven by our belief that access to new cultural experiences is a right, not a privilege, The Shed was designed to disrupt the traditions that separate art forms and audiences. The benefit will support The Shed's future productions that welcome innovative art and ideas.
Builder 1 Members and above enjoy an exclusive 50% discount on Mirror Ball tickets. Not a member? Join today!
Must be 21+ to attend
(Photo: Ahad Subzwari.)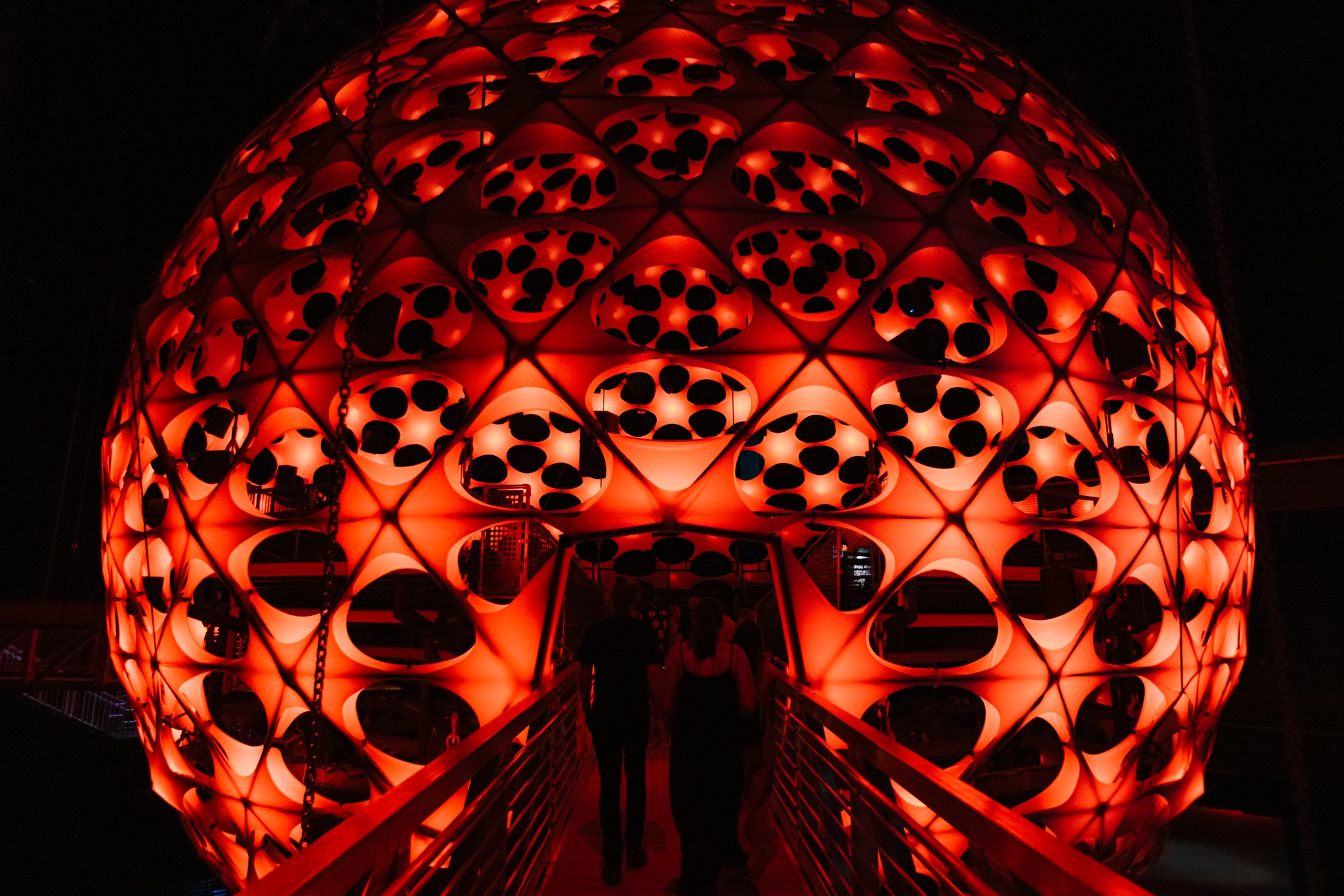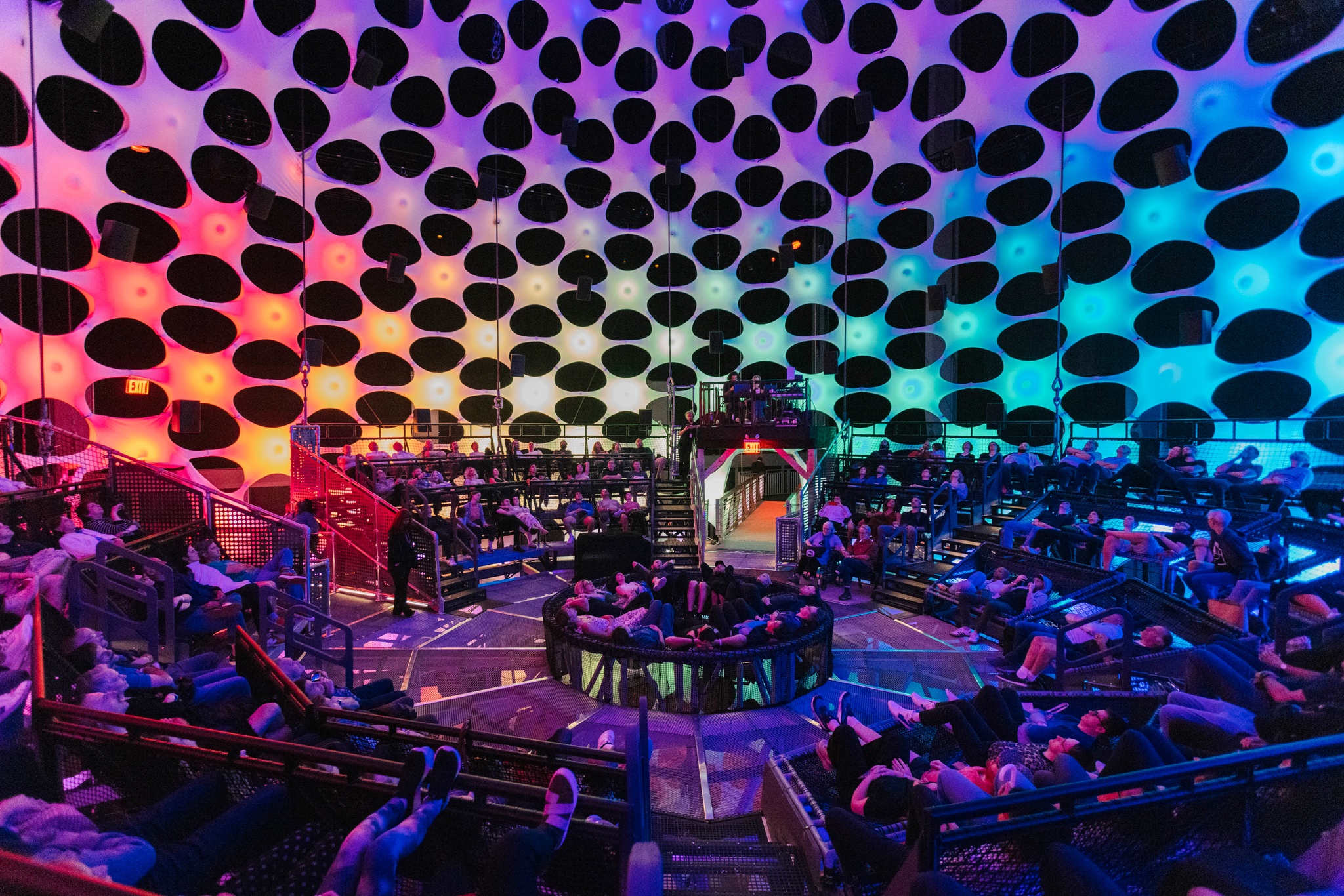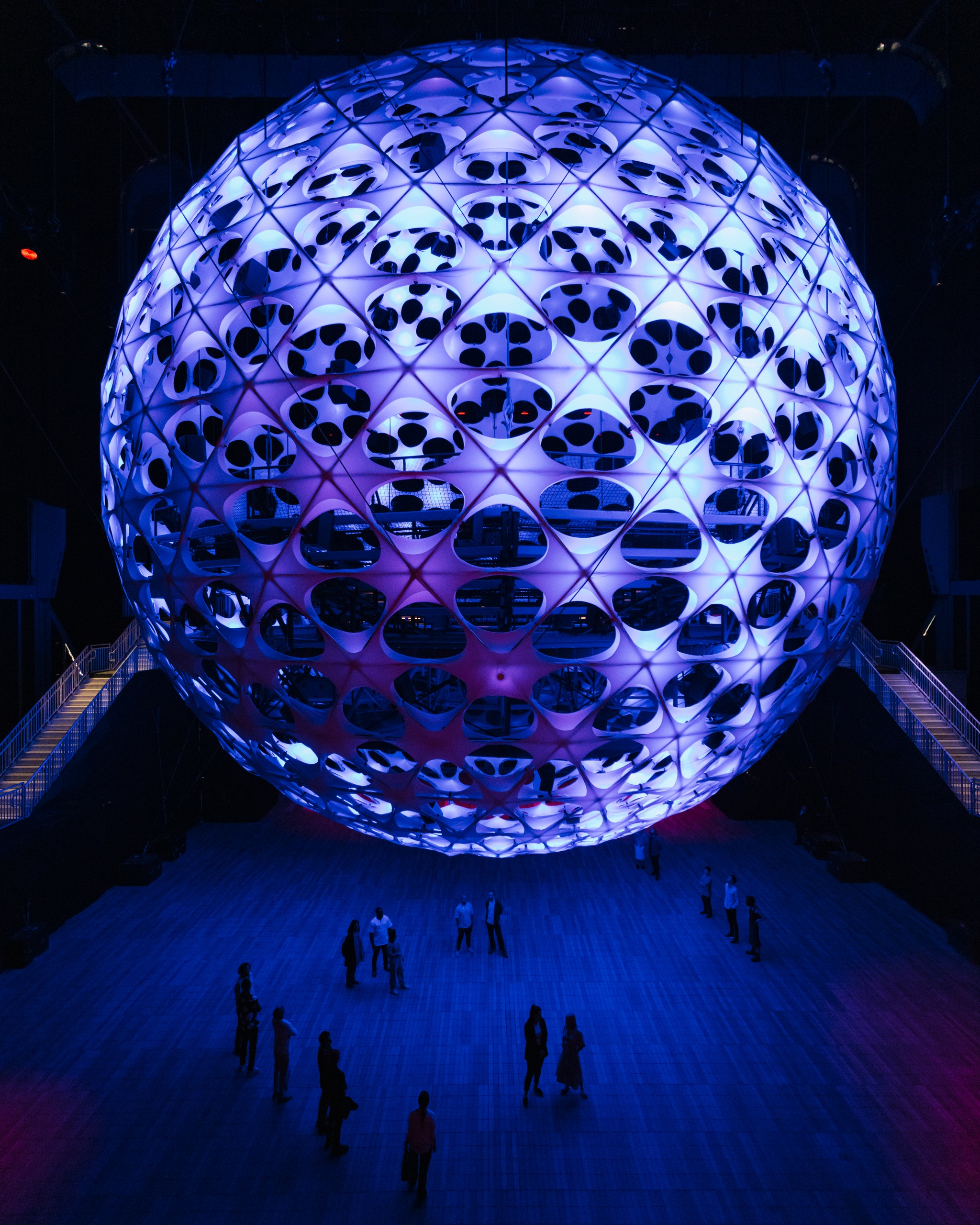 Artists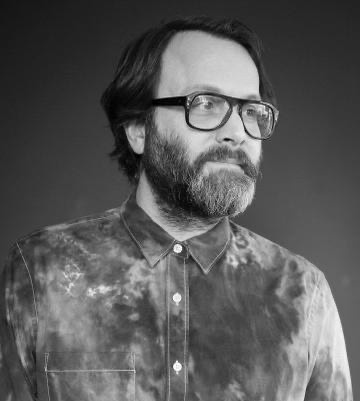 Stuart Bogie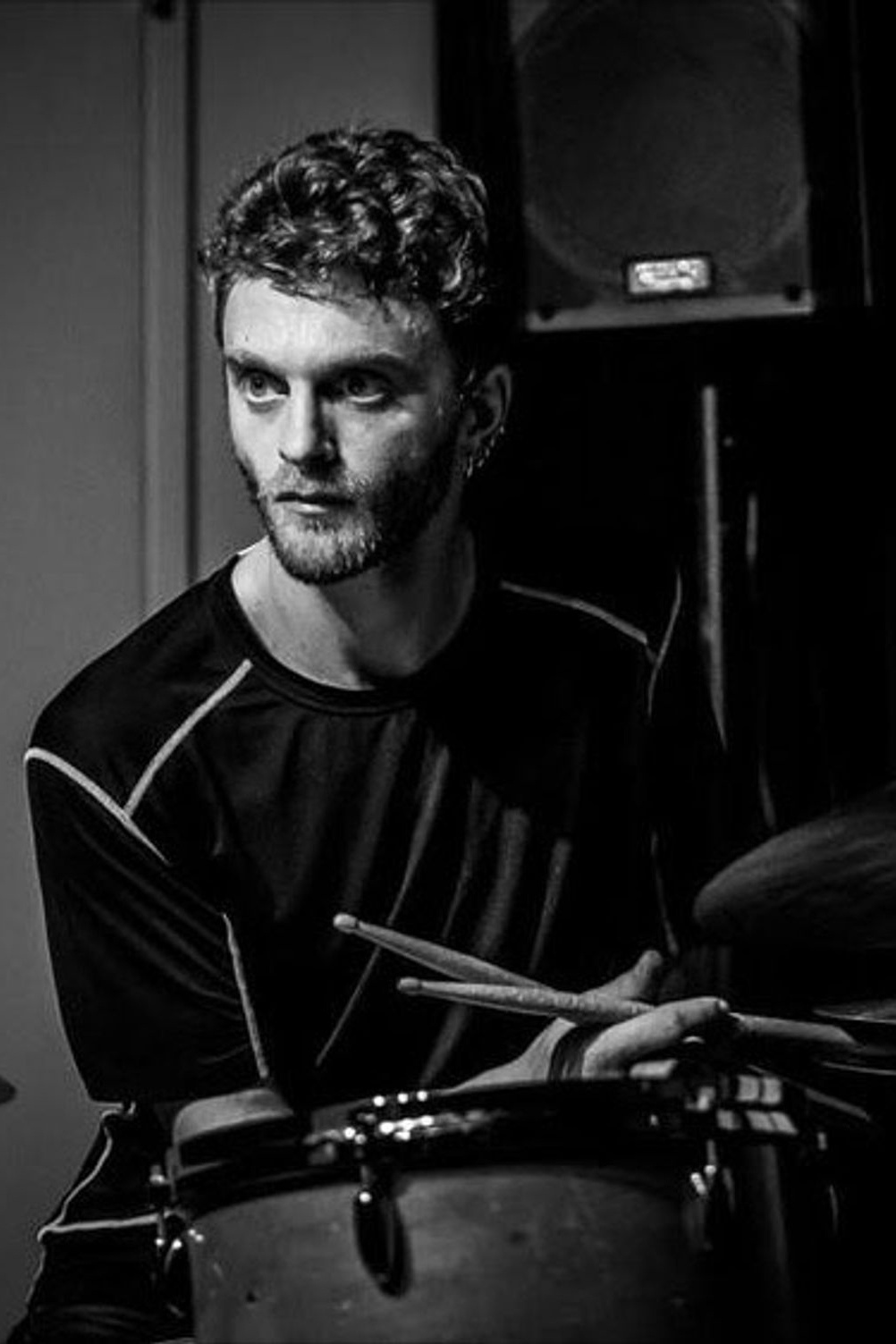 Greg Fox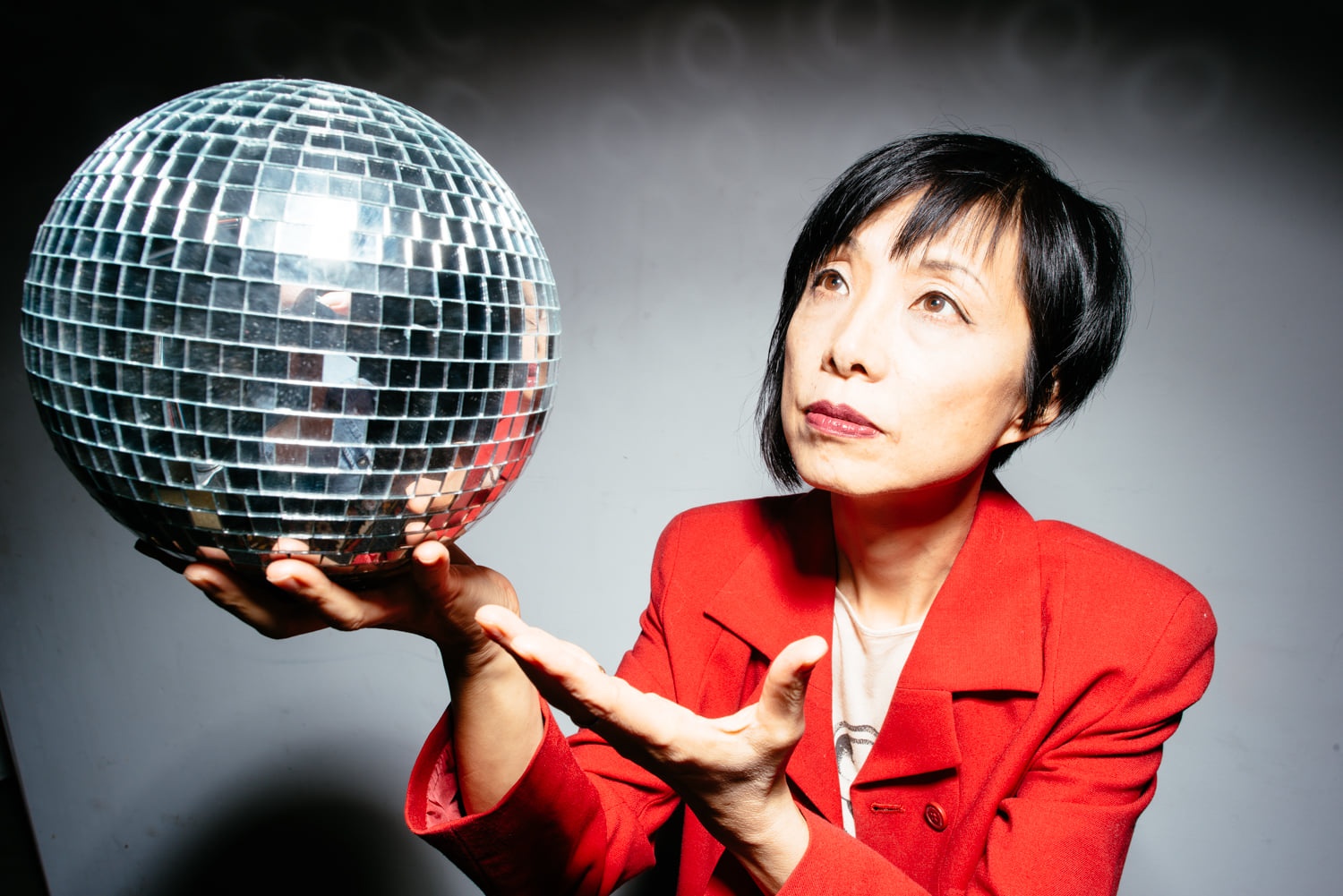 Yuka C Honda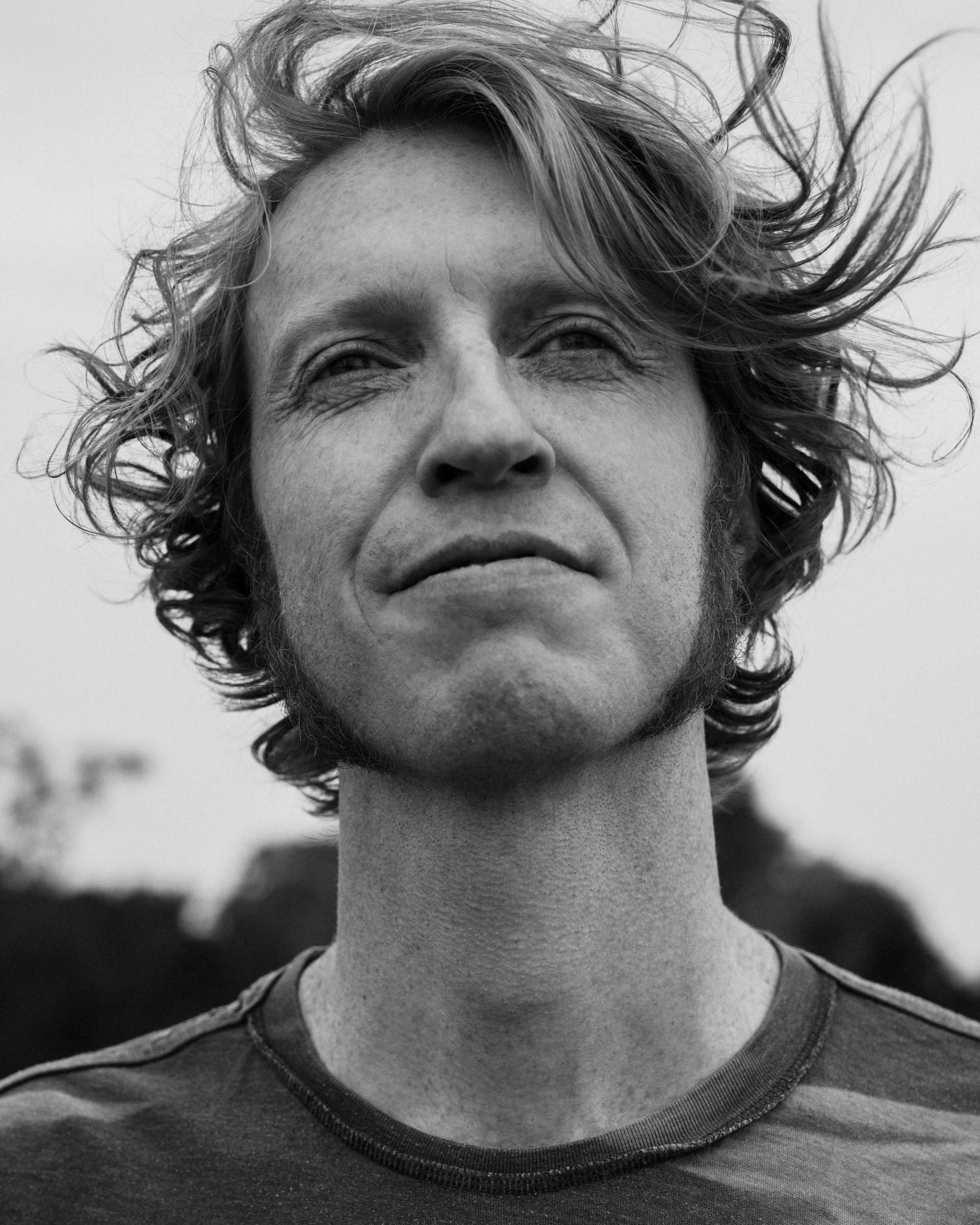 Richard Reed Parry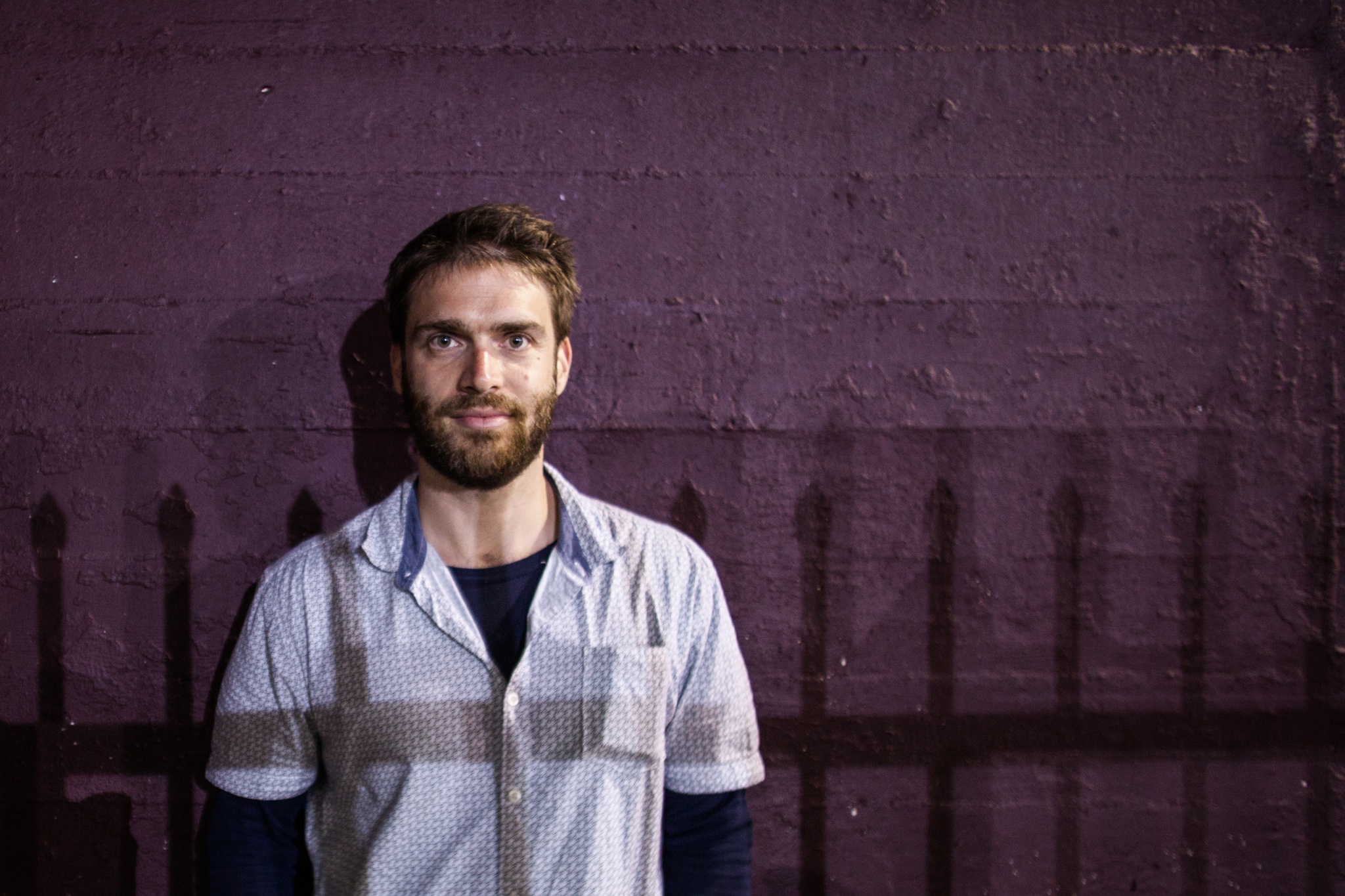 Parker Shper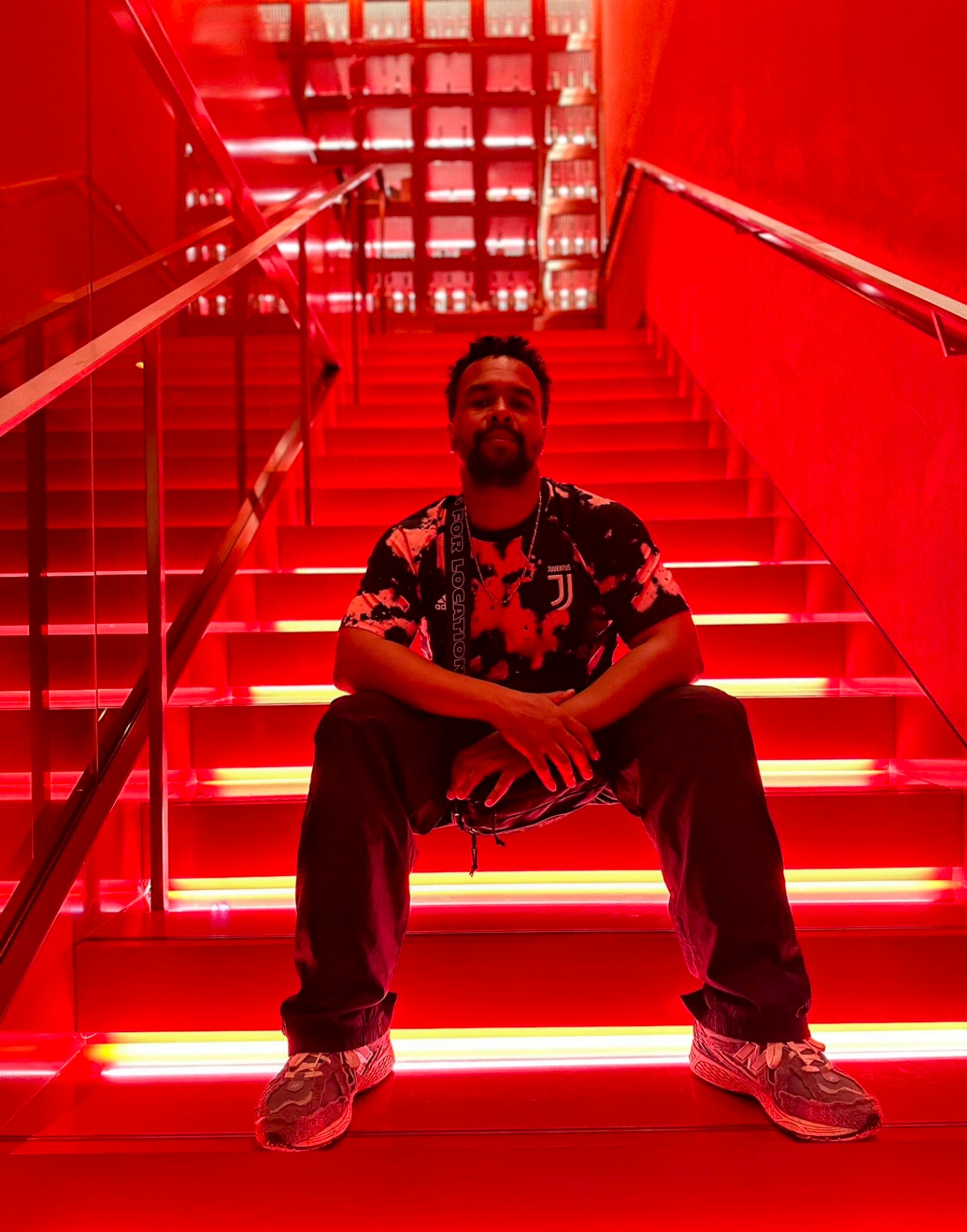 Run P.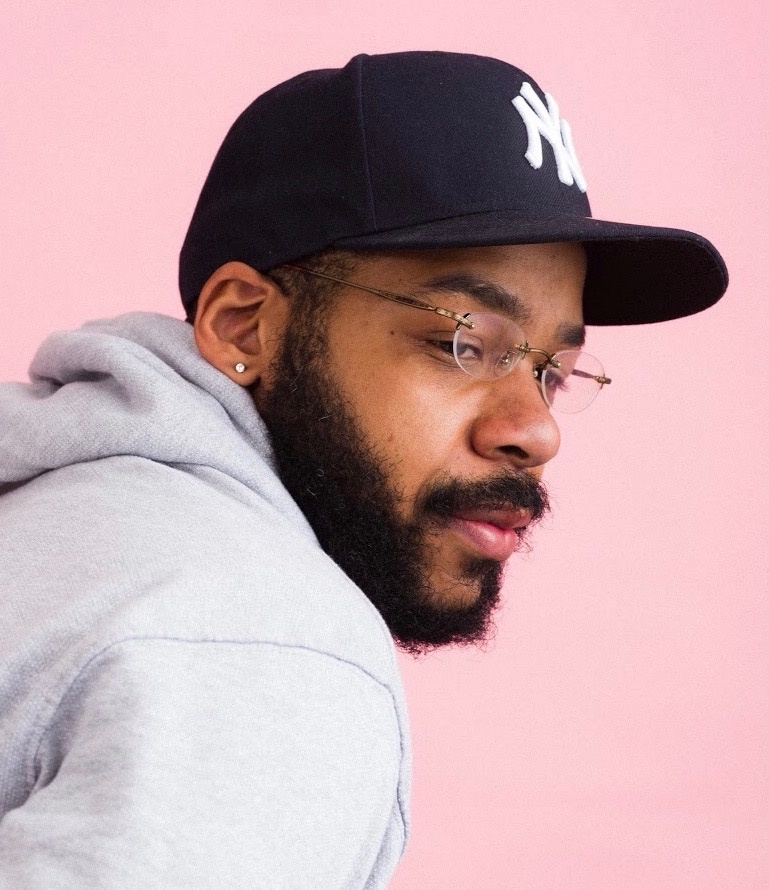 Skype Williams
Composer and performer Stuart Bogie was born in Evanston, Illinois. He studied for six years with Gary Onstad and at the Music Center of the North Shore before attending Interlochen Art Academy and the University of Michigan. He is the recipient of a Meet the Composer grant and he composed the score for the Academy Award–nominated documentary How To Survive a Plague, featuring performances by the Kronos Quartet. He has written for film, television, commercials, and the stage. He has released 12 albums as leader.
During the pandemic lockdown, Bogie performed a series of daily improvised solo clarinet pieces using the accompaniment drone tracks sent to him by over 50 different collaborators including Arcade Fire, Richard Reed Parry, Colin Stetson, Sam Cohen, Josh Kaufman, Peter Murray, E Dan, Craig Finn, Ryan Sawyer, Yuka C Honda, and James Murphy. Began in the second week of lockdown, the series ran for over 150 days consecutively and has been collected into four volumes, with more volumes in the works. A forthcoming LP, Morningside, presenting two of the pieces made with James Murphy will be released in the coming months. This music is featured in a worldwide exhibition of photographs by Gregory Crewsden and can be heard in the documentary accompanying the exhibit.
In 2022, Bogie released The Prophets in the City, an album of music composed for Brass and Percussion between 2019 and 2021, featuring the drumming of friend and collaborator Joe Russo. Relix magazine wrote, "The music is a study in contrasts: at once aggressive and patient, instrumental yet lyrical. It is also simultaneously structured and free-wheeling, equally jubilant and foreboding." The 10-piece ensemble debuted live at the Winter Jazzfest, NYC, in January of 2020 then re-emerged post-lockdown for a rousing performance at the Newport Jazz Festival (2021), which Jazztimes called "[m]esmerizing waves of harmony and rhythm overlapped each other, like a mashup of Fela Kuti, Sun Ra, and King Crimson—with (more) tuba! And (sometimes) multiple flutes! An energized frontman, Bogie went from conducting the band to conducting its listeners… ."
Bogie led the collaborative group Superhuman Happiness (2008 – 18) through five original albums of music over 10 years. The group became known for their extended improvisations of dance music and the various musical games they would employ to develop their collective creativity and mine for fresh collaborative compositional ideas.
As a member of the group Antibalas (2001 – 12), Bogie wrote the piece "Indictment," which The Village Voice called "a fantastic Bush-era protest song, lithe and lethal" as well as the piece "Beaten Metal," which Pitchfork named a top 100 song of 2007 and noted "quick splashes of colorful sound and some slowly building drama, 'Beaten Metal' sounds brazen, rhythmic, and powerful–like Edgar Varese coming of age after hip-hop."
Any sound, repeated quickly, becomes a sustained tone. Any sound, slowed down, starts to beat. Music is the line between these two points, the wave that lives between the terminal ends of voice and drum. That's where you'll find Greg Fox. He moves through musical stages as both listener and player, a transformative rather than performative force. If you don't know his work, start here: Fox is well-known in the lesser-known, a drummer with hundreds of credits on obscure records. His reputation is that of the elevated beast, that guy, the one who plays fast and loud and expresses himself at the extremes and in the extremes. That's not wrong. Fox is also a slow theorist, a musician aware of those who came before him, and a teacher of drumming, with students all over the world.
He remains a student himself, open-minded, honest, and willing. He has worked with drummers like Thurman Barker (Mighty Joe Young, Marvin Gaye, Cecil Taylor), Guy Licata (Drummers Collective, Jojo Mayer, Jim Chapin), Marvin 'Bugalu' Smith (James Brown, Sun Ra, Chet Baker, Charles Mingus), and Milford Graves (Milford Graves). Fox has a practice that goes beyond drumming—he is a certified professional coach who focuses on transformational life changes. He helps people find their rhythms, in behavior, mind, and spirit. All of this experience draws to a point and that's where you can find Contact.
Contact is built largely from the work of one person alone in a room, using his body to make sense of the surfaces around him. That was the reality when it was recorded in November of 2018 at Figure 8 Studios in Brooklyn. For obvious reasons, it is even more that now. Created in close unison with producer Randall Dunn, Contact makes the acoustic drum set talk and sing and see.
Fox uses sensory percussion to control and manipulate software instruments and samples. You'll hear that on Contact in the washes of keyboards and bells and synthetic tonalities, all of it following the lead of the drums. It's a record of rhythms that isn't a beat record. Fox's drumming is full and considered, like an enormous stone arm pushing slowly through a forest.
EUCADEMIX, also known as Yuka C Honda, is an electronics instrumentalist, composer, and producer (though she enjoys calling herself a "decomposer"). As EUCADEMIX, she performs solo electronic music. She calls it "Sensory Music."
Honda is primarily known for founding the band Cibo Matto in the 1990s. They released two LPs and one EP on Warner Brothers Records. As a producer, she has produced albums by Sean Lennon and Martha Wainwright, among others. Recently, Honda created a multimedia opera titled No Revenge Necessary, which tells the story of a post-apocalypse world in which humans survive and coexist with AI entities. It was performed at National Sawdust (Brooklyn) in 2019, where Honda was an artist-in-residence. She has won multiple awards including the London International Animation Festival's Best Sound Awards for the music she composed for the animated film Anxious Body by Yoriko Mizushiri, which premiered at Cannes 2021 Director's Fortnight. Other current projects include a duo with her husband Nels Cline (Wilco) called CUP, as well as a duo with YoshimiO (Boredoms, OOIOO) called Mycorrhiza.
EUCADEMIX
チボマット(現在解散)の本田ゆかのエレクトロニクスのソロユニッ
ト。2022年からライブで展開を始めたプロジェクト『Farm
Psychedelia』(農園のサイケデリア)では多数のジャンルに自由自在
にまたがった抽象的な傾向もある音楽でありながら、ストーリーを音
の感覚だけで伝えるというSensory Musicという独自のジャンルを開拓
Music for Heart and Breath
Music for Heart and Breath is an ongoing series of compositions by Richard Reed Parry, the multi-instrumentalist for Arcade Fire and a composer as well, that use the heartbeats and breathing rates of the performers to create the tempos and dynamics of the music. What began as a series of new-classical pieces for chamber ensembles including Kronos Quartet, yMusic, Nico Muhly, Nadia Sirota, Bryce and Aaron Dessner, and others has now expanded and transformed to incorporate more collaborative and improvisational formats. The roster of players and collaborators for Mirror Ball at The Shed includes Stuart Bogie, Yuka C Honda, Greg Fox, Richard Reed Parry, and Parker Shper.
Richard Reed Parry is the red-headed musical polymath at the heart of the endlessly inventive art-rock band Arcade Fire, but his work and story reach far beyond. As well as navigating Arcade Fire's meteoric rollercoaster ride around most of the globe over the past 15 years, he has also maintained an active career as a multifaceted solo artist. He released his debut album as composer, Music For Heart and Breath, in 2014 on legendary classical music label Deutsche Grammophon, formed and toured in the acclaimed contemporary instrumental ensemble Bell Orchestre with Arcade Fire violinist Sarah Neufeld, formed the sonic folk ensemble Quiet River of Dust, and collaborated and performed endlessly with artists from across a dazzling musical/artistic spectrum including David Bowie, David Byrne, the New York Philharmonic, Neil Young, Kronos Quartet, Preservation Hall Jazz Band, Mick Jagger, The National, Spike Jonze, Sufjan Stevens, Nico Muhly, Justin Vernon, yMusic, Caroline Shaw, Sam Amidon, Terry Gilliam, Garth Hudson, Nadia Sirota, Colin Stetson, Britten Sinfonia, Barr Brothers, Little Scream, LaLaLa Human Steps, Bang On a Can, Alexi Murdoch, and The Unicorns.
In 2017, Parry premiered Wave Movements, an hour-long composition for string orchestra which he composed in tandem with frequent collaborator Bryce Dessner, alongside a film created by Hiroshi Sugimoto, at Barbican UK and the New York Metropolitan Museum of Art. 2017 also saw the premiere of Black Mountain Songs at Brooklyn Academy of Music, a multimedia music performance based around the Black Mountain School, which he co-curated with Bryce Dessner for the Brooklyn Youth Chorus, released as an album on New Amsterdam Records. In 2018 and 2019, he released Volumes 1 and 2 of the Quiet River of Dust album series on Anti Records, which he launched with a four-week performance residency inside the Satosphère dome of Montreal's Societé des Arts Technologiques, where he performed both albums in their entirety inside a 360-projected visual world built around the music, for the Festival International de Jazz Montreal.
In 2020, Parry's debut feature film score for The Nest, starring Jude Law and Carrie Coon, directed by Sean Durkin, premiered at the Sundance Festival. He also scored the William Oldroyd-directed film adaptation of the Booker Prize–shortlist novel Eileen by Ottessa Moshfegh, which premiered at Sundance 2023. 2022 saw the release of Heart and Breath: rhythm and tone fields, an album that Parry created remotely during the pandemic, in collaboration with the renowned percussionist/composer Susie Ibarra. He has won a Grammy Award for Album of the Year, multiple Juno Awards for both Arcade Fire and Bell Orchestre, The Polaris Prize, Brit Awards, and Socan Awards among others. He speaks English and French and is currently studying Japanese. He lives in Montreal, sometimes.
Montreal-based pianist/composer/producer Parker Shper electrifies audiences with his genre-defying conception of the piano and electronic instruments. His sounds are unique and identifiable as his own. Psychedelic soundscapes, minimalist tape machine drones, analog synths, and kaleidoscoping modern piano shapes form a patchwork of compelling music, rich in harmony and rhythm.
Growing up in rural Vermont, Shper's musical talent came into focus very early. At age three he began picking out chords and melodies on his family's upright piano, learning by ear while his parent's eclectic cassette tape collection played on the stereo. Professional musicians in the circle of family and close friends further influenced his passion for the piano. He quickly progressed through a repertoire of advanced classical piano studies. At age 14 he began playing gigs professionally and at age 16 he occupied the piano chair of the Vermont Youth Orchestra and the Vermont All-State Jazz Orchestra.
In the 2000s and 2010s, Shper was a frequent bandleader and collaborator with a variety of different creative acts, performing at jazz clubs, rock clubs, concert halls, and music festivals around the world. In 2006 he was accepted with scholarship honors to the B. Music Jazz Piano Performance program at McGill University in Montreal. Working here on rigorous technical piano studies, harmony, and composition with Prof. Jan Jarczyk. On another scholarship in 2007 – 8, Shper studied for one year with the legendary bassist and composer Anders Jormin (ECM) on a student exchange to the Academy of Music at the University of Gothenburg, Sweden. In 2008 – 10, he returned to live once again in Montreal to continue his studies at McGill. Additionally, Shper has studied piano and tonal theory with the piano master, Fullbright scholar, and NYC New School professor Armen Donelian.
Shper's sought-after sound as a musician and composer has made him a fixture of the experimental indie music scene, working with a wide range of artists such as Richard Reed Parry (Arcade Fire), Leif Vollebekk, Craig Finn (The Holdsteady), Susie Ibarra, Yuka Honda (Cibo Matto), Anais Mitchell, The Barr Brothers, Trey Anastasio, Beatrice Deer, Little Scream, Georgia Anne Muldrow, and many more across the US, Canada, UK, Europe, and Scandinavia. His contributions as a pianist/composer/producer appear on dozens of band recordings, film soundtracks, and commissioned works since 1998.
Shper's experimental piano /ambient /electronic EP is due out in fall of 2023, with his new full-length album to follow in spring 2024.
If he's not performing on tour or doing a recording session in a city somewhere, he's working at his home studio in the country forest one hour north of Montreal.
DJ, music supervisor, producer, radio host, and conceptual artist Run P. is a widely respected figure at the forefront of NYC's electronic and experimental Black music movement. Sought after for his internationally acclaimed mixes and dynamic club sets alike, Run P. has garnered a reputation for creating unparalleled experiences on the dance floor. As an audiophile, he creates sonic experiences in art, fashion, lifestyle, and nightlife. Through his recurring dance party, QUENCH, Run champions heavy bass lines and bridges the gap between house, club, hip hop, electronic, dancehall, Afrobeat, and more. As a music supervisor, Run curates music for the Comedy Central-cum-HBO show South Side, live music events and audio programming at the Museum of Contemporary African Diasporan Arts (MoCADA), and other projects that live on various platforms worldwide. Run P. was born, bred, and currently lives in New York City.
Skype Williams (Tony Jackson) works mainly within art, music, and production. He is currently the director of Fierman Gallery. He has produced the runway music for Christopher John Rogers' NYFW show since 2018, as well as runway music for Khiry, Third Crown, House of Aama, and CFGNY's debut collection. He has produced music for exhibitions at Artist's Space and 47 Canal and has DJed events for A24, David Zwirner, Hood by Air, Papi Juice, La Creole (Paris), Vaquera, Christopher John Rogers, Brandon Blackwood, USM, PIN-UP Magazine, and at MoMA PS1, Performance Space, DEPOP, The Standard Hotel, The Ace Hotel New Orleans, The Ace Hotel Brooklyn, Studio Museum of Harlem, The Whitney Museum, and more.
Mirror Ball Host Committee
Troy Anthony
Sharese Bullock-Bailey
Heather and Felix Baker
Misty Copeland
Robert Denning and Charles Porch
Gary and Alexandra Hoberman and Family
Hudson Yards
Opal Joshi
Baseera Khan
Christina Weiss Lurie
Colby and Alberto Mugrabi
Catalina Saieh Guzman and Pablo Gonzalez
Ann and Richard Sarnoff
Kristin Sudeikis
Rachel Warren

As of June 20, 2023
Thank you to our 2023 Mirror Ball Event Partners