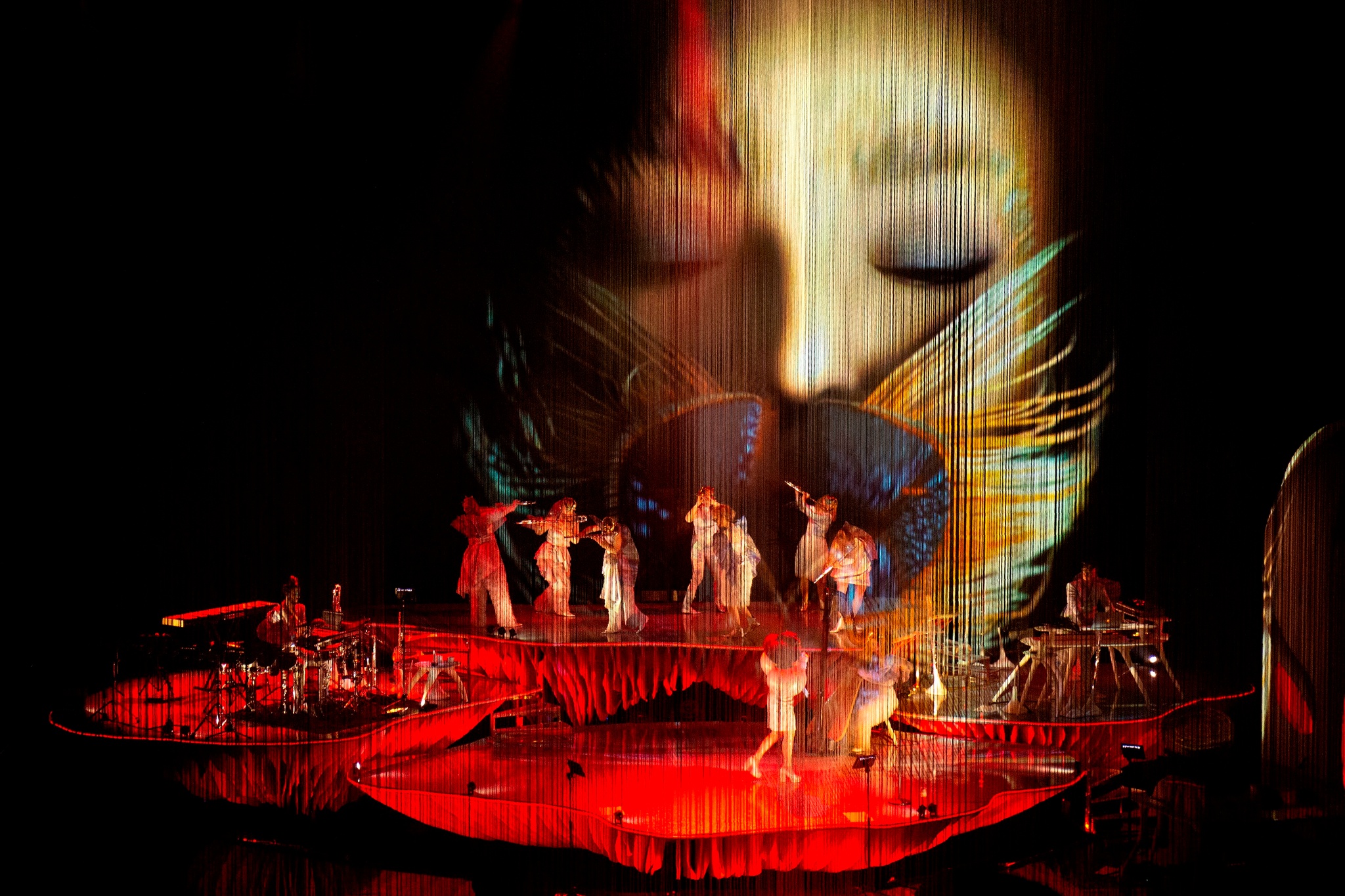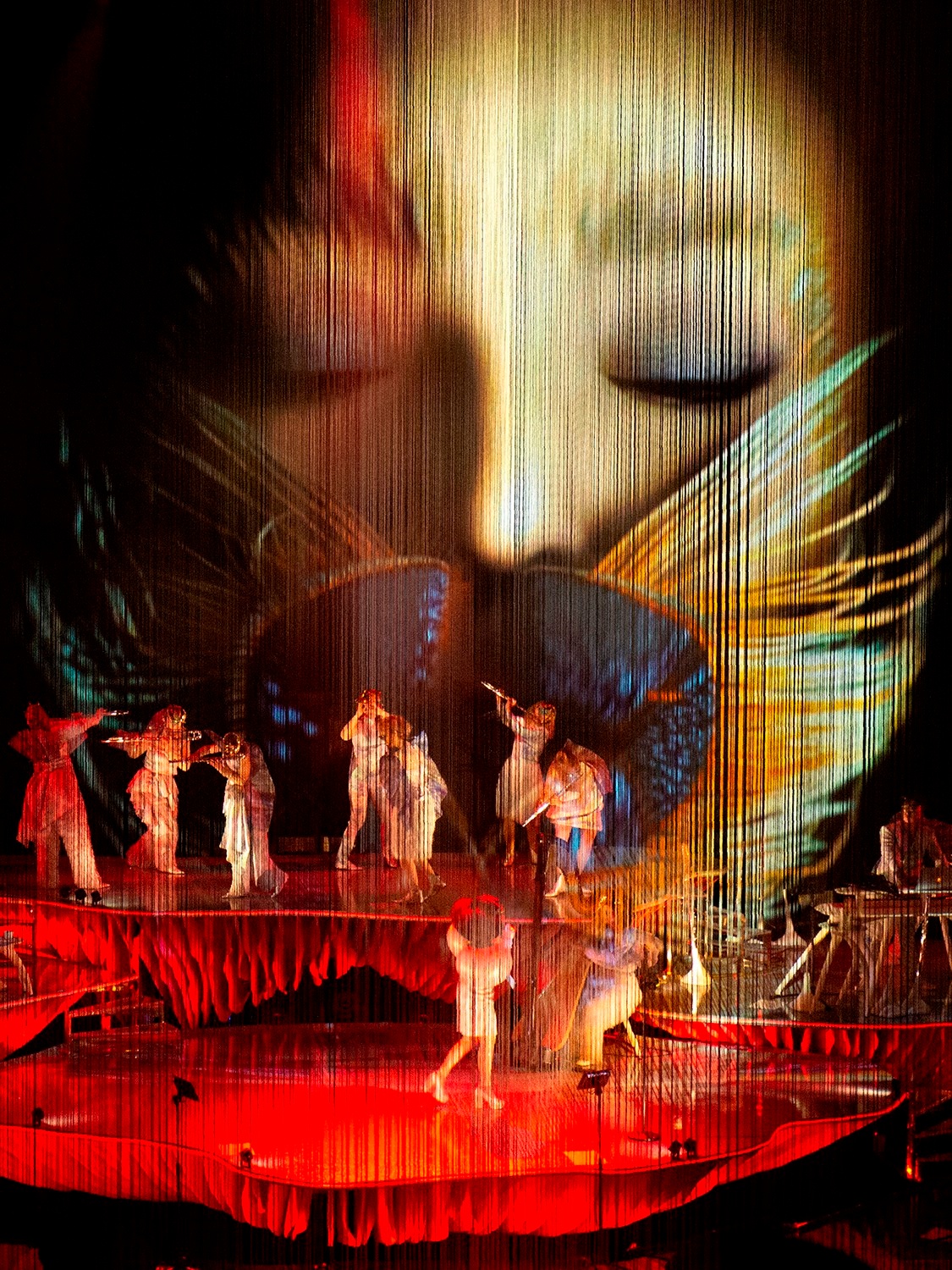 Björk's most elaborate staged concert to date
About this commission
A World Premiere Shed Commission
In a first for the innovative multidisciplinary artist, Björk and a team of digital and theatrical collaborators, including award-winning filmmaker, screenwriter, and director Lucrecia Martel, present a new staged concert of live musical arrangements, digital technology, and stunning visuals. A chorus and cast of musicians join Björk for this eight-concert engagement in The Shed's iconic space, The McCourt.
Creative Team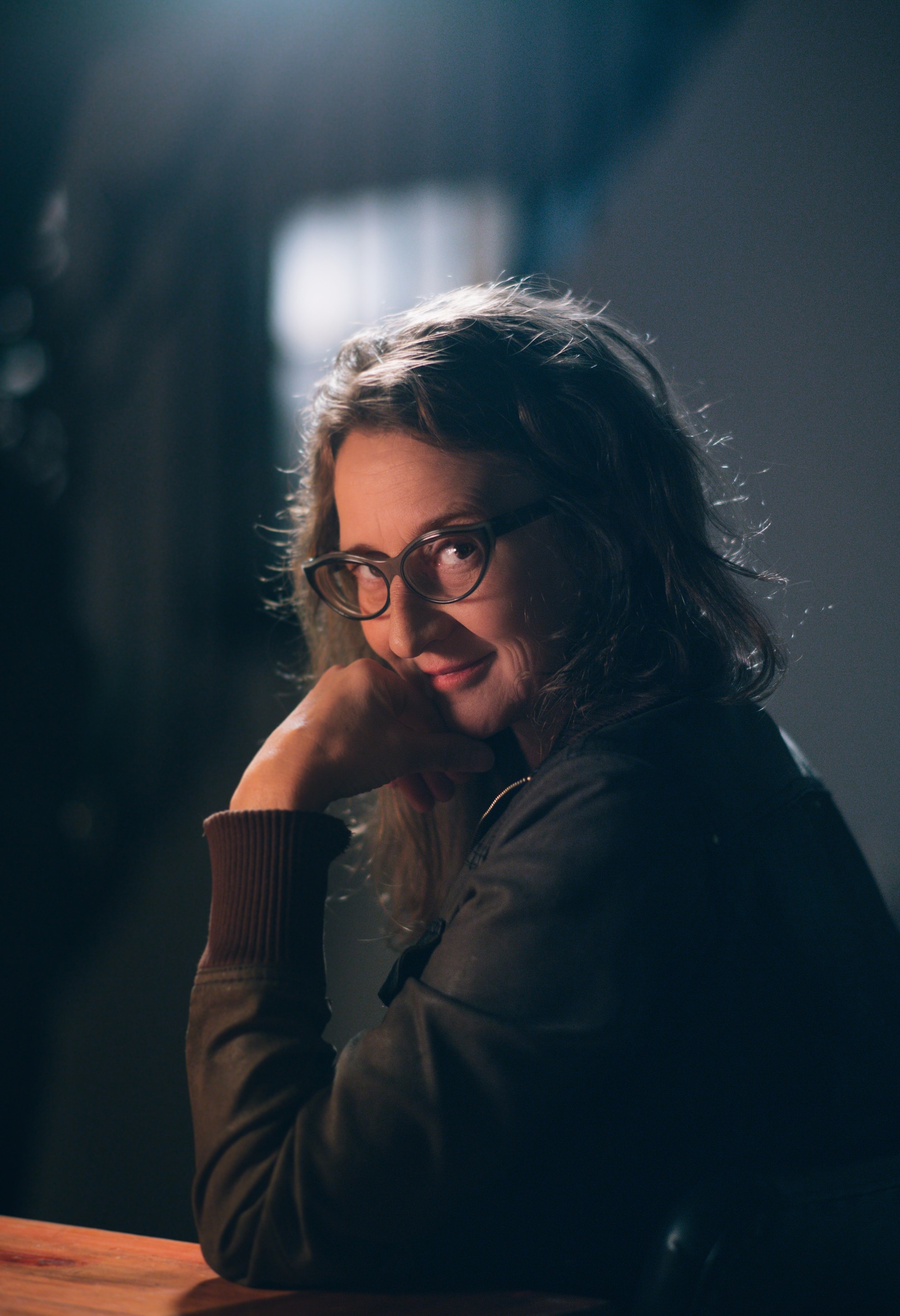 Lucrecia Martel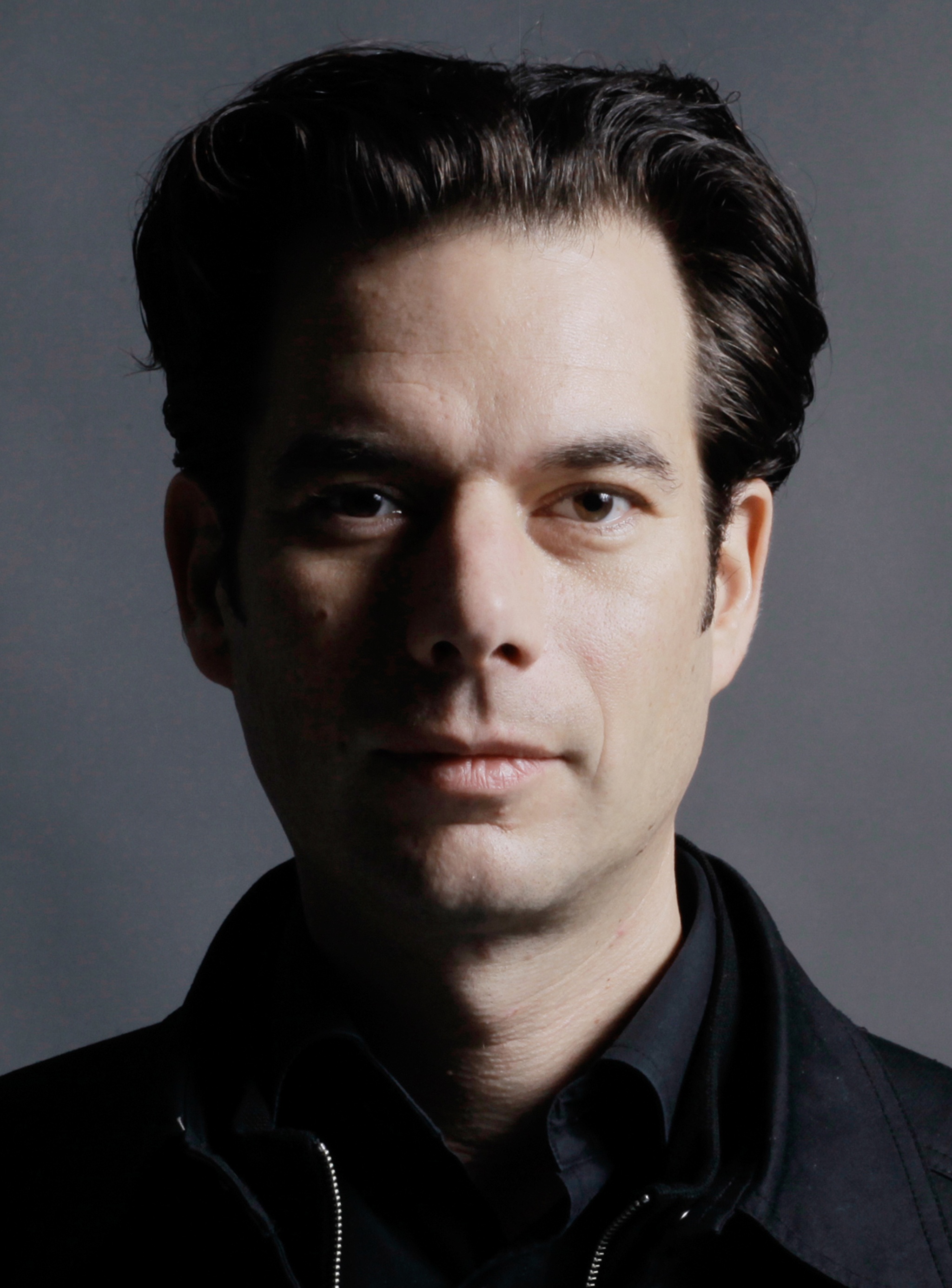 Tobias Gremmler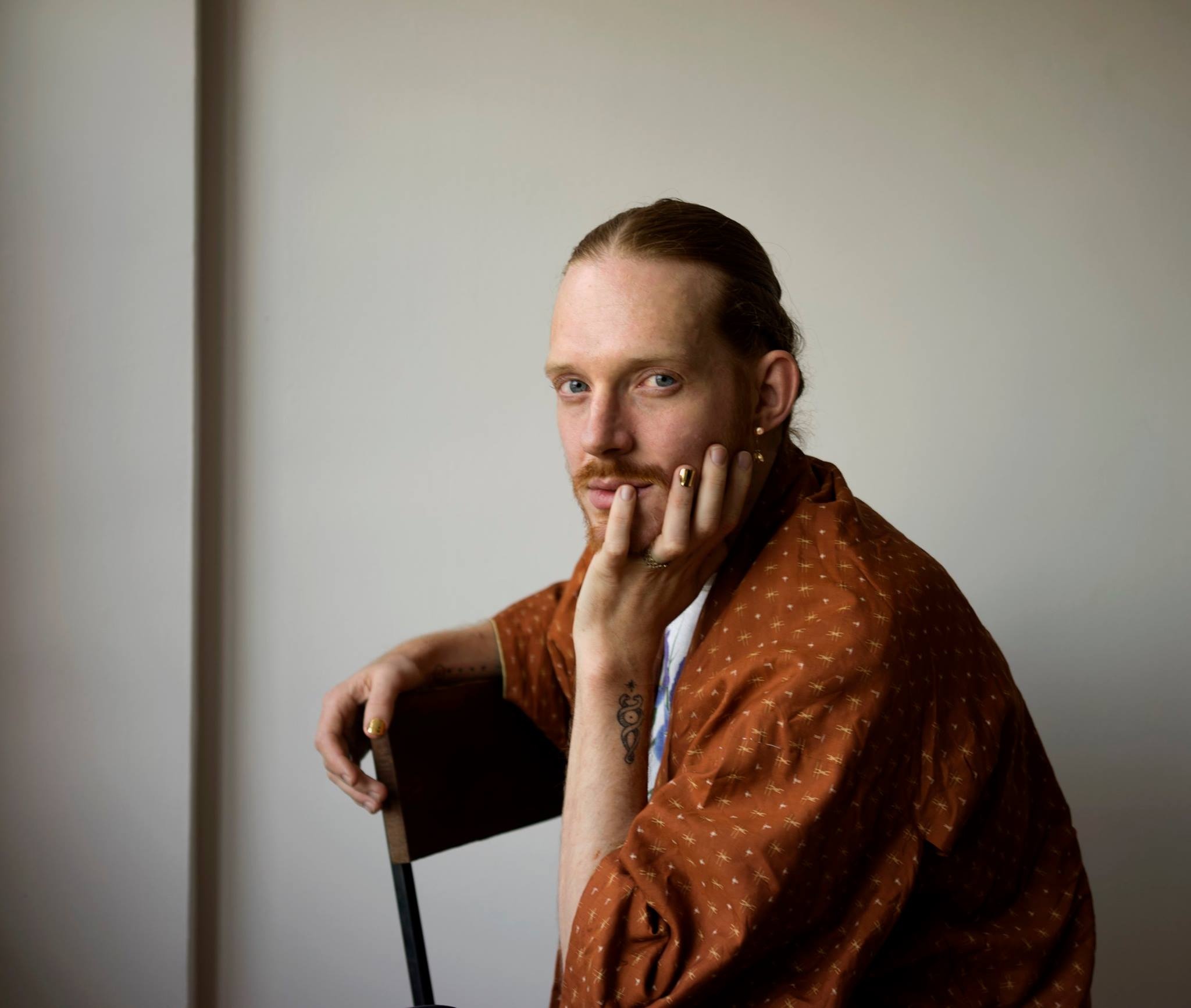 James Merry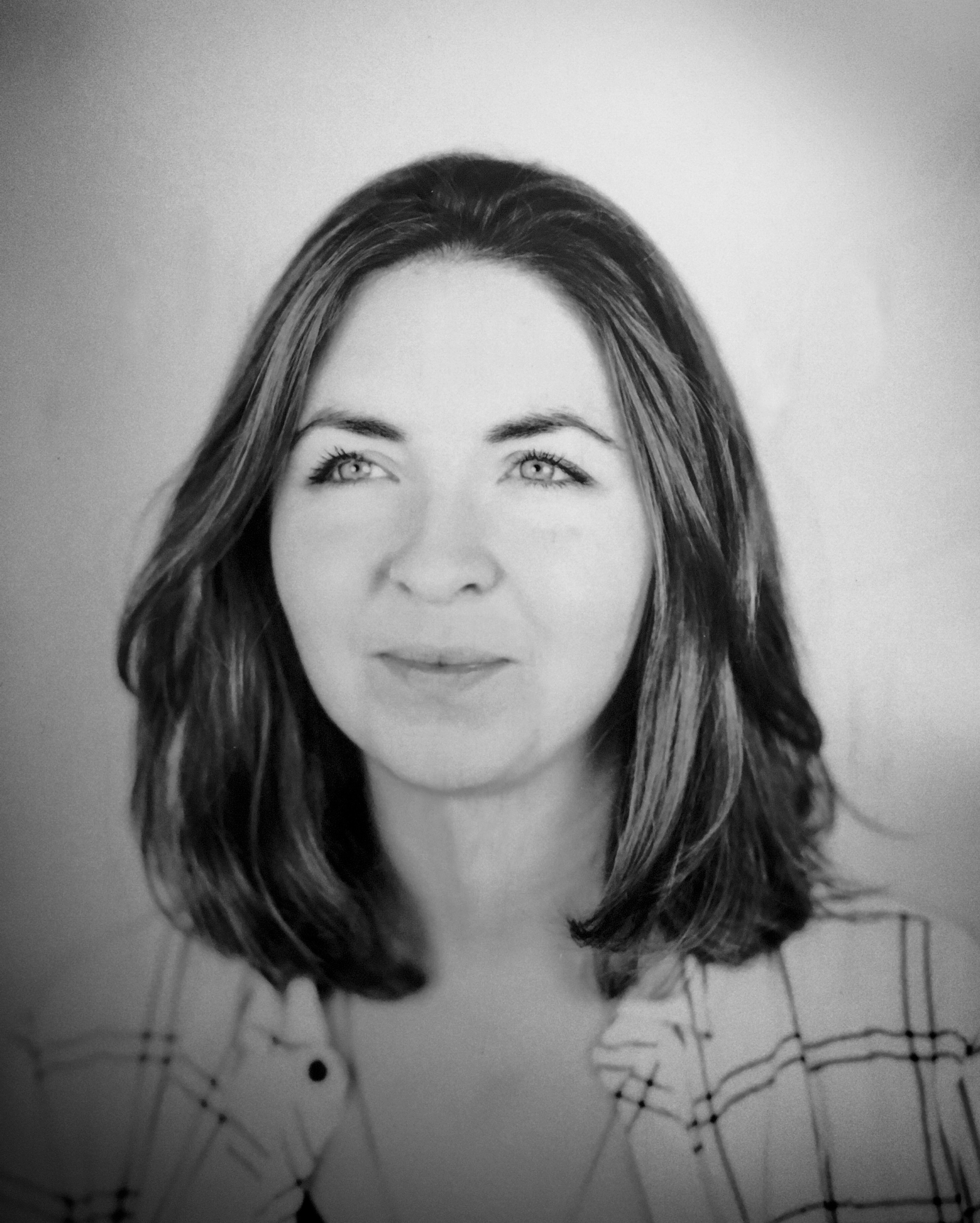 Chiara Stephenson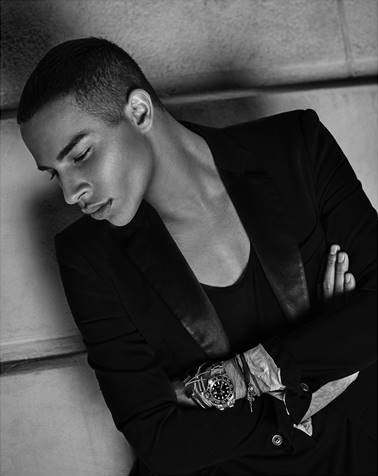 Olivier Rousteing, Balmain's Creative Director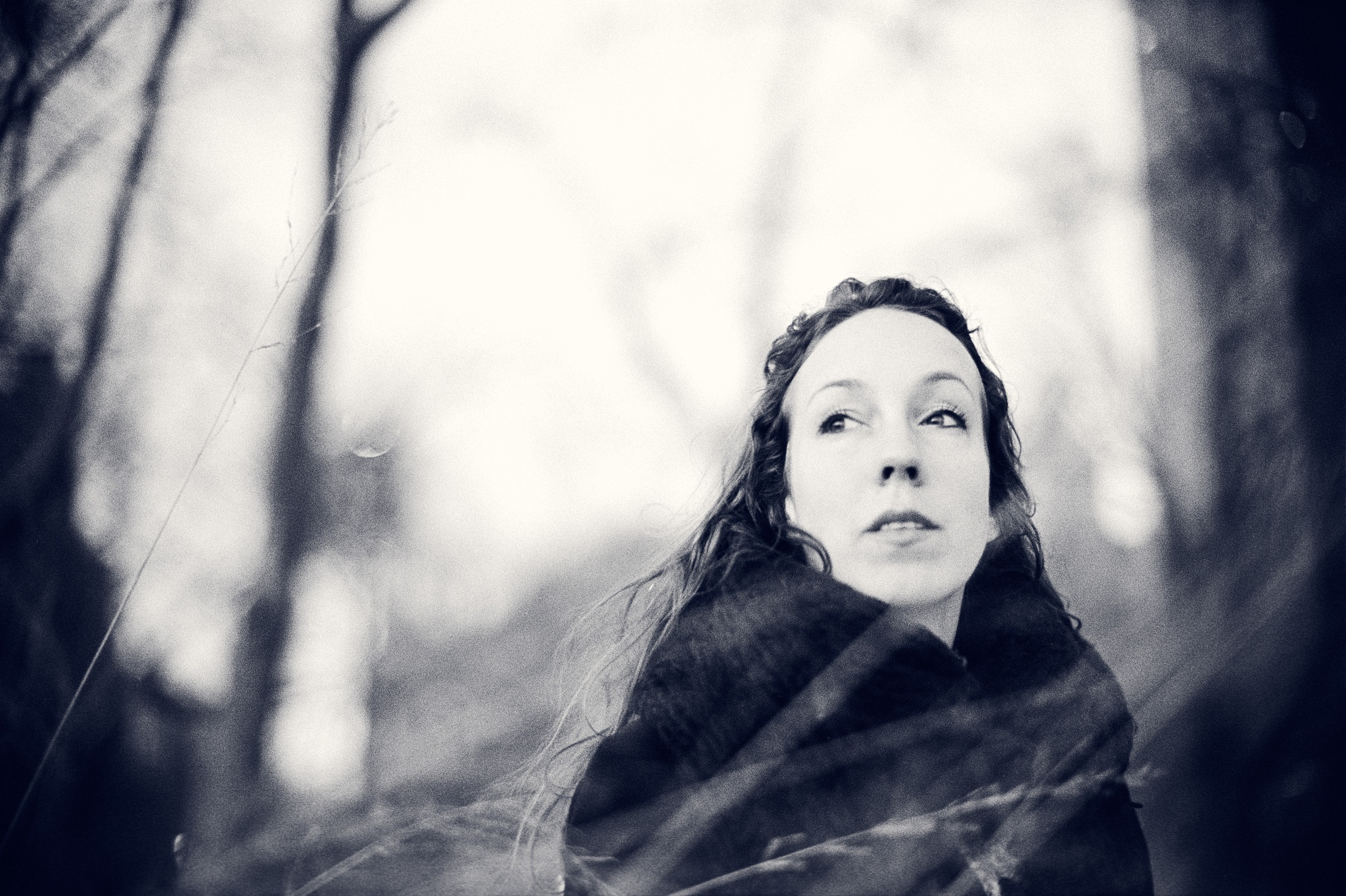 Iris Van Herpen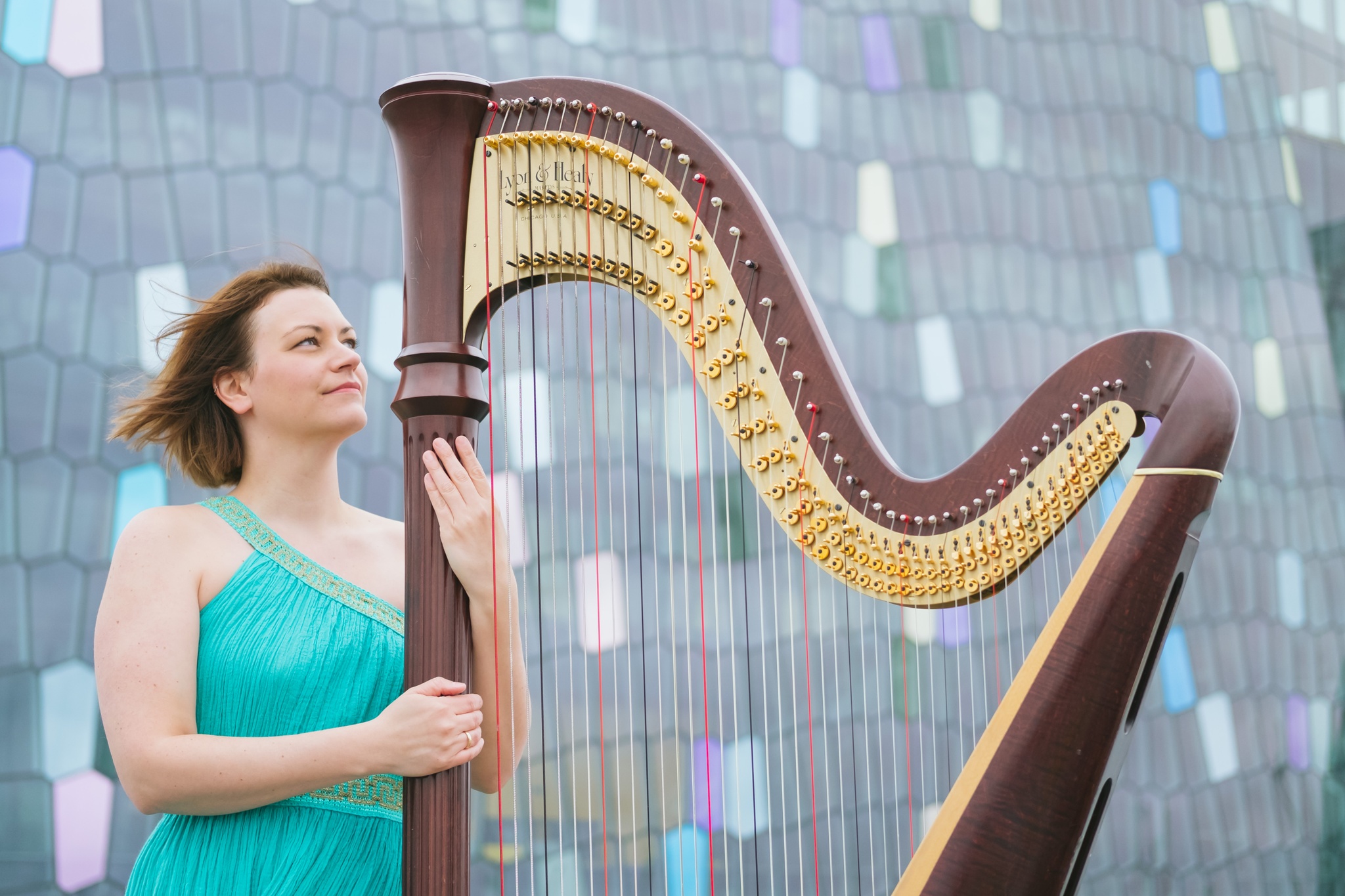 Katie Buckley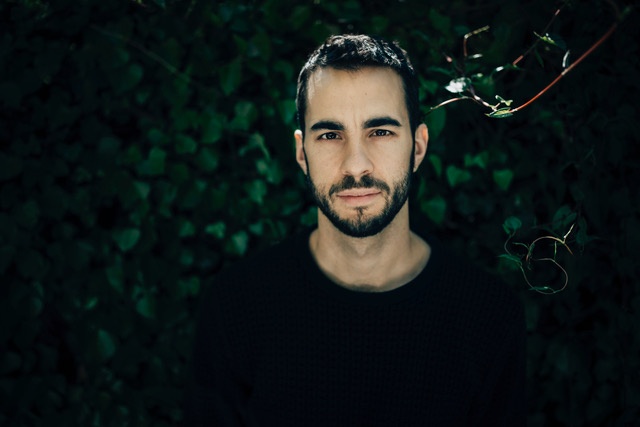 Manu Delago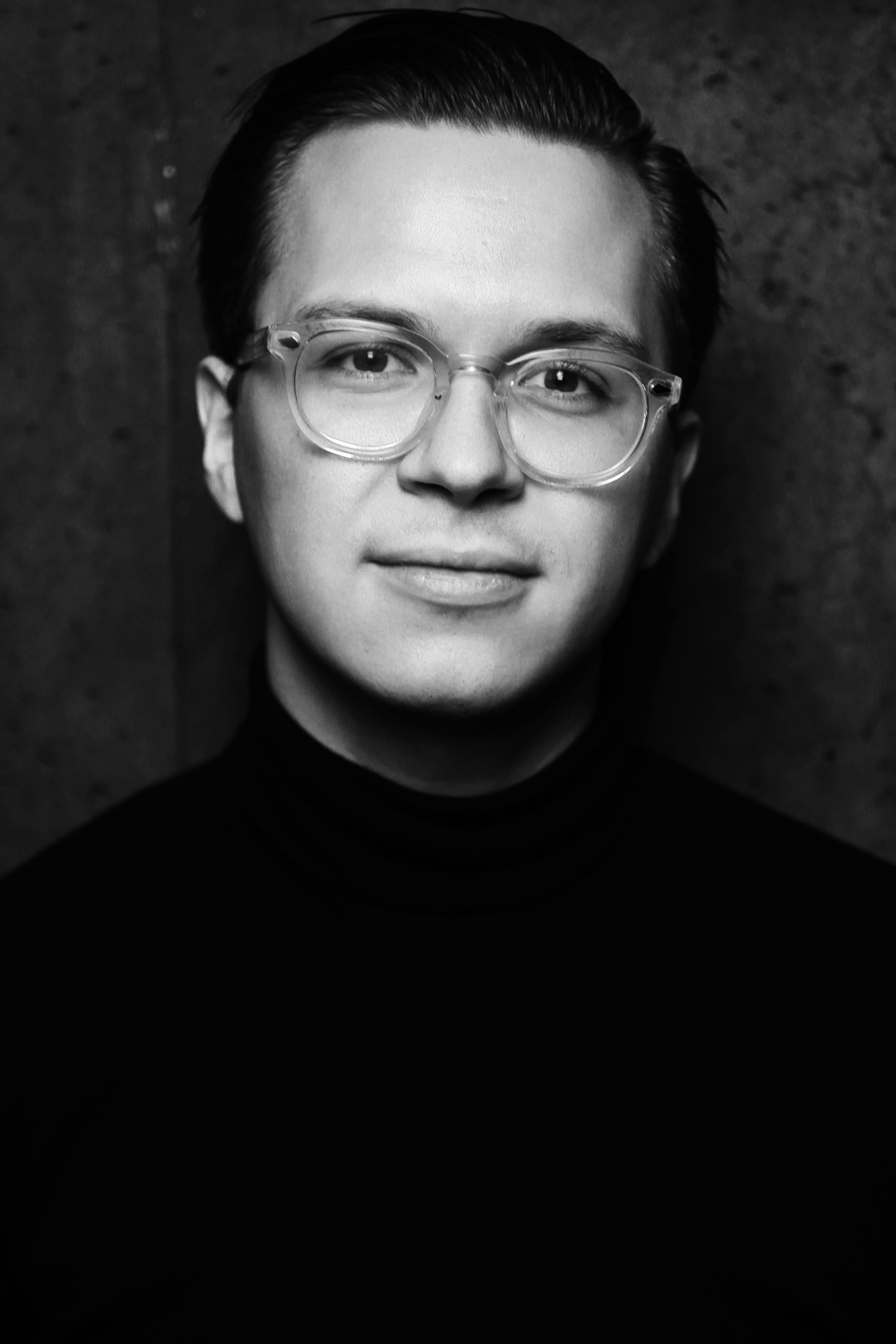 Bergur Þórisson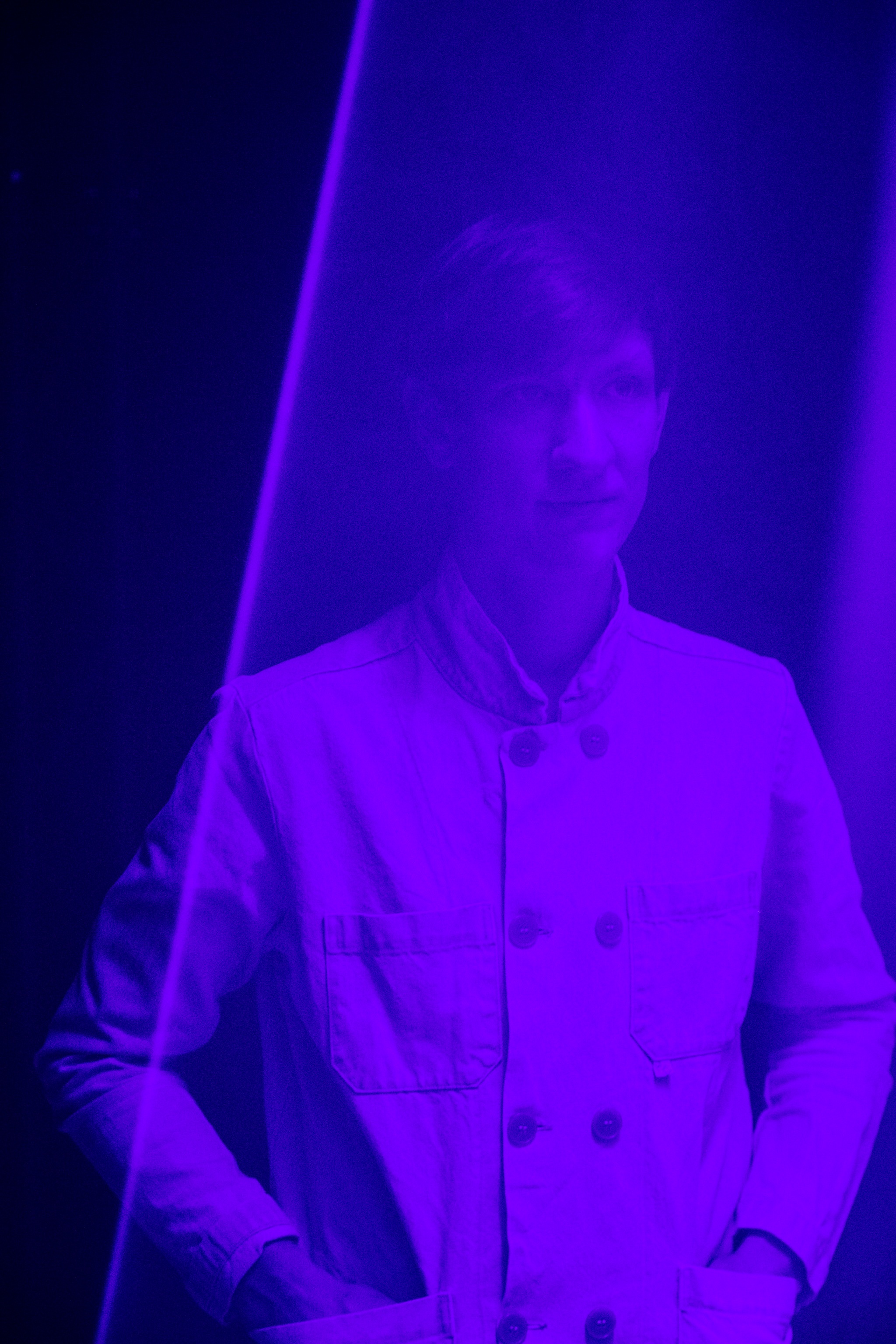 Nick Verstand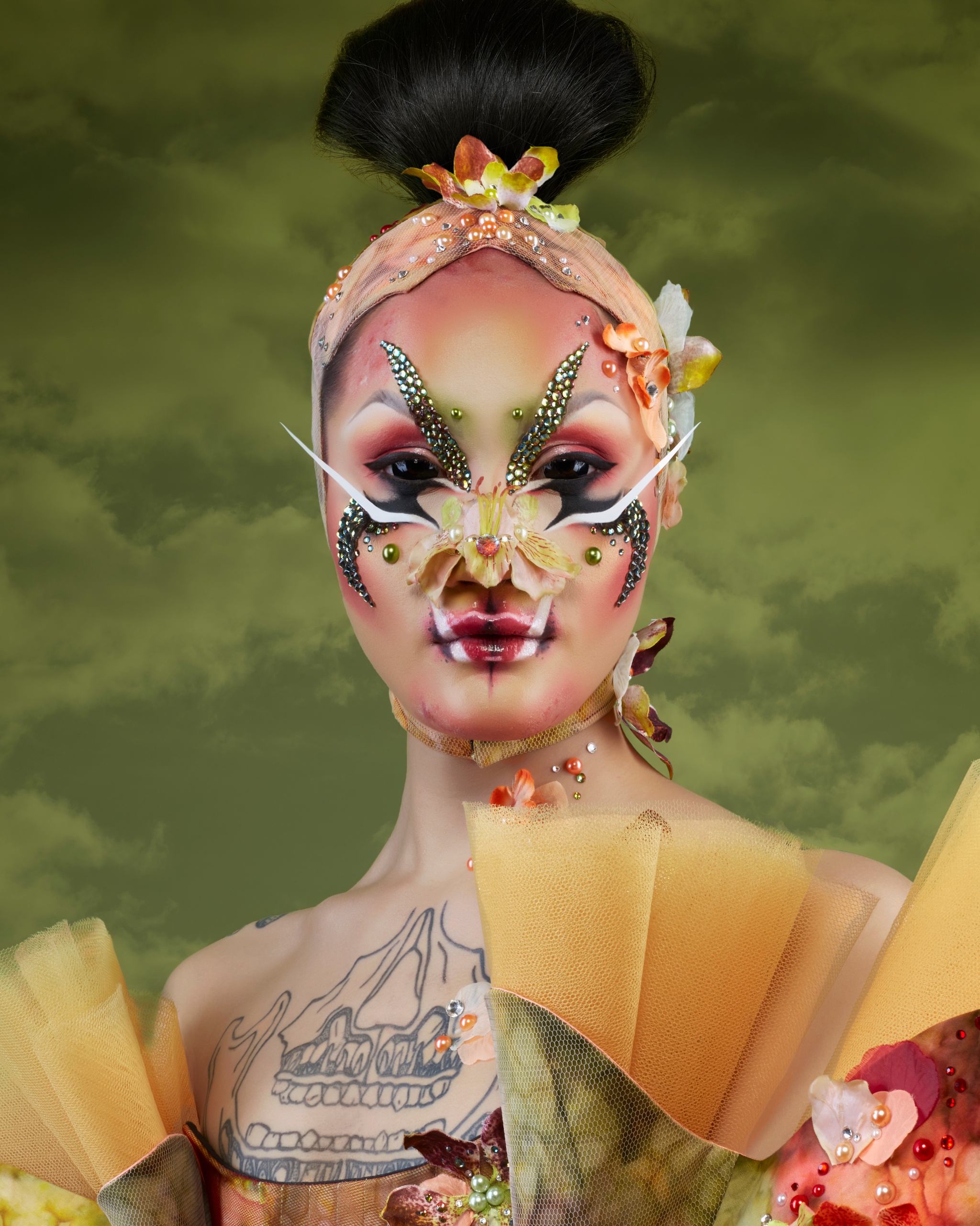 Hungry
Björk is a multidisciplinary artist who, time and again, innovates across music, art, fashion, and technology. From writing, arranging and producing an expansive music catalogue, to escapades in virtual reality and digital apps, Björk continues to inspire and experiment, redefining the boundaries of how a musician works.
Lucrecia Martel "is considered by many to be her nation's, or even Latin America's, pre-eminent filmmaker," says The New York Times. Known for her enigmatic, seductive form of storytelling, Martel grew up in Salta in Argentina's northwest, fascinated with what she calls the "world of conversation," which fueled her eventual passion in telling stories through cinema. Having attended ENERC, the national film school in Buenos Aires, she began directing short films in 1988, including the award-winning Rey muerto (Dead King) in 1995. From 1995 to 1998, she made a series of TV documentaries, as well as a children's program. Her so-called "Salta Trilogy," for which she gained international renown, began with La Ciénaga (The Swamp) in 2001, voted the best Latin American film of the decade in a poll of New York film critics and scholars. La niña santa (The Holy Girl) followed in 2004 and La mujer sin cabeza (The Headless Woman) in 2008. Nearly a decade later, her fourth feature, Zama, an exploration of colonialism and racism, premiered at the Venice International Film Festival in 2017, drawing widespread acclaim and winning over 60 international awards, as well as being listed as one of the best films of 2018 by many of the most prestigious film critics of the world. A traveling retrospective of Martel's work was launched in 2018 at New York's Lincoln Center. Her next film is a creative documentary.
Tobias Gremmler
Digital Visuals
Tobias Gremmler is a media artist who interconnects his work with dance, music, and architecture. His artworks have been exhibited at Ars Electronica, V&A, and shown in theaters around the world. He has taught at universities in Europe, the United States, and Asia, and has published several books on digital design.
James Merry
Co-creative Director
James Merry is a visual artist from the U.K. now based in Iceland, where he has been living and working with Björk since 2009. He has been a frequent collaborator and co-creative director with Björk on visuals, most recently in the role as mask-maker, creating bespoke headpieces for a number of live and video performances. Outside of his work with Björk, he is primarily known for his hand embroidery and has collaborated with institutions such as the V&A, Gucci, SHOWstudio, and Opening Ceremony.
Chiara Stephenson
Set Designer
Chiara Stephenson is an international designer of theater, live performance, and exhibition spaces. Theater designs include Starry Messenger (Wyndham's Theatre London, Director Sam Yates) and Glengarry Glen Ross (Playhouse Theatre London, Director Sam Yates). Music design includes The xx's 2018 festival show, The 1975's music video for "Give Yourself a Try," Sampha's 2018 festival show, Lorde's televised performance at the Aria Awards in Australia, Sigur Ros's 2016 – 17 festival and world tour, and Miley Cyrus and Madonna's collaborative performance for MTV's Unplugged (2014). Stephenson's exhibition designs include the immersive exhibition design for The Flipside at Selfridges London (2018), as well as States of Play at Fact Gallery Liverpool (2018).
Olivier Rousteing, Balmain's Creative Director
Costume Designer
When Olivier Rousteing, then 25, was selected to head Balmain's design team in 2011, he became one of the youngest talents ever named to lead an historic Parisian fashion house. Rousteing is very conscious of his unique background and position. "I'm not the typical creative director of a major house," he explains.
"I see first-hand how my generation lives and I understand how they want to dress. Most importantly, I'm a privileged witness to the openness, optimism, universality and honesty of this dynamic moment, with so many rapid evolutions in art, communication, popular culture, and music. Those changes constantly inspire me and are reflected in my collections—they allow me not only to design clothes, but perhaps also to shake things up a little and offer a new vision to fashion."
Rousteing was raised in Bordeaux and studied fashion at Paris École Supérieure des Arts et Techniques de la Mode (ESMOD). At 18, he moved to Italy, where he worked at Roberto Cavalli for five years, beginning as an intern and rising swiftly and steadily through the ranks to be named designer for the men's and women's ready-to-wear collections. When the opportunity arose for him to return to Paris to work at Balmain, Rousteing seized it, forming a part of the house's design team for two years before being named head of design in 2011.
As creative director, Rousteing has successfully grafted an immediately recognizable style upon the historic Parisian house. While relying on Balmain's rich archives for inspiration and fully utilizing the atelier's impressive mastery of intricate, traditional couture techniques, Rousteing has also managed to impose a singular silhouette and contemporary outlook that reflect the way that members of the "Balmain Army"—the young men and women of the designer's own generation—live their lives. Season after season, runways highlight both the exciting, inclusive diversity of the modern Balmain universe and the importance of 21st-century culture—in particular, today's music—in that universe. The brand's transformation has excited many, including a host of retailers—from H&M to Nike—eager to bring the innovations and spirit of Rousteing's Paris runways to main streets across the globe. In addition, Rousteing's creative leadership has been a key reason for Balmain's rapid growth in recent years, with the company opening a host of new boutiques in the world's fashion capitals and launching new men's, children's, accessory, and eyewear collections.
Iris Van Herpen
Costume Designer
Iris Van Herpen is a Dutch fashion designer and pioneer in utilizing 3D printing as a garment construction technique. She has shown at Paris Haute Couture since January 2011. Van Herpen's work has been featured in various museum exhibitions, including a major touring retrospective Iris Van Herpen: Transforming Fashion. The Metropolitan Museum of Art in New York has acquired her dresses and shown her work in its 2016 exhibition Manus x Machina: Fashion in an Age of Technology. She has received the Johannes Vermeer Award (2017), the ANDAM Grand Prix Award (2014), and STARTS, the grand prize of the European commission (2016). Van Herpen has often collaborated with artists, such as Jolan van der Wiel and Neri Oxman, and architects, such as Philip Beesley and Benthem and Crouwel Architects. Her interest in science and technology has led to ongoing conversations with CERN (The European Organization for Nuclear Research) and MIT.
Katie Buckley began studying harp at the age of eight in Atlanta, Georgia, and continued her studies in San Francisco with former San Francisco Symphony and Opera harpist Ann Adams. Buckley received a bachelor of music degree, master of music degree, and a performer's certificate at Eastman School of Music with Kathleen Bride. In 2006, she became principal harpist with the Iceland Symphony Orchestra. Buckley is a founding member of the ensemble Duo Harpverk. She has recorded extensively on the Bedroom Community label as well as with many Icelandic artists in all genres.
Manu Delago is a Grammy-nominated musician and composer. The London-based artist started working with Björk on her album Biophilia in 2011 and has since been her touring percussionist. He has also closely collaborated with the sitar player Anoushka Shankar on several projects, toured around the world with Olafur Arnalds, and performed as soloist with the London Symphony Orchestra. On his latest project, the Austrian musician took an ensemble of seven musicians on a mountaineering adventure in the Alps, performed and recorded music at various altitudes, and returned with a multi-award-winning film and album called Parasol Peak.
Bergur Þórisson
Electronics
Bergur Þórisson is an Icelandic recording engineer and producer. Þórisson's musical background was cultivated in his native Iceland where he spent his formative years starting out as a trombone player before working his way into recording studios. He has worked with Björk, Sigur Rós, Jóhann Jóhannsson, Ólafur Arnalds, Damien Rice, and more, and has worked as part of the touring band for Björk and Ólafur Arnalds. Þórisson is also a member of the contemporary classical duo Hugar who will be releasing a new album in 2019.
Margrét Bjarnadóttir
Choreographer
Margrét Bjarnadóttir is a multidisciplinary artist working in the fields of dance, performance, and visual art. Along with choreographing Björk's Utopia tour, her latest work was the guitar ballet No Tomorrow, which she created with artist Ragnar Kjartansson and composer Bryce Dessner for the Iceland Dance Company. Bjarnadóttir is based in Reykjavík.
Bruno Poet
Lighting Designer
Bruno Poet's theater credits include Tina: The Musical and Miss Saigon (Broadway); From Here to Eternity (West End); Oklahoma (Grange Park Opera); Stories, Light Shining in Buckinghamshire, Treasure Island, Frankenstein, London Road, and Morning To Midnight (National Theatre); The Two Gentlemen of Verona (RSC); Sweet Bird of Youth and Fortune's Fool (Old Vic); Julius Caesar (Bridge Theatre); Dusty (UK Tour); and The Convert (Young Vic). Other designs include Sigur Rós (world tours 2012–17); Carmen (Bregenz Festival); Il Trovatore (Opera Monte Carlo); Otello, Don Giovanni, and Rise and Fall of The City of Mahagonny (Royal Opera House); The Merry Widow, Akhnaten, Aida, and Carmen (ENO); and La Bohème (Kennedy Center).
John Gale is a live sound engineer and studio producer from the UK who is now based in Ireland. Björk's Cornucopia is his second collaboration with Björk, having designed and mixed the touring production of Utopia in 2018. Other credits include PJ Harvey, Florence + The Machine, Amy Winehouse, Róisín Murphy, John Newman, Petula Clark, Marc Almond, Soft Cell, and Fairport Convention as well as numerous orchestral collaborations including the BBC Proms Series and various theater and television productions. Gale is an innovator in sound designing with a particular interest in immersive audio and live mixing within 360-degree systems.
Nick Verstand
Laser Design
Nick Verstand is a contemporary artist exploring human behavior and perception through spatial audiovisual compositions. His autonomous installations and live performances investigate the boundary between the material and the immaterial, and are created through collaborative design processes aimed at breaking down social boundaries. The resulting intuitive experiences, co-creations of artist and audience, generate a hypnotizing environment for the subconscious mind. Nick has exhibited and performed at Stedelijk Museum Amsterdam, SXSW (USA), STRP (Netherlands), Design Society (China), Paris Fashion Week, Art Central (Hong Kong), Iceland Airwaves, and Dutch Design Week (Netherlands). Dezeen selected his project AURA as one of the top 10 art installations of 2017, alongside work by Olafur Eliasson, Ai Weiwei, and Anish Kapoor. For Bjork's Cornucopia he collaborated with fashion designer Iris Van Herpen, using laser projections to augment her SPHAERA dress with light.
Hungry is a German visual artist, known for their surreal approach to makeup and costume/character design. As a HTW Berlin fashion graduate, as well as a certified Make-Up Designory makeup artist and ambassador for MUD Europe, their self-described work of "distorted drag" is interdisciplinary. Hungry's fashion experience includes internships for Vivienne Westwood and Aitor Throup in London. Hungry is the makeup artist behind many of the Utopia album artworks and designer of the Cornucopia makeup for Björk and her band.
String, flute, choir, and harp arrangements, and production and musical direction by Björk
Music produced by Björk
Original music co-produced by Arca
Isobel and Mouth's Cradle new versions imagined by Arca
Rehearsal direction and score preparation by Matt Robertson and Bergur þórisson
Björk and James Merry, Co-creative Directors
Chiara Stephenson, Set Designer
Olivier Rousteing, Balmain, Costume Designer
Iris Van Herpen, Costume Designer
James Merry, Headpiece Designer
Katie Buckley, Harp
Manu Delago, Percussion
Bergur Þórisson, Electronics
Margrét Bjarnadóttir, Choreographer
Bruno Poet, Lighting Designer
John Gale, Sound
Peter Van Der Velde, Production Manager
Poul Holleman, Software Development
NAP Framework, Software Platform
Arup, Reverberation Chamber Design
Alex Poots, Artistic Director and CEO
Nadine Goellner, Producer
Marc Warren, Director of Production
Isaac Katzanek, Production Manager
Pope Jackson, Production Supervisor
Joe DiMartino, Technical Director
Daisy Peele, Associate Producer
Maggie MacTiernan, Director of Artist Services
Viibra, Flute Septet
A finalist at the Carl Nielsen International Flute Competition in 2010, Melkorka Ólafsdóttir studied the flute in Iceland from age nine. Her studies continued in Amsterdam and the Hague with Emily Beynon, principal flutist of the Concertgebouw Orchestra, and in the Orchestral Training Program at the Guildhall School of Music and Drama in London in 2007. She also studied with Patrick Gallois in Paris, achieving the Premier Prix and Prix d'Excellence with honors. Ólafsdóttir has played with ensembles and orchestras including Orkester Norden, the Reykjavík Wind Quintet, Het Nieuw Ensemble, Caput Ensemble, the Rotterdam Philharmonic Orchestra, the Icelandic Opera Orchestra, and the Icelandic Symphony Orchestra. In 2011–13, Ólafsdóttir was the co-principal flutist of the Hyogo Performing Arts Center Orchestra in Japan. Ólafsdóttir has also recorded a CD with Telemann's 12 Fantasias for solo flute and published four books of poetry, the last two with her all-female poetry collective Impostor Poets.
Icelandic flutist Áshildur Haraldsdóttir studied at the Juilliard School of Music and the Paris Conservatory where she was the first flutist to enroll in the Cycle de Perfectionnement. Haraldsdóttir has won numerous prizes at competitions and has appeared in concert with various symphony orchestras, such as Solisti Veniti and the Iceland Symphony Orchestra, in Europe, Africa, Asia, and America. She has appeared on radio or television in over 20 countries. Her flutistry has been published on six solo CDs in Sweden and Iceland, and her last CD was nominated for the Icelandic Music Prize. Haraldsdóttir is a member of the Iceland Symphony Orchestra and a professor of flute at the Reykjavík College of Music. She holds the Icelandic order of chivalry, the Order of the Falcon.
Berglind Tómasdóttir is a flutist and interdisciplinary artist living in Reykjavík. In her work she frequently explores identity and archetypes, as well as music as a social phenomenon. An advocate of new music, Tómasdóttir has worked with composers such as Björk, Anna Thorvaldsdottir, Peter Ablinger, Evan Ziporyn, and Carolyn Chen. She has received commissions from Dark Music Days, the National Flute Association, Cycle Music and Art Festival, Reykjavík Arts Festival, and Nordic Music Days. Tómasdóttir holds degrees from Reykjavík College of Music, the Royal Danish Music Conservatory in Copenhagen, and the University of California, San Diego. She is an associate professor in contemporary music performance at Iceland University of the Arts.
Steinunn Vala Pálsdóttir started her studies at seven years old in Tónlistarskóli Kópavogs. She graduated in 2011 and began a diploma program for young musicians at Iceland Academy of the Arts, studying with Martial Nardeau. She graduated with a bachelor's degree in music performance in 2014 and received a master's degree in music performance from Malmö Musikhögskola, Lund University in 2017. Pálsdóttir recorded with Björk on the album Utopia and has since been a part of her flute septet, Viibra. She has played with various chamber groups and orchestras including Helsingborg Symfoniorkester, Caput Ensemble, and the chamber group Elja.
Björg Brjánsdóttir started playing flute at the age of seven. After graduating from Reykjavík College of Music in 2012, she pursued her soloist and orchestral flute studies in Oslo, Munich, and Copenhagen. Brjánsdóttir has performed as a soloist with the Iceland Symphony Orchestra as well as with smaller ensembles, and plays regularly with the Iceland Symphony Orchestra, the Icelandic Opera, and Caput Ensemble. Brjánsdóttir is co-founder and flutist of the chamber orchestra Elja and teaches meditation and body work for musicians alongside her active career as a flutist.
Þuríður Jónsdóttirr, an Icelandic flutist and composer, studied in Iceland and Italy. With the Fontana Mix Ensemble, of which she is co-founder, she has participated in festivals such as Cantieri Musicali in Montepulciano, Music Factory in Bergen, Bologna Festival, Festival REC in Reggio Emilia, and Milano Musica. Jónsdóttir's compositions have been nominated for the Icelandic Music Awards and for the Nordic Council Music Prize in 2006, 2010, and 2012. In 2004, her piece Flow and Fusion was selected in the top 10 at the International Rostrum of Composers in Paris (UNESCO). Jónsdóttir was awarded a Civitella Ranieri Music Fellowship in 2016.
Dagný Marinósdóttir is an Icelandic flutist and music teacher. She graduated from the Reykjavík College of Music in 2002. She has played with many orchestras and chamber music groups, for example the Icelandic Symphony Orchestra, the Orchestra of the Icelandic Opera, Theater Orchestras, and Orkester Norden. Marinósdóttir is also author of Flute Tutors and teaches young flutists to play the flute.
The Hamrahlíð Choir
The Hamrahlíð Choir has been at the forefront of Icelandic musical life for more than four decades. Its members are former students at Hamrahlíð College in Reykjavík, where Þorgerður Ingólfsdóttir formed a choir in 1967 and was its conductor until 2017. This was among the first college choirs in Iceland, and has maintained its leading position ever since. In 1982, Ingólfsdóttir formed the Hamrahlíð Choir, an ensemble made up of graduates of the college choir, and she has been its conductor ever since. More than 2,500 Icelandic teenagers have come into contact with classical music through the Hamrahlíð choral experience. Many had no prior musical training, but through diligent practice they have gone on to participate in music-making of the highest quality, from new Icelandic compositions to the choral masterworks of Bach, Beethoven, and Mozart.
The Hamrahlíð Choir has been a breeding ground for many of Iceland's leading singers, instrumentalists, and composers. Among the many musicians who are former members of the choir are Björk, pianist Víkingur Ólafsson, composer Haukur Tómasson (recipient of the Nordic Council Music Prize 2004), musicologist Árni Heimir Ingólfsson, and bass Kristinn Sigmundsson (a frequent guest at the Metropolitan Opera stage).
Although the Hamrahlíð Choir is primarily devoted to musical education, it has from the very beginning been dedicated to giving performances of the highest quality. The choir sings with a pure, flexible, well-blended sound, and it performs with exuberance and a youthful sense of discovery. Critics throughout the world have praised its accurate intonation, clear diction, and the high level of enthusiasm and commitment that are among the hallmarks of the choir's music-making.
Throughout its history, the choir has collaborated closely with Icelandic composers. Over 100 works have been composed especially for the choir, including works by virtually all of Iceland's leading composers. Apart from its close association with native composers, the choir has collaborated with artists like Arvo Pärt, John Cage, and Vagn Holmboe in the first Icelandic performances of their works. Arvo Pärt was so impressed with the choir's performance of his Te Deum in 1998 that he composed a choral work dedicated to Ingólfsdóttir, …which was the son of…, which was premiered in 2000.
With its dedication, passion, and spirit, the Hamrahlíð Choir has touched audiences around the world. The Choir has traveled to 24 countries and has performed at many of the world's leading choral festivals to great acclaim, introducing audiences around the world to the rich legacy of Icelandic choral music. The choir has participated in festivals in Europe, North America, and Asia, and collaborated with renowned conductors such as Tõnu Kaljuste, Osmo Vänskä, Lukas Foss, Laszlo Heltay, Robert King, Timothy Brown, Gusta Sjökvist, Willi Gohl, Hansruedi Willisegger, Johan Dujick, Petri Sakari, and Thomas Adès. The choir has been a member of the European Federation of Young Choirs since 1978, and is one of the founding members of the International Federation for Choral Music. The choir has participated in the Europa Cantat Festival since 1976.
Þorgerður Ingólfsdóttir, Conductor
Þorgerður Ingólfsdóttir studied music in Iceland, the United States, Austria, and England. She has received many prizes and awards, including the Prize of Optimism from Brøste in Copenhagen in 1983 and an award from Leonie Sonnings Music Fund in 1975. She was awarded the Order of the Knight of the Falcon by the President of Iceland in 1985 for her pioneering musical work in Iceland. In 1992, the Icelandic Performing Rights Society (STEF) granted her special recognition for the performance of Icelandic choral music and the King of Norway appointed her a Commander of the Royal Order of Merit. In 2000, she was the director of the Voices of Europe, a multi-national youth choir made up of singers from each of that year's nine European Cities of Culture. The choir performed throughout Europe to outstanding reviews. In 2008, Ingólfsdóttir was made an honorary member of the Society of Icelandic Musicians, and in 2012, she was appointed Reykjavík City's Honorary Artist. In 2013, she received the Honorary Award of the Icelandic Music Awards, and in 2016, she was presented with a Special Recognition Award from the University of Iceland's School of Education for her outstanding achievement as teacher. In 2018, she was awarded honorary citizenship of the city of Reykjavík.
Location and Dates
Preview May 6 at 7 pm
May 9 at 8 pm
May 12 at 7 pm
May 16 at 8 pm
May 22 at 7 pm
May 25 at 8 pm
May 28 at 7 pm
June 1 at 8 pm
Details
Tickets are sold out. Limited tickets may become available on the day of the show. Please call (646) 455-3494 for more information

Running time: 100 minutes

This performance has reserved seating

There is a two-ticket-per-household limit for Björk's Cornucopia

Membership does not guarantee ticket availability, so we encourage you to book early

All tickets sales are final; times and performers are subject to change

This performances includes the use of strobe lights, lasers, and flashing video.
Acknowledgments
Björk and the creative team for Björk's Cornucopia gratefully acknowledge Icelandair, Balmain Paris, d&b audiotechnik, and the Consulate General of Iceland, New York for their generous support.