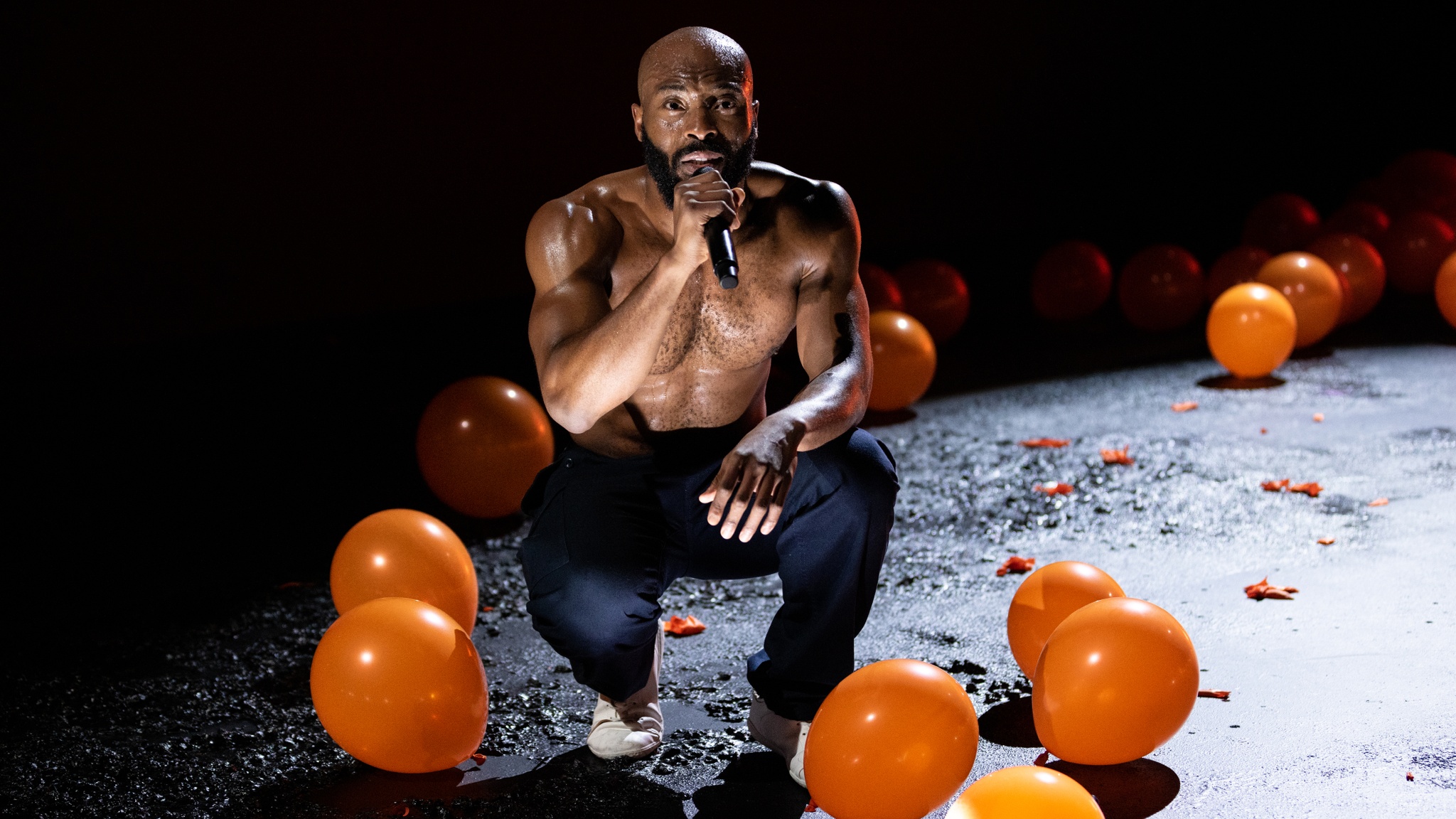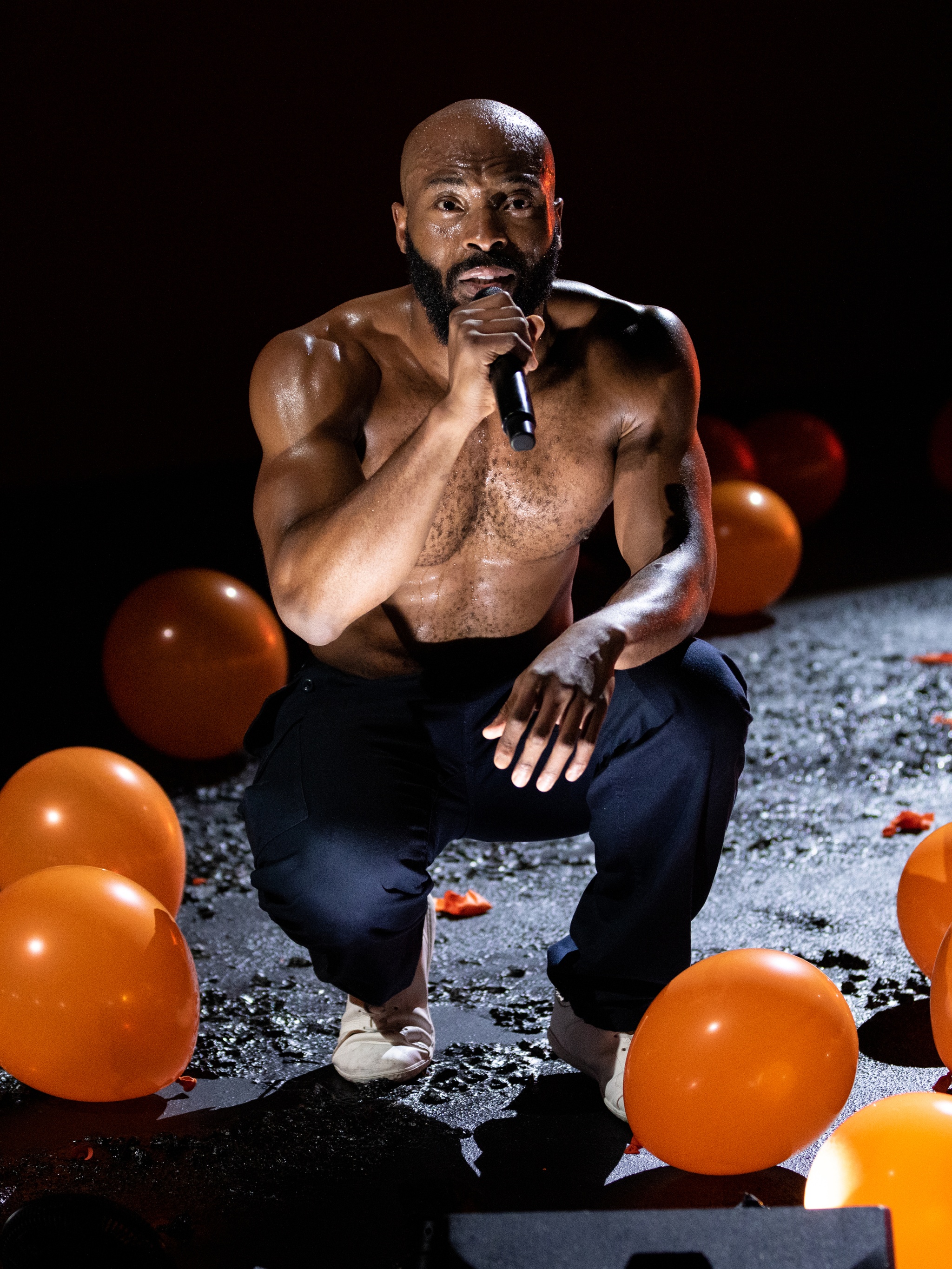 A writer's surreal journey through gentrifying London, written and performed by Arinzé Kene
Tickets
Tickets are now available via the Get Tickets button at the top of this page.
Preview performances are March 3 to 8. For a limited time, preview tickets are $49 or less.
About this program
"The production, from the director Omar Elerian, is beautifully atmospheric, propulsive and often a sensory feat."
—The New York Times
★★★★
"Kene shines and redefines the solo show form."
—New York Theatre Guide
★★★★
"Kene is a positively electrifying presence, a what-can't-he-do performer with an impressive gift for physical comedy."
—NY Stage Review
"Four Rising Theater Stars to Watch This Spring"
—The New York Times
"Arinzé Kene's Postmodern Portrait of a One-Man Show"
—The New Yorker
★★★★
"A punch of superbly fierce defiance"
—Time Out London
"One of Britain's most exciting young playwrights"
—The Guardian
★★★★
"Arinzé Kene writes and performs explosively […] the production never stops crackling."
—Observer
"Arinzé Kene is blazingly charismatic."
—Evening Standard


Fusing live music, spoken word, and absurdist comedy, Misty is an exhilarating journey through a city in flux, transporting audiences to the streets of gentrifying London in an exploration of the pressures and expectations that come with being an artist in our time.
In a performance that is part poem, part concert, part confession, Olivier Award–nominee Arinzé Kene self-consciously wrestles with cultural representation and identity politics as they pertain to a new play he has been commissioned to write. Most recently seen as Bob Marley in the smash-hit West End musical Get Up Stand Up!, Kene is now making his US stage debut with this riveting production directed by Omar Elerian. A pulsating original score composed by Kene, Adrian McLeod, and Shiloh Coke is performed by a live band featuring co-musical directors Liam Godwin (keys/synth) and Nadine Lee (drums/bass).
When it premiered at London's Bush Theatre, Misty was hailed as "one of the great theater success stories of 2018" (The Guardian) and "a tour de force by a force of nature" (The Upcoming) before it transferred to the West End—making Kene only the second Black British playwright to have a play produced in the West End—and garnered 2019 Olivier Award nominations for Best New Play and Best Actor.
Misty was originally commissioned and produced by the Bush Theatre in London, Madani Younis, Executive Producer, and had its world premiere on March 21, 2018. Misty transferred to the West End for a limited run presented by Trafalgar Theatre Productions, Jonathan Church Productions, Eilene Davidson, and Audible from September 8 to November 17, 2018.
Creative Team, Cast, and Stage Management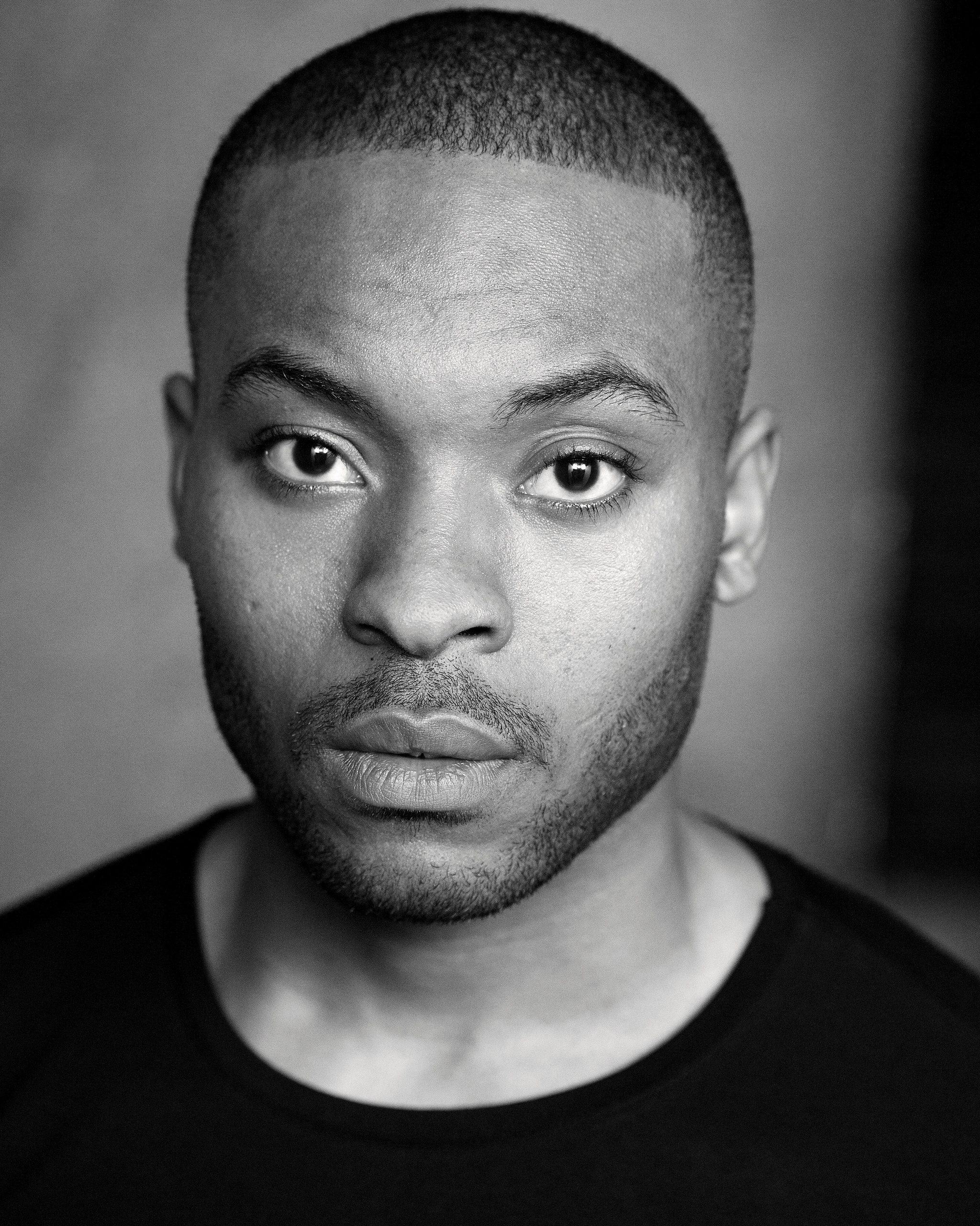 Arinzé Kene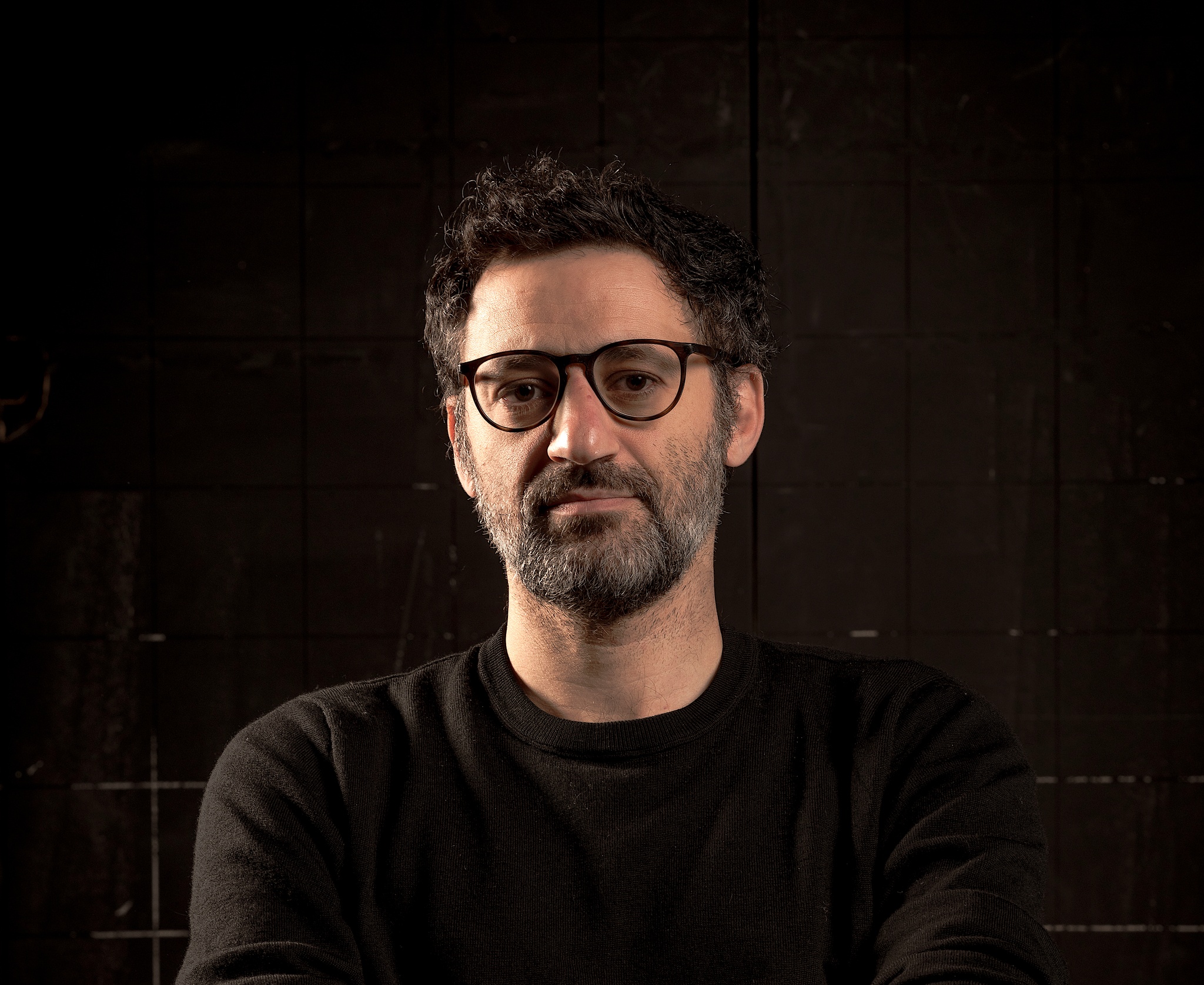 Omar Elerian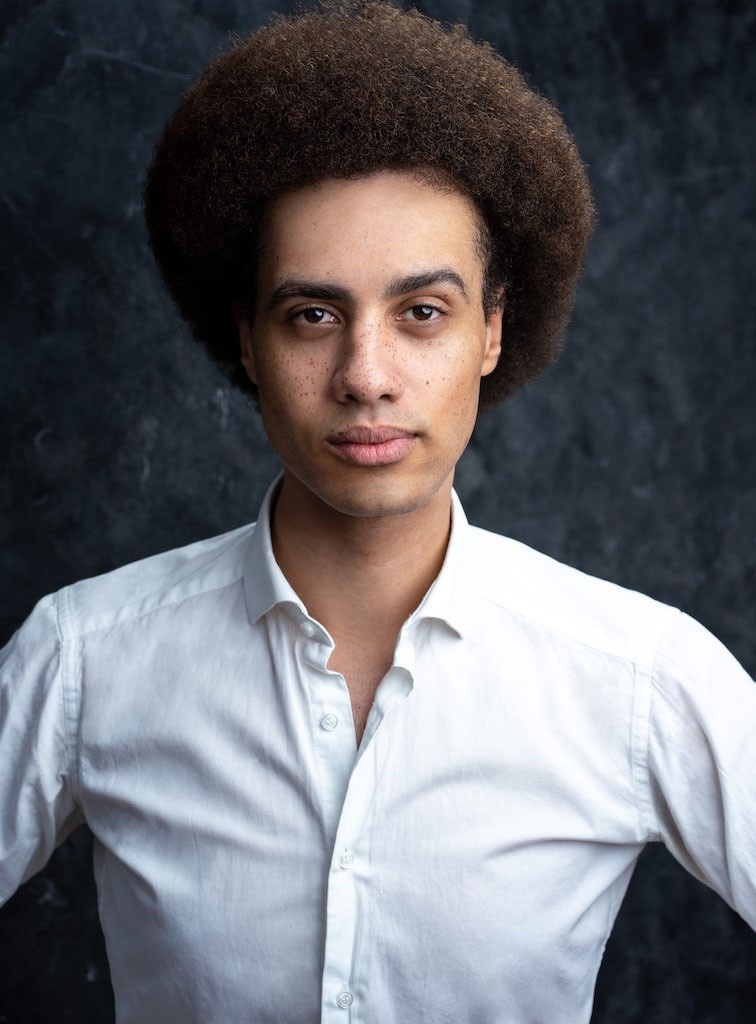 Liam Godwin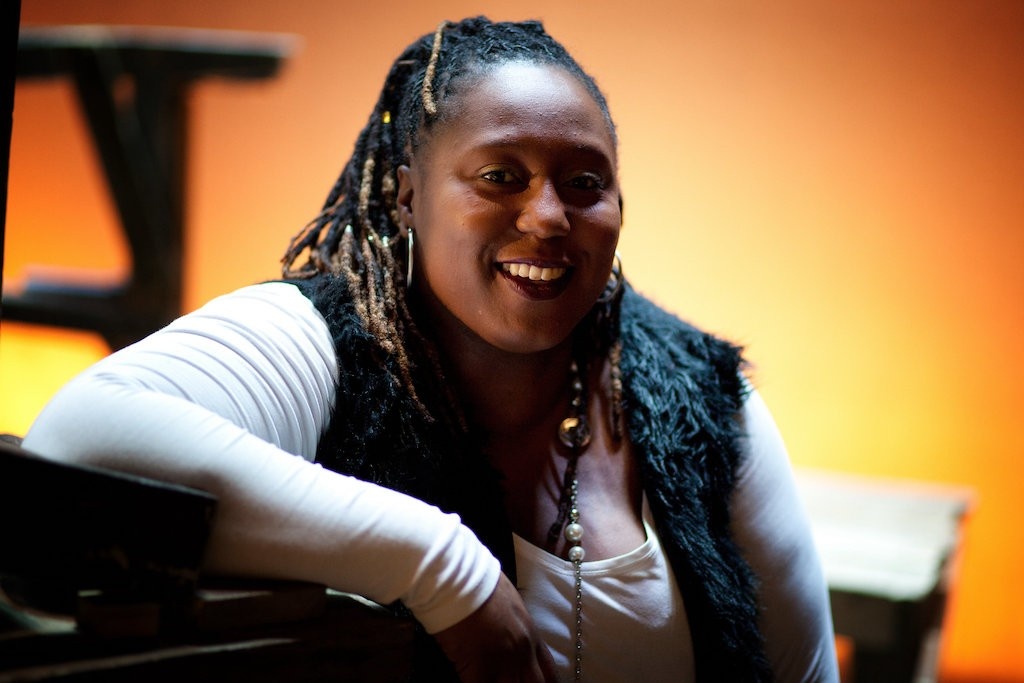 Nadine Lee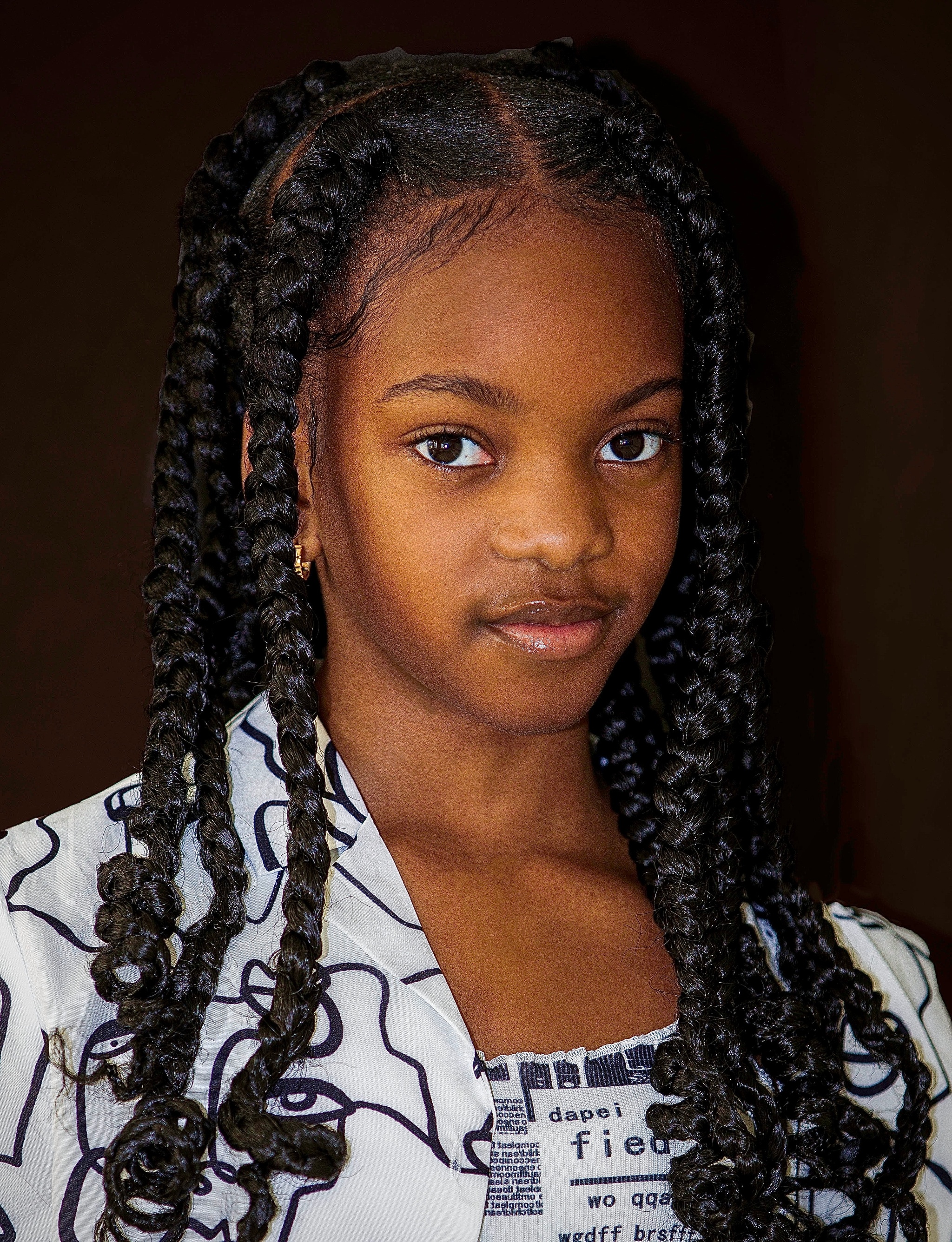 Ifeoluwa Adeniyi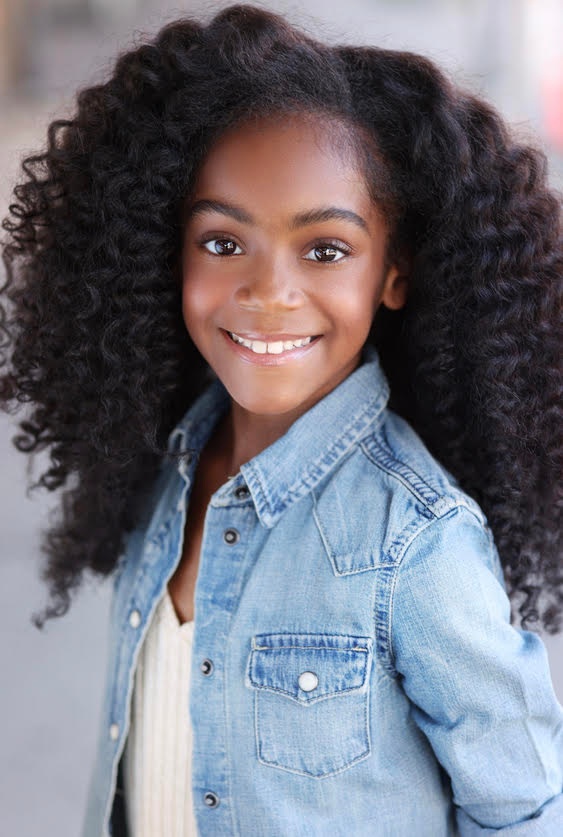 Braxton Paul
Arinzé Kene
Writer, Performer, and Original Composition
Arinzé Kene MBE is an award-winning writer and performer, who has most recently been seen as Bob Marley in the smash-hit West End musical Get Up Stand Up!, for which he was nominated for an Olivier Award. Prior to this, Arinzé's one-man play Misty ran at the Bush Theatre to critical acclaim before transferring to the West End and garnering two Olivier Award nominations. Other stage roles include Sam Cooke in One Night in Miami (Donmar Warehouse), Girl From the North Country (Old Vic Theatre), and Death of a Salesman (Young Vic Theatre).
Key screen credits include Julia Hart's I'm Your Woman (Amazon), Dominic Savage's BAFTA-nominated I Am… anthology series (Channel 4), Been So Long opposite Michaela Coel (Netflix), Flack (PopTV), Our Girl (BBC One), and Caitlin Moran's How to Build a Girl. For his lead role in The Pass, he was nominated for the 2016 BIFA's Best Supporting Actor and won the 2016 Evening Standard Film Awards' Best Supporting Actor.
Omar Elerian is a freelance director, dramaturg, and theater-maker. Italian of Palestinian descent, Elerian trained in Italy and then graduated from Lecoq International Theatre School in Paris in 2005. He was the resident associate director at London's Bush Theatre from 2012 to 2019 where he commissioned and directed some of the theater's most successful shows.
His directing credits include the smash-hit Misty by Arinzé Kene (Bush Theatre and West End), NASSIM by Nassim Soleimanpour (Bush Theatre, Traverse Theatre, and world tour), Going Through by Estelle Savasta, and Islands by Caroline Horton. Other credits include the Olivier Award–nominated show You're Not Like the Other Girls Chrissy by Caroline Horton and the acclaimed site-specific show The Mill: City of Dreams, co-created with Madani Younis for Freedom Studios. His most recent directing credits include The Return of Danton by Syrian playwright Mudar Alhaggi, which premiered at Munich Kammerspiele in Germany; The Chairs by Eugene Ionesco, starring Kathryn Hunter and Marcello Magni at the Almeida Theatre in London; and the Theatre Uncut Political Theatre Award–winning play Two Palestinians Go Dogging by Sami Ibrahim at the Royal Court.
Shiloh Coke
Original Composition
Shiloh Coke is a composer, writer, and actress. Having worked extensively across TV, theater, and film, Coke has built a career that recognizes her ability to fuse all three disciplines into a production. Theater credits include Small Island (National Theatre); Misty and Chiaroscuro (Bush Theatre); Michael X and The Clinic (Almeida); Emilia (Shakespeare's Globe); Julius Caesar, The Tempest, and Henry IV (Donmar Warehouse); The Chaplain (The Yard); and The Litter (The Bargehouse). Credits in film include 4Q, Pirates, and Fast and Furious Presents: Hobbs and Shaw. Television credits include The Mind of Herbert Clunkerdunk, Ladhood, Sliced, Cheaters, I May Destroy You, This Way Up, Jerk, and Doctors. Radio credits include Doctor Who: Charlotte Pollard The Further, Faith, Hope & Glory, Recognition, The Piper, and Doctor Who: An Alien Werewolf in London. Coke trained as an actor musician (Rose Bruford College). She is currently working on her first feature film as well as other screen productions in development.
Adrian McLeod
Original Composition
With the ability to play guitar, bass, and drums, Adrian McLeod finds that the keys and the vintage Hammond really captivate his flair. McLeod has credits with Anne-Marie, Sinéad Harnett, Miraa May, Aitch, Gracey, Ray Blk, Toddla T, Jada Kingdom, Tia Carys, Avelino, and House Gospel Choir. McLeod is musical co-creator of the critically acclaimed and sold-out theater production Misty, which debuted at The Bush Theatre and Trafalgar Studios in London, where he also served as the co-music director for the original 2018 production.
Liam Godwin
Co-Music Director and Additional Musical Arrangements; Cast: Musician/Raymond
Liam Godwin is a British-born, multi-instrumentalist musical director, composer, conductor, arranger specializing in piano, vocals, organ, and drums. His West End debut was as original associate music director on Get Up Stand UP! The Bob Marley Musical (Lyric Theatre). In October 2022, he took over the role of deputy musical director. He is the youngest West End conductor/musical director.
Godwin trained at the BRIT School. His other projects include: West End Musical Christmas 2022 (Musical Director, Lyric Theatre); Andrew Lloyd Webber Tribute Concert (Musical Director ,The Other Palace Theatre); BBC's Big Night of Musicals (Keys, AO Arena Manchester/BBC 1 Primetime show); MasterCard/BPI (Musical Director/Vocal Arranger, The Gherkin); and the BRIT Awards Diamond Dinner 2019 (Choir MD/Vocal Arranger). Godwin was also the face of the 2021 Yamaha Silent Piano commercial campaign.
Nadine Lee
Co-Music Director and Additional Musical Arrangements; Cast: Musician/Donna
Nadine Lee is an artist, drummer, bass player and singer/songwriter. Lee has worked alongside many music artists including Lizzo, Stormzy, The London Philharmonic Orchestra, Annie Lennox, Stephen Warbeck, Wise Children, Headlong, Cece Winans, Ekklesia UK, London Community Gospel Choir, Lamar, Jamilia, Bryan McFaden, Katie Mueller, and P Diddy.
Theater credits include The Lightning Child (Bass Guitar, Shakespeare's Globe); Junkyard (Drummer, Bristol Old Vic/UK tour); This House (Drummer, Leeds Playhouse/UK tour); Peter Pan (Drummer, White City Theatre); Josephine (Composer/Musical Director, The Egg Theatre); Bagdad Café (Musical Director, The Old Vic Theatre); Wuthering Heights (Musical Director, National Theatre/UK tour); and Othello (Musical Director/Arranger, The Watermill Theatre). Film credits include The Man in The Hat (appeared as Nadine Lee, leader of the Nadine Lee Band).
Lee is an artist with more to her than meets the eye, with a deepness to her music that triggers emotional connectivity and honesty. In a word, Nadine Lee is "REAL."
Jesse Cameron Alick
Dramaturg (NYC)
Jesse Cameron Alick is a dramaturg, producer, poet, playwright, essayist, artistic researcher, and science fiction expert. Alick was company dramaturg at the Public Theater where he worked for 15 years and is the associate artistic director at the Vineyard Theater. Alick is an active freelance dramaturg at various Off-Broadway and commercial theaters, nationwide and in the UK. Alick has taught theater courses at a myriad of programs, currently NYU.
Kirsty Housley and Stewart Pringle
Dramaturgs (2018 UK productions)
Rachael Nanyonjo
Movement Director
Rachael Nanyonjo is a choreographer, movement director, and director working across theater, film, and TV. Selected choreography and movement credits for theater include The P Word (Bush Theatre), The Tempest (The Globe Theatre), Trouble in Mind (National Theatre), Bernstein's Mass (Southbank Centre), and Misty (Trafalgar Studios). Selected choreography credits for TV and film include A Pack of Lies (BBC & Sister Productions) and Pirates (Netflix). Selected directing and associate director credits include Recognition (45North Ltd and Ellie Keel Productions) and Newsies (Disney and Runaway Entertainment).
Rajha Shakiry
Set and Costume Design
Rajha Shakiry's recent theater credits include The Father and the Assassin, Trouble in Mind, and Master Harold…and the Boys (National Theatre); Nine Night (National Theatre and the West End); The Mountaintop (Young Vic/UK tour/Royal Exchange, Manchester); Two Palestinians Go Dogging and seven methods of killing kylie jenner (Royal Court); Return of Danton (Collective Ma'louba, Germany); Autoreverse (BAC); Richard II (Shakespeare's Globe); Misty (Bush Theatre and the West End); Going Through (Bush Theatre); and The Dark (Fuel). Shakiry's work was exhibited at the V&A's Make/Believe exhibition and in the Prague Quadrennial's UK Staging Places exhibition.
Jackie Shemesh
Lighting Design
Jackie Shemesh's recent theater credits include The Seagull (Jamie Lloyd Productions, the West End); Two Palestinians Go Dogging (Royal Court); The Chairs (Almeida Theatre); Mary Stuart (Almeida Theatre and the West End); Uncle Vanya (Almeida Theatre); White Noise (Bridge Theatre); Changing Destiny, In the Penal Colony, Man, and Oh My Sweet Land (Young Vic); The Return of Danton (Mulheim Theatre); Death of England: Delroy, Death of England and Hansard (National Theatre); and Misty (Bush Theatre and the West End).
Elena Peña's recent theater credits include Baghdaddy, Two Palestinians Go Dogging, seven methods of killing kylie jenner, Maryland, and Living Newspaper (Royal Court); Silence (Donmar/Tara Theatre); The Chairs (Almeida Theatre); seven methods of killing kylie jenner (Riksteatern, Sweden); The Darkest Part of The Night, Reasons (You Shouldn't Love Me), Snowflake, Nora: A Doll's House, Macbeth, and Mountains (Royal Exchange); Trouble In Mind (National Theatre); Rockets and Blue Lights, receiving an Offie/On Comm Award for Best Audio Production 2021 (National Theatre and Royal Exchange); and Misty (Bush Theatre and the West End). Peña is an associate artist at Inspector Sands.
Daniel Denton
Video Design
Daniel Denton is a London-based visual artist and video designer. With a background in illustration and experimental film, he has created live visuals across theater, opera, dance, fashion, broadcast, and installation, and his video design work has garnered him multiple award nominations. Recent credits include Kinky Boots (New Wolsey/Queen's Theatre Hornchurch); Happy Meal (Traverse/Australian Tour/ Brixton House); Hedwig and the Angry Inch (Leeds Playhouse/HOME Manchester); The Bone Sparrow (York Theatre Royal/UK tour); iGirl and On Raftery's Hill (Abbey Theatre); For The Grace of You Go I (Theatre Clwyd); Whitewash (Soho Theatre); Flashdance (UK tour/South Korean Tour); Sketching (Wilton's Music Hall); Ready or Not (Arcola Theatre/UK tour); and Misty (Bush Theatre/Trafalgar Studios).
Nominations include a WhatsOnStage Award for Best Video Design (Misty), a Broadway World UK Award for Best Video Design (Happy Meal), an Off West End Award for Best Video Design (Misty, Sketching), and a Theatre and Technology Award for Creative Innovation in Video (Ready or Not).
Jeremy Chernick
Special Effects Design
Jeremy Chernick has designed effects on over 50 Broadway productions. He has worked with The Shed since its inception. Chernick's work has been featured in prominent performing and visual arts institutions across the globe. He was hired to work on Misty in 2020 and is excited to finally work with a variety of balloon effects. He serves as head designer for J&M Special Effects in Brooklyn.
Ifeoluwa Adeniyi
Cast: Little Girl
Ifeoluwa Adeniyi is excited to make her New York theater debut! TV credits include Matt Rogers: Have You Heard of Christmas and Sesame Street. Adeniyi models for a top clothing brand and has appeared in TV commercials, fashion shows, and magazines. Adeniyi also plays three instruments and enjoys math, reading, and dancing. From Ifeoluwa Adeniyi: Thank you to God, mom, dad, my twin brother, Bercy Talent, and Stewart Talent for their love and support.
Braxton Paul
Cast: Little Girl
Braxton Paul is an American actress whose love for theater started after landing the role of Aladdin in her school's musical. She is so excited to make her theater debut here in NYC! She's appeared in many national print campaigns as a model as well as numerous commercials. Her TV credits include Sesame Street, PBS Kids, and a series regular role on the Peacock Kids TV show Alien Aided. In her spare time, she enjoys dancing, soccer, football, basketball, gymnastics, and hanging with friends. She is extremely grateful to her managers at Nouveaux and agents at Stewart Talent NYC.
The Telsey Office, Destiny Lilly, CSA, and Domonique Aviles
Casting
With offices in both New York and Los Angeles, The Telsey Office casts for theater, film, television, and commercials. The Telsey Office is dedicated to creating safe, equitable, and anti-racist spaces through collaboration, artistry, heart, accountability, and advocacy.
Rachel A. Zucker*
Production Stage Manager
Rachel A. Zucker (they/she) is thrilled to be back at The Shed! Previous work at The Shed includes Help. Broadway credits include SIX, Tina: The Tina Turner Musical, The Prom, True West, Pretty Woman, Farinelli and the King, and Indecent. Select Off-Broadway credits include Kinky Boots (Stage 42); Lessons in Survival: 1971 (The Vineyard); Tiny Beautiful Things, Twelfth Night, Plenty, Southern Comfort, and Grounded (The Public Theater); Othello, A Midsummer Night's Dream, Troilus and Cressida, and Cymbeline (Shakespeare in the Park); Working: A Musical and Roadshow (New York City Center); Lazarus (New York Theater Workshop); and Curse of the Starving Class (Signature Theatre Company). Zucker received an MFA in stage management from Columbia University. From Rachel A. Zucker: Love to Cary, Mom & Dad, Hannah, Madison, Family & Friends. Insta: @rzucker37
Madison Tarchala*
Assistant Stage Manager
Madison Tarchala is thrilled to be back working at The Shed! Broadway credits include Mrs. Doubtfire (script supervisor) and Lackawanna Blues (PM assistant). Off-Broadway, Tarchala's credits include Help (The Shed). Regional credits include Much Ado About Nothing (Milwaukee Rep); Our Town (Baltimore Center Stage); and Always…Patsy Cline, Great Expectations, Cymbeline, No Child, and A Midsummer Night's Dream (Great River Shakespeare Festival). Tarchala holds a BFA in stage management from UNC School of the Arts. From Madison Tarchala: Much love to Mom, Dad, Rachel, and Alexander.
Rike Berg
Company Stage Manager and Show Caller, for the 2018 UK productions, and Production Consultant, NYC
Rike Berg (she/her) graduated from Bauhaus University Weimar and has worked on various international theater productions. Her most recent credits as stage manager / show caller include The Woman in Black (Gothenburg English Studio Theatre & Sweden Tour); Working – The Musical (Southwark Playhouse); Fury (Soho Theatre); These Trees Are Made of Blood (Arcola Theatre); Isabeau (Opera Holland Park); Misty and Nine Night (both at Trafalgar Studios); The Song Project and Two Palestinians Go Dogging (both at Royal Court Theatre); Love and Other Acts of Violence (Donmar Warehouse); The Chairs (Almeida Theatre); and A Very Expensive Poison (Burgtheater Vienna).
Credits
Arinzé Kene
Liam Godwin, Musician/Raymond
Nadine Lee, Musician/Donna
Ifeoluwa Adeniyi, Little Girl
Braxton Paul, Little Girl
Keyboard programming by Liam Godwin and Elena Peña ("Apparently" by Liam Godwin and Nadine Lee)
Drum programming by Nadine Lee
Rakesh Palisetty, Assistant Director
Michael Ruiz-del-Vizo, Associate Scenic Designer
Joe Hornsby, Assistant Lighting Designer (UK)
Kathrine R Mitchell, Assistant Lighting Designer (NYC)
Richard Bell, Associate Sound Designer (UK)
Matthew Deinhart, Associate Video Designer
Georgia Clegg, Ana Stefaniak, Rafael Vartanian, and Paul Deziel, Animators
Lillis Meeh, Associate Special Effects Designer
Katia Carmichael, Assistant Special Effects Designer
Carrie Mossman, Props Coordinator
Mary Halliday, Props Assistant (UK)
Alex Horner, Costume Coordinator (UK)
Luke Simcock, Costume Coordinator (NYC)
Michael Letzig, Scenic Artist
Micah Zucker, Production Audio
Dave Hurley, A1
Sam Ward, A2
Maytté Martinez, Head Lighting
Anastasia Sioris, Lighting Programmer
Josh Galitzer, Head Carpenter
Carl Battista, Deck Crew
Brian Beasley, Production Video
Ryan McLendon, Video Operator
Ann Comanar, Head Wardrobe
Javon Mount, Dresser
Jenna Bauman, Child Guardian
Coral Cohen, Covid Health and Safety Manager
Jessie Sabatino, Covid Health and Safety Manager
Hayley Bowman, Production Assistant (UK)
Kathleen Carragee, Production Assistant (NYC)
The Rights Workshop, Music Clearance
Childrens' studio teacher(s) provided by On Location Education
Scenery by Upstate Scenic
Additional staging by Steeldeck
Additional lighting equipment by Christie Lites and 4Wall
Additional audio equipment by Production Resource Group
Additional soft goods by Rose Brand
Additional video equipment by Production Resource Group
Special effects by J&M Special Effects
Polk & Co., Press Representatives
Misty was rehearsed at English National Ballet
Special thanks to Nike
Shed Program Team for Misty
Alex Poots, Artistic Director
Madani Younis, Chief Executive Producer
Daisy Peele, Producer of Misty, Associate Producer
Annabel Thompson, Associate Producer
Laura Aswad, Producer
Frank Butler, Director of Production
Sarah Pier, Production Manager
Acknowledgments
Misty by Arinzé Kene has been developed over several years and across continents. This production owes a massive debt of gratitude to ALL those who have helped and given so much in service to this show! We might not have enough space to write everyone's names in this small section but we see you, know you, and are forever thankful to you.
Matthew Bayam-Shaw, Playful Productions; Alistair Smith, editor of The Stage; James Bierman, Empire Street Productions; The Bush Theatre and its gifted staff team and Board of Directors; Jonathan Badyal, Universal Music; Mark Hicks; Grace Chan, English National Ballet; Uzma Hassan, Little House Productions; Chrystal Genesis. Stance Podcast; Tamika Abaka-Wood, B+A; Jessica Campbell, producer; Mesmer; Omolola Akunile; Gayna Holcomb; Yamin Choudhry, Hackney Empire; and Justine Simons, Deputy Mayor for Culture and Creative Industries, City of London.

*The Actors and Stage managers employed in this production are members of Actors' Equity Association, the Union of Professional Actors and Stage Managers in the United States. The Shed operates under an agreement between The Shed and Actors' Equity Association, the Union of Professional Actors and Stage Managers in the United States.
Backstage crew employees are represented by the International Alliance of Theatrical Stage Employees (or I.A.T.S.E.).
Details
This production uses fog, haze, and strobe effects, as well as loud sound effects
This production includes adult and culturally sensitive language as well as partial nudity; recommended for ages 12+
Running time: 2 hours, with intermission
Accessibility
Seating
The Shed's Griffin Theater has accessible seating. Please let our ushers know if you are staying in a wheelchair for a performance or using a theater seat.
Assistive Listening
Devices are available for you to borrow at the ticketing desk if you do not want to use your own smartphone.
Purchasing Tickets
The Shed's online ticketing system includes the option to submit accommodation requests beyond the access points detailed here.
Contact Us
For questions or other requests, visit the Accessibility page, email accessibility@theshed.org, or call (646) 455-3494.
Location and dates
This event takes place in The Griffin Theater.
March 3 – April 2, 2023
Tuesday – Thursday, 7 pm
Friday, 8 pm
Saturday, 2 pm and 8 pm
Sunday, 3 pm
Preview performances March 3 – 8
The Shed's Griffin Theater is located at 545 West 30th Street, between 10th and 11th Avenues. View The Shed on a map.
For information about accessibility and arriving at The Shed, visit our Accessibility page.
Thank you to our partners

Major support for Misty is provided by
The creation of new work at The Shed is generously supported by the Lizzie and Jonathan Tisch Commissioning Fund and the Shed Commissioners.
Major support for live productions at The Shed is provided by the Charina Endowment Fund, with additional support from the New York State Council on the Arts with the support of the Office of the Governor and the New York State Legislature.
The Shed is connected by