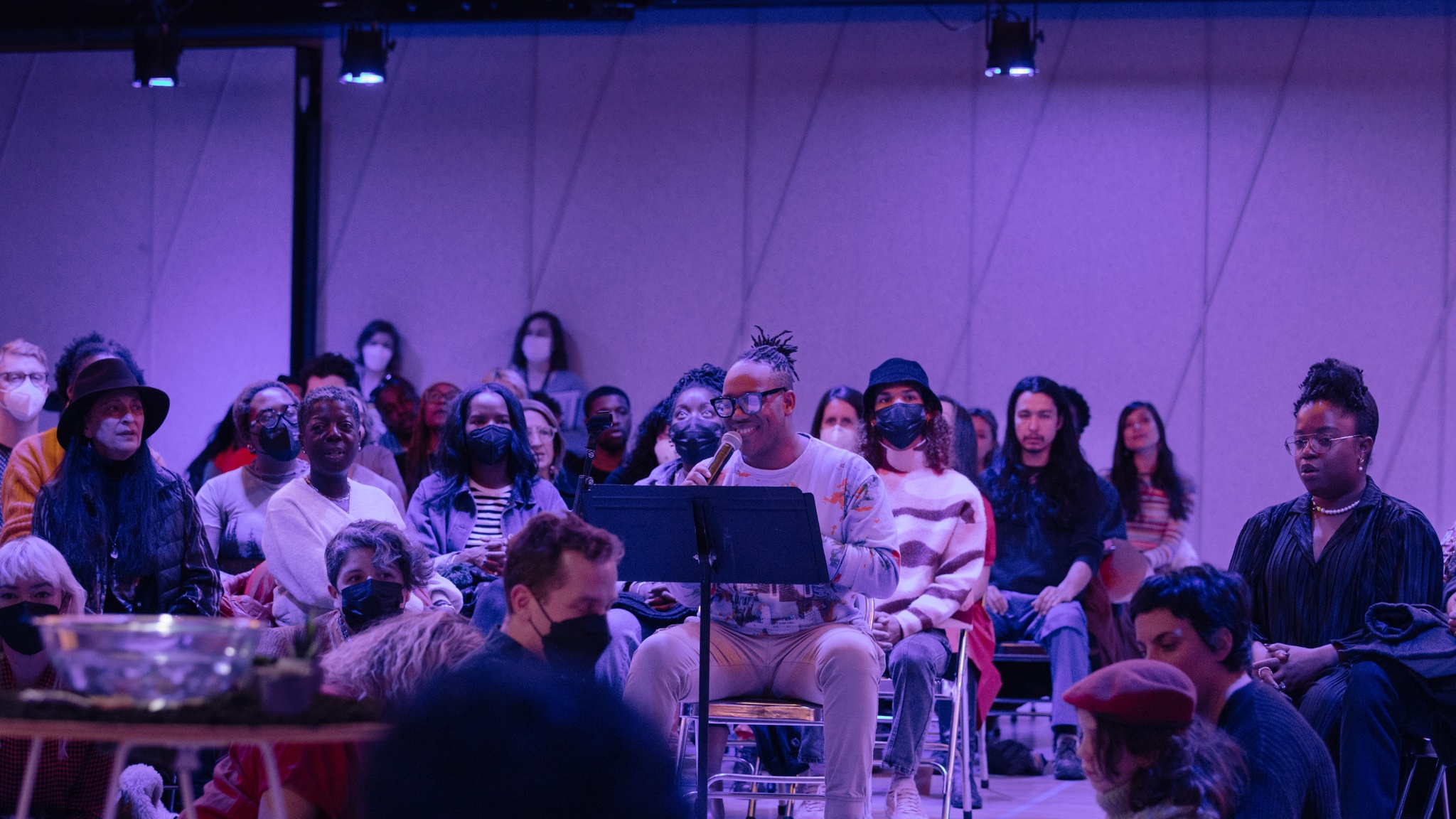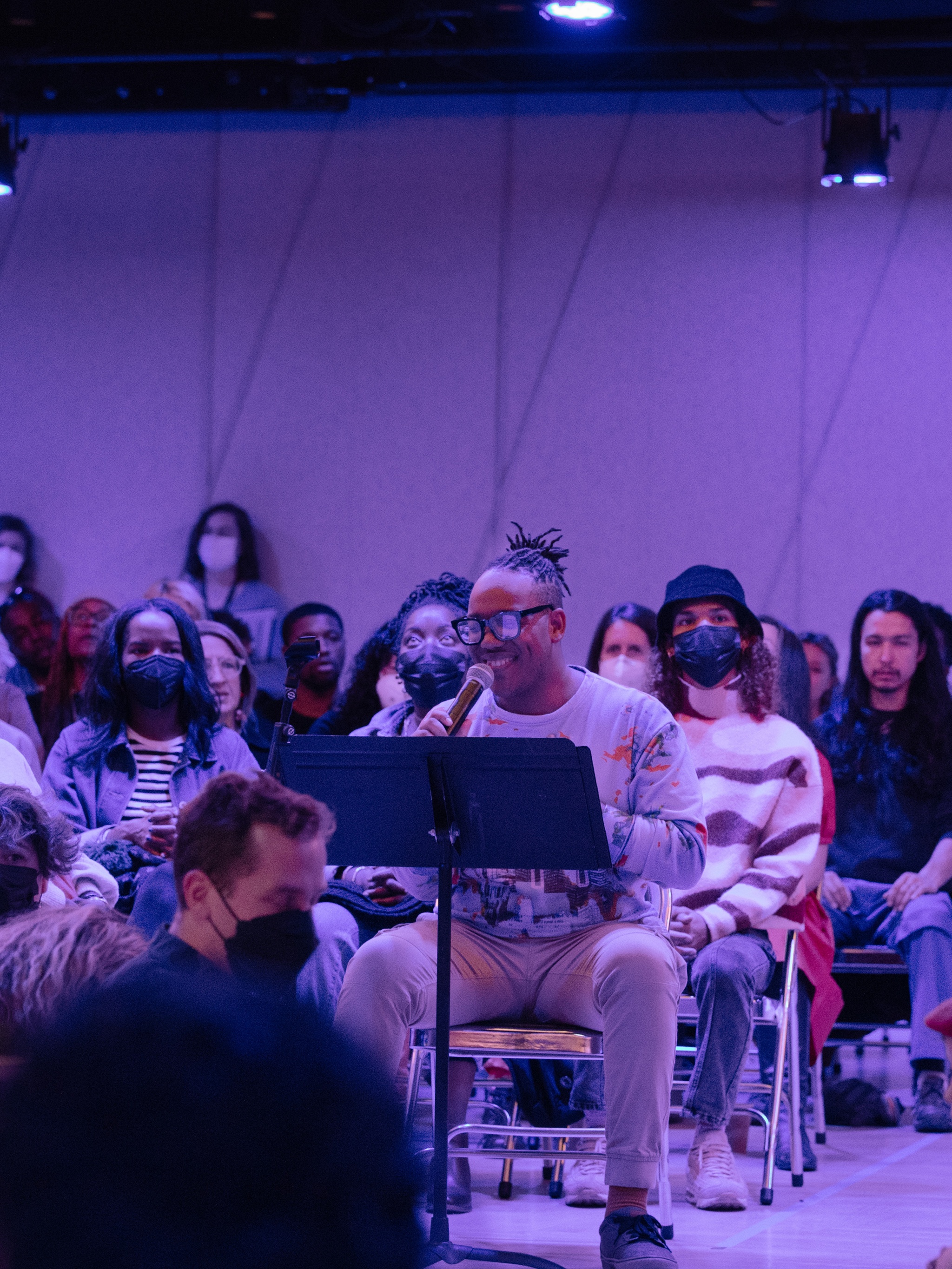 To Feel A Thing: A Ritual for Emergence
A workshop presentation of songs for transformation by adrienne maree brown
Tickets
Admission is free. Seating is first come, first served. Please arrive early; a reservation does not guarantee admission.
This performance will include ASL interpretation.
About this program
A part of The Fire Ensemble's mission is to expand the canon of musical works and productions that place community, ritual, and collective liberation at their center. By uplifting a resident artist each season, The Fire Ensemble provides the opportunity for choir community members to collaborate with generative artists for 10 weeks in workshopping a new project.
Award-winning author and creator adrienne maree brown is The Fire Ensemble's 2022 resident artist. She is creating a musical ritual, To Feel A Thing: A Ritual for Emergence, in collaboration with The Fire Ensemble's artistic director, Troy Anthony, and directed by Charlotte Brathwaite. Featuring original music and text from brown, this new work acknowledges the spirit inside each of us that is a wild creature of Earth, along with the feelings that lead us to adapt for survival and to come together to care for our communities. Together with brown, and accompanied by a gospel band, The Fire Ensemble will bring this piece to life in a stripped-down workshop presentation.
This developmental concert sharing of To Feel A Thing: A Ritual For Emergence is co-produced by The Shed, The Fire Ensemble, and Oregon Shakespeare Festival. To Feel A Thing: A Ritual For Emergence is a co-commission by the Oregon Shakespeare Festival and The Repertory Theatre of St. Louis.
Creative Team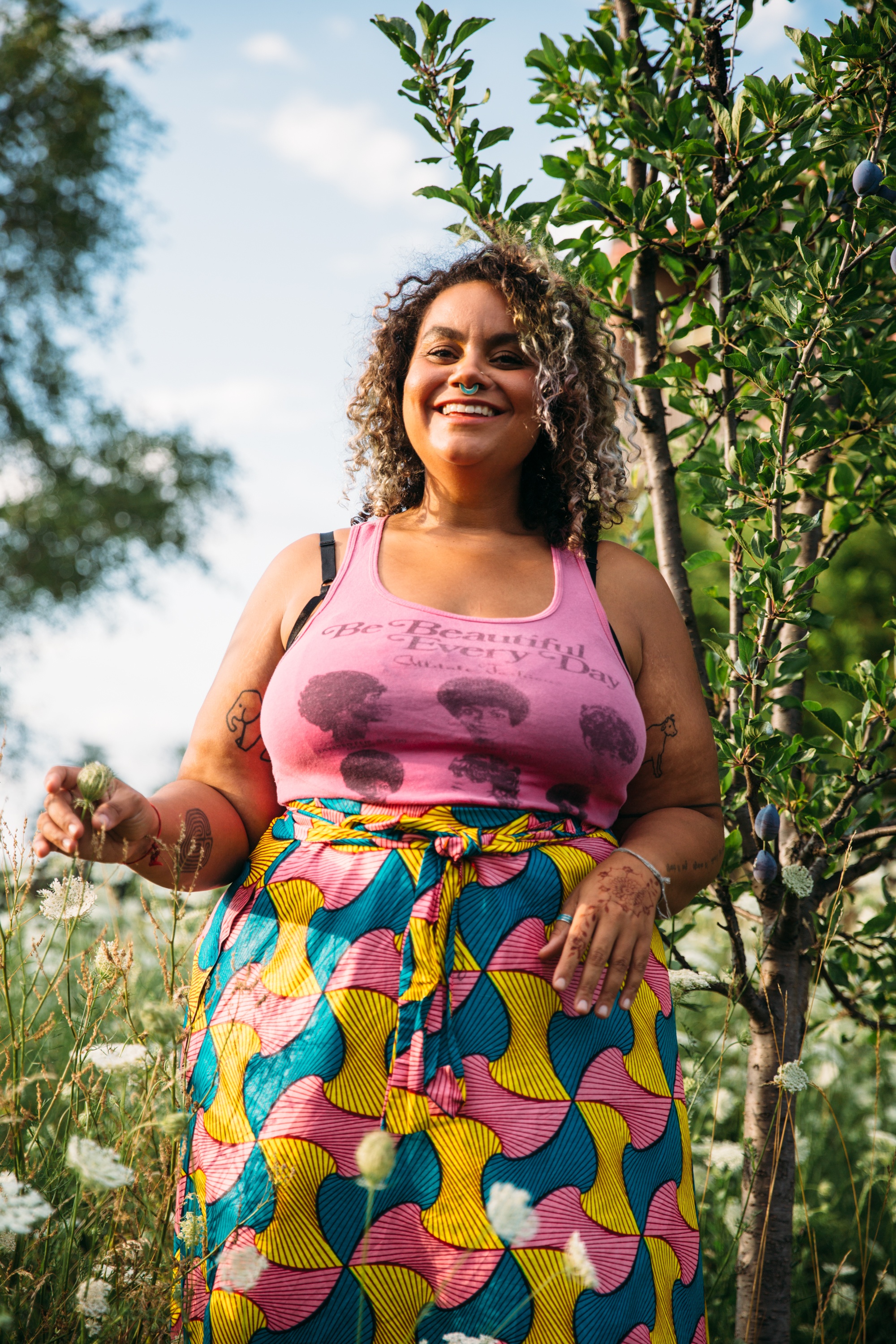 adrienne maree brown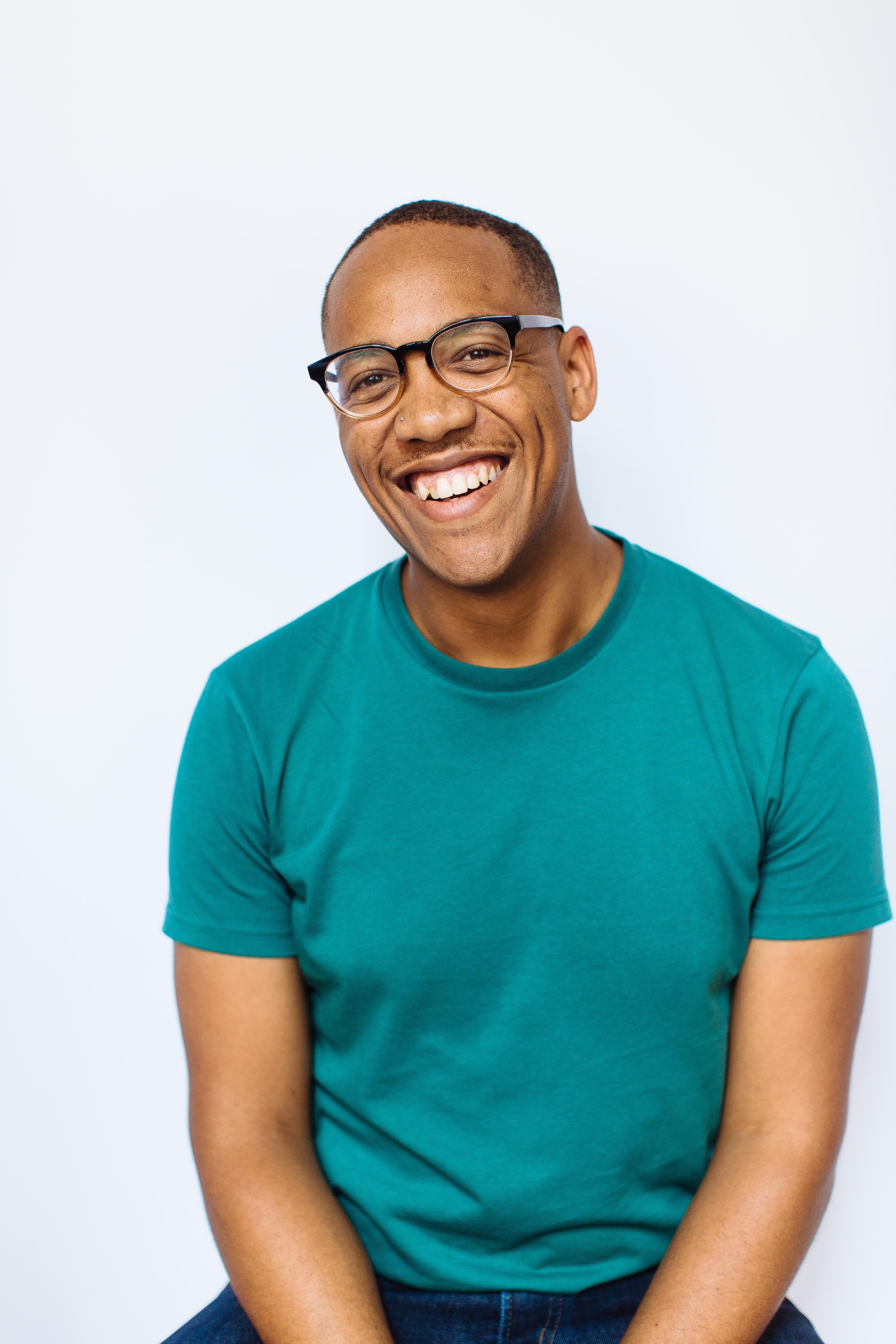 Troy Anthony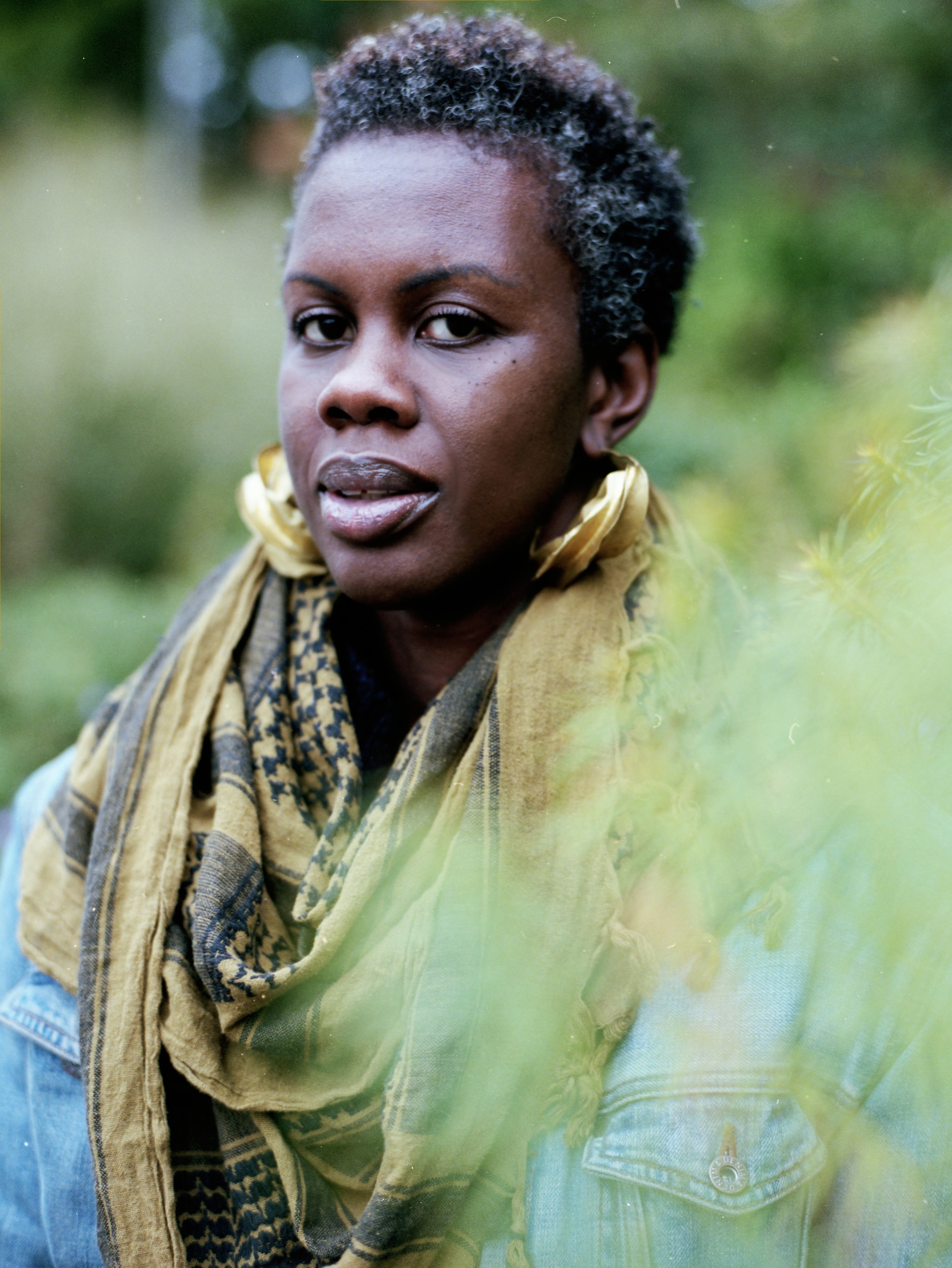 Charlotte Brathwaite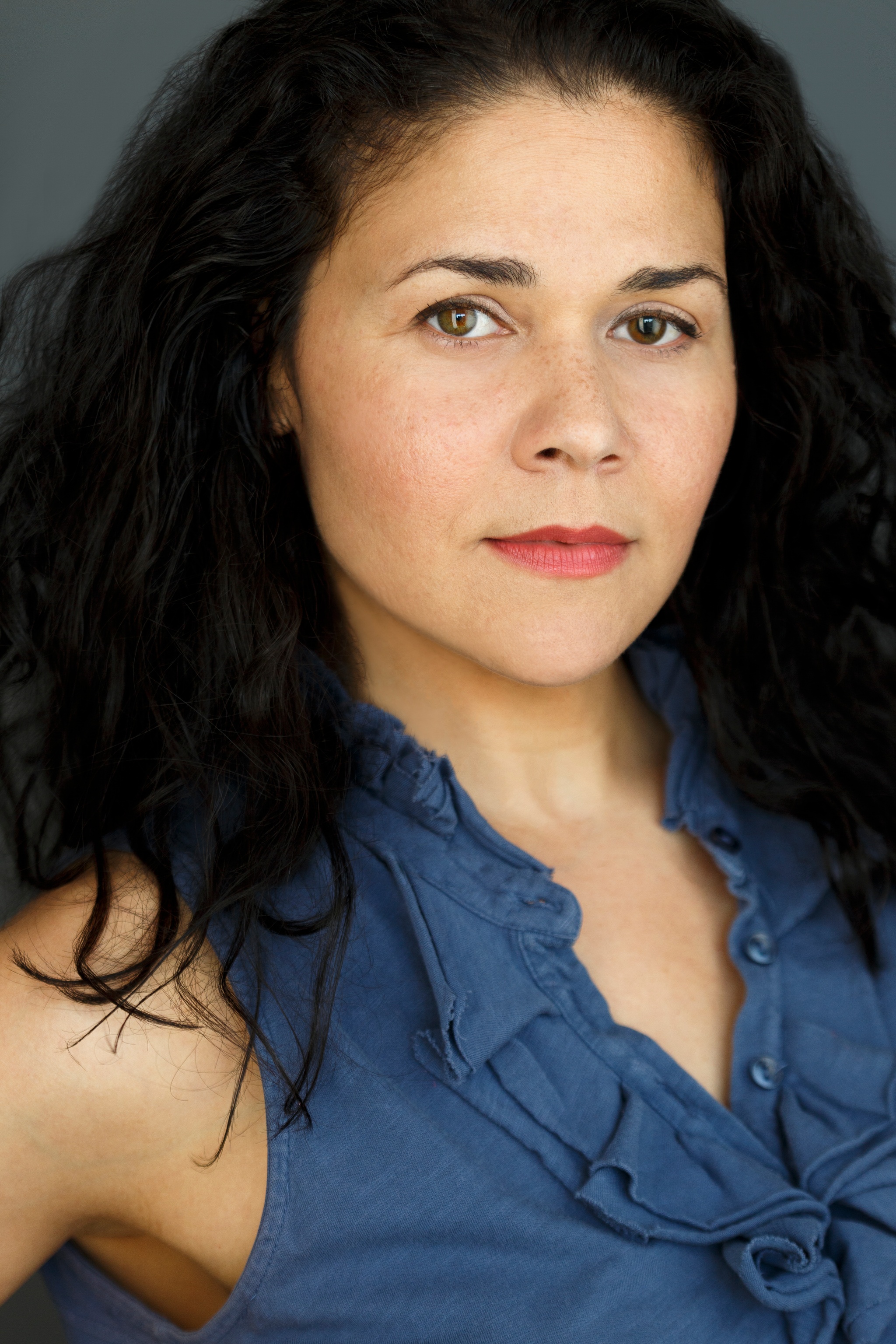 Alexandria Wailes
adrienne maree brown
Creator and Resident Artist
adrienne maree brown grows healing ideas in public through her multigenre writing, her music and her podcasts. Informed by 25 years of movement facilitation, somatics, Octavia E. Butler scholarship and her work as a doula, brown has nurtured Emergent Strategy, Pleasure Activism, Radical Imagination, and Transformative Justice as ideas and practices for transformation. She is the author/editor of several published texts and the founder of the Emergent Strategy Ideation Institute, where she is now the writer-in-residence. To Feel A Thing: A Ritual for Emergence is brown's first long-form commissioned work in the realm of theatrical arts. Her intention is to build a musical ritual that communities will be able to use for their own emergence, awakening, embodiment, and transformation. brown believes this is a time when art needs to enliven and connect people to themselves and their capacity to shape the future through their own fractal choices.
Troy Anthony
Collaborator and Fire Ensemble Artistic Director
Troy Anthony is a Kentucky-born composer/lyricist, director, and theater-maker based in NYC practicing Black queer joy. His work lives at the intersection of art, social justice, and community practice. In this spirit, he recently founded The Fire Ensemble as a home to develop his work and to share the joy of singing in community, which is currently being incubated by The Shed.
He has received commissions from The 5th Avenue Theater, The Civilians, Oregon Shakespeare Festival, The Public Theater, The Repertory Theatre of St. Louis, and The Shed. He's enjoyed residencies with BLKSPACE, The O'Neill Theater Center, and Village Theater. Additionally, he's presented work at Joe's Pub, Rattlestick Playwrights Theater, JACK, Prospect Theater Company, the National Alliance of Musical Theater Conference, and 54 Below. Anthony recently received the Vivace Award from the Bret Adams and Paul Reisch Foundation and is currently an artist-in-residence at The Chelsea Factory.
Charlotte Brathwaite
Director
Creator/director Charlotte Brathwaite's genre-defying work illuminates the realities and dreams of marginalized people—people whose stories have been silenced, disappeared, and ignored. Dealing with subject matter from the historical past to the distant future, her work brings to light issues of social justice, race, power, and the complexities of the human condition.
A director of classical texts, multimedia, site-specific works, dance performances, operas, concerts, film, and installations, Brathwaite's transdisciplinary inquiry manifests in spectacles of color and music. Her works live in the deep time of aural/oral history and create an immersive experience for audience and performer alike which offers new perspectives in both form and content. Brathwaite's live art has been presented across the globe from North and South America, Europe, Africa, Asia, and Australia. She is the recipient of an Art Matters Award, Creative Capital Award, Pew Center for Arts & Heritage Fellowship Grant, a United States Artist Fellowship, multiple Map Fund Awards, and a Princess Grace George C. Wolfe Award amongst others. She received an MFA from Yale University. www.charlottebrathwaite.com
Alexandria Wailes
Director of Artistic Sign Language
Alexandria Wailes (she/her) is a multi-hyphenated, award-winning artist. She was recently seen in the Tony-nominated for colored girls who have considered suicide/when the rainbow is enuf on Broadway as Lady in Purple. As director of artistic sign language, her credits include Broadway's Children of a Lesser God and King Lear; on television, This Close seasons 1 and 2, Quantico season 3, and Washington Black; and on film, A Quiet Place 1 and 2, Wonderstruck, and CODA (2022 multiple Academy Award winner). Wailes is the co-founder of BHo5.org and the associate choreographer on Deaf West's Spring Awakening.
Her acting credits include, on Broadway: for colored girls… (Booth), Deaf West's Spring Awakening (Lena Horne), and Big River (Roundabout) and Off-Broadway: I Was Most Alive with You (Playwrights Horizons), A Kind Of Alaska (New York Live Arts), and Oedipus (The Getty Villa). TV credits include Law & Order: Criminal Intent, High Maintenance, Little America, and Nurse Jackie'. Wailes is a proud member of AEA, SAG-AFTRA, and SDC. Awards include a 2022 Chita Rivera Award, 2022 Disability Futures Fellowship, 2020 Obie Award, and a 2020 Lucille Lortel nomination. Over the years, she has advised ASL interpreted teams for Hands On for numerous on and Off-Broadway shows. She is honored to be invited to advise and collaborate on this project at The Shed and to be part of the To Feel A Thing community.
Production Credits
Betsy Ayer, Stage Manager
Kent Barrett, Design Consultant
Chris Darbassie, Sound Design Consultant
Sunder Ganglani, Dramaturgical Consultant
Carllee James, Justine Rivera (in performance), and Rorri Burton (in performance), ASL Interpreters
Atiya Taylor and Paul Andrews, Production Assistants
Jon Thomas, Associate Music Director
Dylan Schifrin, Copyist/Music Assistant
Parker Mcallister, Bassist
Jaylen Petinaud, Drummer
Sam Appiah, Rehearsal Pianist
Jon Thomas, Band Pianist
Samantha Williams, Core Singer 1
Genesis Collado, Core Singer 2
Denise Manning, Core Singer 3
STONES, Core Singer 4
Cartreze Tucker, Core Singer 5
Josh Walker, Core Singer 6
"I Remember" written by Tony George
Closing chant written by Assata Shakur
Acknowledgments from the artists
From Troy Anthony: Thank you to Nataki Garrett, Mei Ann Teo, and Hope Chávez (Oregon Shakespeare Festival) and Hana Sharif and Becks Redman (The Repertory Theatre of St. Louis). A huge thank you to our Shed family led by Alex Poots, especially Tamara McCaw and Darren Biggart from the Civic Programs team, who make The Shed feel like a creative home.
From adrienne maree brown: Thank you to everyone who took time to join us for this workshop presentation, and every person who showed up to Fire Ensemble rehearsals both in person and virtually.
Shed Program Credits
Tamara McCaw, Chief Civic Program Officer
Darren Biggart, Associate Producer of Civic Programs
Oregon Shakespeare Festival Program Credits
Mei Ann Teo, Associate Artistic Director of New Work
Hope Chávez, Associate Producer
Accessibility
Seating
The Shed's Tisch Skylights has accessible seating.
Assistive Listening
Devices are available for you to borrow at the ticketing desk. Please ask an usher if you would like assistance in checking one out.
ASL Interpretation
This event includes ASL interpretation.
Purchasing Tickets
The Shed's online ticketing system includes the option to submit accommodation requests beyond the access points detailed here.
Contact Us
For questions or other requests, visit the Accessibility page, email accessibility@theshed.org, or call (646) 455-3494.
Location and dates
This event takes place in The Tisch Skylights.
Saturday, December 10
5:30 pm
The Shed is located at 545 West 30th Street, between 10th and 11th Avenues. For information about accessibility and arriving at The Shed, visit our Accessibility page.
Details
Running time: approx. 75 minutes
More about the Fire Ensemble
The Fire Ensemble, formed in 2021, is an organization that creates revolutionary new work rooted in music, ritual, and revelation by gathering through choirs that foster intergenerational healing and collective liberation.
During free, weekly rehearsals, people from different backgrounds and identities come together to explore the power of our individual voices to make music collectively. Though the invitation to participate in collective liberation is open to all, The Fire Ensemble is committed to centering BIPOC and LGBTQ+ communities.
The Fire Ensemble
Read more about "The Fire Ensemble"
All details for "The Fire Ensemble"
ONGOING COLLABORATION
An intergenerational choir community dedicated to using song and ritual as tools for collective liberation centering BIPOC and LGBTQIA+ folx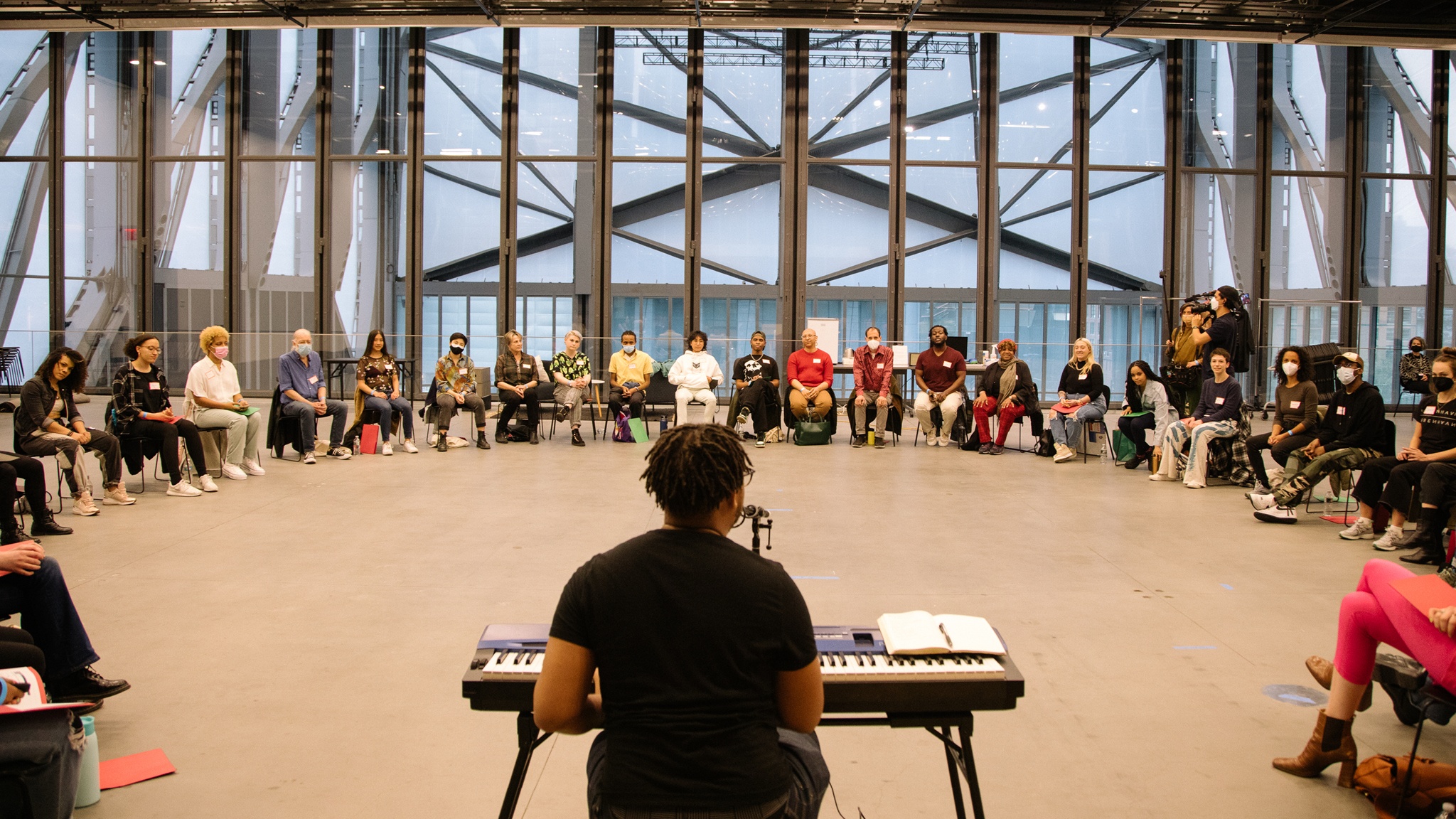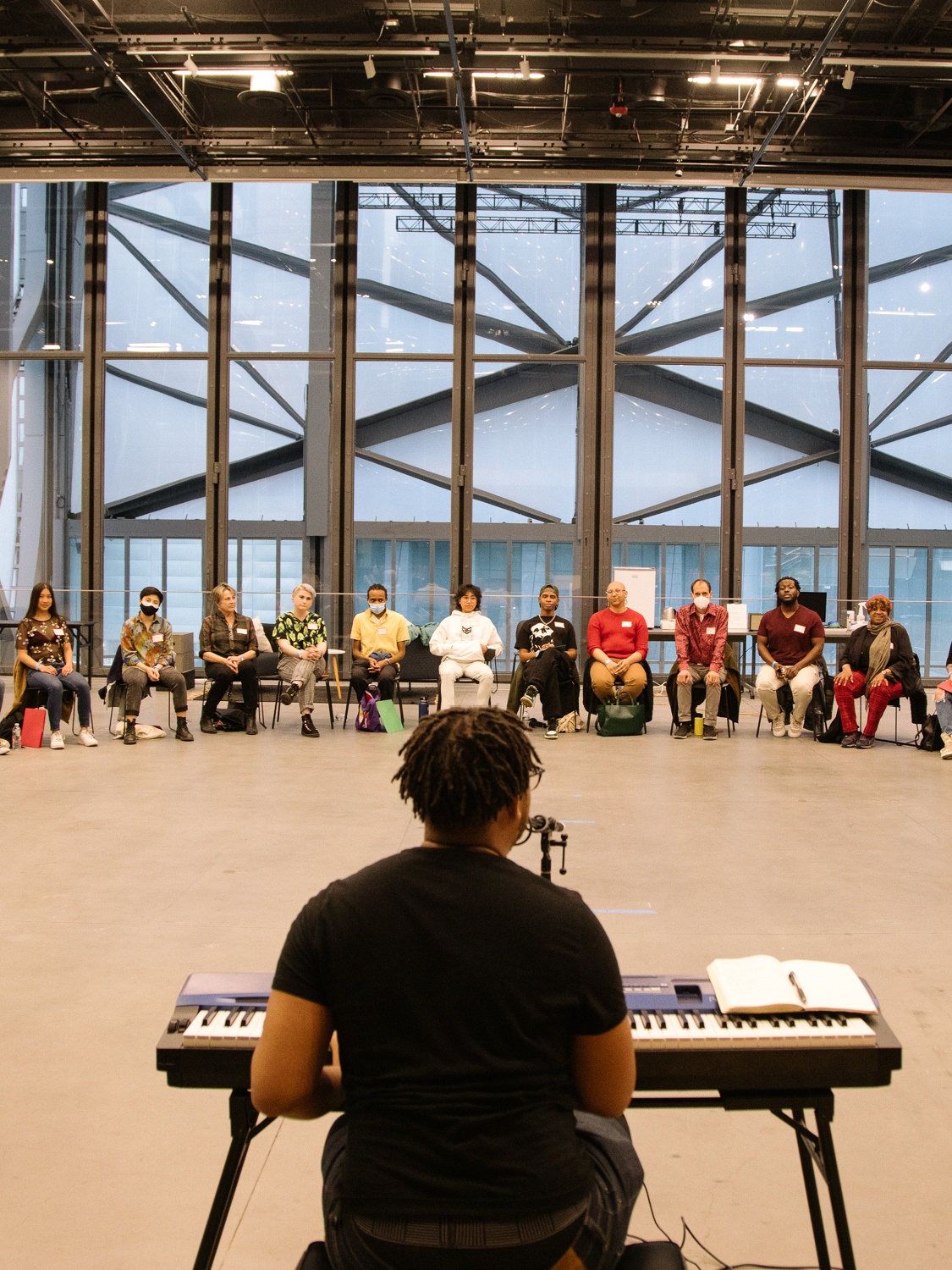 Thank you to our partners

To Feel A Thing: A Ritual For Emergence is supported by
The creation of new work at The Shed is generously supported by the Lizzie and Jonathan Tisch Commissioning Fund and the Shed Commissioners. Major support for live productions at The Shed is provided by the Charina Endowment Fund, with additional support from the New York State Council on the Arts with the support of the Office of the Governor and the New York State Legislature.
The Shed is connected by