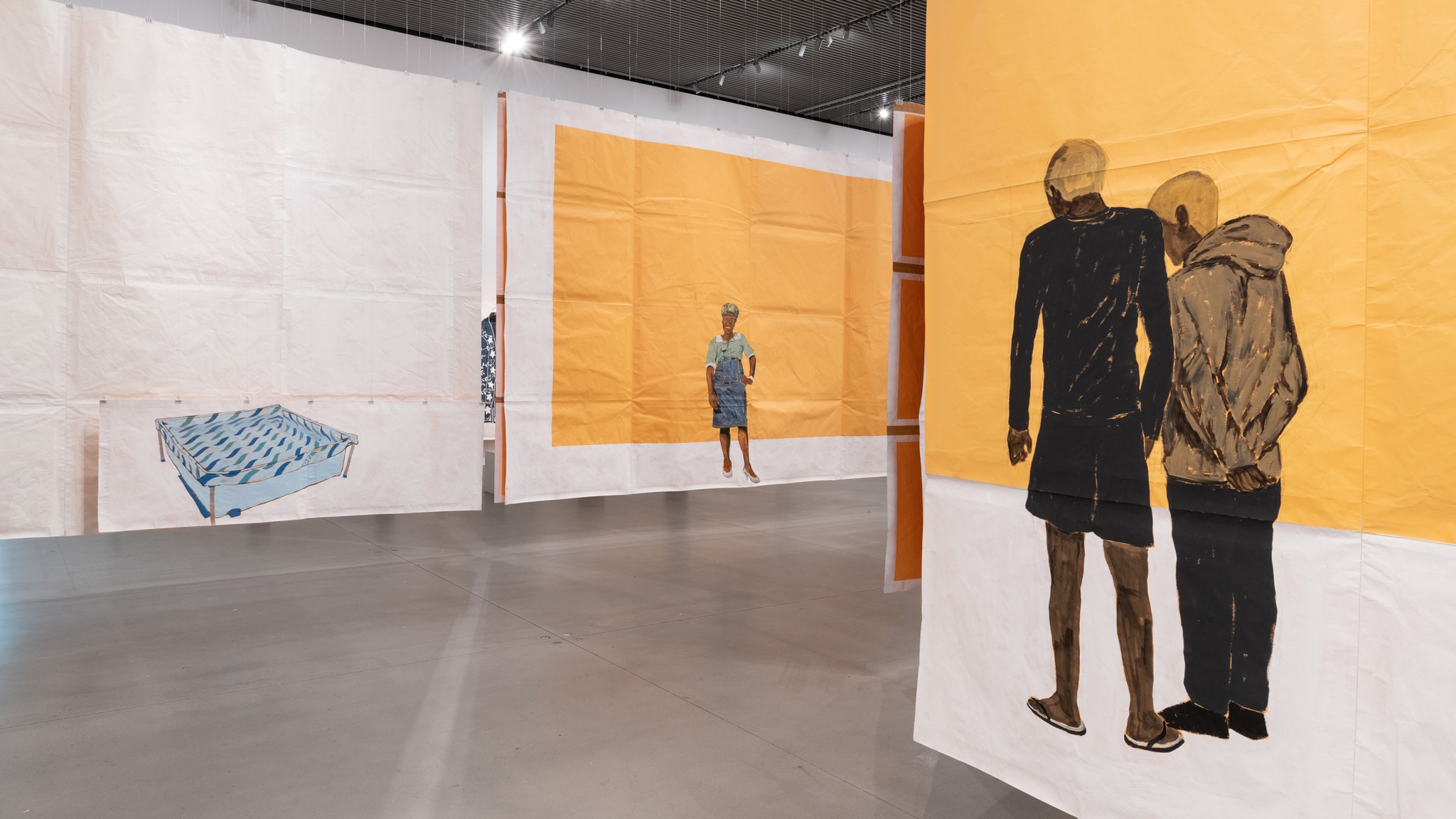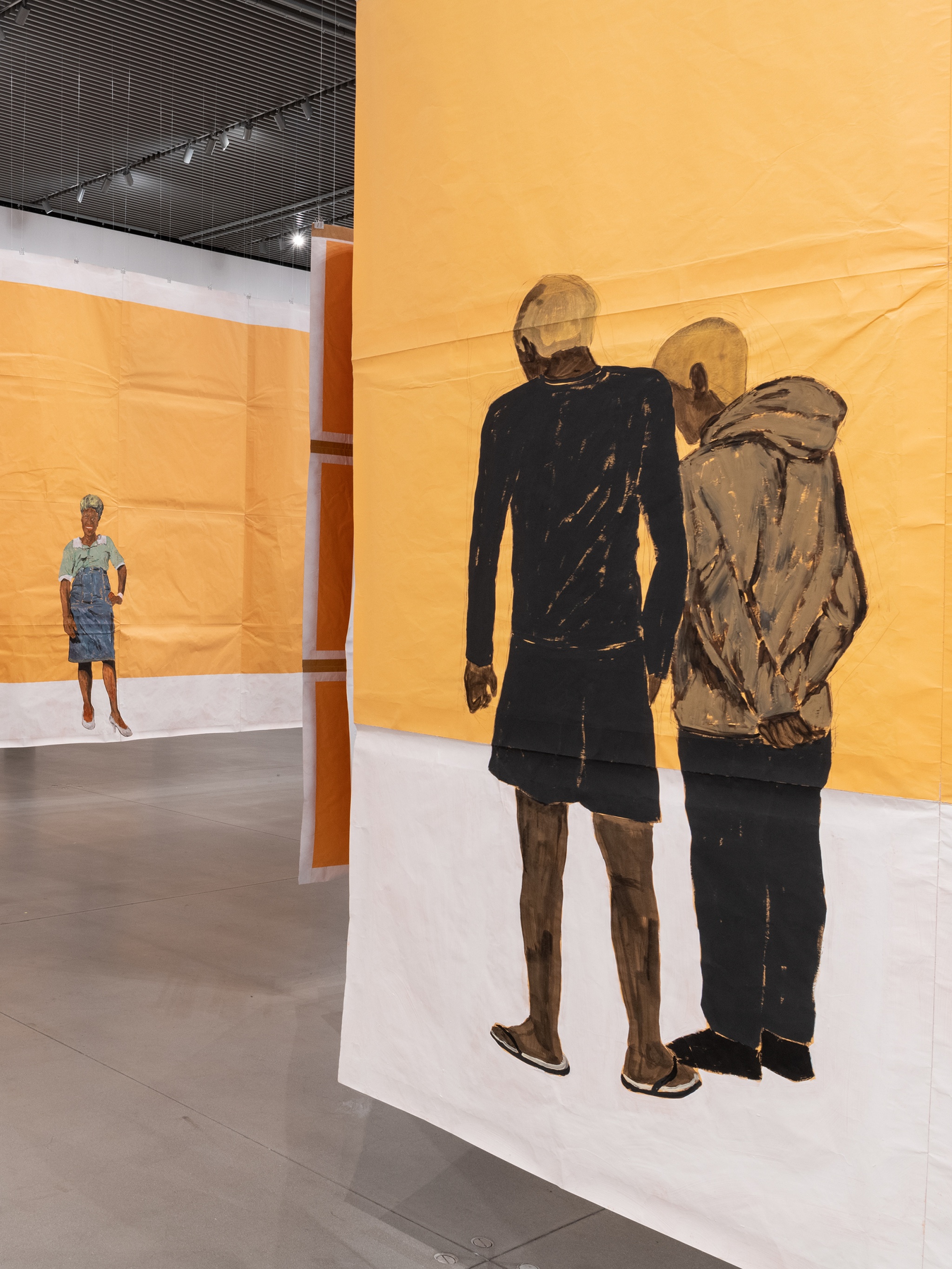 Maxwell Alexandre: Pardo é Papel: The Glorious Victory and New Power
OCT 26, 2022 – JAN 8, 2023
Expansive paintings celebrating Black empowerment
About the exhibition
In his first North American solo exhibition, Brazilian artist Maxwell Alexandre presents new and existing paintings from his ongoing series "Pardo é Papel" (2017 – ) that depict collective portraits celebrating the empowerment, self-esteem, and prosperity of Black people. ​​Suspended from the gallery ceiling, Alexandre's large-scale paintings form pathways and intimate enclosures that surround visitors. They portray striking scenes of communal leisure interspersed with recurring religious and art historical imagery. Pop cultural symbols appear alongside these images, including depictions of Black cultural icons, like Beyoncé, Nina Simone, and Elza Soares, and commercial products from his childhood, such as popular plastic blue Capri pools, Danone yogurt, and the chocolate drink Toddynho.
Since the first period of "Pardo é Papel," "The Glorious Victory" (2017 –), to the most recent subseries, "New Power" (2019 –), Alexandre has painted Black people on brown kraft paper, commonly referred to in his native Portuguese as pardo. Though the main series title translates directly to "brown is paper" to reference the pardo paper itself, historically the term holds double significance as an ambiguous racial category in the Brazilian census. Activists argue that the category, based on the physical appearance of skin tones rather than ancestry, was designed to obscure Black identity within the Brazilian population by reducing the percentage of citizens who identified as Black.
Instead, Alexandre uses pardo paper to affirm Black identity, representation, and empowerment. Many of the paintings in "The Glorious Victory" are tributes to Black musicians from Brazil and beyond. Alexandre draws his work closer to the influence of hip hop and Brazilian rap by referring to his series as albums, much as his musical collaborators, the rappers BK', Djonga, and Baco Exu do Blues, refer to collections of their songs. The paintings commissioned for this exhibition from his "New Power" subseries center Black audiences contemplating art in museums and galleries to draw attention to the exclusionary dynamics at play in white, Western contemporary art spaces.
This exhibition is organized by Alessandra Gómez, Associate Curator at Large, with exhibition management by Elizabeth Berridge, Associate Exhibitions Manager.
About the artist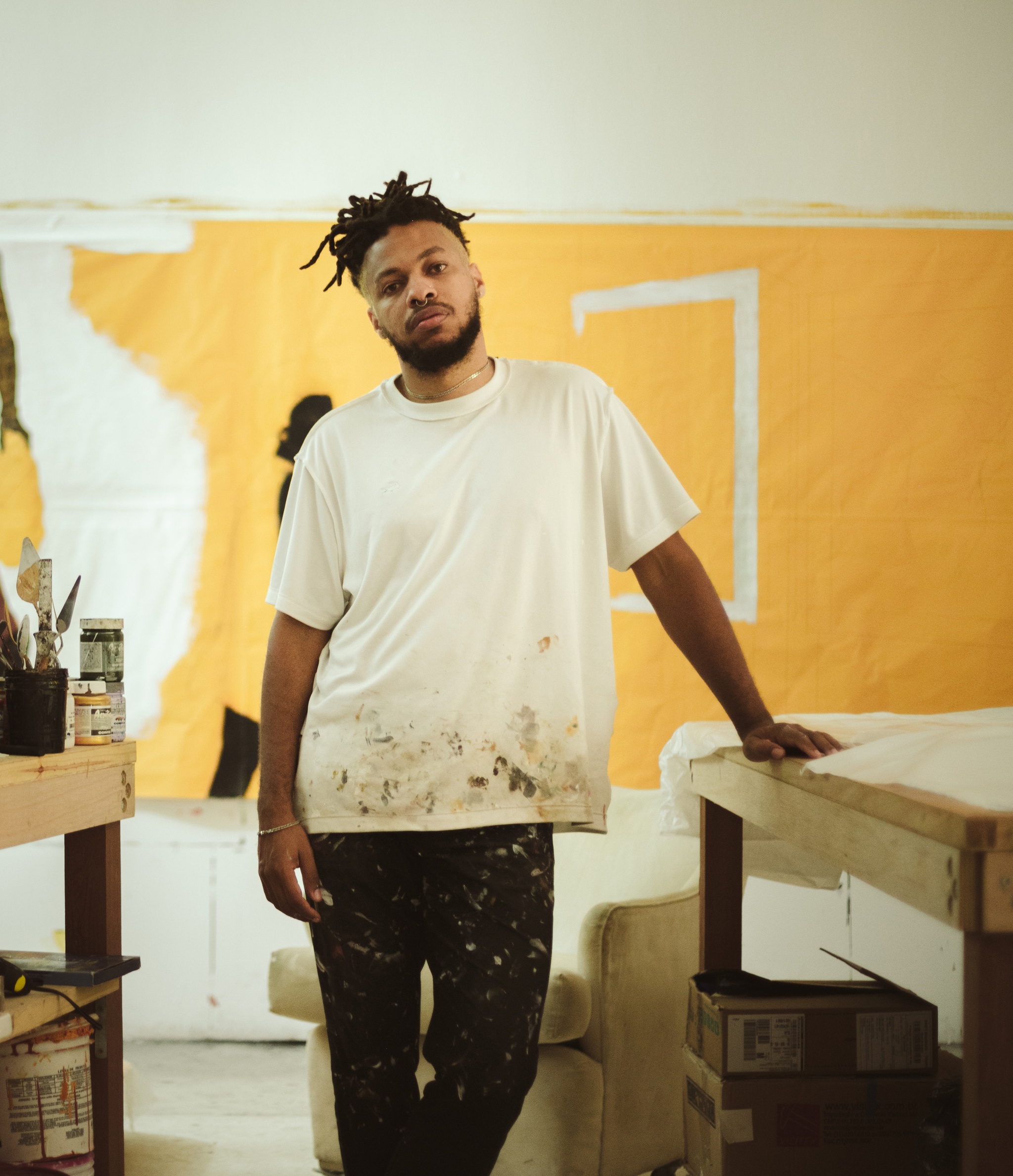 Maxwell Alexandre
Maxwell Alexandre was born in 1990 in Rio de Janeiro. Raised in an evangelical home, the artist served in the army and was a professional street inline skater for 12 years. He graduated in design from PUC-RJ (Pontifícia Universidade Católica of Rio de Janeiro) in 2016. In 2018, he received an award from the Archdiocese of Rio de Janeiro and received the São Sebastião Culture Prize. Alexandre was elected artist of the year by Deutsche Bank as part of their "Artist of the Year" series and is one of the 35 artists worldwide included on Artsy's Vanguard list.His work figures in the collections of various prestigious institutions, including the Pinacoteca do Estado de São Paulo, the Museu de Arte de São Paulo, the Museu de Arte Moderna do Rio de Janeiro, the Museu de Arte do Rio, the Musée d'Art Contemporain de Lyon, Perez Art Museum Miami, and Guggenheim Abu Dhabi. Alexandre considers his works prayers and his studio a temple.
Exhibition Catalogue
A fully illustrated catalogue designed by Normal studio accompanies the exhibition, with essays from the exhibition's curator, Alessandra Gómez, and scholar Tina M. Campt, an interview by Hans Ulrich Obrist, and writing by the artist.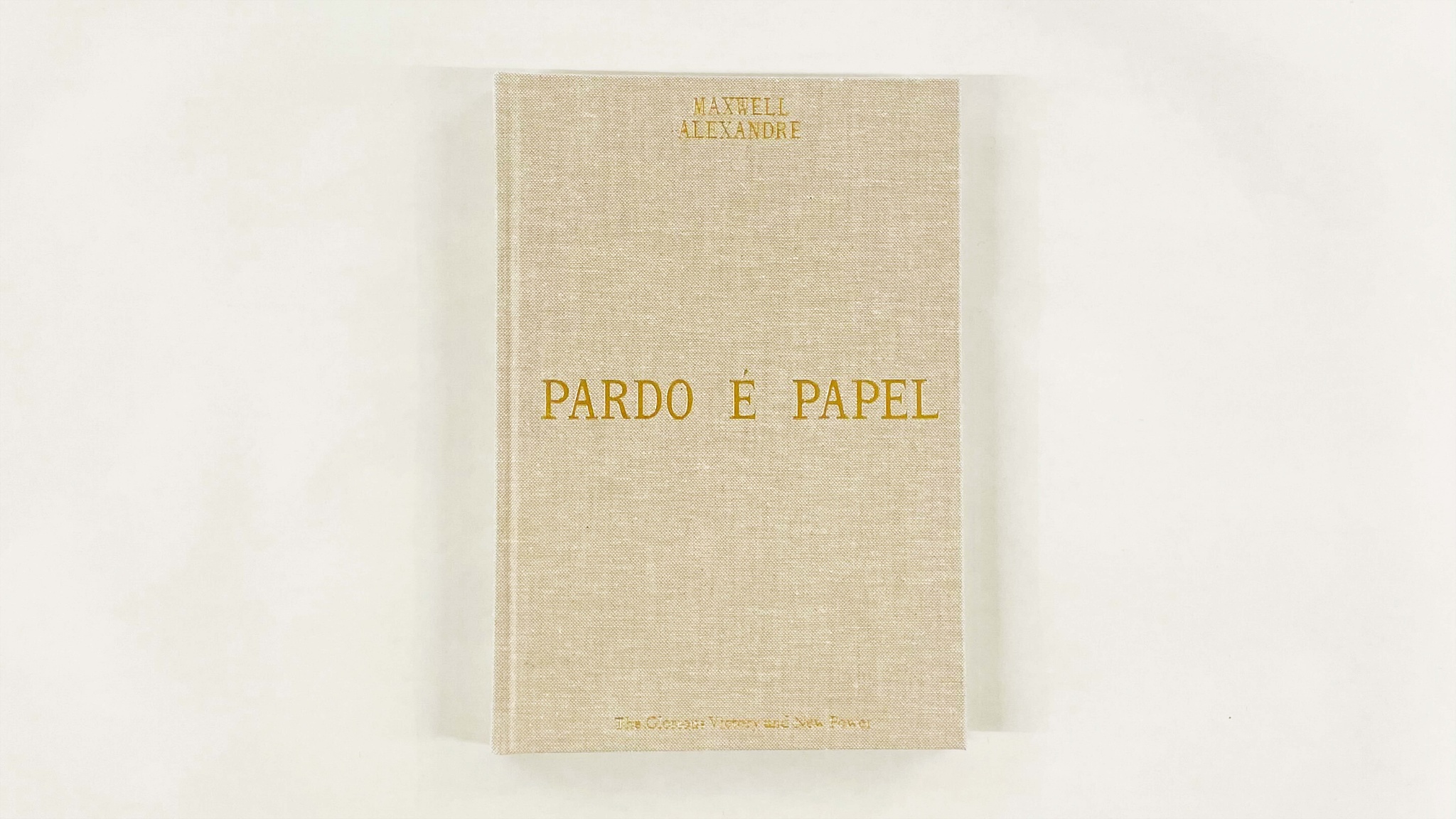 Verbal Description: Selected Works in the Exhibition
Installation Credits
Nathaniel Gettings, Crew Chief
David Burnhauser, Registrar
Itohan Edoloyi, Lighting Designer
Timothy Bergstrom
Michael Decaul
Peter Gat
Sylvie Hayes-Wallace
Maxim Schidlovsky
Sara Sciabbarrasi
Nuno Marques
Alexander Barry
Alex Lee
Paul Lemire
Jason Murphy
Jose Rodriguez
John Scott-Richardson
Location, dates, and hours
This event takes place in Level 4 Gallery.
Exhibition Hours
Sunday, Wednesday, Thursday, 11 am – 6 pm
Friday, Saturday, 11 am – 8 pm
The Shed is located at 545 West 30th Street, between 10th and 11th Avenues. For information about accessibility and arriving at The Shed, visit our Accessibility page.
Touring
Please email
travelingexhibitions@theshed.org
if you are interested in bringing this exhibition to your institution, or if you would like to request more information.
Thank you to our partners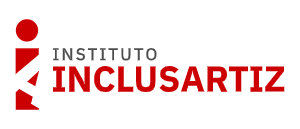 Major funding for this exhibition is provided by Frances Reynolds and Instituto Inclusartiz, with additional support from Elaine Goldman and John Benis and the Consulate General of Brazil in New York.
The creation of new work at The Shed is generously supported by the Lizzie and Jonathan Tisch Commissioning Fund and the Shed Commissioners.
The Shed is connected by