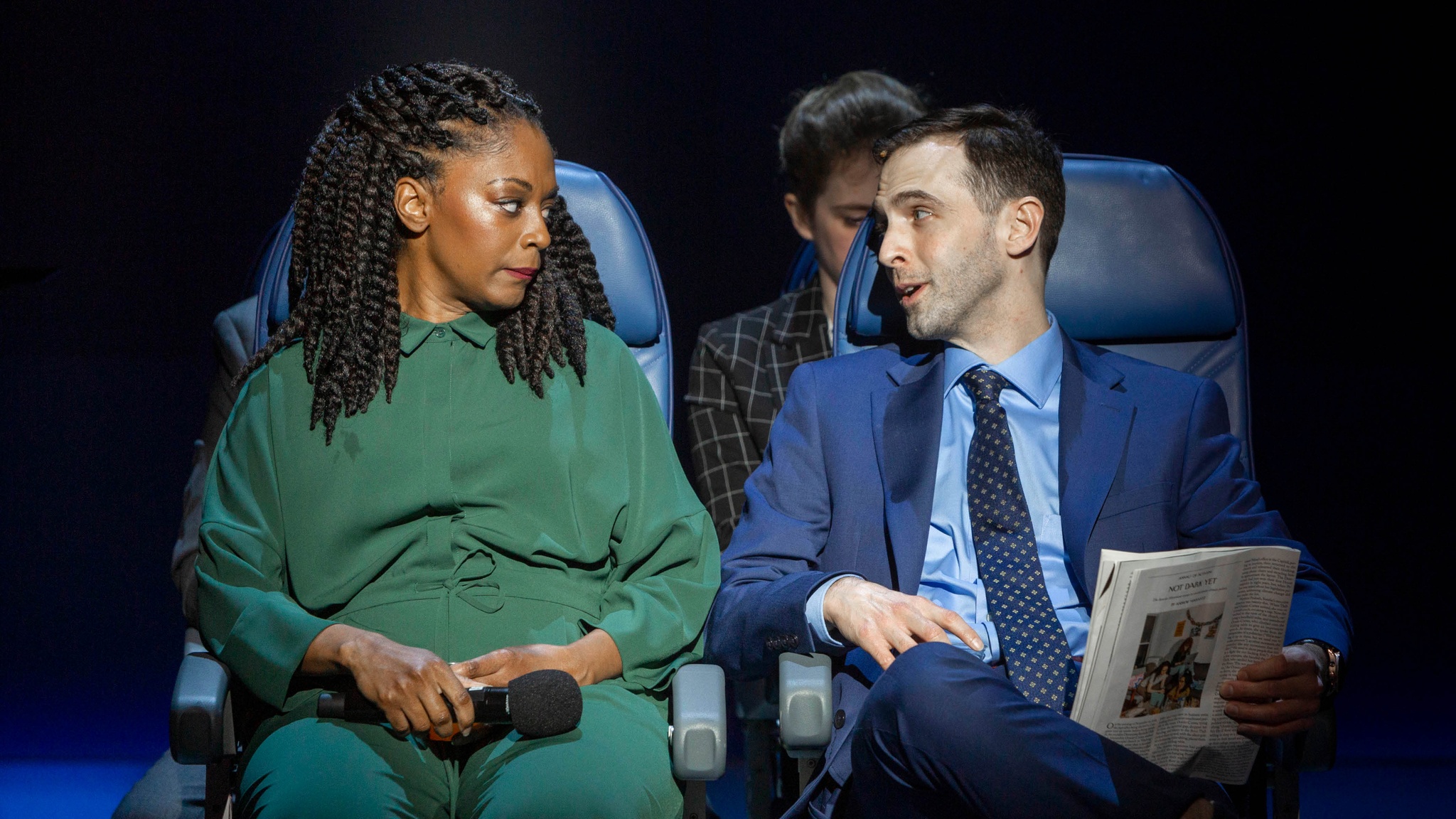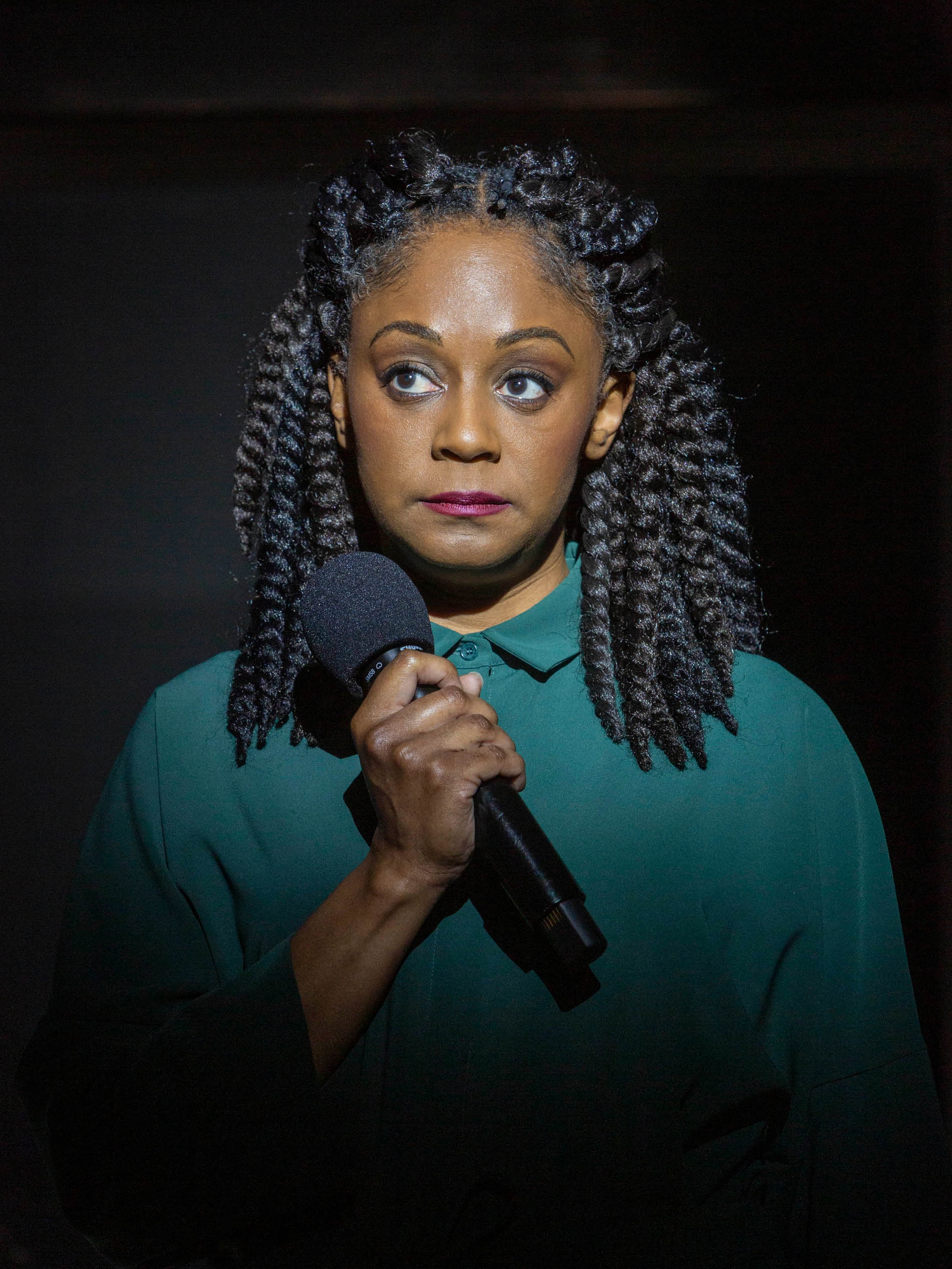 Help: A New Play by Claudia Rankine
What are white people thinking?
About this commission
After closing during previews in March 2020 due to the pandemic, The Shed presents the world premiere of Help, a new play by acclaimed author and poet Claudia Rankine (Just Us, Citizen: An American Lyric), directed by Obie Award-winner Taibi Magar (Twilight: Los Angeles, 1992, Signature Theatre; Is God Is, Soho Rep).
Derived from Rankine's deep inquiry and ongoing investigation into white dominance, Help stars April Matthis (Toni Stone, Roundabout Theatre; Fairview, Soho Rep) as the Narrator, a Black woman who recounts Rankine's real-life conversations with white people that take place in transitional spaces like airports. As the stories unfold through monologues and staged scenarios, Help explores how these conversations can go right, wrong, or raise new questions about our fragile democracy.
Rankine's body of work, for which she has been awarded MacArthur and Guggenheim fellowships, crosses lyric poetry and prose essay to navigate questions of race, healthcare, loneliness, and what it means for a life to matter in American society today.
Recommended for ages 14 and up; includes adult language and content around white supremacy, racism, and misogyny
Learn more about this production
Creative and Production Team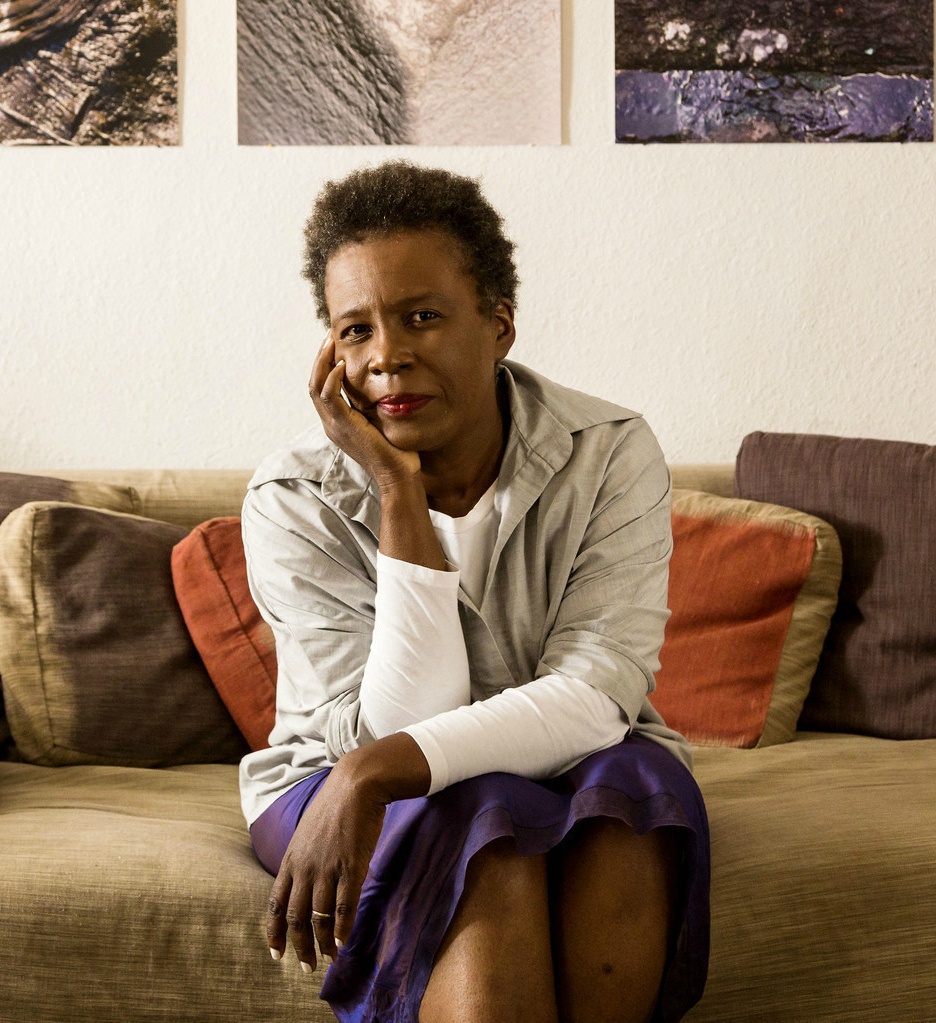 Claudia Rankine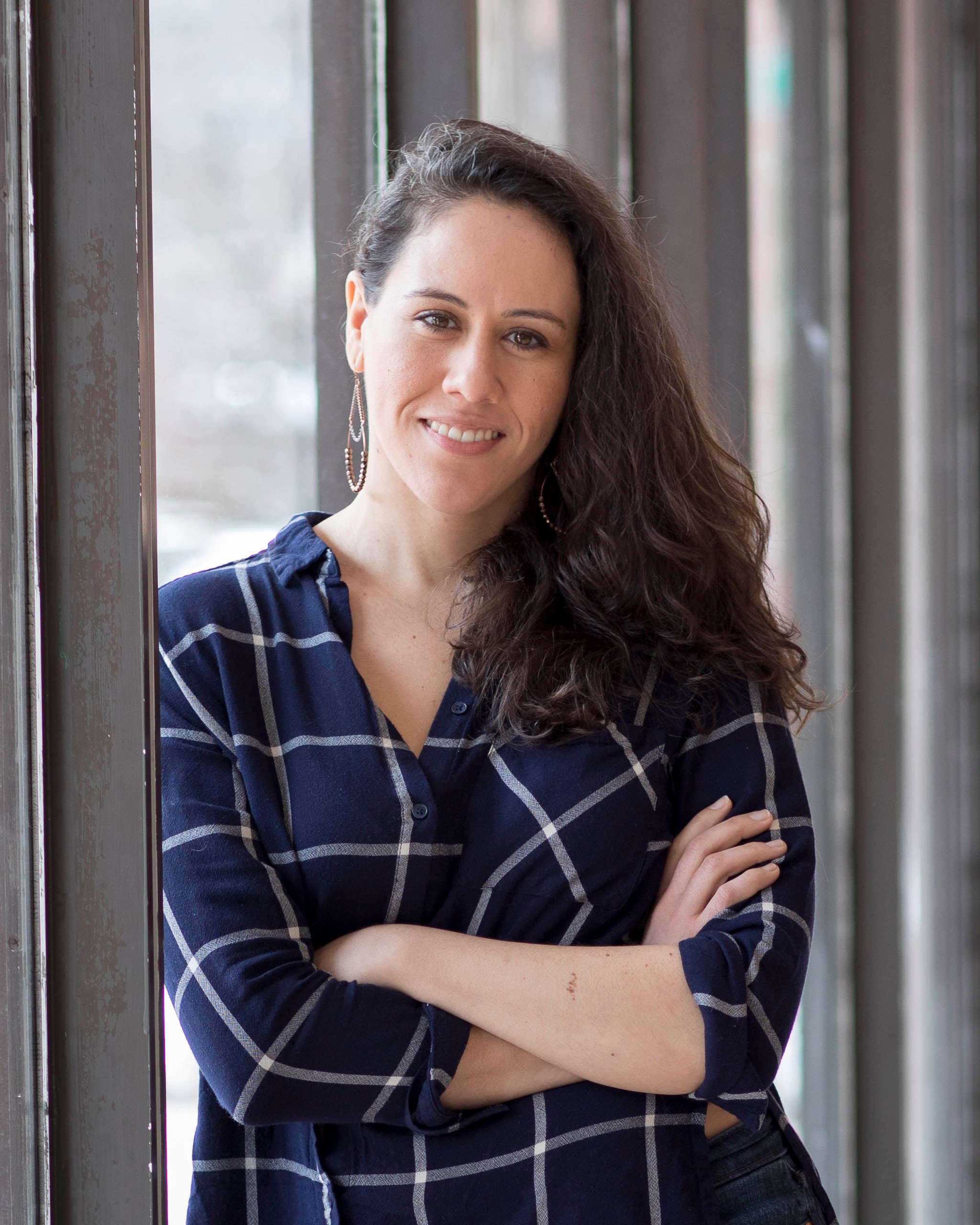 Taibi Magar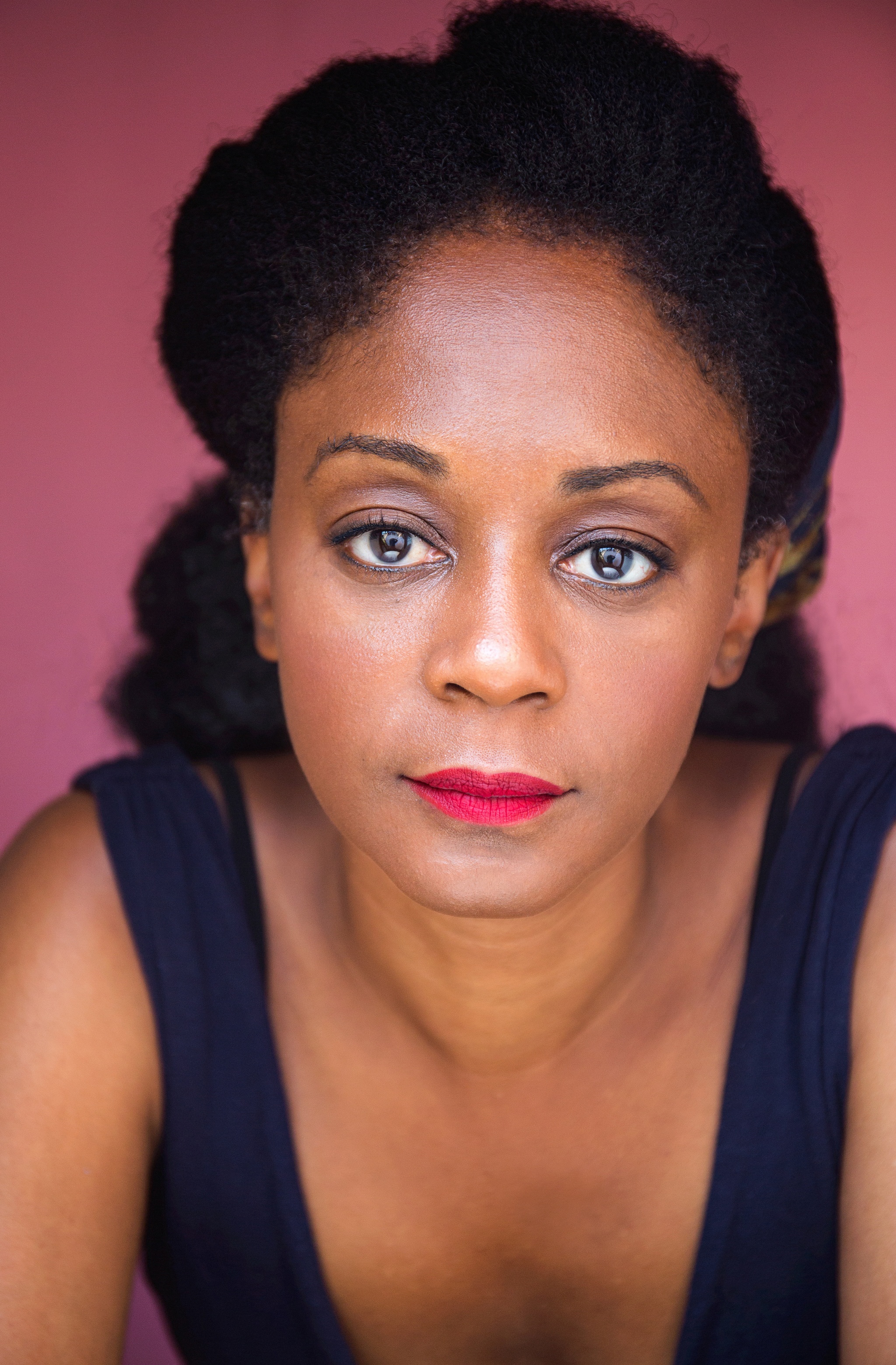 April Matthis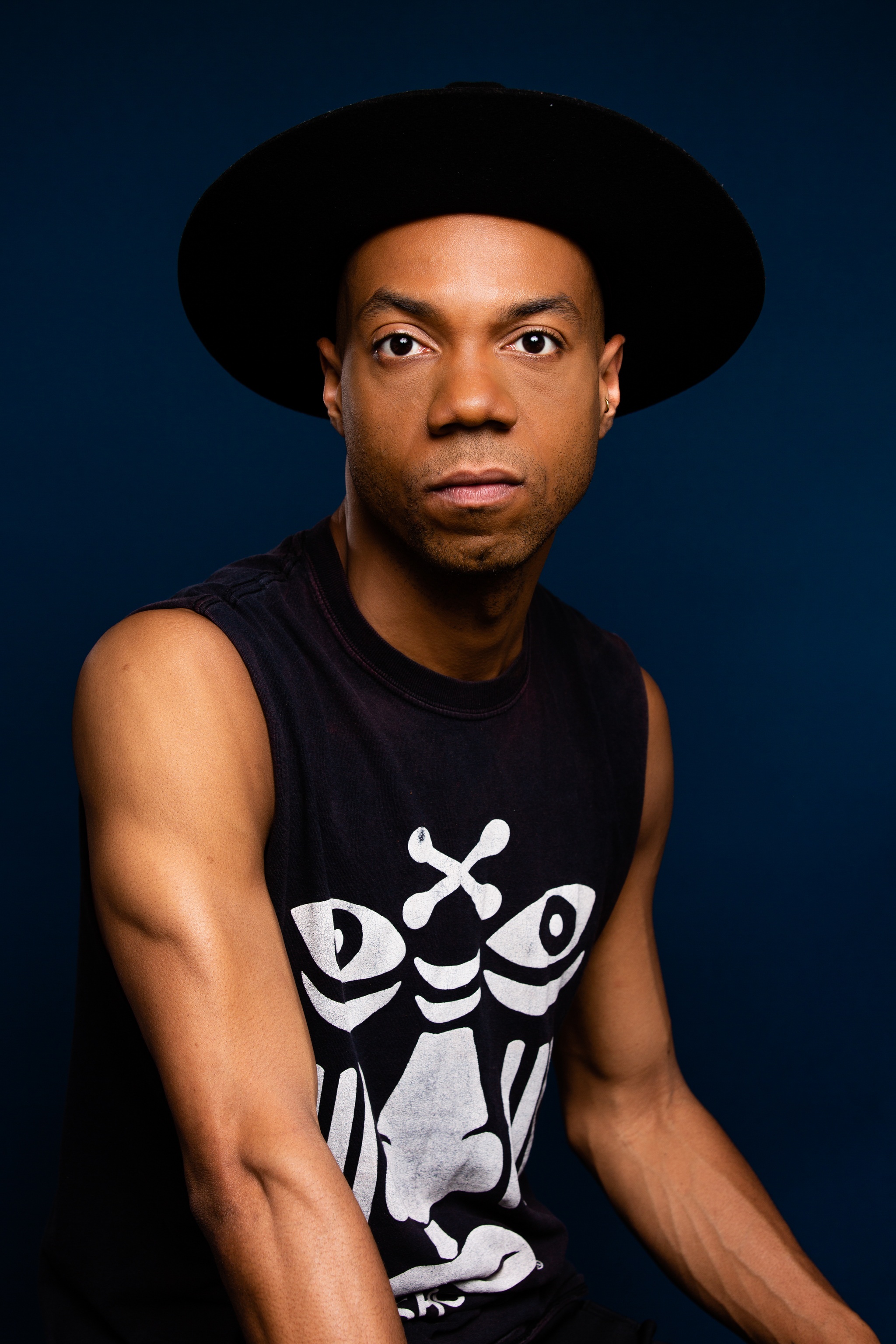 Shamel Pitts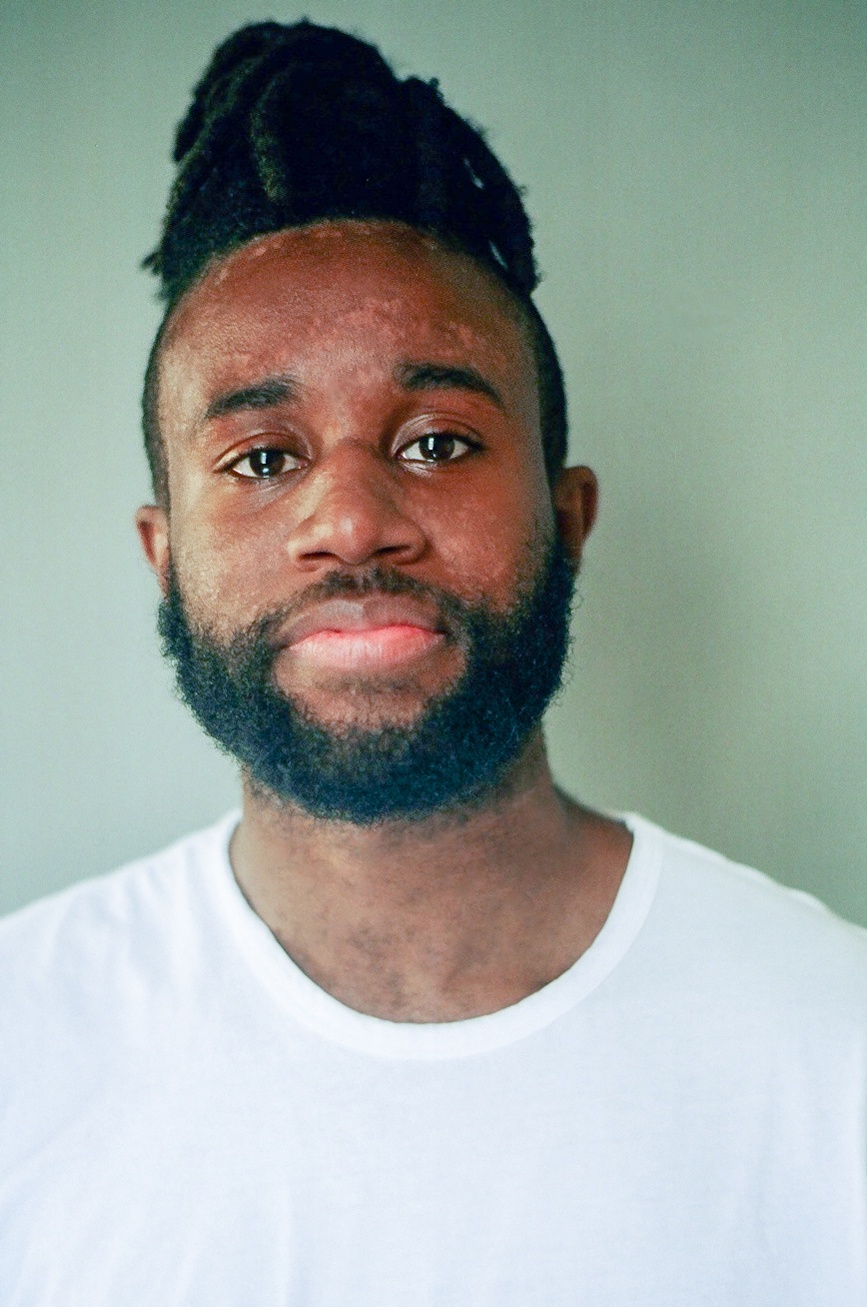 JJJJJerome Ellis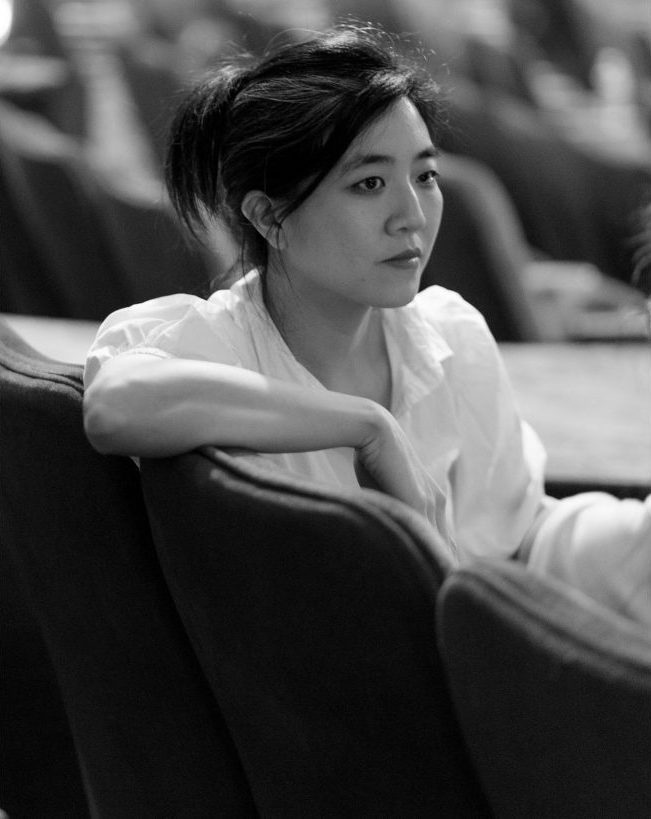 Mimi Lien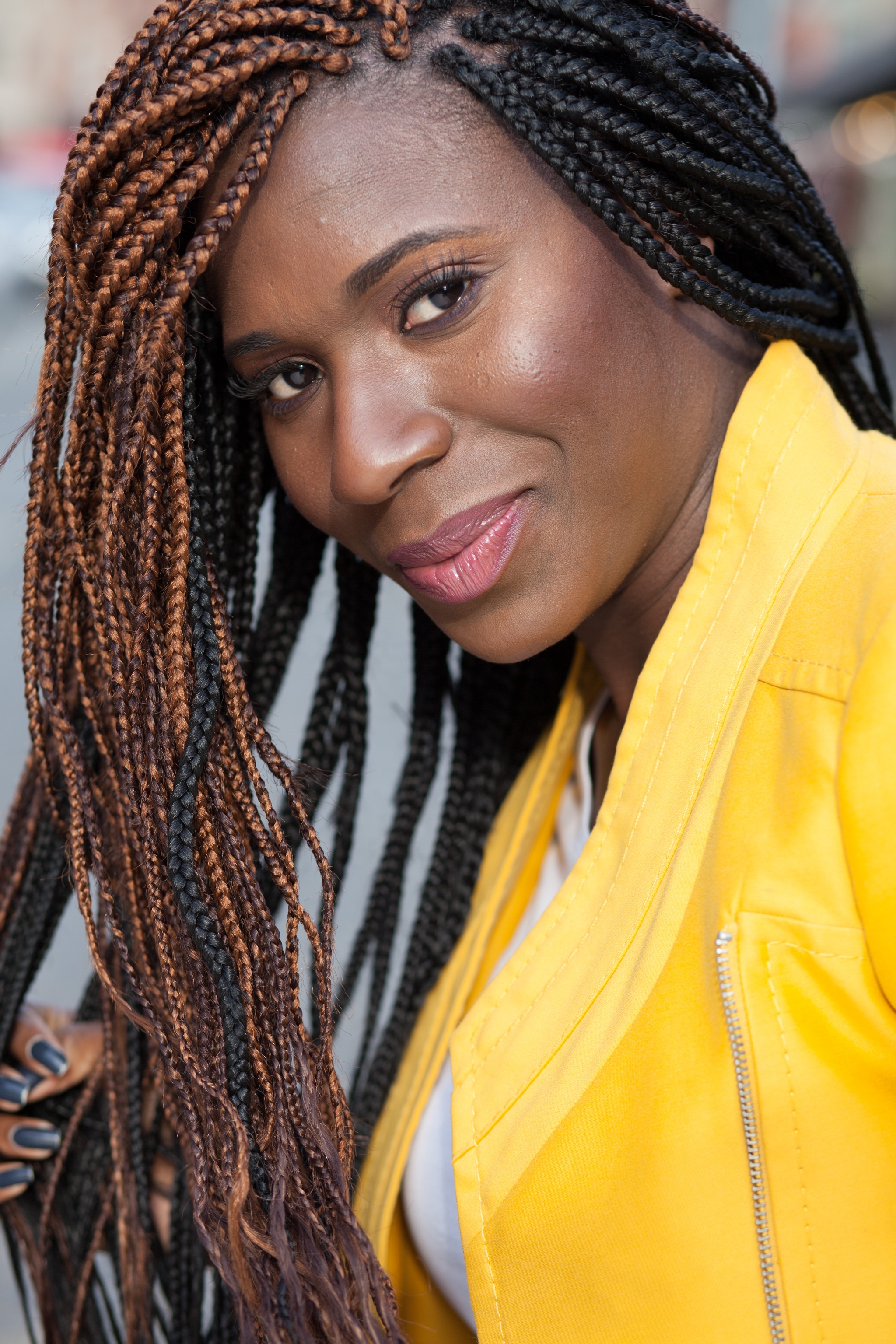 Dede Ayite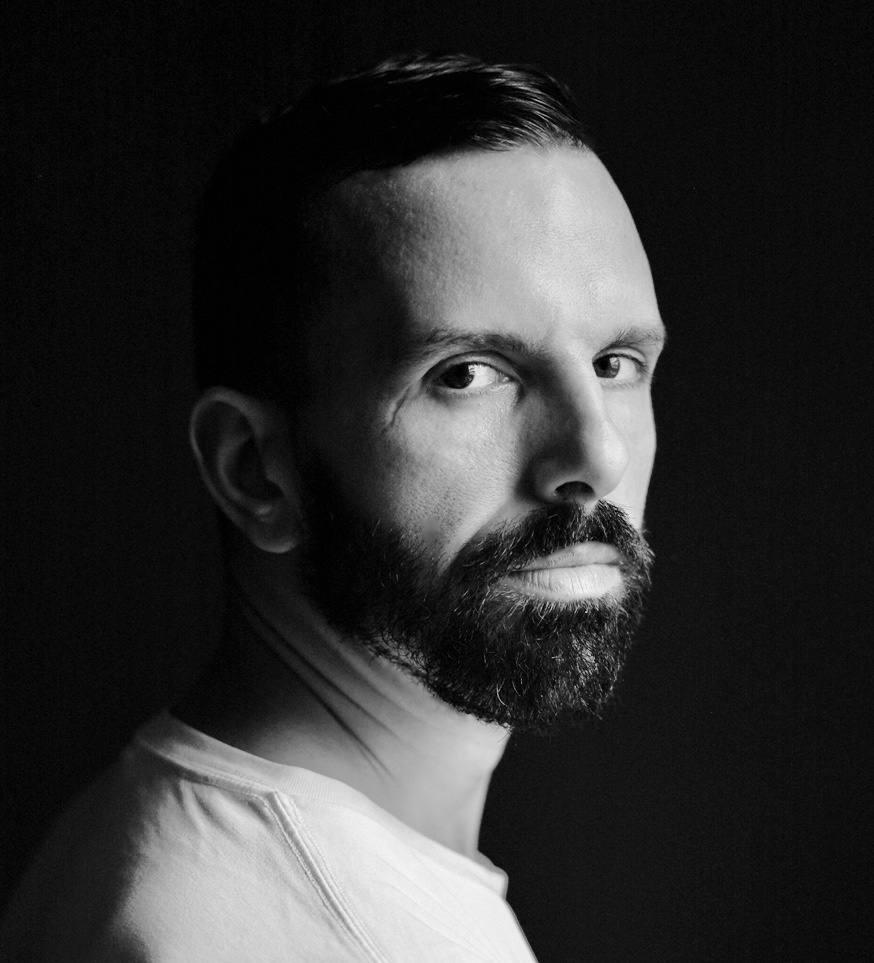 John Torres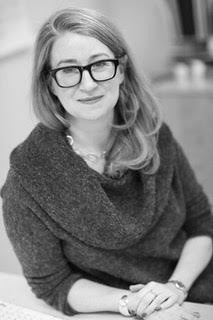 Brick Wall Theatrical
Claudia Rankine is the author of five books of poetry, including Citizen: An American Lyric and Don't Let Me Be Lonely; four plays including The White Card, which premiered in February 2018 (ArtsEmerson / American Repertory Theater) and was published by Graywolf Press in 2019; as well as numerous video collaborations. Her recent collection of essays, Just Us: An American Conversation, was published by Graywolf Press in 2020. She is also the co-editor of several anthologies including The Racial Imaginary: Writers on Race in the Life of the Mind. In 2016, Rankine co-founded the Racial Imaginary Institute (TRII). Among her numerous awards and honors, Rankine is the recipient of the Bobbitt National Prize for Poetry, the Poets & Writers' Jackson Poetry Prize, and fellowships from the Guggenheim Foundation, the Lannan Foundation, the MacArthur Foundation, United States Artists, and the National Endowment of the Arts. A former Chancellor of the Academy of American Poets, Claudia Rankine is a professor of creative writing at New York University.
Taibi Magar's New York credits include Twilight: Los Angeles 1992 (Signature Theatre), Capsule by Whitney White and Peter Mark Kendall (Under the RadarFestival/The Public Theater, co-directed with Tyler Dobrowsky), Blue Ridge, starring Marin Ireland, The Great Leap starring BD Wong (AtlanticTheatre Company), Is God Is (Soho Rep, 2018 Obie Award), Master (TheFoundry, NYT Critics Pick), and Underground Railroad Game (Ars Nova, NYT Critics Pick). Regional credits include A.R.T., CTG, Baltimore Center Stage, Woolly Mammoth Theatre, the Guthrie Theater, and Seattle Repertory Theatre among others. International credits include Hamburg Festival, Edinburgh Festival, Malthouse Theatre (Melbourne), and Soho Theatre (London). Magar received a MFA from Brown University.
April Matthis is an Obie Award–winning actor and company member of Elevator Repair Service. Her credits include, Off-Broadway: Toni Stone (Roundabout; Lortel, Drama League, Drama Desk nominations, Outer Critics Circle, and OBIE Awards for Outstanding Performance); Fairview, LEAR (Soho Rep); Signature Plays: Funnyhouse of a Negro (Signature Theatre); Iowa and Antlia Pneumatica (Playwrights Horizons); and On the Levee (LCT3). With ERS: The Sound & the Fury and Fondly, Collette Richland (NYTW); Measure for Measure (The Public); Everyone's Fine with Virginia Woolf (Abrons Art Center); GATZ (Perth Festival); and Baldwin/Buckley at Cambridge (Philadelphia Fringe). Regional: Little Bunny Foo Foo (Actors Theater of Louisville) and A Streetcar Named Desire (Yale Rep). TV: EVIL, The Good Fight (Paramount +), New Amsterdam, and The Blacklist (NBC). Film: Black Card (HBO, Showtime) and Fugitive Dreams (Cinequest).
Shamel Pitts
Choreographer
Shamel Pitts is a performance artist, choreographer, conceptual artist, dancer, spoken word artist, and teacher. Born in Brooklyn, New York, Pitts began his dance training at LaGuardia High School for Music & Art and the Performing Arts and, simultaneously, at The Ailey School. He is a 2003 YoungArts Finalist and a first prize (level 1)–winner of the YoungArts competition. Pitts then went on to receive his BFA in dance from The Juilliard School and was awarded the Martha Hill Award for excellence in dance. He began his dance career in Mikhail Baryshnikov's Hell's Kitchen Dance and BJM_Danse Montreal. Pitts danced with Batsheva Dance Company for seven years, under the artistic direction of Ohad Naharin and is a certified teacher of Gaga movement language. He is an adjunct at The Juilliard School and has been an artist in residence at Harvard University. He is the recipient of a 2018 Princess Grace Award in Choreography, a 2019 NYSCA/NYFA Artist Fellowship Award winner in Choreography, a 2020 Jacob's Pillow artist-in-residence, and a 2020 Guggenheim Fellow. Pitts is the artistic director/founder of TRIBE, a New York based multidisciplinary arts collective.
JJJJJerome Ellis
Original Composition
JJJJJerome Ellis is an animal, stutterer, and artist. He was raised by Jamaican and Grenadian immigrants in Tidewater, Virginia, where he prays, gardens, and resides among the egrets and asters. He dreams of building a sonic bath house!
James Harrison Monaco
Original Composition
Monaco (original composition) is a storyteller, writer, composer, and musician. He's one half of the music-storytelling duo James & Jerome. Recent James & Jerome projects include The Conversationalists (The Bushwick Starr), Ink (The Metropolitan Museum of Art, Under The Radar), and Piano Tales (Lincoln Center, MASS MoCA, La MaMa, etc.). Other storytelling projects include Tales for Telling (Ars Nova) and Reception (HERE Arts, The New Ohio). Composition work includes Marvel Entertainment's podcast Hawkeye (with JJJJJerome Ellis), the TEAM's Reconstruction…, and work for upcoming commissions from Ars Nova and The Momentary. He's also a translator of Spanish and Italian.
Robert Duffley's credits include We Hear You—A Climate Archive (Dramaten, the Royal Dramatic Theatre of Sweden/Georgetown University/Swedish Embassy DC), 1776 (dir. Diane Paulus and Jeffrey L. Page, A.R.T./Roundabout), Miranda Rose Hall's A Play for the Living in a Time of Extinction (touring Europe with original direction by Katie Mitchell), LubDub's The Uncle Geoff Magic Show (Target Margin Theater Lab), The Lazours' We Live in Cairo (dir. Taibi Magar, A.R.T.), and Celine Song's Endlings (dir. Sammi Cannold, A.R.T.). Duffley is editor and associate dramaturg at the American Repertory Theater at Harvard University, dramaturg for LubDub Theatre Co, and affiliated faculty at Emerson College.
Mimi Lien is a designer of sets/environments for theater, dance, and opera. In 2015, she was named a MacArthur Fellow, and is the first stage designer ever to achieve this distinction. Lien is a co-founder of JACK, a performance/art space in Brooklyn. Selected projects include Natasha and Pierre & the Great Comet of 1812 (Broadway, Tony Award); Fairview and An Octoroon (Soho Rep); Die Zauberflöte (Staatsoper Berlin); and True West (Roundabout). She is a recipient of Drama Desk, Lucille Lortel, and Outer Critics Circle Awards, as well as an American Theatre Wing Hewes Design Award, LA Drama Critics Circle Award, Bessie Award, and an OBIE Award for sustained excellence.
Dede Ayite is a two-time Tony Award–nominated costume designer whose Broadway credits include A Soldier's Play, Slave Play, American Son, and Children of a Lesser God. Select Off-Broadway credits include Merry Wives (The Public Theater); Secret Life of Bees and Marie and Rosetta (Atlantic); By The Way and Meet Vera Stark (Signature); BLKS and School Girls… (MCC); Bella: An American Tall Tale (Playwrights Horizons); The Royale (Lincoln Center); and Toni Stone (Roundabout). Regionally, Ayite's work has appeared at Oregon Shakespeare Festival, Steppenwolf, Arena Stage, and more. She has worked in television with Netflix, Comedy Central, and FOX Shortcoms. Ayite earned her MFA at the Yale School of Drama and has received Obie, Lucille Lortel, Helen Hayes, Theatre Bay Area, and Jeff Awards, along with four Drama Desk nominations.
John Torres
Lighting Design
John Torres is a New York-based lighting designer working in theater, dance, motion, and print. Recent projects have included: Opera: Turandot (Opera Bastille, Paris), Tristan and Isolde (La Monnaie, Brussels), Atlas (composed by Meredith Monk; Disney Hall, LA Philharmonic), Eden (Joyce DiDonato; Bozar, Brussels), Der Messias (Salzburg Festival). Theater: Twelfth Night and A Bright Room Called Day (The Public, NYC); The Black Clown (A.R.T. Cambridge); Only an Octave Apart and Hamlet (St. Ann's Warehouse, Brooklyn); and Assembly (Park Avenue Armory). TV: Tony Bennett & Lady Gaga: Cheek to Cheek Live! and Joni 75 (PBS). Music: Taylor Mac: A 24 Decade… (St. Ann's Warehouse), Solange Knowles, and Florence and the Machine. Dance: Toss and Rogues (Trisha Brown; Théâtre National de Chaillot, Paris); Available Light (Lucinda Childs; Théâtre de La Ville, Paris); Lost Mountain (Bobbi Jene Smith; La Mama, NYC). Fashion: Givenchy, Proenza Schouler, Bottega Veneta Salon 03 Detroit, and Gucci Love Parade (Los Angeles). Exhibitions: Adam Pendleton: Who is Queen? (MoMA New York) and Carl Craig: Party/After Party (Dia: Beacon).
Lee Kinney is a sound and music artist working in theater, film and events. Broadway credits include Is This A Room. Off-Broadway: Prayer for the French Republic and Morning Sun (MTC); Selling Kabul (Playwrights Horizons); Is This a Room (Vineyard); "Daddy" A Melodrama (New Group/Vineyard); Thom Pain (Signature); Sunday (Atlantic); and Gnit (Theatre for a New Audience). Other projects include work with Google, Virgin Voyages, Swing Left, The Dance Cartel, and The Ghostlight Project. Kinney has been awarded Outer Critics Circle Honors for Outstanding Sound Design, nominated for Lucille Lortel Award, Drama Desk Award, and Henry Hewes Design Award. From Lee Kinney: thanks to kris.
Brick Wall Theatrical
Casting
Brick Wall Theatrical (Laura Stanczyk and Mary Baynard, New York Casting) (casting) include Broadway, Off-Broadway, and tour productions of Encores! Off-Center, Side Show, After Midnight, A Night With Janis Joplin, Follies, Lombardi, Ragtime, Impressionism, Seafarer, Radio Golf, Coram Boy, Translations, Damn Yankees, Dirty Dancing, The Woman in Black, All Our Children, The Glorious Ones, The Cripple of Inishmaan, Urinetown, The Brother Sister Plays, and Fetch Clay Make Man. Other theater credits include Broadway Center Stage at The Kennedy Center, premieres of Make Natasha and Pierre & the Great Comet of 1812 (Broadway, Tony Award); Fairview and An Octoroon (Soho Rep); Die Zauberflöte (Staatsoper Berlin); and True West (Roundabout). She is a recipient of Drama Desk, Lucille Lortel, and Outer Critics Circle Awards, as well as an American Theatre Wing Hewes Design Award, LA Drama Critics Circle Award, Bessie Award, and an OBIE Award for sustained excellence.
The Telsey Office, Destiny Lilly, CSA
Casting
The Telsey Office (casting) casts for theater, film, television, and commercials. The Telsey Office is dedicated to creating safe, equitable, and anti-racist spaces through collaboration, artistry, heart, accountability, and advocacy.
Dominique Rider
Associate Director
Dominique Rider is a Brooklyn-based director whose work seeks to answer the question "What is a world unmade by slavery?" while attempting to analyze the layers of anti-Blackness that maintain the world we live in. Deploying theater and performance as tools of Afropessimism, Rider has developed and staged work with Audible, The New Group, NYTW, Roundabout, and more. Currently Rider is a resident director at The National Black Theatre, a Hi-Arts Critical Breaks resident, and a producer with CLASSIX.
Ashley Pierre-Louis
Associate Choreographer
Ashley Pierre-Louis grew up on the lands of the Tequesta, Miccosuki, and Seminole nations. With education from New World School of the Arts and later from Florida State University, Pierre-Louis began to discover her passion for movement, the human form, and arts administration. Pierre-Louis is currently artistic administrator and performer with Shamel Pitts's multidisciplinary performance collective, TRIBE. She has premiered the play Thoughts of a Colored Man by playwright Keenan Scott II and director Steve Broadnax III at Syracuse Stage and Baltimore Center Stage. She has performed for the premiere of Donna Uchizono's work March Under an Empty Reign at The Joyce, New York (Quadrille Festival) and has been one of GALLIM's Moving Women spring artists-in-residence. She has also been a part of Alvin Ailey's inaugural Choreography Unlocked Festival under the direction of Jawole Willa Jo Zollar, Urban Bush Women, and Robert Battle. Pierre-Louis has attended the School at Jacob's Pillow, San Francisco Conservatory of Dance, as well as Gaga intensives in Tel Aviv and New York.
Peiyi Wong
Associate Scenic Design
Peiyi Wong is an interdisciplinary artist and designer of sets, installations, and costumes based in Brooklyn. Select credits include
A Hunger Artist
(Sinking Ship),
Trial of the Catonsville Nine
(Transport Group),
You Are Under Our Space Control *(Object Collection), *Memoirs of a…Unicorn
(NYLA, Bessie Award), and
MukhAgni
(The Public Theater). Wong received an MFA from CalArts.
Learn more at Peiyi Wong's website
.
Tessa Ann Bookwalter
Associate Lighting Design
Tessa Ann Bookwalter is a NYC-based lighting and scenic designer who works across disciplines including theater, film, fashion, and installation. Recent lighting designs include Machinal (Spence School NYC), Eastman (Little Island), The Perfect Dog (Laguna Playhouse), Two's A Crowd (59E59, World Premiere at Laguna Playhouse), The War Boys (Columbia University), Proof (University of California, Irvine), and Physical Graffiti Dance Show (UCI). Recent assistant/associate credits are Diana (Broadway), Only an Octave Apart (St. Ann's Warehouse), A Bright Room Called Day (The Public Theater), Spongebob Squarepants the Musical (first national tour), and Finding Neverland (third national tour).
Evan Cook
Associate Sound Design
Coral Cohen
Covid Health and Safety Manager
Coral Cohen is a director, writer, and performance deviser. Directing credits include In the Kitchen (Access Theatre, Jewish Museum of Maryland) and Between the Threads (HERE). Assistant directing credits include Fefu and Her Friends (TFANA, dir. Lileana Blain-Cruz), My Heart Is in the East (La MaMa E.T.C, dir. Jen Wineman), and S 16 Luna Nera (La MaMa E.T.C, dir. Gian Marco Lo Forte). She is also an arts manager who has worked at the Park Avenue Armory, TFANA, and Lincoln Center.
Credits
April Matthis, Narrator
Jess Barbagallo, White Man #7
David Beach, White Man #4
Tina Benko, White Woman #1
Charlotte Bydwell, White Woman #2
Zach McNally, White Man #6
Joseph Medeiros, White Man #3
Tom O'Keefe, White Man #1
Matthew Russell, Ensemble (u/s)
Rory Scholl, White Man #9
John Selya, White Man #5
Charlette Speigner, Narrator (u/s)
Jeremy Webb, White Man #2
Nick Wyman, White Man #8
Dominique Rider, Associate Director
Ashley Pierre-Louis, Associate Choreographer
Daisy Peele, Music Director
David Lurie-Perret, Production Stage Manager
Rachel A. Zucker, Assistant Stage Manager
Emily Skillings, Script Supervisor
Peiyi Wong, Associate Scenic Design
Luke Simcock, Associate Costume Design
Tessa Bookwalter, Associate Lighting Design
Tye Hunt Fitzgerald, Associate Sound Design
Meredith Prouty-Due, Assistant Costume Design
Nicole Brewer, Anti-Racist Coordinator
Chelsea Pace, Intimacy Consultant
Carrie Mossman, Props Supervisor
Seth Huling, Head Audio
Maytt  Martinez, Head Lighting
Josh Galitzer, Head Carpenter
Lisa Delcegno, Followspot Operator
Trevor Dewey, Lighting Programmer
Kayleigh Truman, Props
Micah Zucker, A1
Harry Platt, A2
Ann Comanar, Head Wardrobe
Mark Klein, Dresser
Coral Cohen and Jessie Sabatino, Covid Health and Safety Managers
Madison Tarchala, Production Assistant
Scenery by Global Scenic Studios
Additional lighting equipment by PRG Lighting
Additional audio equipment by Sound Associates
Flooring by Halls Carpet
Alterations by Kyle Pearson
Alex Poots, Artistic Director and CEO
Madani Younis, Chief Executive Producer
Laura Aswad, Producer
Daisy Peele, Associate Producer
Frank Butler, Director of Production
Sarah Pier, Production Manager

The Actors and Stage Managers employed in this production are members of Actors' Equity Association, the Union of Professional Actors and Stage Managers in the United States. The Shed operates under an agreement between The Shed and Actors' Equity Association, the Union of Professional Actors and Stage Managers in the United States.
Backstage crew employees are represented by the International Alliance of Theatrical Stage Employees (or I.A.T.S.E).
United Scenic Artists Local USA 829 of the I.A.T.S.E represents the Designers and Scenic Artists for the American Theater.
The Director and Choreographer are members of the Society of Stage Directors and Choreographers, Inc., an independent national labor union.
Details
Running time: Approximately 90 minutes
Recommended for ages 14 and up; includes adult language and content around white supremacy, racism, and misogyny
This production includes haze effects and loud music
Accessibility
The Shed is wheelchair accessible, and designated seats for visitors using a wheelchair will be available. Assistive listening devices will be available in the theater using T-coil technology and the free Listen Everywhere app over The Shed's free Wi-Fi. Please email
info@theshed.org
or call (646) 455-3494 if you have any questions.
Learn more about accessibility at The Shed
.
Community Events
Join us as we build community around this production.
Friday, April 8, Black Women's Night
Saturday, April 9 (matinee performance), Community Day Event: Student and Educator Day
Thank you to our partners

Help is supported by
The creation of new work at The Shed is generously supported by the Lizzie and Jonathan Tisch Commissioning Fund and the Shed Commissioners. Major support for live productions at The Shed is provided by the Charina Endowment Fund, with additional support from the New York State Council on the Arts with the support of the Office of the Governor and the New York State Legislature.
The Shed is connected by