Rope/Fire/Water
Reading Room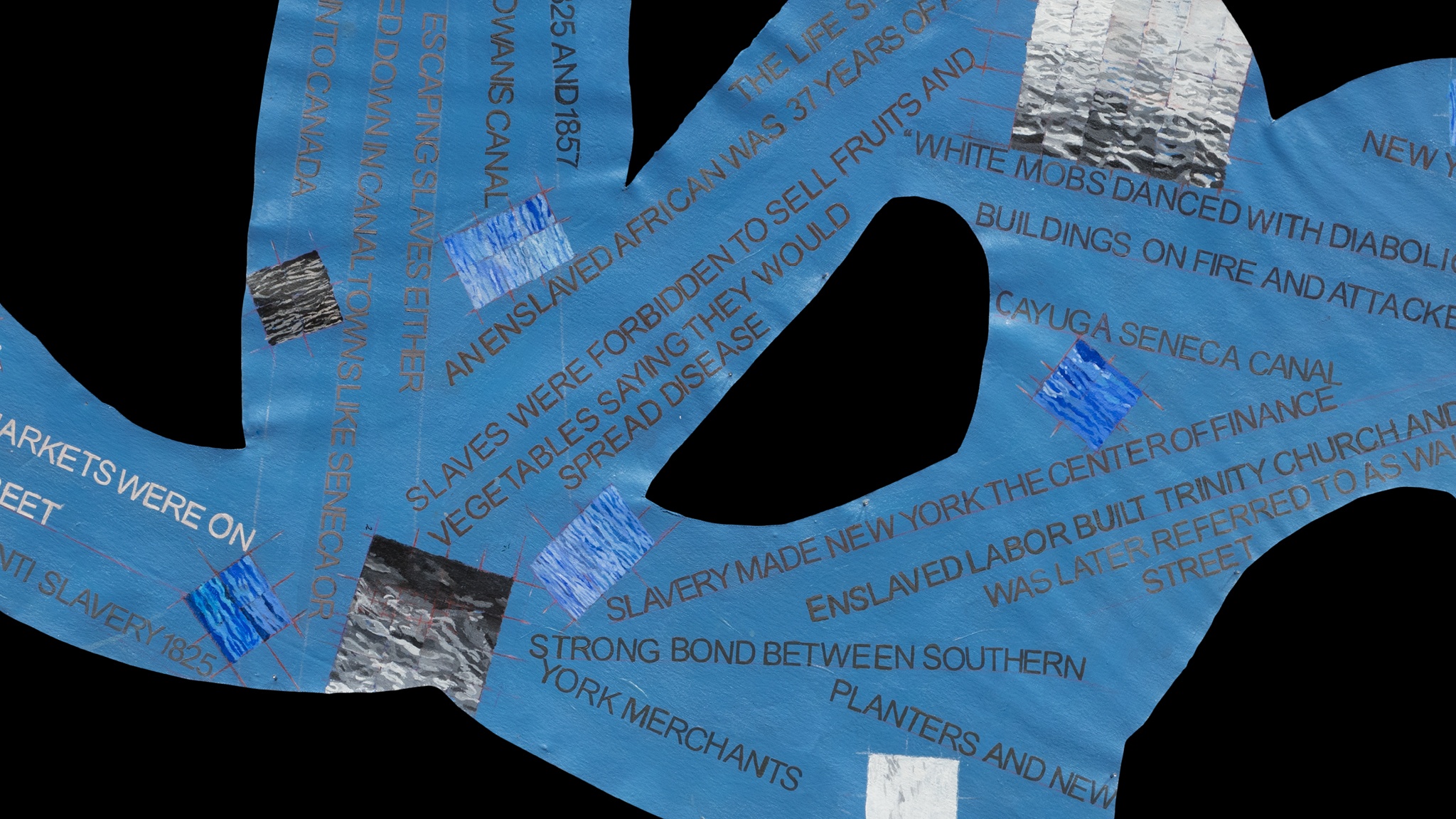 Navigating the fraught ideas presented by artworks shouldn't happen in a vacuum. Works like the ones in this exhibition benefit when we share an understanding of their context, helping us to illuminate how outside forces like systemic racism influence the positioning of the artist and the way the work will be received and interpreted by viewers. The information and materials on this page give insight into Howardena Pindell's process in creating her works, as well as the ideas and conversations that shaped the curatorial approach to organizing Rope/Fire/Water. We hope this page will serve as an online space where deeper thinking can begin and allow the conversation and learning occasioned by Pindell's work to continue beyond the gallery walls.
"That's what painting is about. A fabric of sensations, emotions, and feelings. Your feelings come through the hand."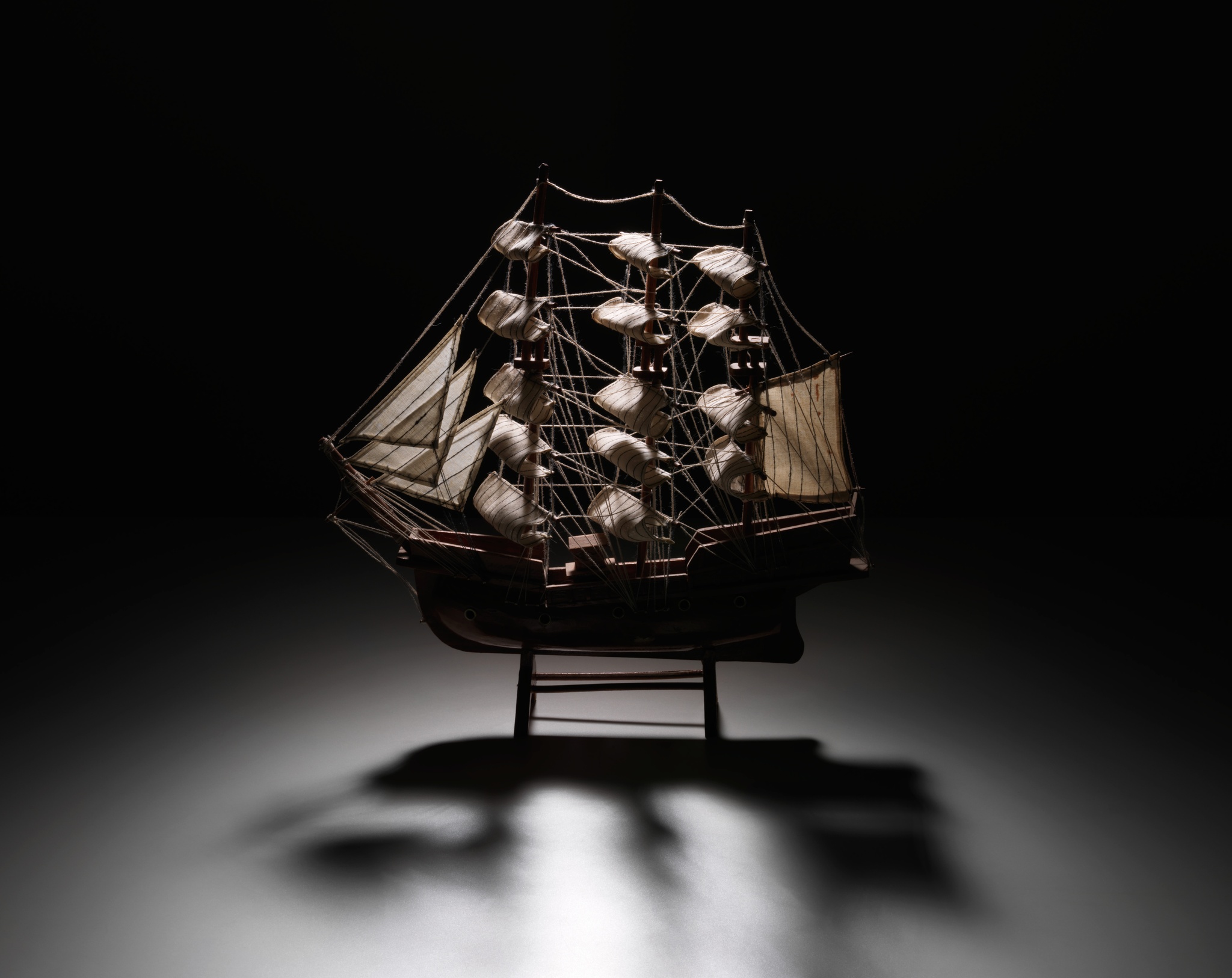 Making ROPE/FIRE/WATER
by Howardena Pindell
Working on my commission for The Shed has been a very rewarding and healing experience. It allowed me to conceptualize an idea as a result of an experience I had as a child. I put it forth as a performance piece to a group of white women artists at the A.I.R. Gallery where I was a founder in the early 1970s. They turned it down. (I was the only nonwhite member of the gallery.)
As a child, I was visiting a friend whose mother was cooking dinner consisting of cooking meat. On their living room table, they had a recent issue of Life magazine. In it, there was a picture of an African American man who was lying on his back on a log, who was burning from the inside out. White men surrounded the gruesome scene bubbling over with self-congratulatory smiles seeing what they had done. The smell of the meat cooking made it impossible for me to eat and I could not eat meat for about a year.
The film Rope/Fire/Water is the centerpiece of the exhibition. The film spun off the two large black paintings, one about Columbus in part and the other about the murder of the four little girls in a church bombing in Birmingham, Alabama. I with a friend made a pilgrimage to Alabama to the site of the church and one of the parks where the police with dogs attacked demonstrators. I also refer to the burning of Black churches and Black towns by mobs of angry whites who hated the prosperity of the towns. The beauty of the abstract paintings is for me a healing place where I go after seeing, reading about and experiencing throughout my life the ravages of "caste," class, bigotry, and violence throughout the world.
Image: Rope/Fire/Water, 2020. Digital video. 16 min. Commissioned by The Shed. Courtesy the artist, Garth Greenan Gallery, and Victoria Miro Gallery.
"The abstract works are a kind of visual healing so that you get distance from what you've seen."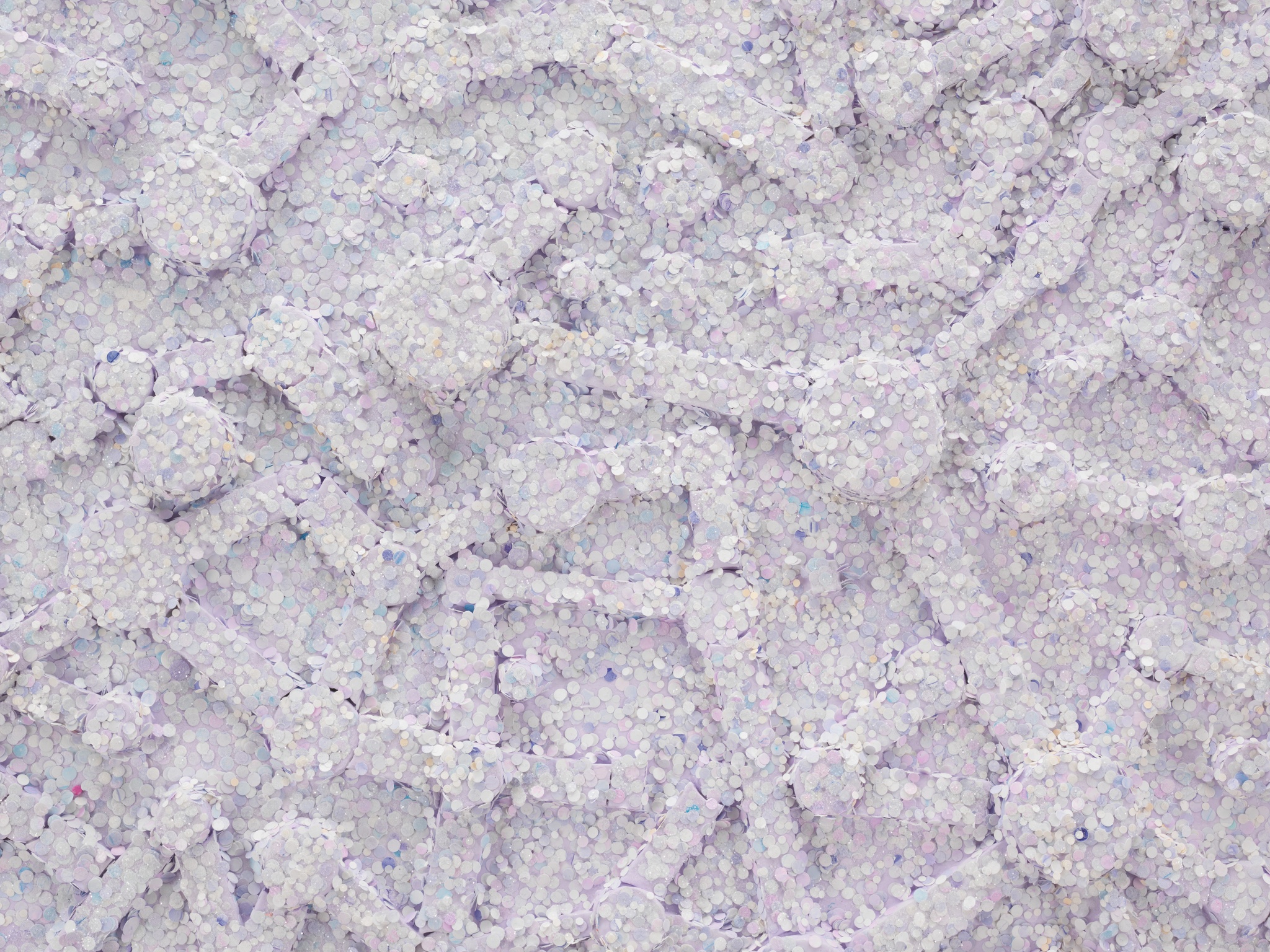 The Burn and the Balm
by Adeze Wilford
When discussing the new body of abstract paintings created for this show, Howardena Pindell touches on the importance of water to these works. In particular, she mentions the connection between the color of water and time, depth, and pollution. She describes a journey with friends in Norway and how she encountered a glacier: "I remember thinking, 'Oh my God, this thing's alive.' And I kept thinking that the water that we were seeing as a milky turquoise was that water that was coming from the bottom up, which would mean that water was from BC, you know, that it was old."1 She recounts her awe before a source that has sustained life through millennia, that emits a luminosity that inspires. This peace found at the base of a slowly melting glacier stands as a foil to the destructive force of water evoked in Rope/Fire/Water, in the pelt of a fire hose abrading young, brave teenagers or the murky ocean swallowing a kidnapped African in the 17th century. Could this same body of water contain elements that make up the precipitation that inspired Ko's Snow Day (2020)?
Since its founding, this country has occupied a series of contradictions—the discovery of already occupied land, the pursuit of liberty in cities with capitol buildings erected by the enslaved, flourishing communities overcome by segregation and disenfranchisement, Black enclaves in cities like Tulsa whose prosperity was bombed and stamped out, and whose histories are only now beginning to receive accurate representation. Scholar Christina Sharpe turns to the semiotics of the transatlantic slave trade to address a collective Black trauma that is far-reaching, a trauma that doesn't end with death, but instead whose presence is felt in bodies born long after the initial violent act. She theorizes about the wake and the cycle of water, as both metaphor and physical manifestation of this trauma, writing, "From at least the 16th century onward, a major part of the ocean engineering of ships has been to minimize the bow wave and therefore minimize the wake. But the effect of trauma is the opposite. It is to make maximal the wake…We, Black people, exist in the residence time of the wake."2 How do we reconcile the terror with beauty?
This exhibition highlights the duality of practice required by such a historical conundrum. The intensely meditative construction of Pindell's monumental abstract works breathes respite­ into the world like the light summer rain that is a balm to an oppressive heat wave. These works bend and wind up the wall, are stitched and cut, sewn and reworked, layered with foam, with gesso, with paint, with glitter. They undulate like the ocean, are thickly textured like hail, tactile and packed like snow drifts on a city street before grime sullies its peaks. The film Rope/Fire/Water and Pindell's other thematic works contain the data that evidences sorrow and trauma; her abstract paintings supply the surface air we breathe to keep from drowning in it. They provide the restoration of an artist's mind that has been feeling deeply for the state of humanity and working tirelessly for a more just and equitable country. They are how we get free, while facing our history directly and striving to make sure it does not repeat itself.
1 Interview with the artist, July 7, 2020.
2 Christina Sharpe, In the Wake: On Blackness and Being (Durham, NC: Duke University Press, 2016), 40 – 41.
Excerpted from Adeze Wilford's essay in the exhibition catalogue
Image: Ko's Snow Day (detail), 2020. Mixed media on canvas. 55 x 65 inches. Commissioned by The Shed. Courtesy the artist, Garth Greenan Gallery, and Victoria Miro Gallery.
For Further Reading
The exhibition's curator Adeze Wilford drew on the crucial legacy of Black feminist thought and theory as she wrote the essay that appears excerpted above and in full in the catalogue (available later this fall). Her research places Howardena Pindell's pioneering work as a curator, scholar, and artist on a continuum that includes the literary output of such thinkers and writers as Toni Morrison and Christina Sharpe.
With her artworks, Pindell hopes to inspire her audiences to pursue knowledge and information on their own. The following reading lists gather together some of the materials that shaped this exhibition and offer directions for you to pursue your own research.
The Artist in Focus compiles texts that follow the span of the artist's decades-long career, exploring a range of her early works as well as series that are not featured in the exhibition in order to provide additional frameworks for getting to know the breadth of Pindell's practice as an artist.
The two lists National Discourse and Justice and Legacy feature poets, scholars, journalists, and activists who create a lens to examine the state of the national conversation around anti-Black violence, today and in decades past.
And, the books listed in Curator's Recommendations provided essential insights for the ideas in this exhibition and its catalogue as they developed.

Reading Lists
Naomi Beckwith and Valerie Cassel Oliver, eds. Howardena Pindell: What Remains to be Seen (Chicago: Museum of Contemporary Art, Chicago/Prestel, 2018).
Howardena Pindell: Autobiography (New York: Garth Greenan Gallery, 2019).
Howardena Pindell: Paintings 1974 – 1980 (New York: Garth Greenan Gallery, 2014).
Terrie S. Rouse, Howardena Pindell: Odyssey (New York: The Studio Museum in Harlem, 1986).
Kim Sajet, The Chemistry of Color: African-American Artists in Philadelphia, 1970 – 1990 (Philadelphia: Pennsylvania Academy of Fine Arts, 2005).
Lowery Stokes Sims, Howardena Pindell: The Heart of the Question (New York: Midmarch Arts Press, 1997).
Bryan Stevenson, Just Mercy: A Story of Justice and Redemption (New York: Spiegel & Grau, 2014).
Click here to learn more about the Equal Justice Initiative, founded by the author, further down this page.

Ida B. Wells-Barnett, The Red Record, originally published 1895.
Click here to learn more about the author and read a digitized version of The Red Record further down this page.
Curator's Recommendations
Dora Apel and Shawn Michelle Smith, Lynching Photographs (Berkeley, CA: University of California Press, 2008).
Jacqueline Goldsby, A Spectacular Secret: Lynching in American Life and Literature (Chicago: University of Chicago Press, 2006).
Saidiya Hartman, Scenes of Subjection: Terror, Slavery, and Self-Making in Nineteenth-Century America (New York: Oxford University Press, 1997).
Adam Hochschild, King Leopold's Ghost: A Story of Greed, Terror, and Heroism in Colonial Africa (New York: Houghton Mifflin, 1998).
Kellie Jones, ed. Energy/Experimentation: Black Artists and Abstraction 1964 – 1980 (New York: The Studio Museum in Harlem, 2006).
Toni Morrison, "A Humanist View" (speech, Portland State University, Portland, OR, May 30, 1975).
Jennifer C. Nash, Black Feminism Reimagined: After Intersectionality (Durham, NC: Duke University Press, 2019).
Christina Sharpe, In the Wake: On Blackness and Being (Durham, NC: Duke University Press, 2017).
Isabel WIlkerson, The Warmth of Other Suns (New York: Vintage Books, 2011).
"I feel that it's important to cite facts and give credits so that people can hear or see that I am not the only one who acknowledges this information. I felt that keeping track of the racism needed to be done through counting. The numbers say everything."
ROPE/FIRE/WATER:
In the Artist's Own Words
To hear the following text read by the artist, click play below.
Duration:
Time remaining:
I want people to reflect on their lives, their privileges, and be motivated to reach out and help people less fortunate than themselves. We are living at a time when a pandemic and misguided leadership has led to an enormous, needless death toll, homelessness, joblessness, and hunger. Because I still have a job I donate to City Harvest and Doctors Without Borders, and others. I want people to look at themselves and try to see what they have done in the past to contribute to the problems, including racism, sexism, homophobia, xenophobia. For those familiar with the 12 Step programs, making amends for wrongs done in the past is encouraged. Try to be conscious of how we fit into the world.
The US is only 5 percent of the world, and yet we devour 40 percent of the world's resources. The density has changed since I worked on the commission. The abstract work has become thicker and more dense in terms of its collaged elements. The Shed has such a gigantic space, so I could think big. One of the smaller pieces that I worked on before The Shed is called Canals…canals that were used as an underground railroad system to help escaping enslaved people to be brought to live with abolitionist families along the canals or to be sent to Canada. I was able to purchase used heavy iron shackles that were used for enslaved children from a plantation in Americus, Georgia.
A collector had amassed artifacts of enslavement in hopes of opening a museum about slavery. No one was interested, so he spread out his collection to various antique shops. I do not remember how I ran across the antique shop online but was grateful I could buy the shackles so that future generations could see what had been done. I understand that there were slave markets in Venice and that the Vikings were slave traders of people from Eastern Europe and the British Isles. They enslaved their own people as well. Look up "Viking slave trade" on Google. Leonardo da Vinci's mother was an enslaved woman of Arab heritage, according to the Guardian and Time magazine. Google "slavery + Leonardo da Vinci."
I had a similar awakening after seeing the film—when I was a college student—titled Night and Fog, about the Holocaust. I grew up during World War II and never knew the real truth and extent of the loss and the suffering. Dr. Robert Lifton coined a term called "doubling." He studied Nazi doctors and how they were hideous sadists working in the camps. But they would go home and kiss their wives and pet their pets. He wrote that this is a kind of double consciousness. I am hopeful the film will help us not return to past injustices.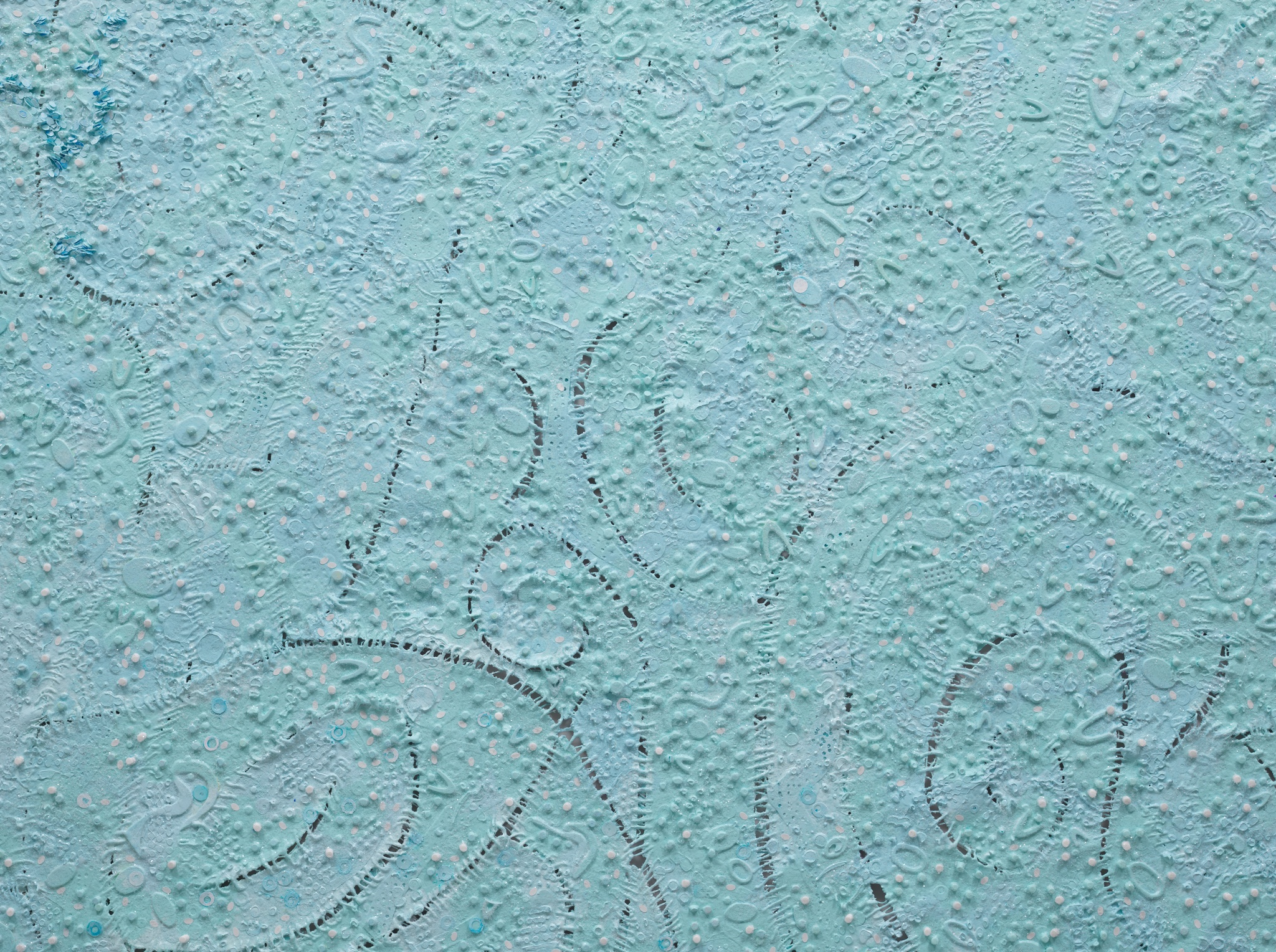 The Legacy of Ida B. Wells-Barnett
Working as an investigative journalist in the 19th and 20th centuries, Ida B. Wells-Barnett (1862 – 1931) tirelessly documented lynchings in this country. Her articles leveled searing indictments of the cruelty inflicted on Black bodies, and her text The Red Record is a foundational source of material for the film Rope/Fire/Water. Her anti-lynching crusade led to international travels as she gave lectures on the injustice of white supremacy, detailing the horrors of lynching in the United States. She would go on to be a founding member of the NAACP in 1909.
Image: Plankton Lace #1 (detail), 2020. Mixed media on canvas. 76 ½ x 85 ½ inches. Commissioned by The Shed. Courtesy the artist, Garth Greenan Gallery, and Victoria Miro Gallery.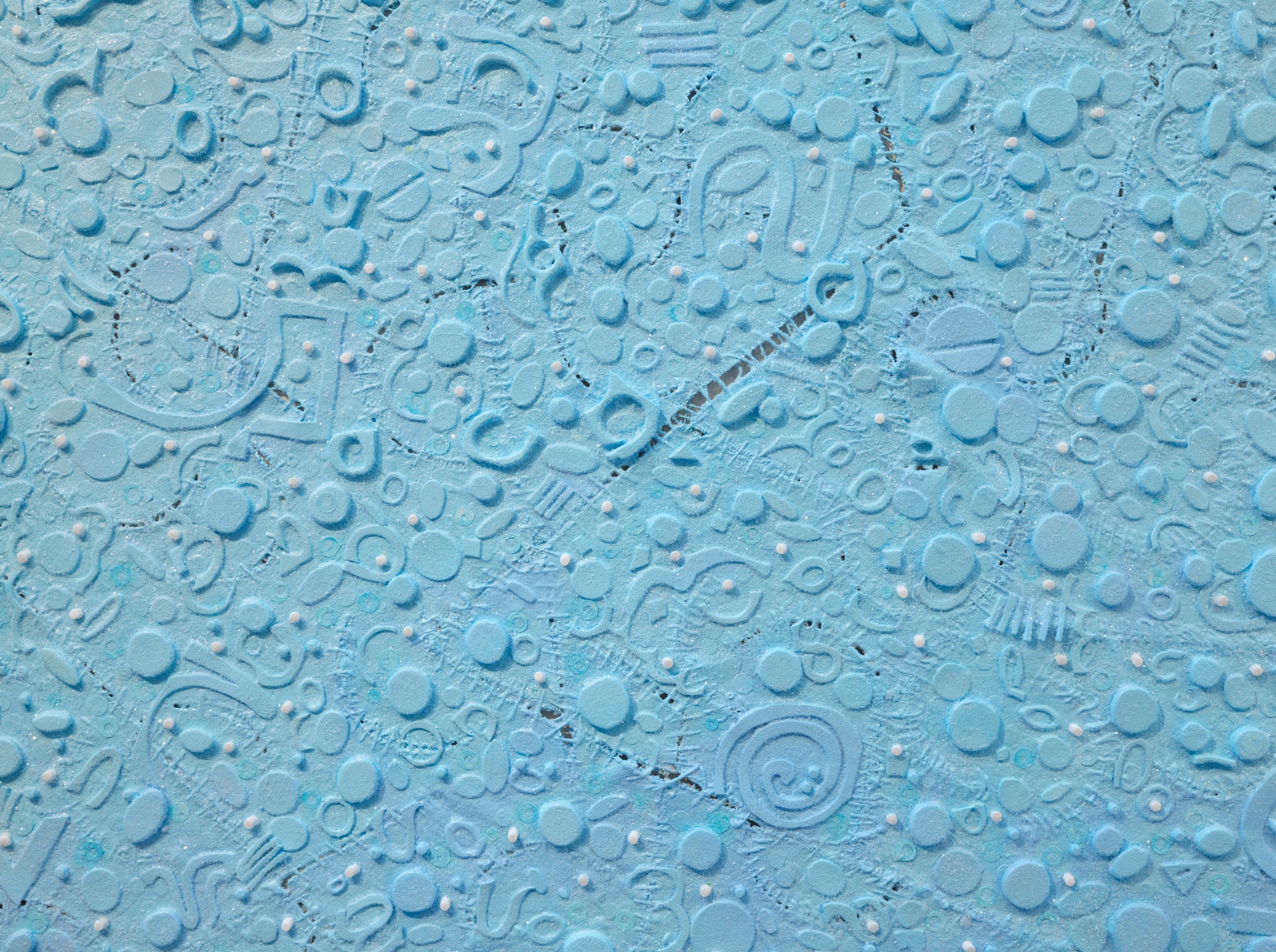 Lynching in America:
A Report by the Equal Justice Institute
The Equal Justice Initiative is a nonprofit organization based in Montgomery, Alabama, that works to end mass incarceration in the United States, to challenge racial and economic injustice, and to protect basic human rights for the most vulnerable people in American society. Recent projects by the Initiative have addressed the historical legacy of slavery, lynching, and segregation. In the lineage of Wells-Barnett's reporting on lynching, their multimedia project Lynching in America: Confronting the Legacy of Racial Terror documents 4,400 lynchings in the United States between Reconstruction following the end of the Civil War and World War II through audio recordings, video, maps, and photographs.
Image: Plankton Lace #2 (detail), 2020. Mixed media on canvas. 78 x 84 ¾ inches. Commissioned by The Shed. Courtesy the artist, Garth Greenan Gallery, Victoria Miro Gallery.
Other Sources for the film
These books, documents, and websites all served as additional source material in Pindell's research into the history of lynching and police violence for the film Rope/Fire/Water.
Books and Documents
Gloria J. Browne-Marshall, Race, Law and American Society: 1607 – Present (New York: Routledge, 2013).
Joy DeGruy, Post Traumatic Slave Syndrome: America's Legacy of Enduring Injury and Healing (Self-pub., 2017).
Martin Luther King Jr. "Letter from Birmingham Jail."
Christopher Metress, ed. The Lynching of Emmett Till: A Documentary Narrative (Charlottesville, VA: University of Virginia Press, 2002).
Michael V. Uschan, Lynching and Murder in the Deep South (San Diego, CA: Lucent Books, 2006).
Websites
MappingPoliceViolence.org tracks police violence across the United States on an interactive map.
TheirNames.org, constructed at Harvard University, names 28,000 people killed by the police since 2000.
"I don't want to have a habit; in other words, I don't want one way of working where everything looks the same. I want the works to change."
Part of a program
Howardena Pindell: Rope/Fire/Water
Read more about "Howardena Pindell: Rope/Fire/Water"
All details for "Howardena Pindell: Rope/Fire/Water"
OCT 16, 2020 – MAR 28, 2021
An exhibition about the brutality of racism and the healing power of art