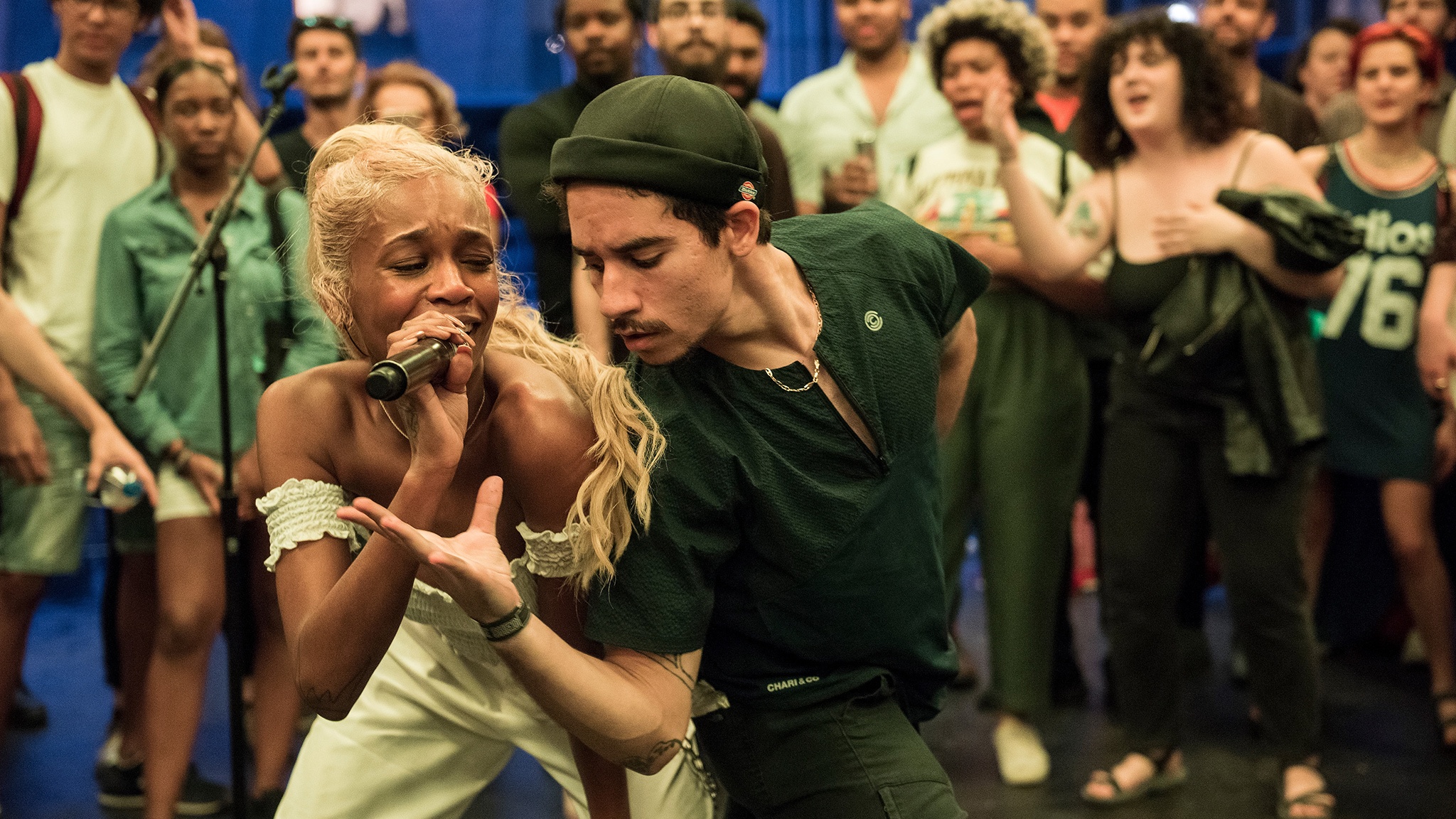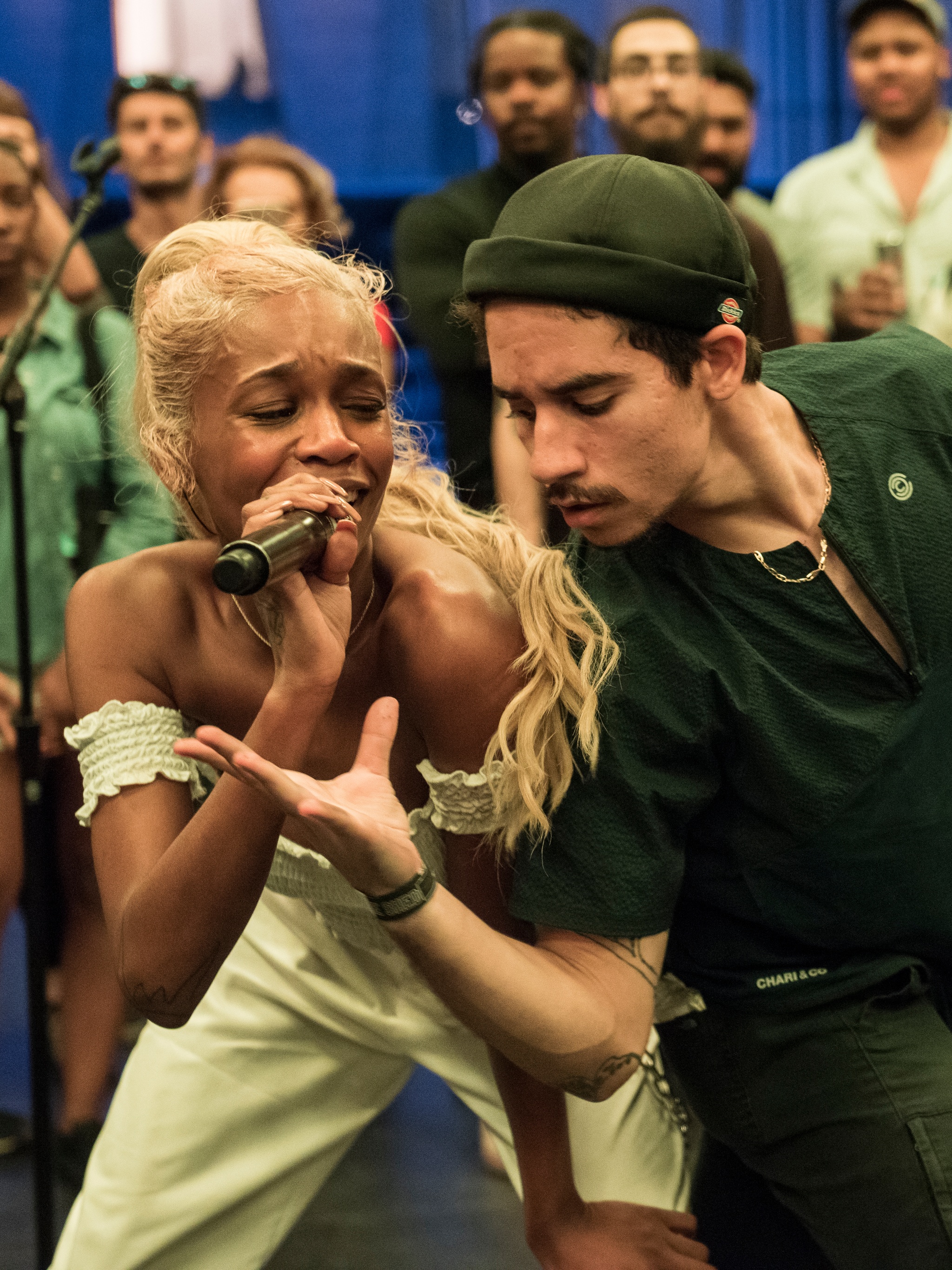 About this commission
In May 2018 we presented our first public program, A Prelude to The Shed, a free two-week event in a temporary structure at 10th Avenue and 31st Street in Manhattan, one block from our permanent home opening in spring 2019. Prelude featured dance performances, flexible architecture, evening concerts and conversations, and an experimental school. With Prelude, we shared artists' ambitious visions with our local community and thousands of attendees from all over the world.
Creative Team
Abra, the "Darkwave Duchess," is an Atlanta-based R&B singer-songwriter. Her albums include Rose (2015) and the EPs BLQ Velvet (2015) and Princess (2016).
Kunlé Adeyemi is an architect, designer, and urban researcher. He is the founder/principal of NLÉ and 2017 Aga Khan Design Critic in Architecture at Harvard University Graduate School of Design. His notable works include Makoko Floating School, an innovative prototype floating structure in Lagos, Nigeria developed as a building system to address the impacts of urbanization and climate change in Africa.
Arca is a Venezuelan electronic music producer, DJ, and songwriter.
Asma Maroof, a.k.a. Asmara, is a DJ/music producer residing in Los Angeles. No stranger to collaboration, as one half of the duo Nguzunguzu, she has released on Innovative Leisure, Hippos in Tanks, and mostly Fade to Mind. Also, as a member of the group Future Brown, she has released on Warp Records. She also co-writes lyrics with vocalists such as Kelela and Dawn Richard.
Azealia Banks is a New York City-based rapper and singer-songwriter.
William Forsythe has been active in the field of choreography for over 45 years. His work is acknowledged for reorienting the practice of ballet from its identification with classical repertoire to a dynamic 21st-century art form. Forsythe's deep interest in the fundamental principles of organization has led him to produce a wide range of projects including installations, films, and Web-based knowledge creation.
The American dancer and choreographer Reggie 'Regg Roc' Gray was born and raised in Brooklyn, New York. He is one of the innovators of a new hybrid dance form, Flexn, and serves as an Artistic Director for FlexNYC, a social justice dance residency program that partners with schools and community centers around NYC (created by The Shed and The D.R.E.A.M. Ring).
Dorothea von Hantelmann is Professor of Art and Society at Bard College Berlin. She is the author of How to Do Things with Art, and her current book project is entitled The Exhibition: Transformations of a Ritual, which explores exhibitions as ritual spaces in which fundamental values and categories of modern, liberal, and market-based societies historically have been, and continue to be, practiced and reflected.
DJ Haram is a producer and DJ originally from New Jersey and currently based in Philadelphia. Stylistically versatile, she throws down for Jersey, Philly, and Baltimore with club and booty bounce sets but also has been known to pay homage to her roots in the tradition of Middle Eastern dance music and of DIY noise and experimental sound.
Josh Johnson studied dance in Los Angeles and New York before joining The Alvin Ailey American Dance Theater. He has worked with William Forsythe as a collaborator, dancer, and external agent. He directed the Bernhard Willhelm Men's 2014 Autumn/Winter Paris fashion show. He is co-artistic director of Sad, a multi-disciplinary platform for choreography, music, and art and has collaborated with Anne Imhof and Wu Tsang since 2016.
Asad Raza combines experiences, human and non-human beings, and objects in his work as an artist, producer, programmer, and writer. His recent projects include The bedroom at the First Lahore Biennale; Untitled (plot for dialogue) at CONVERSO, Milan; Root sequence. Mother tongue at the Rockbund Museum, Shanghai, and the Whitney Biennial; and Mondialité, or the archipelagos of Édouard Glissant (co-curated with Hans Ulrich Obrist) at the Villa Empain, Brussels.
Tino Sehgal is an artist who creates constructed situations that challenge conventional museum exhibition precepts by placing a central focus on social interaction rather than the inanimate object. His artworks are brought into existence through human capacities such as dance, speech, and song and are usually present during the entire opening hours of an exhibition.
Ashland Mines, a multidisciplinary artist known most for his DJ and production work under the name Total Freedom, is based in New York. Mines is a founding member of Los Angeles music label Fade to Mind and has been a key voice in New York's Gh20G0th1K parties. His exhibitions include Blasting Voice (2012) for Suzanne Geiss Company and The Table (2010) at the New Museum. He has directed weekly conceptual club nights, such as LA's WILDNESS and Grown.
Yves Tumor is the inspired and impenetrable persona of artist Sean Bowie, a conduit for a distinctly bold aesthetic evolved from a diverse and prolific creative cultivation amidst an expansive plethora of covert aliases and a burgeoning reputation for charged live performance. Edging, shifting, and ultimately detonating the boundaries of electronica, soul, industrial, rap, and rock music into an undaunted, liberated wilderness of intrepid pop, Yves Tumor impresses a chaos that is at once memorable and signature in its unquantifiable movements.