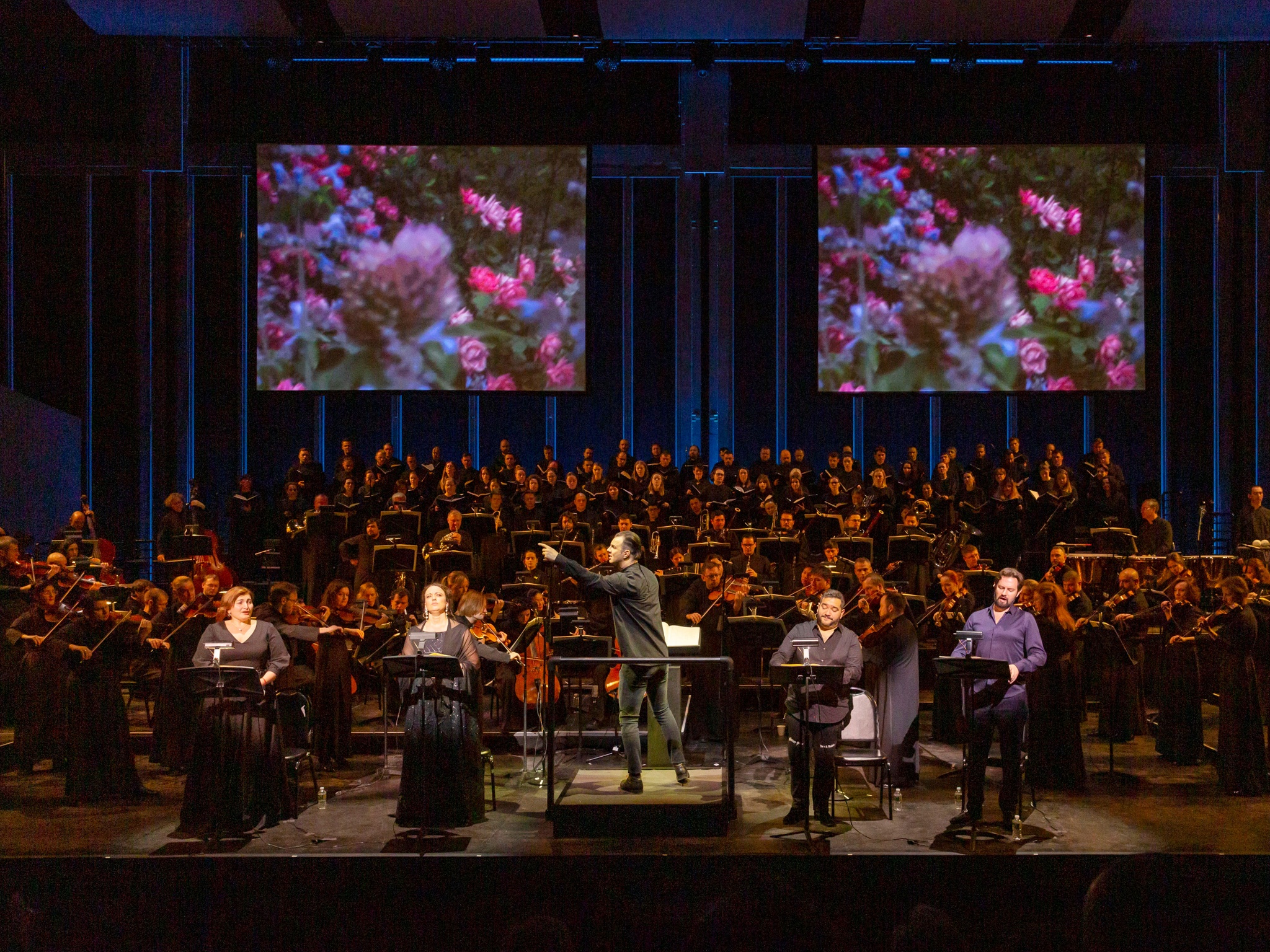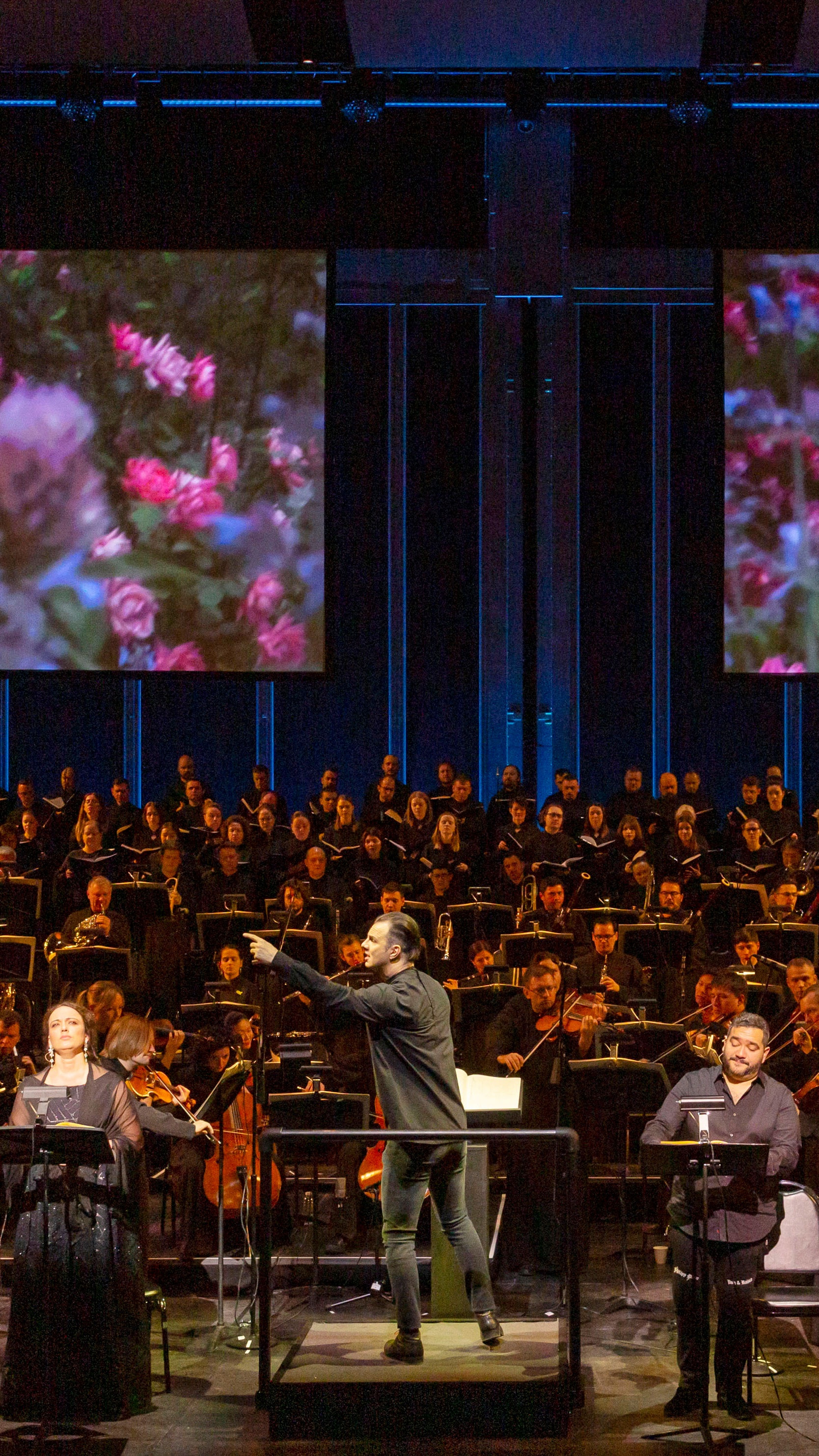 Requiem
Verdi's masterpiece interpreted by conductor Teodor Currentzis and filmmaker Jonas Mekas
Please Note
There is no late seating for Requiem concert performances. We recommend you arrive early.
About this commission
Experience Verdi's Messa da Requiem, one of classical music's most virtuosic and transcendent works, in concert and in film. Electrifying conductor Teodor Currentzis and the 100-member orchestra and 80-member chorus musicAeterna from Russia will take the stage in The Shed's McCourt to perform Requiem. Following rapturous reviews at this summer's Salzburg Festival, the performances mark Currentzis and musicAeterna's North American debut.
A new cinematic artwork set to Verdi's score by late, beloved filmmaker Jonas Mekas, and co-commissioned by The Shed and Festspielhaus Baden-Baden, will accompany the performances of Requiem and will be screened in the Level 4 Gallery. The work is a meditative tribute to Verdi's masterpiece and an homage to the filmmaker himself, who passed away in January at the age of 96.
Film schedule:
November 1 – 10
Concert schedule:
November 19 at 7 pm
November 21 and 23 at 7:30 pm
November 24 at 3 pm
Please note:
There is no late seating. Please arrive early.
Creative Team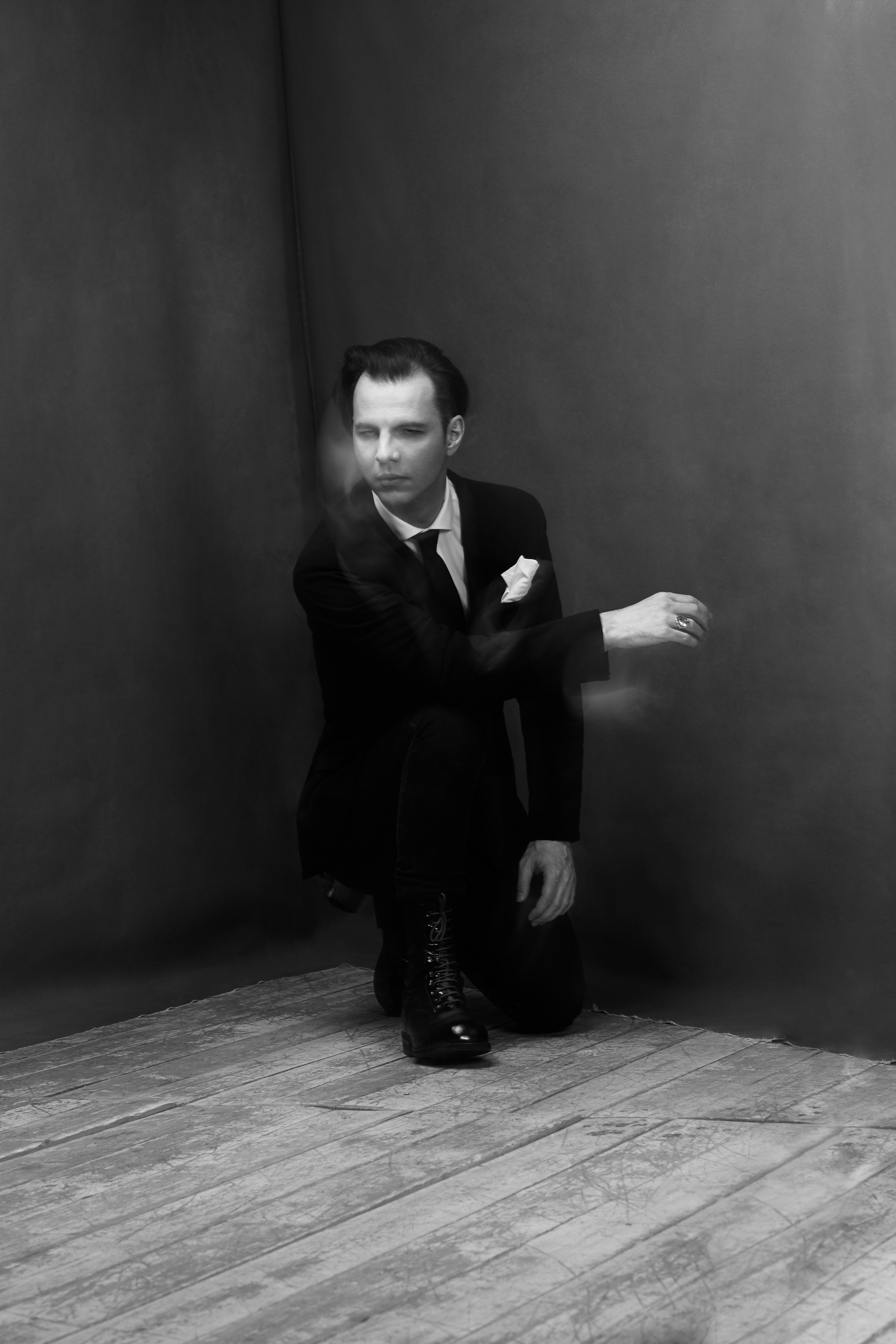 Teodor Currentzis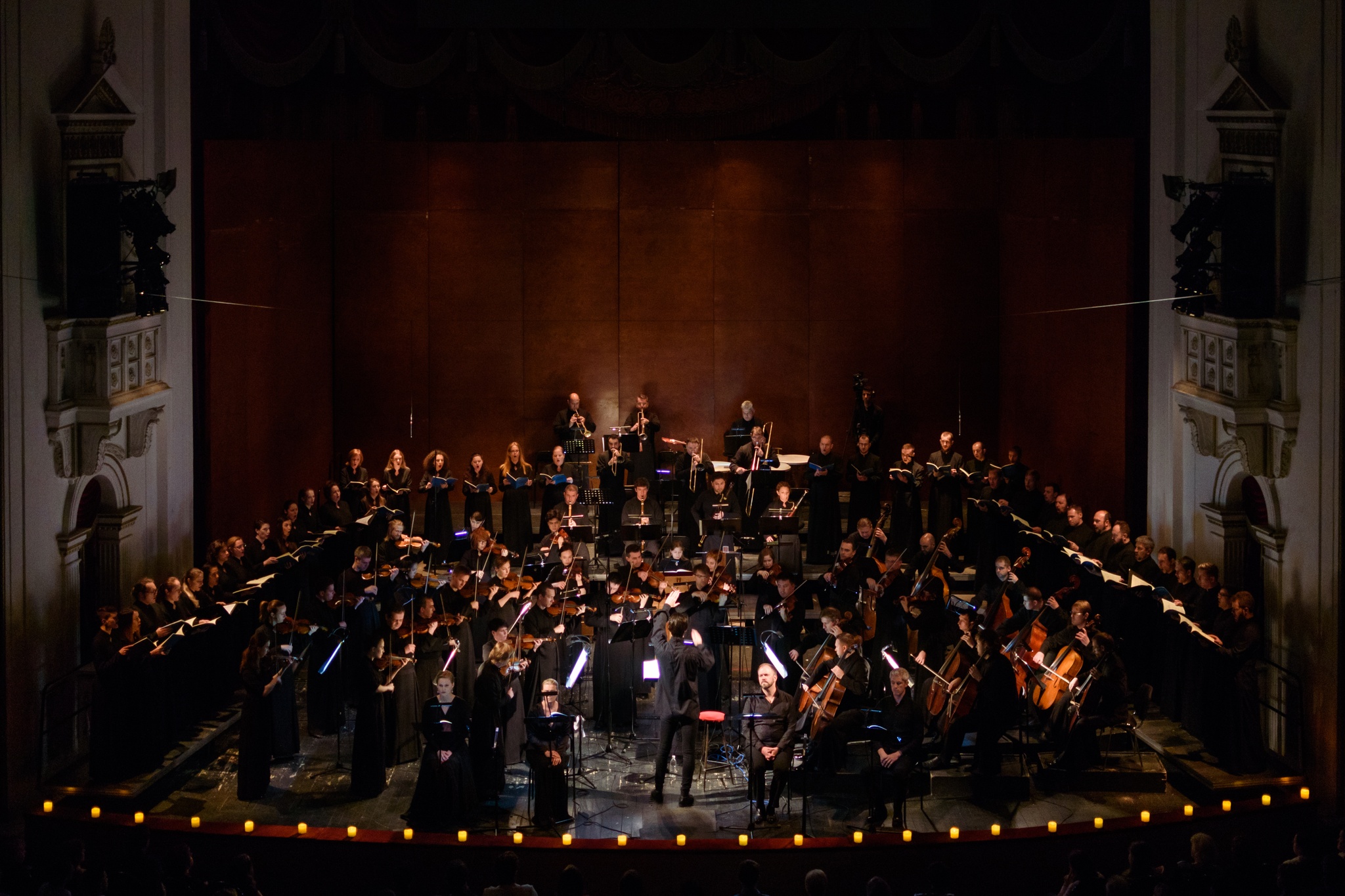 musicAeterna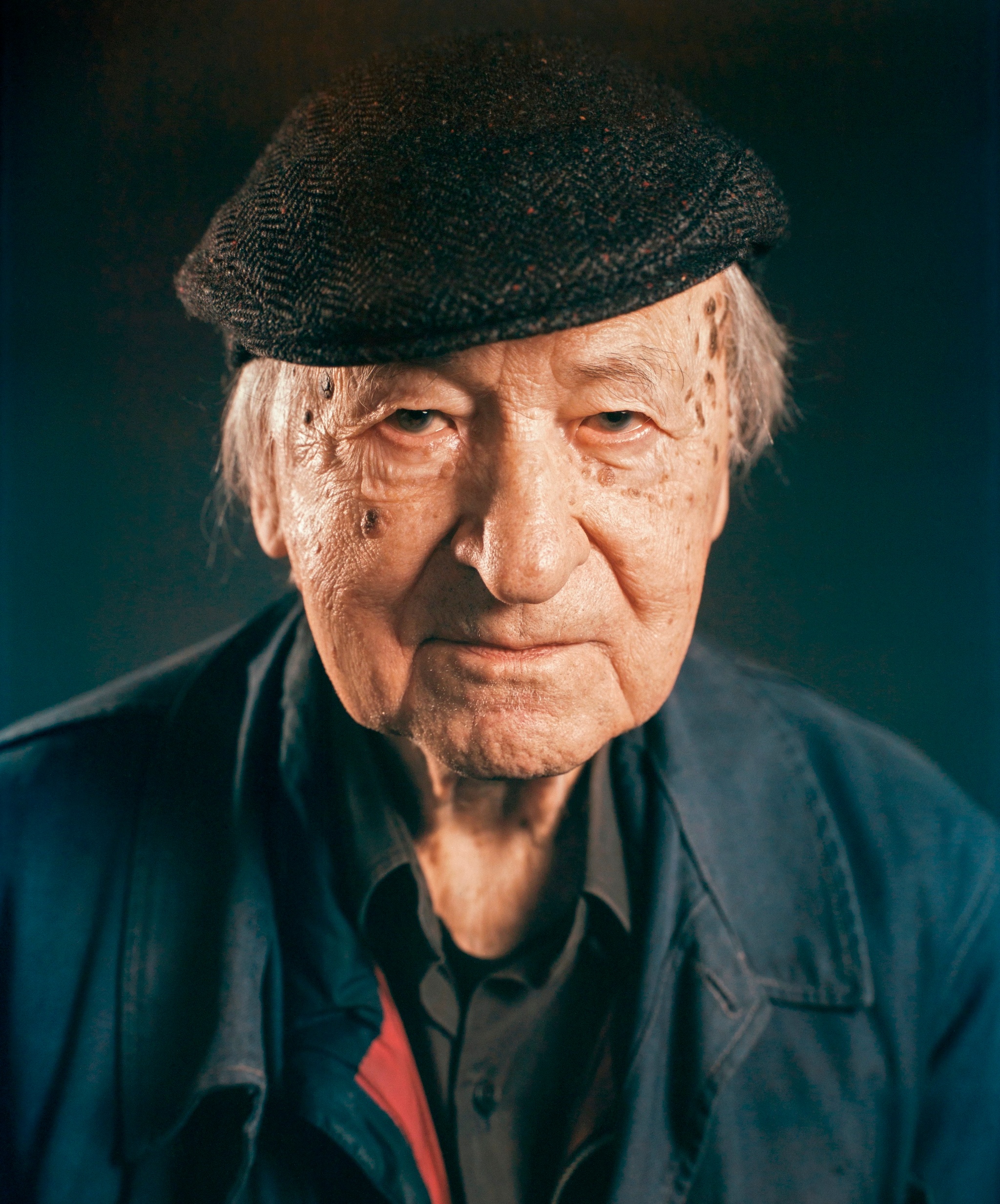 Jonas Mekas
Teodor Currentzis is the founder and artistic director of the musicAeterna ensemble and chamber choir. The ensemble was resident at Perm Opera and Ballet Theatre from 2011 until 2019. In July 2019, Currentzis stepped down as artistic director of Perm Opera in order to lead musicAeterna as an independent, privately financed ensemble.
With musicAeterna, Currentzis regularly tours Europe with performances at the Berlin Philharmonic, Philharmonie de Paris, Festspielhaus Baden-Baden, La Scala Milan, and the Madrid Auditorio. musicAeterna has a long standing relationship with the Salzburg Festspiele; performances in Salzburg include a new production of La Clemenza di Tito directed by Peter Sellars in 2017, which traveled to Dutch Opera where Currentzis made his debut in 2018, a full cycle of Beethoven's symphonies cycle in 2018, and Idomeneo in 2019, directed by Peter Sellars in collaboration with the Freiburg Baroque and the musicAeterna choir. Currentzis and musicAeterna made their BBC Proms debut in 2018 and made their Japanese debut in February 2019 with concerts in Tokyo and Osaka.
In 2018 – 19, Currentzis was appointed the chief conductor of the SWR Symphony Orchestra Stuttgart. In his first year with SWR, he conducted Mahler Symphonies No. 3 and 4, Tchaikovsky's Symphony No. 5, and Shostakovich's Symphony No. 7 in performances in Stuttgart and on tour visiting the Vienna Konzerthaus, Hamburg Elbphilharmonie, and Cologne Philharmonie amongst others. He finished his first season with SWR with a final performance of Shostakovich's No. 7 at the Salzburg Festival. In November 2019, Currentzis will make his debut with the Berlin Philharmonic with Verdi's Requiem and the musicAeterna choir.
Past highlights of Currentzis's career include Resident Artist at the Vienna Konzerthaus beginning 2016 – 17 and including concerts with Vienna Symphony Orchestra, Camerata Salzburg, and musicAeterna; performing Brahms's Requiem with musicAeterna choir and the Mahler Chamber Orchestra as part of the Diaghilev Festival, Perm, and on tour in Europe; a tour with Mahler Chamber Orchestra of Berio's Coro; La Clemenza di Tito and Mozart's Requiem at Salzburg Festival and Verdi's Macbeth at Zurich Opera with Barrie Kosky (2016); Wagner's Das Rheingold with musicAeterna orchestra (2015, RUHRtriennale in Bochum); Tchaikovsky's Iolanthe and Stravinsky's Persephone, which premiered in Madrid in 2012, at Aix Festival (2015); Purcell's The Indian Queen in Madrid (2012); Shostakovich's Lady Macbeth of the Mtsensk District in Zurich (2012); and Weinberg's The Passenger with the Vienna Symphony Orchestra in Bregenz (2010).
As the former artistic director of Perm Opera, Currentzis has commissioned several important new works, including Phillipe Hersants's Tristia (2016), Dmitrii Kourliandski's opera Nosferatu (2014), Alexei Syumak's opera Cantos (2016), and a violin concerto by Sergey Nevsky (2015).
Currentzis and musicAeterna are exclusive Sony artists and have released the Mozart's Da Ponte trilogy, Stravinsky's Les Noces, Tchaikovsky's Violin Concerto (with Patricia Kopatchinskaja), Tchaikovsky's Symphony No. 6, and Mahler's Symphony No. 6. Previous recordings include Shostakovich's Symphony No. 14, Mozart's Requiem, and Purcell's Dido and Aeneas, all on the Alpha label, and Shostakovich's Piano Concertos with Alexander Melnikov and the Mahler Chamber Orchestra on the Harmonia Mundi label.
In 2017, ECHO Klassik awarded the DVD/Blu-ray production of Purcell's The Indian Queen, directed by Peter Sellers, with Currentzis and musicAeterna, following on a previous ECHO Klassik award in 2016 for Symphonic Recording (20th/21st-Century Music) for their recording of Stravinsky's Le Sacre du Printemps, both released on Sony Classical. In 2015, Currentzis and his brother Vangelino Currentzis recorded and composed the soundtrack of the European Games opening ceremony in Baku and were nominated for an Emmy Award in the category of Outstanding Music Direction and Composition. Currentzis was awarded the Order of Friendship of the Russian Federation in 2008, and was the recipient of the Toepfer Foundation's prestigious Kairos Award in 2016. The same year, Opernwelt named Currentzis Best Conductor of the Year for his Macbeth at Zurich Opera.
Currentzis has been awarded seven Golden Masks, Russia's prestigious theater award, most recently in 2017 for Best Opera Conductor for La Traviata, a Perm Opera production directed by Robert Wilson. Previous awards include the Best Opera Conductor award (The Indian Queen, 2015, Cosi Fan Tutte, Perm, 2013, and Wozzeck, Bolshoi, 2011), one for a "brilliant performance of Prokofiev's score" (Cinderella, 2007), and for "outstanding results in the area of authentic performance" (The Marriage of Figaro, 2008).
In 2006, combining his knowledge and passion for early music with contemporary composers and new music, Currentzis started the Territoria Modern Art Festival in Moscow. Since 2012, Currentzis has also curated the Diaghilev Festival, held in his birth town in Russia. Born in Greece, Russia has been Currentzis's home since the beginning of the 1990s, when he began studying conducting at the state conservatory of St. Petersburg under the tutelage of Professor Ilya Musin, whose pupils included renowned conductors Odyseuss Dimitriadis, Valery Gergiev, and Semyon Bychkov.
musicAeterna was founded in 2004 in Novosibirsk, Russia, by Teodor Currentzis and was the resident orchestra and chorus at Perm Opera from 2011 to 2019. musicAeterna's mission to present Baroque and classical works using authentic performance practices, while adding new accents to the realm of contemporary music, preserves the heritage of classical music and advances classical music by keeping it relevant and alive with new work. The repertoire of the chorus embraces different styles and historical periods, and includes works by European and Russian baroque composers, masterpieces of Russian choral music of the 18th to 20th centuries, the operatic repertoire, and contemporary commissions. musicAeterna is signed exclusively with Sony Classical, and their recordings of works by Mozart, Tchaikovsky, Rameau, and Stravinsky have received much positive critical reception.
Jonas Mekas was born in 1922 in the farming village of Semeniškiai, Lithuania, and is recognized internationally as an artist, poet, curator, critic, and one of the leading filmmakers of independent and avant-garde cinema. His artwork and films have won widespread recognition and have been shown extensively at festivals, galleries, and museums around the world. In 1954, he co-founded Film Culture magazine, and in 1958 he began his legendary "Movie Journal" column in the Village Voice. Mekas also cofounded the Film-Makers' Cooperative, the Film-Makers' Cinematheque, and Anthology Film Archives, which remains one of the world's most important institutions dedicated to preserving and screening independent / avant-garde film. Mekas passed away in January 2019 at the age of 96.
Thank you to our partners

Support for Requiem is provided in part by