APPLICATIONS WERE OPEN DEC 15, 2021 – FEB 28, 2022
A commissioning program for NYC-based emerging artists
About the selection process
This year we enlisted a vibrant, interdisciplinary group of reviewers and panelists including external curators, artists, producers, and programmers to review proposals with Shed staff, bringing diverse perspectives to our curatorial process. We received more than 1,200 applications and held three competitive rounds of review during which we narrowed down the application pool across all disciplines. Reviewers scored applications, and panelists then met remotely to discuss those with the highest marks over two days this summer. From the list of finalists compiled by the panelists, The Shed selected the 18 artists and collectives who will present work in 2023 and 2024.
Reviewers and Panelists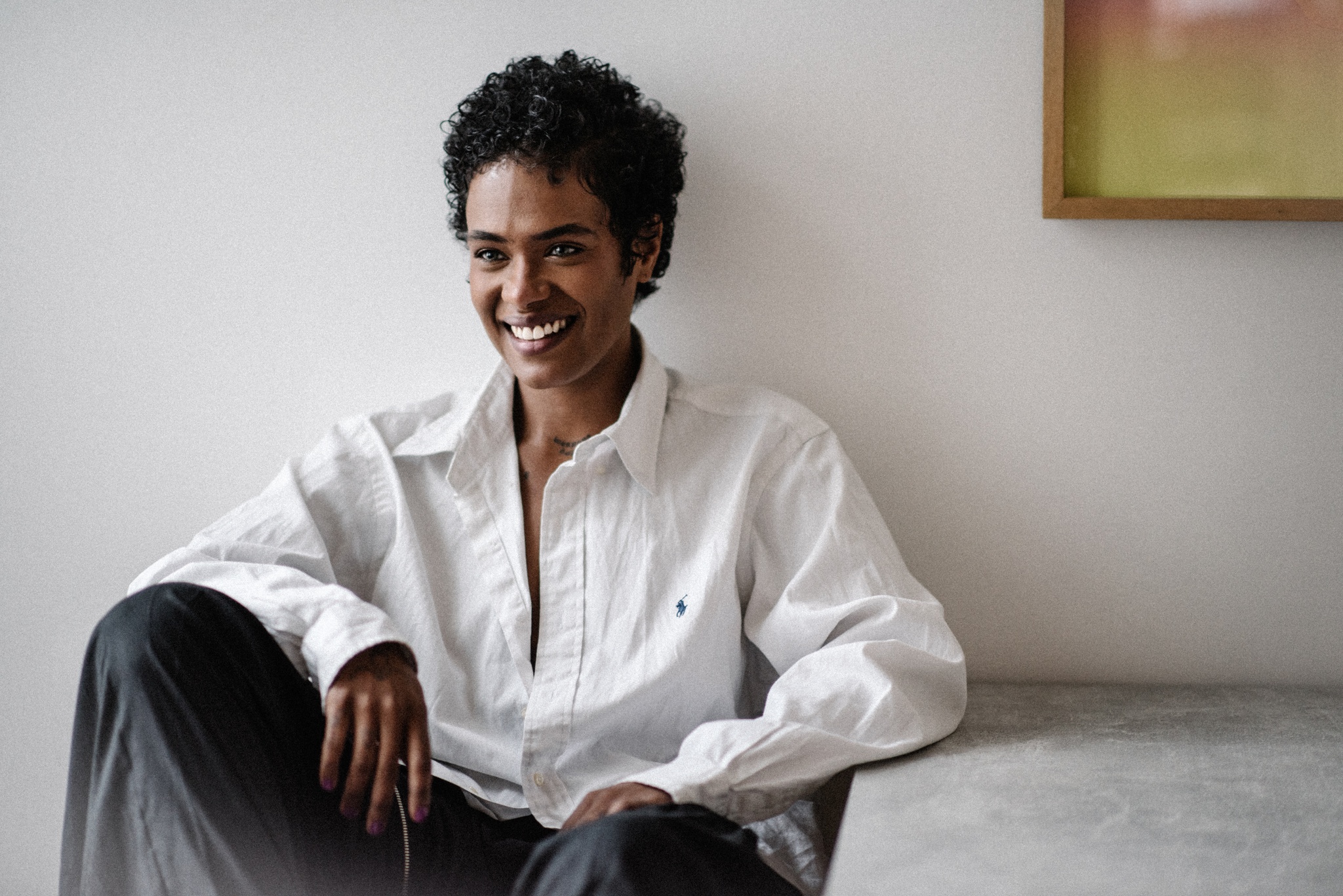 Navild Acosta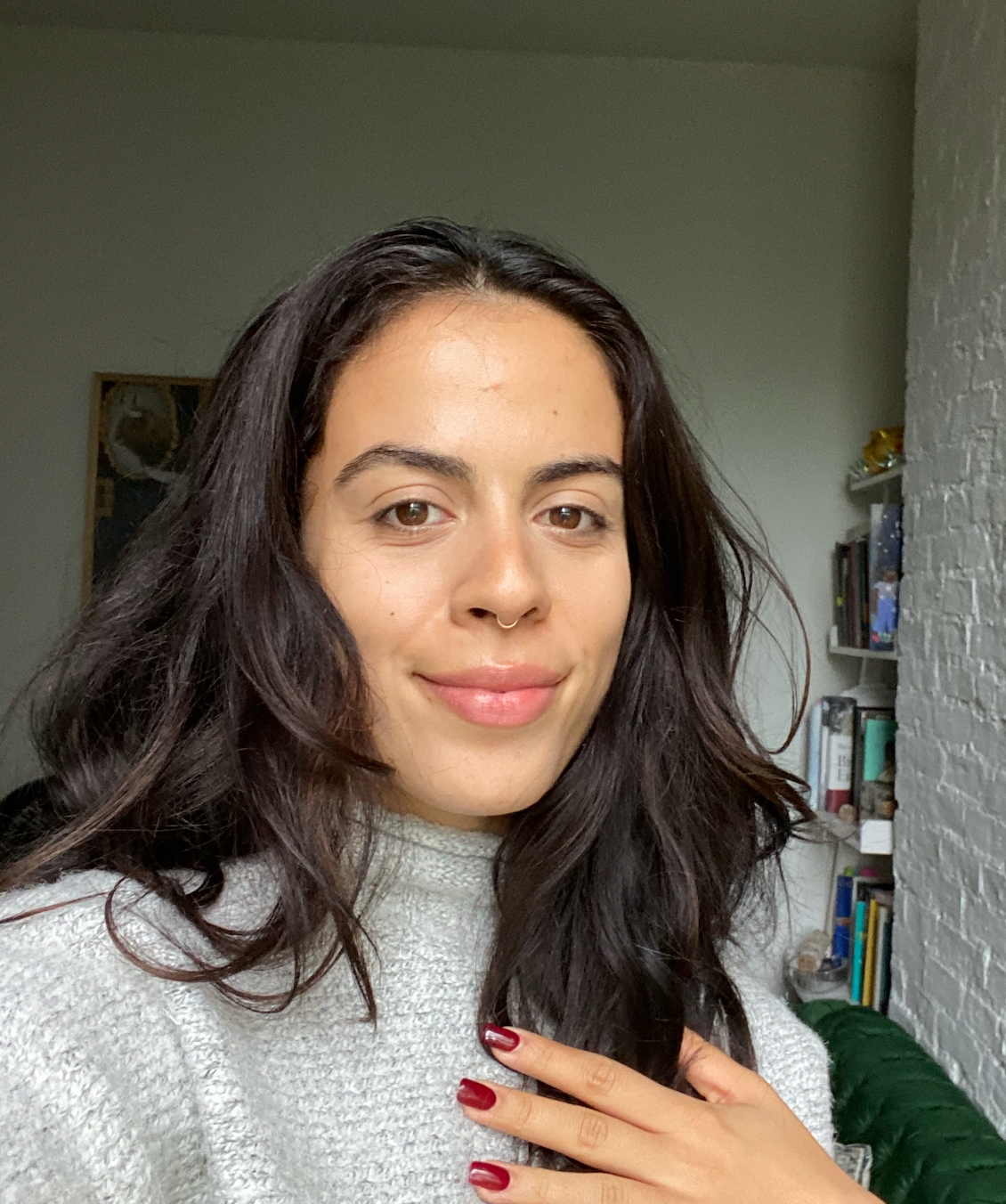 Maddie Aleman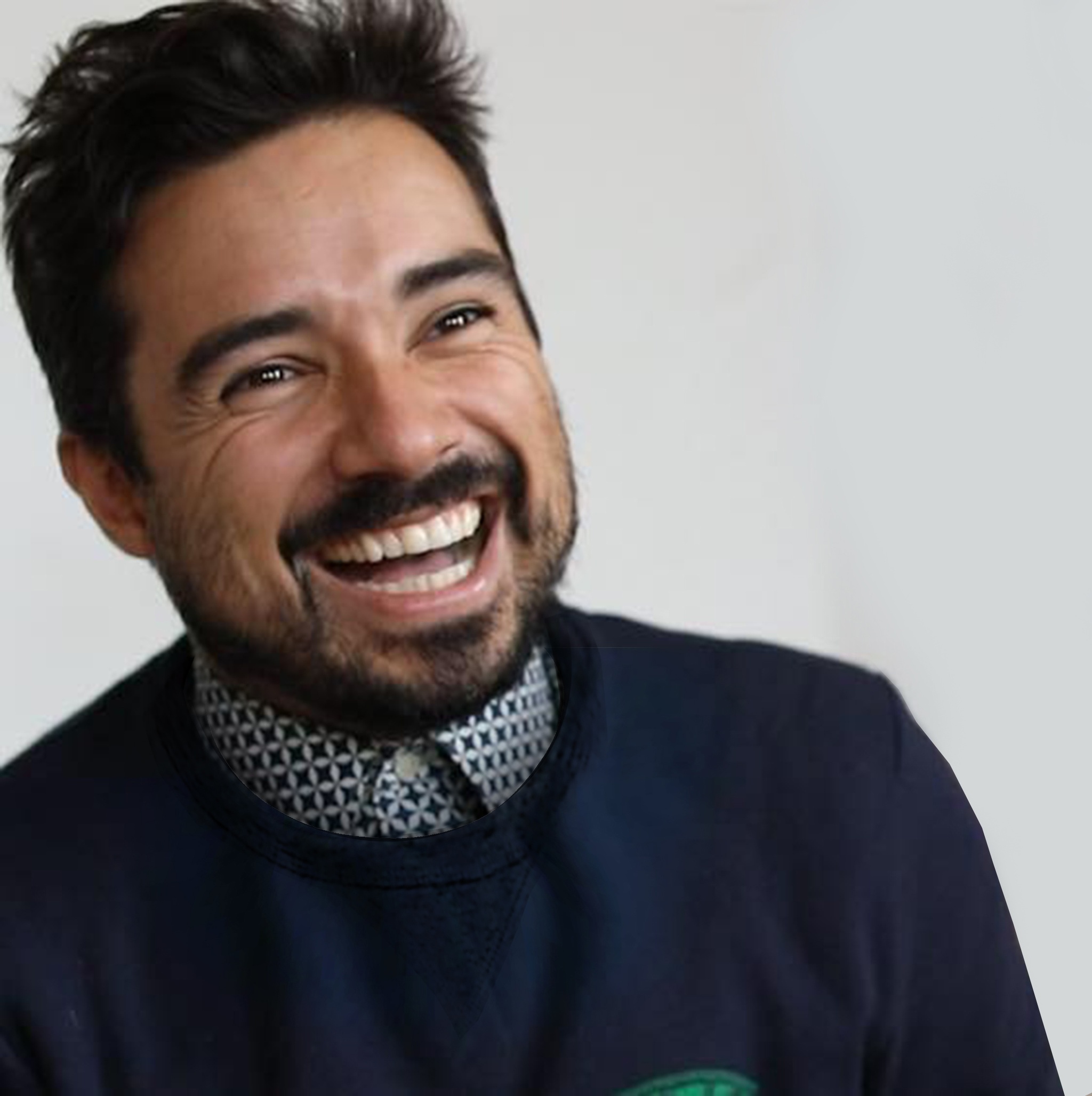 Yazmany Arboleda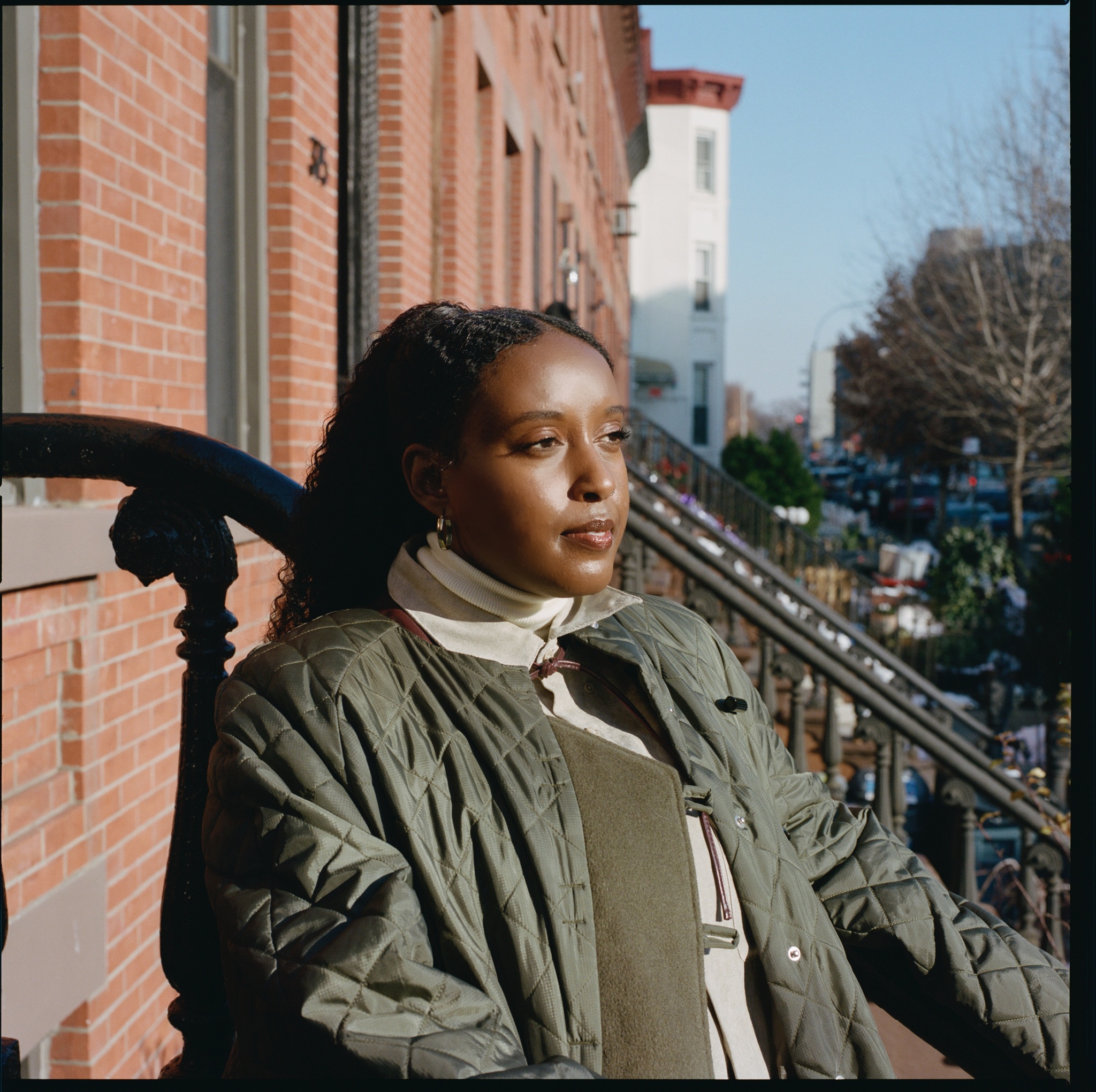 Salome Asega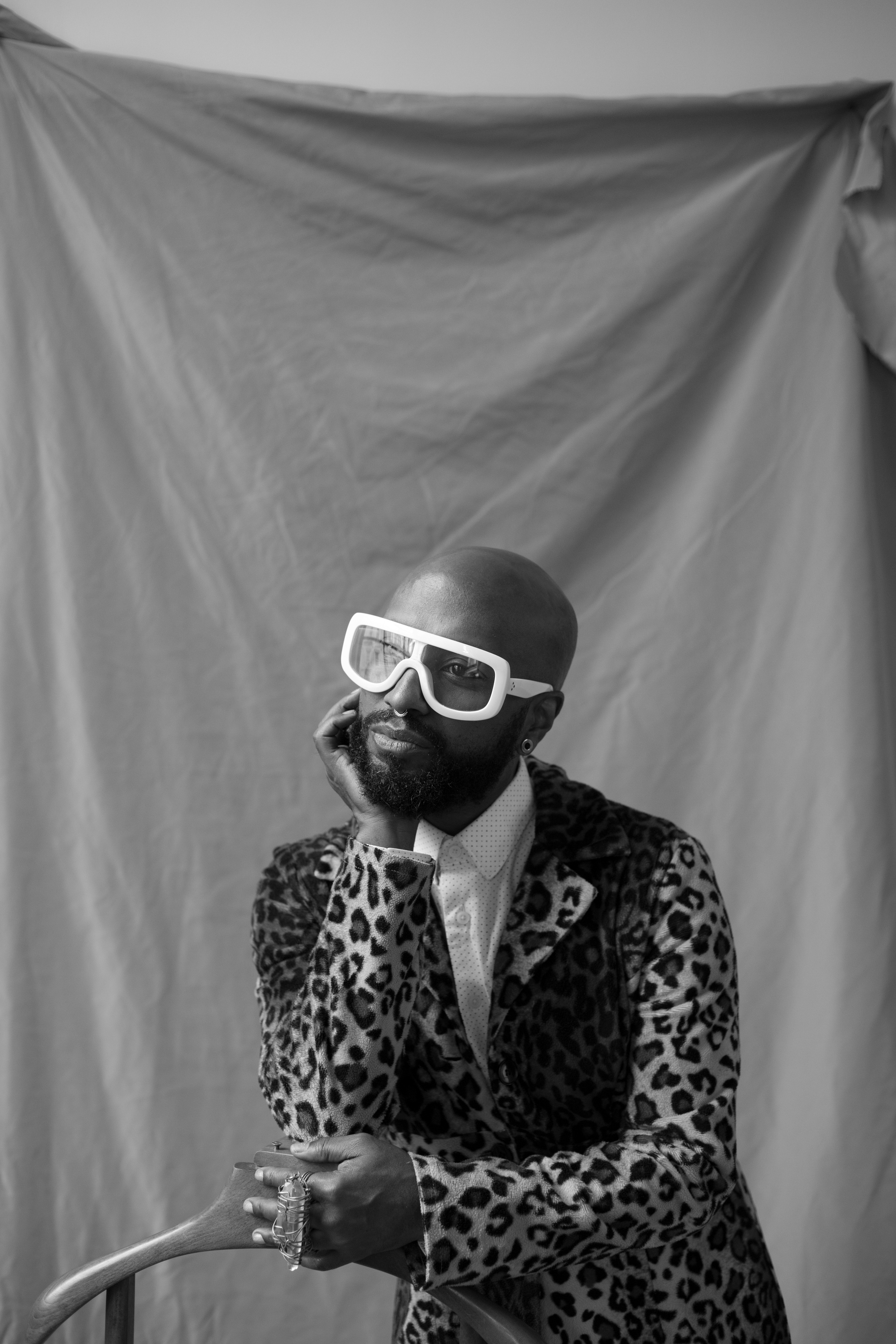 Monstah Black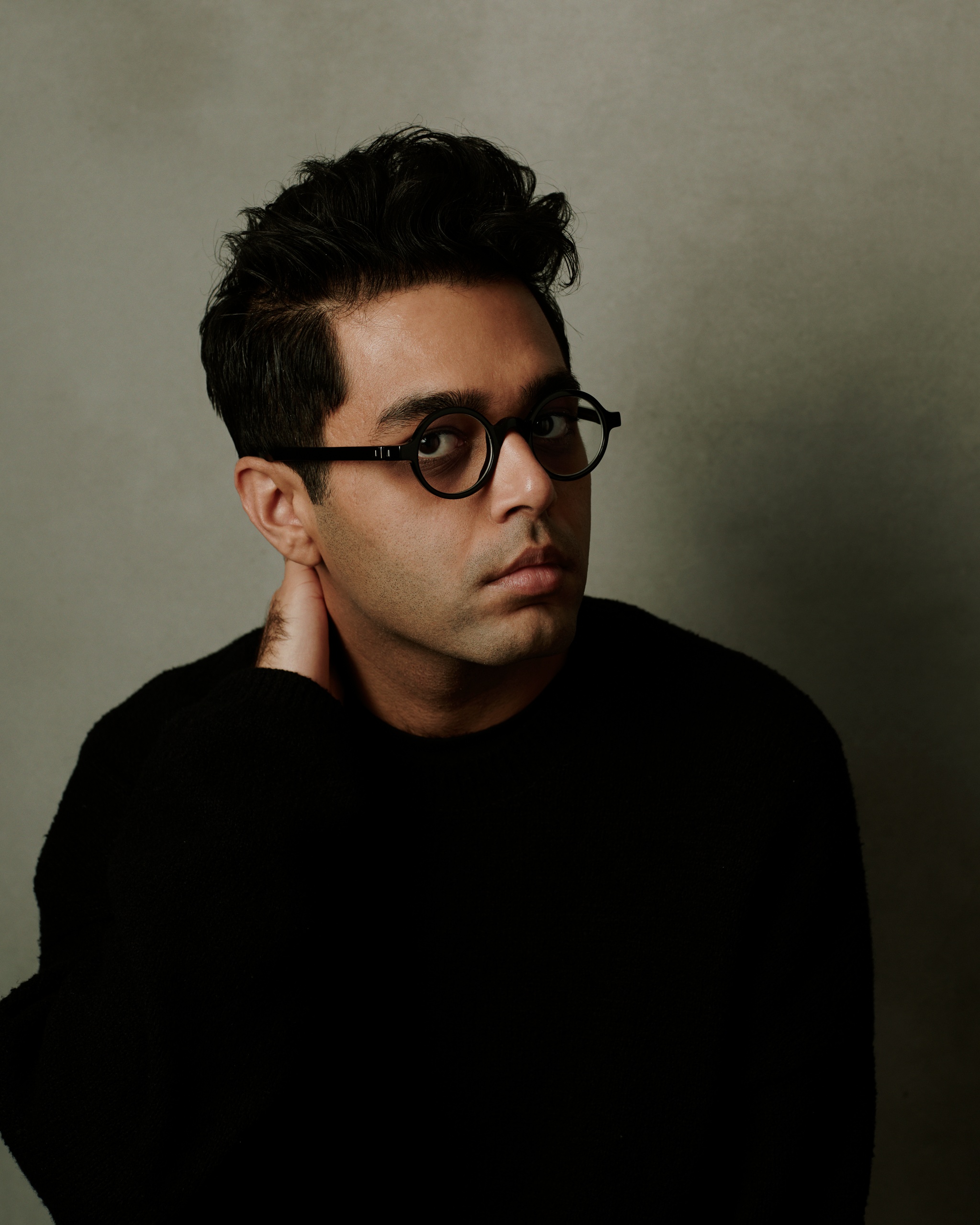 Rafiq Bhatia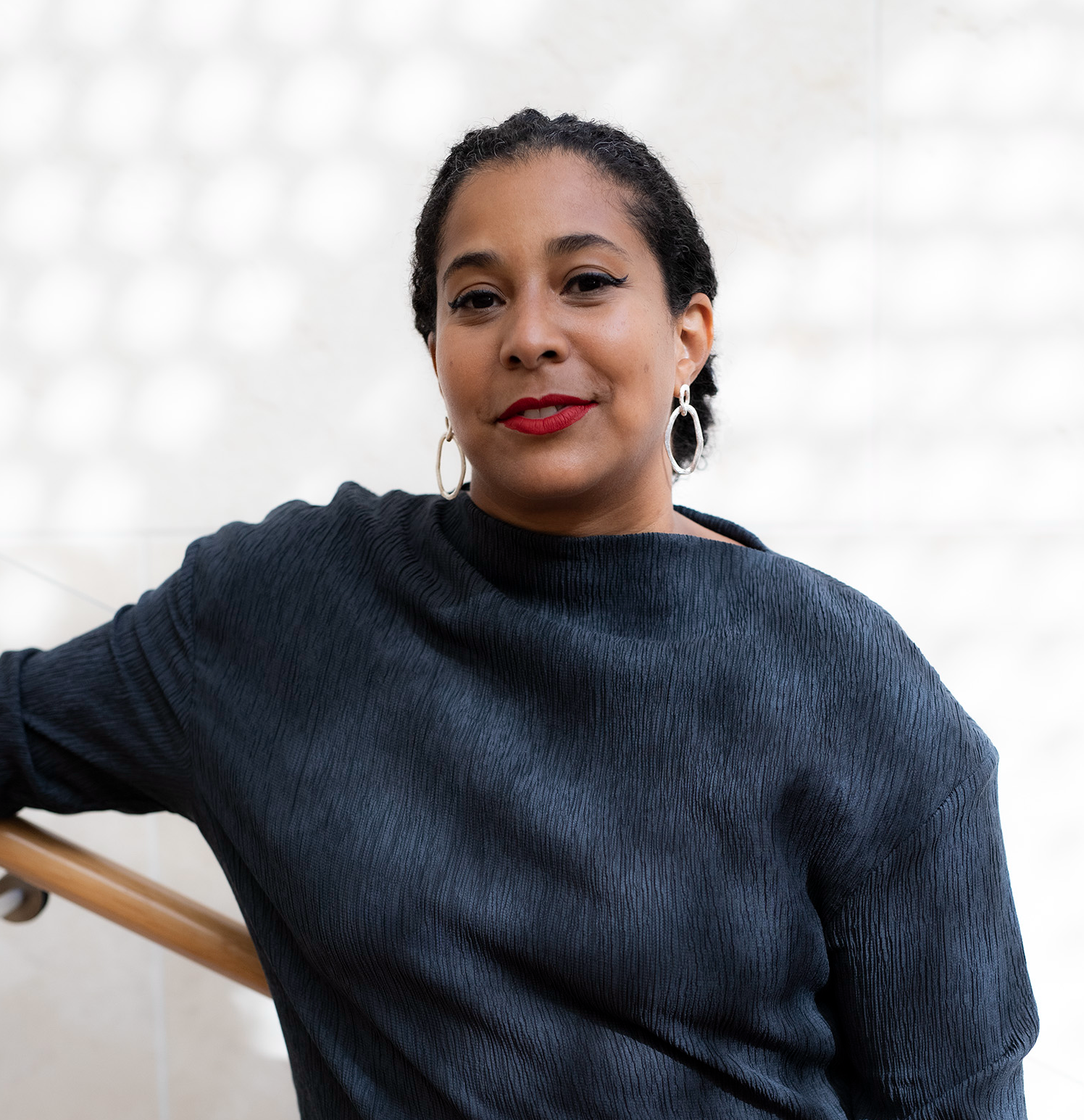 Vivian Crockett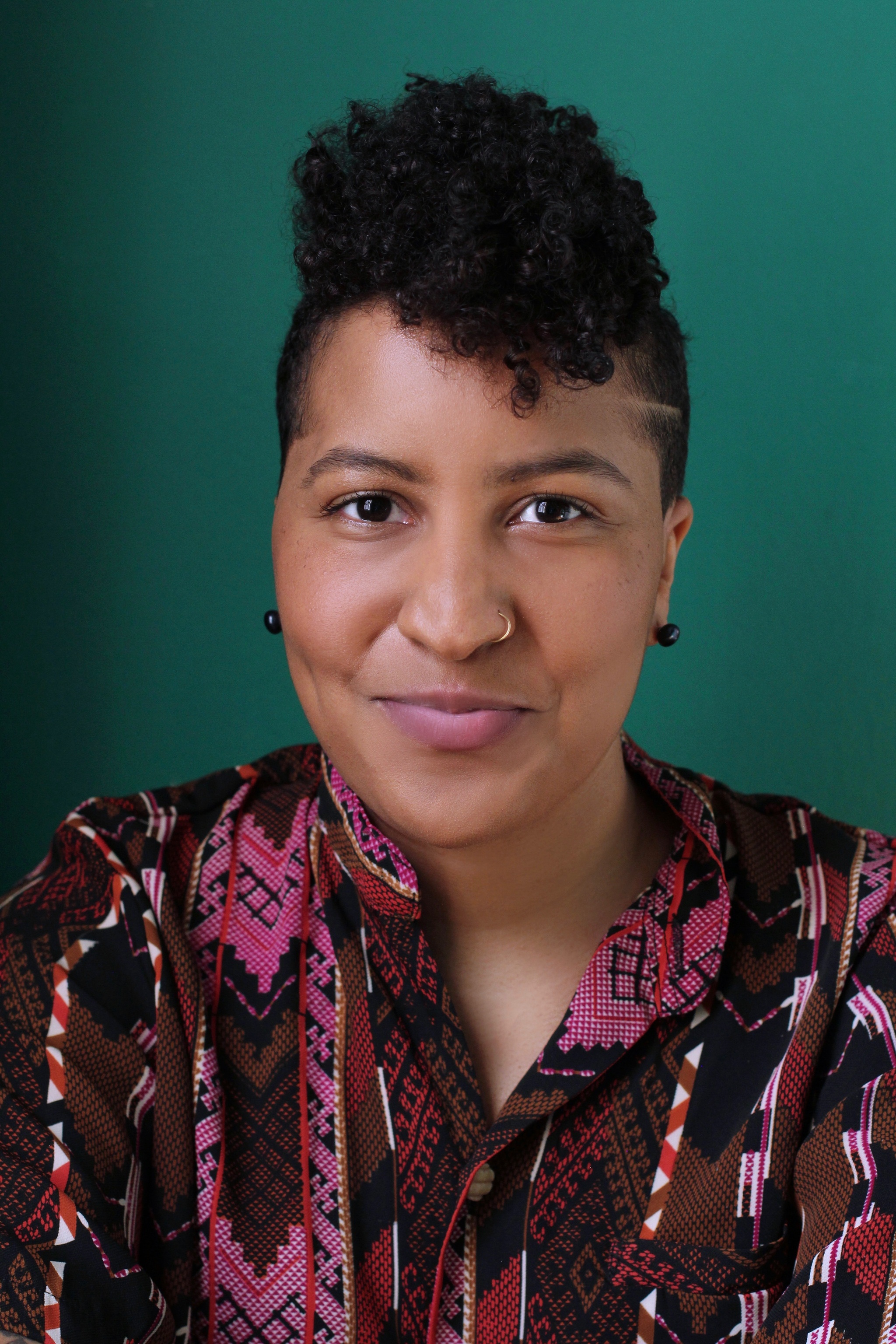 Jordana De La Cruz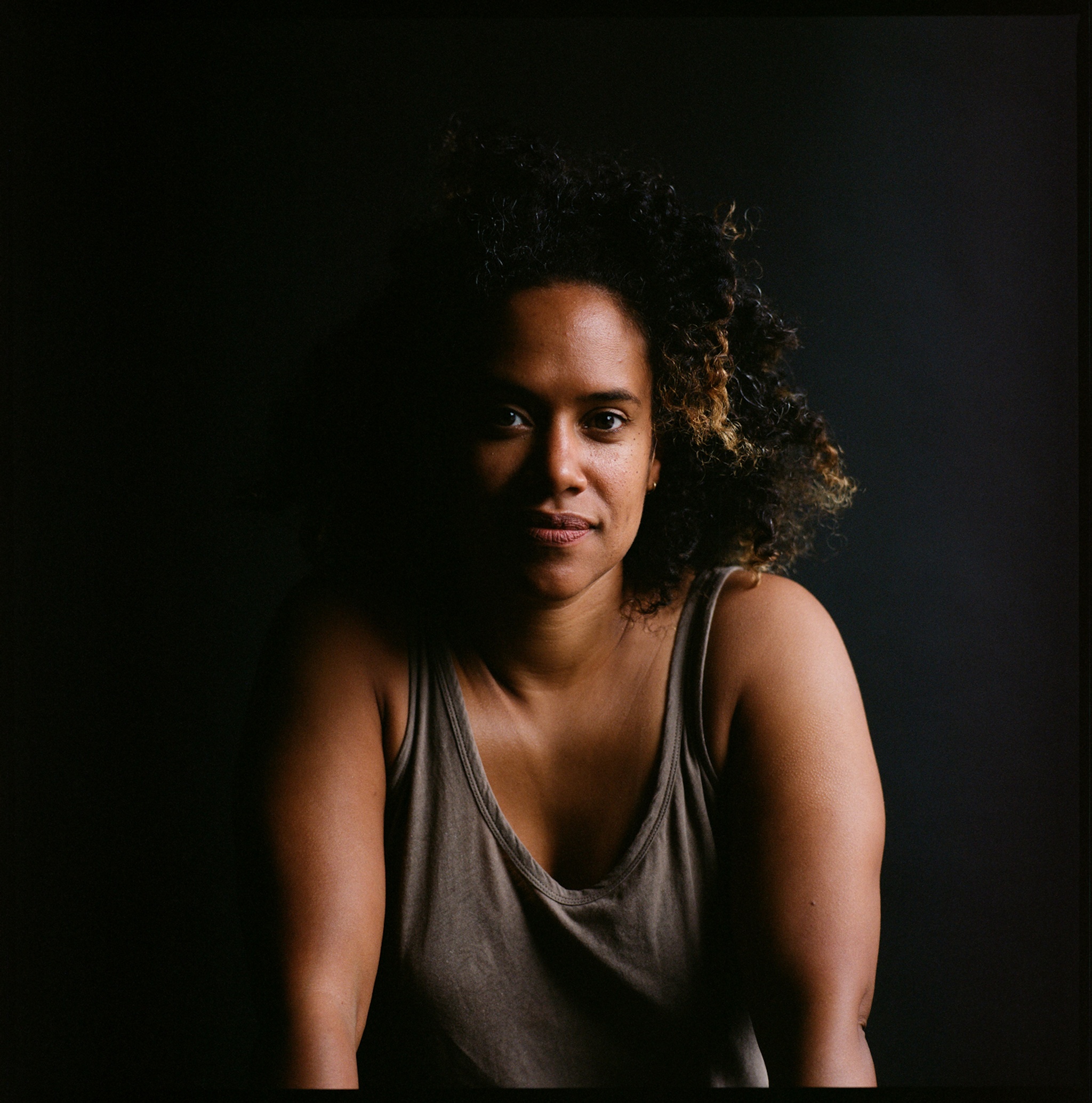 Leslie Cuyjet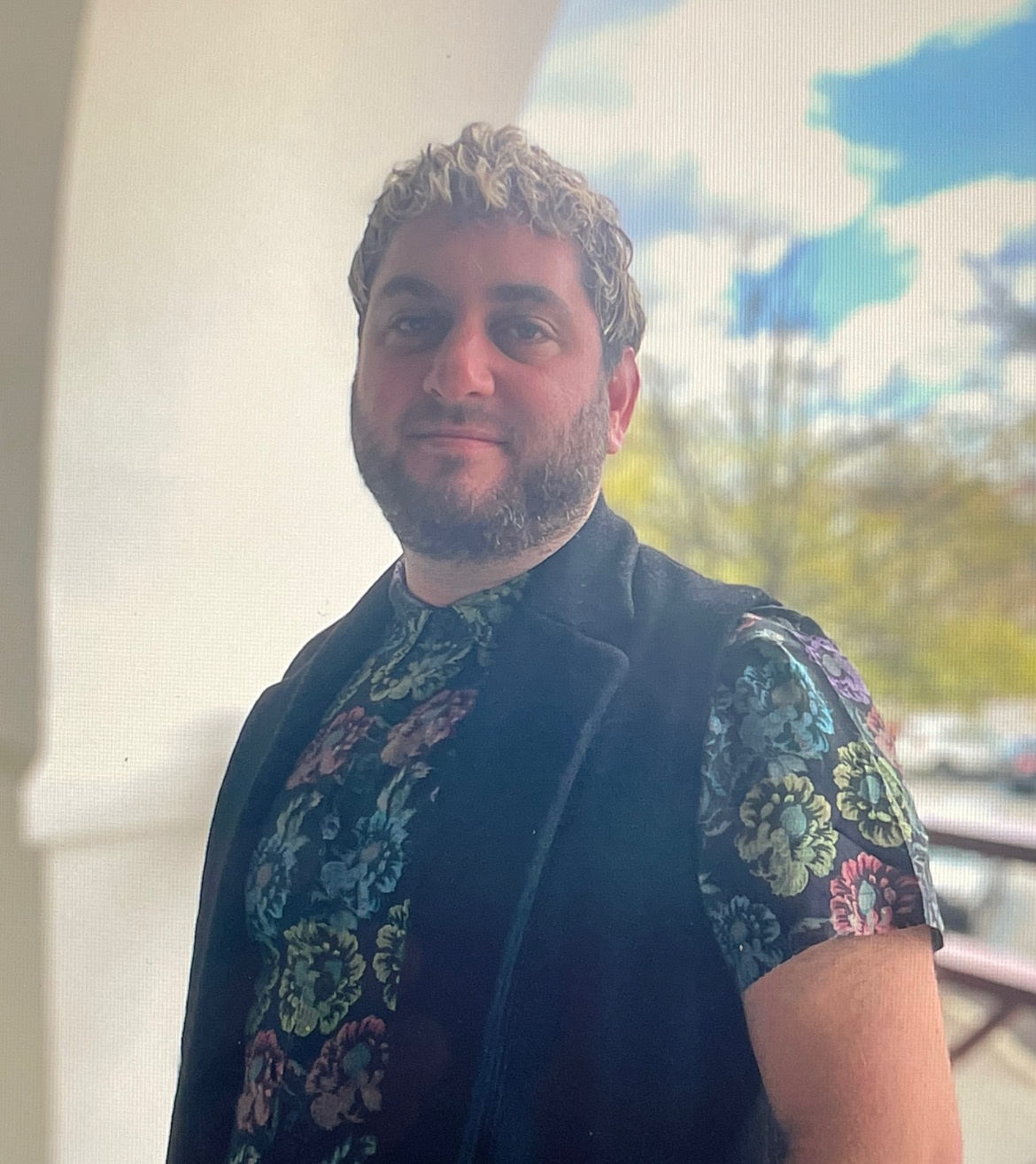 Jesse Bandler Firestone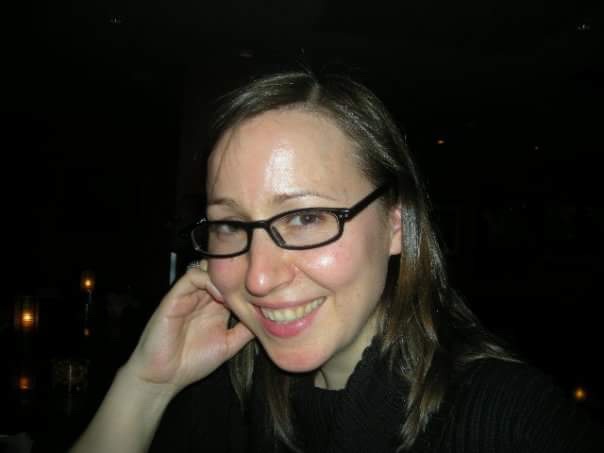 Boo Froebel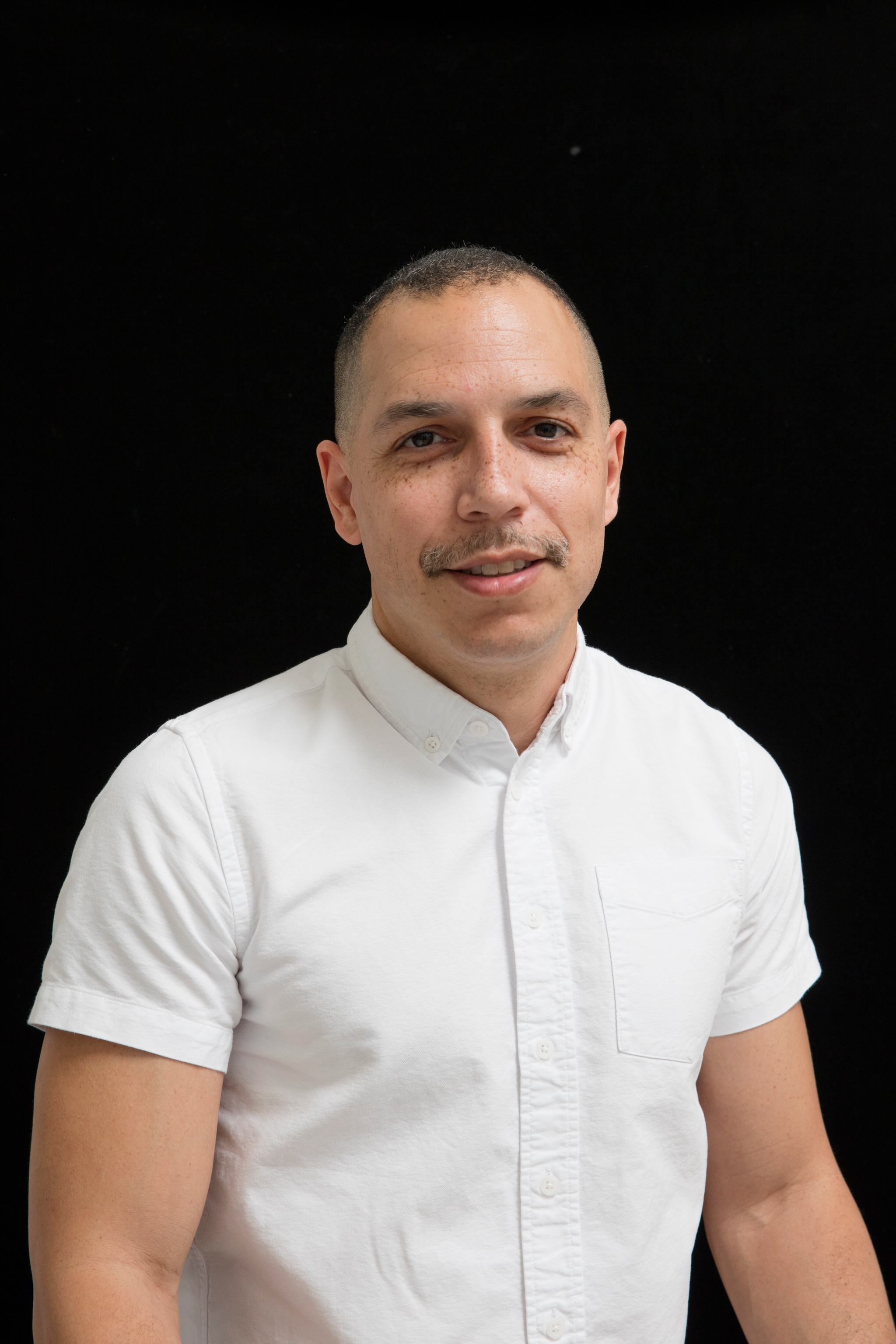 Malik Gaines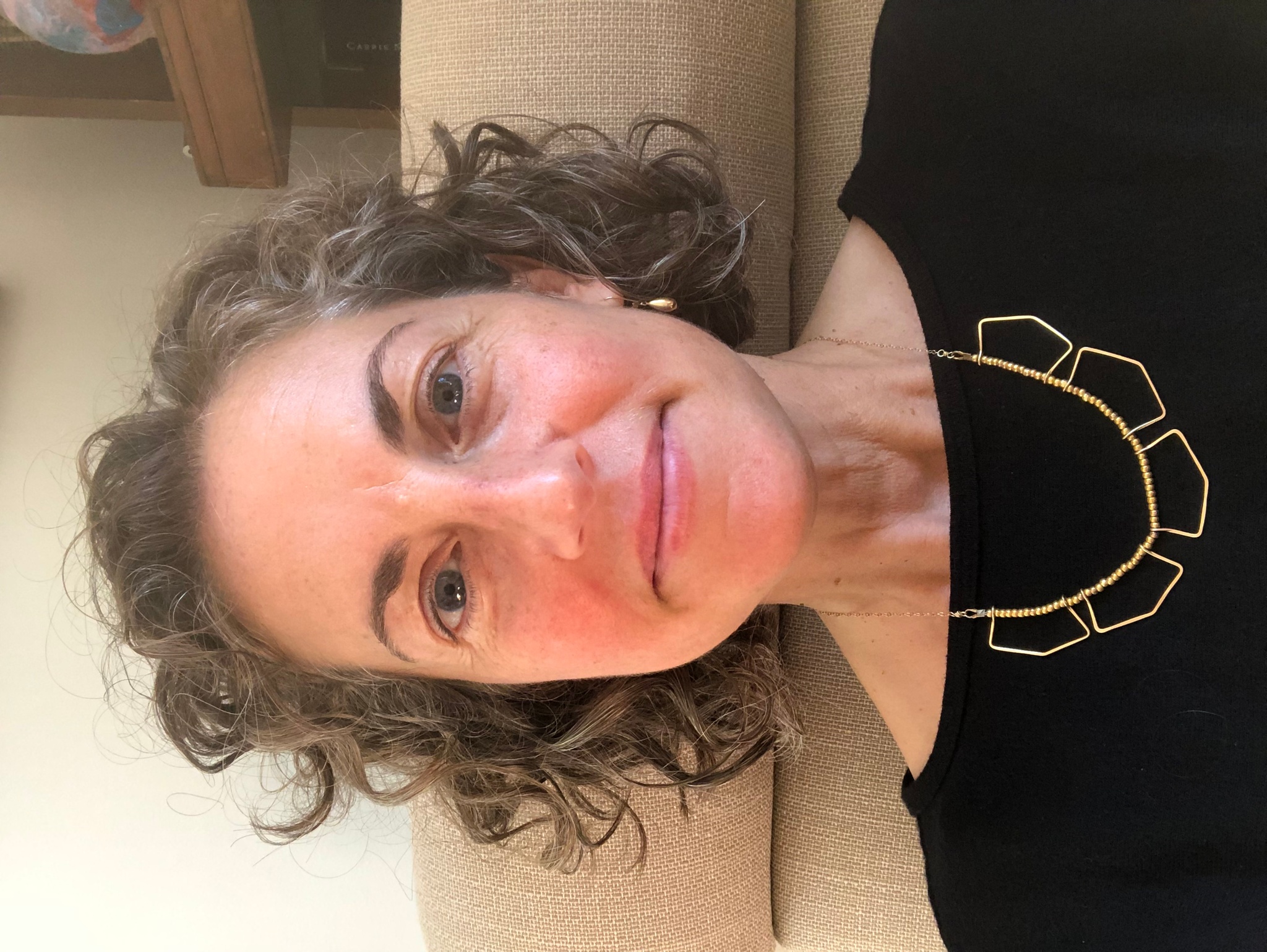 Nadine Goellner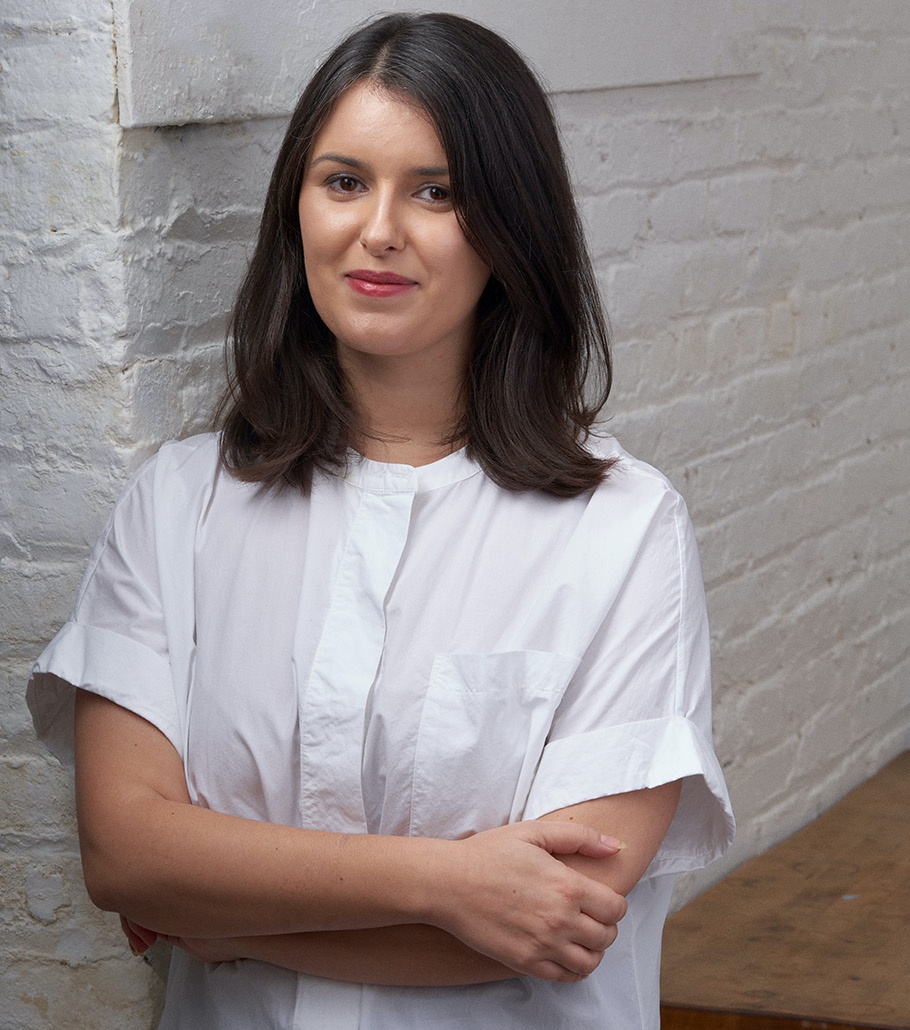 Anna Harsanyi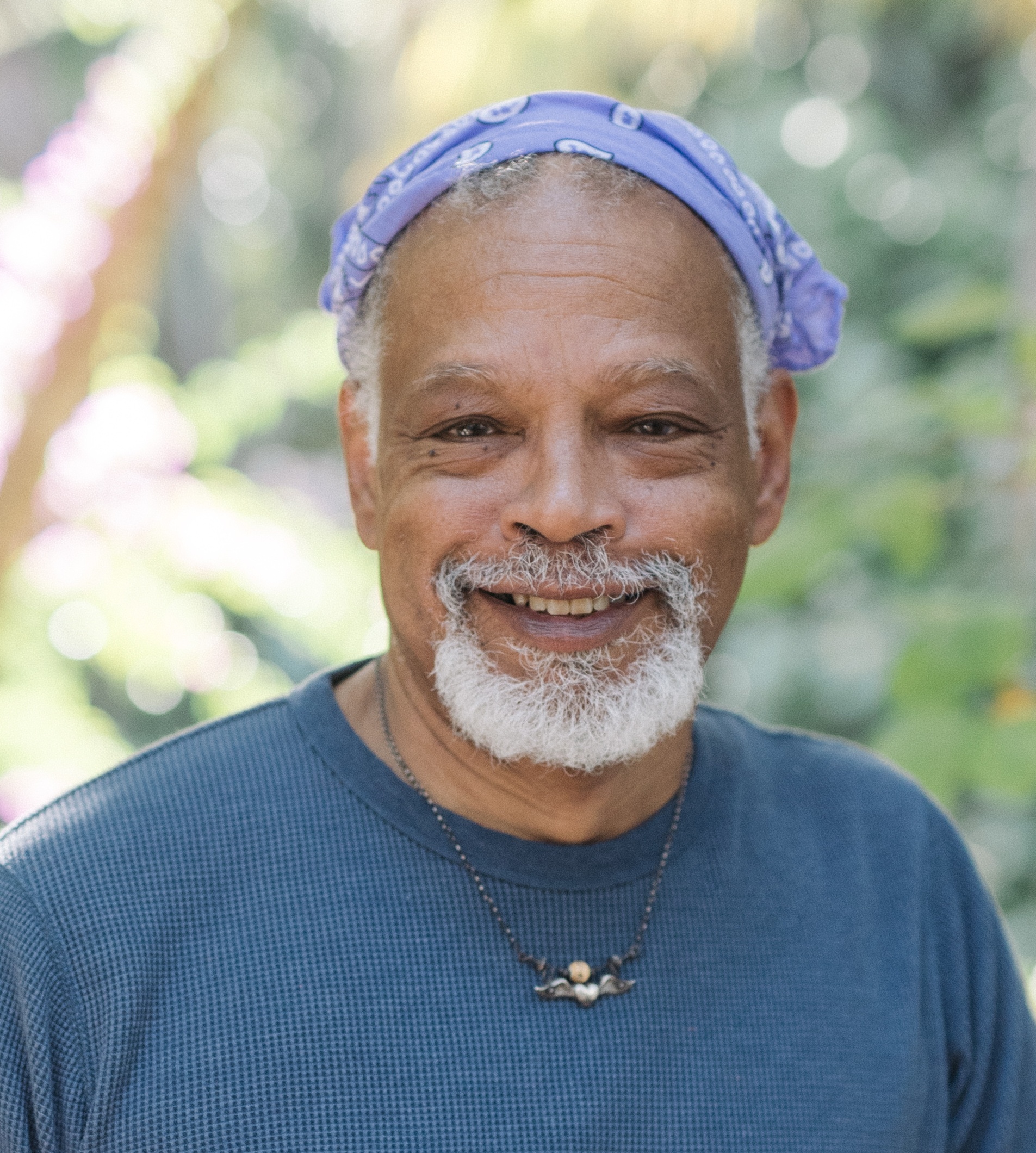 Ishmael Houston-Jones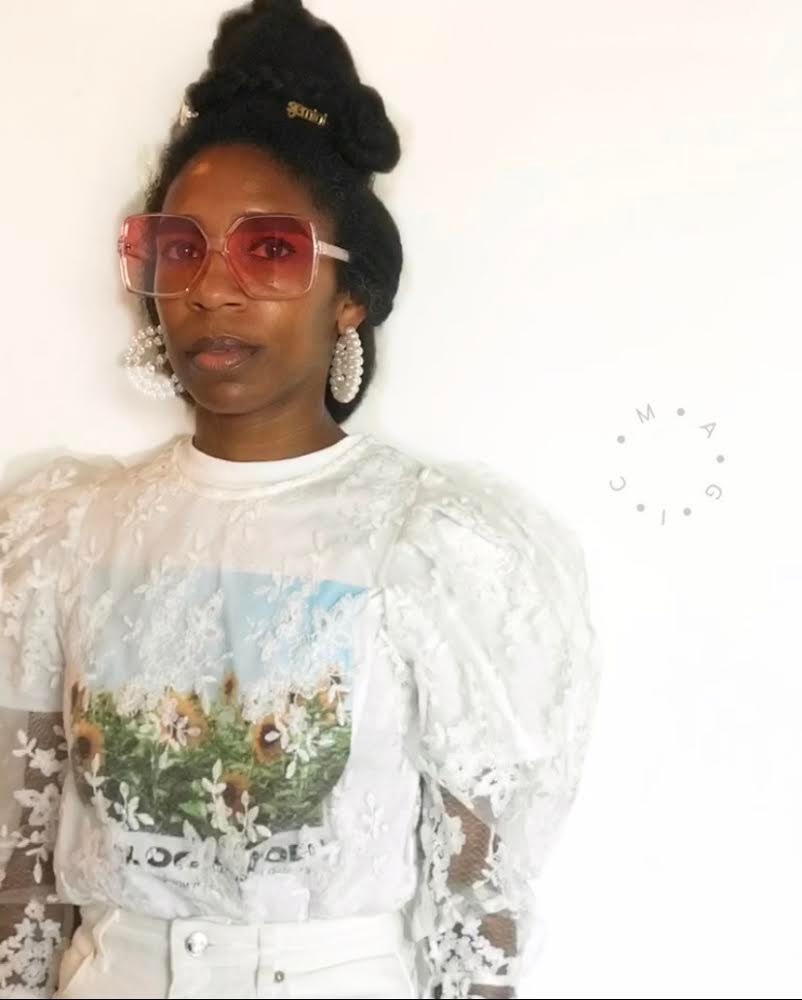 April Hunt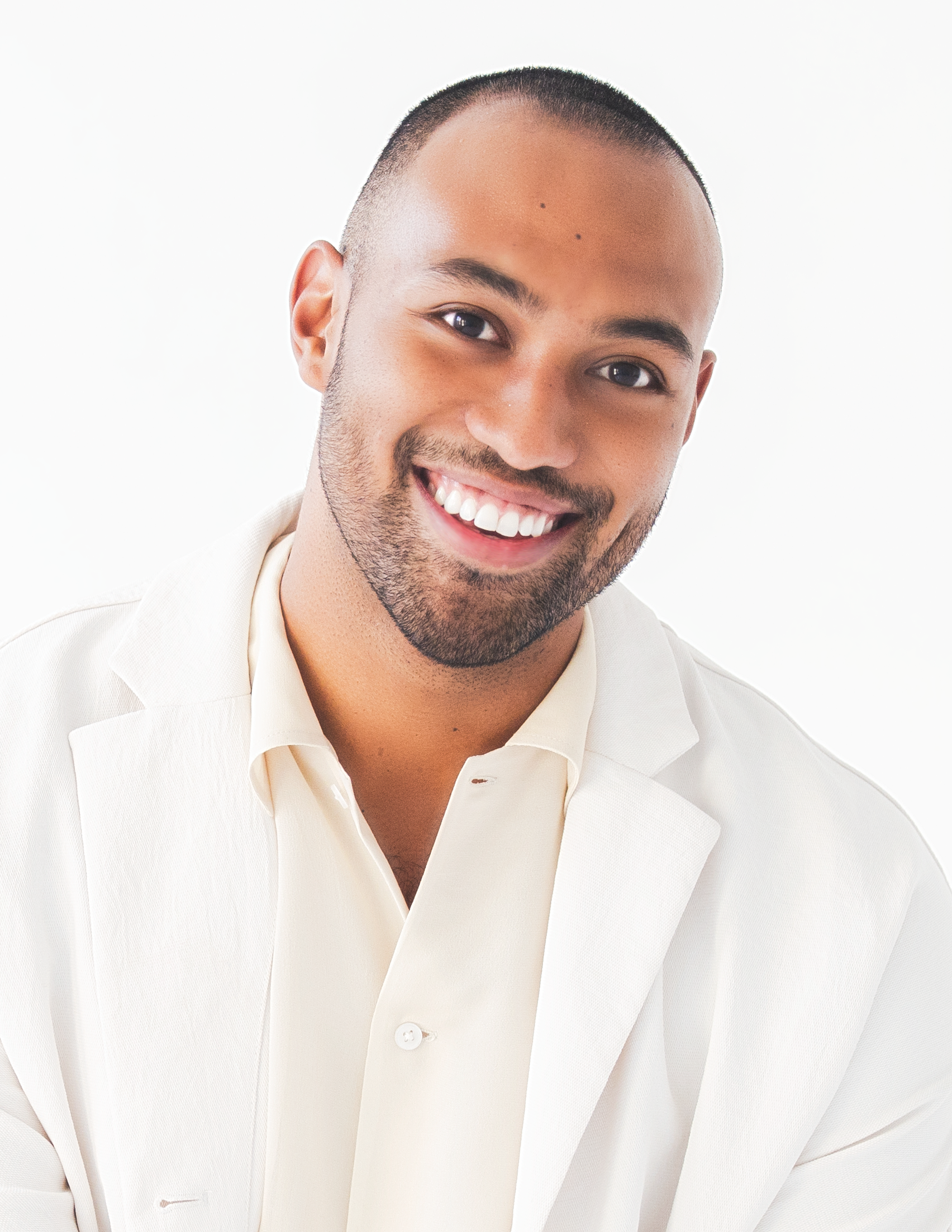 Adam Hyndman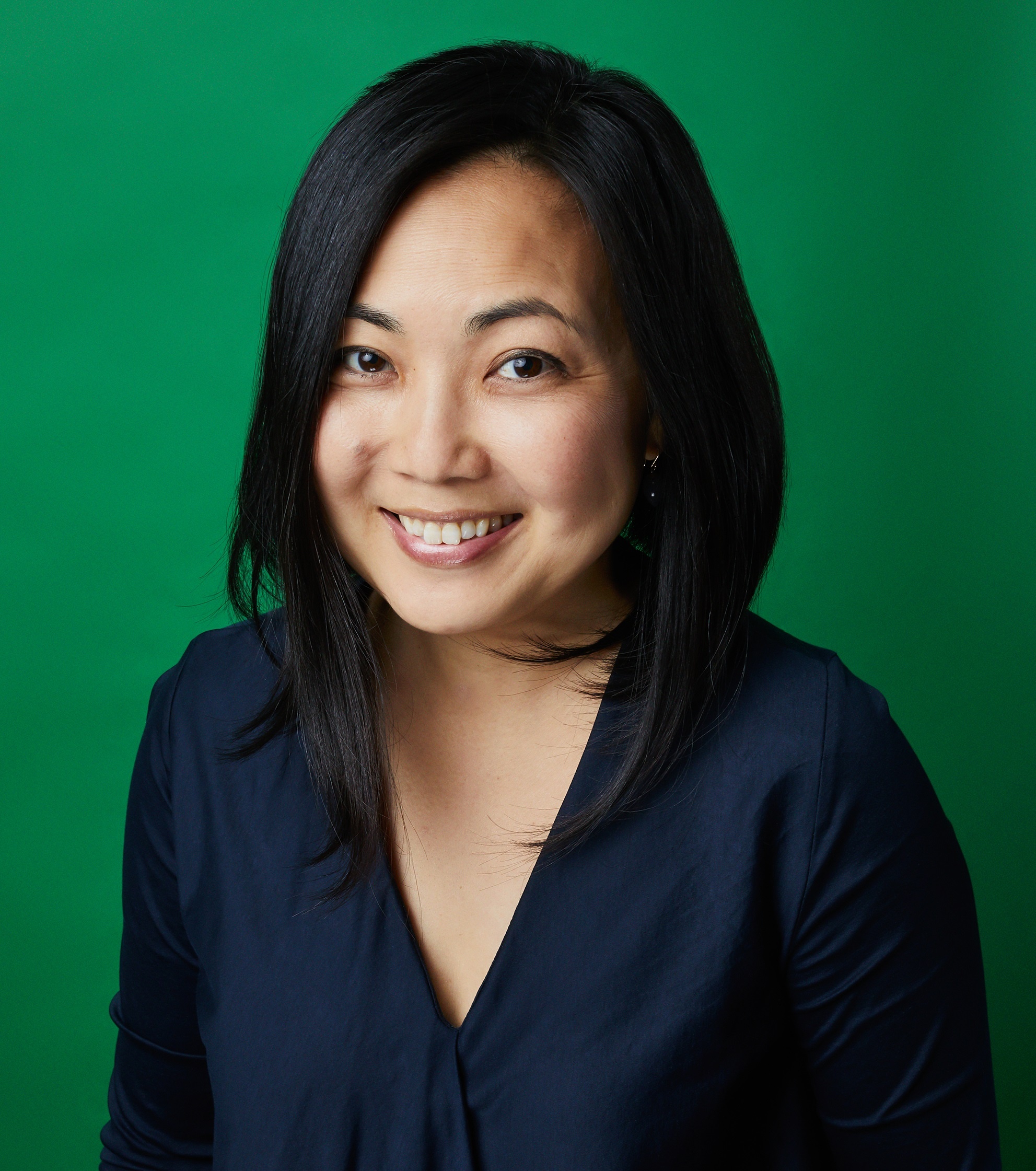 Lisa Kim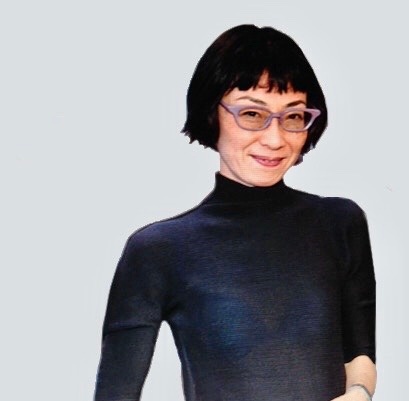 Hitomi Iwasaki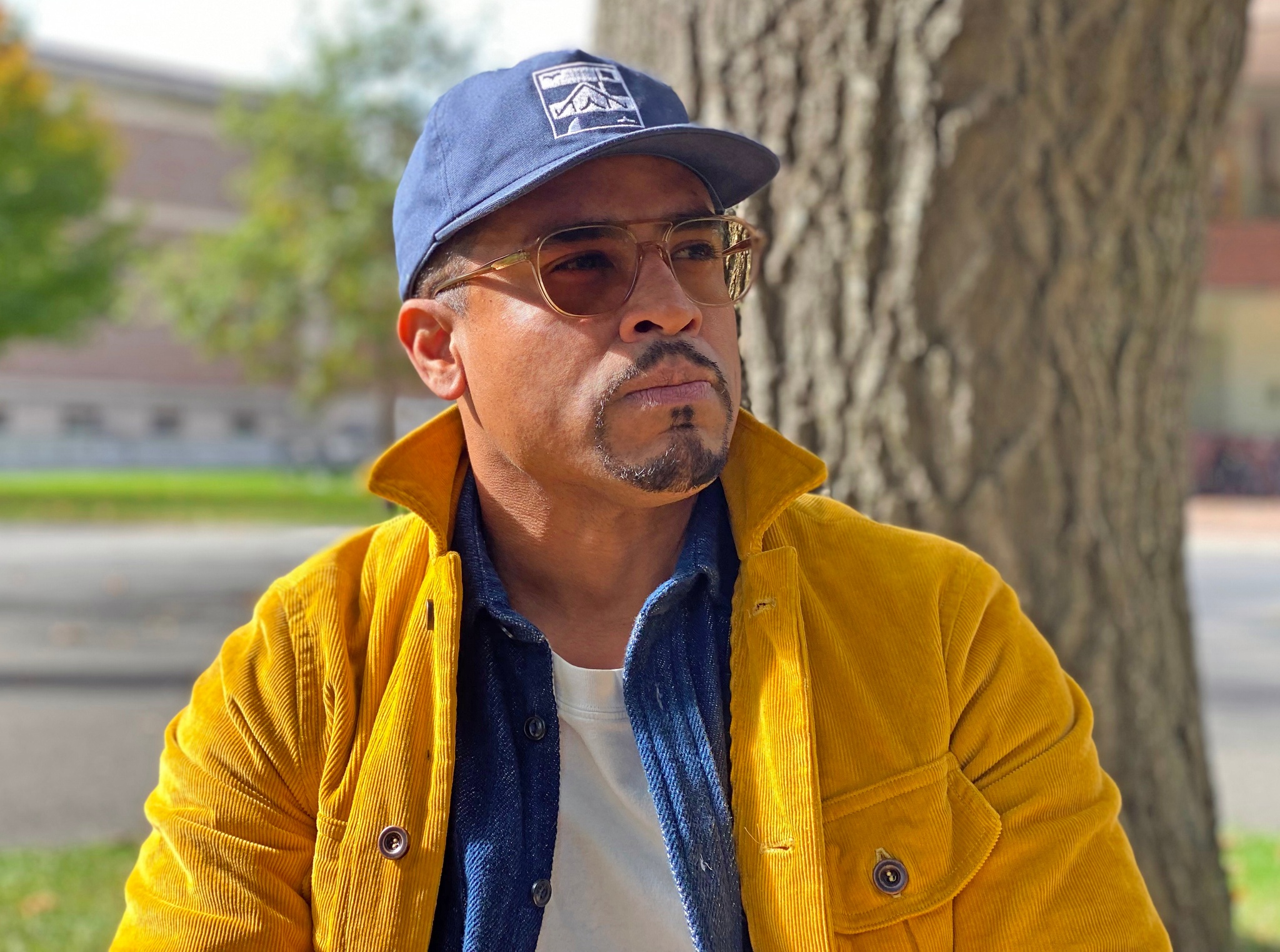 Shaun Leonardo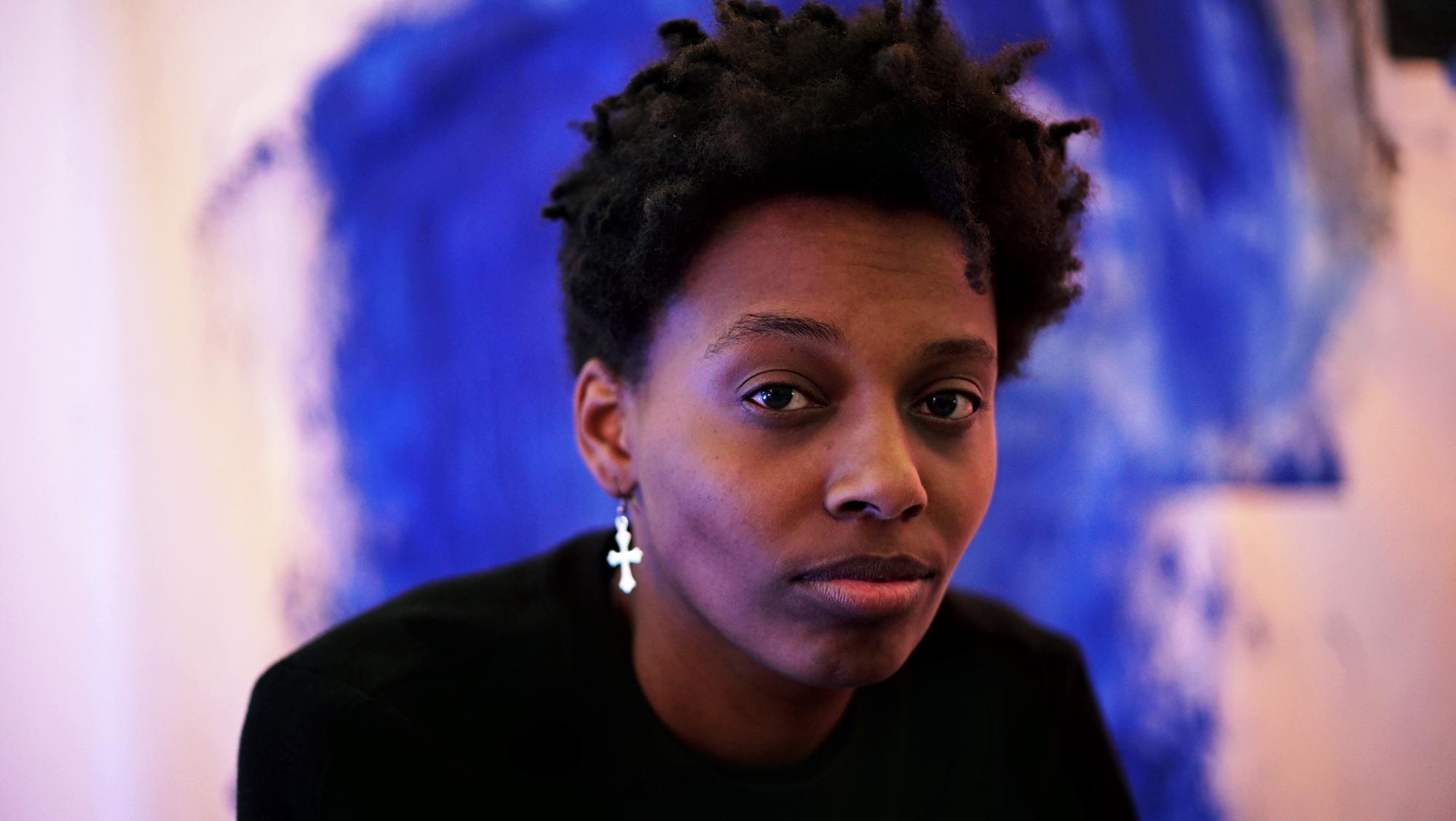 Le'Andra LeSeur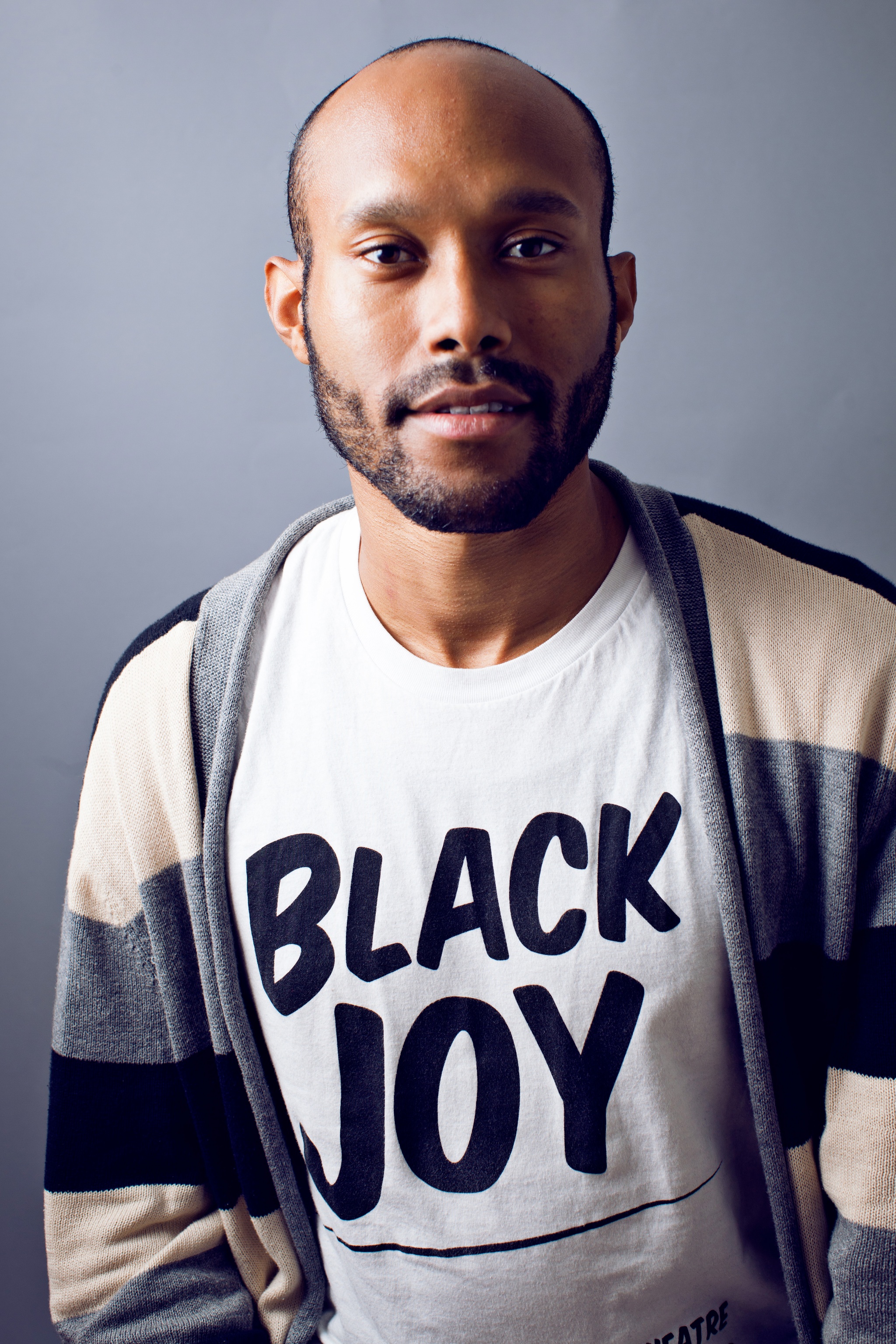 Jonathan McCrory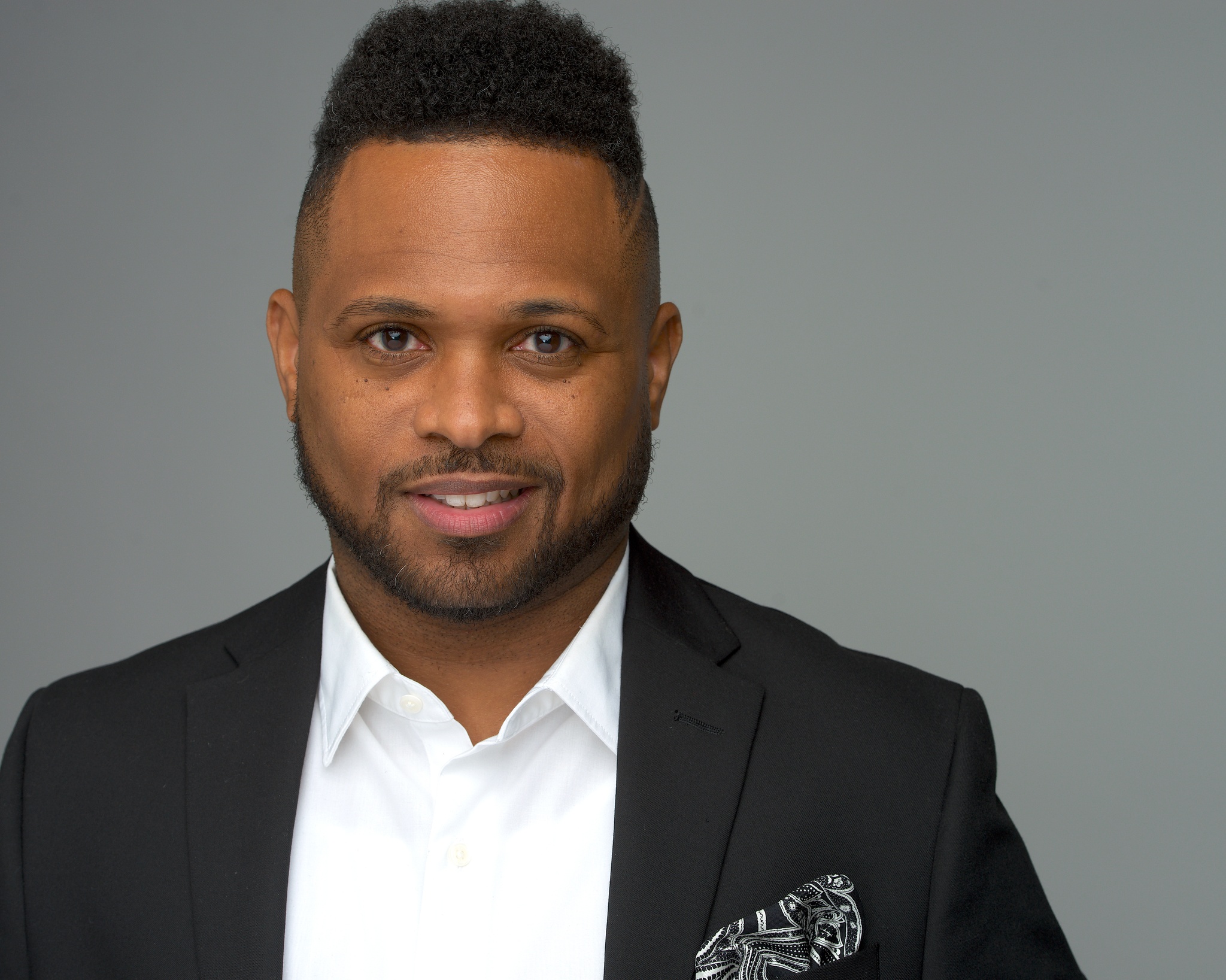 Aaron L. McKinney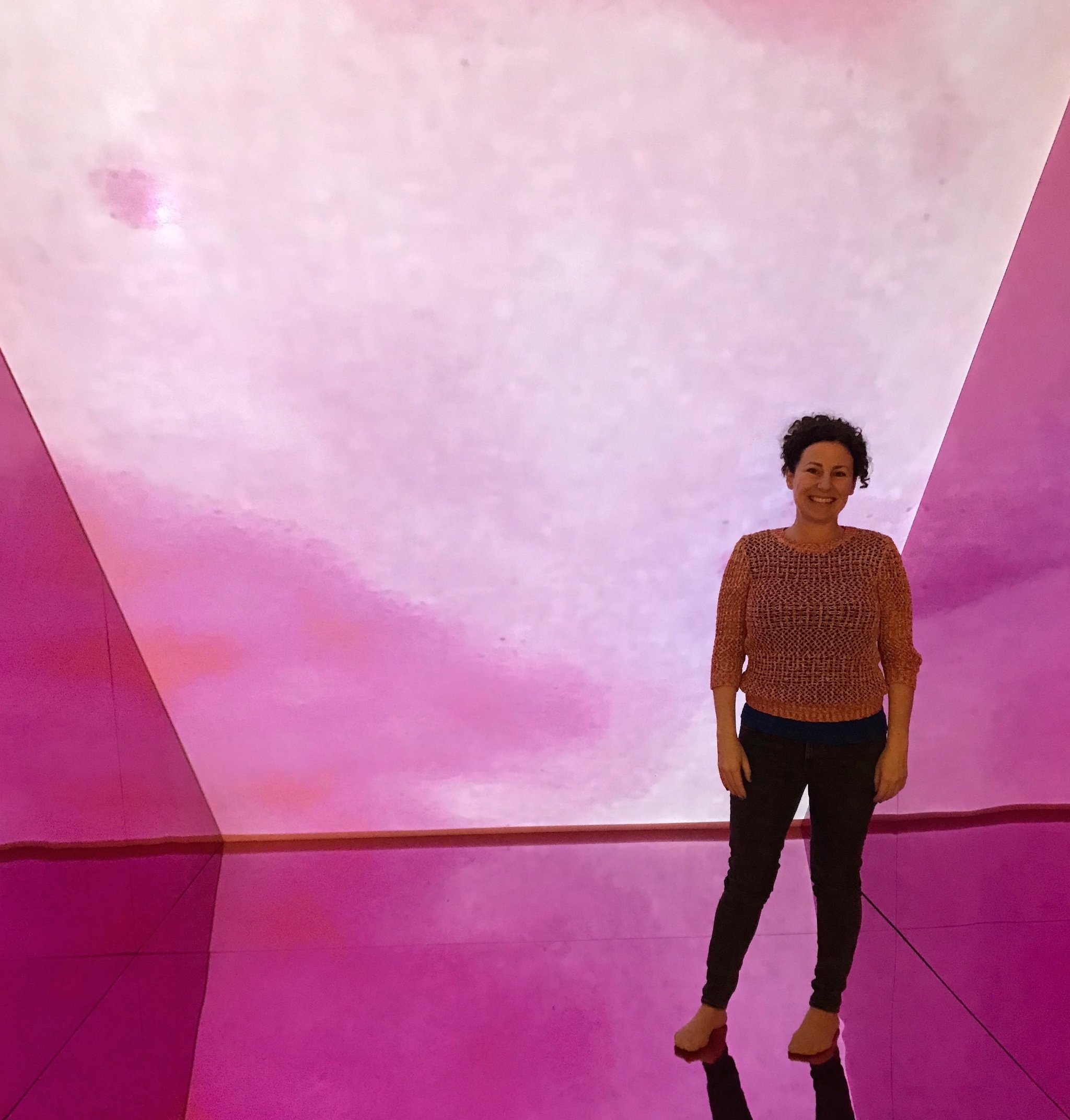 Mara Mills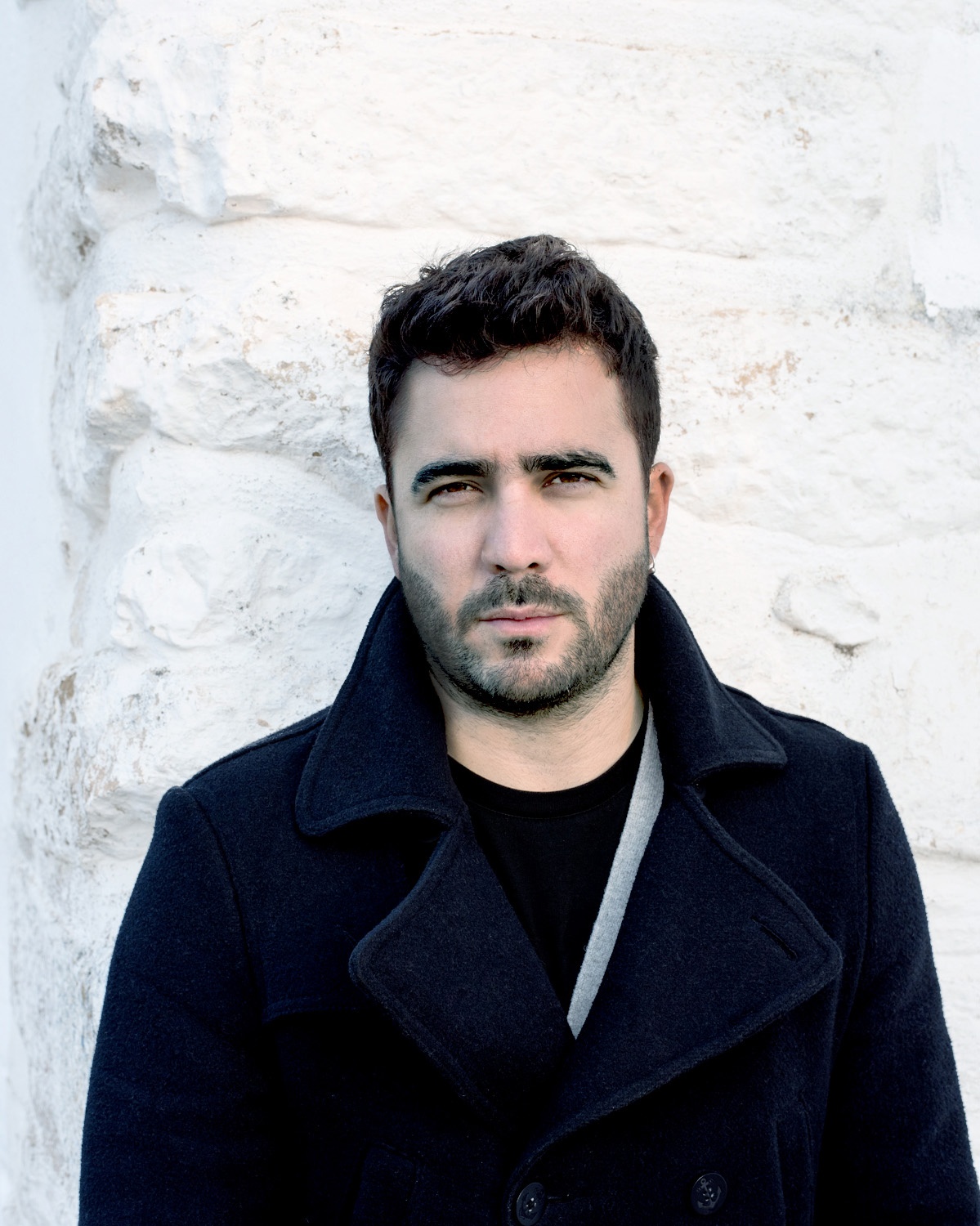 Humberto Moro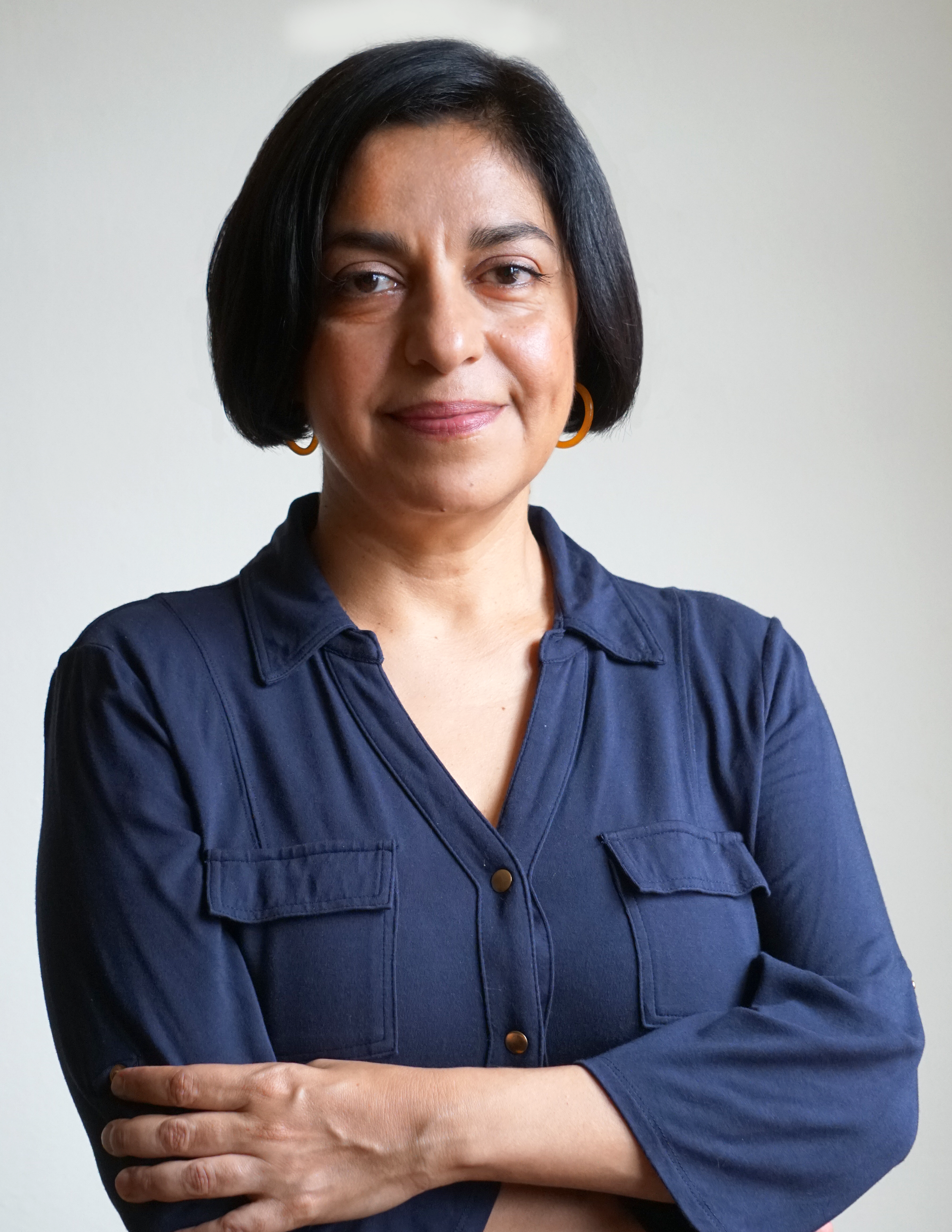 Claudia Norman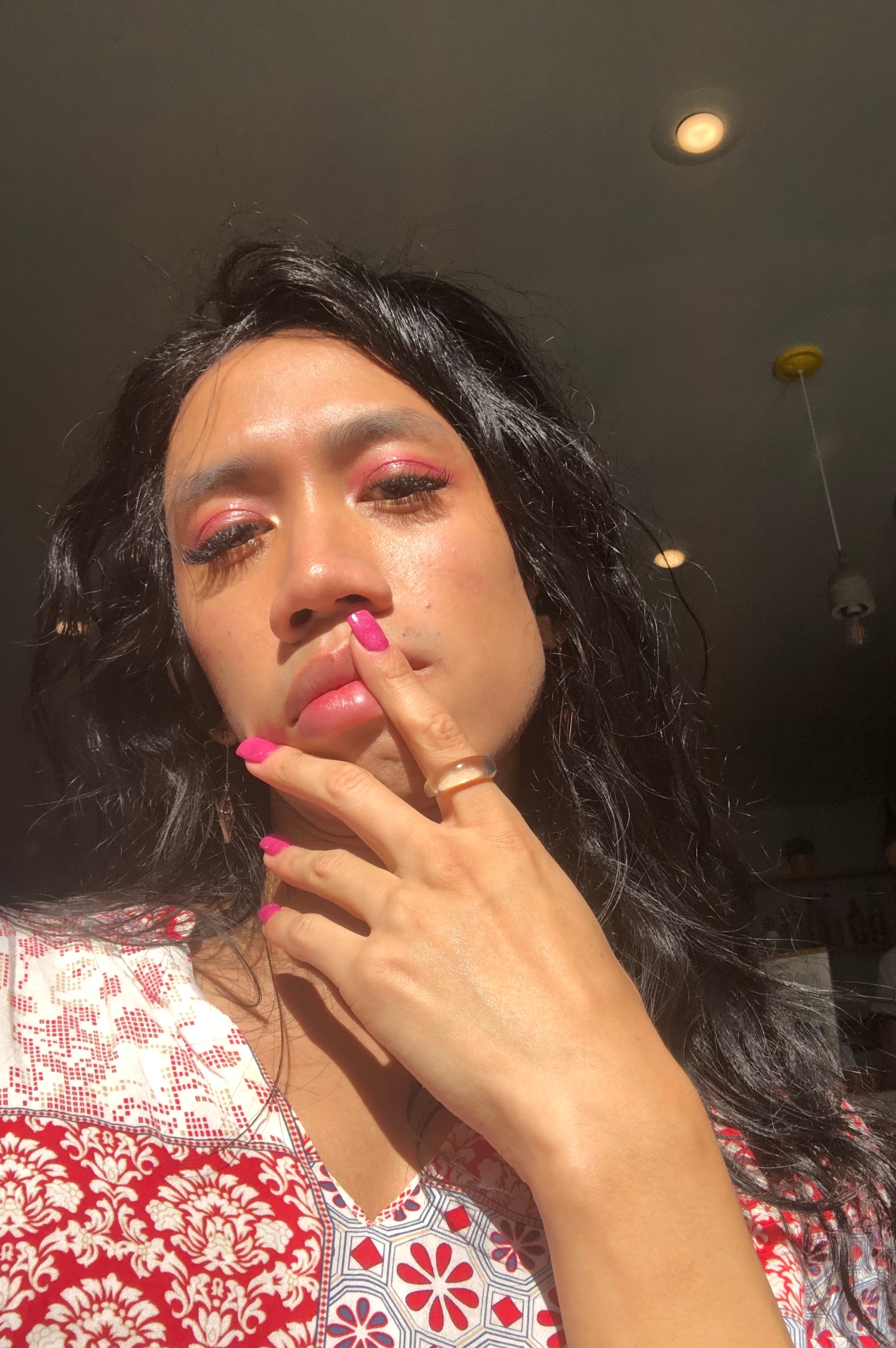 Benedict Nguyễn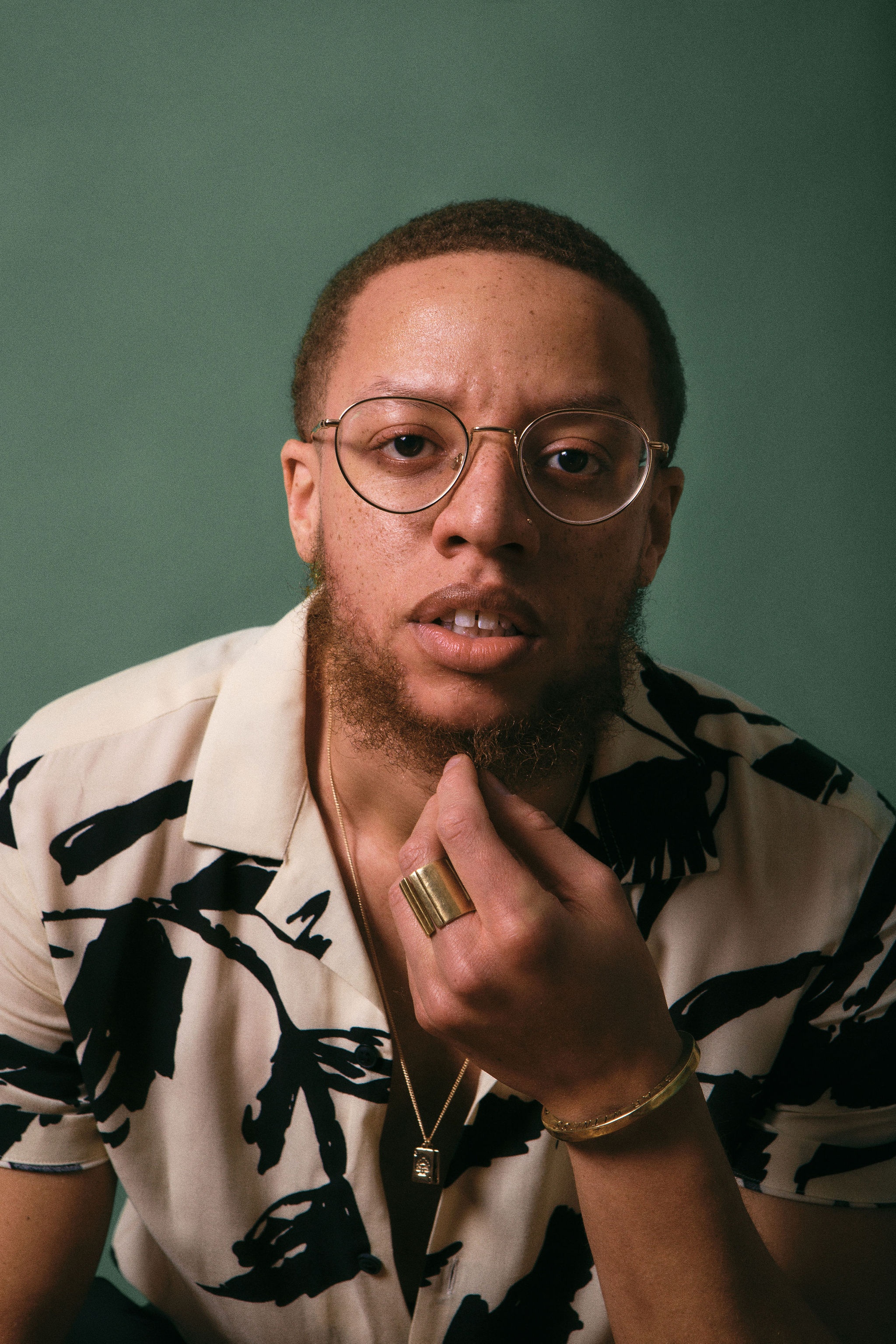 Najee Omar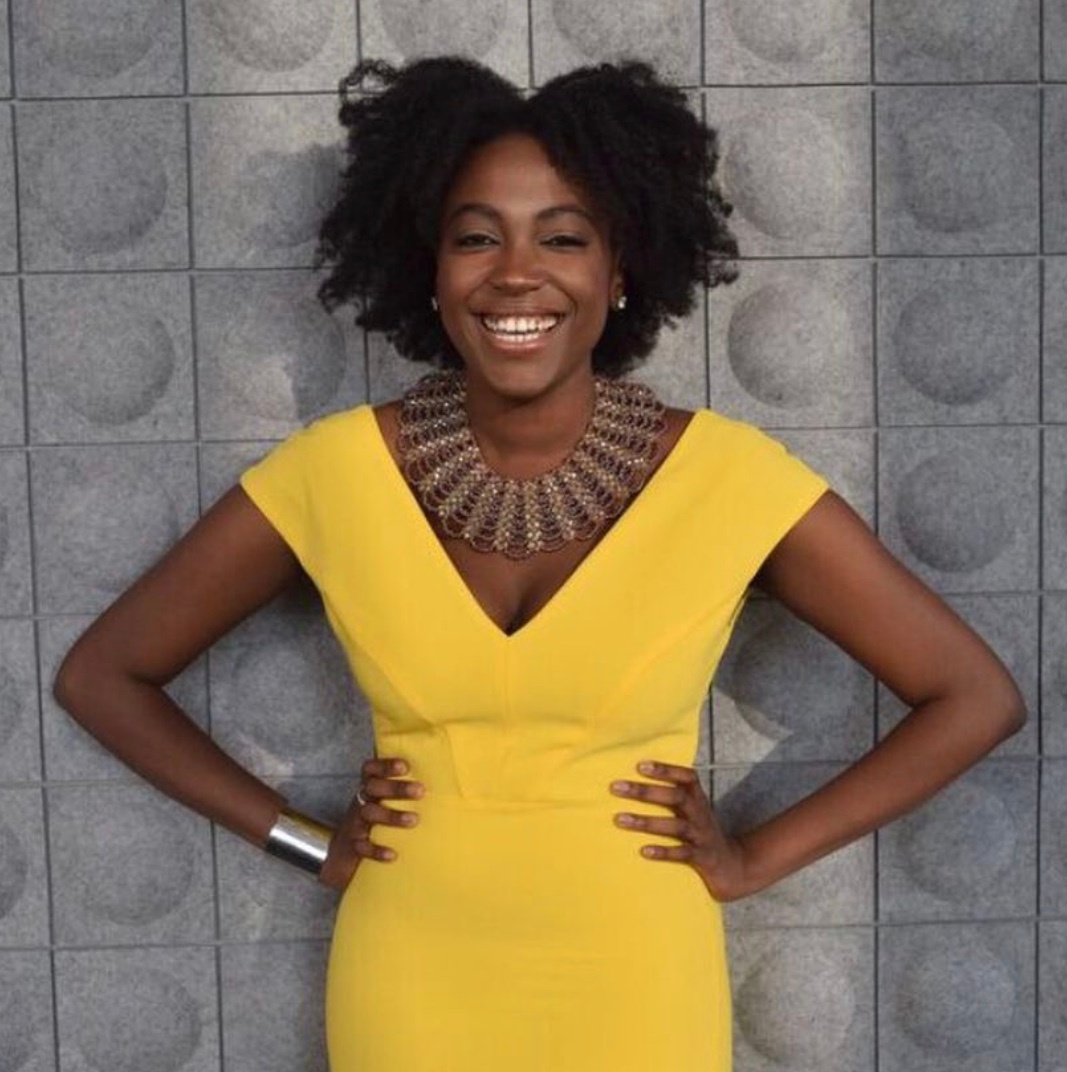 Stephanie Quaye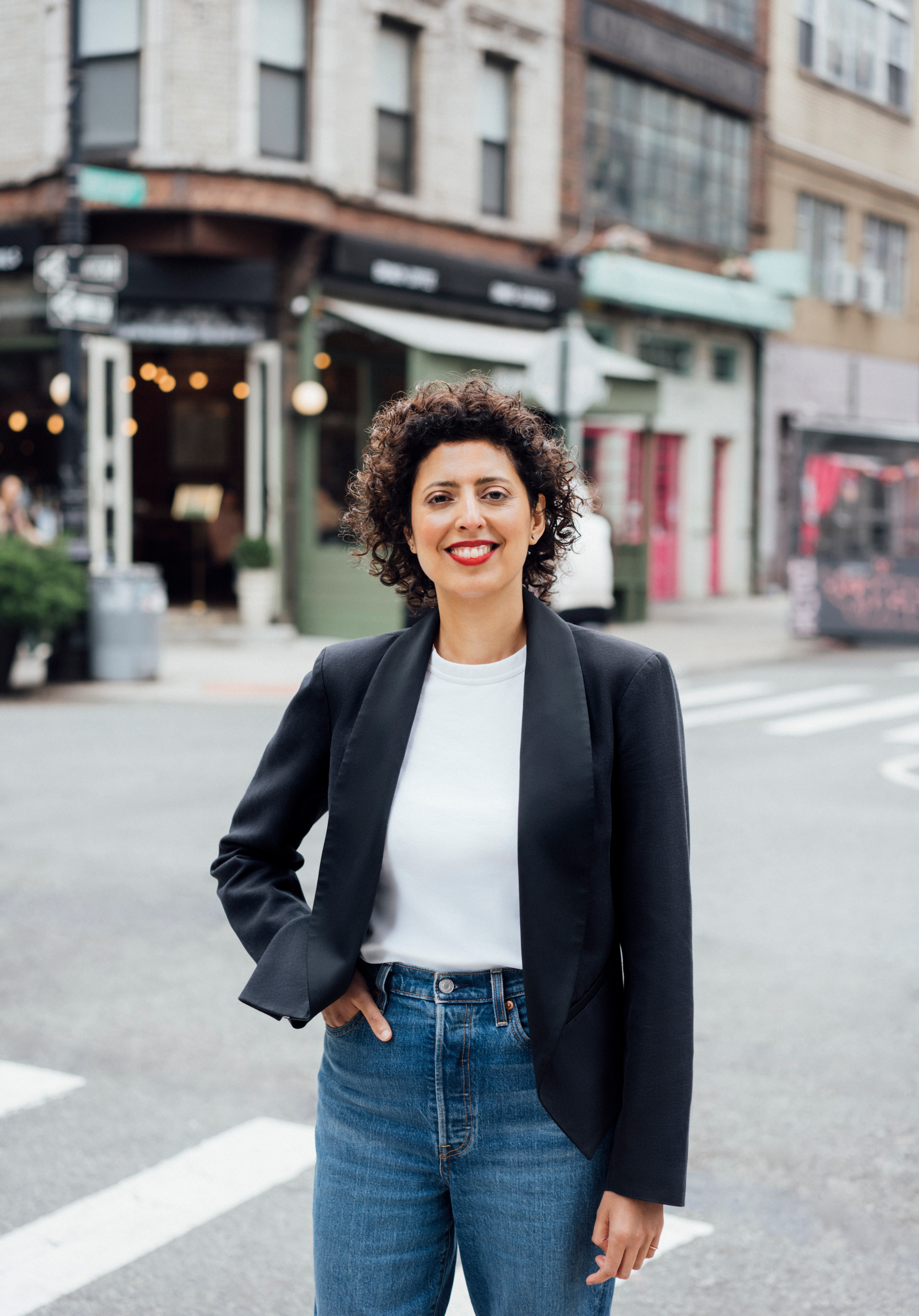 Sara Raza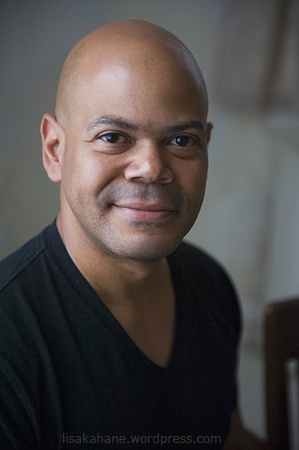 Charles Rice-Gonzalez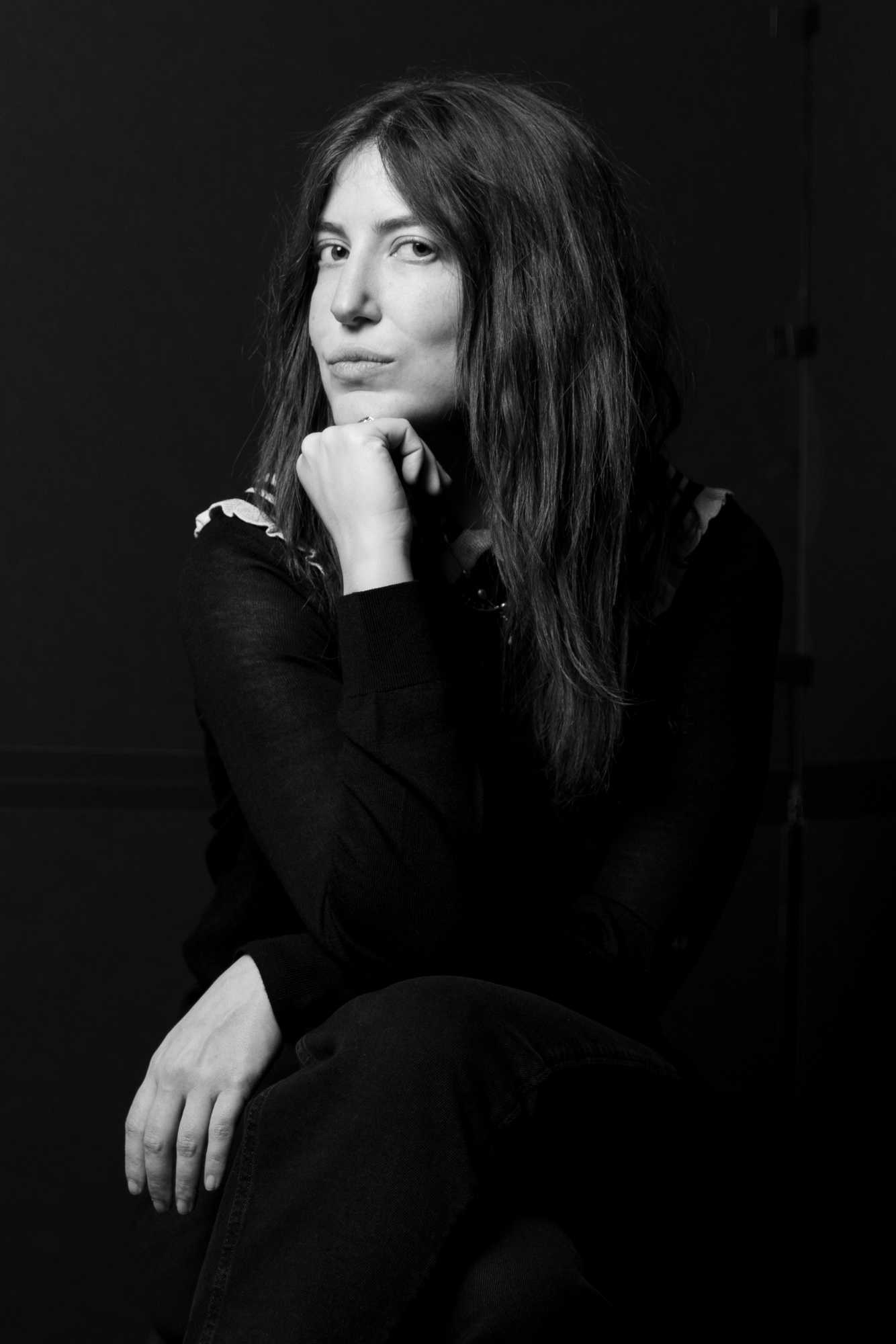 Alexandra Rosenberg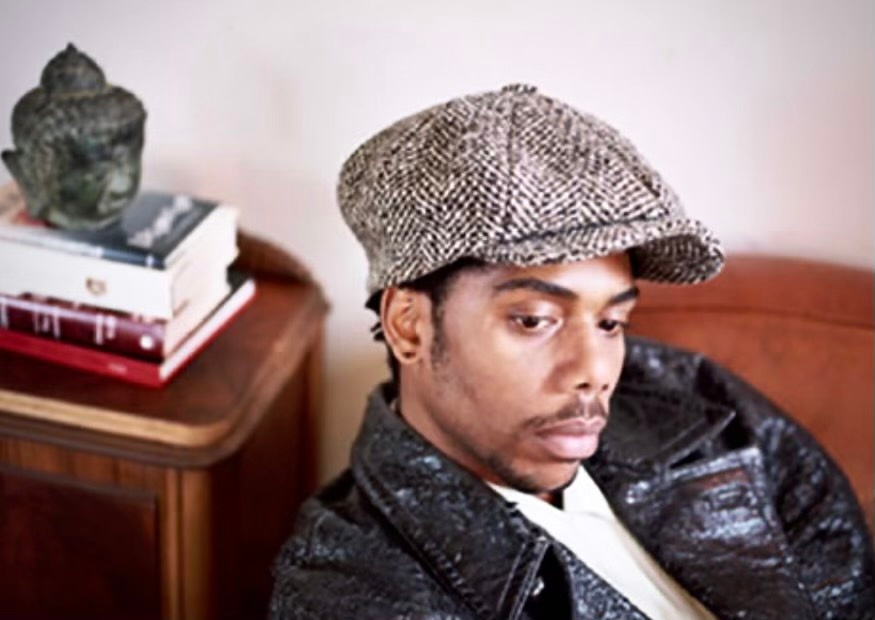 Carl Hancock Rux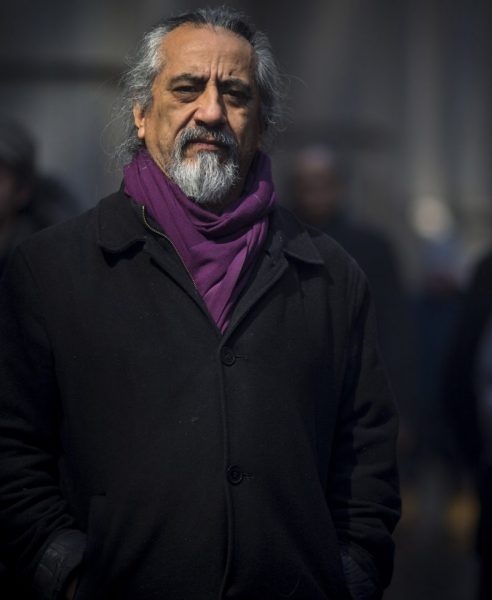 george emilio sanchez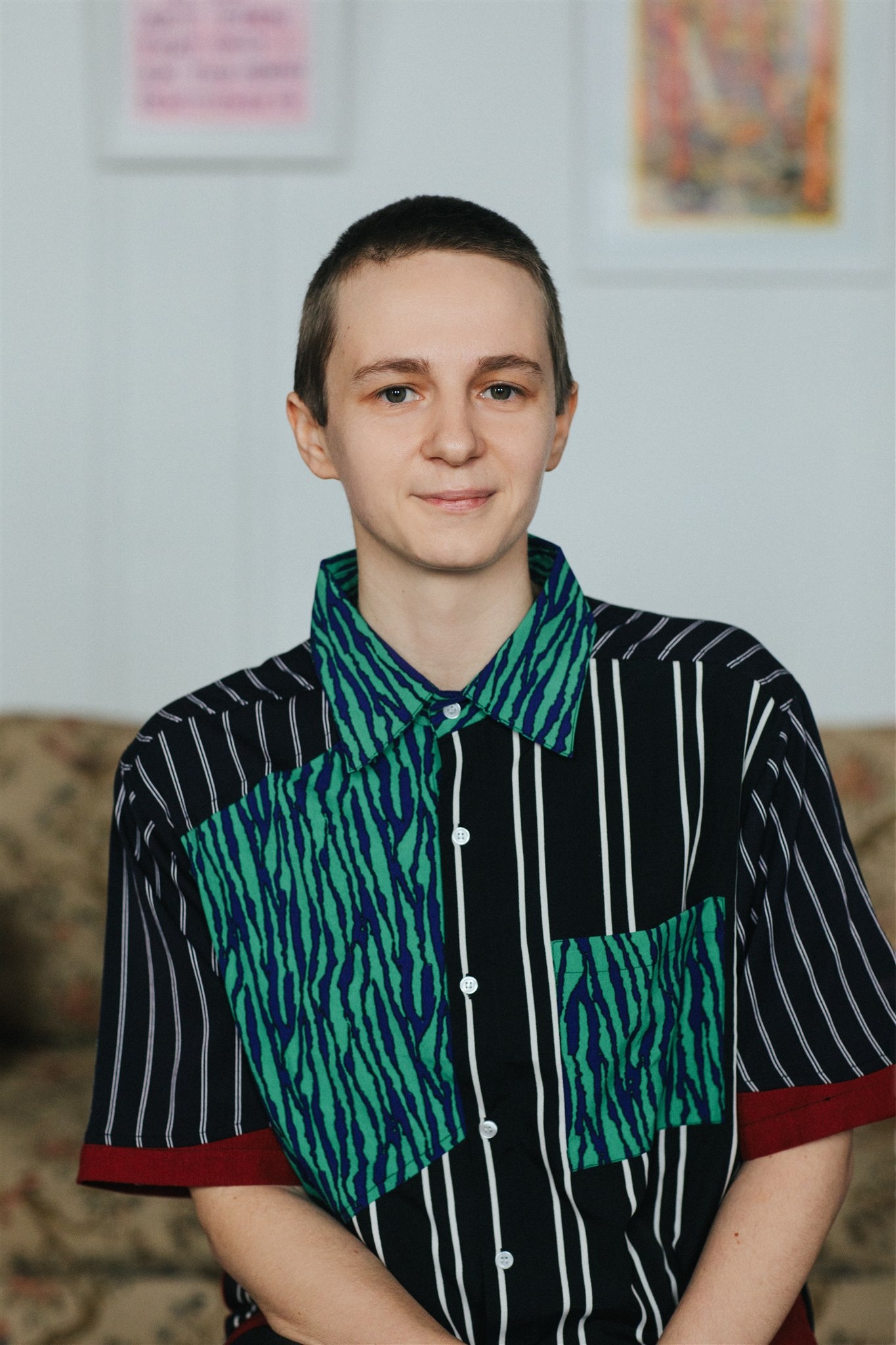 Finnegan Shannon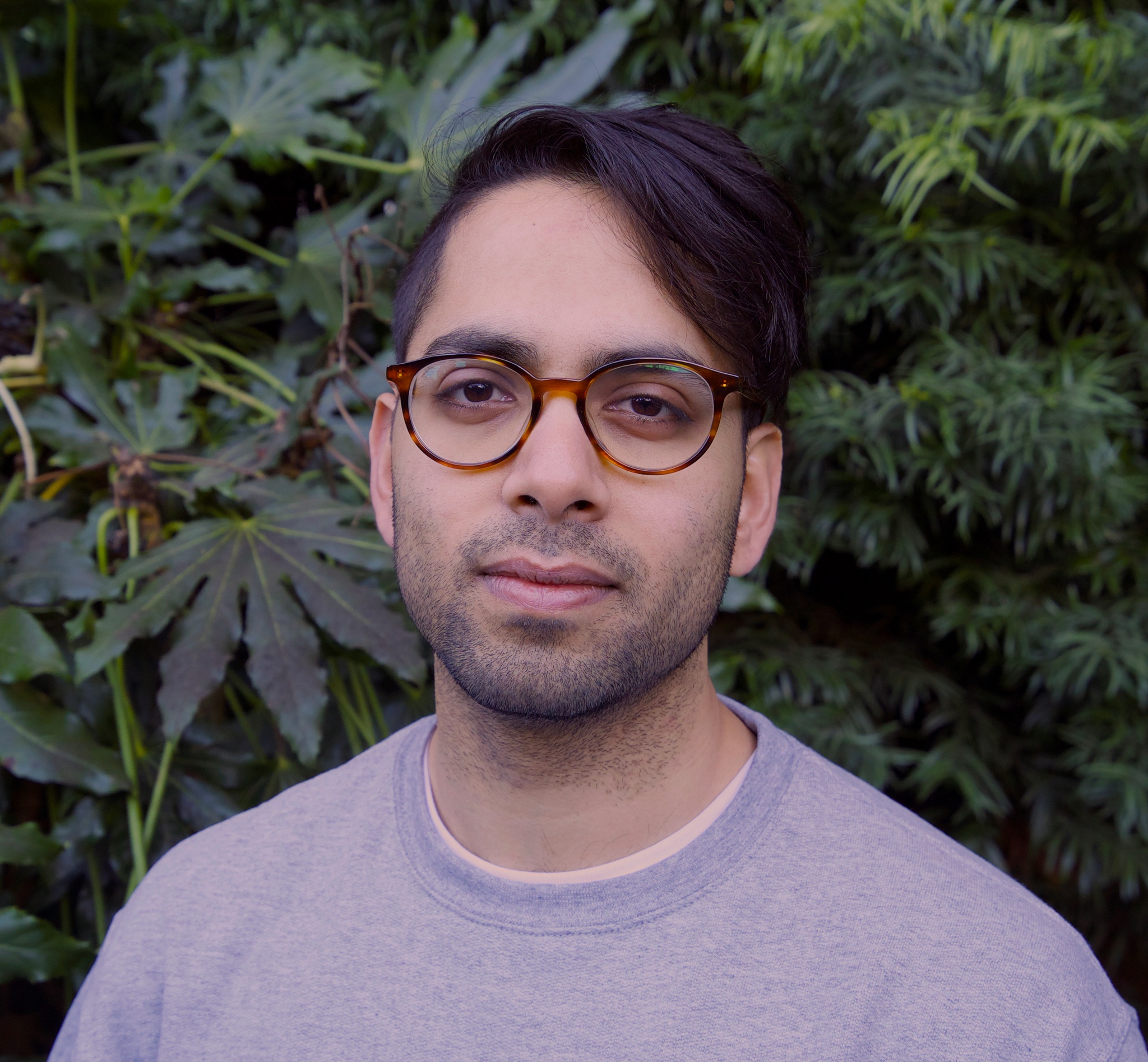 Yusuf Siddiquee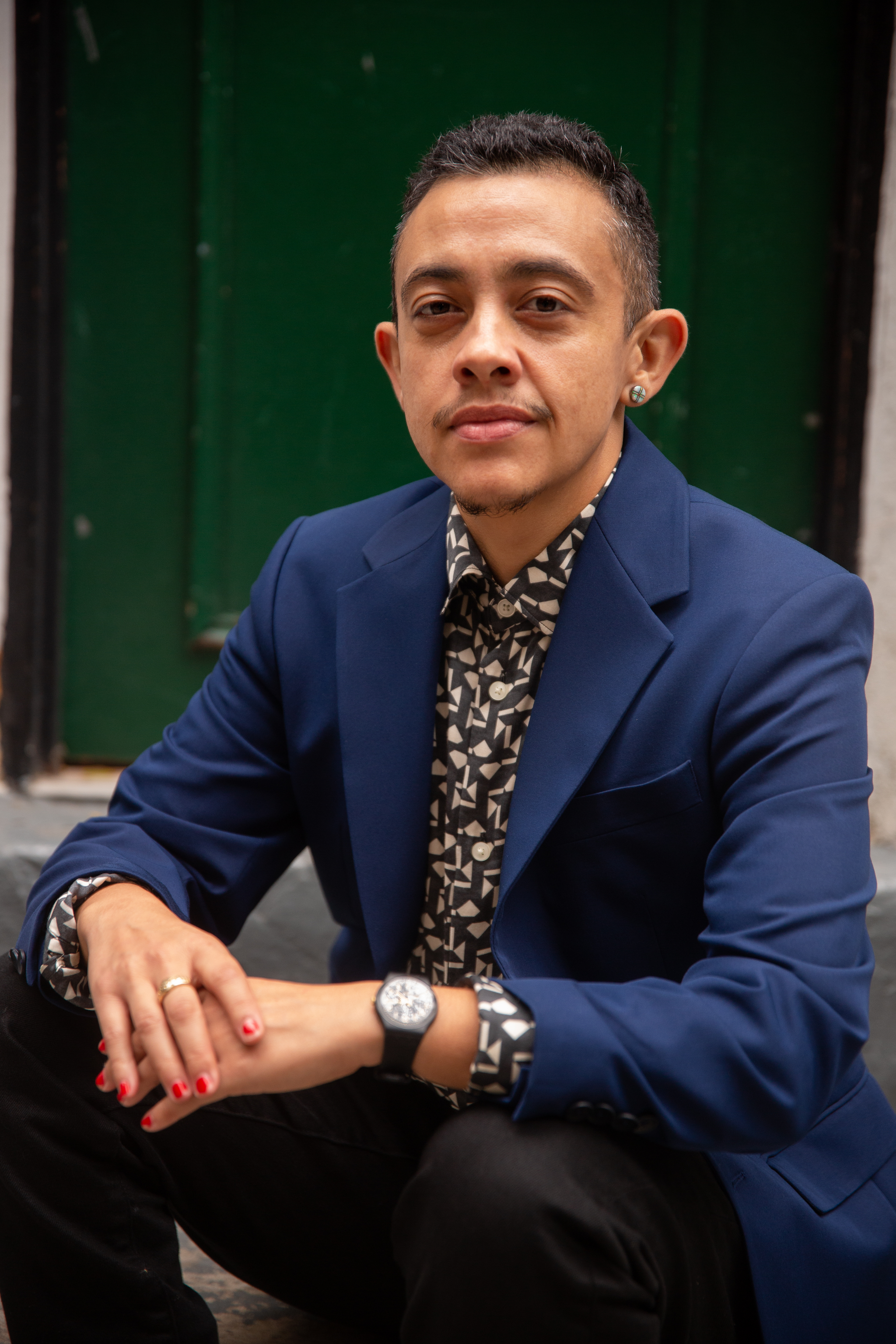 J. Soto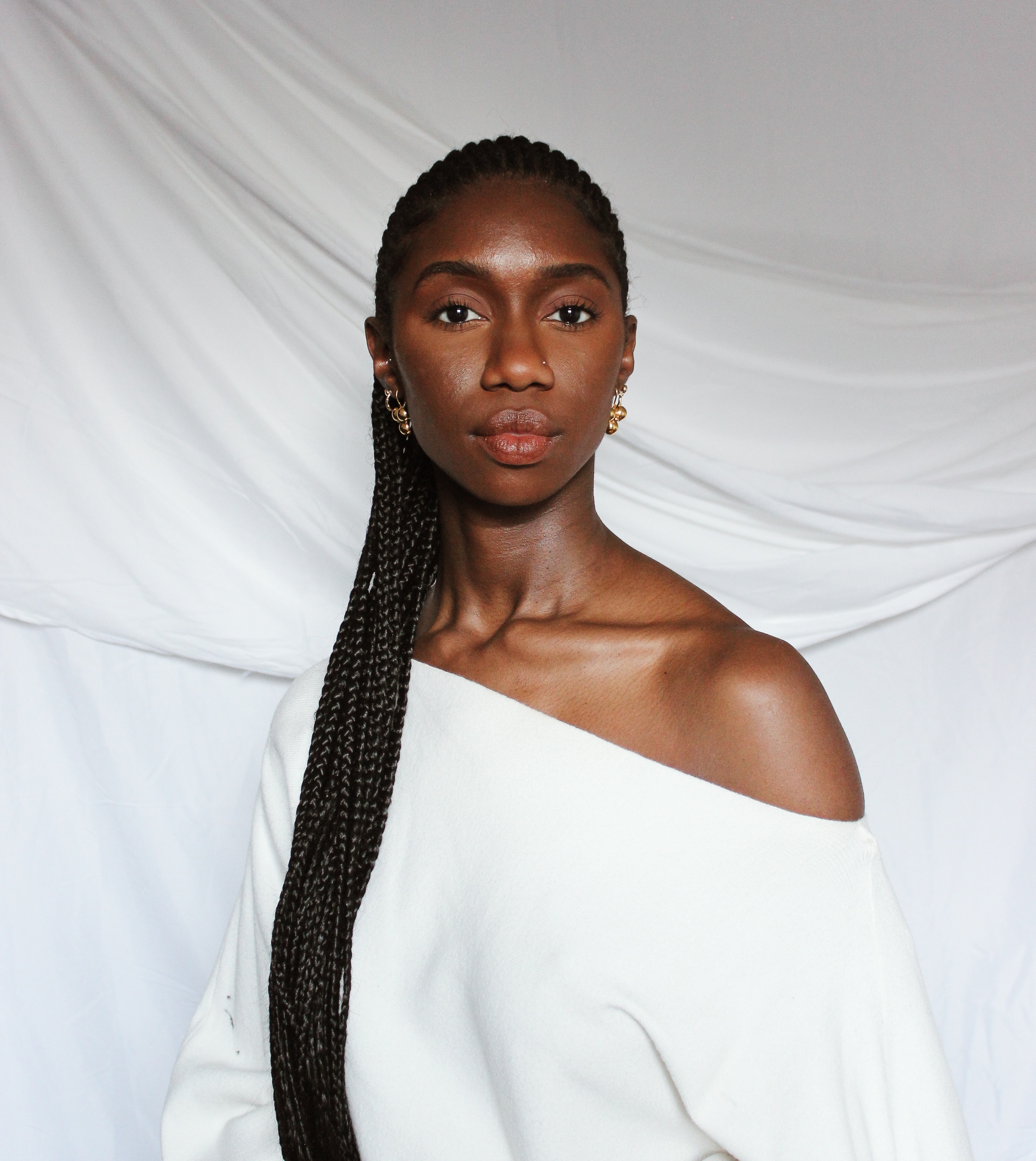 Jenée-Daria Strand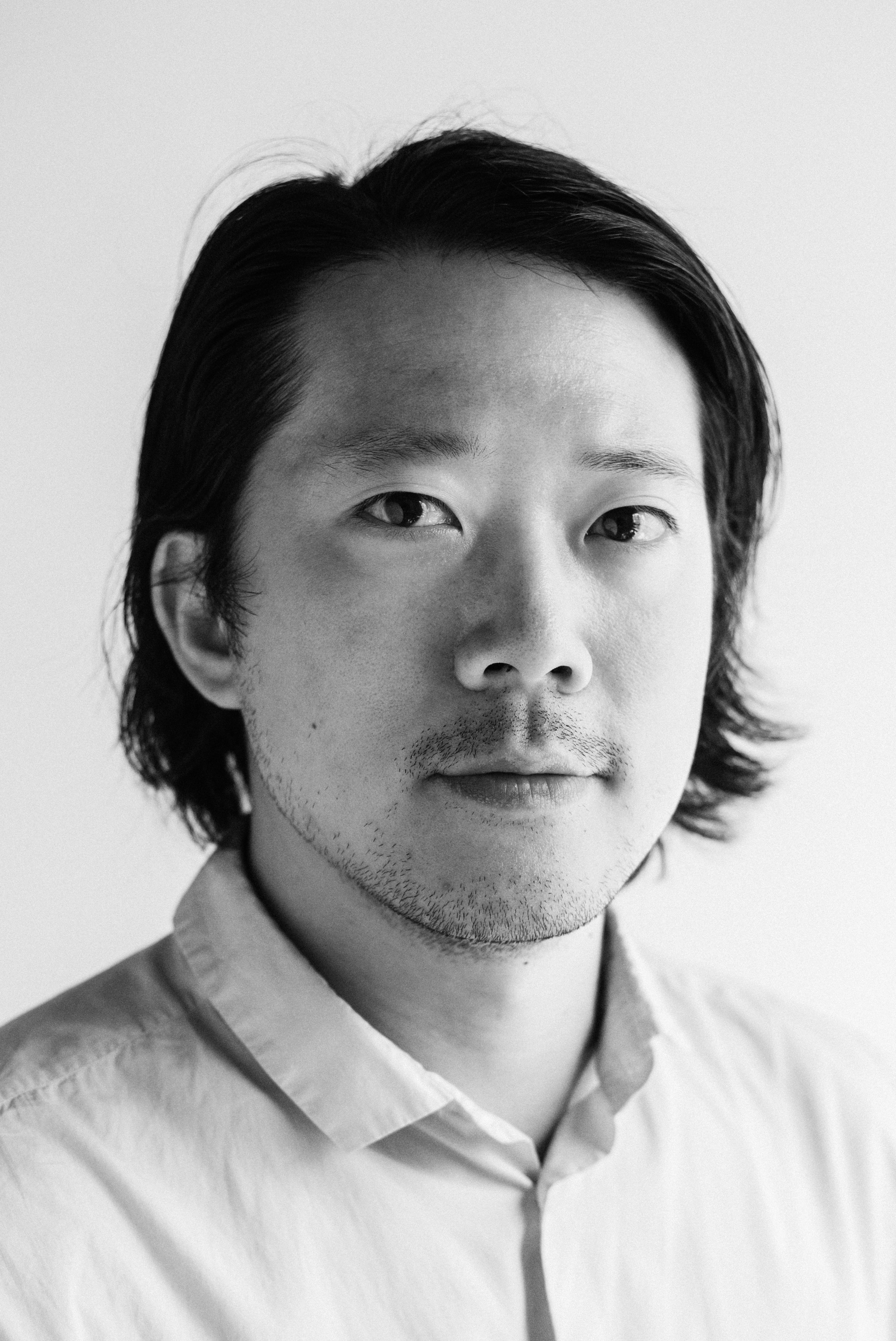 Kenneth Tam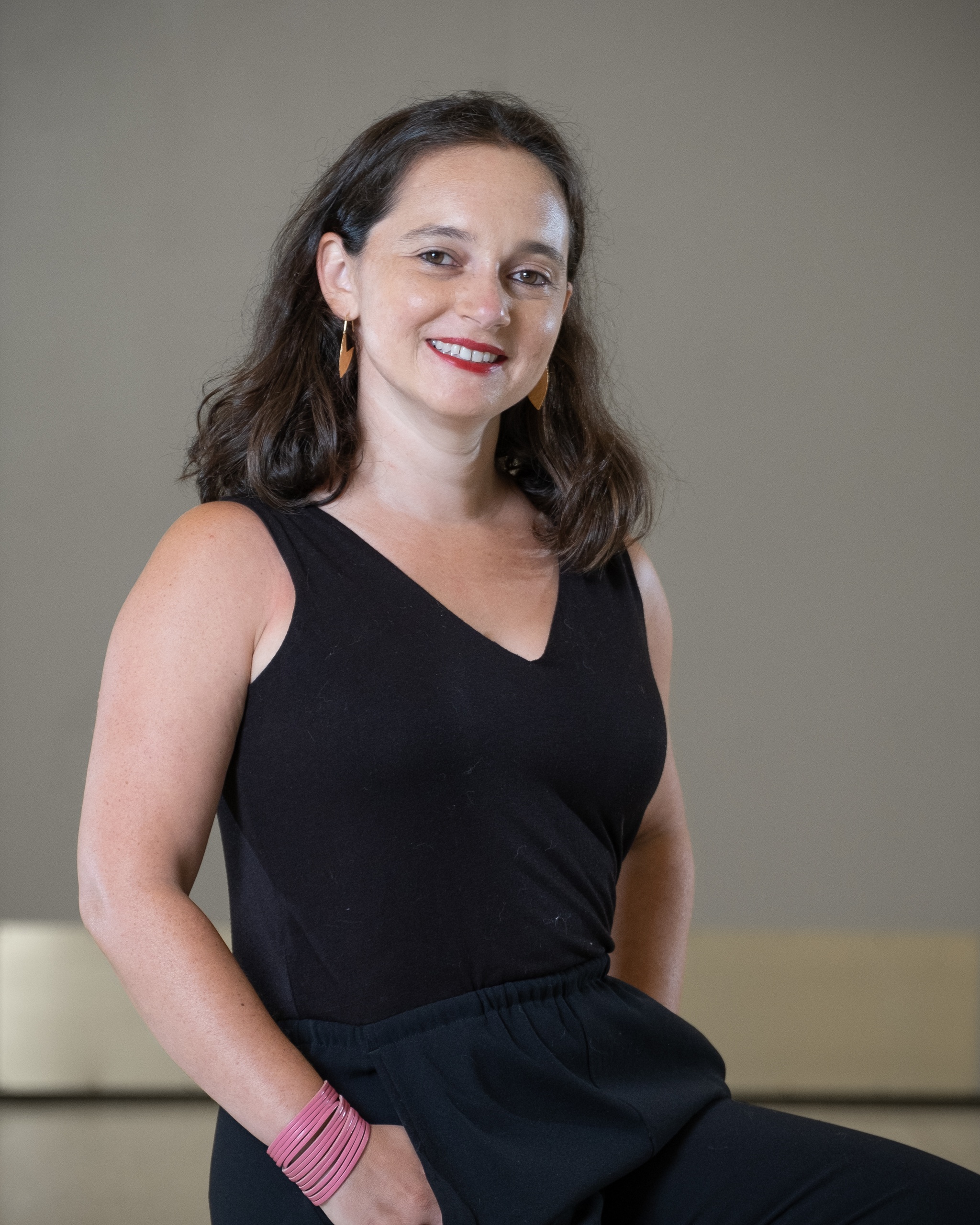 Susanna V. Temkin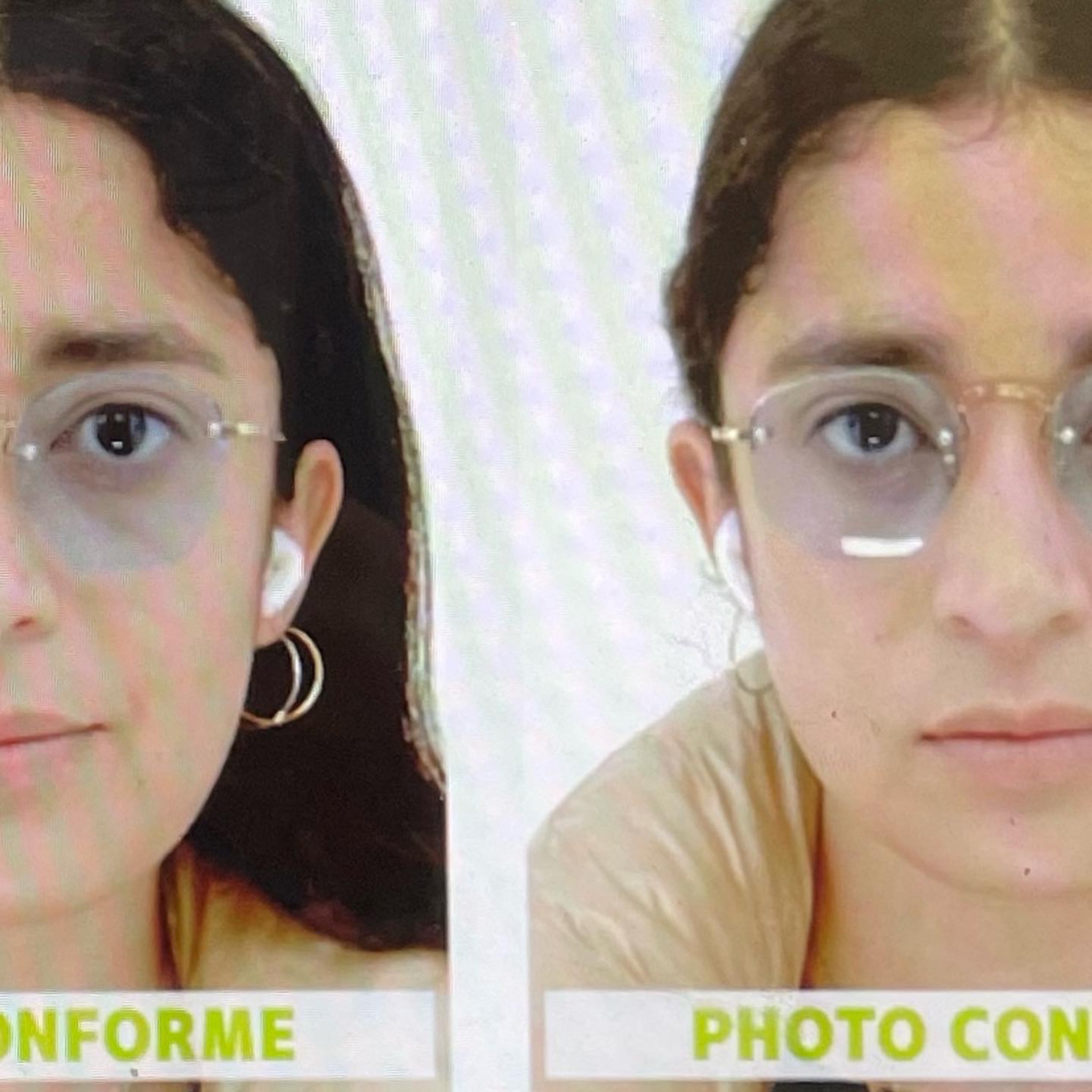 Gabriela (Gabi) Vidal-Irizarry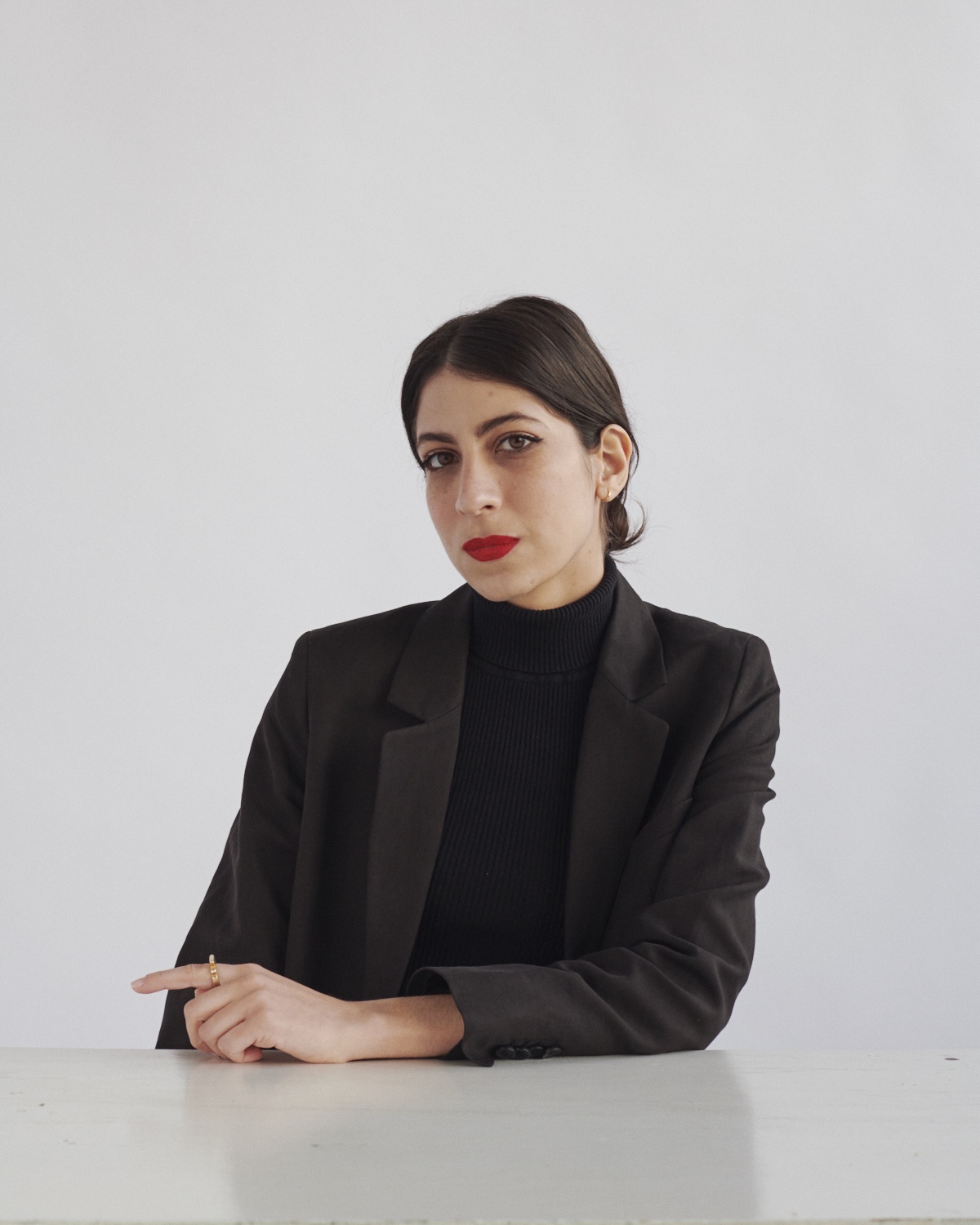 Natalia Viera Salgado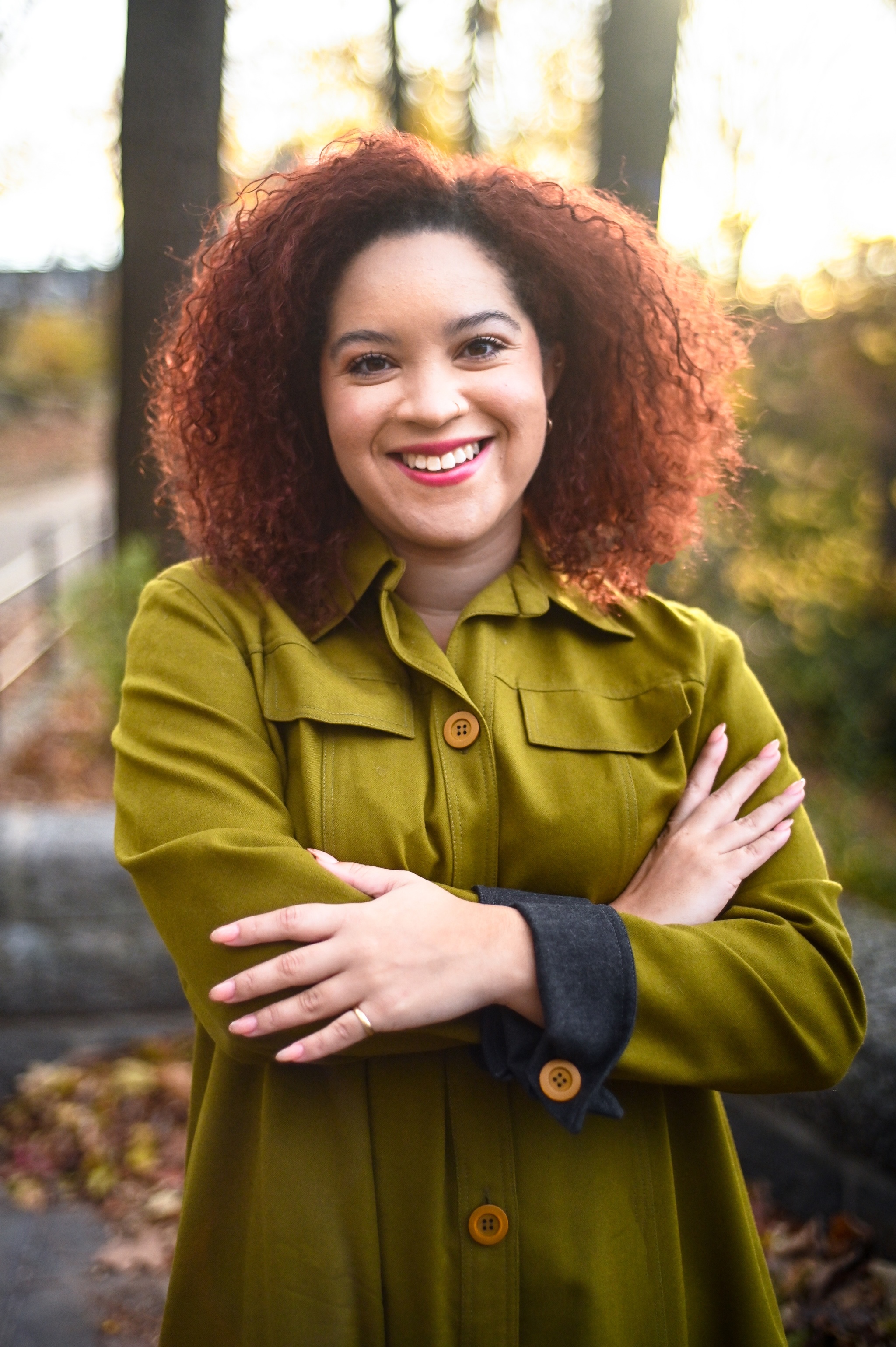 Adeze Wilford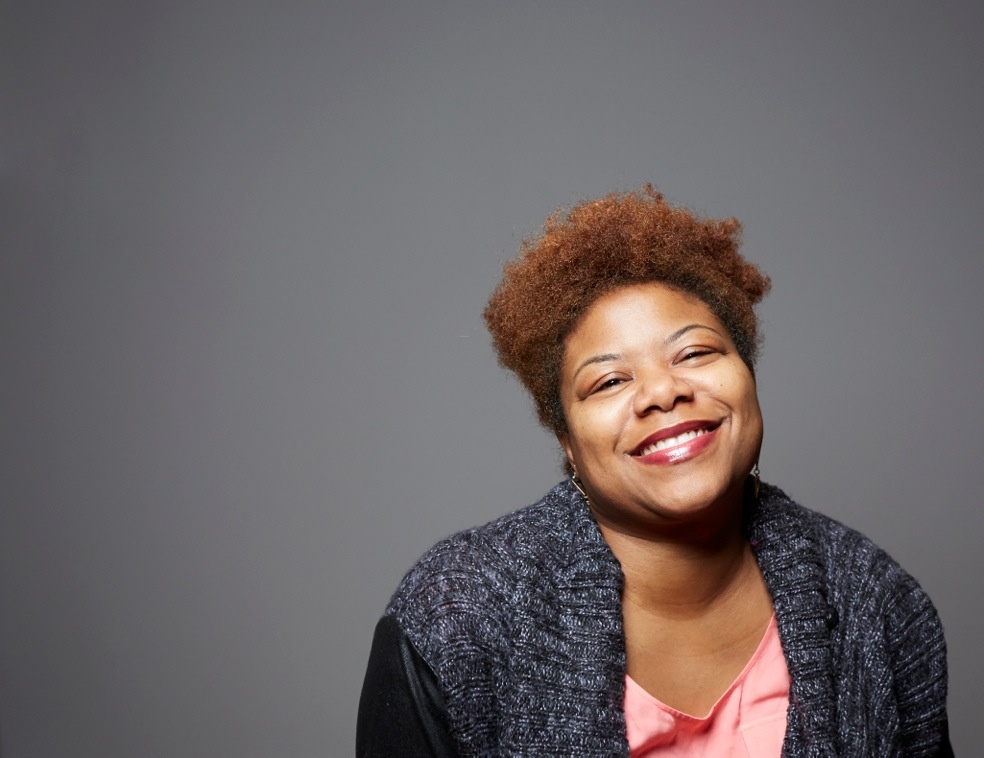 Monica L. Williams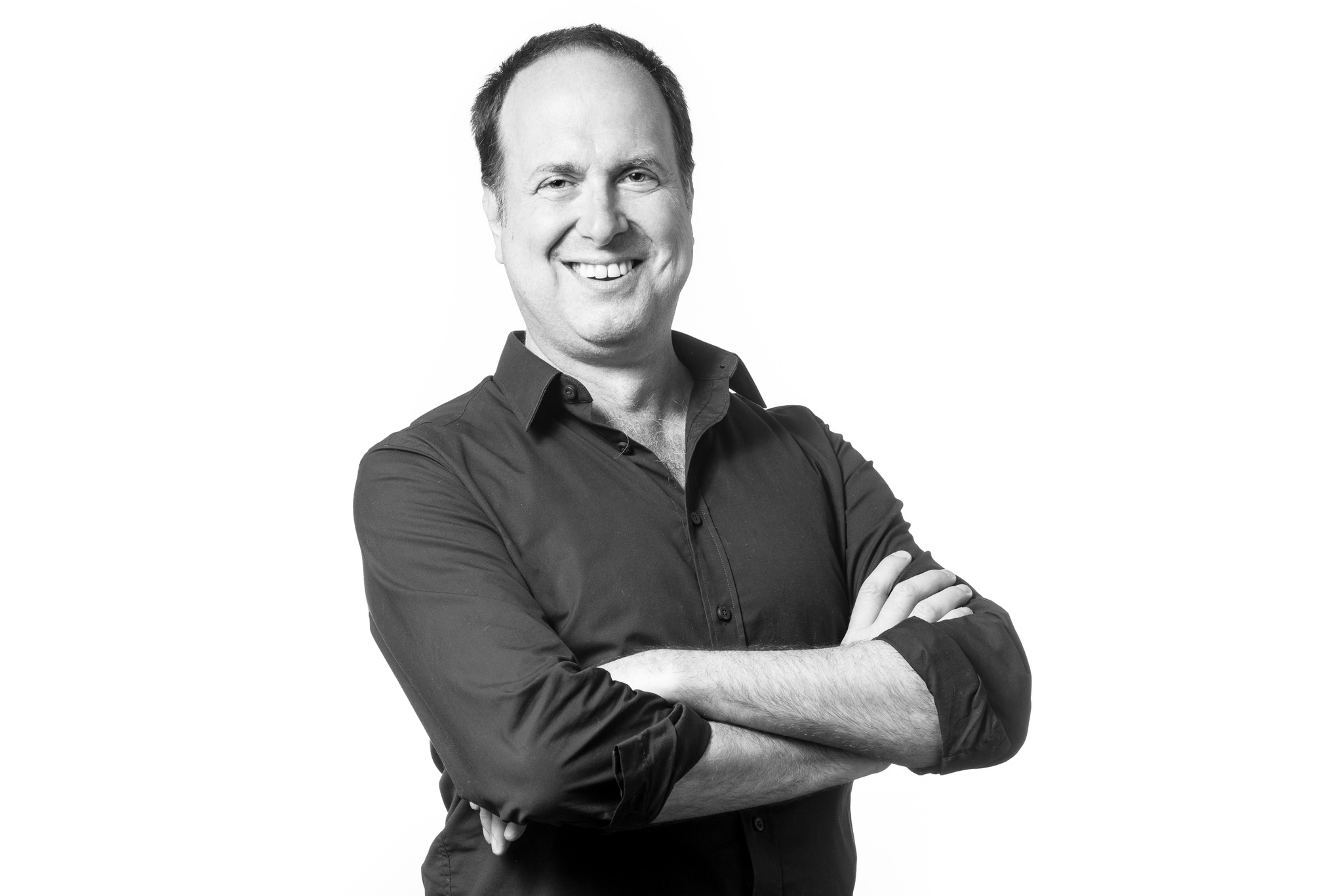 Jay Wegman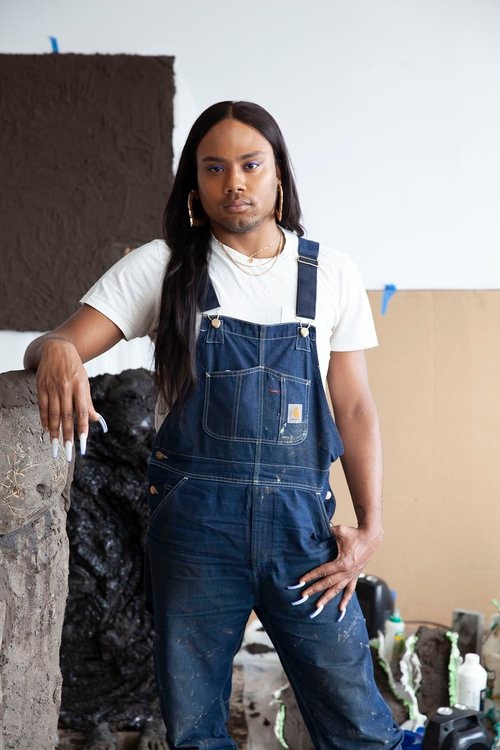 Kiyan Williams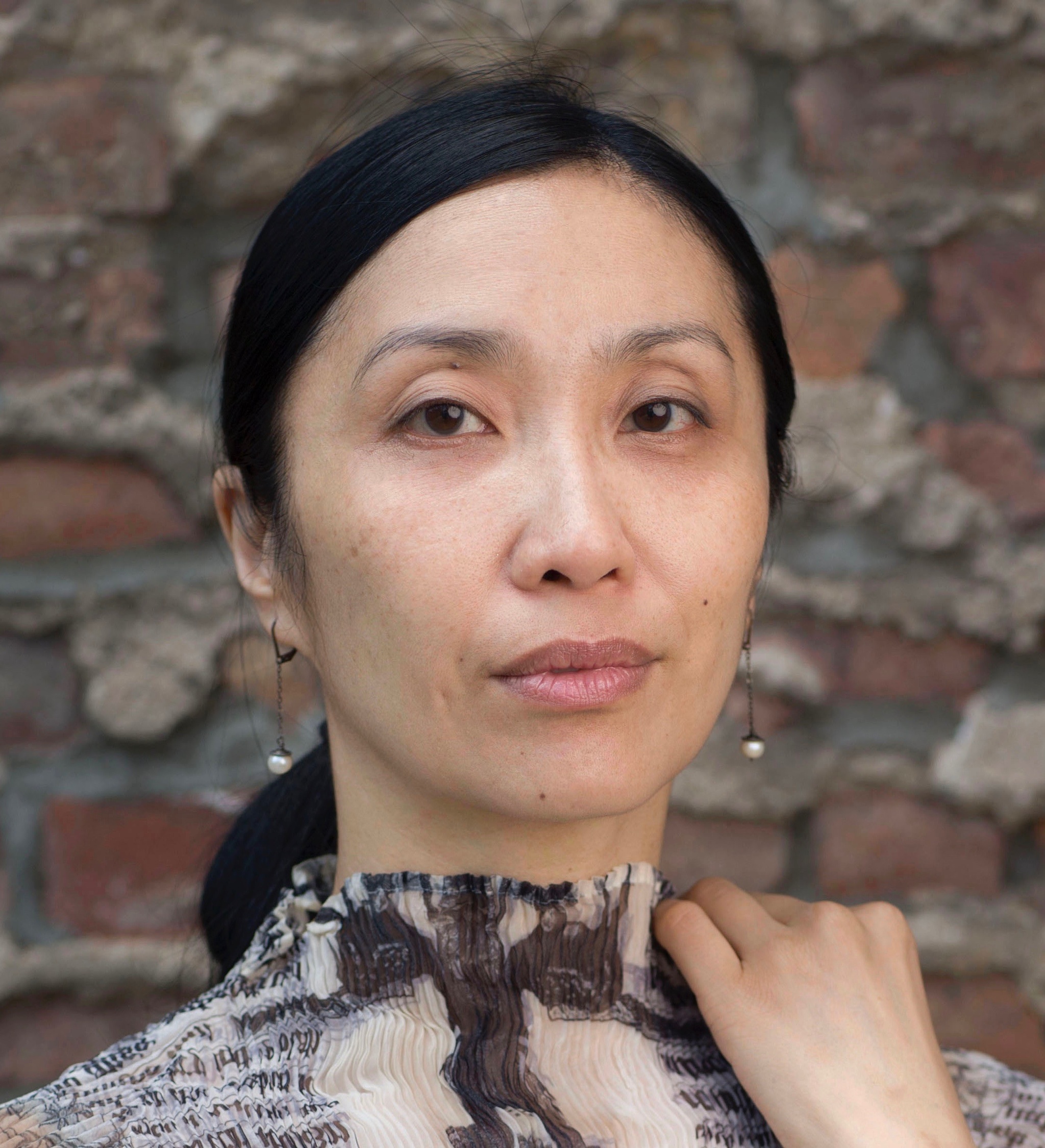 Janet Wong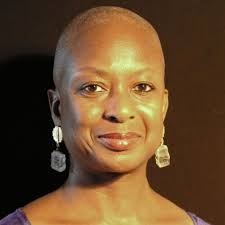 Eva Yaa Asantewaa
Navild Acosta is a multi-award-winning and internationally acclaimed multimedia artist and activist from New York City. His intersectional identities as transgender, queer, and Afro-Latinx first-generation American have continuously inspired his community based work. Acosta's work and thought leadership has debuted in various institutions and publications internationally including Matadero Madrid (ES), Tate Modern (GB), Tanz Im August & Kunst-Werke Institut (DE), Weinerfestwochen (OS), The David Roberts Foundation (UK), Mousoturm (DE), Museum of Art and Design, Miami (USA), The Kimmel Center (USA), Human Resources (USA), MoMA PS1 (USA), Studio Museum (USA), New Museum (USA), and McGill University (CAN), among many others. Acosta has collaborated with Alicia Keys, Fannie sosa, Bearcat, Pxssy Palace, Ms. Boogie, Monstah Black, TYGAPAW, Lyle Ashton-Harris, Ralph Lemon, Ishmael Houston-Jones, Deborah Hay, and Andrea Geyer. Acosta's current projects include Black Power Naps in collaboration with sudaka artist Fannie Sosa, a multipurpose separatist organizing space with a focus on rest, restoration, rejuvenation, reparation, and Black joy. Acosta's work spans across various media, all devised in collaboration with Black artists, which are all propositions for how reparative economies can better hold communities of color. Parallel to his artistic practice through his racial justice work he has provided structural racism and transformative justice training for cultural producers at Matadero Madrid (Spain), KW Institute (Berlin), NYU Steinhardt, Vassar College, and Movement Research (USA).
Maddie Aleman (she/her) is a cultural worker and community builder from Queens, New York. Her areas of expertise include launching creative open call programs and producing digital events and activated gatherings. Prior to joining NEW INC, Aleman coordinated the selection process for The Shed's second iteration of Open Call and worked with Lincoln Center for the Performing Arts on seasonal music festivals. In addition to her work in institutions, Aleman has been a project manager for the boutique PR agency Powell Mayas and artist Laia Balasubramanian. At NEW INC, she focuses on cultivating an equitable and vibrant community by prioritizing member engagement, recruitment, and mentorship. In Y8, she has co-produced member gatherings with artists and collectives including BreadxButta, Recreational Meetings, and Colectiva Cósmica.
Rocio Aranda-Alvarado
Reviewer
Yazmany Arboleda is a Colombian American artist, activist, and educator based in New York City. An architect by training, Arboldeda's practice focuses on creating "Living Sculptures," people coming together to transform the world through co-creation. Over the past two decades he has created public art projects with communities in India, Japan, Kenya, Tanzania, Uganda, South Africa, Afghanistan, Spain, Colombia, and the United States. He has collaborated with Carnegie Hall, the Yale School of Management, and BRIC among others.
He is currently the artist in residence at NYC's Civic Engagement Commission and the Community Arts Network. He is the co-founder of limeSHIFT, Remember2019, the Artist As Citizen Conference, and the Future Historical Society. He lectures at UNC, MIT, and Juilliard about the power of art in public space. Yazmany believes that art is a verb and not a noun.
Salome Asega is an artist and researcher based in New York. She has participated in residencies and fellowships with Eyebeam, the New Museum, the Laundromat Project, and Recess, and has exhibited at the Shanghai Biennale, MoMA, Carnegie Library, August Wilson Center, Knockdown Center, and more. Asega is the director of NEW INC at the New Museum and recently completed a four-year Ford Foundation Technology Fellowship. She sits on the boards of Eyebeam, National Performance Network, and POWRPLNT. Asega received her MFA in design and technology from Parsons at the New School, where she teaches classes on speculative design and participatory design methodologies.
Monstah Black is a multi-dimensional performing artist known for performances blurring the lines of genre and gender. They tour internationally with their husband Manchildblack as a musical duo called The Illustrious Blacks, blending DJ sets with original music, performance art, and fashion. Monstah has composed music for numerous entities including the Phillips Art Collection, Stephen Petronio Dance Company, and many others as well as for their own work. Awards include a Bessie nomination for Outstanding Sound Design for TRPNYC, the Tom Murrin Performance Award, Franklin Furnace Fund, Queer Arts Mentorship Fellowship, BRIC Media Artist Fellowship (Brooklyn), Lower Manhattan Cultural Council, American Music Center Live Music for Dance Program, NYSCA; Monstah Black has garnered extensive support from New York Organizations including The Field, Joe's Pub/Public Theater, and Dixon Place. Honorable mentions in publications include the New York Times, L Magazine, Time Out Magazine, Dance Magazine, the Village Voice, and the New Yorker.
The New York Times proclaims, "Rafiq Bhatia is writing his own musical language," heralding him as "one of the most intriguing figures in music today." A guitarist, composer, producer, and sound artist "who refuses to be pinned to one genre, culture or instrument," Bhatia "treats his guitar, synthesizers, drum machines and electronic effects as architectural elements," the Times writes. "Sound becomes contour; music becomes something to step into rather than merely follow."
Bhatia's 2018 album Breaking English finds a visceral common ground between ecstatic avant-jazz, mournful soul, tangled strings, and building-shaking electronics, resulting in a "stunningly focused new sound" (Chicago Tribune) that resembles "science fiction on a blockbuster scale" (Washington Post). 2020's Standards Vol. 1 (EP) renders repertoire from the American songbook "completely deconstructed, infused with brand new textures and electronic effects, dreamlike and beautiful" (BBC).
Bhatia has presented his music live in dozens of performances across three continents. He has been commissioned by the Kronos Quartet, Cincinnati Symphony, Walker Art Center, Liquid Music, Newfields, The Jazz Gallery, Toledo Museum of Art, and more. Bhatia has collaborated with Arooj Aftab, Michael Cina, Dave Douglas, Vijay Iyer, Okkyung Lee, Billy Hart, Helado Negro, Cécile McLorin Salvant, Moses Sumney and many others.
Since 2014, Bhatia has been a member of the band Son Lux. Together, they have released three albums and numerous EPs, and given over 500 performances worldwide. Most recently, they scored the film Everything Everywhere All At Once for A24, collaborating with David Byrne, André Benjamin, Mitski, Moses Sumney, Randy Newman, and more.
Bhatia is a Jerome Foundation Composer/Sound Artist Fellow and adjunct faculty of the New School's Performer-Composer Master of Music program. He lives in Brooklyn, New York.
Vivian Crockett is a Brazilian-American scholar and curator focusing largely on modern and contemporary art of African diasporas, Latinx diasporas, and the Americas at the varied intersections of race, gender, and queer theory. She is curator of contemporary art at the New Museum. Crockett was previously the Nancy and Tim Hanley Assistant Curator of Contemporary Art at the Dallas Museum of Art, the 2017–18 Mellon Museum Research Consortium Fellow in Media and Performance Art at the Museum of Modern Art, and a Joan Tisch Teaching Fellow at the Whitney Museum of American Art from 2018 to early 2020. She has published texts for the Metropolitan Museum of Art, Museum of Modern Art, Studio Museum in Harlem, Leslie-Lohman Museum, and Museu de Arte de São Paulo, among others. She serves on the graduate committee of Bard's Center for Curatorial Studies.
Jordana De La Cruz
Reviewer
Jordana De La Cruz (she/they) is a Brooklyn-based stage director, curator, creative producer, and co-conspirator in the movement to spread Black and Brown joy. She concentrates on new work that questions what it means to be free and, more urgently, how we are helping each other achieve this freedom. Her practice aims to expand the concept of community and see that productions serve as inspiration for action. Before becoming the co-director of the Obie and New York Innovative Theatre Award–winning Brooklyn performance and civic space JACK, De La Cruz was the program manager at Park Avenue Armory where she was instrumental in the creation of the institution's public programs series. She has held producing roles at INTAR Theatre, 52nd Street Project, and Story Pirates as well as directing roles at JACK, Young Jean Lee's Theater Company, Lark Play Development Center, Japan Society, Iati Theater, INTAR Theatre, La Mama Experimental Group, and Mabou Mines among others. De La Cruz is a proud member of Theater Communications Group's 2019 – 2020 Rising Leaders of Color Cohort, a cohort dedicated to achieving equity and inclusion in the arts.
Leslie Cuyjet is a dance artist living in Brooklyn. She is most known for her work as a performer, earning a "Bessie" Award in sustained achievement for collaborating with a range of artists including Will Rawls, Juliana F. May, Cynthia Oliver, Jane Comfort, David Gordon, NARCISSISTER, Kim Brandt, Niall Jones, and a canary torsi/Yanira Castro among many others. Pulling from the rigor and principles of her performance practices, she examines personal and dance histories through a choreographic lens that integrates text, video, and live performance. She is driven by research, adapting an ongoing and interdisciplinary artistic practice to dictate medium and form.
Recent honors include Foundation for Contemporary Arts Grants for Artists Award, Princeton Hodder Fellow, Movement Research Resident Artist, and MacDowell Fellow. Cuyjet has been supported by residencies at Movement Research, Center for Performance Research, Yaddo, Marble House Project, New Dance Alliance, and MacDowell; for presentations in New York at The Shed, The Kitchen at Queenslab, MoMA PS1, Center for Performance Research, La MaMa Moves! Festival, Gibney Double Plus, Movement Research Fall Festival and Judson Church, and Danspace Draftworks. She is a writer and recently completed an extended co-editorship of the Movement Research online publication, Critical Correspondence. She is a co-founder of the Authentic Movement collective, Duvet.
Jesse Bandler Firestone
Reviewer
Jesse Bandler Firestone is currently curator and exhibition coordinator at Montclair State University, working with contemporary artists on original exhibitions that connect to a range of other disciplines and academic departments through programs, workshops, and collaborations. Firestone's previous experiences within established nonprofits, scrappy project spaces, and start-up-minded organizations has provided him with a unique perspective that informs the many parts of his curatorial practice including commissioning new works, curating exhibitions, and managing artist residencies. Prior to joining Montclair State University, Firestone was assistant curator at Wave Hill, Open Call assistant at The Shed, curator in residence at Trestle Project, assistant curator at Satellite Art Show, and a visitor service ambassador at the Queens Museum.
A producer, curator, and creative consultant, Boo Froebel works with various performing artists and organizations. She is proud to be general manager for Tamizdat; consults for Bloomberg Philanthropies' AIM/Arts Innovation & Management program; produces David Neumann and Marcella Murray's performance projects for Advanced Beginner Group; and regularly produces events and festivals such as the Little Island Festival, the Onassis Festival, and ContraBanned: #MusicUnites at SXSW, a Tamizdat-produced showcase of artists from the Banned Countries. Previously, Froebel served as producer of Lincoln Center Festival; co-executive director of the Imagine Festival of Arts, Issues & Ideas (OBIE Award); curator/producer of live art at the Whitney Museum; and artistic director of Galapagos Art Space (OBIE Award). A performance generalist, Froebel has nominated and served on panels for numerous foundations and cultural councils including Creative Capital (also program officer), the CalArts Alpert Award, US Artists International, Foundation for Contemporary Arts, the Lambent Foundation, the French Cultural Services, and the MAP Fund. She is a member of The Blacksmiths collective and sits on the boards of the Poetry Project and Movement Research.
Malik Gaines is a founder of the performance group My Barbarian, whose 20-year survey was recently presented at the Whitney Museum and will travel to the ICA LA in the fall of 2022. He is author of Black Performance on the Outskirts of the Left (NYU Press, 2017) and many essays about art and performance for journals, magazines, and museum publications. He is associate professor of performance studies at NYU Tisch and co-artistic director of The Industry, LA's experimental opera company.
A strategic and collaborative arts leader, Nadine Goellner brings over 15 years of experience realizing complex programs and initiatives across the public, private, and nonprofit sectors. Goellner currently serves as the managing director of Artists At Work, a workforce resilience program in the spirit of the WPA that is designed to support the health of local communities through artistic civic engagement. Prior, Goellner served as executive director of Rooftop Films, where she successfully led the nonprofit through the pandemic and helped them re-imagine their programming and operations to continue to bring impactful cultural events to NYC. Goellner was also part of the inaugural senior leadership team at The Shed, where she played an integral role in building organizational infrastructure and resources necessary for the successful launch of the new cultural institution. A seasoned producer, she has specialized in commissioning and developing new work by luminary artists including Carrie Mae Weems, Björk, Quincy Jones, Steve McQueen, William Kentridge, Claudia Rankine, William Forsythe, and many others. She holds a master of public affairs degree from the University of Missouri and a graduate certificate in organizational leadership from UMass Dartmouth.
Anna Harsanyi is a curator, educator, and arts manager. She is dedicated to presenting art in a non-art context and creating sites that invite participation from audiences outside of the art community.
She has organized projects presenting artist engagements within the historic Essex Street Market in New York's Lower East Side; developed cross-cultural projects about friendship and dreams in Saint Petersburg, Russia, and Seoul, South Korea, respectively; commissioned projects exploring the often hidden or dormant histories for The New School Centennial; and collaborated with Sheetal Prajapati on a series of events centered around play. In 2014, she co-curated with Roxana Bedrule Hot & Cold: Revolution in the Present Tense, a public art project in Timișoara and Cluj, Romania, which presented three artist projects responding to the 25th anniversary of the revolution that ended communism.
Harsanyi has worked in education and public engagement roles at the Art Encounters Biennial, Museum of Modern Art, New York Arts Practicum, A Blade of Grass, and the Guggenheim Social Practice initiative at the Solomon R. Guggenheim Museum. She teaches at The New School and New York University.
Ishmael Houston-Jones
Panelist
Ishmael Houston-Jones is a choreographer, author, performer, teacher, and curator. His improvised dance and text work has been performed world-wide. He has received three New York Dance and Performance "Bessie" Awards for collaborations with writer Dennis Cooper, choreographers Miguel Gutierrez and Fred Holland, and composers Chris Cochrane and Nick Hallett. Houston-Jones curated Platform 2012: Parallels which concentrated on choreographers from the African diaspora and postmodernism and co-curated with Will Rawls Platform 2016: Lost & Found, Dance, New York, HIV/AIDS, Then and Now.
As an author Houston-Jones's essays, fiction, interviews, and performance texts have been published in several anthologies. His first book, FAT and other stories, was published in June 2018 by Yonkers International Press.
Houston-Jones is a 2022 recipient of a Guggenheim Fellowship. His work has been supported by the Herb Alpert Foundation, the Doris Duke Charitable Foundation, the Foundation for Contemporary Arts, and the Robert Rauschenberg Foundation.
April Hunt is a DJ and community-builder who activates music and her platform Mixtape as a tool for recognition and celebration. Since her time as director of communications and marketing at MoMA PS1 and the founding of her agency sparkplugPR, she has been at the nexus of a widely connected and powerful community. For over a decade she has nurtured this community of creatives and entities, with an emphasis on celebrating POCs.
Adam Hyndman is a performing artist, producer, and activist. He has worked extensively in the arts, performing on stage and screen with roles on Broadway and television (NBC's The Sing Off, Children of Eden at the Kennedy Center, and Aladdin, Once on This Island, and Hadestown on Broadway). He was a co-producer for The Inheritance on Broadway, for which he earned a Tony Award and a Drama Desk Award. Hyndman continues curating and producing work within the team at Octopus Theatricals. He is a co-founder of The Industry Standard Group (an organization committed to creating pathways for BIPOC producers to emerge into the field and stewards the first community investment fund for commercial theater). Hyndman additionally serves on the board of directors for Pipeline Theatre Company, Producer Hub, and Broadway For Racial Justice, for which he is the active chair.
Lisa Kim is director of the Ford Foundation Gallery, a new exhibition space within the Ford Foundation Center for Social Justice. Prior to her appointment at the Ford Foundation, she was director of cultural affairs at Two Trees Management Company, a real estate development firm in Brooklyn, where she oversaw the company's arts philanthropy, public art initiatives, produced the annual DUMBO Arts Festival (2011 – 14), and managed the Sharpe-Walentas Studio Program. Kim served as the director of the New York City Percent for Art Program from 2006 to 2008 and, for 12 years, managed exhibitions, collections, and construction for Gagosian Gallery. Kim holds a bachelor of arts in art history with a concentration in visual arts from Barnard College and a master of industrial design from Pratt Institute.
Hitomi Iwasaki is head of exhibitions and curator at the Queens Museum. Having joined the Museum in 1996, she has curated culturally and/or site-specific exhibitions with a diverse group of emerging and mid-career artists including Terence Gower, Johanna Unzueta, Jewyo Rhii, and Anna K. E., and many others. Iwasaki won the International Association of Art Critic's (IACA) Curator's Award Best Project in a Public Space, 2009 – 2010, for Duke Riley's outdoor event and exhibition (2013). Her exhibitions include Bringing the World into the World (2015), Patty Chang: The Wandering Lake, 2009 – 2017 (2018), and most recently Christine Sun Kim: Time Owes Me Rest Again (2022 – 23). The most re publications include The Panorama Handbook: Thoughts and Visions on and around the Panorama of the City of New York (Queens Museum, 2018) and Patty Chang: The Wandering Lake, 2009 – 2017 (Dancing Foxes Press and Queens Museum, 2018).
Shaun Leonardo's performance practice, anchored by his work in Assembly—a diversion program for court-involved youth at the Brooklyn-based, arts nonprofit Recess—is participatory and invested in a process of embodiment.
Leonardo is a Brooklyn-based artist from Queens, New York City. His work has been featured at the Guggenheim Museum, the High Line, and New Museum, and recently profiled in the New York Times and CNN. His solo exhibition, The Breath of Empty Space, was recently presented at MICA, MASS MoCA and The Bronx Museum. And his first major public art commission, Between Four Freedoms, recently premiered at Four Freedoms Park Conservancy.
Leonardo recently joined Recess as co-director, helping guide the organization's continuous evolution as an engine of social change.
Le'Andra LeSeur is a multidisciplinary artist whose work encompasses a range of media including video, installation, photography, painting, and performance. LeSeur's body of work, a celebration of Blackness, queerness, and femininity, seeks to dismantle systems of power and achieve transcendence and liberation through perseverance.
LeSeur has received several notable awards including the Leslie-Lohman Museum Artists Fellowship (2019) and the Juried Grand Prize at Artprize 10 (2018). LeSeur appeared in conversation with Marilyn Minter at the Brooklyn Museum, presented by the Tory Burch Foundation and has lectured at RISD and SCAD Atlanta, among others. Her work has been shown in solo and group exhibitions at The Shed, New York, NY; Marlborough, New York, NY; Atlanta Contemporary, Atlanta, GA; A.I.R. Gallery, Brooklyn, NY; Assembly Room, New York, NY; Microscope Gallery, Brooklyn, NY; Arnika Dawkins, Atlanta, GA; and others.
Tamara McCaw, Chief Civic Program Officer
Panelist
Jonathan McCrory is a two-time Obie Award–winning, Harlem-based artist who has served as executive artistic director (Creative Doula) at National Black Theatre since 2012 under the leadership of CEO Sade Lythcott. He has directed numerous professional productions and concerts which include The Gathering: A Sonic Ringshout, How the Light Gets In (NYMF), Klook and Iron John (NAMT), Dead and Breathing, HandsUp, Hope Speaks, Blacken The Bubble, Asking for More, Last Laugh, and Enter Your Sleep. He has worked at ETW at TISCH NYU with Emergence: A Communion and evoking him: Baldwin and at SUNY Purchase directing Exit Strategy and A Beautiful Day in November on the Banks of the Greatest of the Great Lakes. As an artist-in-residence at AllArts created a short film called The Roll Call : The Roots To Strange Fruit. He has been acknowledged as an exceptional leader additionally through Craine's New York Business 2020 Notable LGBTQ Leaders and Executives. In 2013, he was awarded the Emerging Producer Award by the National Black Theatre Festival in Winston Salem, North Carolina, and the Torch Bearer Award by theatrical legend Woodie King Jr. He is a founding member of the collaborative producing organizations Harlem9, Black Theatre Commons, The Jubilee, Next Generation National Network, and The Movement Theatre Company. McCrory sits on the National Advisory Committee for Howlround.com and was a member of the original cohort for ArtEquity. A Washington, DC native, McCrory attended the Duke Ellington School of the Arts and New York University's Tisch School of the Arts.
Aaron L. McKinney
Reviewer
Born on Cherokee Land (Greenville, South Carolina) and living in Munsee Lenape territory (Brooklyn), Aaron L. McKinney (he/him) is an arts administrator currently serving as the executive director of Hi-ARTS, in East Harlem. With two decades of theater experience, McKinney brings his wealth of knowledge, experience, and value-centered expertise as a collaborative innovator and producer. His education credits include Florida A&M University (BA, theatre performance) and California Institute of the Arts (MFA, producing/theater management). Born out of the desire to craft collaborative spaces that center a holistic approach that is spiritually grounded, process-oriented, and value-based, McKinney founded The A.L.M. Way, a consulting company that holds a deep commitment to advocating for the arts, through individual and institutional collaborations, as a transformative space of healing, thriving, and joy.
Mara Mills is associate professor of media, culture, and communication at New York University. She is co-founder and co-director of the NYU Center for Disability Studies, where she is currently PI for the NSF-funded project How to be Disabled in a Pandemic and co-PI (with PI Simi Linton) on the Mellon and Ford-funded project Proclaiming Disability Arts. She is also co-founder and editorial board member for the journal Catalyst: Feminism, Theory, Technoscience. Most recently, she is the co-editor of Testing Hearing: The Making of Modern Aurality (Oxford, 2020), Crip Authorship: Disability as Method (NYU Press, 2023), and a special issue of Osiris on "Disability and the History of Science" (2023).
Humberto Moro (b. Guadalajara, 1982) is deputy director of program at Dia Art Foundation in New York City. Previously he was deputy director and senior curator at Museo Tamayo in Mexico City; curator for the 2022 EXPO Chicago; and adjunct curator at the SCAD Museum of Art in Savannah. Moro has held positions at the Park Avenue Armory in New York and Museo Jumex and Zona MACO in Mexico City. Moro holds a BFA in painting from the Universidad de Guanajuato, Guanajuato, and a MA in curatorial studies from the Center for Curatorial Studies, Bard College, New York. He was part of the 2021 Center for Curatorial Leadership cohort.
Claudia Norman is a cultural consultant and independent creative producer with a demonstrated history of working internationally with different cultural organizations, building partnerships and relationships with government offices, community leaders, grassroots organizations and artistic communities. She is skilled in nonprofit organizations, curatorial, performing arts, spoken word, visual arts, film, international festival production and event management. Norman is a strong business development professional and member of the teaching faculty at the New School's College of Performing Arts.
Benedict Nguyễn is a dancer, writer, and creative producer based on occupied Lenapehoking and Wappinger lands (South Bronx, New York). Their criticism has appeared in Into, BOMB Magazine, Vanity Fair, and AAWW's The Margins, among other outlets. Recent projects include their curatorial platform "soft bodies in hard places," #bennyboosbookclub, their dance-ish performances #publicartpractice, and The Nerve Studio, which they co-founded with Stephanie George in 2021. They publish the newsletter "first quarter moon slush" and when not online @xbennyboo, are working on a few novels.
Najee Omar is Black, queer, and making magic somewhere in Brooklyn. A multidisciplinary poet, rapper, and educator, Omar uses the arts to activate spaces of healing and community building. Named a New York Times 2018 Visionary for his passion for youth activism, Omar is the founder and executive director of Spark House, an arts education organization that champions Black and Brown teen voices by bringing poetry and performance programs to New York City public schools. In 2020, his commitment to art and home led him to become the founding curator for The Neighborhood Project, an initiative designed to propel emerging Black artists further in their careers with the support of their neighbors. His residencies, fellowships, and features include BRIC & University Settlement's Intergenerational Community Arts Council, Callaloo Creative Writing Workshop, The Public Theater's #BARS Workshop, Brooklyn Academy of Music, Lincoln Center, and Hi-ARTS.
Alex Poots, Artistic Director
Panelist
Stephanie Quaye is a musician and experiential producer based in Los Angeles. She has led projects for nonprofits and companies like Fever, 13EXP, Governors Island, and The Shed. Quaye spent years working on audits and business development for the entertainment and media arm of PricewaterhouseCoopers (PwC) and also previously served as global events co-chair of Women in Music, an international nonprofit organization with a mission to amplify and support the work of women in the musical arts through education and programming. She is a singer, songwriter, and vocal arranger who has performed at festivals and venues across the United States. Quaye studied economics at Tufts University, holds an MBA and MS in accounting from Northeastern University, and is a licensed certified public accountant in New York State.
Sara Raza is a curator and writer specializing in global art and visual cultures. She is the founder of the curatorial studio Punk Orientalism and is the 2022/23 Red Burns Fellow at New York University's Interactive Telecommunications masters program. Raza has curated exhibitions and projects for international museums, biennials, and festivals including the Solomon R. Guggenheim Museum, New York; Galleria d'Arte Moderna, Milan; Rubin Museum of Art, New York; Mathaf: Modern Arab Art Museum, Doha, Qatar; the MacKenzie Art Gallery, Saskatchewan, Canada; Maraya Art Center, Sharjah; the Tashkent Biennale, Uzbekistan; Rhizoma (Generation in Waiting) (collateral exhibition), 55th Venice Biennale; and the 3rd Baku Public Art Festival, Azerbaijan. Formerly, she was the head of education at YARAT, Baku, Azerbaijan; founding curator at Alaan Art Curator of Public Programs at Tate Modern, London; Raza has lectured globally and has written for artist monographs, books, catalogues, and publications and is the West and Central Asia Editor for ArtAsiaPacific Magazine and the author of the forthcoming book Punk Orientalism: The Art of Rebellion (Black Dog Publishing, London, 2022). Raza holds a BA (hons) in English literature and history of art and a MA in 20th-century art history and theory both from Goldsmiths College, University of London, and pursued studies towards her PhD at the Royal College of Art, London.
Charles Rice-Gonzalez
Reviewer
Alexandra Rosenberg
Panelist
Alexandra Rosenberg has worked as a curator, producer, and arts manager in NYC for nearly 15 years and is the executive director of CPR – Center for Performance Research, an incubator for new work in contemporary dance, performance, and time-based art in Williamsburg, Brooklyn. Before joining CPR, she was the producer at MoMA PS1 from 2017 to 2020. From 2013 to 2018, Rosenberg independently managed and represented contemporary artists working in the context of performance through her company Rosie Management Inc., including Maria Hassabi, Annie Dorsen, Jen Rosenblit, Ann Liv Young, Dynasty Handbag, Alex Waterman, Robert Ashley, and many others, developing and producing new work at venues, exhibitions, and festivals around the world. Rosenberg is a lifelong New Yorker and holds a BA from Bennington College.
Carl Hancock Rux is an award winning poet, playwright, novelist, essayist, recording artist, actor, theater director, radio journalist, and frequent collaborator in the fields of film, modern dance, and contemporary art. He is a co-artistic director of Mabou Mines and associate artistic director/curator in residence at Harlem Stage. Recent works include The Baptism, a tribute to civil rights leaders John Lewis and C.T. Vivian, commissioned by Lincoln Center and directed by Carrie Mae Weems; I Dream a Dream that Dreams Back at Me, a site-specific Juneteenth celebration for Lincoln Center (returning June 2022!); and Vs., a courtroom drama directed by Mallory Catlett for Mabou Mines.
george emilio sanchez
Panelist
george emilio sanchez is a writer, performance artist, and social justice activist. Most recently he was the recipient of the inaugural Keith Haring Artist Fellowship by The MacDowell in 2021. In 2019 he premiered XIV at Dixon Place, which served as the first installment of his "Performing the Constitution" series. He has served as the performance director for Emergenyc for 15 years. He has taught at the City University of New York's College of Staten Island for over 20 years and is a social practice artist-in-residence at Abrons Arts Center. In August 2021 he completed a master's in legal studies in Indigenous peoples law at the University of Oklahoma.
Finnegan Shannon is an artist. Some of their recent work includes Anti-Stairs Club Lounge, an ongoing project that gathers people together who share an aversion to stairs; Alt-Text as Poetry, a collaboration with Bojana Coklyat that explores the expressive potential of image description; and Do You Want Us Here or Not, a series of benches and cushions designed for exhibition spaces. Their work has been supported by a 2018 Wynn Newhouse Award, a 2019 residency at Eyebeam, and a 2020 grant from Art Matters Foundation. They live and work in Brooklyn.
Yusuf Siddiquee is a musician, multidisciplinary producer, and co-founder of MIPSTERZ, an arts and culture collective for emerging Muslim creatives. He produces multimedia art experiences and collaborations both on stage and digitally, which typically center a wide range of Muslim and/or marginalized artistic voices. His original music has been featured in short films for MTV's "LookDifferent" campaign, the Center for Asian American Media Film Festival, and Atlanta Film Festival. He has worked for arts organizations such as the Silent Barn, Brooklyn Academy of Music, ArteEast, and StoryCorps, and is an alumnus of the 2020 NYFA Emerging Leaders Program.
J. Soto is an arts worker and writer invested in amplifying the shared histories and experiences of Queer People of Color and Disabled People. He believes in equitable institution-building and providing equitable access to resources and support for visual artists and performers. His writing can be found in Original Plumbing, Apogee Journal: Queer History, Queer Now Folio, American Realness 2018 Reading series, Jacob's Pillow Dance Interactive, Grant Makers in the Arts GIA Reader, and Dance/USA e-journal. He was a 2017 National Association of Latino Arts Cultures (NALAC) Advocacy Leadership Institute Fellow. His work is influenced by his experiences of being a queer transgender Latinx person who grew up in the Bay Area. He formerly served as the manager of programs and inclusion at Eyebeam, which under his leadership was awarded a Sapolin Award in Communication and Technology from the New York City Mayor's Office for People with Disabilities. He now serves as director of engagement and inclusion at the Leslie-Lohman Museum of Art. In his spare time he loves practicing his boxing skills with local LGBTQIA+ boxing clubs and tending to his many houseplants.
Jenée-Daria Strand
Reviewer
Jenée-Daria Strand is a Guyanese American curator and writer from Bed-Stuy, Brooklyn. Since 2019, she has served as a curatorial assistant at the Brooklyn Museum where she has supported numerous exhibitions including Lorraine O'Grady: Both/And. Strand is presently co-curating surveys on Nellie Mae Rowe and Maria Magdalena Campos Pons. Prior to her position at the Brooklyn Museum, Strand served as the company manager to Meredith Monk and administrative assistant to Alice Sheppard. She holds an MA in museum studies from NYU and a BFA in dance from Florida State University.
Kenneth Tam received his BFA from Cooper Union in 2004. Tam has held solo exhibitions at ICA LA; Times Square Arts, New York; Queens Museum, New York; Madison Museum of Contemporary Art, The Kitchen, New York; the Minneapolis Institute of Art; and MIT List Center for Visual Arts, Cambridge. Tam has participated in group exhibitions at The Shed; SculptureCenter, New York; 47 Canal, New York; Hollybush Gardens, London, UK; Hammer Museum, Los Angeles; and Museum of Fine Arts Houston. He is a NYFA Fellow in Interdisciplinary Work, the recipient of multiple Foundation for Contemporary Arts Emergency Grants, a California Community Foundation Fellowship and an Art Matters Foundation Grant. He has participated in residencies at Pioneer Works, LMCC Workspace, and the Core Residency Program at the Museum of Fine Arts Houston. Tam is on faculty at Princeton University and the Milton Avery Graduate School of the Arts at Bard College. He lives and works in Queens.
Susanna V. Temkin
Reviewer
Susanna V. Temkin is curator at El Museo del Barrio, where she recently co-curated the museum's inaugural Trienal exhibition, ESTAMOS BIEN (2020 – 2021). At El Museo, she also co-curated the exhibitions EN FOCO: The New York Puerto Rican Experience, 1973-1974 (2021 – 22); Popular Painters & Other Visionaries (2021 – 22); as well as the museum's 50th-anniversary exhibition, Culture and the People: El Museo del Barrio, 1969 – 2019 (2019). Temkin earned her master's and PhD degrees from the Institute of Fine Arts, New York University, where her research focused on modern art in the Americas, with a focus on Cuba. Prior to El Museo, she served as assistant curator at Americas Society in New York, as well as the research and archive specialist at the Cecilia de Torres, Ltd., where she assisted in co-authoring the digital catalogue raisonné of artist Joaquín Torres-García. Temkin has published essays and reviews in exhibition catalogues and magazines including the Metropolitan Museum of Art's Alice Neel: People Come First, the Rutgers Art Review, Burlington Magazine, and is the author of the chronology of Concrete Cuba: Cuba Geometric Abstraction from the 1950s, produced by David Zwirner Books.
Gabriela (Gabi) Vidal-Irizarry
Reviewer
Gabriela (Gabi) Vidal-Irizarry is a melomaniac based in Brooklyn. She works as Programs Manager at Pace Gallery, where she programs and produces performances, panels, and public programs, among other things. She's held positions at MoMA and The Shed. She's very often dressed in Issey Miyake. She loves sad dance music and beef patties.
Natalia Viera Salgado
Reviewer
Natalia Viera Salgado is a Puerto Rican curator and curatorial consultant based in New York City. She is the co-founder of :Pública Espacio Cultural, an independent art space in Alto del Cabro, Santurce, San Juan, Puerto Rico. Her art historical research focuses on contemporary art in relation to decolonial practices, architecture, social and environmental justice, and new media with a keen interest in hybrid and interdisciplinary projects. She has worked at the Institute of Puerto Rican Culture, collaborated with design studio División de Diseño (Puerto Rico), worked at El Museo del Barrio, Art in General, Socrates Sculpture Park, The Nathan Cummings Foundation, and Americas Society. During 2020 – 21, Viera served as curator in residence through La Residencia, a collaborative residency partnership between Abrons Arts Center and Pública (San Juan, PR), made possible with funds provided by the Andrew W. Mellon Foundation. Viera holds a MA in curatorial practice from the School of Visual Arts (NYC) and is currently the associate curator at the National Academy of Design.
Adeze Wilford is curator at MOCA, North Miami. She was an assistant curator at The Shed where she organized Howardena Pindell: Rope/Fire/Water. She was an inaugural joint curatorial fellow at the Studio Museum in Harlem and the Museum of Modern Art. She organized Vernacular Interior at Hales Gallery in 2019 as well as Excerpt (2017) at the Studio Museum and Black Intimacy (2017), a film series at MoMA. Other curatorial projects include Harlem Postcards F/W (2016/2017) and Color in Shadows, the 2016 "Expanding The Walls" exhibition at Studio Museum. Prior to this, Wilford was the public programs and community engagement assistant at the Studio Museum. She has contributed scholarship to various catalogues and magazines including Young,Gifted and Black and Black Refractions and serves on the Queens Museum's board. She graduated from Northwestern University with a BA in art history and African-American studies.
Monica L. Williams
Reviewer
Monica L. Williams is a conceptual performance artist and artistic leader who specializes in cross-sector collaborations. Over her 20-year career, she has produced, curated, and directed performances dedicated to the African Diaspora with major cultural institutions including TEDWomen, the World Famous Apollo Theater, National Black Arts Festival, and Brooklyn Academy of Music. Her latest work, In Love and Struggle, produced with The Meteor, is currently streaming on Audible.
She is the creator of LoveHustle, a seven-year exploration of artists' work/life balance, and producing artistic director for Bailey's Cafe *As Quiet As It's Kept, a 10-year exploration of home and belonging in Bedford-Stuyvesant, Brooklyn. Her design of Kentucky Foundation for Women's Special Project has received national recognition and philanthropic support for community-based arts with families of the incarcerated. She is the founder of Creative Legacy, a creative self-development company and formally full-time lecturer in the African-American studies department at New York City College of Technology. Williams is a 2020 and 2021 MAP Fund recipient, a 2016 CCCADI Innovative Cultural Advocacy Fellow, a Rockwood Leadership Institute Fellow, and a graduate of Wright State University and New York University.
Jay Wegman is the director of NYU Skirball Center for the Performing Arts in New York City, where he has been responsible for the artistic direction and leadership since 2016. He previously served as director of the Abrons Art Center from 2006 to 2016. During his tenure, Abrons was awarded the OBIE's Ross Wetzsteon Award. He also served as canon for liturgy and the arts at the Cathedral of St. John the Divine for over a decade and was a fellow at the John F. Kennedy Center for the Performing Arts in Washington, DC. He frequently serves on review panels for public funding and private foundations and was awarded the 2015 Franky Award for "making a long-term, extraordinary impact on contemporary theater and performance in New York City." Wegman is a graduate of the University of Minnesota and Yale University.
Kiyan Williams is an artist and writer from Newark, New Jersey, who works fluidly across sculpture, video, performance, public art, and 2-D realms. They are attracted to quotidian, unconventional materials and methods that evoke the historical, political, and ecological forces that shape individual and collective bodies.
Williams earned a BA with honors from Stanford University and an MFA in visual art from Columbia University. Their work has been exhibited at the Hammer Museum, the Hirshhorn Museum, SculptureCenter, Brooklyn Museum, Socrates Sculpture Park, Recess Art, David Kordansky, Lyles and King, and The Shed.
Janet Wong is the associate artistic director of New York Live Arts and the Bill T. Jones/Arnie Zane Company. She leads the performance and humanities programming at New York Live Arts with Bill T. Jones and has worked with the Bill T. Jones/Arnie Zane Company since 1996. Wong is also a projection designer, having designed most of the company's multimedia works since 2006, and has collaborated with other artists such as Aaron Landsman, Daniel Bernard Roumain, and Heidi Latsky.
Eva Yaa Asantewaa
Reviewer
Eva Yaa Asantewaa—born in Lenapehoking (New York City) of Barbadian immigrant heritage—is a veteran arts writer, editor, curator, and community educator. She won the 2017 Bessie Award for Outstanding Service to the Field of Dance. Since 1976, she has contributed dance criticism and journalism to major publications such as Dance Magazine, The Village Voice, SoHo Weekly News, and Gay City News as well as her arts blog, InfiniteBody. In 2016, for Danspace Project's Lost and Found platform, Ms. Yaa Asantewaa created the skeleton architecture, or the future of our worlds, an evening of group improvisation featuring 21 Black women and gender-nonconforming performers. Her cast won a 2017 Bessie for Outstanding Performer. Ms. Yaa Asantewaa is founding director of Black Diaspora, founding editorial director of Imagining: A Gibney Journal, and founder of Black Curators in Dance and Performance. She was senior director of curation for Gibney from 2018 to 2021.
The application process was organized by Tamara McCaw, Chief Civic Program Officer; and Solana Chehtman, Director of Creative Practice and Social Impact, with Alessandra Gómez, Assistant Curator, and Sarah Khalid Dhobany, Assistant Producer of Public Programs. The program was conceived by The Shed's Artistic Director Alex Poots, Tamara McCaw, former Chief Curator Emma Enderby, and Senior Program Advisor Hans Ulrich Obrist.
Information Sessions
We recommend that prospective applicants participate in one of our information sessions via Zoom. We will hold both general information sessions (including a Q&A) with Shed staff and Q&A sessions with past Open Call artists. Live closed captioning will be available through the Zoom platform for all sessions.
Wednesday, January 26, 2022, at 1 pm EST
With Open Call artists Justin Hicks, Pauline Shaw, and Cindy Tran
In partnership with Bronx Council on the Arts
Sign up for January 26
Monday, January 31, 2022, at 6 pm EST
With Open Call artists Troy Anthony, Ladi'Sasha Jones, and Anne Wu
In partnership with Queens Council on the Arts
Sign up for January 31
Friday, February 4, 2022, at 9 am EST
With Open Call artists Aisha Amin and Kyle Marshall
In partnership with CUNY Arts
Sign up for February 4
Learn about past commissions
The photos below offer a sampling of works by past
Open Call
artists. To meet the 2021 artists and read more about the ideas behind their work, visit the
In The Works page
.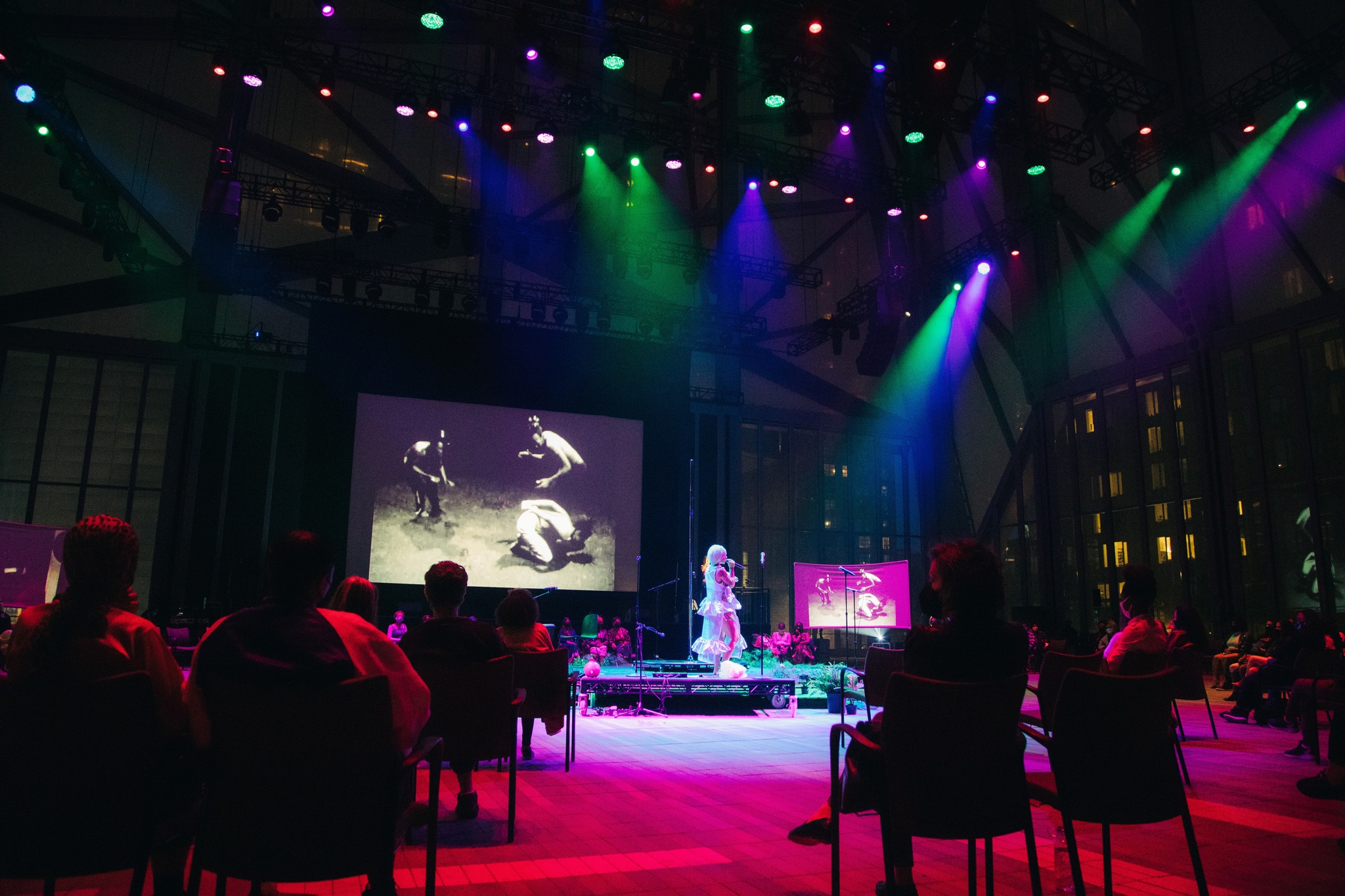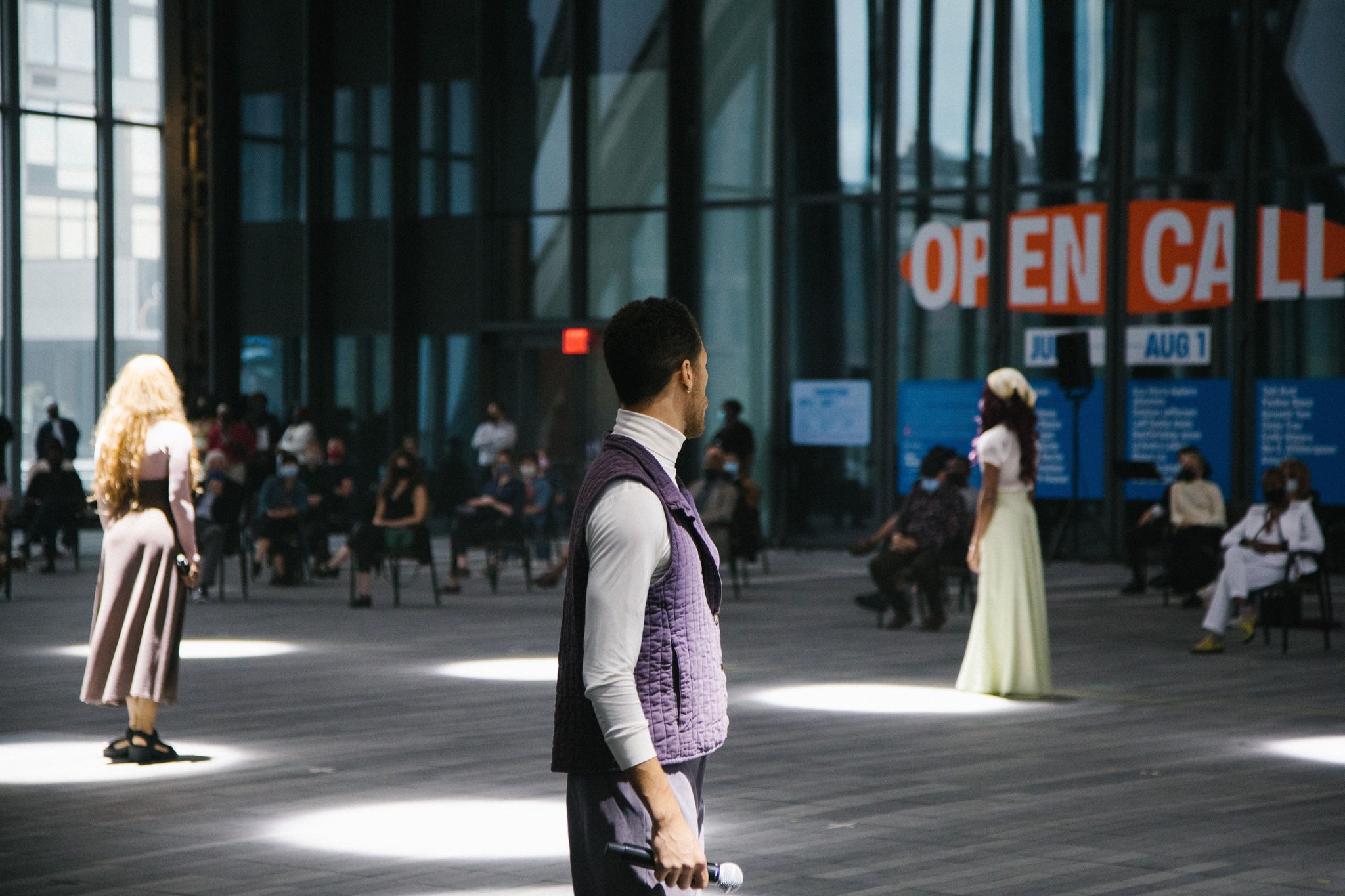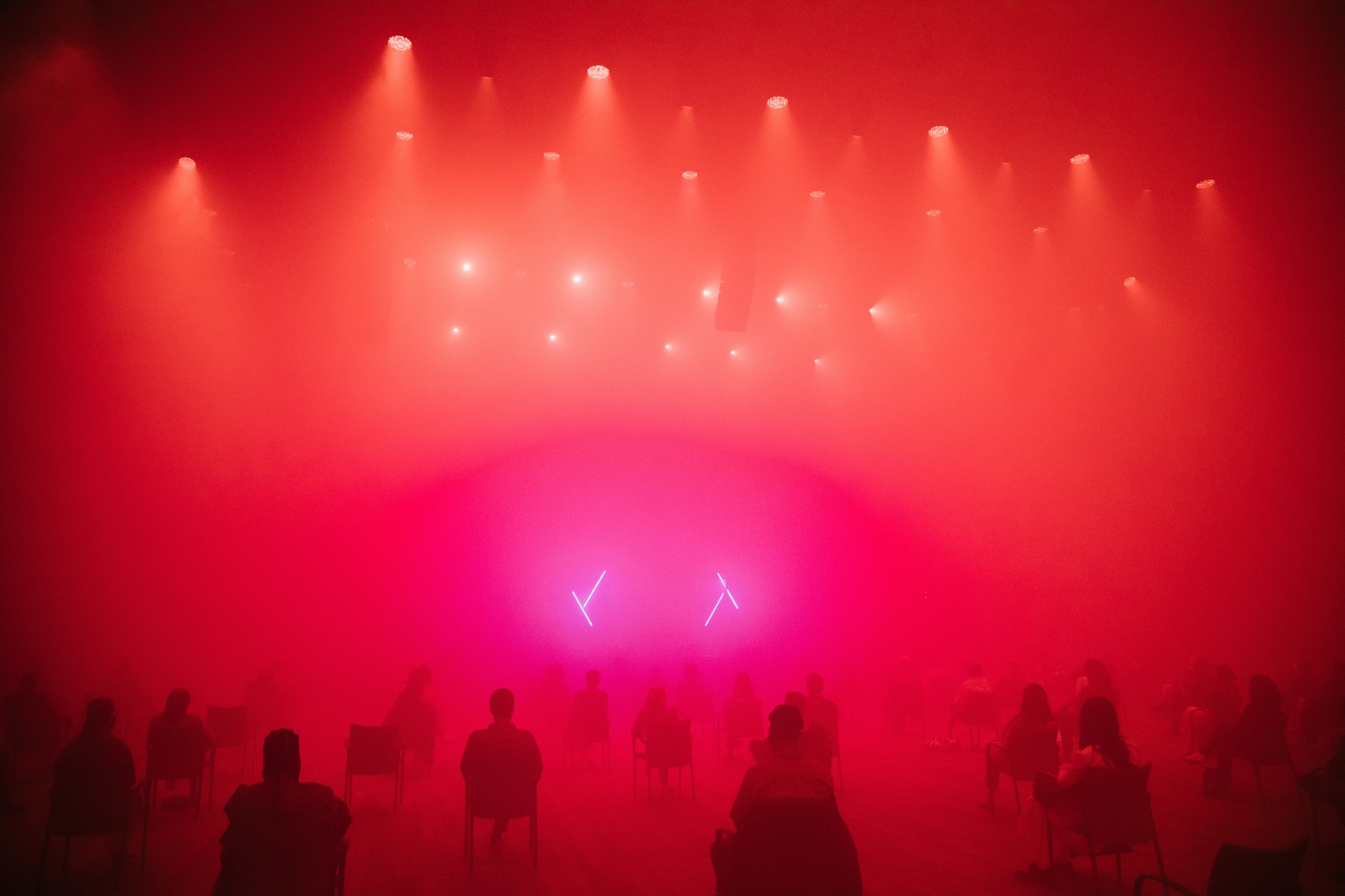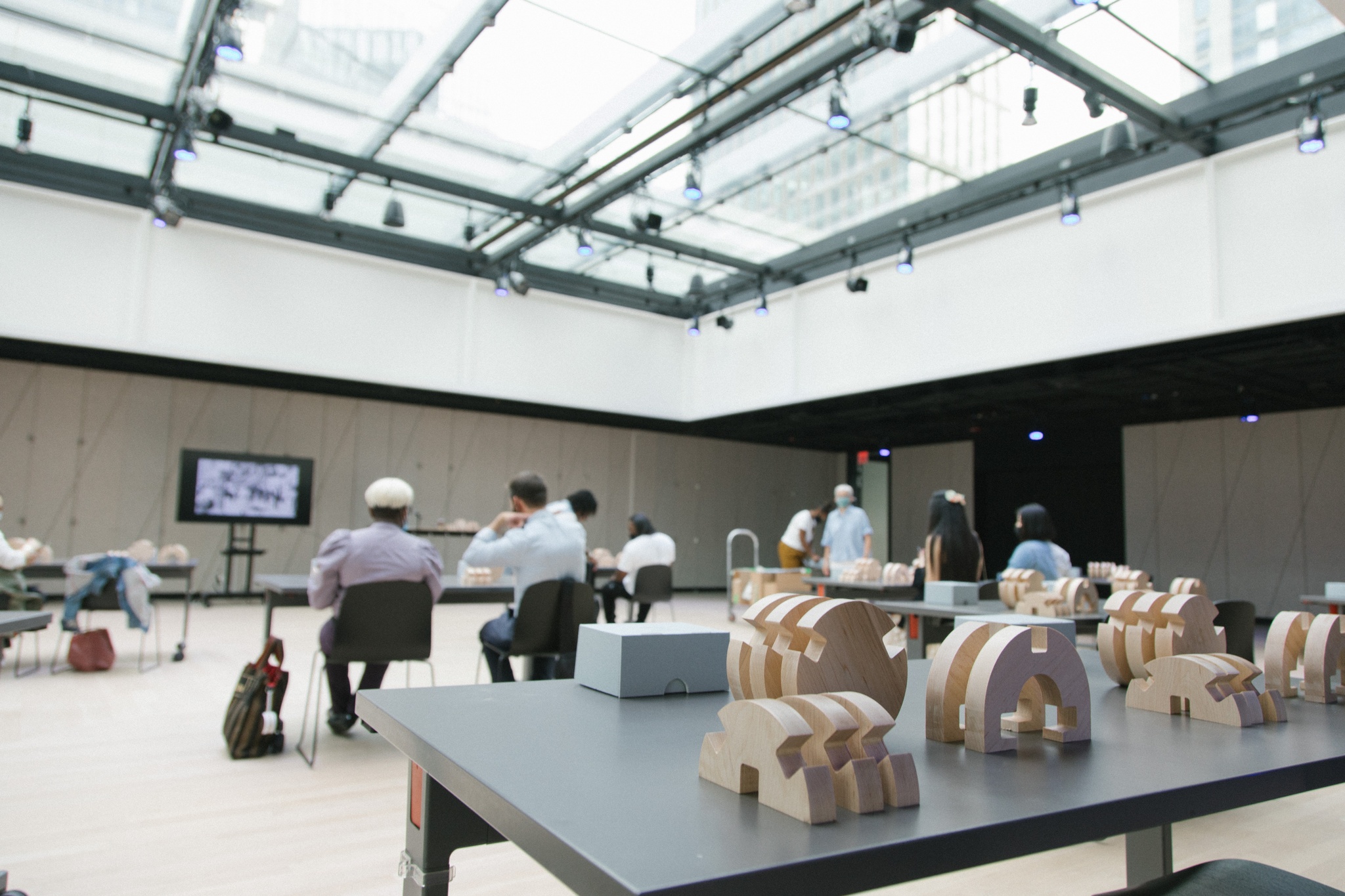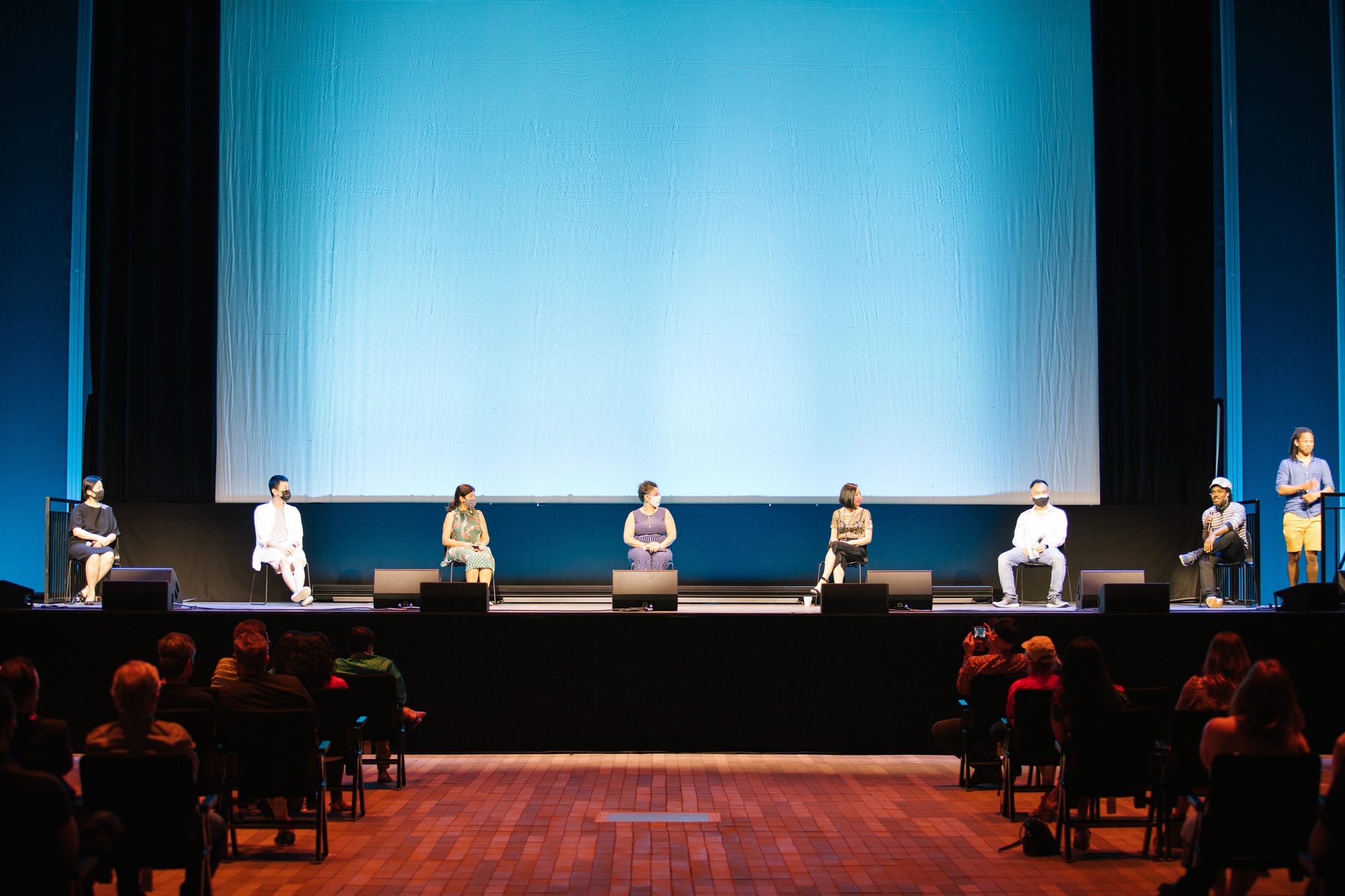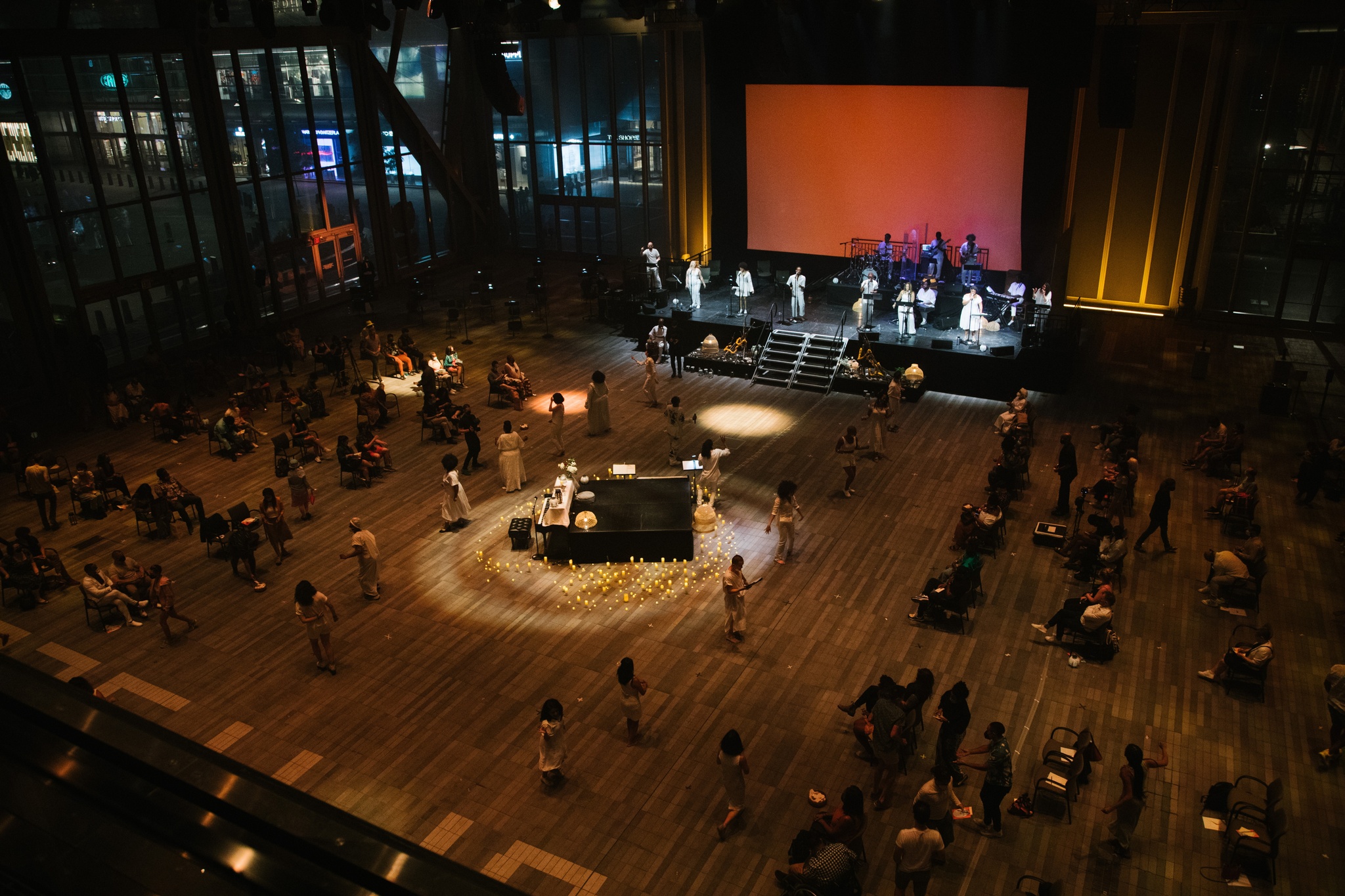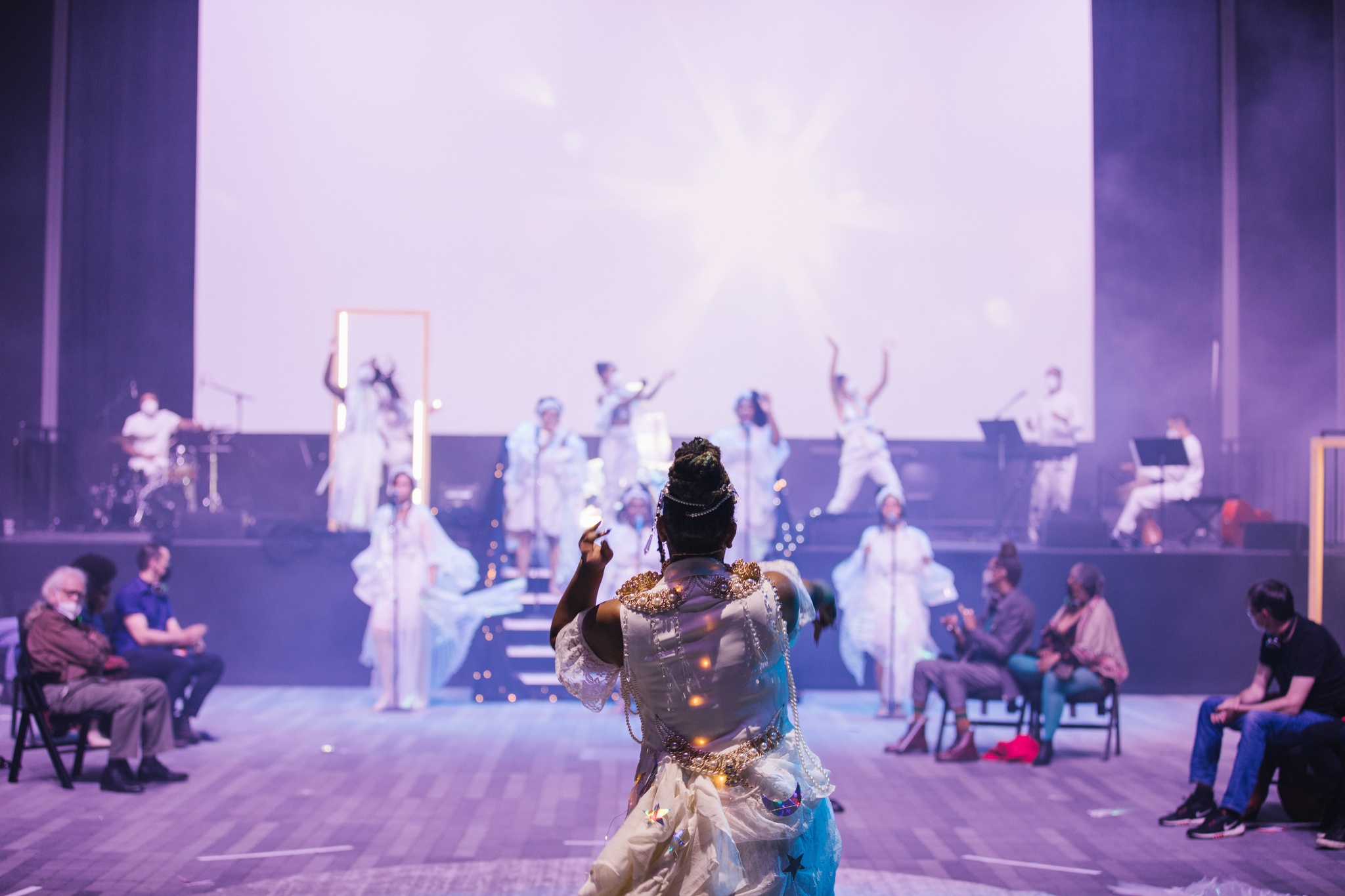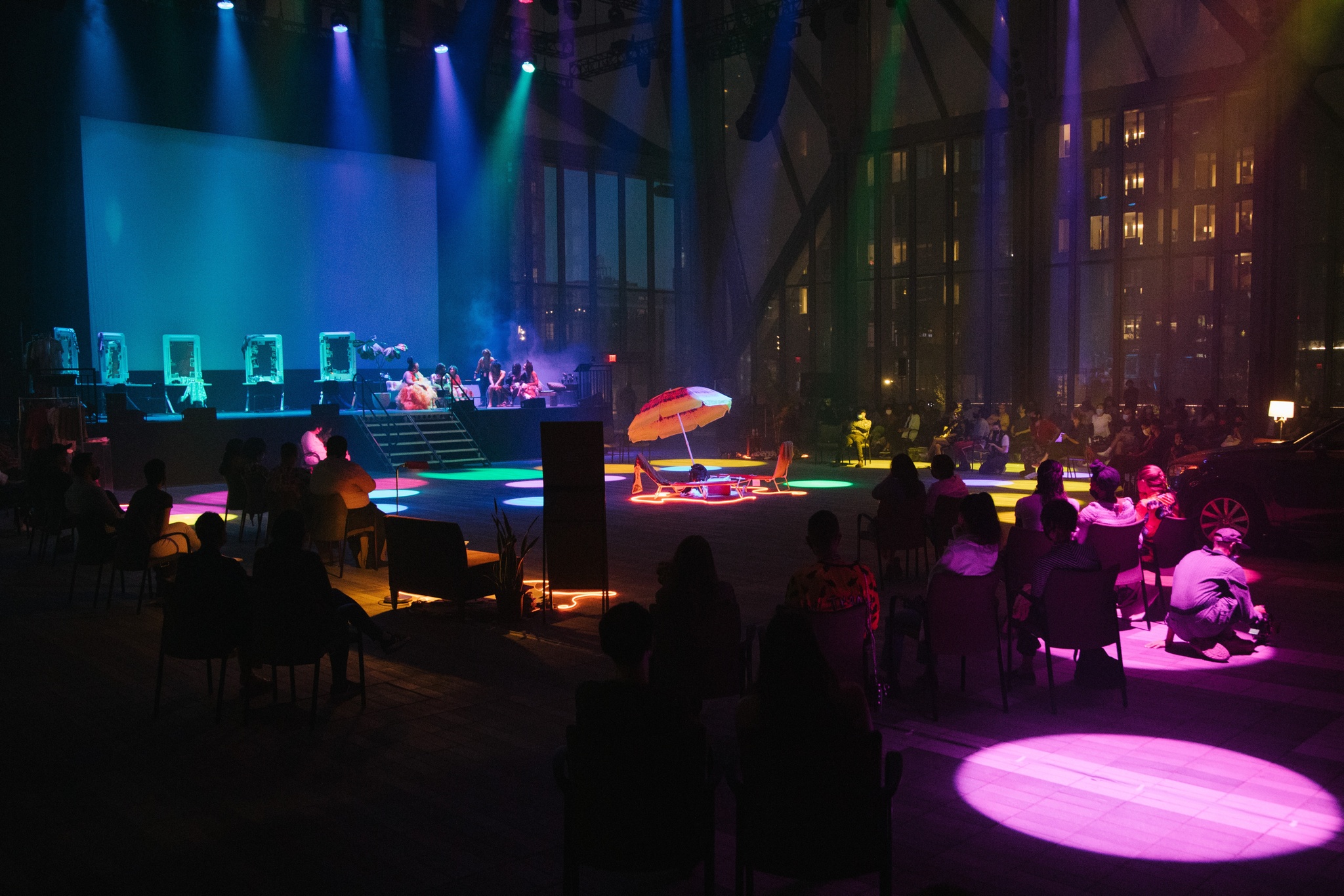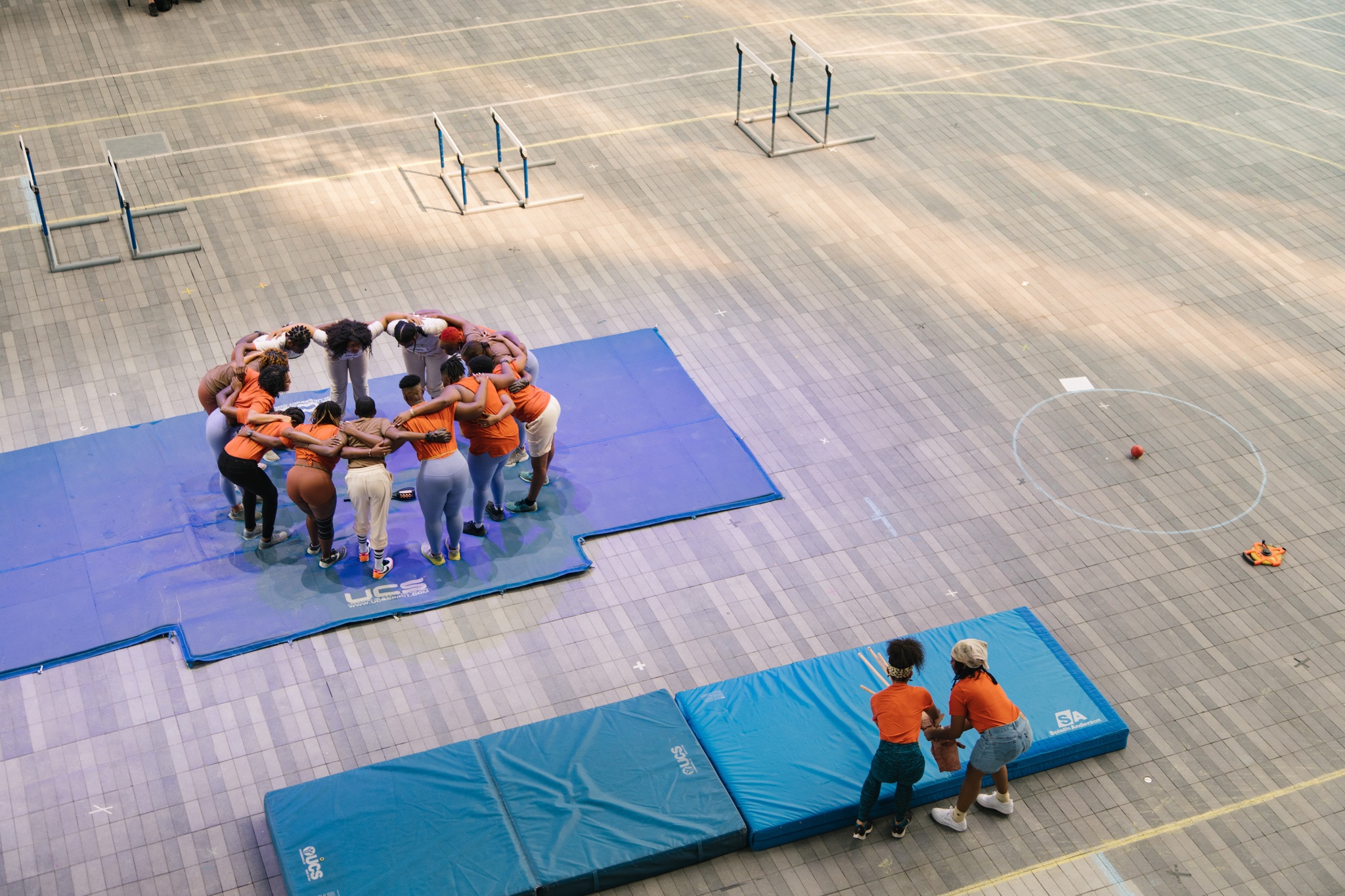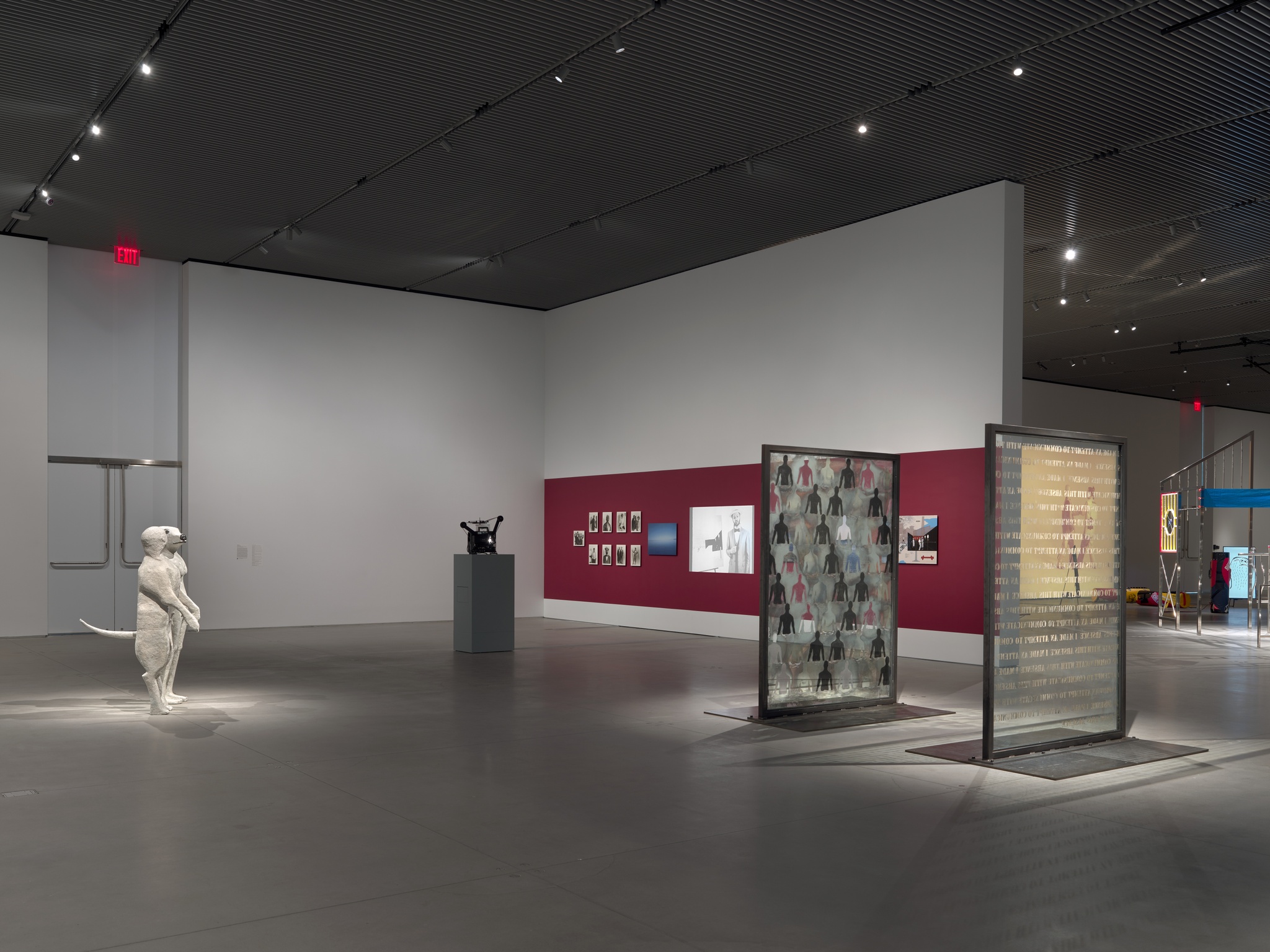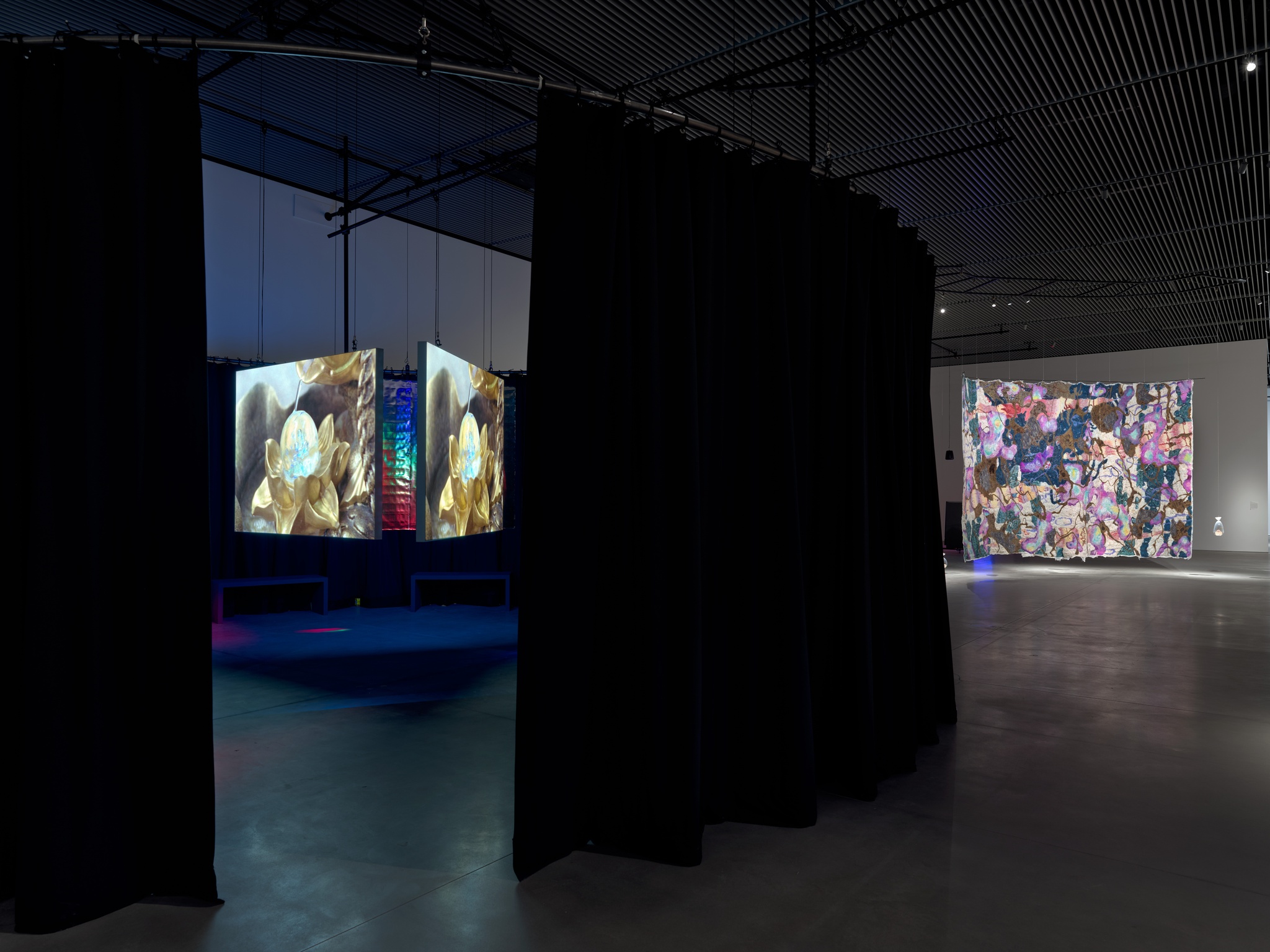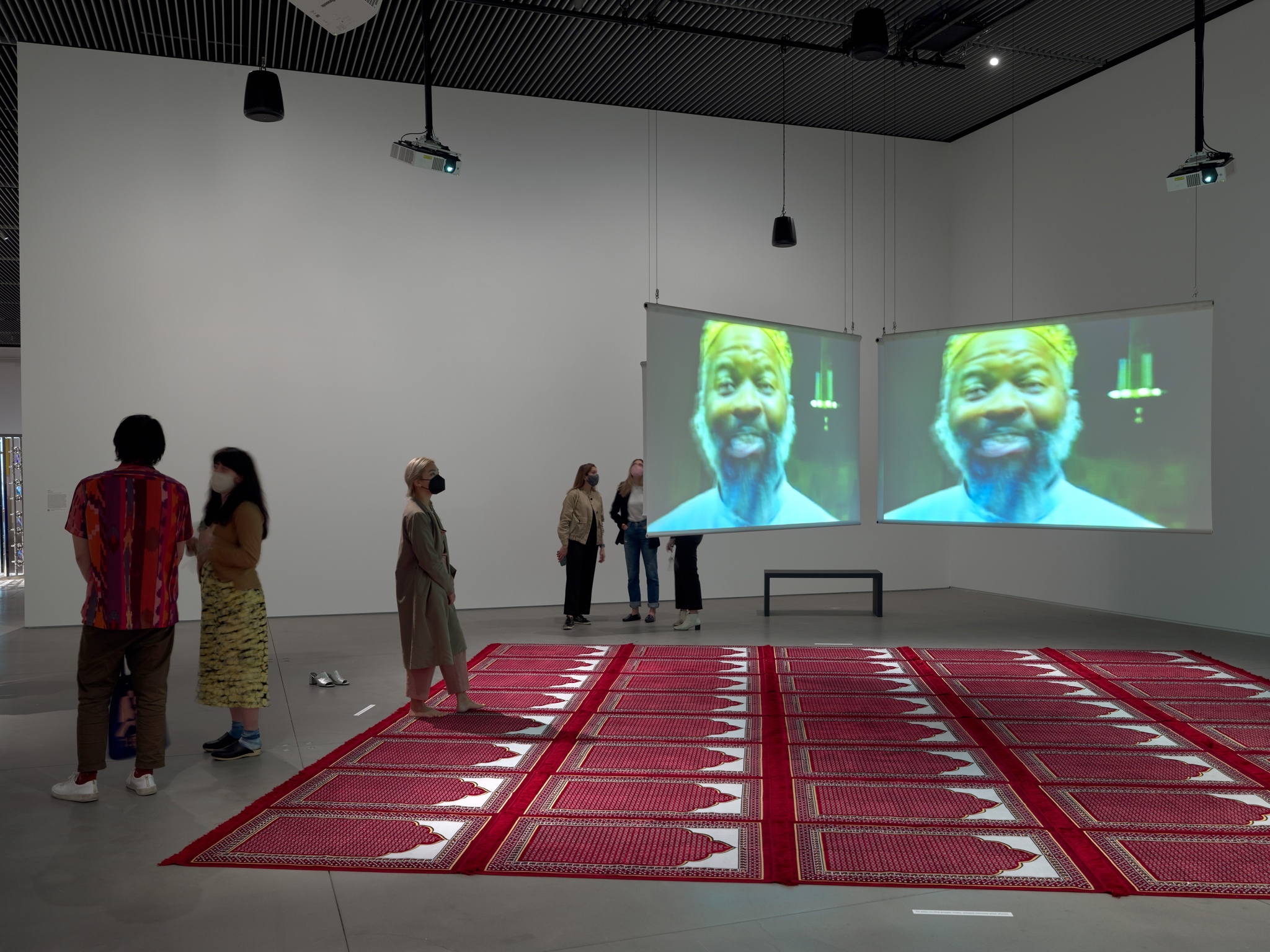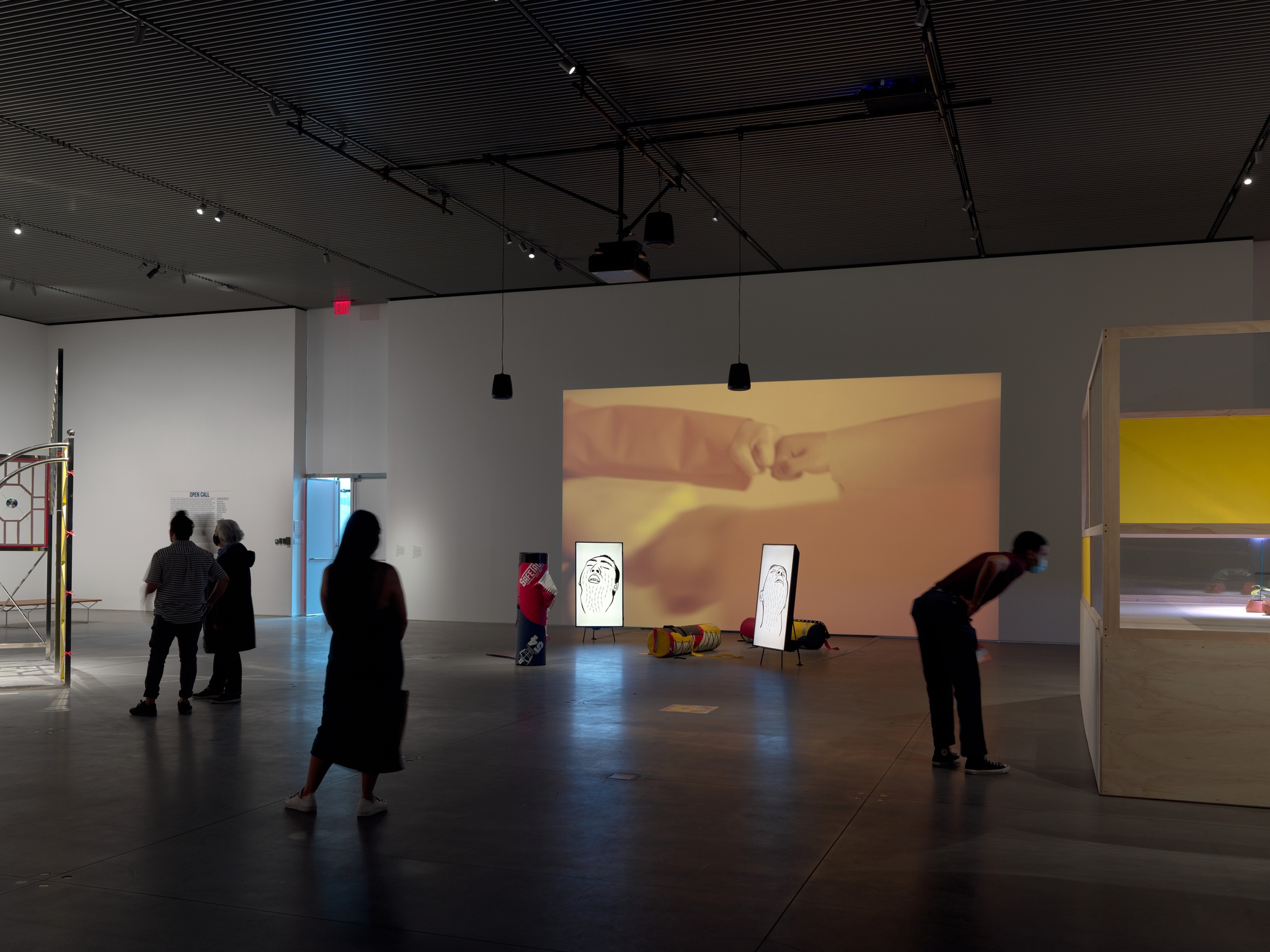 Learn more about Open Call
Frequently Asked Questions
Open Call accepts applications from artists who are:
Early-career artists and art collectives
18+ years old
Currently living or working in New York City
Able to provide a W9 for payment
With or without a traditional arts degree and/or training
Fully vaccinated in order to present work at The Shed
Working in a range of artistic disciplines, including the visual arts, theater, dance, music, performance, spoken word, literary arts, film, fashion, art and technology, social practice, and new media, as well as across multiple and new disciplines
Who is considered an "early-career" artist?
For The Shed, an early-career artist is one who has not yet received major support to create new work. We define major support as a range of opportunities, from the receipt of substantial institutional funding to presenting and/or producing opportunities at large-scale cultural organizations. There is no age limitation.
Do I have to live in New York City to apply? What if I work in New York City but live somewhere else?
If you do not live in one of the five boroughs of New York City, but you work predominantly in NYC, your application will be considered. You will be asked to provide a New York City working address in your application.
We're a group of collaborators. Can we apply as a collective and who does The Shed consider to be a collaborator?
Yes. In the Submittable application, you will be able to indicate if you are applying as an individual artist or a collective. For collectives, we are only able to accept a maximum of three members at this time.
Both individual artists and collectives can list up to three collaborators in their application. The Shed defines collaborators as those who are key to the early development of the work. For performance proposals, artists do not need to list all performers as collaborators. We understand that artists will refine the collaborative elements of their projects during the commissioning process.
Nonprofit or incorporated collectives are not eligible to apply. Only physical people are.
Can I submit more than one proposal?
For Open Call, we only accept one proposal per applicant (individual or collective). However, you can be listed as a collaborator in another lead artist's proposal submission.
What kinds of proposals are you looking for?
In line with The Shed's mission, the Open Call program values inventive and bold proposals that explore and question the urgent issues of our time. We look for submissions that are both idea-driven and poetic, and that can be feasibly realized. We encourage artists to be inclusive and equitable as they engage their ideas and communities with intellectual and aesthetic rigor. We aim to support New York City's diversity of emerging talent in its many forms—including artistic medium, race, ethnicity, age, identity, physical ability, and other experiences.
Curatorial proposals, such as an individual or a collective of curators proposing a group exhibition, will not be accepted.
All eligible applications are reviewed by Open Call's reviewers. Applications with the highest scores will then be reviewed during a panel discussion, resulting in the selection of a finalist pool. Some of the artists will be interviewed before final awarding. Through this review process, Open Call offers artists the opportunity to have their work and ideas considered and discussed by a range of experts across different artistic fields as well as The Shed's staff. In terms of performing arts, evening-length pieces (60 minutes average running time) will be prioritized.
What are the selection criteria?
We use five criteria to select the projects:
1) Bold and inventive
The work is original and presents a unique vision or perspective.
It is innovative, idea driven, and thought-provoking.
It embraces risk-taking and experimentation.
2) Artistically rigorous
The proposal is coherent, thoughtful, and reflects a deep sense of inquiry.
It demonstrates a professional approach to process and presentation.
The work samples demonstrate artistic excellence, mastery of skills and techniques.
3) Relevant and resonant
The proposal is timely, interesting, and thrilling.
It provides multiple entry points and strives for openness, avoiding a narrow and jargony approach.
The work is able to hold sustained impact and value for diverse audiences and viewers.
4) Feasible
The work demonstrates a scope and scale likely to be executed as proposed with the allocated resources.
The proposal budget is exhaustive, clear and reasonable.
5) Demonstrates integrity
The work and artists seem responsible with ideas, concepts, and references, and avoid appropriation.
Artists demonstrate a just point of view, and a strong ethical approach to their work.
How does the selection process work?
Applications are at first reviewed to ensure they are complete (we might reach out if there is missing information). They are then assigned to at least three online reviewers each, of which at least two are discipline-specific. A diversity of perspectives is essential during this stage. We ensure that all proposals are also reviewed by at least one Shed staff member.
From that early online review, the top 150 proposals are selected to be discussed in a single multidisciplinary panel. This panel takes place live or online in a synchronous manner. All proposals are sent to panelists in advance for individual review and are then reviewed and discussed by panelists live.
At the end of the panel, a semifinalist list is determined, by order of interest. It is then up to The Shed's staff to interview semifinalists, check their references, and do a feasibility study, as well as space assignment. All of this helps determine the final awardees.
Unfortunately, due to the amount of applications we expect to receive, we're not able to provide application feedback.
When will work be selected, developed, and presented?
Application: Closes Monday, February 21, 2022 at 6 pm EST
Online Review: March 2022
Panel Review: June 2022
Notification of Acceptance: August 2022
Open Call Awardees Announcement: October 2022
Gallery and Outdoor Plaza Presentations: Summer 2023
Overlook and Griffin Theater Presentations: Summer 2024
Where will work be presented?
All work will be presented at The Shed. The images in the slideshow above show a variety of presentation configurations in our building's spaces.
As part of the application process, you will be prompted to suggest the space your project is designed for. However, The Shed's team will be responsible for final space assignments once all projects are selected.
The Level 2 Gallery will feature visual artworks in a group exhibition, with works varying in scale and medium. Though we do not have specific size limitations for each work, nor restrictions on how they might be installed (works can be free-standing, hanging, wall-mounted, etc.), we encourage artists to be ambitious in their proposals while remaining mindful that other artworks will also inhabit the space. Footprints of sculptural works in the past have ranged in scale, falling mostly within a 20-by-20-foot area. Wall-mounted works have also varied in scale, occupying an area up to 20 feet wide on the wall. The group exhibition will be curated by The Shed's curatorial team, and commissions will be developed in consultation with the visual arts team. To learn more about past Open Call works presented in the Level 2 Gallery, please visit the 2021 exhibition page.
The Shed's Plaza, an iconic public space, is formed when the building's movable outer shell is nested to create a 17,000-square-foot outdoor plaza for large-scale performances. It can accommodate an audience of up to 1,500 (subject to New York City and State Covid guidelines and mandates) and will be set up with the most up-to-date sound and light technology, accommodating all types of performing arts projects. The main stage that will be built will be approximately 40 feet wide by 20 feet deep and 42 inches high, with steps upstage. This space does not allow for outdoor projections or outdoor sculpture/installations. Pieces will be performed once or twice, and can make use of the stage or of the Plaza itself. There will be a rain date scheduled in advance, and performances will be postponed to that date if it rains. To learn more about past Open Call works presented on the Plaza, please visit the 2019 Open Call: Group 3 page. In 2021 due to Covid restrictions, the Plaza was covered, and pieces were presented in a unique set up that will not be used in 2023. More about these 2021 artists can be found on the main Open Call page.
The Griffin Theater, on Level 6, is a black box theater with resilient (not sprung) wood floors and reconfigurable raisers. It can be used as a proscenium-style performance space for audiences of about 200-400 attendees, with a stage roughly 40 feet wide by 20 feet deep with wings on each side, located on the west side of the theater. Pieces in The Griffin Theater will run for three consecutive performance dates. This space allows for projections and professional lighting, but in this configuration it does not allow for open-plan seating or immersive participatory pieces. To learn more about past Open Call works presented in The Griffin Theater, please visit the 2019 Open Call: Group 1 page.
The Overlook is our recently modified performance space overlooking The McCourt located on Level 4. As an open-plan space it is 50 feet wide by 86 feet deep, with approximately 19 feet to the grid. Pieces in the Overlook will run for three performance dates. To learn more about the layout of this space, download this pdf floor plan.
Pieces/artists usually get assigned to one space. There have been cases of artists showing work throughout spaces, or performing arts showing in the gallery. This will be considered on a case-by-case basis.
For social practice projects, where the process might be centered on and the project might take place in community, the Shed presentation will be analyzed and defined on a case-by-case basis.
Is The Shed/Open Call accessible?
The Shed aims to reduce disparities in New York's cultural ecology through equity, inclusion, and access. Artists with disabilities are encouraged to apply to Open Call.
The Open Call Submittable Form is accessible to screen readers. All Open Call information sessions will include live captioning, ASL interpretation, and audio descriptions.
All of The Shed's spaces are wheelchair accessible. ASL interpretation, assistive listening devices, captioning, and verbal descriptions may be provided during the development of work and will be available during Open Call presentations for designated performances, exhibition pieces as needed, and special gallery tours.
Please email our Open Call team at opencall@theshed.org with further questions, comments, or any specific requests. Read more about accessibility at The Shed.
How should I complete the budget template included in the application?
An itemized budget template is provided as part of the application and must be completed with every type of expense you expect the project to include. There's space for additional funding and additional costs; please include everything you may need to realistically and feasibly realize your project.
Some items to include are already noted, such as artist and collaborator fees, designers, production support, stage managers, art supplies, fabrication costs, rehearsal and/or studio space as needed, color/audio correction as needed, set and costumes, administration costs, specific production materials, and any extra equipment specific to the piece that is not part of The Shed's inventory (beyond regular AV/projection equipment). VR/AR headsets, or even noise cancelling headsets, are not included in The Shed's inventory and will need to be provided by the artist. Because every project is different and we don't know what you'll require, please feel free to add any line items as needed. Artists may need to conduct independent research to include actual costs. Suggested lead artist fees range from $1,500 – 2,000 depending on the project. The W.A.G.E. website offers a good resource for suggested creative/production fees broken down by category.
Two-way trucking at the time of the performance/installation/deinstallation will be covered by The Shed, from and to one location in the five boroughs of New York City. Parking in the area for meetings or during the performance is not covered by The Shed.
We do not suggest you plan on self-raising more than 15 percent over the $15,000. If you do have some support that exceeds that number, you're able to include it.
Do artists need to budget for insurance?
No. The Shed will provide general liability insurance.
What can I use the awarded commissioning fee for?
The Shed will support Open Call projects with a commissioning fee of up to $15,000 per artist or collective, paid in installments linked to project milestones.
This commissioning fee is intended to support the development and realization of the work, which includes artist and collaborator fees, fabrication costs, art supplies, rehearsal and/or studio space as needed, administration costs, costumes and other production materials, and any extra equipment specific to the piece that is not part of The Shed's inventory. Suggested lead artist fees range from $1,500-2,000 depending on the project. Lead awarded artists will contract and pay collaborators themselves.
Additionally, The Shed will provide in-kind presenting support for implementation and installation of the work on-site, including crew labor, design coordinator fees, and specific rentals among other considerations.
No other revenue will be assigned to the artists. Tickets are offered to the public for free, and no merchandise can be sold at The Shed.
The Shed cannot actively help with garnering extra financial support, although we can sometimes act as a fiscal sponsor and can also write letters of recommendation/intention as needed.
What can be considered as samples of past and future work?
Examples of past work samples include photo, audio, video, and print documentation.
Examples of future work samples may include select drawings, sketches, rehearsal or work-in-progress presentations, audio and/or video documentation, and renderings, etc. that best represent your idea. For performing arts proposals, we suggest audio and/or moving images. For visual arts proposals, still images work well.
Audio and video files should be no longer than one minute. Written samples have a limit of three pages. Text documents uploaded that include links to files will not be considered.
Am I able to submit Vimeo or YouTube videos of my work?
Unfortunately, our application requires a direct upload of artist work samples. However, there is an opportunity to link to your website, if you have one.
How should visual descriptions included with the application be written?
Visual descriptions provide information about the visual appearance of spaces, objects, people, and more to reviewers and panelists who are blind or have low vision. They are plain text descriptions of images, gifs, videos, and other media.
When writing visual descriptions, consider adding features such as colors, medium, placement of objects, names of people, clothes, animals, emotions, and environments. If your media has text in it, consider writing out the image text verbatim and be sure to use proper spelling, capitalization, spacing, and grammar.
I recently sent in my application but realized I did not include image examples of my proposed project. Is it too late since I submitted already?
Any requests for revisions to applications should be sent to
opencall@theshed.org
. We will review these on a case-by-case basis.
If work has been shown elsewhere, can it be considered a new commission?
Some projects may have been shown in the past, for example in school, a work-in-progress showing, or included in a public program like a reading or workshop. In the Submittable application, you will be prompted to explain how your project would transform in The Shed's presentation and how your proposed work or any its components have been shared in the past in any form.
We are looking for new work but understand that each artist has different development processes, with moments of public showing and feedback as part of them.
Does all the work involved in the project have to be original content?
Yes. In the case of using existing content, you need to ensure that such use does not infringe on the rights of any third party and shall be responsible for securing any third party rights to material that is not original to you or not in the public domain.
Can the work premiere elsewhere before I present at The Shed?
As this is a commissioning program, we ask that artists agree to premiere their commissioned work at The Shed.
As for exclusivity clauses, we have tended to avoid them. Though, we do request that you don't present similar work in New York City two weeks before your Shed presentation, mostly with the intention of ensuring you'll have an audience for your presentation as part of Open Call.
As a Shed commission, who owns the copyright to the work?
Copyright of the work will always belong to the artist. The Shed only keeps the right to present it and share it in perpetuity on its website, social media, etc.
What team/collaborators should I foresee needing to assemble?
This depends on each medium and project, but some collaborators to consider include directors, producers, stage managers, designers (lighting, space, audio, graphic, print), editors, dramaturgs, musicians, carpenters, playwrights, cast members, composers, choreographers, vocal coaches, song writers, and videographers. You don't have to have a full team at the time of the application, but ideally you'll consider them when building your project budget. As a team we can help you define which roles will be helpful and even recommend names as needed.
Collaborators do not need to be NYC-based, but you will need to secure any transportation and lodging costs for your team.
Who should I choose for my references?
References will only be contacted in the case your proposal is chosen as a semi-finalist project, right before the final selection.
You should include someone you've worked with, collaborated with, trained with, etc. in the past, who knows you and your work and can speak about it. Ideally, they should have an institutional role or some recognition in the field.
How will the development of the pieces be supported?
Over the course of the Open Call program, each commission will be developed, designed, and produced in collaboration with The Shed's team. You should expect your project to change and evolve in collaboration with the institution. We expect you to dream big (yet feasibly), and then it will be up to our collaborative efforts to adapt your vision to the space, time, and resources available for each work.
Our curatorial, producing, and production teams will work closely with each artist or collective throughout critical moments of the project's development, creating a customized plan that integrates accessibility into each piece.
We have incorporated mandatory work-in-progress showings throughout the development of the pieces, as well as specific fabrication milestones, customized to each individual piece and process.
Do you provide documentation of the work and how can it be used afterwards?
We provide professional photography and simple one-camera video documentation of all works. Part of our support to artists is to provide these assets for non-commercial use, with the inclusion of the photographer/videographer's credit line and a courtesy line for The Shed/Open Call.
Who should I contact if I have questions?
For general questions about
Open Call
or application materials, please email
opencall@theshed.org
. For questions about using Submittable, please contact the Submittable help desk.
Learn more about Open Call
Open Call
Read more about "Open Call "
All details for "Open Call "
Thank you to our partners

The Lead Sponsor of Open Call is

Support for Open Call is generously provided by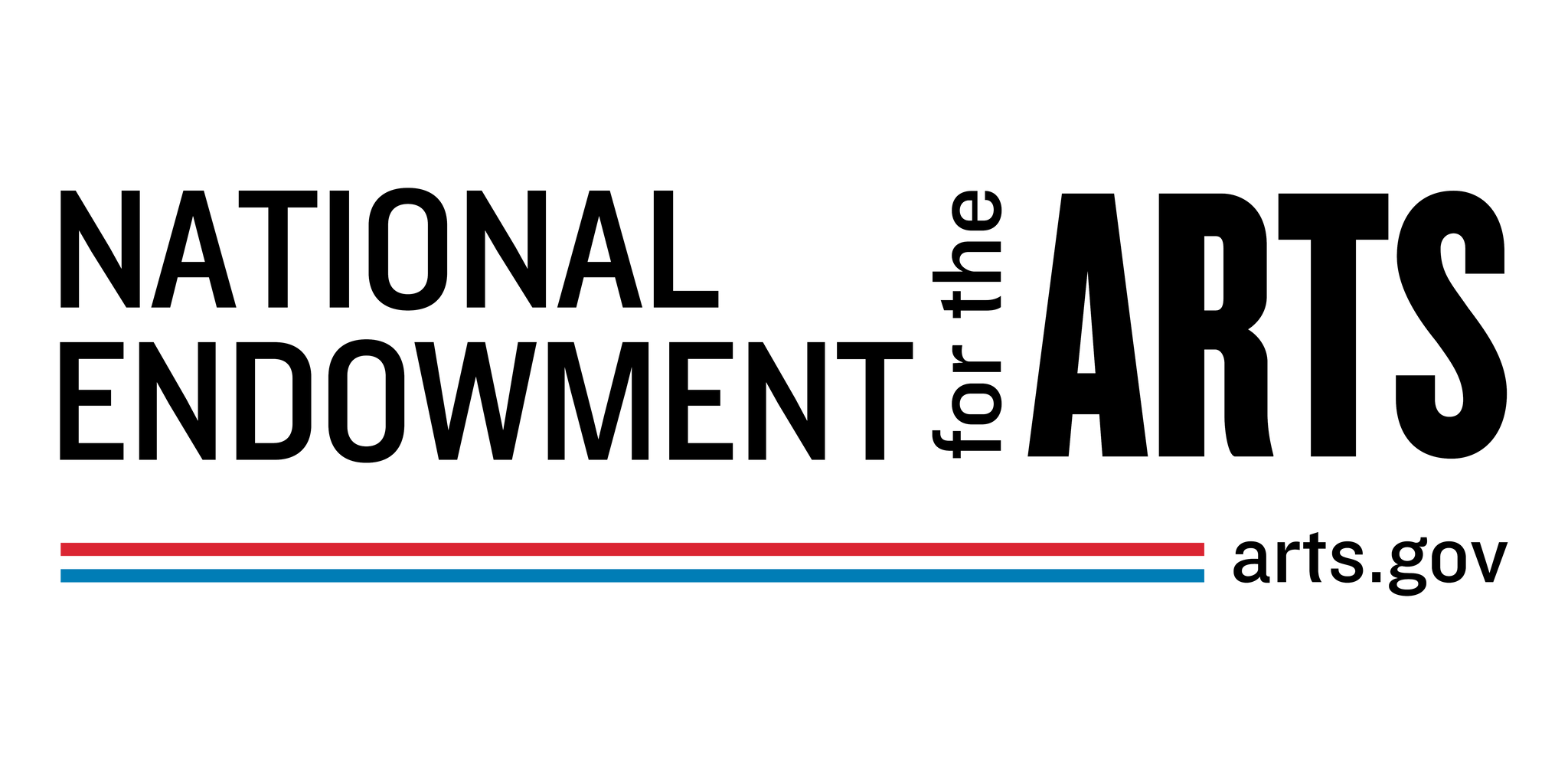 Additional support for Open Call is provided by Jody and John Arnhold | Arnhold Foundation.
The creation of new work at The Shed is generously supported by the Lizzie and Jonathan Tisch Commissioning Fund and the Shed Commissioners. Major support for live productions at The Shed is provided by the Charina Endowment Fund.