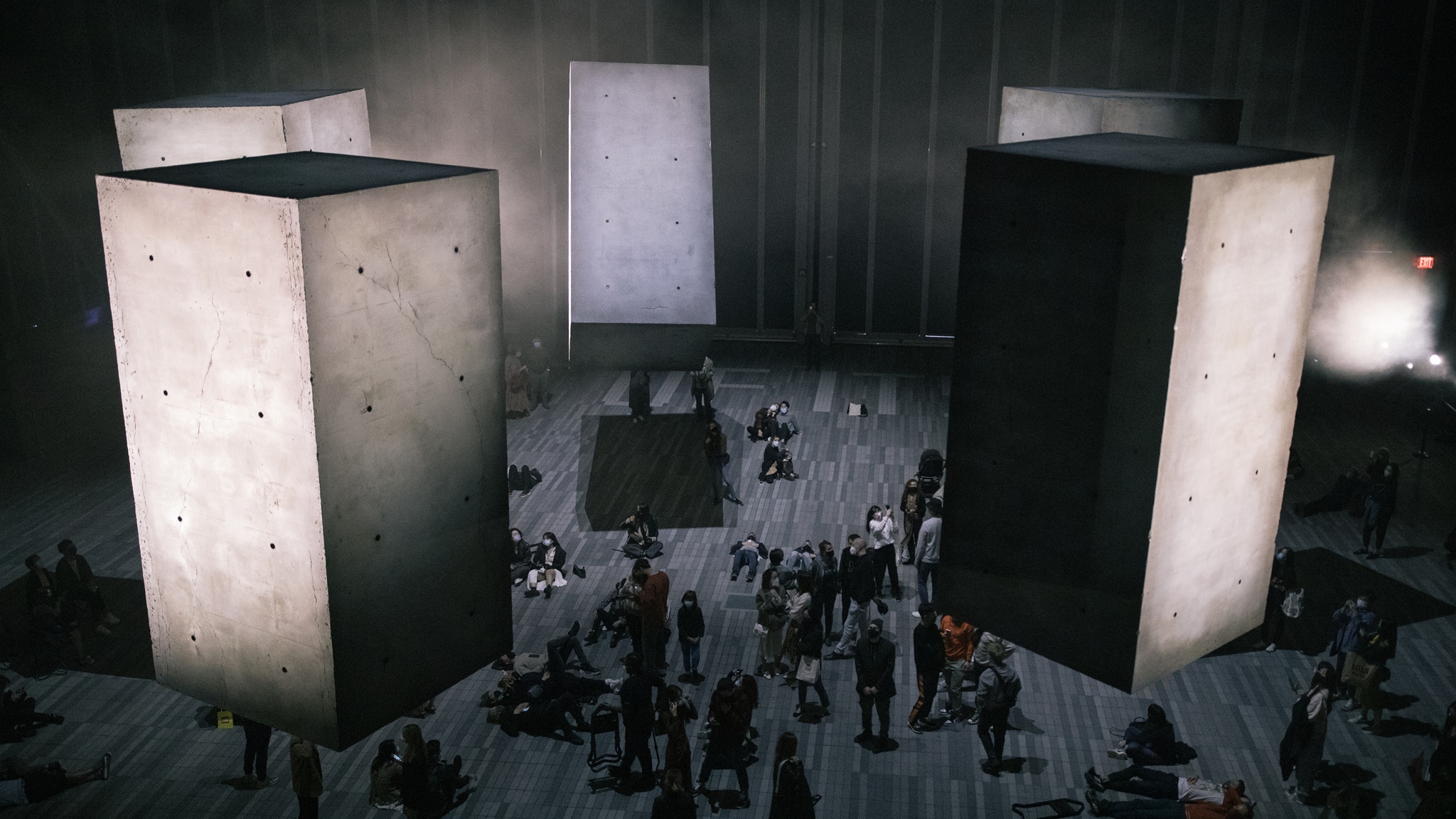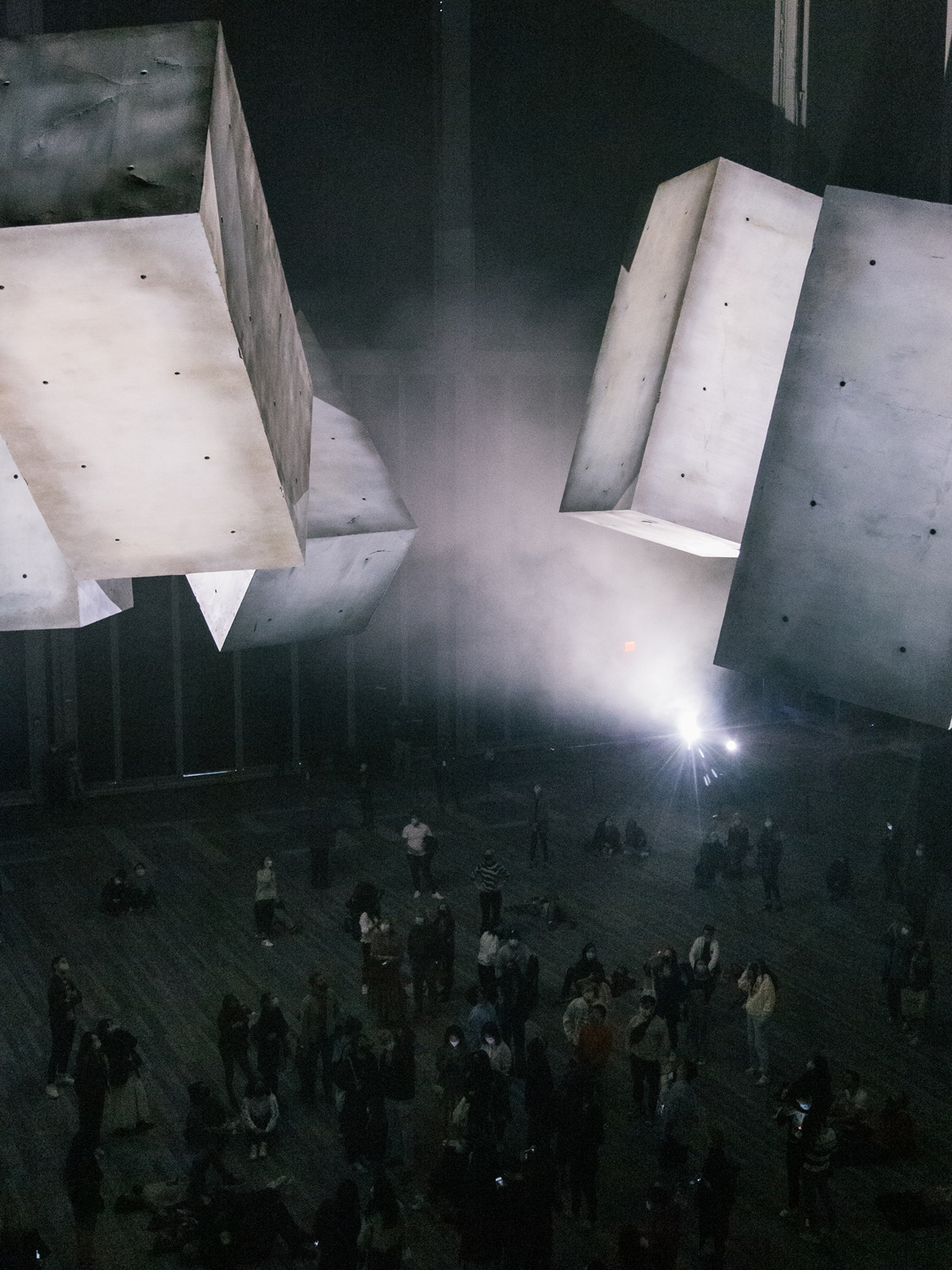 Presented by Superblue and The Shed
An immersive exhibition of kinetic installations and sculptures
About this commission
In Fragile Future, multidisciplinary artists DRIFT transform The Shed with sound, movement, and film. Their experiential installations play on our senses and help us imagine positive, alternative solutions to the problems our planet faces. DRIFT's monumental exhibition and series of special experiences inspire a reconnection to our planet and its natural processes, as well as empathy towards nonliving objects.
Featuring a soundtrack created by ANOHNI, Fragile Future takes audiences on a journey through a series of interconnected installations, exploring the universal desire to seek out connection and the power to be found in relinquishing control when embracing change. Since their early careers, DRIFT's founders Lonneke Gordijn and Ralph Nauta have addressed urgent environmental themes in their work in order to challenge their audiences to think differently about their connections to Earth. The exhibition's installations—from multitudes of shimmering lights that traverse the gallery like glowing seeds caught in the wind to massive concrete blocks, or Drifters, that magically float on air—offer a hopeful atmosphere for imagining a different world.
On select dates, Drifters becomes a surreal immersive experience that spans The Shed's four-story-high, 17,000-square-foot McCourt space. In this unique experience, a congregation of Drifters dances on the air in an ethereal atmosphere, in counterpoint to a soundtrack by ANOHNI.
Fragile Future is presented by Superblue and The Shed. Superblue is the groundbreaking new venture dedicated to producing, presenting, and engaging audiences with experiential art.
The exhibition is organized by Kathleen Forde, Senior Curator, Superblue. It is produced by Max Fishko, Director of Exhibitions, and Raina Mehler, Director of Media Arts, Superblue, and Chris Roberts, Exhibitions Producer, The Shed.

Technology partner Drifter: SkySpirit
Soundtrack by ANOHNI. Additional production by Oneohtrix Point Never and William Baskinski. Sound design by Dan Bora. Additional engineering by Preston Wendel.
ARTISTS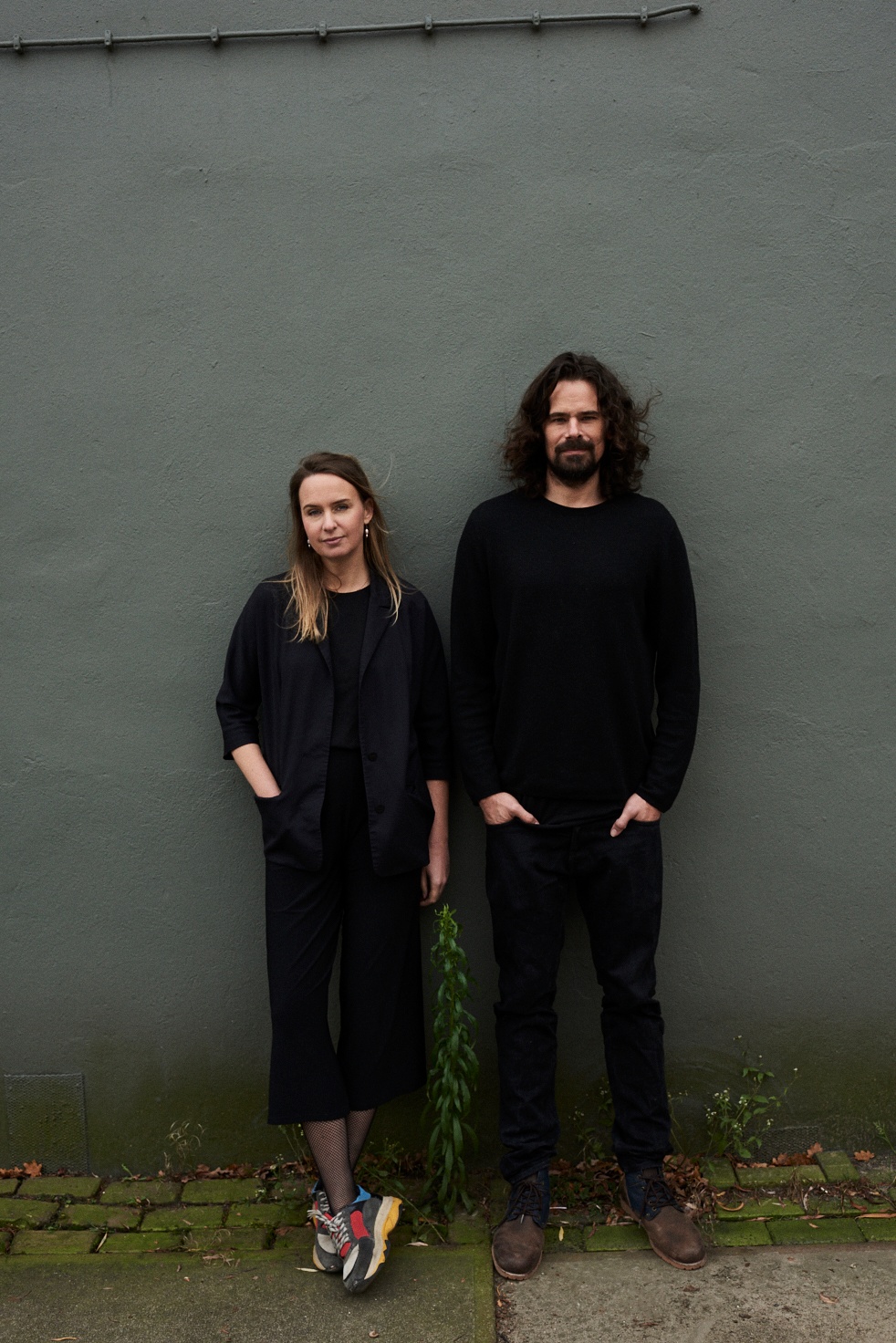 DRIFT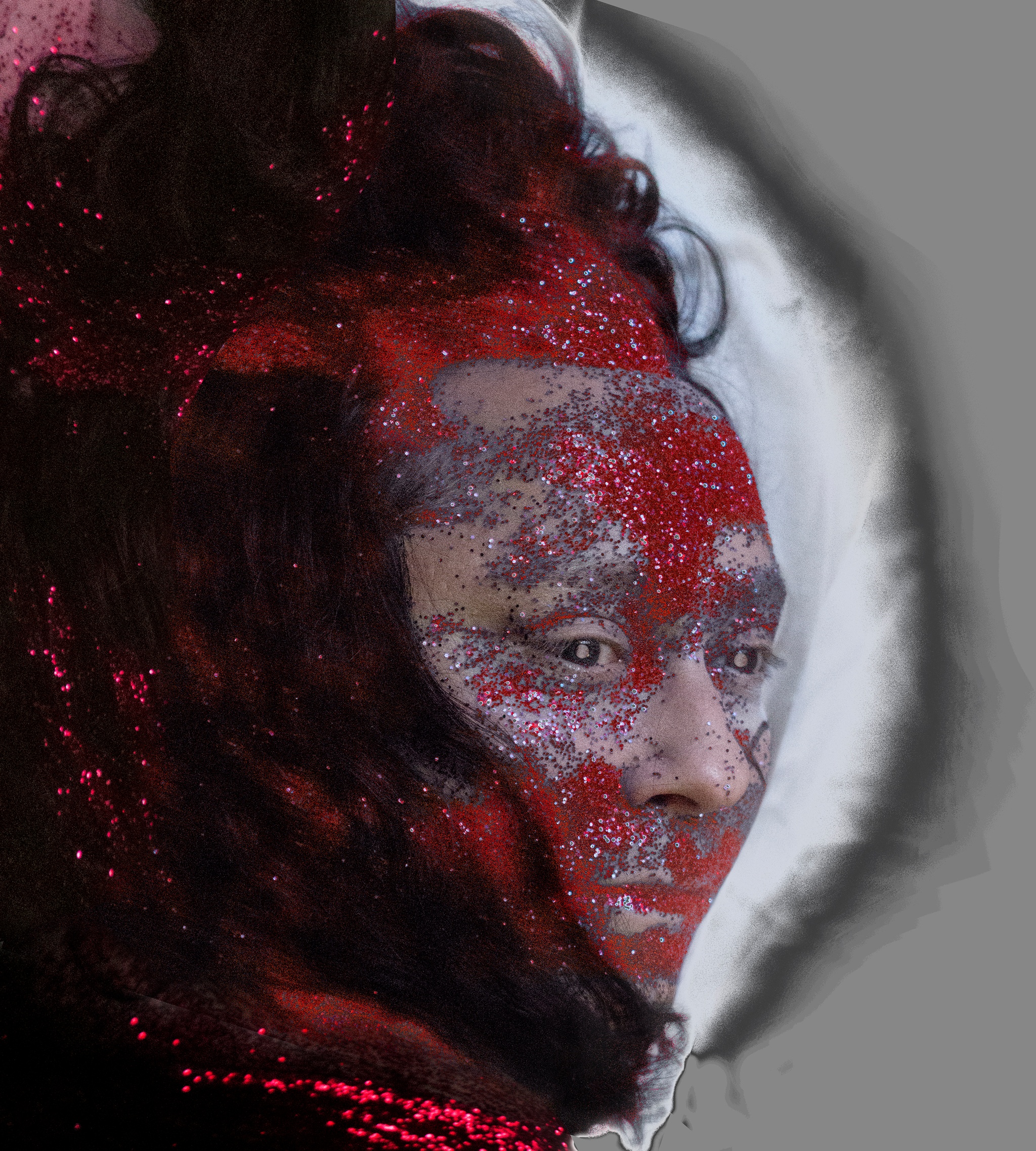 ANOHNI
Dutch artists Lonneke Gordijn and Ralph Nauta have been collaborating as the collective DRIFT since 2007, working with a multidisciplinary team of 64 to create sculptures, installations, and performances that raise fundamental questions about the origins, processes, and meaning of life and that explore positive scenarios for the future. DRIFT manifests the phenomena and hidden properties of nature with the use of technology in order to learn from Earth's underlying mechanisms and to re-establish our connection to it. With both depth and simplicity, DRIFT's artworks illuminate parallels between man-made and natural structures through deconstructive, interactive, and innovative processes.
DRIFT's work is not bound to the parameters of an indoor gallery space. Their award-winning aerial drone ballet Franchise Freedom was shown at Art Basel Miami 2017, Burning Man 2018, and for NASA (2019). DRIFT has realized numerous exhibitions and projects around the world. Their work has been exhibited at Stedelijk Museum (2018); Amos Rex Helsinki (2019); Mint Museum (2019); Victoria and Albert Museum (2009, 2015); the Metropolitan Museum of Art (2010); UTA Artist Space (2019); Garage Museum (2019); Biennale di Venezia (2015); and Pace Gallery (2017), amongst others. Their work is held in the permanent collections of LACMA (USA), Atlanta's High Museum of Art (USA), Victoria and Albert Museum London (UK), Rockefeller Center (USA), Rijksmuseum Amsterdam (NL), Stedelijk Museum Amsterdam (NL), San Francisco's MOMA (USA), the Carnegie Museum in Pittsburgh (USA), the Museum of Fine Arts, Houston (USA), and Museum Voorlinden (NL).
ANOHNI is an artist, director, and musician. Across mediums, she has asked, "What Is Really Happening?" In 2019 she staged She Who Saw Beautiful Things, an exhibition and theater work in honor of her collaborator Dr. Julia Yasuda, at the Kitchen in NYC. ANOHNI has performed with symphonies and in opera houses around the world; she was nominated for an Academy Award in 2016 for "Manta Ray." MoMA presented Swanlights at Radio City Music Hall in 2012; in 2016 ANOHNI staged HOPELESSNESS at the Park Avenue Armory in collaboration with Hudson Mohawk and Daniel Lopatin. She first performed at the Pyramid Club in New York City as a young person and, 13 years later, was awarded the UK's Mercury Prize for her album I Am a Bird Now in 2005. In response to that moment of broader visibility, in 2006, ANOHNI mounted a tour of Europe in collaboration with Charles Atlas and 13 subcultural and/or trans and queer women from NYC, entitled TURNING. She first founded her performance group The Johnsons in 1995, in honor of Street Transvestite Action Revolutionary Marsha P. Johnson.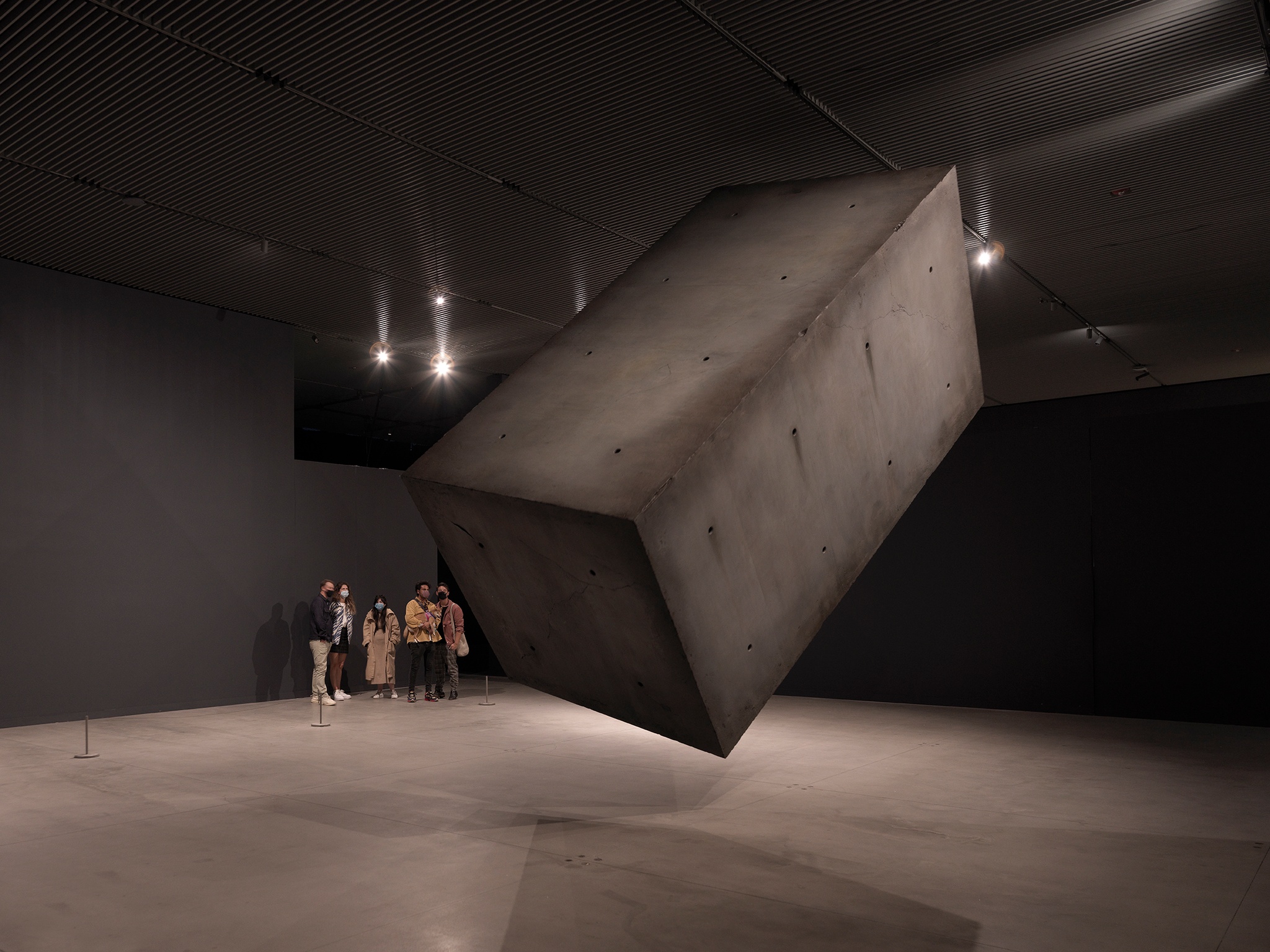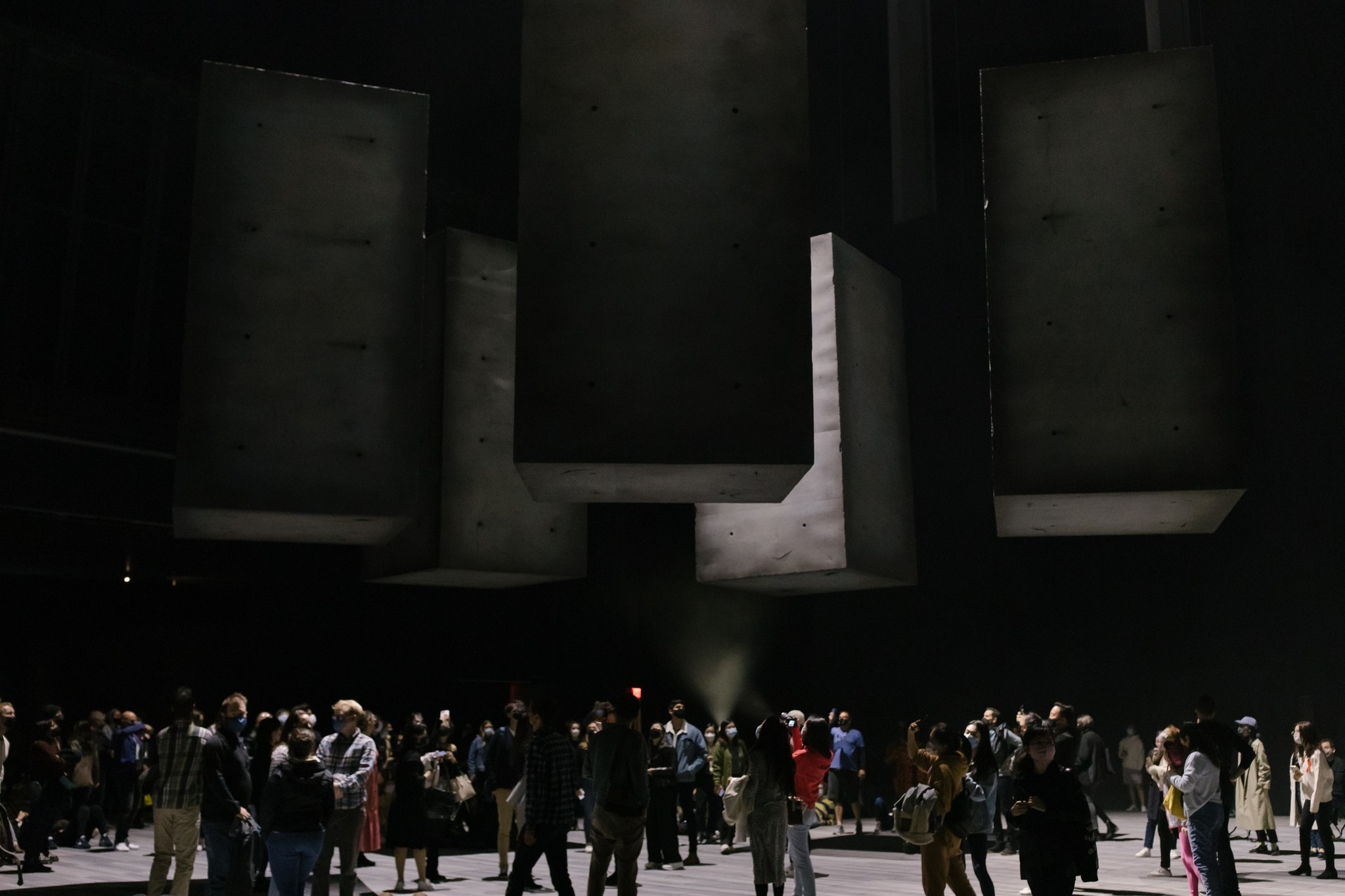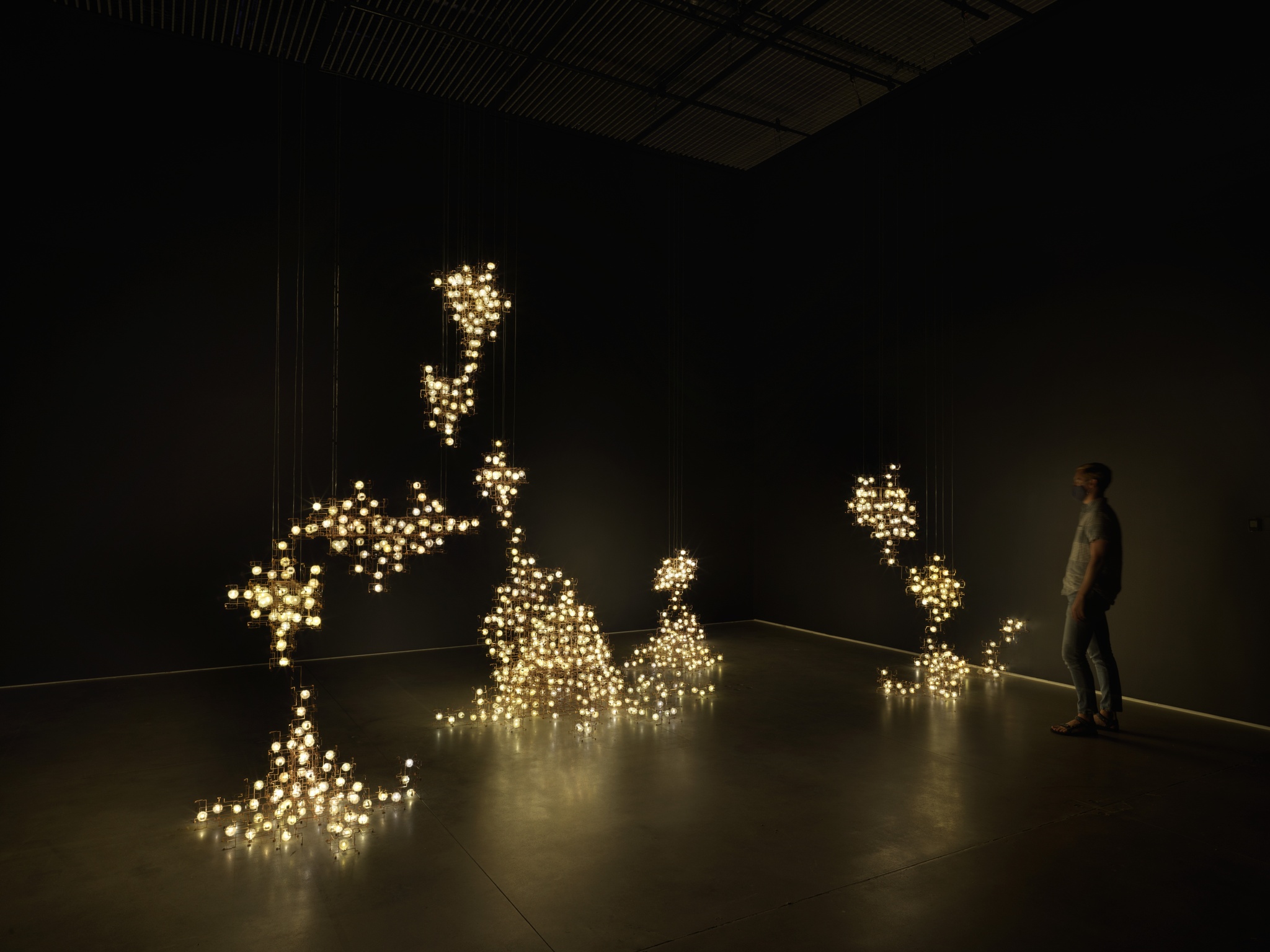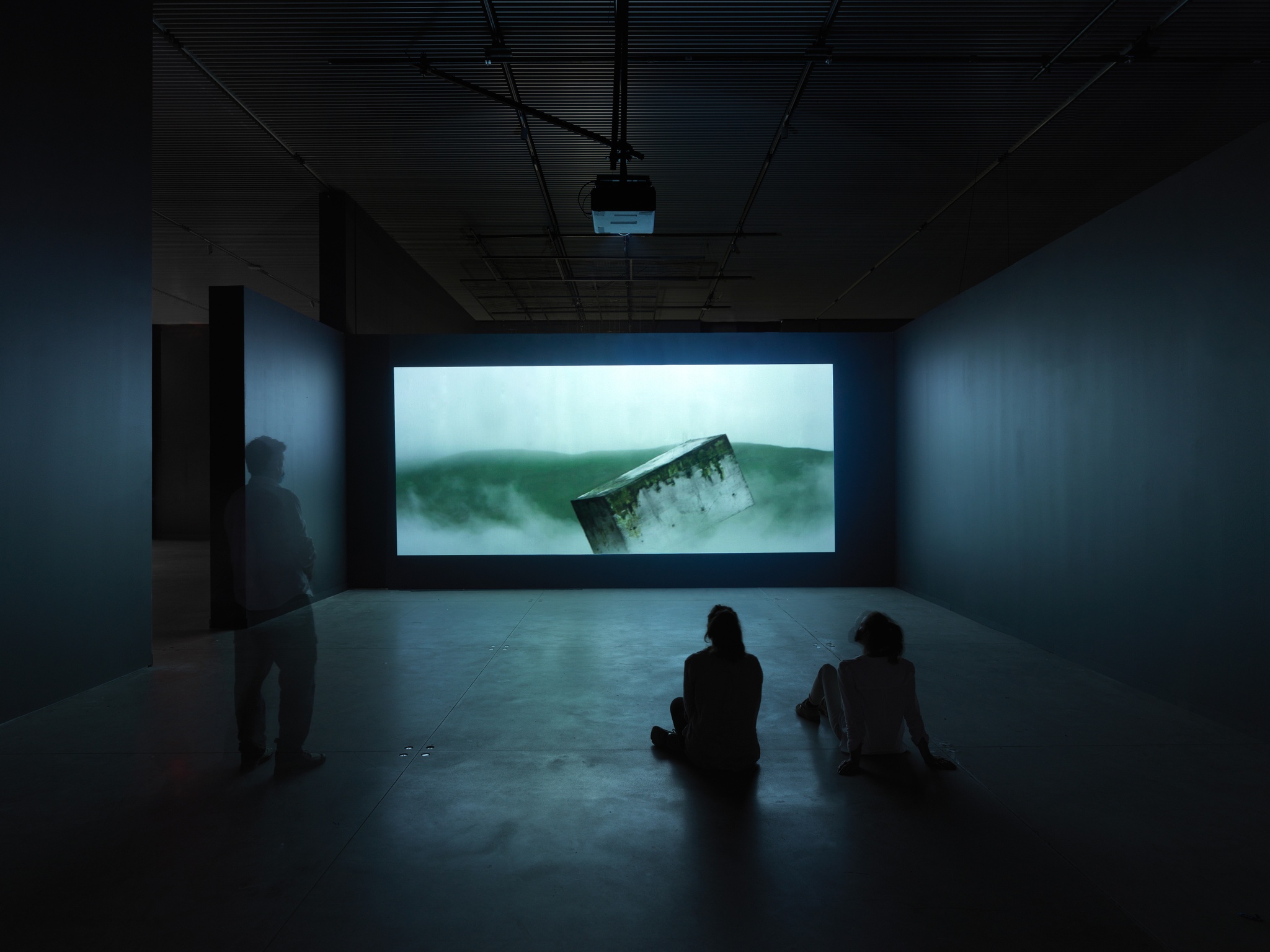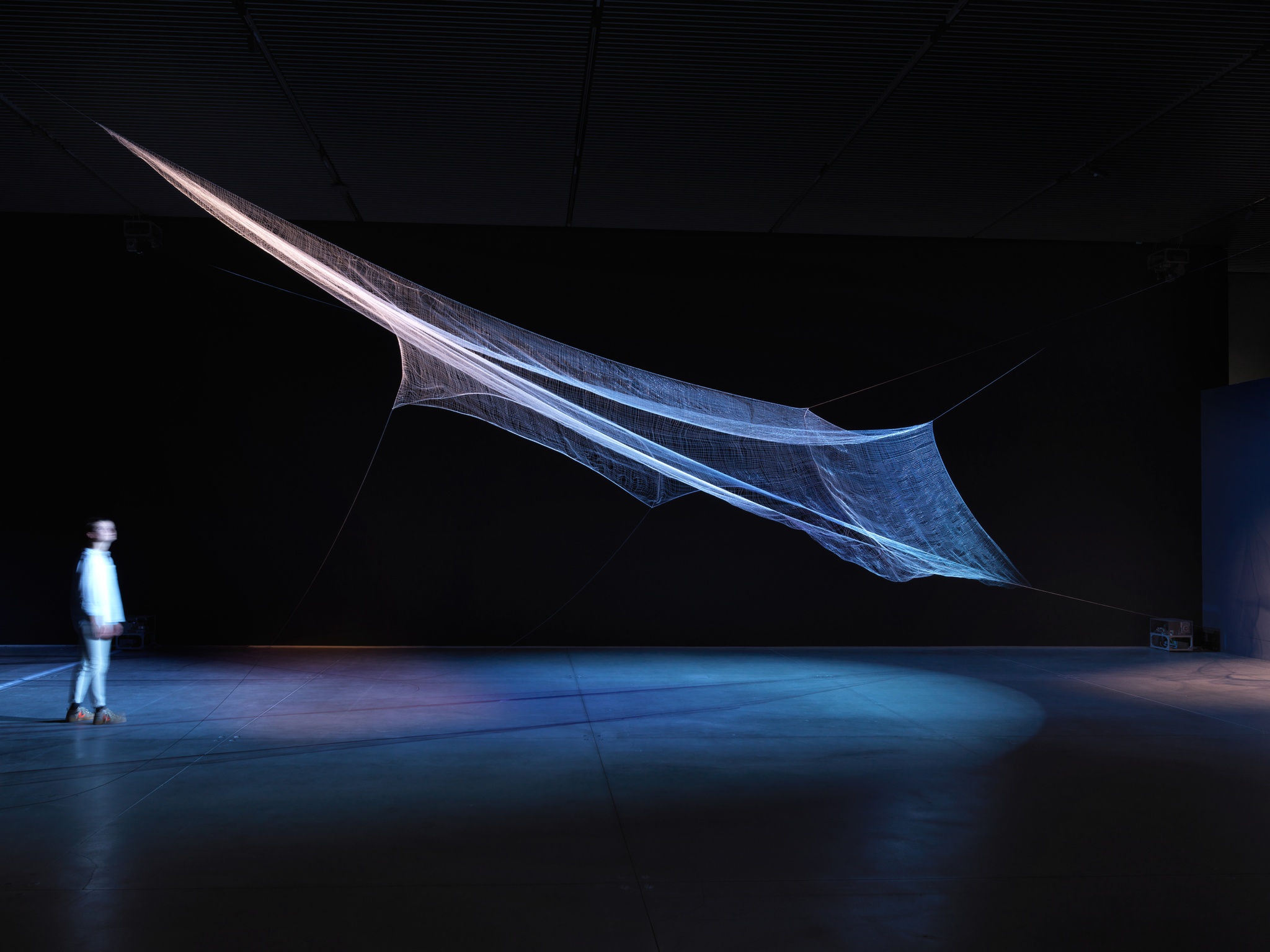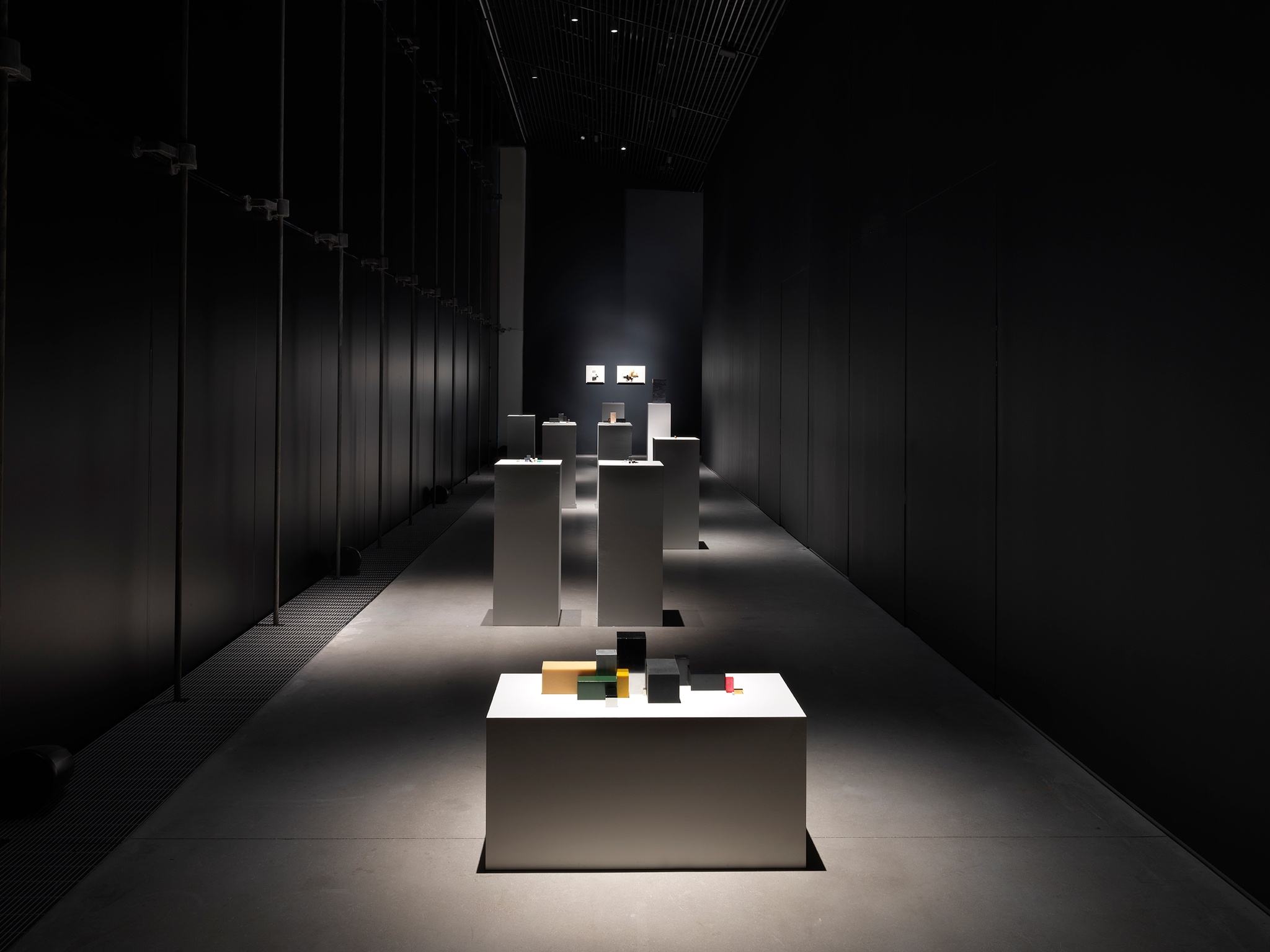 Read More about the Exhibition
In Fragile Future, multidisciplinary duo DRIFT presents an ecosystem of kinetic installations, film, and sound that together compel us to imagine alternative conditions for a positive future. With a soundtrack by ANOHNI, Fragile Future takes visitors on a choreographed journey through a series of interconnected artworks exploring the universal desire to seek out purpose and connection, as well as the power to be found in embracing change. The exhibition and its related series of special experiences (on select dates in The McCourt) build on DRIFT's past works in which founders Lonneke Gordijn (b. 1980, Alkmaar, the Netherlands) and Ralph Nauta (b. 1978, Swindon, United Kingdom) explore our connection to our planet and its natural processes.
The works illuminate parallels between natural and human behaviors, blurring the boundaries that define what are normally contrasting or opposed conditions—not just man versus nature, but order versus freedom. Visitors first encounter Fragile Future, the namesake of the exhibition, a sculpture which consists of bronze electrical circuits connected to light-emitting dandelions, wherein two seemingly opposite entities have made a pact to survive. In Coded Coincidence, a dance of shimmering beaded lights move as a group or break away to freely follow their own trajectory. The pattern of these illuminated beads is based on the springtime flight of elm seeds, which travel by the random forces of wind. Coded Coincidence flows into Ego, a large block made of hair-thin threads suspended in midair. The block continuously alters its shape as though it is responding to varying emotional states, from a seemingly inflexible and imposing rectangle to a vulnerable and yielding presence. A film presentation then offers a portal to another world. Here, a group of heavy concrete blocks, or Drifters, navigate both familiar and imagined environments, magically floating through lush nature and dystopian urban settings in search of a collective but yet unknown destination.
The exhibition culminates in a transition from the digital to the physical realm, as a monumental concrete monolith appears in the gallery, weightless and hopeful. On select dates, the exhibition opens up into a surreal immersive experience that spans The Shed's four-story-high, 17,000-square-foot McCourt space. In this unique experience, a congregation of Drifters dances on the air in an ethereal atmosphere, in counterpoint to a soundtrack by ANOHNI.
Schedule and Tickets
Tickets for visits through December 19 are now available.
Tickets to both the exhibition and exhibition + Drifters performance include admission to Ian Cheng: Life After BOB.
Exhibition
Wednesday, Thursday, and Sunday: 11 am – 6 pm
Friday and Saturday: 11 am – 8 pm
Adults: $25
Seniors/students: $18
Shed members and children/teens (18 and under): Free
Exhibition + Drifters Experience
October 9 – 10, 15 – 17, 22 – 24, 29 – 31
November 3 – 7, 12 – 14, 19 – 21, 26 – 28
December 3 – 5, 12, 17 – 19
(additional dates to be announced)
Friday and Saturday: 11 am – 8 pm
Sunday: 11 am – 6 pm
Adults: Tickets starting at $35
Seniors/students: $28
Shed members and children/teens (18 and under): $10
Special Activations Dance Companies (December 10 and 11)
Company Wo. is a nonprofit arts organization consisting of dancers, performers, artists, musicians, designers, and developers. They work with Artistic Director Daniel Kersh to create and present immersive performances in gallery, site-specific, and non-traditional spaces. In addition to realizing new works, the company collaborates with galleries, museums, artists, and architects to activate pre-existing spaces and further engage their audiences. The company provides a platform for artists to openly engage with new ideas and further artistic and intellectual exchanges all over the world.
Participating dancers: Daniel Kersh, Marcella Ann Lewis, Erika Choe, Jordan Demetrius Lloyd, Myssi Robinson
Project-TAG examines an intersectional understanding of ethnicity, religion, class, and gender with international dance performances emerging from a multiformity of background and identity. Representing seven countries, members explore narrative in movement with artistic director Mizuho Kappa. Project-TAG's work recognizes the voices of historically excluded communities through an inspiring discourse of "how to commune." Project-TAG was established during the onset of the pandemic by Hussein Smko, a Kurdish Iraqi dancer and choreographer who endeavors to challenge perceptions across social stereotypes.
Participating dancer: Mizuho Kappa
Limón Dance Company is at the vanguard of American modern dance and is acclaimed for its dramatic expression, technical mastery, and expansive, yet nuanced movement. The Company's repertory, which includes classic works in addition to new commissions from contemporary choreographers, possesses an unparalleled breadth and creates unique experiences for audiences around the world. Founded in 1946 by José Limón and Doris Humphrey, the Company illustrates the timelessness of José Limón's work and vision.
Participating dancer: Jessica Gambelluri
Battery Dance pushes the boundaries of what dance can be in the world, as a cultural ambassador in 70 countries around the world, presenter of New York City's longest running public dance festival, and leader in the field of arts education, and frequent collaborator with artists across all disciplines. Battery's repertoire reveals a wide thematic and stylistic range, with performances characterized by choreography and music inspired by worldwide sources, reflecting American society and its multiplicity of cultures. Battery was established over 40 years ago.
Participating dancers: Durgesh Gangani, Jillian Linkowski, Razvan Stoian, Randall Riley, Sarah Housepian, Vivake Khamsingsavath
Accessibility
The Shed's Level 2 Gallery is wheelchair accessible. Assistive listening will be available on your smartphone over The Shed's free Wi-Fi network via the free Listen Everywhere app. Devices will be available for you to borrow at the ticketing desk if you do not want to use your own smartphone.
Download the Listen Everywhere app before you arrive.
For any other questions or requests, please call (646) 455-3494 or email info@theshed.org.
Location
This event takes place in Level 2 Gallery and The McCourt.
Thank you to our partner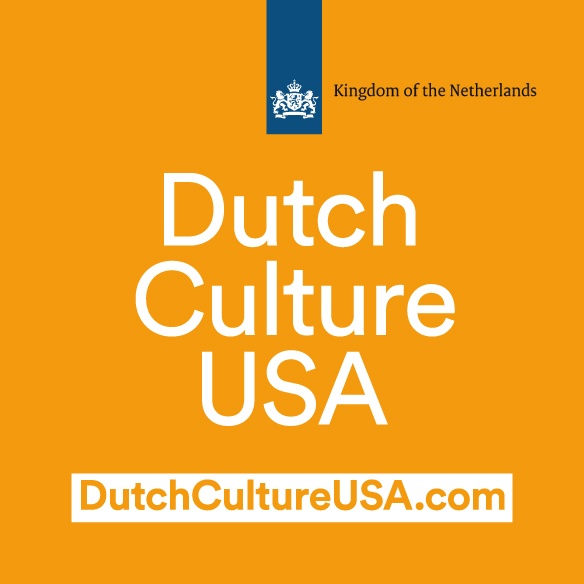 This program is supported as part of the Dutch Culture USA program by the Consulate General of the Netherlands in New York.
The creation of new work at The Shed is generously supported by the Lizzie and Jonathan Tisch Commissioning Fund and the Shed Commissioners.



The Shed is connected by