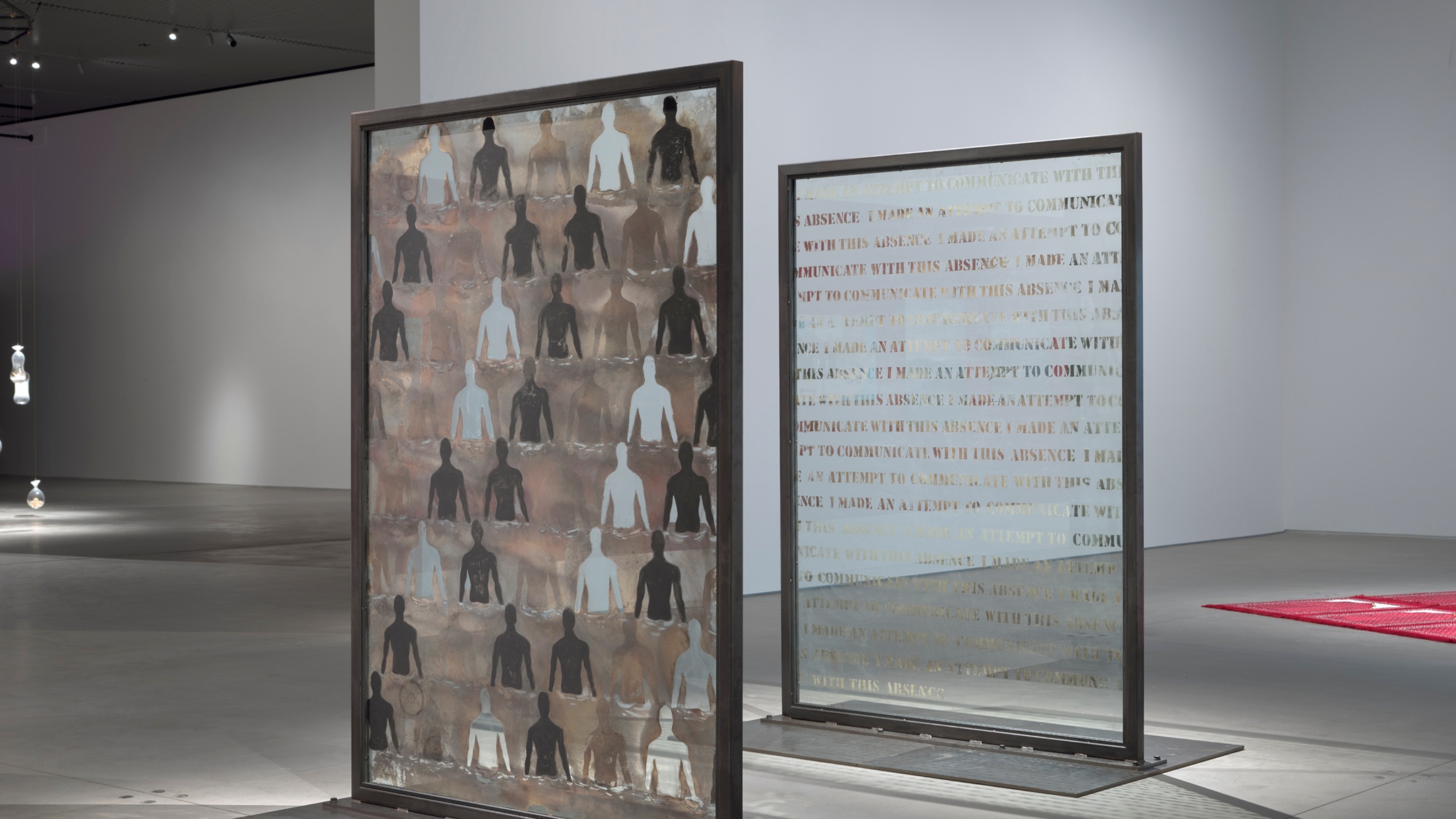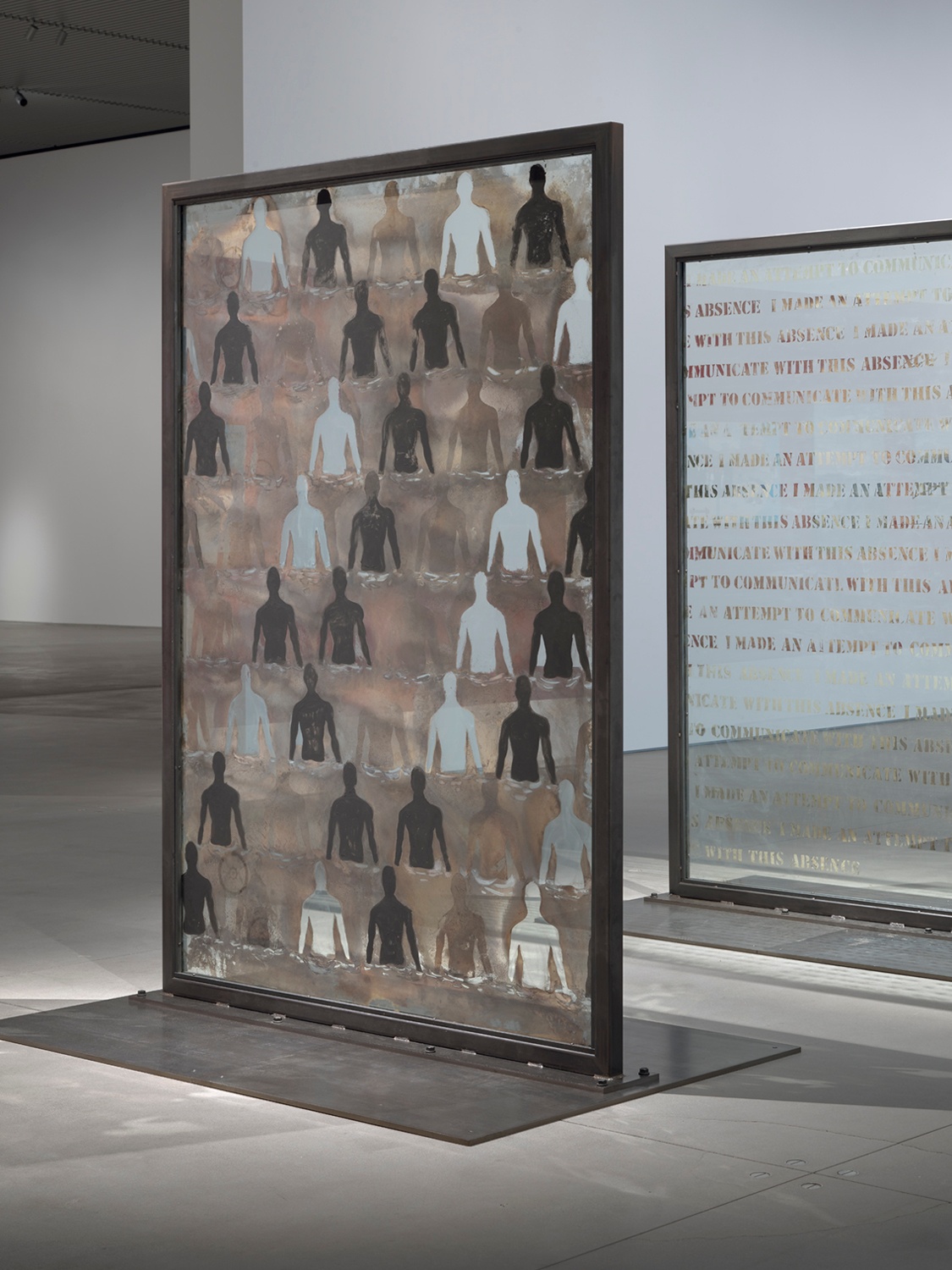 A meditative installation of mirrored and painted glass panels alluding to the history of transatlantic migration
About this commission
Passages is an installation of freestanding, parallel glass panels arranged to form a pathway that viewers walk through. Each panel bears stenciled forms, some treated with fluid silver to create a mirror-like finish, creating an interplay of opaque, mirrored, and transparent surfaces. An accompanying panel includes text that is appropriated from Caribbean philosopher Édouard Glissant applied in silver, which reads, "I made an attempt to communicate with this absence." In this meditative and contemplative space of reflections and visual echoes, the text and stenciled images allude to the history of migrations across the Atlantic Ocean and the permeation of presence by absence that postcolonial bodies navigate daily as a consequence of this history. Fluid as the ocean, the play of presence and absence in the fleeting mirror reflections in this work compels the viewer to actively engage with the space, the text, and the images.
More about the Artist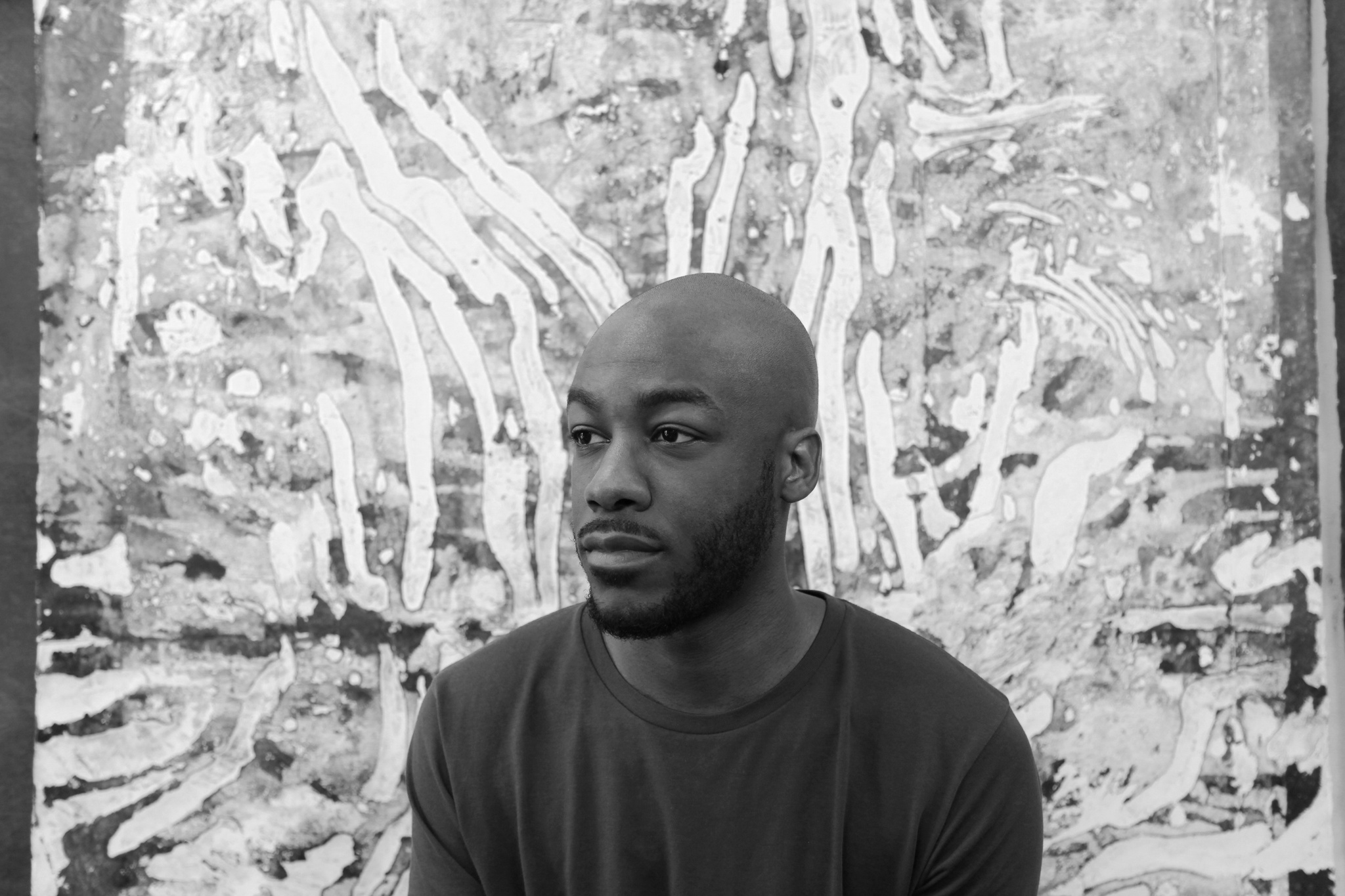 Tajh Rust
Tajh Rust is a visual artist based in New York and New Haven and a 2019 MFA graduate of the School of Art at Yale University. Rust received his bachelor's degree in painting and film from the Cooper Union for the Advancement of Science and Art in New York City, and he was in the inaugural group of artists participating in the Black Rock Senegal artist residency in 2019. Since 2016, Rust has been included in exhibitions such as Familiar Boundaries. Infinite Possibilities at the August Wilson African American Cultural Center in Pittsburgh (2018), the Winterfly Benefit at the Museum of Contemporary African Diasporan Arts (MoCADA) in Brooklyn (2017), Speak Out at the Bronx Art Space (2016), Giving Up the Ghost: Artifacts/A Study of Power and Solidarity Against White Violence in Modernity at Rush Arts Philadelphia (2018), and Vernacular Interior at Hales Gallery in New York (2019).
Open Call
Read more about "Open Call "
All details for "Open Call "
Thank you to our partners

The Lead Sponsor of Open Call is

Support for Open Call is generously provided by






Additional support for Open Call is provided by Jody and John Arnhold | Arnhold Foundation.
The creation of new work at The Shed is generously supported by the Lizzie and Jonathan Tisch Commissioning Fund and the Shed Commissioners. Major support for live productions at The Shed is provided by the Charina Endowment Fund.