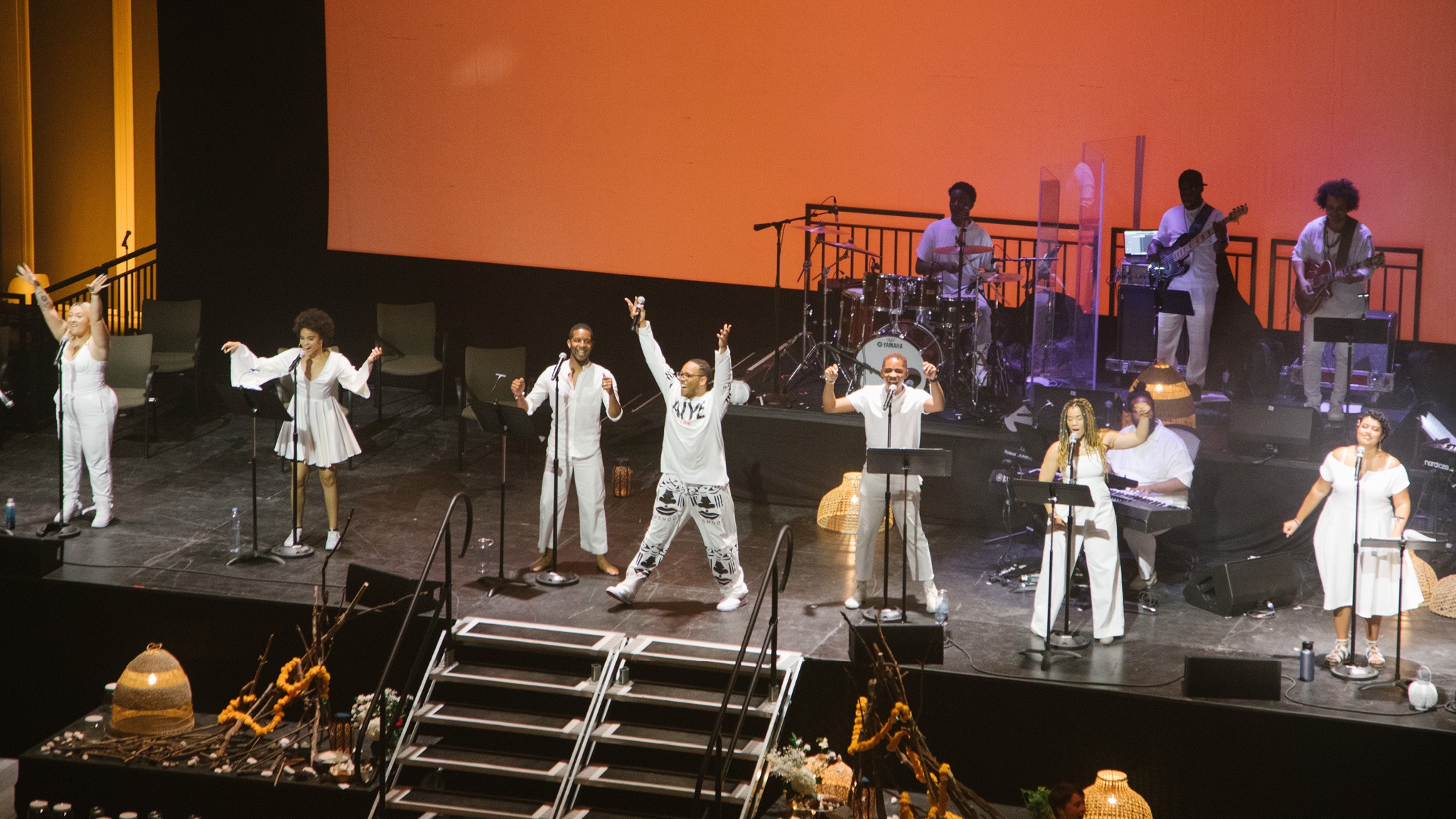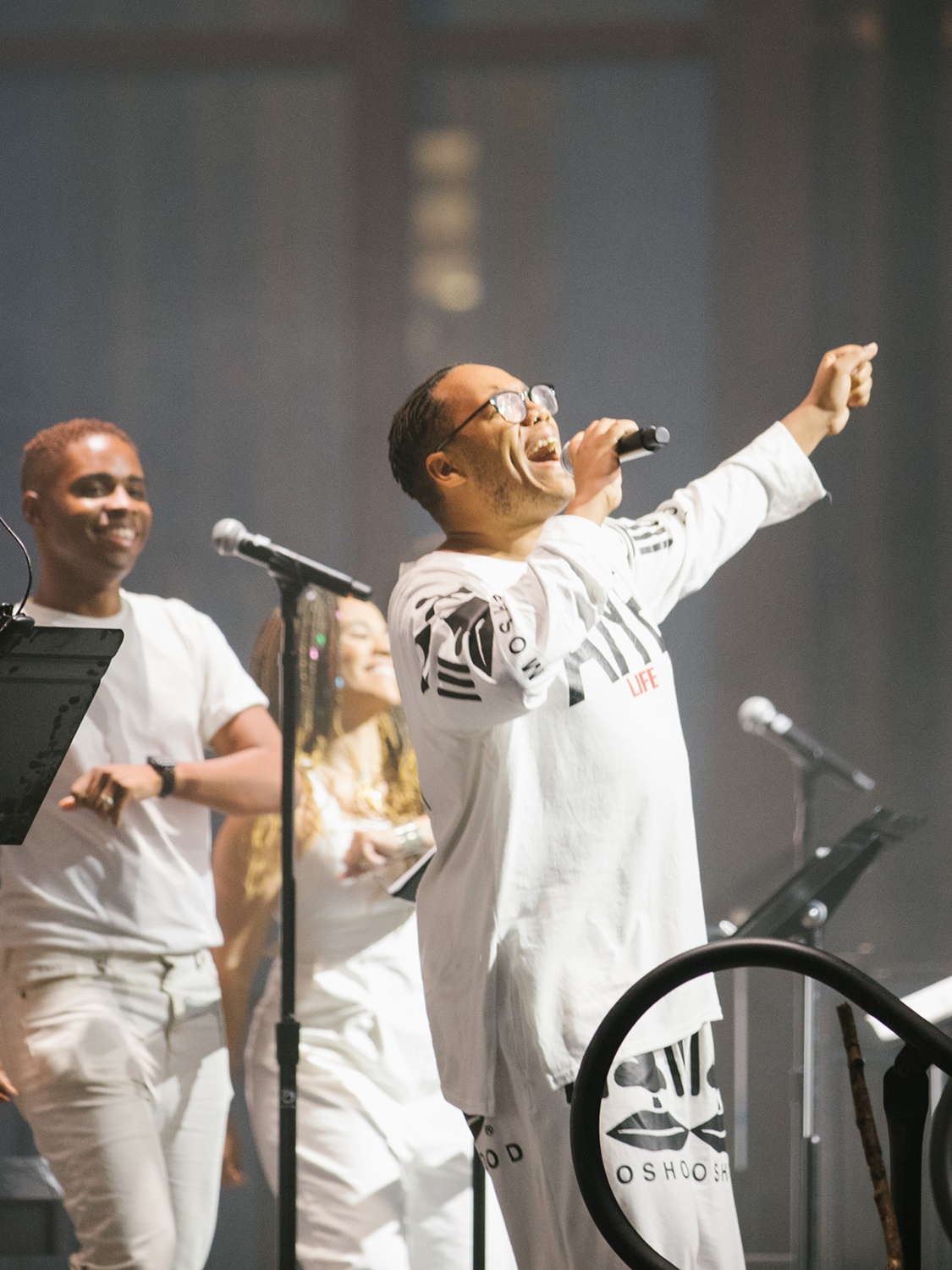 A revival for personal and collective liberation in celebration of Juneteenth
About this commission
Troy Anthony's The Revival: It Is Our Duty is not a performance; it is a service. Designed to meet people in their sorrow, revivals offer a path to salvation and joy. With a stirring community choir and band, this revival is a musical event featuring powerful, grounding, original songs written by Anthony and performed through ritual to activate individual and collective liberation in celebration of Juneteenth.
A note from the artist:
In this revival we will honor the legacy of our Black ancestors who liberated themselves from enslavement and forged their own path to freedom. This is a space for anger and rage. This is a space for grief. This is a space for you to sit and be reminded that we have access to the strength and radical joy necessary to make it through this moment. The Revival won't take away pain; it is a manifesto of community power that will shake us, and help us see each other in new ways. It will ask us to commit ourselves to the collective path forward. We will sing. We will shout. We will dance. We will rise together. We will be changed.
Credits
The Revival: It Is Our Duty
Created and Directed By Troy Anthony
Troy Anthony, Creator and Director
Bryan Joseph Lee, Producer
Matt Joslyn, Producer
Rachel Denise April, Production Stage Manager
Nia Blizzard, Associate Producer
Ashton Muñiz, Associate Producer
Brisa Areli Muñoz, Associate Director
Daisy Long, Lighting Designer
You-Shin Chen, Space Designer
Ava Tiye, Dramaturg
Baba OluDaré, Dramaturg
Sterling Overshown, Associate Music Director
Jon Thomas, Organist
DeVaughn Denegall, Bass Guitarist
Jai Wright, Drummer
CisXo D'Ferreiro, Guitarist
Core Ministers: Genesis Collado, Alysha Deslorieux, Manny Dunn, Natalie Louis-Charles, Chelsea Stone, Josh Walker
Ministers: Jai Mohan, Aury Krebs, Yolanda Brown, Tamara Williams, Matthew Corbin, Hannah Schenk, Mary Rose Go, Olivia Murphy, Kenzi James, John Lesley Morton, Michelle Brandt, Janette Martinez, Xiaoxiao Sun, Veda Kumarjiguda, Linda La, Sarah Edkins, Valarie Morris-Franklin, Niama Sandy, Madeline Ramos-Avenancio, Ryan Hill, Seth McMillan, Evan Duff, Dominique Duarte
Itohan Edoloyi, Lighting Design Coordinator
DJ Potts, Audio Design Coordinator
Erica Schnitzer, Stage Coordinator
Stefan Carrillo, Head Carpenter – McCourt
Stuart Burgess, Head Electrician – McCourt
Jim Van Bergen, Head Audio – McCourt
Adam Farquharson, Production Video
Maytté Martinez, Lighting Programmer
Mike Diaz, Assistant Carpenter
Josh Liebert, A1
David Paupaw, A2
Jarrett Krauss, Monitor Engineer
Special thanks to Daniella Topol, Rattlestick Theater, Mei Ann Teo, Aaron Sally, Musical Theater Factory, Hi-Arts, and National Black Theater.
Creative Team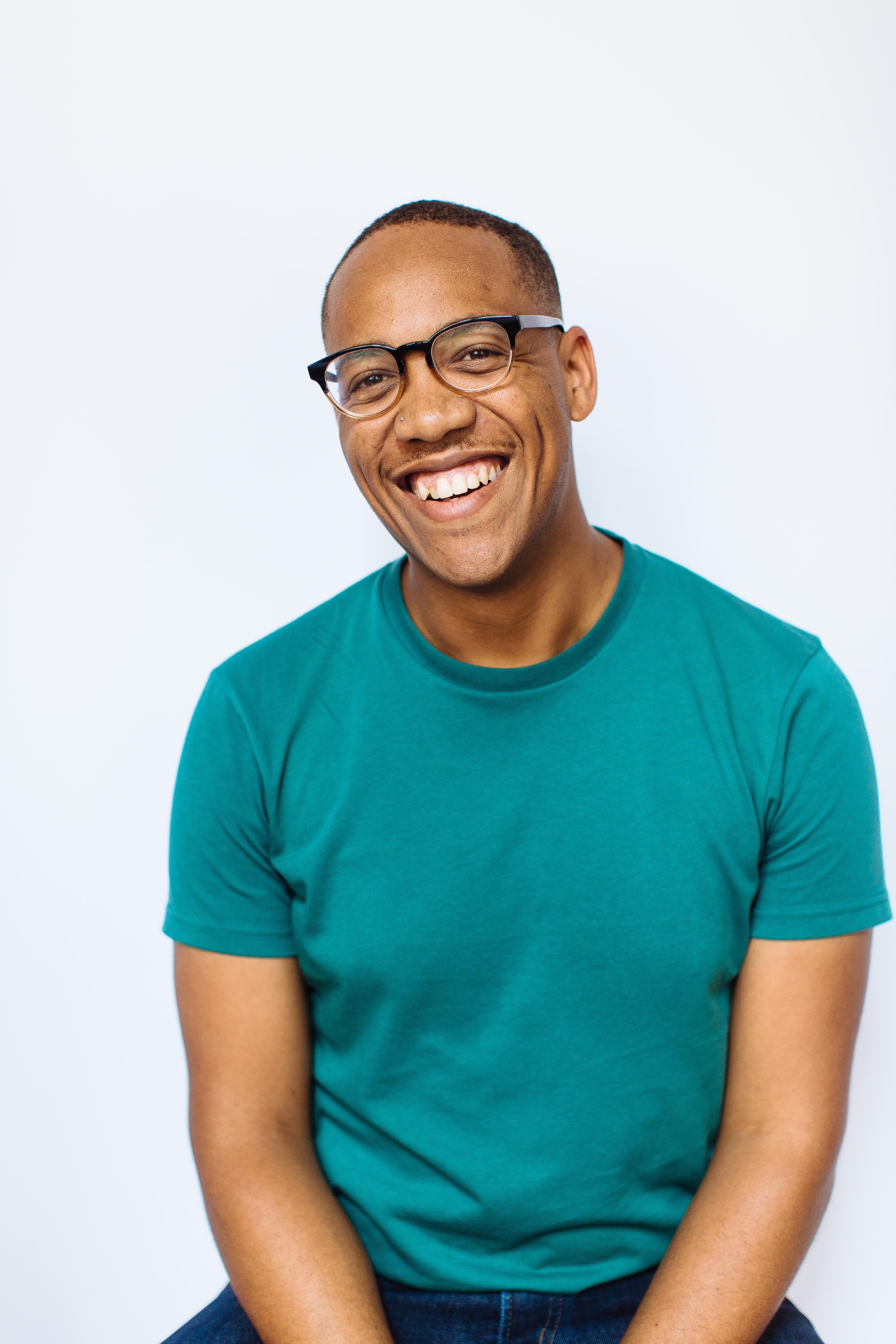 Troy Anthony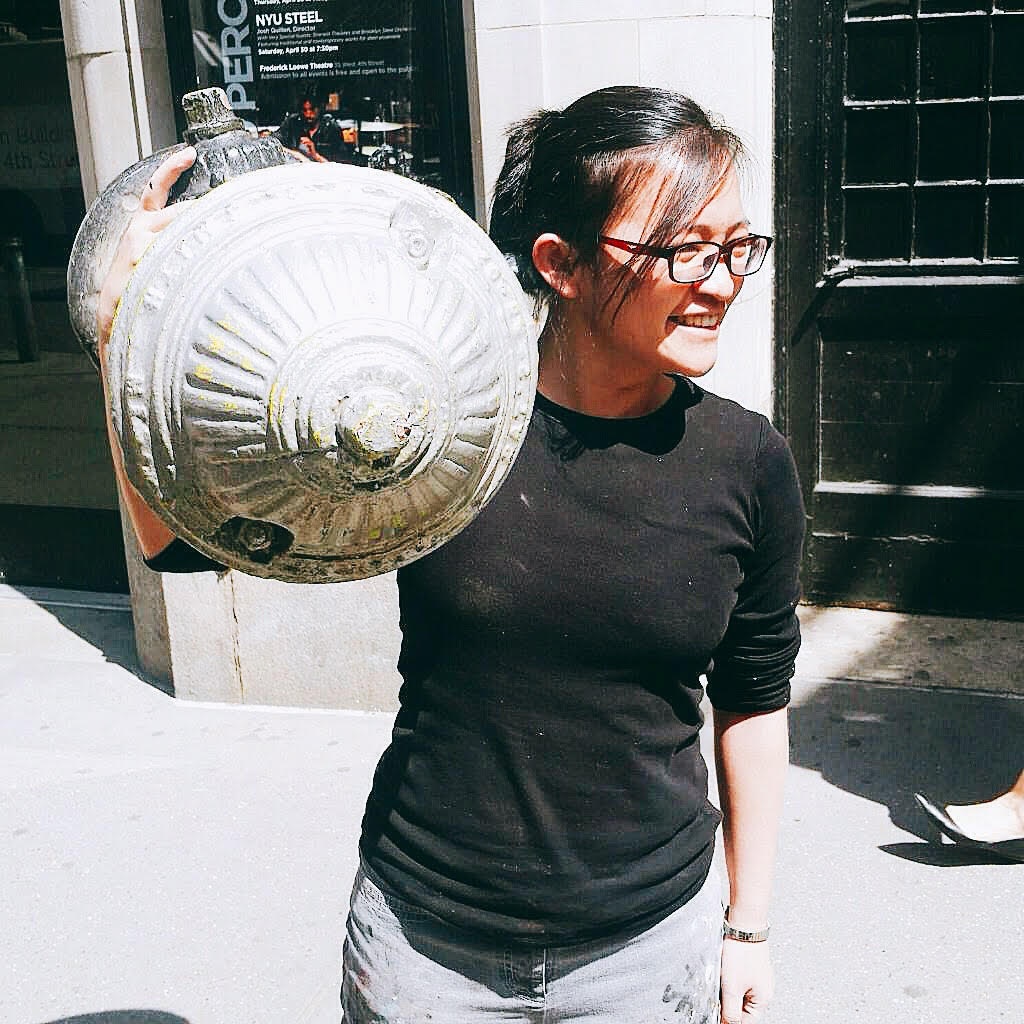 You-Shin Chen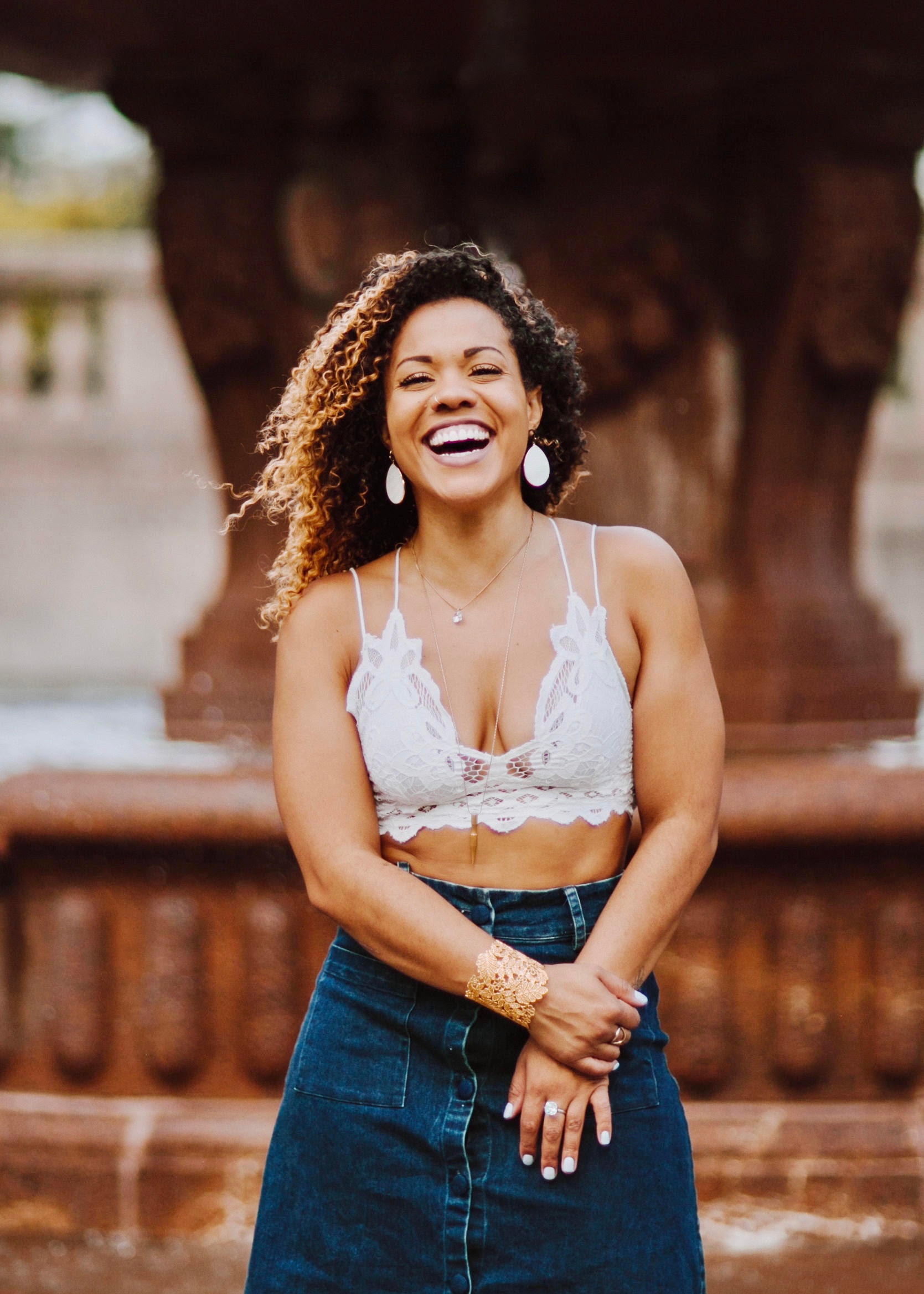 Alysha Deslorieux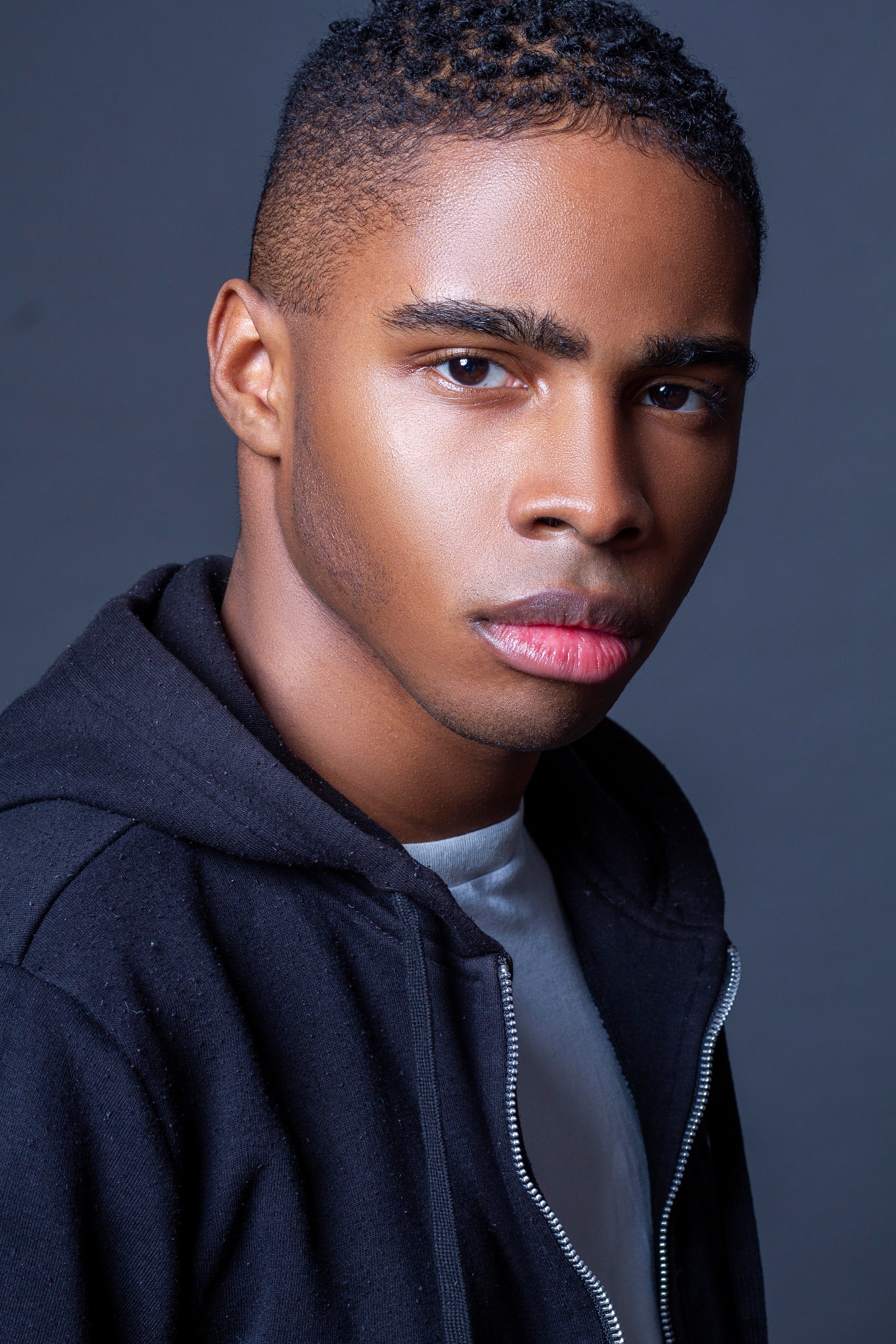 Manny Dunn
Ava Tiye Kinsey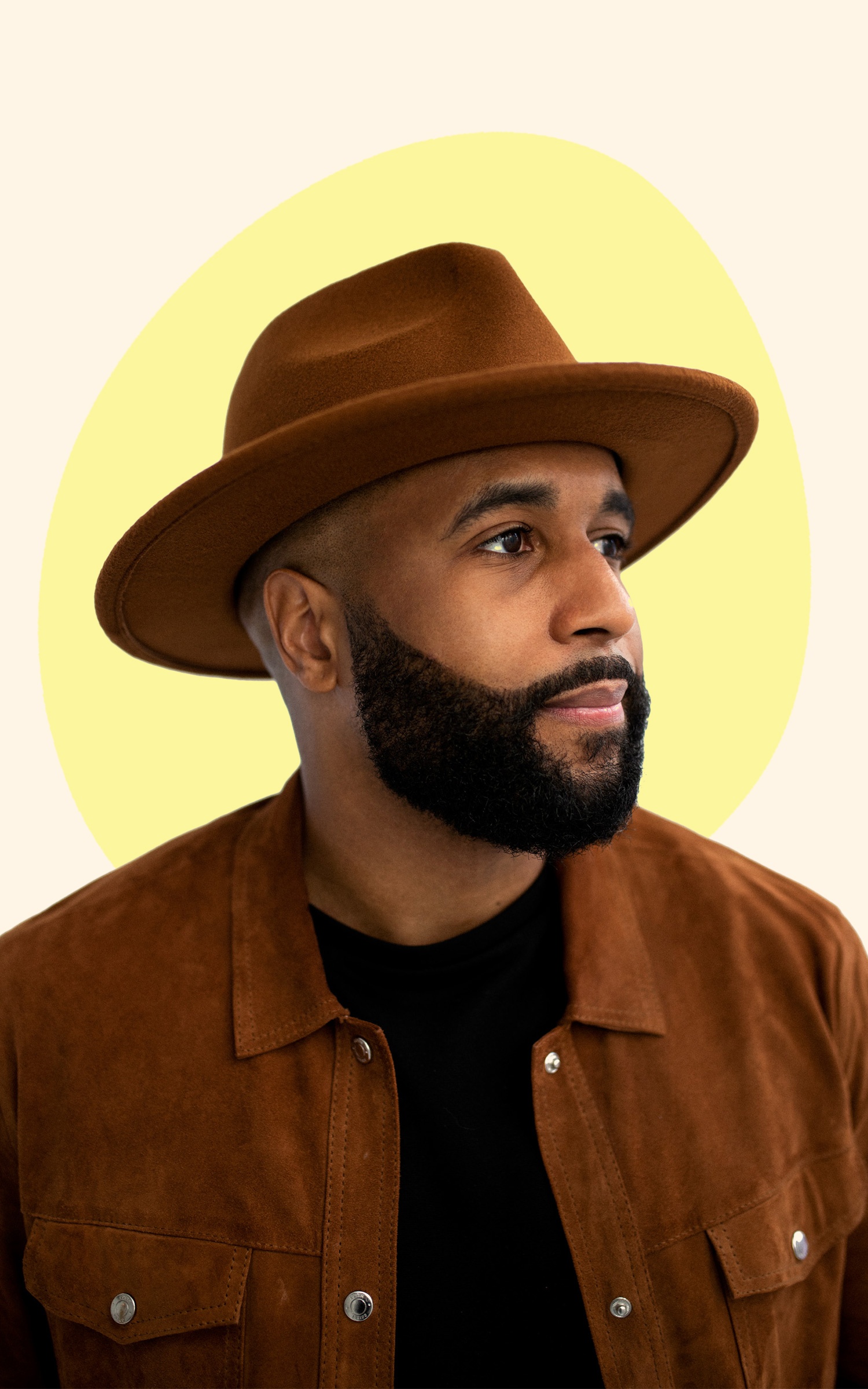 Bryan Joseph Lee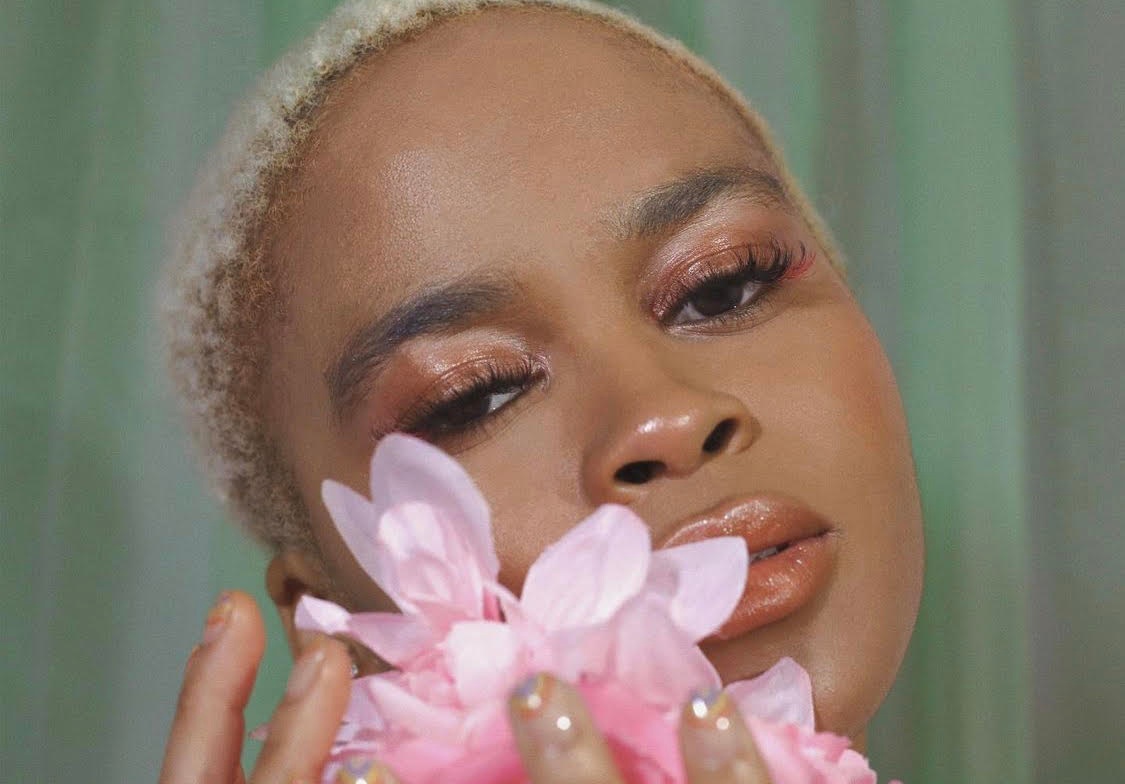 Natalie Louis-Charles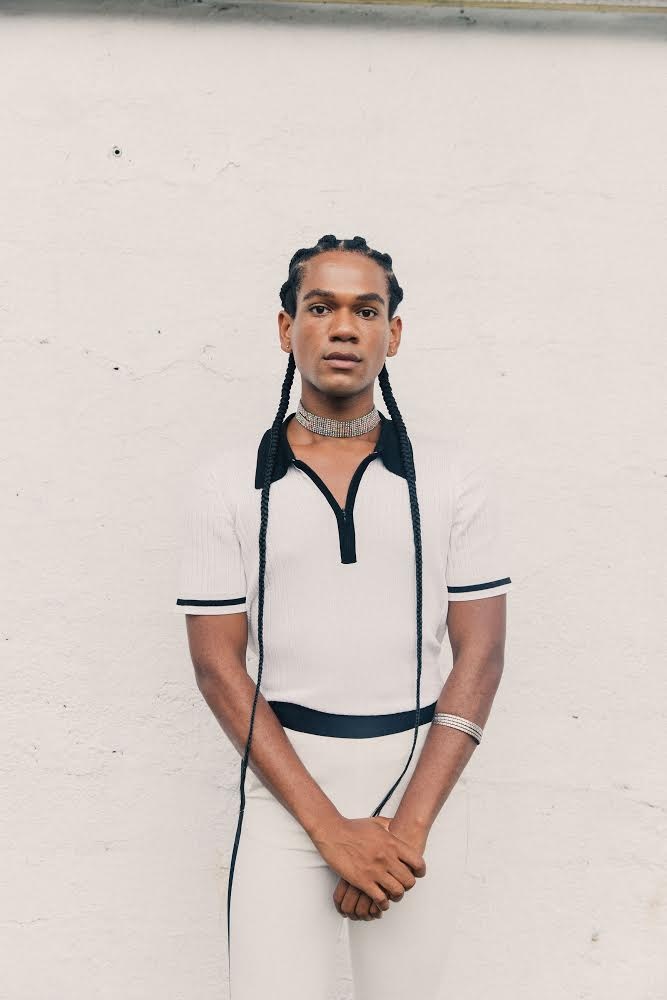 Ashton Muñiz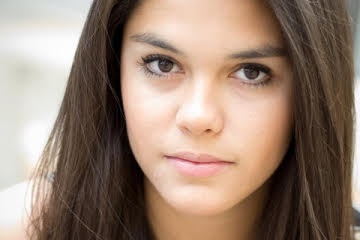 Brisa Areli Muñoz
Baba OluDaré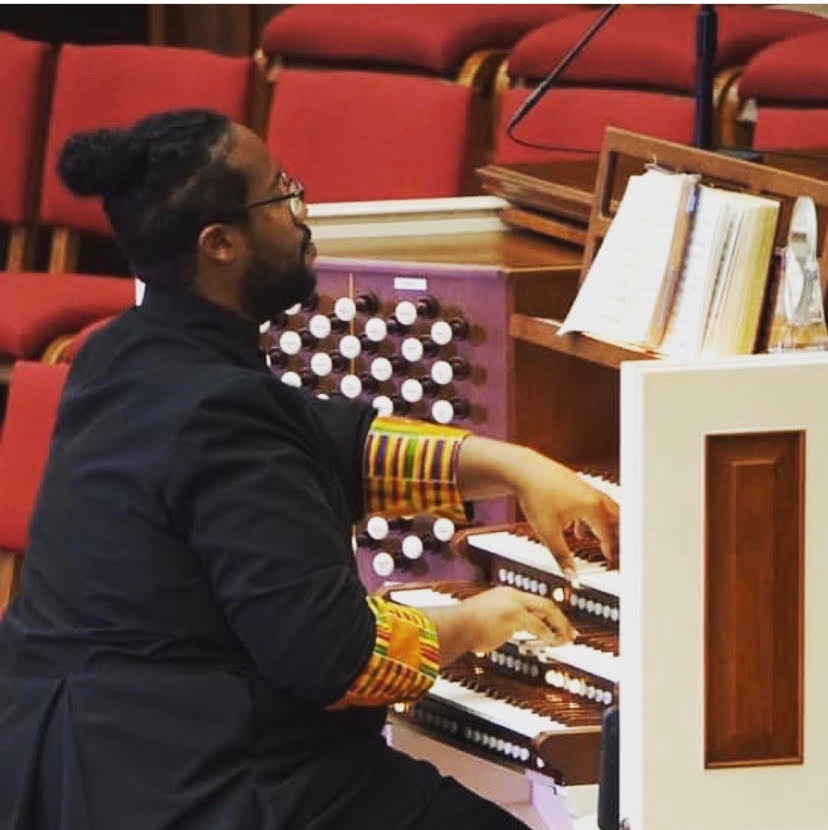 Sterling Overshown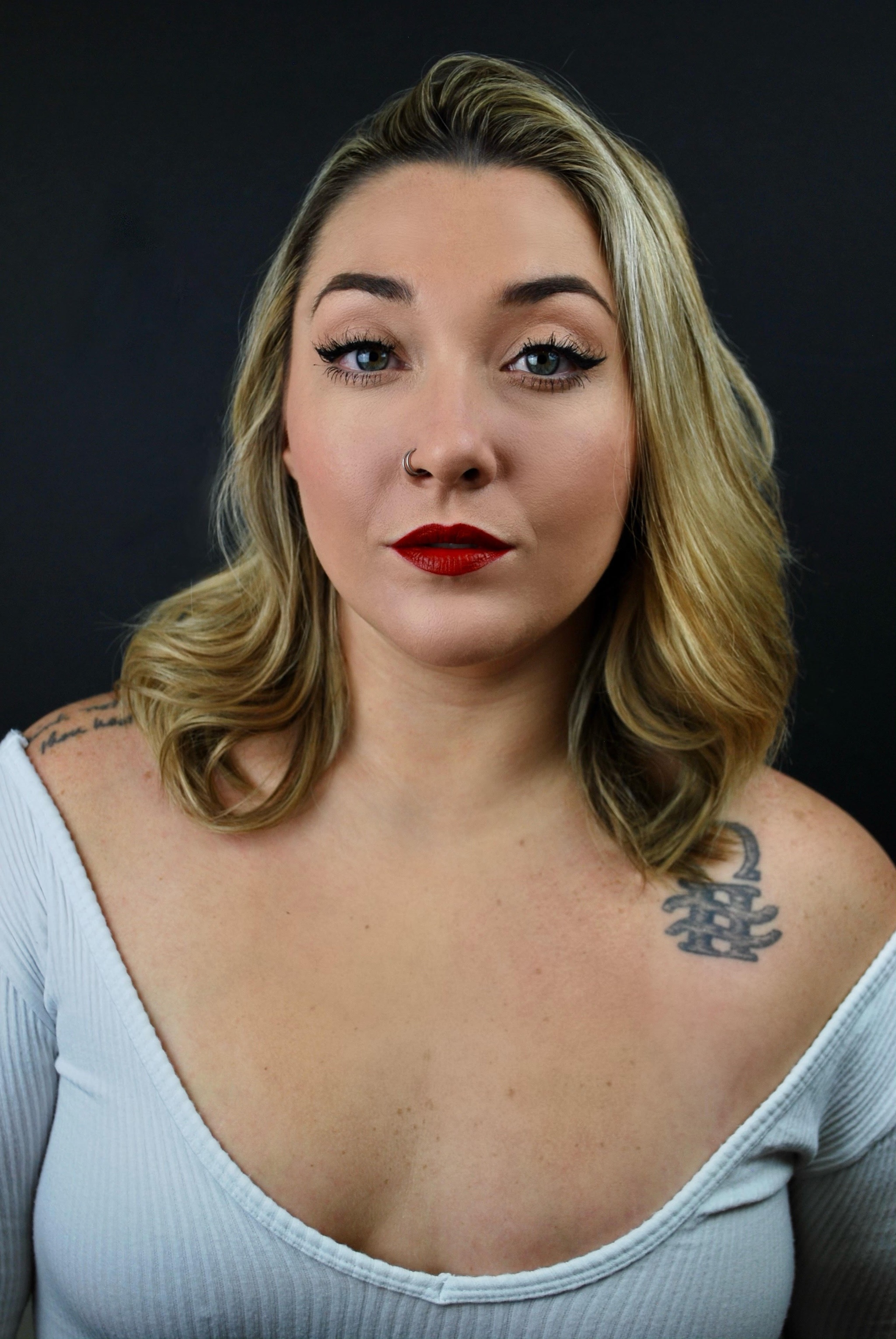 STONES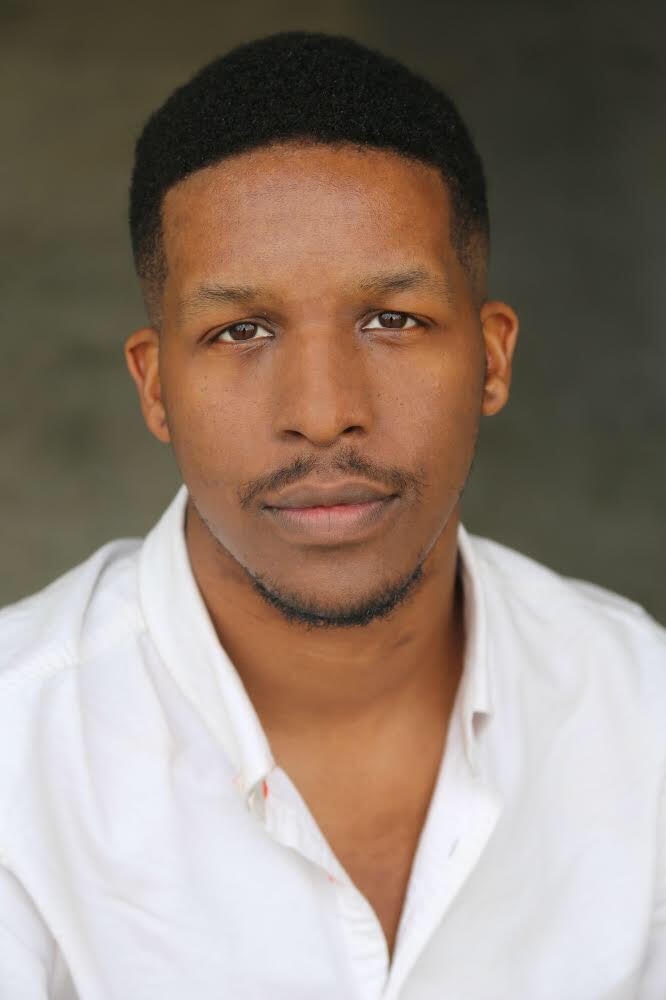 Josh Walker
Troy Anthony (selected in 2018) is a composer, director, and actor living and working in New York City. He is currently developing The Revival: It Is Our Duty for Open Call.
Rachel Denise April (she/her/hers) is a Guyanese American stage manager who has studied theatrical design and stage management at the City College of New York. Select credits include: Chicken and Biscuits (Douglas Lyons), Retreat Workshop (Tracey Conyer Lee), The Big Green Theater Festival 9 (SuperHero Clubhouse), The Hole (Zhailon Levingston), Neptune (Timothy DuWhite), The Genesis Plays (The In[heir]itance Project), Anaïs Nin Goes to Hell (MTWorks), Macbeth (of the Oppressed) (Fab Marquee Productions), and the Fire This Time Festival 2015 (The Kraine Theater). She is currently a creative partner of Different Translation.
Nia Blizzard is a Black theater worker whose passions include (but are not limited to) binge watching reality TV shows, spending time with friends, and advocating for the rights of all Americans. When they are not stage managing, you can find them at the nearest hiking trail or trying to make the world a better place through volunteering at various organizations through their job at Apple. Previous credits include Rhinoceros by Eugène Ionesco (ASM, Brooklyn College), I Am A Positive Person by Danny Rocco (PSM, Atlantic Theater Company), Sweet Chariot by Eric Lockley (PSM, The Movement Theater Company) and The Juneteenth Celebration (ASM, The Broadway League).
You-Shin Chen is a New York–based Taiwanese designer who is committed to diversity and humanity. Trained as a theater designer, she centers the human experience in the process of creating a three dimensional space. Her scenic design for Eclipsed (Lewis Center for the Arts) is part of the USA exhibition at the 2019 Prague Quadrennial. She is the recipient of the 2019 Daryl Roth Creative Spirit Award at the Lilly Awards and Lucille Lortel Award for Outstanding Scenic Design in 2020. Recent theater credits include: SKiNFoLK (the Bushwick Starr and National Black Theatre); UGLY (the feath3r theory, the Bushwick Starr, and Washington Ensemble Theatre); Mrs. Murray's Menagerie (ArsNova); Monsoon Season (AFO Theatre); Man of God (InterAct Theatre Company); Messiah (LaMama, Stonewall 50); Rock-A-Bye (BalletX); and Jazz Singer (Abrons Arts Center). She is the associate scenic designer for Moby Dick (A.R.T., Des. Mimi Lien.) Chen is a member of Local USA829, IASTE.
Genesis Collado (she/they) is a singer, actor, and vocal coach. She is proud to be a queer Dominican from the Bronx, NY! Collado is very passionate about representation and inclusivity; she hopes to continue to promote and create spaces/platforms in which stories of, by, and for marginalized people/communities can be shared with the intent to heal, educate, and amplify the voices who are consistently hushed. She is so grateful to be here, sharing this incredible piece with you.
Alysha Deslorieux was most recently seen starring as Eliza Hamilton in Hamilton (Chicago) after appearing in the Broadway company (Peggy Schuyler/Maria Reynolds) as well as the original Broadway and Off-Broadway companies. Other Broadway credits include: Andrea in Once on This Island (original revival cast), Beautiful: The Carole King Musical (original Broadway cast) and Sister Act. TV credits include: The Marvelous Mrs. Maisel (season 3), 27 Candles (film), and guest starring roles on Younger, Lincoln Rhyme: The Hunt for the Bone Collector, and Hulu's upcoming series Only Murders in the Building. This fall, she can be seen starring in the Public Theater's The Visitor, alongside David Hyde Pierce and Ari'el Stachel. Follow her on Instagram @alysha_des. For Oma, and for JDK, always.
A 2016 graduate from the American Academy of Dramatic Arts, alumnus of the Project Classics training program at the National Black Theatre in Harlem, and mentee of established actors and artists such as Hugh Jackman, Jason Mraz, and Isaac Calpito, Manny Dunn has made diligent efforts to enhance his craft and career. His being a New York native, as well as his involvement in model United Nation conferences, community activism, community service projects, such as gardening, homelessness, and arts initiatives, fundraisers, and early mentoring and teaching opportunities all played a part in influencing and inspiring his work as an actor. Dunn has recently received the Special Jury Award for Acting from SXSW for his recent work in Dirty, as well as the award for Best LGBTQ Short Film from Short of the Week.
Ava Tiye Kinsey is a daughter of Dallas, Texas. Her family, the McMillan line, was instrumental in championing the struggle for civil rights and Black Power in Dallas, Texas, in the 1960s and '70s. Segments of her master's thesis were published in Judson Jeffries's The Black Panther Party in a City Near You (University of Georgia Press, 2018). She hails from the historically Black Lovefield/Ellum Thicket neighborhood in Dallas and carries the essence of that vital space with her everywhere she goes. Her life's work has been to infuse her artistic perspective with an understanding of social and restorative justice practices. Kinsey received a bachelor's and master's of arts degree in Africana studies from Howard University and Temple University, respectively. She is a mother, partner, daughter, writer, friend, sister, and a descendant of warrior women. She celebrates Juneteenth, as she was taught by her family, and you should, too!
Bryan Joseph Lee (he/him) is the founder of CNTR ARTS, a creative agency and strategic consulting firm that centers artists, activists, and communities of color. As a producer, arts marketer, and civic organizer, he has a decades-long career building creative communities at a local, national, and international level. Most recently, Lee served as director of public forum at the Public Theater in New York City, where he investigated civic organizing and cultural change-making at one of the nation's leading Off-Broadway theater companies. As an artistic curator, his work centers the experiences of queer, trans, and BIPOC communities on stage and in our world. Lee has also independently produced and programmed several Black and queer artists at venues throughout New York City.
Natalie Louis-Charles is a multidisciplinary artist from Queens, New York. Throughout her career, she has worked as a singer, songwriter, choreographer, producer, director, and videographer. Her debut EP, Wideyes, is available on Spotify, Apple Music, Tidal, and SoundCloud. Currently, she is studying cinematography and sound design and is working on releasing new music as well as a video project.
Daisy Long is a lighting designer for theater, opera, concert, and dance. Originally from Cambridge, Massachusetts, she now lives in New York City. New York credits include BAM, Atlantic for Kids, the Flea, Primary Stages, Abingdon Theater Company, Mason Holdings, HERE Arts Center, LaMaMa, NYU, AMERINDA, TADA! Youth Theater (National Youth Arts Award for Outstanding Lighting for The Perfect Monster), and Manhattan School of Music. Regional credits include the Alliance, Speakeasy Stage Company (IRNE Award for Best Lighting for The Scottsboro Boys), Kitchen Theatre Company, Yale, Connecticut College, and Interlochen. She is a proud member of USA 829.
Ashton Muñiz (they/he) is a queer actor, performance artist, filmmaker, and producer based in New York. Muñiz's goal through artistic work is to continue to instill joy into the world by embracing the realities of the present. He has recently been seen in/collaborated on works around the globe at venues such as the Guggenheim, Centre National de la Danse, New York Theatre Workshop, the Art Institute of Chicago, St. Ann's Warehouse, New Museum, the Park Avenue Armory, and more. Muñiz attended actor/artist-training programs at Ithaca College and Moscow Arts Theatre School.
Brisa Areli Muñoz is a Chicane theater director, educator, and cultural worker. Muñoz has directed and facilitated work with Center Theatre Group, American Repertory Theater, the Public Theater, Harvard University, Yale Repertory Theatre, Brooklyn College, New York City Center, the Civilians, Carnegie Hall, SHoP Architects, ArtsEmerson, Baylor University, BRIC Brooklyn, REDCAT, Garry Marshall Theatre, the NYC Department of Education, Actionplay, Sojourn Theatre, CUNY Creative Arts Team, Hi-ARTS, Bethel Woods Center for the Arts, New York City Children's Theater, Vital Theatre, and Atlantic Pacific Theatre. She serves as the artistic director of Applied Theatre Collective, where she has facilitated work internationally with peacebuilding educators in Iraq and international mediators in Romania.
Baba OluDaré has been a student of Yoruba traditional music and dance for over 18 years. His father, Baba Canute Bernard Jr., began to train him in the art of sacred drumming when he was just three years old. Today, OluDaré follows in the footsteps of his father by teaching classes on the craft. Similarly, he has been dancing for Orisha since he could walk. Originally trained by his parents and "La Mora," the Prima Ballerina of internationally esteemed dance company Ballet Folklórico Cutumba, OluDaré has garnered intimate and intricate knowledge of Orisha dance and movement. As an Aponni (leader of the ceremonial singing of Orisha), he continues the legacy of his mother, Iya Amma Oloriwaa!, founding director and youth development coach at Egbe Iwa Odo Kunrin*Binrin Inc. Under her guidance, OluDaré continues to grow as a singer, educator, entrepreneur, and spiritual leader.
As a dedicated student, educator, and priest of Ogun, OluDaré continues to bridge the gap between tradition and the youth of today. In 2020, OluDaré authored Breathing With Orisha, which has been archived in the Harvard University library as a living document of various breathing techniques meant to support communities of African descendants to combat the effects of Covid-19. Through Kìire Wellness, OluDaré brings this message and practice to the world in a tangible, online, family-friendly format that teaches Orisha movement and singing—two forms of sacred ancestral respiratory practice.
Sterling Overshown is a captivating pianist, organist, composer, conductor, and tenor who always seeks to provide life-changing musical eureka moments whenever he has the privilege and honor to perform. He is the founder and artistic director of The Trap Chorale, a chamber choir and orchestra that fuses the words of trap music with the harmony and texture of classical music, two worlds of music that are unparalleled. Sterling also serves as the director of music for Bethany United Methodist Church and St. Paul's United Methodist Church in Brooklyn where he shepherds several vibrant and growing choirs. Overshown holds a BA in jazz piano performance and economics from the New School and in his free time enjoys reading a bevy of nonfiction books on various topics and ruminating on the endless possibilities of living, loving, and learning in this game we call "Life."
When you see STONES, you'll notice. When you hear STONES, you'll never forget her. Raised in Texas, gospel-trained and soulfully raw, STONES is an R&B singer, songwriter, and producer/musician with a dynamic voice. Pulling inspiration from the hip hop and soul artists she grew up listening to, she perfectly blends playful styles with lyrical depth for a sound that is anything but soft, yet beautiful still. STONES has committed herself to creating music that people can feel. She recently released her latest album, Nights That End in Y, and single, "Hold Me Down," and is eager to collaborate with other artists.
Josh Walker is a singer, actor, and songwriter in the NYC/New Jersey region. His most memorable performance is as Tom Collins in the Rent national tour. He believes in telling truth and life through song. Mostly recently he performed a concert of his original music at RockWood Music Hall. He is so thankful to be working with this amazing group of people!
The Story of this commission
Troy Anthony originally joined the Shed family of artists with the first iteration of Open Call, selected by our reviewers and panelists in 2018. When The Shed closed temporarily to help stop the spread of COVID-19, Anthony's scheduled performance was postponed. He will now present his work as part of the second iteration of Open Call artists in 2021.
Order of Service
WELCOME
PRAISE AND WORSHIP
SEND A REVIVAL
ASSATA CHANT
WE SPEAK YOUR NAME
INVOCATION
SCRIPTURE READING ("AFFIRMATION" BY ASSATA SHAKUR)
I believe in living.
I believe in the spectrum
of Beta days and Gamma people.
I believe in sunshine.
In windmills and waterfalls,
tricycles and rocking chairs.
And I believe that seeds grow into sprouts.
And sprouts grow into trees.
I believe in the magic of the hands.
And in the wisdom of the eyes.
I believe in rain and tears.
And in the blood of infinity.
I believe in life.
And I have seen the death parade
march through the torso of the earth,
sculpting mud bodies in its path.
I have seen the destruction of the daylight,
and seen bloodthirsty maggots
prayed to and saluted.
I have seen the kind become the blind
and the blind become the bind
in one easy lesson.
I have walked on cut glass.
I have eaten crow and blunder bread
and breathed the stench of indifference.
I have been locked by the lawless.
Handcuffed by the haters.
Gagged by the greedy.
And, if i know anything at all,
it's that a wall is just a wall
and nothing more at all.
It can be broken down.
I believe in living.
I believe in birth.
I believe in the sweat of love
and in the fire of truth.
And I believe that a lost ship,
steered by tired, seasick sailors,
can still be guided home
to port.
TESTIMONY
SAY HER NAME (BREONNA TAYLOR)
I FEEL RAGE
I WANT TO LIVE
PRAYER AND MEDITATION
OFFERING
PRAYER
SERMON
"OUR ANCESTORS ARE OUR WILDEST DREAMS"
ALTAR CALL/APPEAL
BENEDICTION
Accessibility
The Shed's spaces are all wheelchair accessible. This event takes place in The McCourt.
Assistive listening is available on your smartphone over The Shed's free Wi-Fi network via the free Listen Everywhere app. Devices will be available for you to borrow at the ticketing desk if you do not want to use your own smartphone.
Download the Listen Everywhere app before you arrive.
This event will include ASL interpretation with Deaf interpreters coordinated and supported by a hearing interpreter (provided by Roxanna Aguilo and Brandon Kazen-Maddox). To request live audio description, please email info@theshed.org or call (646) 455-3494 at least 10 days in advance of the performance.
To learn more about what to expect during your visit and the performance, please read these descriptions.
If you have any questions or other requests, please email info@theshed.org or call (646) 455-3494.
What to Expect
Thank you for planning a visit to The Shed. We're looking forward to welcoming you for Open Call. Currently, the entrance to our building is through The McCourt door on the east side of our building adjacent to the Hudson Yards Public Square. The McCourt is a large performance space created when The Shed's shell, or movable roof, rolls out to cover the plaza on the east side of the building. You can access this entrance from 11th Avenue and Hudson Boulevard, just one block north of 30th Street, or from the 34 St–Hudson Yards subway station between 10th and 11th Avenues.
As you arrive at The Shed, you will enter The McCourt through a set of doors at the southeast corner of the building. It is close to the area where the High Line meets Hudson Yards at 30th Street. Most performances will take place in The McCourt. You will pass through this space to enter the rest of the building and access the Level 2 Gallery and The Tisch Skylights for the exhibition and other performances.
The shell of The McCourt is covered in a shiny, pillowy material, and its floor is level with the ground of the plaza. The Shed's building, including The McCourt, is wheelchair accessible. You will scan your own ticket on your smartphone, with help if needed from a friendly visitor experience staff member standing nearby wearing a black t-shirt and ID badge on a purple lanyard.
Once you're inside The McCourt, the space feels airy with 110-foot-high ceilings. Most of the walls are glass and let sunlight into the space. Light from the plaza and the Shops at Hudson Yards filters into the space after sunset.
The flooring in The McCourt is made of hard paving stones. They are in two shades of gray, and the lighter stones stretch across the east and west sides of The McCourt to form a large artwork by Lawrence Weiner that reads "In front of itself" in large letters. (This phrase is also the title of the work.) The letters on the east side of the space are partly covered by the Open Call stage so you can only partially read the phrase.
Seating in The McCourt is general admission, so you can choose from any available spot. The seats have armrests and thick cushions, and some are folding chairs that flip up as you stand up from them. If you would like help in finding a seat, a staff member at the entrance can guide you.
For any additional access needs or requests, please email info@theshed.org or call (646) 455-3494.
Troy Anthony's musical performance will last 90 minutes. During the performance, you'll hear singing from a 45-person choir positioned on the ground level of The McCourt where you're seated, as well as from a balcony that overlooks the ground floor from the fourth level of The Shed. The sound of singing will surround you from all directions, filling the open-air space of The McCourt with song and energy.
Open Call
Read more about "Open Call "
All details for "Open Call "
Thank you to our partners

The Lead Sponsor of Open Call is

Support for Open Call is generously provided by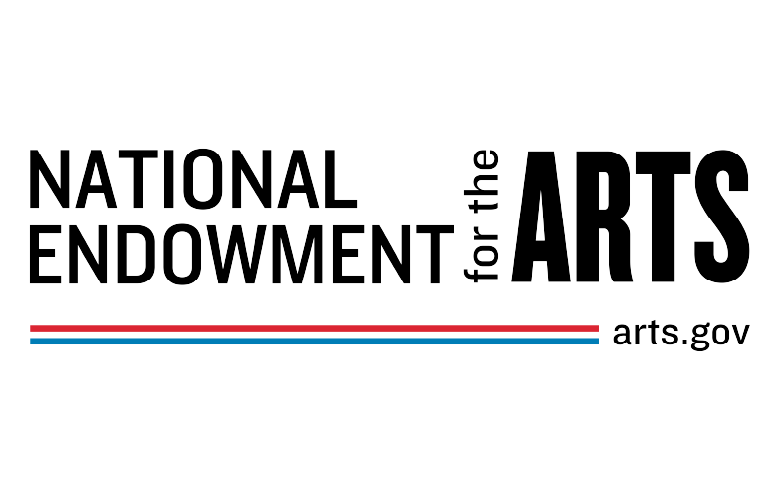 Additional support for Open Call is provided by Jody and John Arnhold | Arnhold Foundation.
The creation of new work at The Shed is generously supported by the Lizzie and Jonathan Tisch Commissioning Fund and the Shed Commissioners. Major support for live productions at The Shed is provided by the Charina Endowment Fund.