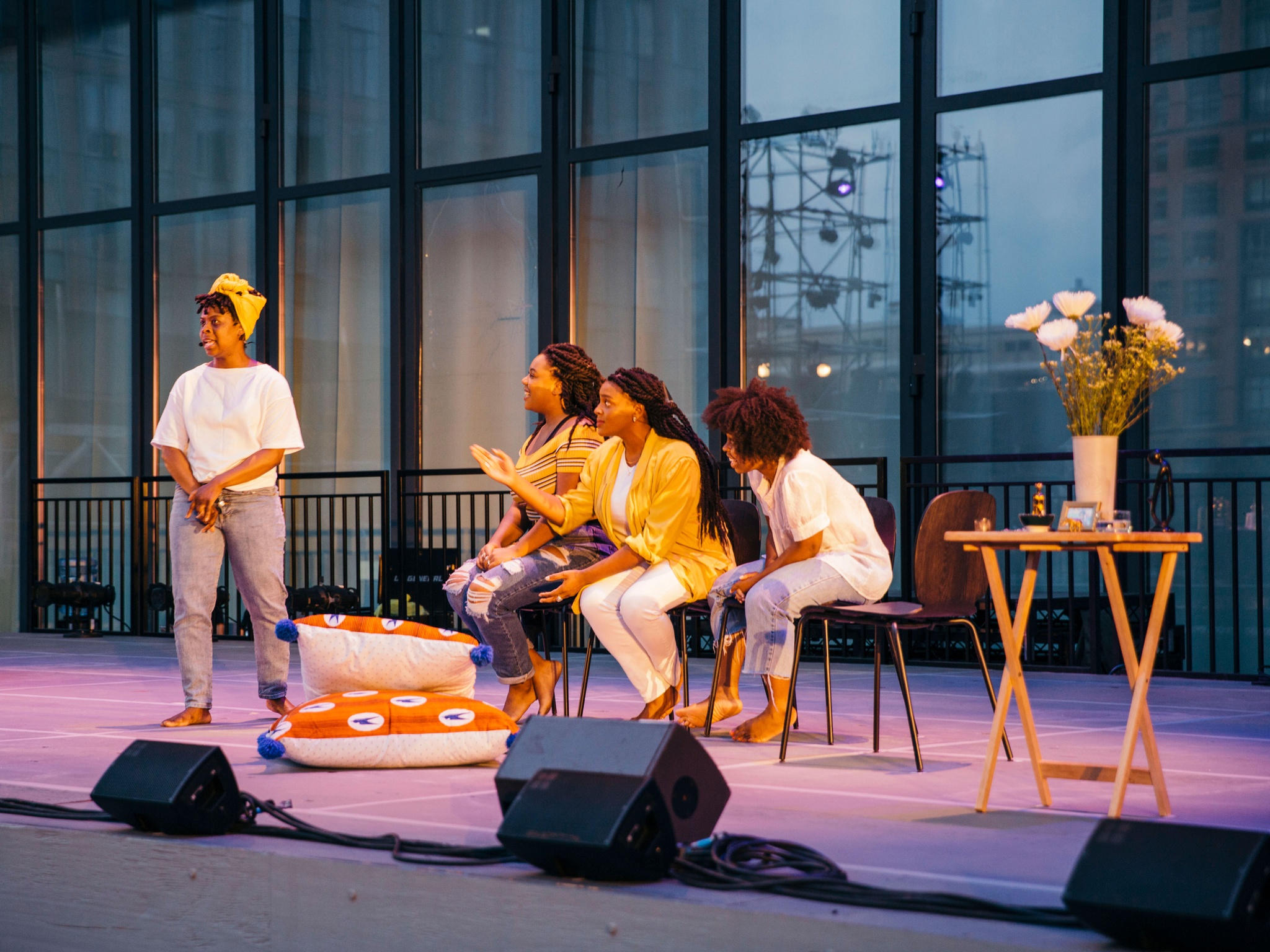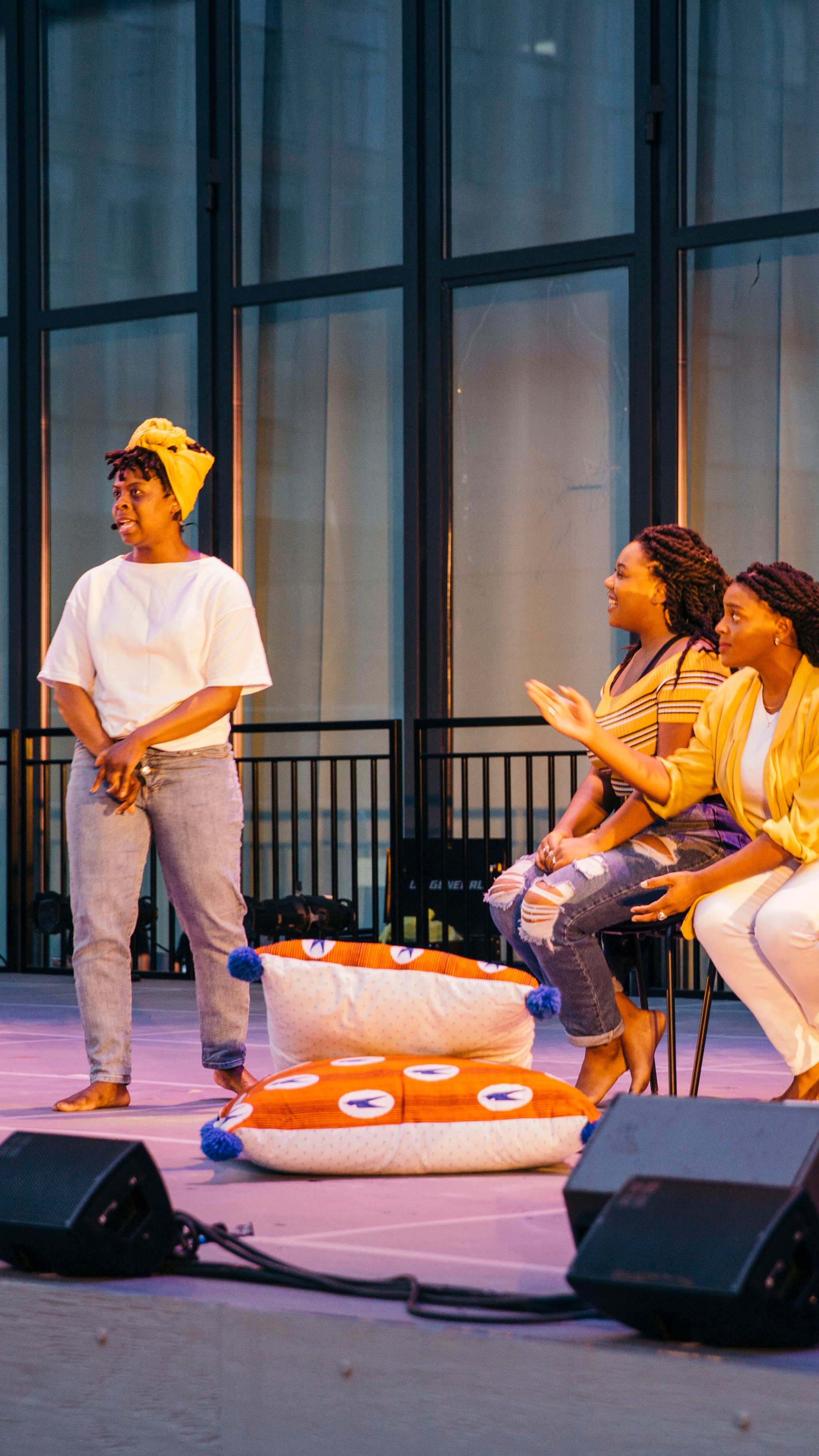 Open Call: nicHi douglas
AUG 16, 5 pm; AUG 22, 7:30 pm
An experimental stage play and dance piece about self-love and acceptance
Rescheduled Performance
nicHi douglas's August 18 performance, canceled due to inclement weather, has been rescheduled for Thursday, August 22 at 7:30 pm.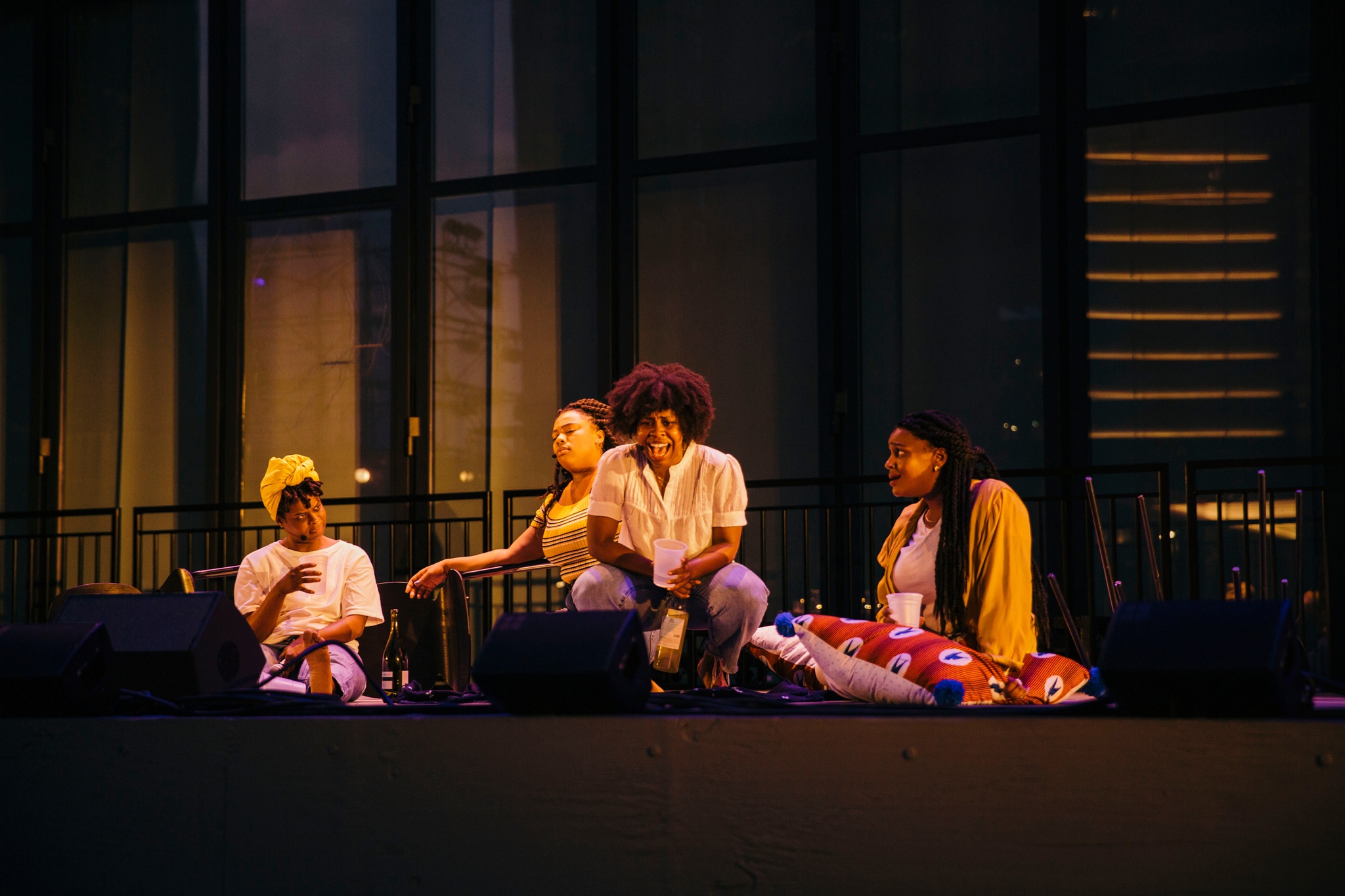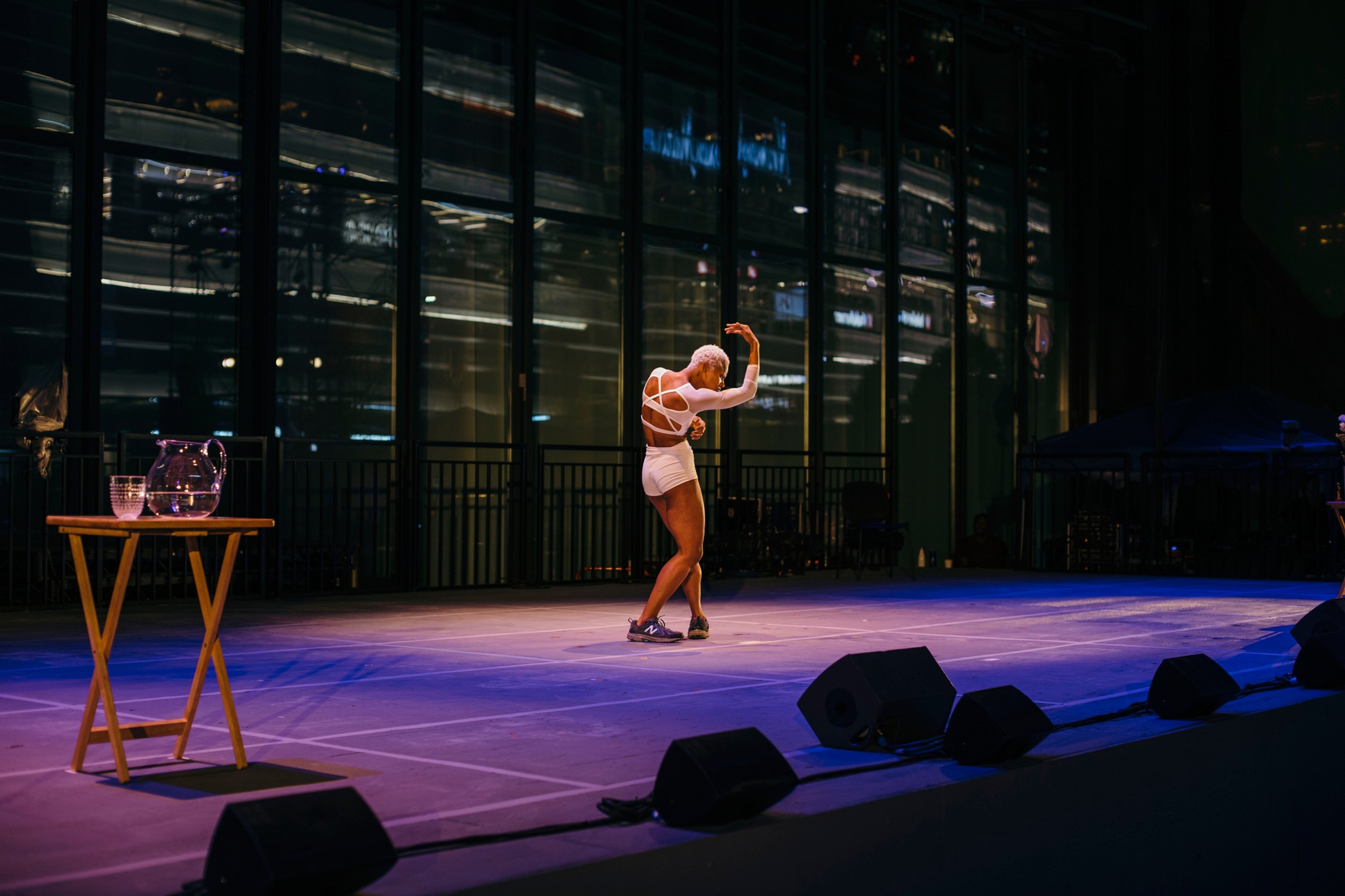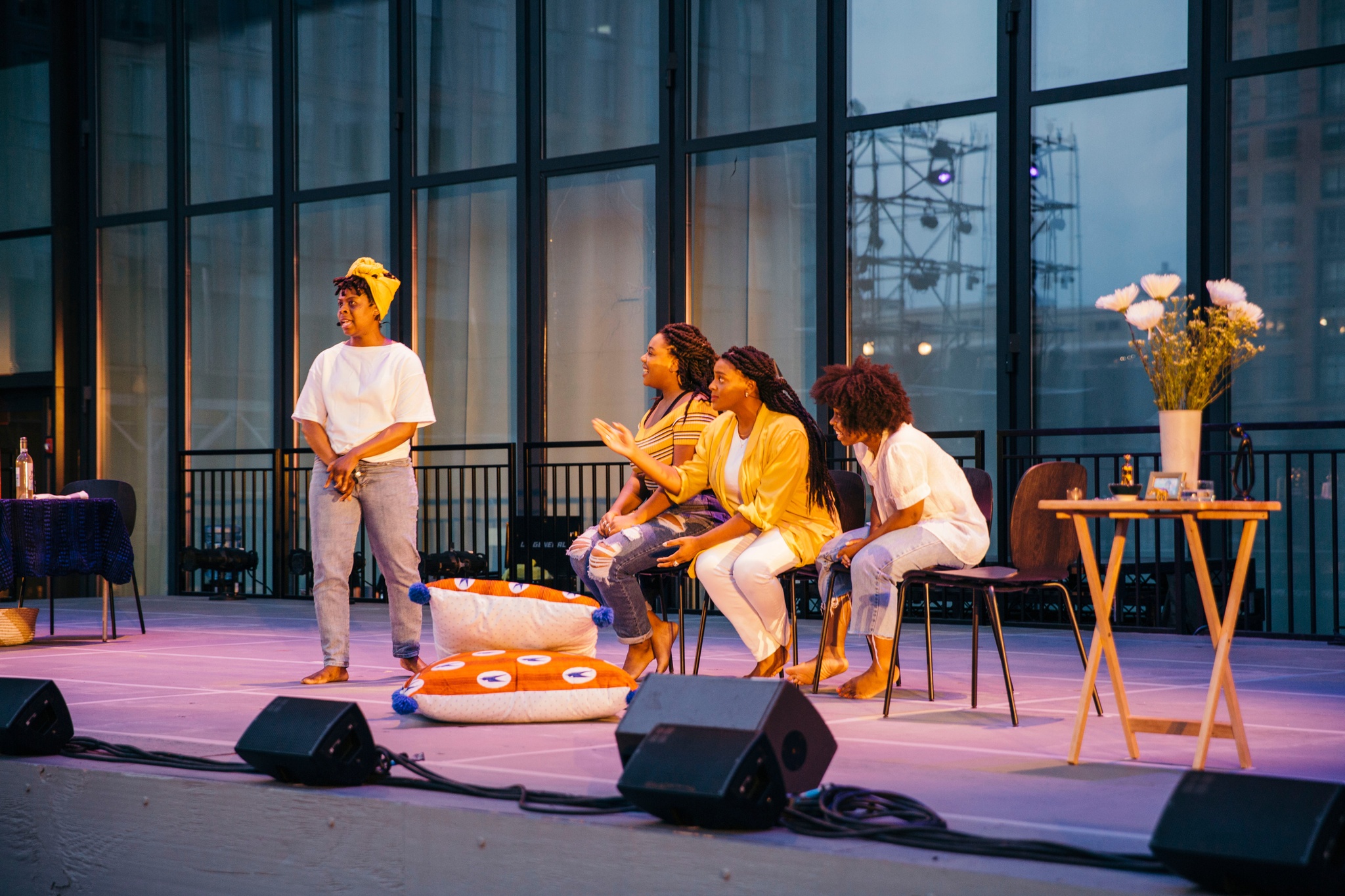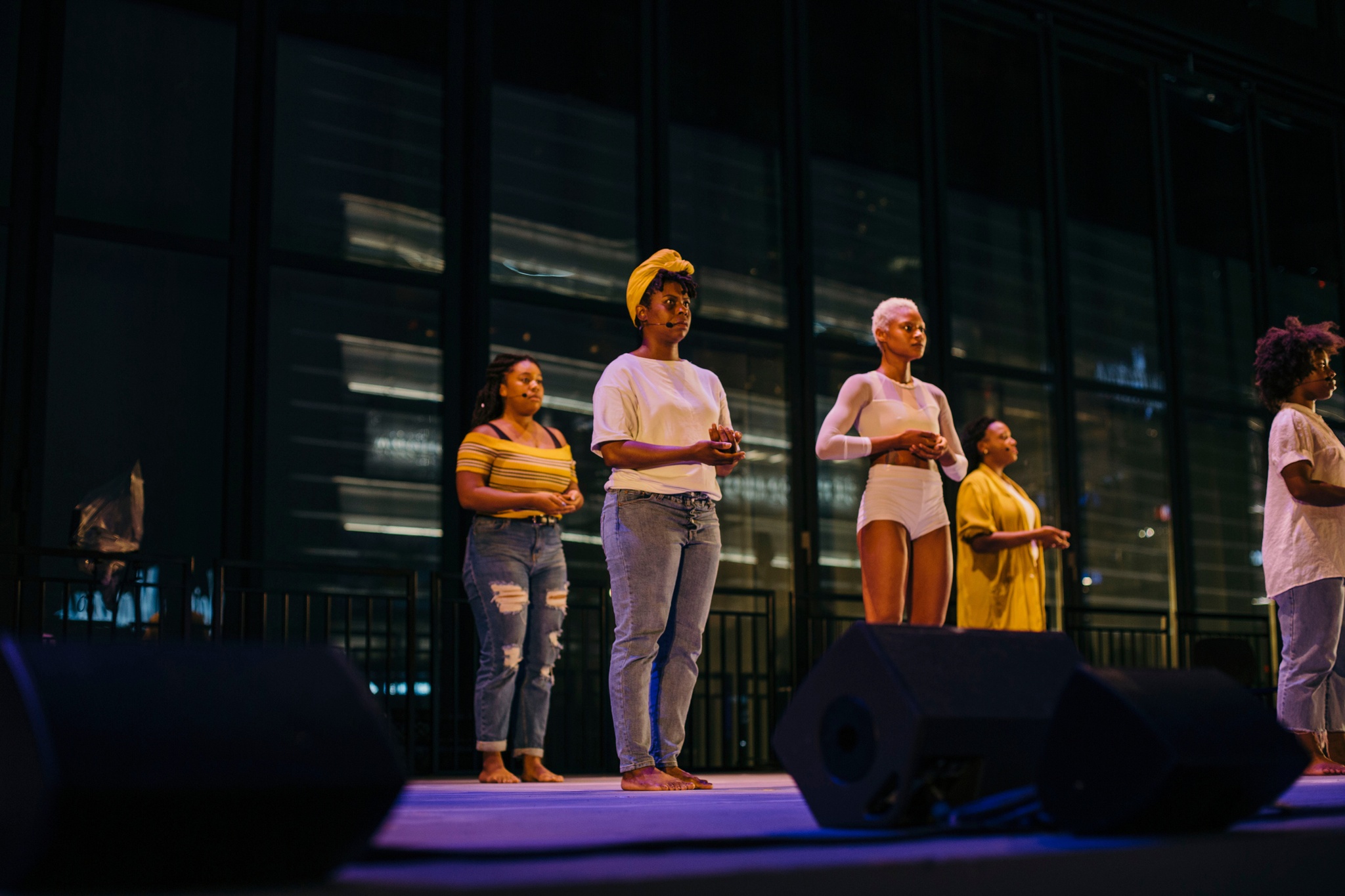 About this commission
where love lies fallow is an experimental exploration of theater forms based in the artist's curiosity about love. Utilizing the philosophy of bell hooks and Yoruba spiritual tenets, where love lies fallow begins as a stage play, becomes a dance ritual, and then returns to the form of a stage play for its conclusion. The play follows four excitable Black women who are hanging out one evening. As one woman's deep desire for and fraught relationship to love begins to come into focus, the play goes into the spiritual realm with the dance ritual that begs the question: what can the earth and our ancestors teach us about love? The dance ritual also exorcises the demons of a love that isn't real—that toxic, inauthentic, movie-fed idea of love. Finally, where love lies fallow is underscored by house music, a style of music and dance based in freedom, inclusivity, and the need to release.
nicHi douglas is a Brooklyn-based performer, choreographer, director, playwright, and activist. She chooses to spell her name "nicHi douglas" and requests that you honor that. She is the Head of Movement and teaches a Performance Seminar at NYU/Tisch – Playwrights Horizons Theater School studio. She has developed original work at Denver Center, Berkeley Rep/The Ground Floor, and Ars Nova. She will be a resident artist at The New Victory Theater in their LabWorks program 2019/20. Her play (pray), which is being co-composed by Starry Busby and Jerome Ellis, has been commissioned by Ars Nova. Recent stage credits include A Time Like This: Music for Change (Carnegie Hall, Stage Director), Runaways (City Center/Encores! Off-Center and The Delacorte/Public Theater, Associate Director and Associate Choreographer), Girl From the North Country (The Public Theater, Associate Choreographer), Last Stop on Market Street (Atlantic Theater Company, Choreographer).
nicHi douglas, Playwright, Director, Choreographer
Reina Guerra, Assistant Choreographer
Melissa Mowry, Stage Manager
Keyana Hemphill, Assistant Stage Manager
Kim 'Susan Z. Anthony' Jefferson, Sound Design, DJ
Tatiana Desardouin, House Dance Consultant, House Dramaturg
Deborah Conton, House Dance Choreographer
Starr Busby, Nia 1
Paige Gilbert, Nia 2
Charisma Glasper, A Version of Nia 4
Kevis Hillocks, A Man Who Knocks Later
Sierra D. Leverett, Nia 3
Jehan O. Young, Nia 4
Claudia Norman, Associate Producer
Sarah Pier, Production Coordinator
Nathan Claus, Stage Manager
Stefan Carrillo, Head Carpenter
Gustavo Valdes, Head Electrician
Jim Van Bergen, Head Audio
Colin Roche, Head Rigger
Itohan Edoloyi, Lighting Design Coordinator
Jake Maize, Associate Lighting Design Coordinator
Patrick Lachance, Sound Design Coordinator
Fumika Tanaka, Production Assistant
Location and dates
This event takes place in the Plaza.
August 16, 5 pm
August 18, 7 pm
Acknowledgments
nicHi douglas would like to thank her mother, sister, niece, and bell hooks for teaching her what love can look like. She would like to thank her ancestors for guiding her this far and all Black womxn for existing—she agrees that it hasn't been easy. She would like to acknowledge her capacity for love here in writing, inarguably, for posterity; she is thankful for this gift.
where love lies fallow was rehearsed in the New Georges workspace, The Room, in addition to Spaceworks, Brooklyn Arts Exchange, Triskelion Arts, and 440 Studios. Thank you to The Shed.